Last Updated on May 30, 2023 by Teemu Suomala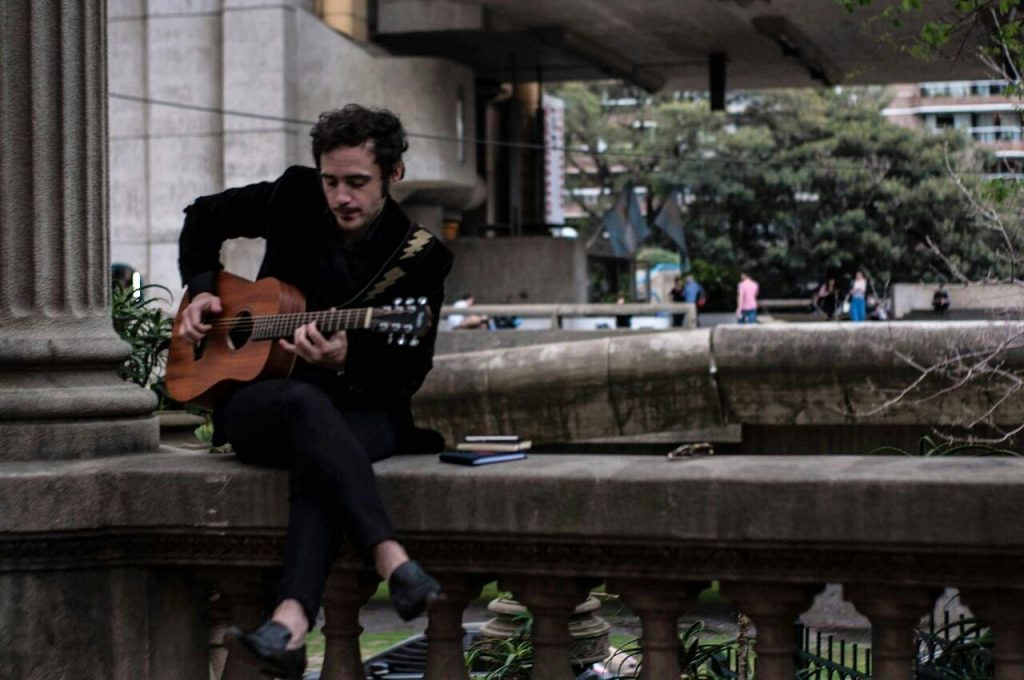 Author: Santiago Motto
Aka. Sandel. Telecasters and all-mahogany Martins lover.
Besides that, Sandel is a professional writer, guitar player, confessed guitar nerd, and all-things-guitar consumer. He has been playing for 25 years which makes him a nineties kid with serious low-tuning youngster years, and a pop palate for melodies, ballads, and world music.
Whenever Santiago is not pouring all that experience and love for the instrument into articles, you can find him playing live shows supporting his music and poetry books as "Sandel". If he's not doing either of those, you can also find him gigging with his band, "San Juan", writing, reading, or enjoying the Sun.
Hide The Rambling▲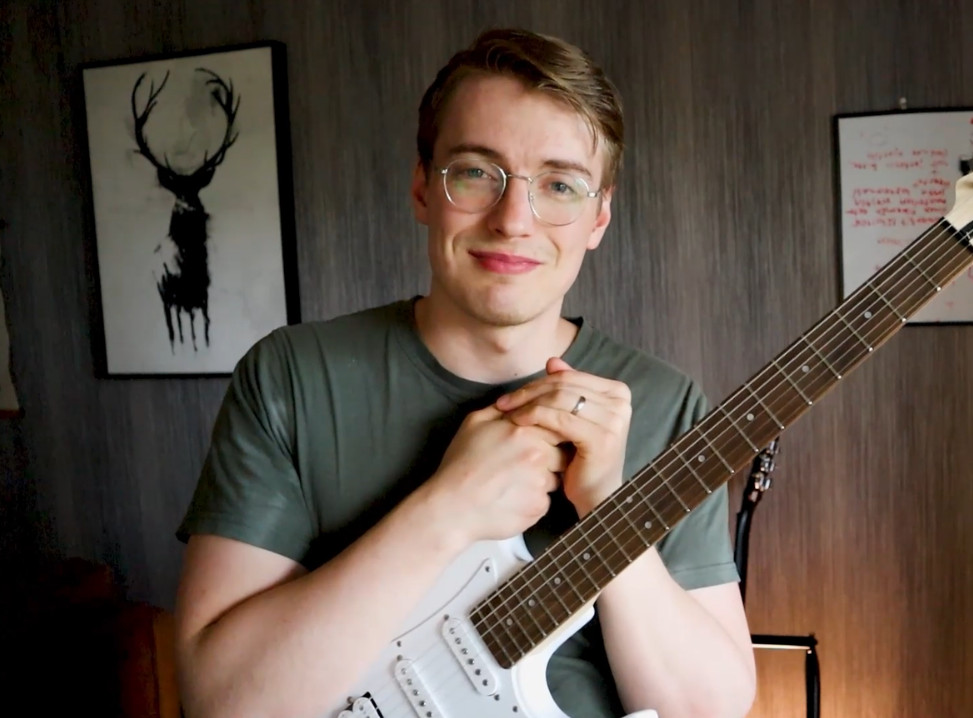 Editing & Research: Teemu Suomala
I first grabbed the guitar in 2009. I started this website in January 2020 because I couldn't do window installation anymore due to my health problems. I love guitars and have played dozens and dozens of different guitars through different amps and pedals over the years, and also, building a website interested me, so I decided to just go for it! I got lucky and managed to get awesome people to help me with my website.
I also got lucky because I have you visiting my website right now. Thank you. I do all this for you guys. If you have any recommendations, tips, or feedback, just leave a comment, I would love to chat with you. I have also been fortunate to produce content for several large guitar websites, such as Songsterr, Musicnotes, GuitarGuitar, and Ultimate Guitar.
I spend my spare time exercising and hanging out with my wife and crazy dog (I guess that went the right way…).
Hide The Rambling▲
I'm most likely not the first or last person who has been confused by different types of acoustic guitar body types & styles. Jumbo's, dreadnoughts, concert-styles, etc. There are so many of them…
But don't worry my friend. If you want to learn all that you need (and even a bit more) about different acoustic guitar types…we've got you covered. We'll look at the history, the best use cases, who each body-style is for, how to choose the best one for you, etc.
After reading this article (don't worry, it's not just boring text, there are photos and videos too) you can be confident when choosing your next guitar, talking with your guitarist friends, or arguing with a guitar store sales clerk.
Let's get started!
Check our other in-depth guitar guides too:

Acoustic Guitar Tonewoods Explained – Tonewood Chart

Different Guitar Bridge Types – Your Ultimate Bridge Guide

Guitar Neck Shape Guide – Shapes Explained

4 Types of Acoustic Guitar Pickups – Which One You Should Choose?

The History of the Acoustic Guitar Told Like Never Before
---
Different Acoustic Guitar Body Types & Styles
Dreadnought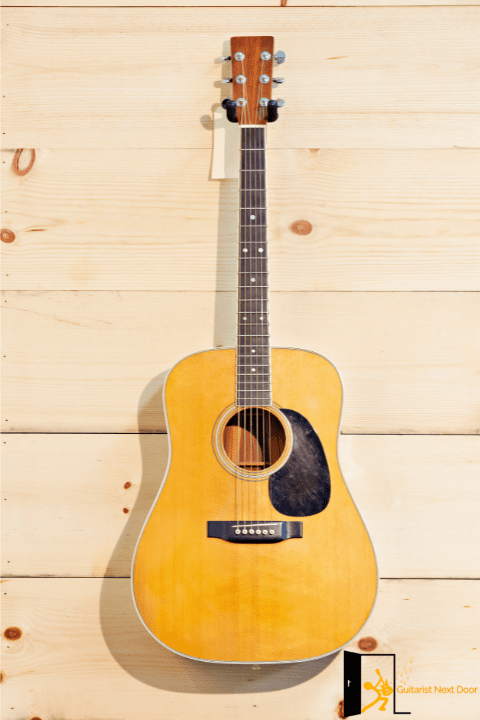 Named after a very famous British battleship, this guitar shape created by Martin over a century ago, in 1916, is still today the guitar shape most people think of when closing their eyes and thinking of an acoustic guitar.
The popularity of this instrument can be explained because, at the time of its release, it generated a louder sound (because of the scalloped bracing) than all other guitars being sold.
Most of the huge sound can be attributed to the larger-than-life low-end generated by the bigger bottom part, balanced mids coming from the braced top, and high frequencies coming from the resonance of the Sitka spruce top (found on most of them).
Playing-wise, the dreadnought isn't the most comfortable shape for the player because of its size but can be the perfect solo accompaniment for singer-songwriters and live musicians.
Furthermore, since most guitar brands in the world feature a dreadnought model, you can find them with all sorts of different neck measures and wood combinations as well as pickups and accessories.
Check our picks for the best Martin guitars here.
Key Features of Dreadnought
Big body & big sound – The bigger body, especially in the bridge section gives this acoustic guitar a larger-than-life sound that's most players' favorite.
Familiar sound – Since it's the best-selling acoustic guitar shape of all time we heard it on countless records, and its sound is familiar to all of us.
Countless options – Every major acoustic guitar manufacturer in the world makes their own version of the dreadnought, meaning you have a plethora of options to choose from.
Pros
Big sound
Original & traditional acoustic guitar looks
Rich in the low-end
Cons
One of the biggest acoustic guitar shapes in the market; it might not be comfortable for youngsters or small players
Famous Guitarist Using Dreadnought
John Lennon
Paul McCartney
Jerry Garcia
Elvis Presley
Keith Richards
Dreadnought Are Frequently Used in These Genres
Because it is the best-selling acoustic guitar shape of all time, it can be found in every music style that requires an acoustic guitar sound. For example, here's metal legend James Hetfield playing "Nothing Else Matters" (including the distorted soaring solo) on a Martin D-28 dreadnought proving it can be used on any stage:
---
Slope-Shoulder & Round-Shoulder
Speaking about dreadnought acoustic guitars and slope-shoulder or round-shoulder is to talk about variations on the same guitar shape. But is also talking about the golden era of acoustics and the epic rivalry between Gibson and Martin.
Yes, while Martin was manufacturing the holy grail of acoustic guitars (pre-war D-28s), Gibson was making the L-1 and the utterly famous J-35 and J-45 guitars. These models had the same body shape as Martins but with a round shoulder instead of a square one.
The discussion about whether this difference is aesthetic or affecting the sound has yet to be resolved. That being said, playability-wise, the slope shoulder version of the dreadnought is easier to play and transport for some players.
Check our picks for the best Gibson acoustic guitars here.
Key Features of Slope-Shoulder & Round-Shoulder
Big sound, smaller body – The slope shoulder dreadnoughts are smaller than the originals but offer a similar volume, power, and resonance.
Pros
Round edges might feel more comfortable for some players
Aesthetically more appealing than the original dreadnought for some players
Slightly smaller and more transportable than the original preserving volume and power
Cons
Still as big as a dreadnought in the back part of the body which might be uncomfortable for some players
Famous Guitarist Using Slope-Shoulder & Round-Shoulder
Bob Dylan
Elvis Presley
John Lennon
Bruce Springsteen
Lightnin' Hopkins
Slope-Shoulder & Round-Shoulder Are Frequently Used in These Genres
Because of their similarity with the dreadnought, it can be spotted on stages of any music genre.
---
Jumbo
The most identifiable aspect of a Jumbo guitar is that it's the biggest shape you can get on a traditional acoustic. Yes, this acoustic guitar shape is bigger than the dreadnought but with a rounder shape offering a very big bottom with a small, tight waist.
This combination offers the player a huge low-end while keeping the midrange and top-end focused and crisp. That's one of the reasons why this guitar is often the favorite of those who need a big volume while strumming.
Finally, it is very common to find Jumbo guitars made of laminated maple to enhance the midrange and top-end while keeping the low-end rich and tight.
Key Features of Jumbo
Biggest body in the market – No other acoustic guitar offers a bigger body than the jumbo.
Tight waist – The tight waist in the middle of the guitar keeps the huge low-end under control, while also offering snap to the resulting audio.
Alternative woods – It is possible to find jumbo guitars by many brands made of laminated maple and other bright-sounding woods for backs and sides.
Pros
Biggest acoustic sound in the market
Tight lows with crisp top-end
Cons
A big and bulky guitar, might not be suitable for every player
Famous Guitarist Using Jumbo
Elvis Presley
Noel Gallagher
George Harrison
Bob Dylan
Jumbo Are Frequently Used in These Genres
Jumbo acoustics should come with a sign saying "strummers only please". Yes, since the body of the guitar is so big; it requires a lot of energy to get sounds out of it. Therefore, fingerpickers should abstain from buying a jumbo guitar.
---
Concert & Grand Concert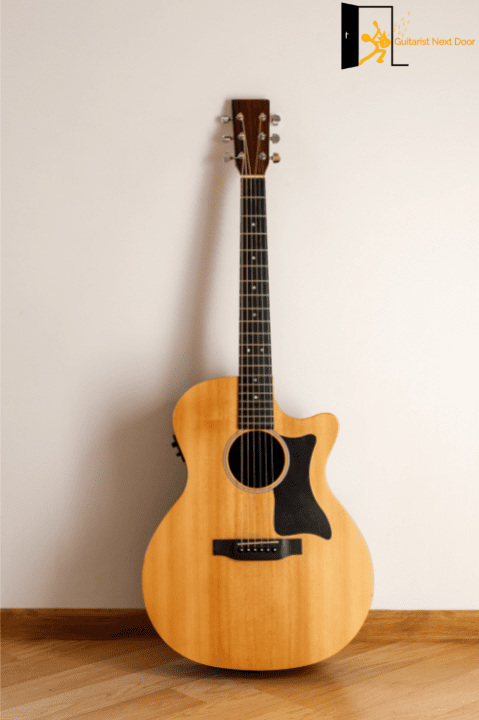 Concert guitars are a great combination of features for fingerpickers and mellow strummers. Yes, to begin with, the playability on these guitars is top-notch especially if you have a soft touch.
On one hand, the more pronounced "waist" of the body and the reduced bottom part moves the guitar away from the big low end of natural-born strummers, like jumbos and dreadnoughts. Instead, what you get is a balanced sound that's very defined in the mids, and with a natural chime on the highs.
Also, concert acoustic guitars are very close in shape to a nylon-string classic, but with a steel-string guitar neck. As a result of this combination, the guitar sits more comfortably and closer to your body so you can hear its nuances better, and it plays almost like an electric.
So, this is the perfect guitar for players who are into fingerpicking, mellow strumming, jazz, and any other style that involves minimal to no strumming.
While Martin Guitars introduced the concert shape by calling it "0", the grand concert received the name "00". It is very similar to the concert model but with the difference that the body is a tad bigger, making it more suitable to play other genres that require strumming too.
That being said, the great comfort of the reduced body didn't leave the building, and although it's not as loud as a dreadnought or a jumbo, grand concert guitars project the sound evenly and powerfully.
As a result, players with smaller hands, shorter, beginners, singer-songwriters, fingerpickers, strummers, and all those looking for a mellow, intimate sound with projection and comfort will love the grand concert acoustic shape.
Check our picks for the best acoustic guitars for fingerstyle here.
Key Features of Concert & Grand Concert
Low-volume ceiling – Concert and grand concert acoustics sound mellow and detailed at a lower volume but can't handle heavy strumming.
Reduced size – Concert guitars are among the smaller full-size acoustics in the market, making them easier to play and carry around.
Stellar nuances in sound – Since the body is so balanced, what you get is a perfect balance across the board with a reduced low-end.
Pros
Better playability than other acoustic shapes because of its size
Great for beginners, small-hand players, and fingerpickers
The balanced tone in all frequencies
Cons
Not as popular, harder to find
Not suitable for heavy strumming due to the reduced size
Famous Guitarist Using Concert and Grand Concert
Woody Guthrie
Bob Dylan (his first guitar was a Martin 00-17)
John Mayer
Concert and Grand Concert Are Frequently Used in These Genres
Since it has a bright and small sound, the perfect music style for concert guitars is anything requiring a mellow touch and fingerpicking. With grand concert models, you can get a slightly bigger projection and sound, but still not suitable for heavy strumming.
---
Orchestra
Although many companies don't make the distinction between auditorium and orchestra models, orchestra acoustic guitars sit between a concert guitar and a big auditorium (more on that later).
What is the biggest difference between concert guitars and orchestra guitars? Well, to begin with, orchestra guitars offer a tad more midrange and slightly more volume than concert guitars. Also, they can be used for different applications since the midrange-rich tones of the orchestra sit comfortably in the middle of the mix creating an old-school acoustic guitar sound.
Finally, in terms of player's feel and playability, the orchestra models are great for those who can handle a slightly bigger body than a concert guitar but don't want to go as far as a dreadnought. Yes, the curves of the body are more comfortable than those of a dreadnought, especially for sitting-down players.
Check our picks for the best acoustic guitars for small hands here.
Key Features of Orchestra
All-terrain guitar – Because of the slightly bigger body and the resulting sound projection, orchestra guitars serve multiple purposes from fingerpicking to strumming.
Maneuverable body – The guitar's dimensions are smaller than the dreadnought and jumbo but offer a similar (lower) volume and projection.
Comfortable shape – The more pronounced waist of the guitar offers the players (especially sitting players) a more comfortable playing experience.
Pros
A guitar that's loud enough for a small room and small enough to carry around effortlessly
Great sound projection for the guitar size
You can play many styles with a single guitar
Cons
Not so easy to find
Not as big in the low-end as jumbos and dreadnoughts
Famous Guitarist Using Orchestra
Orchestra Are Frequently Used in These Genres
Being such a versatile and comfortable guitar, it is great for live players, singer-songwriters, fingerpickers, and strummers.
---
Auditorium & Grand Auditorium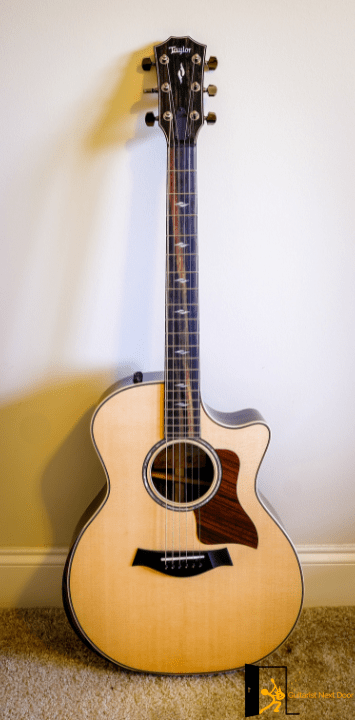 These shapes have been Taylor's competitive advantage to conquer the acoustic guitar world. How so? You might ask. Well, the answer is the scooped mid-frequencies that make room for our voice's natural tones to cut through the mix. Yes, as much as Martin's tone, rich in mids and lows is a timeless classic, modern music usually uses Taylor's "smaller" acoustic sound.
These acoustic guitar shapes, introduced by Bob Taylor in 1994, have rapidly become utterly popular, being Taylor's flagship model and best-selling shape of all time.
Moreover, the playability of these shapes, with the smaller body and more pronounced waist make the guitar the ideal choice for the live musician and also for the studio guitarist who needs a versatile instrument that can fit into any recording.
Finally, on a playability note, the slightly thinner body works perfectly bringing the guitar closer to the player, and thus, enhancing the nuances you hear when playing.
If these shapes resonate with you, we made the ultimate guide to Taylor guitars so you can find the perfect model for your needs.
Check our picks for the best Taylor guitars here.
Key Features of Auditorium & Grand Auditorium
Modern-sounding guitars – The shape of the auditorium and grand auditorium guitars give them a scooped sound in the mids and an overall perfect frequency balance.
Comfort – Perfect for live players, the round edges and thin body make auditorium and grand auditorium guitars a public favorite.
Snappy high-end – Lead players, fingerpickers, and melody makers will love the higher register of this guitar.
Pros
Comfortable shape to play sitting or standing
Scooped mids for a modern sound
Balanced across the tonal register
Perfect high-end for fingerpickers and lead players
Cons
Diminished low-end when compared with a dreadnought
Famous Guitarist Using Auditorium & Grand Auditorium
Auditorium and Grand Auditorium Are Frequently Used in These Genres
The auditorium and grand auditorium guitar shape can be the ultimate acoustic guitar to play everything on. Taylor defines them as the "Swiss knife" of acoustic guitars. That being said, check out Eric Clapton playing a Martin 000 (the Martin equivalent to the Grand Auditorium) during the MTV Unplugged concert. Pay close attention to how he handles leads on his thinner, smaller guitar while backing players play much bigger bodies:
---
Parlor
Parlor guitars are among my favorites of all time. They are small, maneuverable, transportable, great-sounding instruments with a big midrange boost. This combination makes them ideal for writing songs, being on the move, or playing campfire hit songs without the hassle of transporting a full-size instrument.
Let's rewind a little, though, what is a parlor guitar? Well, the definition (by the book) is that they have to be smaller than a model 0 Martin guitar (AKA concert).
The small size brings out the plucky, resonant tones with a strong midrange boost. Also, necks join the body at fret 12 with no cutaway, so it's ideal for strummers, folk players, and also fingerpickers because the strong midrange really projects the nuances to the audience.
Check our picks for the best Parlor guitars here.
Key Features of Parlor Guitar
The smallest full-size guitar – Since they are smaller than concert guitars, they are the smallest of the bunch to respect all harmonic intervals of a full-sized guitar.
Midrange boost – The size and shape boost the midrange naturally making parlor guitars resonant, vibrant, plucky instruments.
Easy to carry and play – No other full-sized guitar is as transportable, maneuverable, and easy to play as the parlor guitar.
Pros
Ease of use
Maneuverability
Midrange projection and boost
Resonant and plucky
Works for fingerstyle too
Cons
Not big on the low-end
Fretboard can feel a little constrained for big-handed players
Famous Guitarist Using Parlor Guitars
Robert Johnson
Joan Baez
John Mayer
Ed Sheeran
Taylor Swift
Parlor Guitars Are Frequently Used in These Genres
Because they are strong in the midrange and small on the low end, these guitars are great for fingerpicking, casually strumming, and playing around a campfire.
---
Classical Guitar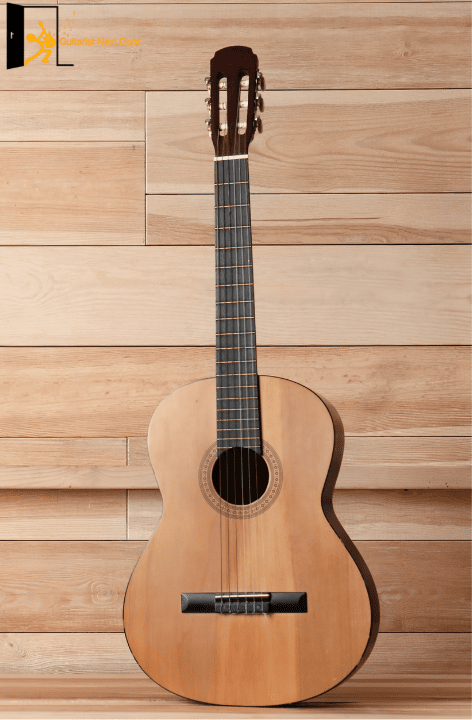 Classical guitars are Spanish-born predecessors to all the guitars we've just seen. Yes, these guitars can be dated back to the 15th and 16th centuries when they were strung with gut-made strings.
Although they are predecessors, these guitars are very different from the guitars we've just seen in ways that can't be spotted at first sight. To begin with, since nylon strings offer less tension, they tend to be lighter guitars with minimal bracing on the top. This phenomenon makes them also more resonant and natural-sounding.
Another big difference for players is that strings are more separated from each other and laid out on a wider fretboard. This allows more precision for the picking hand but also means moving around a more bulky neck, which might be a deal-breaker for some players.
That being said, its body is small, and the pronounced waist makes it a comfortable instrument to play sitting down.
Finally, the biggest difference is that the classical guitar is the only one that can be used to perform a foot-on-the-stool classic repertoire.
Key Features of Classical Guitars
Nylon string-ready – Classic guitars are built to take the tension of nylon strings, which is less than that of steel strings.
Wider, flatter necks – All classic guitars feature a wide, flat neck that's perfect to play chords and speed-of-light arpeggios but makes bending an almost impossible endeavor.
Softer soundboard & lighter weight – Since classic guitars only need to be strong enough for the pressure nylon strings make on them, there's no bracing on the top, making it more resonant and lighter.
Pros
Light guitars because of the lack of bracing
The perfect guitar to study music
More space between the strings for accurate picking
Low string tension
Cons
The sound of nylon strings might not suit every musician
The lack of bracing makes them less durable than other acoustic guitar models
Famous Guitarist Using Classical Guitars
Paco De Lucia
Al DiMeola
Andrés Segovia
Luis Salinas
Classical Guitars Are Frequently Used in These Genres
All classic repertoires can be played on a classical guitar but also styles like flamenco, jazz, gypsy jazz, tango, bossa nova, and other world music styles.
---
Honorable Mentions
---
How to Choose The Right Acoustic Guitar Body Shape & Style For You?
Choosing the right body shape and style for your next acoustic guitar purchase is not something that depends on the guitar itself, but mostly, it depends on you.
Yes, what you need to do is to trace an invisible line that goes from what you need to what's the guitar's main strength.
So, for example, if you answer the question "What will I play on this guitar?" with something like "acoustic covers for a live audience" what you need is an all-terrain instrument that can handle many styles and approaches since you'll be covering other people. So, the answer is a grand auditorium or dreadnought (whichever is more comfortable for you).
On the other hand, if the answer is "to go on a trip to Asia", then the answer is, clearly, a parlor guitar that is easy to carry around. Also, if your answer is "mostly fingerpicking", then the answer could be a concert guitar.
Ask yourself that question and then re-read the descriptions above and I'm positive you'll find the perfect guitar for what you want to do.
1 key thing you should not forget is to take a trip to a music store and test different acoustic guitar body styles, shapes, and sizes out. Then choose the acoustic that feels & sounds the best and suits your other needs!
---
FAQ
What is The Best Acoustic Guitar Body Shape?
Although the answer to the question above has to be based on a playing style or musical taste, we can say that the best-selling guitars are dreadnoughts and grand auditoriums. Therefore, they are the best all-around acoustic guitar shapes.
Remember this: Storing your guitar in an enviroment that has humidity suitable for a guitar is really important for acoustic guitars.
Which Acoustic Guitar Shape is Best For Beginners?
To respond to this question, we have to divide the answer into two:
Most beginners get started playing classical guitar because nylon strings are easier on the fretting hand than steel strings. That being said, the wide, flat neck of classical guitars is not everyone's favorite.
Those beginners who find the classical guitar's neck and fretboard a deal breaker should get started with a parlor or a concert guitar that features a friendly neck and a small, maneuverable body. These smaller bodies bring the guitar closer to the player and make them easier to play and learn with.
But this doesn't mean you should shy away from dreadnoughts or other bigger acoustic guitar body sizes either if you find them comfortable and fun to play.
What is The Best Acoustic Guitar Body for Fingerstyle?
Fingerpickers gravitate toward smaller-body acoustics because they bring out the nuances of playing and can also handle the details of fast passages better than big-body acoustics.
Thus, concert, auditorium, and parlor guitars are the best for fingerpicking guitarists.
What Acoustic Guitar Shape is best for Country Music?
Country music has historically been associated with jumbos and dreadnoughts. This is related to the ease of accompanying a voice with a single, huge-sounding instrument. For example, the Gibson J-200, a (very) big jumbo, and the Martin D-28 are among the most-common country guitars you'll find.
Why Do Guitarists Favor Solid-Wood Body Acoustic Guitars?
The big difference between solid and laminated wood for the body of the guitar is resonance.
Read our complete laminate vs solid wood acoustic guitars guide here.
Indeed, a solid piece of wood has a more musical harmonic vibration because the entire piece vibrates evenly naturally. This is also the most expensive guitar construction technique of the two.
Laminated wood acoustic guitars tend to be cheaper and to vibrate in a different, less musical way since the overall guitar resonance is the result of the specific vibration of different types of wood.
Therefore, a solid-wood acoustic guitar vibrates evenly, produces natural harmonic overtones, and sounds more realistic (thus, better) than their laminated counterparts.
PRO TIP: When you're shopping for a new guitar, bear in mind that, although every part of the guitar is responsible for the resulting sound, the top of the body works as a soundboard defining the guitar's sound. So, if your budget allows it, always aim at a solid top even if the sides and back are laminated.
Does Shape Matter for Acoustic Guitar?
Acoustic guitars are the guitars that are most affected tonally by the wood combination and the body size and shape. For example, trying to get the massive low-end of a dreadnought on an easier-to-carry parlor guitar can be mission impossible. Likewise, trying fingerpicking mellowness and nuances on a jumbo guitar is wasting your time.
So, the answer to the question above is yes.
Do Different-shaped Acoustic Guitars Sound Different?
Yes, although you have to have a trained ear to spot slight differences and nuances between different shapes and sizes of acoustic guitars, they do sound very different. As we said before, while some guitars project mids and lows, others emphasize the high frequencies.
Here's a great video made by Reverb to show you the different tones you can get from every acoustic guitar model:
Finally, different-shaped acoustics not only sound different, but they make you play differently too. Yes, if you pick up a parlor, you might be tempted to play arpeggios and fingerpick while a dreadnought or a jumbo screams for chords and loud strumming.
What is The Most Popular Acoustic Guitar Shape?
Dreadnoughts aren't only the most popular acoustic guitar shape you'll find on the market but are also the guitar with which all the rest are measured.
Indeed, this best-seller is the measurement unit with which to evaluate the rest; therefore, when people talk about parlors, they refer to them as "small" and when talking about jumbos, they refer to them as "big". Both terms are based on the comparison between these guitars and dreadnought guitars.
What is The Most Versatile Acoustic Guitar Shape?
In this case, although dreadnought guitars are the best-selling, most popular acoustic guitar shape of all time, grand auditorium guitars made by Taylor are a refined version of the same shape that takes away the boomy low-end to make room for a more balanced tone across the board.
I mean, don't get me wrong, we're talking about a very thin line dividing these two guitars and most players can play everything and anything on dreadnoughts and grand auditoriums. That being said, there is a certain tendency to excel in the low-end that makes dreadnoughts better for strumming than soft fingerpicking or arpeggios while grand auditoriums offer a more balanced response.
---
Conclusion on Acoustic Guitar Body Types & Styles
Whoah! We nailed it! So many great acoustic guitar body types & styles. And each has their own use cases and place inside the guitar scene. I most often grab a classical guitar for fun fingerpicking, a dreadnought for full tone, or a parlor guitar for overall smooth & comfy playability. What's your favorite? Comment down below!
I hope that this article helped you out. If you have any questions, just leave a comment down below.
Go, my son, and rock!
---
You might also like:
We are sorry that this post was not useful for you!
Let us improve this post!
Tell us how we can improve this post?