Last Updated on April 28, 2023 by Teemu Suomala
Adjusting the saddle and bridge of a normal acoustic guitar can be an intimidating task…you'll need the sand things and if you sand too much…you have to buy a new saddle or glue something at the bottom of the old one.
But all acoustic guitars are not like that. There is a rare selection of acoustic guitars that come with a bridge that has adjustable saddle.
This makes action adjustments smooth and easy, but it does also bring some downsides… let's talk about the pros and cons of adjustable acoustic guitar bridges and saddle in a moment, but first, I reveal to you the 3 acoustic guitars with adjustable bridge & saddle currently available(mass market models).
Let's get started!
Check these acoustic guitar guides too:

Different Guitar Bridge Types – Your Ultimate Bridge Guide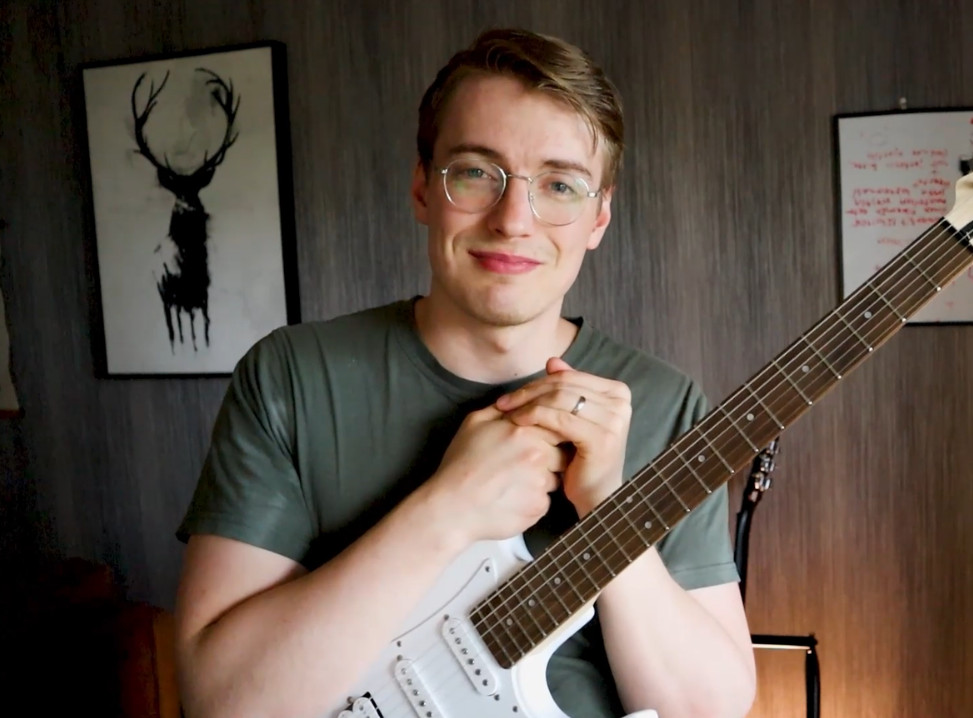 Author: Teemu Suomala
I first grabbed the guitar in 2009. I started this website in January 2020 because I couldn't do window installation anymore due to my health problems. I love guitars and have played dozens and dozens of different guitars through different amps and pedals over the years, and also, building a website interested me, so I decided to just go for it! I got lucky and managed to get awesome people to help me with my website.
I also got lucky because I have you visiting my website right now. Thank you. I do all this for you guys. If you have any recommendations, tips, or feedback, just leave a comment, I would love to chat with you. I have also been fortunate to produce content for several large guitar websites, such as Songsterr, Musicnotes, GuitarGuitar, and Ultimate Guitar.
I spend my spare time exercising and hanging out with my wife and crazy dog (I guess that went the right way…).
Hide The Rambling▲
---
What is An Adjustable Acoustic Guitar Bridge & Saddle
When people talk about adjustable acoustic guitar bridges, it usually means that the saddle (located in the bridge as most of you know) can be adjusted. Usually, the adjusting happens with screws, nuts, or bolts located on both ends of the saddle.
If you tighten the screw, you'll lower the action, if you loosen the screw, you make the action higher. Almost all electric guitars have adjustable bridges and saddles, but with acoustic guitars, all of this is rare. In the image above, you can see one type of adjustable acoustic guitar saddle.
---
3 Acoustic Guitars With Adjustable Bridge & Saddle
If you are after a unique instrument with a still affordable price tag, Gretsch G5034TFT Rancher is one of the best picks. It's the most versatile instrument in this article, and while it lacks some common features from its price range (solid top and bone nut), it still manages to bring so cool tones and fun playability to the table that it is worth the money for me. And it has an adjustable saddle and Bigsby tremolo tailpiece…how cool is that!
Price Range Icon Meanings:
$= $399-599
$$= $600-899
$$$= $900-1199
$$$$= $1200-1799
$$$$$= $1800
*Consider all links in this post to be affiliate links. If you purchase, at no additional cost to you, we may earn a small commission. It helps us to keep the lights on, thanks! 🙂
Our Favorite Music Store in The World!
Why?
– Excellent Customer Service (4.7/5 Trustpilot Score)
– Fast & Free Shipping
– Gear is Inspected, Tested, & Ready to Play When it Arrives to You (We love this)
– Fair Prices
Visit Sweetwater:
---
The Best Acoustic Guitar With Adjustable Bridge & Saddle – My Favorite
Best Overall – Gibson Acoustic 60's J-45 Original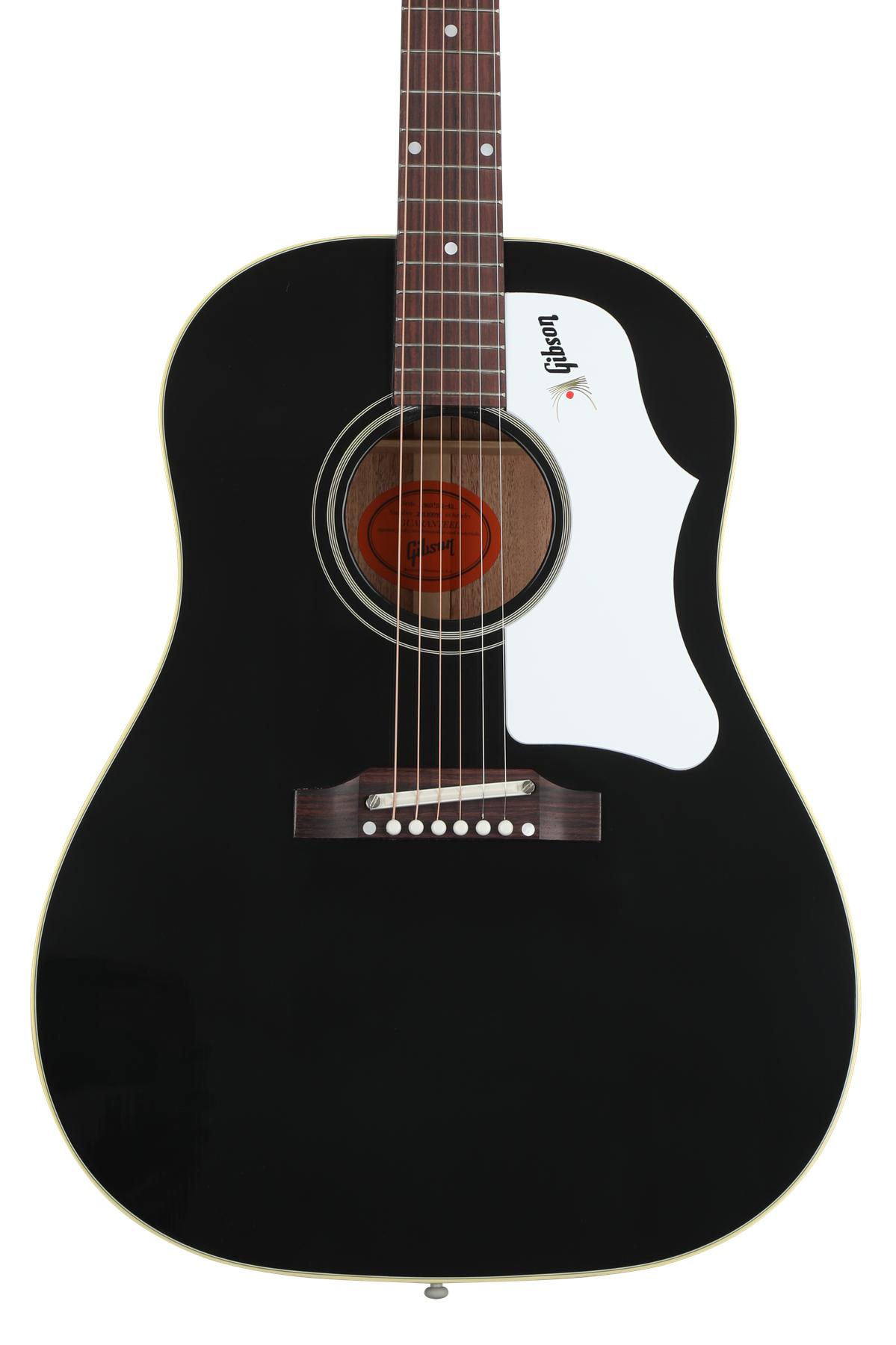 What I like
All-solid woods (Sitka spruce top and mahogany back & sides) offer articulate and clear tone
Excellent quality and craftsmanship
24.75″ scale length ensures lower string tension (easy to fret a note)
Smooth-playing rounded neck with standard-sized frets
Grover tuners ensure great tuning stability
Sounds great overall
What I don't like
Nitrocellulose finish is more sensitive and doesn't work with all guitar stands and hangers (find nitro-friendly guitar stands here)
Built-in electronics would increase the versatility
The tone is a bit more "cloudy" than with comparable Gibson acoustic guitars with standard bridges
Check how this Gibson acoustic guitar with adjustable saddle sounds:
Who is it for?
If you are after a stunning acoustic guitar with an adjustable saddle that is also comfortable to play, offers beautiful clear sound, and premium quality, the Gibson Acoustic 60's J-45 Original is a great option. You need to pay some extra attention to its Nitro-finish and the sound is a bit different than with acoustic guitars equipped with a normal bridge (the difference is definitely not huge), but this Gibson is still nonetheless an excellent instrument.
Check Today's Price on
---
FAQ
Why Don't Acoustic Guitars Usually Have Adjustable Saddles?
The main reason is the fact that adjustable bridges and saddles with their extra metal parts usually affect the resonating of an instrument. Metal parts just don't do such a great job of transferring (or even maintaining) the vibration of the strings to the body of the guitar.
Gibson is one of the main brands that have been experiencing with adjustable acoustic guitar bridges since the '50s, and they still once in a while release models with adjustable bridges. But still, the adjustable bridge of an acoustic guitar hasn't gained much popularity.
Did you know? Gibson even used plastic adjustbale bridges in 1962 and 1963. To see a bridge like this, check this cool video.
Pros and Cons of Adjustable Acoustic Guitar Bridges
Pros
Makes adjusting the action really easy
You can easily higher the action too
Tons of rock music from the '60s and early '70s were recorded using Gibson models with adjustable saddles, so the sound of them is not that bad (check the 1962 Gibson J-160E of John Lennon here(has an adjustable saddle))
Pros
Adjustable acoustic guitar bridges are considered to affect the sound and resonance of the guitar in a negative way (clicky, thinner, and cloudy sound)
Acoustic guitars with adjustable bridges are hard to find (it took a long time for me to find even these 3)
No budget acoustic guitars with adjustable saddle or bridge are available
Check this video comparing the sound of standard bridge & saddle Gibson and adjustable saddle Gibson(the difference is not huge!):
Can You Raise A Saddle On An Acoustic Guitar?
Yes, you can. For the best results, buying a new larger saddle is the best choice. But if that's not an option for you, here's a quick video that reveals how to raise your acoustic guitar saddle DIY-style:
Note that adding extra pieces glued to the saddle can affect the sound and overall resonance of the acoustic guitar. Also, do all modifications at your own risk.
What Years Did Gibson J45 Have An Adjustable Bridge?
Gibson started creating adjustable saddles for J45 as an option in 1956. Adjustable saddle became a standard for the Gibson J45 in 1961.
---
Conclusion on Acoustic Guitars With Adjustable Bridge & Saddle
To me, an adjustable acoustic guitar bridge or saddle is a great feature, but definitely not a must. I'm personally not going to demand all my new acoustic guitars to have an adjustable bridge from this point on, but if one of my future beauties will have one, I'm not going to shy away from it either! It is a really handy feature after all and doesn't ruin the sound of the guitar.
I hope this article helped you out, maybe you even decided to get one of the acoustic guitars featured. If you have any questions, just leave a comment down below, we are here for you!
Keep rocking!
You might also like:
We are sorry that this post was not useful for you!
Let us improve this post!
Tell us how we can improve this post?