Last Updated on April 28, 2023 by Teemu Suomala
Anything that can add some spice to your guitar's sound is usually a welcome addition. And a whammy bar for sure is one of these spicey things…
But, what if you are an acoustic guitarist? I hate to break this down to you…the selection of acoustic guitars with a whammy bar is slim. There's only 1 available for mass markets at the time of writing this (April 6th of 2023). But that 1 acoustic is a great guitar, not for everyone, but definitely worth checking out.
I will also reveal 3 solid alternatives to acoustic guitar with a tremolo arm. After that, let's go through the pros and cons of acoustic guitar with a whammy bar. Plus…I will reveal a video that teaches how to get a tremolo effect out of your acoustic guitar without a tremolo arm!
Let's get started!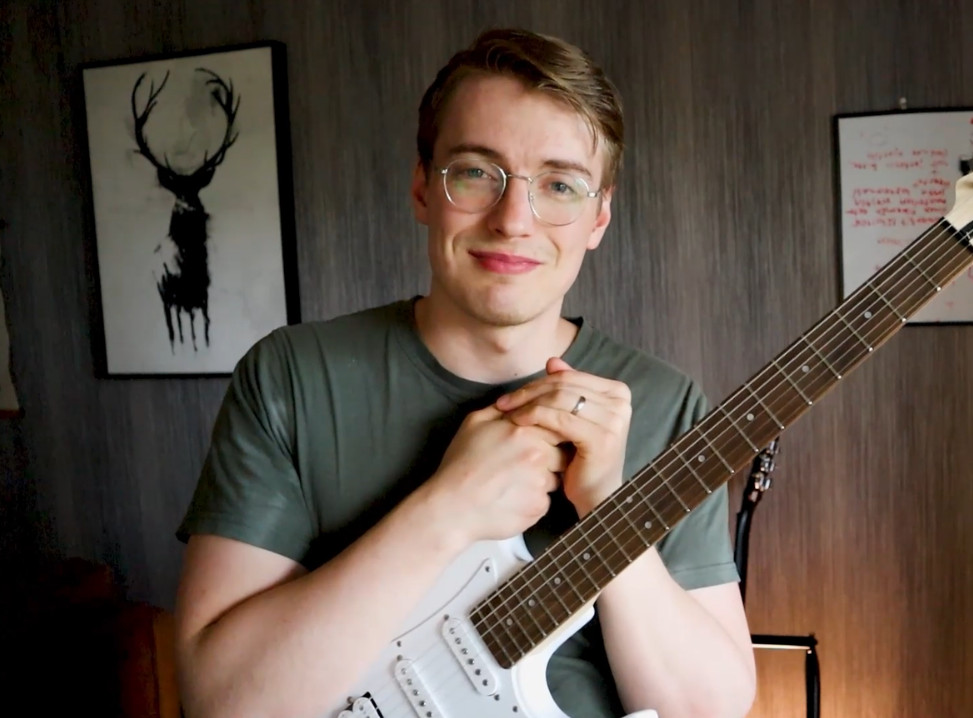 Author: Teemu Suomala
I first grabbed the guitar in 2009. I started this website in January 2020 because I couldn't do window installation anymore due to my health problems. I love guitars and have played dozens and dozens of different guitars through different amps and pedals over the years, and also, building a website interested me, so I decided to just go for it! I got lucky and managed to get awesome people to help me with my website.
I also got lucky because I have you visiting my website right now. Thank you. I do all this for you guys. If you have any recommendations, tips, or feedback, just leave a comment, I would love to chat with you. I have also been fortunate to produce content for several large guitar websites, such as Songsterr, Musicnotes, GuitarGuitar, and Ultimate Guitar.
I spend my spare time exercising and hanging out with my wife and crazy dog (I guess that went the right way…).
Hide The Rambling▲
---
The Acoustic Guitar With Whammy Bar – Gretsch G5034TFT Rancher
The 1 and only acoustic guitar with a whammy bar available for mass markets in April of 2023. It's currently out of stock in many music stores, which to me proves that there's demand for acoustic guitars with whammy bars. I hope that other brands notice this and bring their own tremolo arm acoustic guitars to the market.
Check how this Gretsch sounds and then read my thoughts on it:
What I like
Super versatile (Fideli'Tron Humbucker and Bigsby)
Really rare to find a Bigsby Tremolo tailpiece from acoustic guitar
Fun and comfortable Gretsch rancher playability
Solid all-around acoustic guitar tones
Humbucker offers excellent tones for jazz, blues, classic rock, and rockabilly
Will get you noticed
What I don't like
Laminated top for this price is a deal-breaker for some people (this top choice is probably made because of the humbucker)
Synthetic bone nut sounds cheap for this price
Check our full Laminated Woods vs Solid Woods on Guitar-article here.
Who is it for?
If you are after an extremely unique instrument (the tremolo arm is just one unique aspect of it) with a still affordable price tag, Gretsch G5034TFT Rancher is one of the best picks. It's an extremely versatile instrument, and while it lacks some common features from its price range (solid top and bone nut), it still manages to offer so cool tones, uniqueness, and fun playability to the table that it is worth the money for me. It's overall 1 super cool acoustic guitar with a Bigsby Tremolo system.
Check Today's Price on
*Consider all links in this post to be affiliate links. If you purchase, at no additional cost to you, we may earn a small commission. It helps us to keep the lights on, thanks! 🙂
---
4 Alternatives to Acoustic Guitars With Whammy Bar
What I recommend as an alternative…Godin hollowbody guitars. They offer excellent build quality and sound great acoustically & when plugged in, also Godin has several great instruments with a Bigsby Tremolo available. Sounds really good to me. I'll list my 4 favorites down below, check them out if you want.
Find more great hollowbody electric guitars here.
Price Range Icon Meanings:
$= $399-599
$$= $600-999
$$$= $1000-1499
$$$$= $1500-199
$$$$$= $2000-
| | | | | |
| --- | --- | --- | --- | --- |
| Model | Pickups | Tremolo System | Price Range | Check Current Price (affiliate links) |
| Godin 5th Avenue Uptown Custom | Godin Kingpin P-90 Single-coil & Seymour Duncan '59 SH-1b Humbucker | Bigsby tremolo tailpiece | $$$ | Sweetwater – Thomann |
| Godin 5th Avenue Uptown T-Armond | 2 x T-Armond TV Jones | Bigsby tremolo tailpiece | $$$$ | Sweetwater |
| Godin 5th Avenue Night Club Hollowbody | TV Jones Classic Humbucker | Bigsby tremolo tailpiece | $$$$ | Sweetwater – Thomann |
| Godin 5th Avenue Jumbo P-Rail | Seymour Duncan P-Rail humbucker | Bigsby tremolo tailpiece | $$$$ | Thomann |
Our Favorite Music Store in The World!
Why?
– Excellent Customer Service (4.7/5 Trustpilot Score)
– Fast & Free Shipping
– Gear is Inspected, Tested, & Ready to Play When it Arrives to You (We love this)
– Fair Prices
Visit Sweetwater:
---
FAQ
Can Acoustic Guitars Have A Whammy Bar?
Yes, acoustic guitars can have a whammy bar. There are some rare mass-market acoustic guitars with a tremolo arm available, and some custom acoustic guitar builders are definitely down for building an acoustic guitar with a tremolo arm.
Check how BA Ferguson P.H.A.T. Acoustic Tremolo sounds in action:
Why Acoustic Guitars Don't Have Whammy Bars?
There are a couple of reasons:
A Tremolo arm can decrease the resonance of the top of an acoustic guitar. This can affect the overall sound. (Check our acoustic guitar tonewoods guide here).
Tremolo makes the guitar heavier.
Tremolo arm can increase the possibility of string breaking.
There's no huge demand for acoustic guitars with tremolo arms.
Some acoustic guitar players don't really think that the tremolo arm adds much to acoustic guitar playing.
Pros and Cons of Acoustic Guitars With Whammy Bars
Pros
Increases the versatility of the instrument.
Adds cool effects & tricks to your arsenal.
Sure head turner and conversation starter.
Cons
Can decrease the resonance of the top and affect the overall sound of an acoustic guitar.
Can make breaking strings easier.
Makes the acoustic guitar heaver.
How to Get Tremolo Effect Out of Your Acoustic Guitar Without Tremolo Arm
This video teaches you how to get a tremolo effect out of your acoustic guitar (don't press the lower bout of your acoustic guitar too hard tho):
---
Conclusion on Acoustic Guitars With Whammy Bar
Personally, I love the idea of having at least 1 acoustic guitar with a tremolo arm (I'm looking at you Gretsch G5034TFT). I think that acoustics with a tremolo arm are super cool and really versatile. Having an acoustic guitar with a tremolo arm custom built for you is a solid option too if you got the cash!
I hope this article helped you out, maybe you even decided to get one of the acoustic guitars featured. If you have any questions, just leave a comment down below, we are here for you!
Keep rocking!
You might also like:
We are sorry that this post was not useful for you!
Let us improve this post!
Tell us how we can improve this post?