Last Updated on September 21, 2023 by Teemu Suomala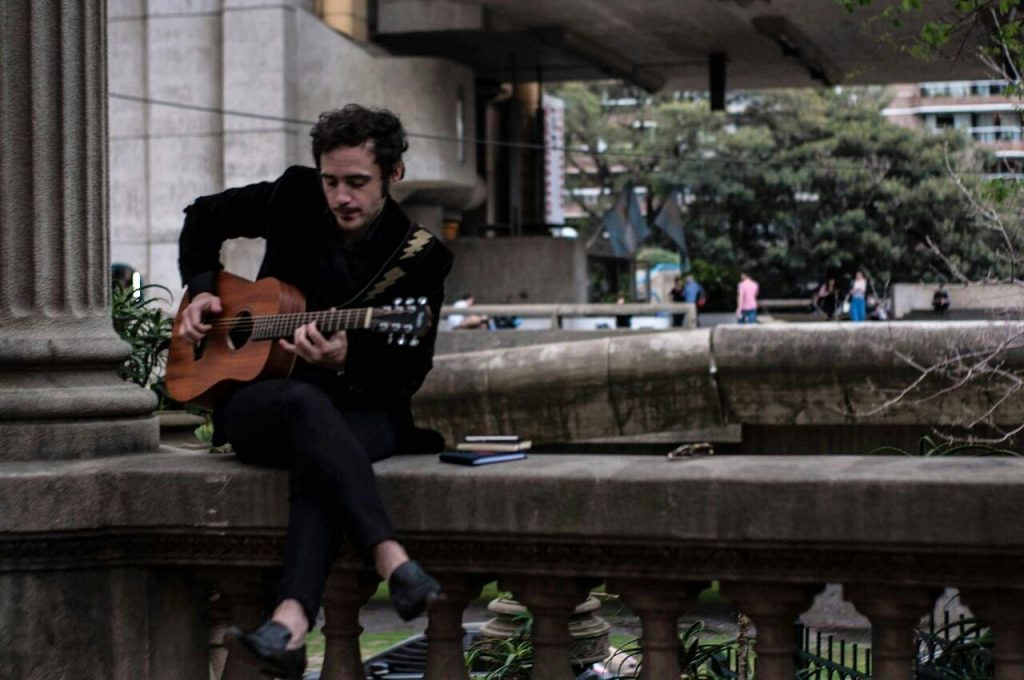 Author: Santiago Motto
Aka. Sandel. Telecasters and all-mahogany Martins lover.
Besides that, Sandel is a professional writer, guitar player, confessed guitar nerd, and all-things-guitar consumer. He has been playing for 25 years which makes him a nineties kid with serious low-tuning youngster years, and a pop palate for melodies, ballads, and world music.
Whenever Santiago is not pouring all that experience and love for the instrument into articles, you can find him playing live shows supporting his music and poetry books as "Sandel". If he's not doing either of those, you can also find him gigging with his band, "San Juan", writing, reading, or enjoying the Sun.
Hide The Rambling▲
Editor: Edward Bond
Edward has been playing the guitar since 2002. So Edward has over 20 years of experience as a guitarist, has authored 15 guitar books, has written for renowned music blogs, and spent a decade teaching music. He began merging his passion for writing and music in 2020 and has written for big guitar websites such as Guitar Head Publishing and KillerGuitarRigs.com.
Originally from Seattle, Edward moved to Norway in 2021 for a master's in music. He's studied at the Jazz Institute Berlin and Conservatorium van Amsterdam, and currently resides in Trondheim. His education includes a European Jazz Master's, a diploma in Film and Game Scoring from Sofia, and a Bachelor's in Jazz from University of Oregon.
Edward has played in numerous bands and currently, Edward works on his own project Starship Infinity
Hide The Rambling▲
---
Let me take you on a brief journey to the past. In 2015, I was standing at the door of the Fender dealer where I worked with my best I'm-so-cool face and a Fender t-shirt. Suddenly, a man and his child approached me. He said: "We want to buy the best-sounding guitar for him, the price doesn't matter."
As you might imagine, I went straight to the most expensive guitars to earn my commission. The man stopped me instantly and said: "Let's start slow," pointing at Mexican Strats.
To make a long story short, they didn't take home the most expensive Fender guitar in the shop, although they tried it. But they did take the best-sounding one.
That experience got me thinking about the hype and myth surrounding the different tiers of Fender guitars. Therefore, I created this piece to help those wandering, lost, and hopeless guitarists, reading one Reddit post after another, tormenting themselves about American and Mexican Fender Guitars.
Read on if you want to know the rest of the story, and take the best Fender electric guitar home with you.
American vs Mexican Fender
Summary
| | |
| --- | --- |
| Made in America | Made in Mexico |
| Performer Series | Player Series |
| Professional II Series | Player Plus Series |
| Ultra and Ultra Luxe Series | Vintera Series |
| Vintage Series | Vintera Modified Series |
Fender Guitar Series by Country
The Key Differences and Similarities between American and Mexican Fender Guitars
Price
USA-made Fenders begin at $1399, while Mexican Fender guitars start at $799.
Pickups
USA-made Fender guitars use custom-made pickups. The Mexican-made Player and Vintera Series guitars use lower-quality pickups.
Neck
USA-made Fenders feature rosewood fretboards, while Mexican-made Fenders feature pau ferro. Both factories primarily use maple necks.
Body
American Fender guitars are generally made of 3 or 4 pieces of wood. Mexican Fender guitars are often made of 5 or more pieces of wood. Also, Fender paints Mexican guitars with polyester instead of nitrocellulose, which affects the tone and sustain.
Sound
The sound of the American Vintage Series is closer to authentic, vintage Fender guitars than the Mexican Vintera Series. The Ultra and Ultra Luxe Series of American guitars offer a broader tonal palette of high-quality sounds than the Player and Player Plus Series.
Hardware
The hardware in the USA-made Fender guitars is either era-correct or carries on the innovation and excellence standards Fender is famous for including:
Locking tuners.
Two-pivot bridges.
Brass saddles.
This is not so clear in the Mexican-made Fender guitars.
*Consider all links in this post to be affiliate links. If you purchase, at no additional cost to you, we may earn a small commission. It helps us to keep the lights on, thanks! 🙂
---
Who Are American Fenders Good For?
American Fender guitars:
Age better.
Are more reliable.
Sound closer to the original.
Have a higher resale value.
Therefore, these players will be happiest with an American Fender guitar in their hands:
Professional musicians.
Touring guitarists.
Collectors.
Fender Fans.
Who Are Mexican Fenders Good For?
Mexican Fender guitars are great instruments for musicians who can't afford the American-made version or don't want to spend that kind of money on a guitar.
Let me say also that the quality of the Mexican-made guitars exceeds the hobbyist and the casual strummer and is far above the basic offerings from Fender subsidiary Squier.
Is an American Fender Better Than a Mexican Fender?
The answer is arguably yes, however this is highly subjective. When you compare the same guitar from both factories, the USA-made Fenders are often higher quality instruments.
---
Price
Let's start this rundown of the best Fender guitar for the money by discussing prices. For this initial approach, we will look at the American Professional II Series vs. the Mexican counterpart, the Player Series.
If you look at the prices of both instruments, you'll find quite a big gap. The American Performer II sells for about $1700, while the Player Series sells for about $850.
Fender builds these guitars 300 km apart, but one costs twice as much as the other.
How can I explain this difference? Well, let me try by dividing this explanation into three main aspects:
Tenure
Accessories
Parts & Pieces
Tenure
Much of the guitar-making process still relies on hand processes and, thus, personal skills.
According to David Maddux (Fender's Senior Quality-Assurance Technician and 35-year employee) in a recent interview with the Los Angeles Times, the average tenure of a Corona California facility is 15 years. Also, the company proudly reports less than 1% turnover.
This means that the over 600 employees in the Corona facility workforce can't be replicated elsewhere. This influences the instrument's quality and price.
Accessories
Guitars made in Mexico at the Ensenada factory come only with a Fender gig bag, unless they're a particular artist signature or special edition guitar.
On the other hand, if you've ever opened the case of an American Vintage reissue guitar, it's a trip to the past. You likely won't have the same experience with the Vintera Series. This difference also influences the final price.
Spoiler alert: that was the selling point for the father and son of my story.
Parts & Pieces
In terms of parts and accessories, the first thing to notice is that all of Fender's newest additions appear in the upper-tier models made in the USA including:
The S-1 switching system.
Noiseless pickups.
Roller nuts.
Mexican-made guitars tend to have cheaper accessories and parts. For example, there's no more rosewood in Mexican-made Fenders, just pau ferro. This difference might seem small or insignificant, but it is paramount in the final price.
What's the Difference For the Player?
I was lucky enough to play several of these guitars and open boxes in different waves coming from the factory. Let me tell you that many times I received Mexican guitars in various qualities.
I clearly remember opening the box of a white Strat with a maple neck that was, at least, AAA-grade flame. It sold within two hours.
So, there seems to be a more rigid quality control department in the USA than in Mexico. Mexican guitars have, at least in my experience, more varied quality levels, while the USA-made instruments have a stringent threshold in sound and playability.
Answer: Is the Price Difference Justified?
Although it's impossible to quantify the price of employee expertise when building the instrument, it's possible to say that the price difference between USA and Mexican Fenders comes down to:
Quality.
Craftsmanship.
Features.
Comfort.
Sound.
---
Pickups and Electronics
Let's divide this into two categories:
Classic and Vintage.
Modern and Performance.
Classic and Vintage
The first guitar that comes to mind when you think of a Fender instrument is the Stratocaster or the Telecaster. Fender proudly continues the 70-year tradition surrounding its flagship instruments.
The American Vintage II Series aims at the historically correct re-creations market. Believe me, Fender does this in style and to the last bolt.
For example, if we compare the Vintera Jazzmaster with the American Vintage II Jazzmaster, the pickups of the American version are wired to specifically recreate the original tones of the Jazzmaster, which is far from the more modern Mexican version.
Finally, the company respects what is now considered a mistake, like the case of the controversial bridge on the Jaguars and Jazzmasters.
Modern and Performance
Who said Fender only made retro stuff? The company has also released all the classic shapes with modern appointments for the touring musician and the professional player.
For example, the American Ultra and American Ultra Luxe Series feature the same traditional looks and even incorporate '60s famous colors like surf green but with a modern, performance-oriented twist.
This is the Series in which you'll find:
Noiseless pickups.
Humbuckers.
Fancy switching systems.
And, more importantly, the dependability and durability you need to play in tune night after night.
This is something the Player Plus Series of Mexican guitars replicates quite faithfully. For example, the Player Plus Stratocaster features locking tuners, noiseless pickups, and a C-shaped, satin-finished 12" radius neck.
Compared to the Ultra Luxe, Mexico offers a much-reduced lineup of guitars. Yet, it also provides complete innovations like, for example, the Fender Player Plus Meteora. This is a dual-humbucker with coil-tap, modern-looking axe with serious rocking tones to deliver.
What's the Difference For the Player?
As a player, the American Vintage Series is the closest and most accurate reproduction of the original you can get, apart from Custom Shop creations. The caveat is that, while the Mexican Vintera guitars don't sound so close to the original, they offer some fantastic tones of their own.
Instead of reproducing a sound created 60 years ago, they offer a modern twist that, for some players, is a winner. For example, I had a customer who tried all the available Jazzmasters and liked the bite and modern edge of the Mexican Vintera better than the American Vintage one.
Moving to the more modern approach in the Ultra, Ultra Luxe, and Player Plus Series, the gap is smaller. Yet, the touring musician or professional player will find in the American Series the perfect guitar to play 500 gigs on (believe me, I've seen an Ultra Luxe Telecaster with twice as many shows under its belt).
You can get close with the Mexican Player Plus Series, but it's not as dependable as the Ultra Luxe.
---
Sound
Let's talk about the sound you get when you plug your new Fender electric guitar into a guitar amp. As you probably know, Fender invented an entire type of sound based on single coil and P-90 pickups. For example, it's hard to find proper Telecaster twang or Stratocaster position-2 and position-4 sounds in any other guitar brand.
In this sense, the American Performer Series (the cheapest USA-made series) is, perhaps, the one that represents the traditional Fender tone at its fullest with no gimmicks or innovations including:
'70s style headstock.
Six-spring tremolo.
Classic switching.
Furthermore, the American Performer is very close to the Vintera Series in price and accessories. Both come with a gig bag instead of a hardshell case.
From that series up, the landscape divides into full-on vintage (American Vintage II) or Fender-certified modern tone with the American Professional, Ultra, and Ultra Luxe guitars.
So, for vintage Fender sound lovers, you can find those tones in the Vintera, Fender Performer, and American Vintage II Series. Things get more exciting and sound closer to the original as you go up in price. So, bluesmen and women, rock and rollers, and classic players, that's the sound you should go after.
For those in search of modern-sounding instruments that carry none of the grit, hum, or dirt of traditional Fender guitars, the Player and Player Plus, American Professional II, Ultra, and Ultra Luxe Series will deliver that glass-like, clean tones you need to play funk, R&B, neo-soul, and hip-hop.
Finally, for heavy-music lovers, humbucker-equipped guitars come in every tier.
What's the Difference For the Player?
For the lovers of traditional Fender tones with that menacing attack, grit, and edge, nothing comes close to the American Vintage Series. The differences in sound between an American Vintage and a Mexican Vintera guitar are enormous. Vintera instruments aren't a meticulous reproduction of a specific tone, instrument, and era.
On the other hand, those who love modern tones will find the Player Plus Series much closer to the Ultra Luxe Series but with different reliability and durability. Furthermore, the Player Plus is an excellent road-worthy instrument for those who value innovation and clean, pristine sounds. Nevertheless, from the player's perspective, the difference in the touch and the sound are clearly noticeable.
---
Playability
Playability is a broad concept. The Cambridge Dictionary defines it as "the quality of not being too difficult for someone to play." Fender guitars have a higher threshold throughout the different lines than other brands.
For example, although the Player Series is the cheapest Mexican Fender you can buy, each is a faithful representation that plays, sounds and works like the real thing: an electric guitar for intermediates.
If you allow me to return to my initial story, this is where the father, the child, and I went first. The man picked up a guitar with a pau ferro fingerboard and played it for half a minute. He then said: "They're making these very well." I agreed with him and still do.
Yet, when we moved on to the American Standard (today, American Professional II), his face changed entirely as he played it for almost two minutes. He said: "There you go, the real thing."
Fender doesn't ship out Player Series guitars with twisted necks that won't stay in tune and that sound awful because of thin-sounding generic pickups like you might find on a cheap Squier. On the contrary, they are capable, great-sounding music machines.
What's the Difference For the Player?
Another takeaway from the story snippet is that the seasoned player with a hand and a pair of ears accustomed to high-tier instruments might feel the difference between the satin finish neck and higher quality tuners on an American made instrument.
Mexican made Fender guitars are good enough for most players to have fun playing for hours. We should all thank Leo, who got it right 70 years ago with the perfect ergonomic designs.
---
Neck
Regardless of whether you love soloing, the neck is among the most crucial elements in a guitar's anatomy. But I'm not just talking about the shape of the neck and its radius; I'm also talking about the finish and, most importantly, the attention to detail.
The father of my story walked from the front of the store to the back, just feeling the necks on the hanging guitars, looking for "the one." When he finally found it, he took that guitar home. Yes, a guitar neck is that important.
But we've reached a point in our comparison in which things change from one tier to another. Indeed, Fender offers for the Professional, Ultra, and Ultra Luxe models a feature they call micro-tilt adjustment. You must have seen it in the shape of a small hole on the back of the neck plate.
That hole isn't just a random occurrence; it works wonders to adjust the neck's tilt angle, which allows you to choose saddle height.
Pau Ferro or Rosewood?
All Fender necks (except for very few exceptions) are made of maple. The news is that rosewood fingerboards are exclusively for USA-made guitars because of the new CITES policy.
Wait! Does that mean that Mexican guitars are going to sound bad? Well, not at all, because Fender's R&D department decided to work with a well-known old friend, pau ferro.
Why do I say "old friend"? For example, the SRV Signature guitar has had a pau ferro fingerboard since it was introduced in 1992.
But is pau ferro a lousy move for Fender? According to most specialists, pau ferro is denser than rosewood and, thus, delivers faster response and a brighter tone with loads of attack and snap.
For others, including me, the difference in audio is so minimal it can be overlooked easily.
Let's Talk Radius, Finish, Action, and Playability
There's no right or wrong in guitar history regarding neck shapes, thicknesses, and finishes.
So, to begin with, the modern "C"-shaped necks, as well as the flatter radiuses (12"), are the perfect combination for the tall frets and satin finish on modern guitars. This is available in Player Plus, American Performer, American Professional II, Ultra, and Ultra Luxe guitars. It makes these guitars more playable and comfortable, especially if you live in a humid area.
On the other hand, vintage models, such as the Vintera and American Vintage Series, adopt the classical shape of the time they're trying to recreate. For example, the '50s guitars aren't available with a rosewood fretboard and feature a "V"-shaped neck. Vintage necks also offer vintage radiuses (7.25" and 9.5") and vintage frets.
What's the Difference For the Player?
The main differences for players in this department are the shape and the finish.
The most significant difference is that Mexican-made guitars use polyester, a thicker paint that lasts longer and dries faster than nitrocellulose. However, the paint does not also allow the wood to breathe as much as nitrocellulose. This causes a difference in tone and makes the finish age less elegant.
---
Body
What happens when you pick up a Fender guitar for fingerpicking without plugging it into a guitar amp? Well, that is the first step I always take in a guitar comparison because I want to hear how resonant the guitar body is.
Yes, whether you're playing rhythm or soloing like a maniac, the tonewood of the guitar body plays a crucial role in the resulting sound.
USA-made guitar bodies are mostly made of 2, 3, or 4 pieces. That number increases drastically when talking about Mexican-made guitars. Here's Ron Thorn, chief Master Builder at the Fender Custom Shop, explaining it.
Why is this important? Well, because of resonance. Indeed, the more pieces you glue together to make a body, the less resonant, organic, and musical that body will be.
Finally, in terms of finishes, the Mexican and the USA-made flagship guitars (Player and Professional II) offer the same number of finishes (9 each).
What's the Difference For the Player?
For the player, the difference between Mexico and the USA in terms of bodies is noticeable. The main differences are the number of pieces that make the guitar and the type of tonewood the guitar is made of.
For example, a swamp ash Telecaster with a maple neck is ready to blow the ceiling out of the building with its snappy, clear, razor-like midrange. The same guitar made with an alder body and sprayed with polyester won't sound as sharp.
Stratocaster vs Telecaster? Which is the best choice for you?
---
Hardware
What role does the bridge of a guitar play in its resulting sound? More importantly, can the bridge be a deal breaker for some players? What about the nut, saddles, tuners, and switches?
Well, Fender offers an extensive variety of hardware for its guitars.
Let's divide it into categories:
Bridge.
Nut.
Switches.
Tuners.
Bridge
The guitar's bridge plays a central role in tone, especially for trem-loaded guitars. Fender's cold-rolled steel block for American Professional II models enhances sustain and clarity.
String-through and hardtail construction add sustain to the instrument. This is augmented in the USA-made guitars because of the brass barrel saddles but not so much in the Mexican-made with regular saddles.
Nut
USA-made guitars feature an original bone nut, while Mexican-made guitars use synthetic bone material. The difference in tone and durability are only noticeable to the very trained ear, though.
Switches
Switches, pots, and jacks are high-quality across the board in the Fender guitar line. The switching system is more complex and offers more variables in the Ultra and Ultra Luxe Series than in the Player Plus Series.
Similarly, the American Vintage guitars respect original layouts and options (tone capacitor in the '51 Telecaster and 3-way selector in the '57 Stratocaster), but the Vintera Series doesn't.
Tuners
While there's a difference between USA and Mexican-made guitars in terms of the tuners used, the accuracy of the tuners, intonation, tuning, durability, and dependability aren't an issue in Mexican Fender guitars. You might not get the original locking tuners on your Mexican-made Fender Player Jazzmaster, but tuners will still be era-correct and work properly.
What's the Difference for the Player?
The guitar's hardware and pickups can be easily upgraded. Furthermore, changing, upgrading, or replacing hardware is one of the cheapest tone experiments you can do.
---
Accessories
Not every guitar in the Fender line comes with fancy accessories, such as a deluxe hardshell case.
The only Mexican guitars with a hardshell case are limited runs and artist-signature guitars. Moreover, only the Player Plus and Vintera Series come with a deluxe gig bag; the Player Series comes in a box wrapped in white paper.
What's the Difference For the Player?
As a pro tip, let me tell you that unless you move around in your car and are very precious about your instrument, you'll likely move around with a gig bag. If you don't live in a safe neighborhood or city, going around with a huge fancy case (or gig bag) that says FENDER in large letters might not be the smartest choice.
I carry my Custom Shop Telecaster in my most beaten-up gig bag so that people don't think I have a $5,000 guitar in my hands.
---
Resale Value
Not long ago, Fender was fined in the UK for pushing prices up and preventing resellers of their products from offering significant price cuts. Additionally, Fender was one of the biggest winners of the resurgence of guitar playing during the pandemic, with over 17% growth from 2019 to 2020. Fender is also the largest guitar manufacturer in the world.
But what does this mean? Well, it means that more people choose Fender as their go-to instrument around the globe. This increases the resale price because there's more demand for cheaper, second-hand instruments.
The only caveat here is that the better the instrument and its parts (USA-made guitars), the better it will age, the better it will sound, and the higher its resale price. For example, the way nitrocellulose ages vs. the thicker, more plastic-oriented polyester makes a big difference.
In a nutshell, American-made Fender tube amplifiers and guitars retain their resale value better.
---
Alternatives To Fender Guitars
Perhaps you've reached this point only to realize no guitars in the Fender line suit your needs. Well, worry not because you can buy your next axe from another Fender-owned brand.
Jackson Guitars
Jackson is a great brand for metal lovers and players who prefer modern, performance-oriented guitars. Indeed, whether you love pointy shapes, flashy colors, floating tremolos, and active pickups or want a super Strat with a fast neck, you can visit Jackson's site.
Gretsch Guitars
Owners of a legendary catalog of timeless classics and iconic instruments, Gretsch is a great brand for those who love country, rockabilly, psychobilly, jazz, blues, funk, rock, and folk. Yes, if hollow-body guitars are your thing or you're looking for a Les-Paul-oriented guitar, you must check Gretsch's site.
Finally, if your issue with the guitars named here is the budget, you can always aim for a Indonesian-made Squier guitar.
---
FAQs
Are Mexican Fender Guitars Any Good?
Mexican Fender guitars are reliable, well-made, good-sounding instruments that are road-worthy. Furthermore, if you're a pro musician or a touring player, you can take a MIM guitar on tour indefinitely.
Are USA Fender Guitars Any Good?
Fender USA-made guitars are the brand's flagship. If you like the Fender sound, there's no chance you won't find a fine instrument to play chords, leads, arpeggios, and solos on.
Furthermore, the USA facilities are home to Fender's Custom Shop, a place where nothing is impossible.
Don't just take my word for it; check this "Ancient Jaguar" made with 50,000-year-old wood (in the process of petrifying) with mastodon tusk as fret markers.
Fender guitars don't get any better than the USA-made Fender guitars.
How Can I Make My Mexican Fender Better? (Upgrade Ideas)
Maybe you're trying that one favorite riff of yours and can't seem to get your guitar to sound like the sound in your head. Don't worry because many options exist to upgrade and overhaul your Mexican Fender guitar.
– Tuners: If, for any reason, your guitar refuses to stay in tune, you can opt for some locking replacement tuners. Installation is a breeze for a seasoned technician.
– Pickups: Pickups are, after strings and picks, the cheapest tone experiment. Feel free to look around and install whatever pickups you want on your Fender. You can do like Ritchie Kotzen and play an unmodified Telecaster with two humbuckers or go full-on Jim Root with a pair of active EMG pickups.
Since Fender guitars are so popular, you can find replacement and upgrading parts for virtually everything you need.
How Do I Know If My Fender Is American or Mexican?
You don't need to plug it into a guitar amp to tell your Fender is Mexican or American-made.
– Mexican guitars will say "MX" before the serial number on the back of the headstock.
– American guitars will say "US" before the serial number on the back of the headstock.
– American Vintage guitars should have a "V" before the serial number printed on the neck plate. The exception is the '51 Telecaster, which is stamped on the bridge plate just like it was back in the day.
Are Mexican Fender Guitars Good for Beginners?
Mexican Fender guitars are perfect for beginners who want a guitar that sounds and plays properly.
They are great to take your first steps and can accompany you on your path to becoming an intermediate player (or even more).
Metal guitar aficionados and beginners might be better off looking for their guitar in the Jackson or Charvel brands.
---
Conclusion
The old tale of American vs. Mexican Fender has come to an end.
As a rule of thumb, if you have the budget and will put in the hours, you should buy an American Fender and enjoy the perks of the real deal (case candy, looks, colors, and resale price).
Conversely, if you're after a budget-oriented instrument that will perform steadily with minimal maintenance and don't care about the details or aren't picky about tone, Mexican Fenders are excellent instruments, too.
Now you are armed with all the information you need to make a great choice about which Fender guitar to get for yourself. Head over to your local Fender dealer to try some out!
We are sorry that this post was not useful for you!
Let us improve this post!
Tell us how we can improve this post?