Last Updated on April 29, 2023 by Teemu Suomala
Getting all the gear in one pack seems like a great idea for sure… but are guitar starter packs really worth it?
When I first started learning to play the guitar (2009), I was determined to find a great guitar for a beginner. I became interested in the idea of buying a guitar starter pack and getting all the needed gear at once, but I just couldn't find a good source of information on them back then. That's why I made this post.
That's why I've created this straightforward guide to guitar starter packs, so you don't need to look any further. "The guide I wish I had."
First, I will give you my quick answer and after that, we will look at the pros and cons of the guitar starter packs, plus other important stuff.
Quick answer:
Are guitar starter packs worth it? Yes, guitar starter packs are worth it, especially for beginners. Nowadays most starter packs are good-quality and will help you to start your guitar journey at an affordable price. But you still have to do proper research before you buy because there are still some poor-quality packs out there.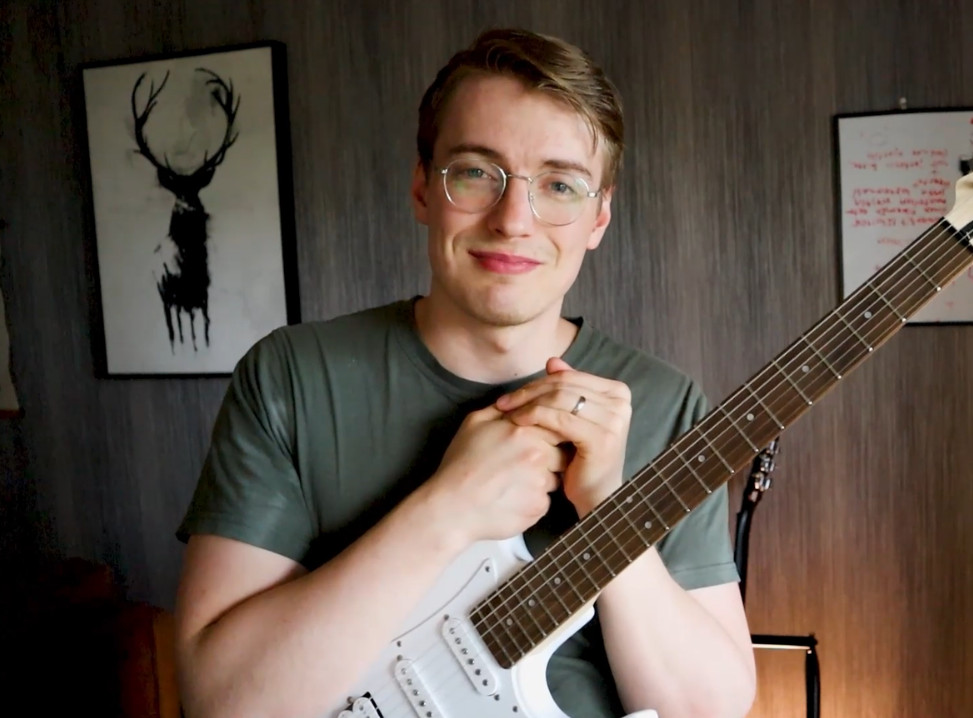 Author: Teemu Suomala
I first grabbed the guitar in 2009. I started this website in January 2020 because I couldn't do window installation anymore due to my health problems. I love guitars and have played dozens and dozens of different guitars through different amps and pedals over the years, and also, building a website interested me, so I decided to just go for it! I got lucky and managed to get awesome people to help me with my website.
I also got lucky because I have you visiting my website right now. Thank you. I do all this for you guys. If you have any recommendations, tips, or feedback, just leave a comment, I would love to chat with you. I have also been fortunate to produce content for several large guitar websites, such as Songsterr, Musicnotes, GuitarGuitar, and Ultimate Guitar.
I spend my spare time exercising and hanging out with my wife and crazy dog (I guess that went the right way…).
Hide The Rambling▲
---
The Pros and Cons of the Guitar Starter Pack
When deciding whether or not to do anything, it's smart to weigh up the pros and cons. This way, you can make an educated decision by yourself.
Pros:
1:Solid Guitar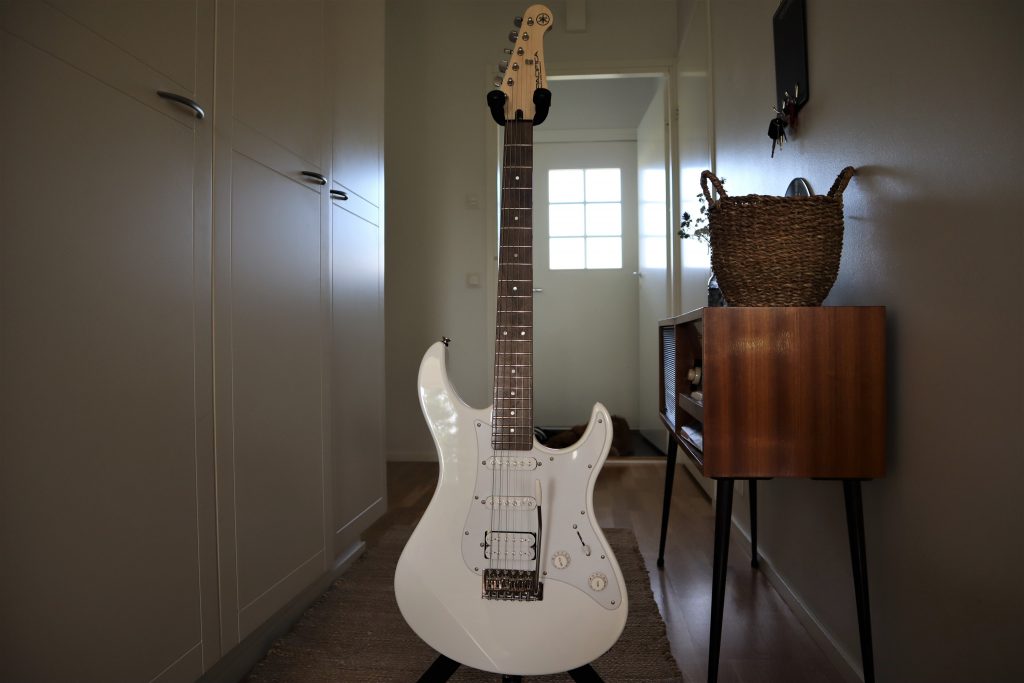 Usually, the best quality item in a starter pack is the guitar. I have found that most of the time, the guitar is fun/easy to play, and sounds solid. There's for sure is a difference between a starter pack guitar and a more expensive one, but guitars found from starter packs are usually completely workable instruments. They will get you started.
2: Save Money
As you probably already know, guitars can be very expensive. Spending $1000 or more on your first guitar is not the best choice, because there's a chance that you may never even play it that much and budget guitars are more than enough to get you started.
Having such an expensive item kept up on a shelf somewhere collecting dust would be a shame, and that's why it's better to start with a more affordable guitar. Starter pack prices tend to start fairly low, which is one of the main reasons why they're such a great choice for first-time guitar hoarders.
3: Get all in one
When buying your first guitar, you likely don't know all of the various pieces of equipment that you might need to buy. You also probably won't want to go around a busy music store trying to find them.
When you buy a guitar starter pack, you get pretty much everything you need all in just one purchase. That saves money, time, and effort.
4: Trust in an Expert
Since you probably won't be aware of what you might need in order to start playing the guitar, it's great to be able to trust in the experts who pick out the equipment which goes into guitar starter packs.
Not only do they choose equipment that's best suited to beginner players, but they also make sure that starter packs include everything you need to get started. And usually, these experts do a pretty good job when picking the gear to the starter pack.
5: Quality is not That Bad
Back in the day, beginner guitars used to be pretty bad. And that reputation still lives strong.
But nowadays, starter packs are usually good in quality and will serve a beginner guitarist for years to come. I bought mine in 2009 and I played it for 4 years and then upgraded for a better guitar. The quality was great, and I was happy with my purchase.
This is excellent news for beginners! You can get started with good-quality gear at a low cost.
Cons:
1: Starter Packs can sometimes be Low-Quality
If manufacturers used high-quality products in guitar starter packs, they would probably be way too far out of beginner's budget, and so no one would buy them. That's why the most affordable things tend to end up in cheap starter packs.
While no one wants to be playing a low-quality guitar or using a low-quality amp, it's important to consider that as a beginner, there's not really a great need for you to use high-end products yet.
Typical issues with starter pack gear:
Guitar has slight finish issues (rough fret issues, little scratches, blemishes on paint job, etc.)
Guitar cable is pretty cheap
Amp is not able to handle high distortion well
In some extreme cases, guitar has major issues. If this happens, you can usually return the guitar for refund or new one.
2: You can't Pick and Choose Products
While I love to play Fender guitars, I'm a big fan of amps of the other manufacturers. I also like to mix and match the guitar accessories that I use. Unfortunately, you can't usually pick and choose your guitar accessories if you buy a guitar starter pack. But sometimes you can go visit a music store and strike a deal of a starter pack that includes the gear YOU want.
3: You may not use your Starter Pack Guitar for Long
Once your guitar skills have improved quite a bit, you might want to buy another, better guitar.
It may take a few years before you've decided to upgrade to something of higher quality, and your starter pack guitar will be lost and forgotten somewhere in your basement. Some might feel that this makes buying a starter pack a little bit pointless.
But the key thing is this: the starter pack gets you started with ease and at a low cost. And if the guitar playing is not for you, at least you didn't waste a lot of money and time on buying an expensive guitar.
So, have you weighed up the pros and cons carefully? Great, now let's get into the details of guitar starter packs.
Our Favorite Music Store in The World!
Why?
– Excellent Customer Service (4.7/5 Trustpilot Score)
– Fast & Free Shipping
– Gear is Inspected, Tested, & Ready to Play When it Arrives to You (We love this)
– Fair Prices
Visit Sweetwater:
How much does a Decent Guitar Starter Pack Cost?
While there are some low-quality guitar starter packs that start from as little as $60, good-quality ones tend to cost anything from $160 to $350. It's important not to go straight for the cheapest option, as tempting as it is, unless you happen to be on a really tight budget.
Cheaper starter packs will generally contain the lowest quality items, so it's best to push your budget up a little higher than you might like to. This is because your first guitar, along with the necessary equipment, should make learning easy and fun, and lower-quality guitars will likely make it a whole lot more difficult for you.
Remember, buy the best guitar and gear you can afford, and usually getting a cheap guitar or guitar pack is a better option than not getting one at all.
What's in a Guitar Starter Pack?
Here's a quick list of the contents of the average electric guitar starter pack:
A guitar (pretty obvious)

A tuner

A guitar case

Some picks/plectrums

A guitar strap

Some spare guitar strings

Free guitar lessons
You probably won't find all of these accessories in every starter pack, but these are what you're most likely to come across. Sometimes pack doesn't include a tuner, but don't worry, you can download a free tuner like a Fender Tune to your phone.
Is a Guitar Starter Pack a Good Option for you?
If you're a beginner or intermediate guitarist, and you're looking to buy everything you need to start playing guitar at a minimal price, then a starter pack may be the best option for you.
If you already play the guitar at a higher level, it's probably worth investing in better-quality gear.
While guitar starter packs are widely praised for their handiness and affordability, they simply don't offer a good long-term option for serious guitar players. In time, you're likely to find specific brands and products that you prefer over other ones, and you'll be able to pick and choose your best sound and style.
A guitar starter pack might be good for you if:
You're a beginner player

If you are buying a guitar for a kid

You don't know which products you need to buy, or which ones are the best

You have a low budget

You're not particularly fussed about the quality of your guitar; you just want to start playing

You're looking to buy a guitar as a gift

for a beginner

You're not sure if you'll continue playing the guitar as a long-term hobby, but you still want to give it a shot
Best Guitar Starter Pack
Yamaha GigMaker Electric Guitar Pack Review 2021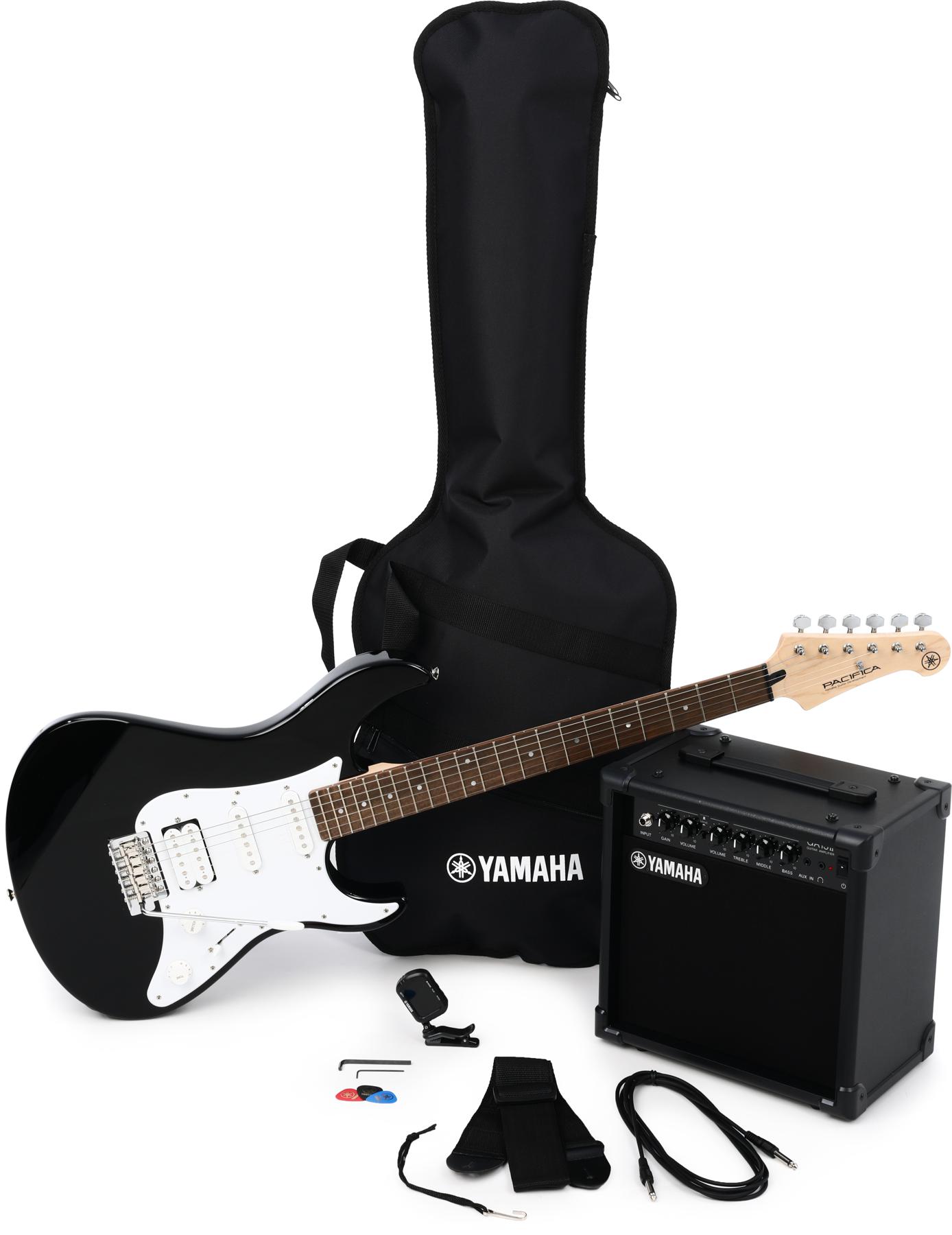 This is my favorite Starter Pack. The great guitar that holds up for years, a solid amp that provides a nice tone, plus all the other accessories. There is only one small flaw. The Guitar cable is not that great, don't get me wrong, it will get you started, but I recommend that you replace it at some point.
You can read my full review of this guitar pack here: Yamaha GigMaker Electric Guitar Pack Review 2022 – Before You Buy.

I also had the guitar of this starter in my home testing recently, check the review here: Yamaha Pacifica 012 Review
This guitar pack has been available for 10 years. The reason is this: they got it right the first time. And it has been a high-quality pack since then.
---
If you want to check out more guitar starter pack options, I crafted this guide for you: Best Beginner Electric Guitar Package In 2022. It helps you to pick the right starter pack for you and reveals other great starter pack recommendations.
If you are more inclined to buy all the gear separately, these guides will help you:
Conclusion on Are Guitar Starter Packs Worth it
To sum it all up, yes, guitar starter packs are worth it. Of course, this depends on your level of experience, your budget, and your preferences. There's a chance that you'll outgrow your starter pack guitar at some point, but something of better quality or value could end up going to waste if you purchase an expensive guitar too early on.
My recommendation for a beginner is: buy a starter pack or other budget gear first. Get your guitar-playing journey started. When you are sure that this hobby is for you, upgrade for better gear if you want.
If you're thinking of buying a starter pack guitar, make sure to go for a trustworthy brand and read some reviews first to protect yourself from being ripped off. Also, don't be afraid to ask a friend or an expert if you're not sure which type of guitar starter pack is best for you.
I hope that this post helped you out! If you have any questions leave a comment down below and feel free to share this post too.
I wish you all the best and keep rocking!
Teemu Suomala
---
You might also like:
We are sorry that this post was not useful for you!
Let us improve this post!
Tell us how we can improve this post?