Last Updated on April 29, 2023 by Teemu Suomala
When getting a new guitar, you might be worried about the space that you're going to use for instruments. After all, having a couple of precious guitars requires some space, if you want to keep them properly without any kind of short or long-term damage.
This is why many are opting for wall hangers for their guitars. This is a good way to save some space in your home, you just put your guitar on your wall, and that's it! Besides, guitar decor on the wall looks amazing, doesn't it?
However, there is still one specific issue guitarists might have with these wall hanger solutions. The first things that come to mind are
"Will my guitar get damaged?"
"Are Guitar Wall Hangers Bad for the Guitar?"
After all, this does seem like a bit of a weird way to store your electric guitar, as it rests only on its headstock. But let's now see how all this works.
Quick Answer to Are Guitar Wall Hangers Bad for The Guitar?:
Speaking of reasonable time frames, using a wall hanger the proper way won't damage your guitar. Of course, for this, you need a quality wall hanger and you need to take care that your guitar doesn't hit the wall or any other objects. But overall, you shouldn't be worried about wall hangers these days, as they're made to keep your guitar safe.
Who crafted this post: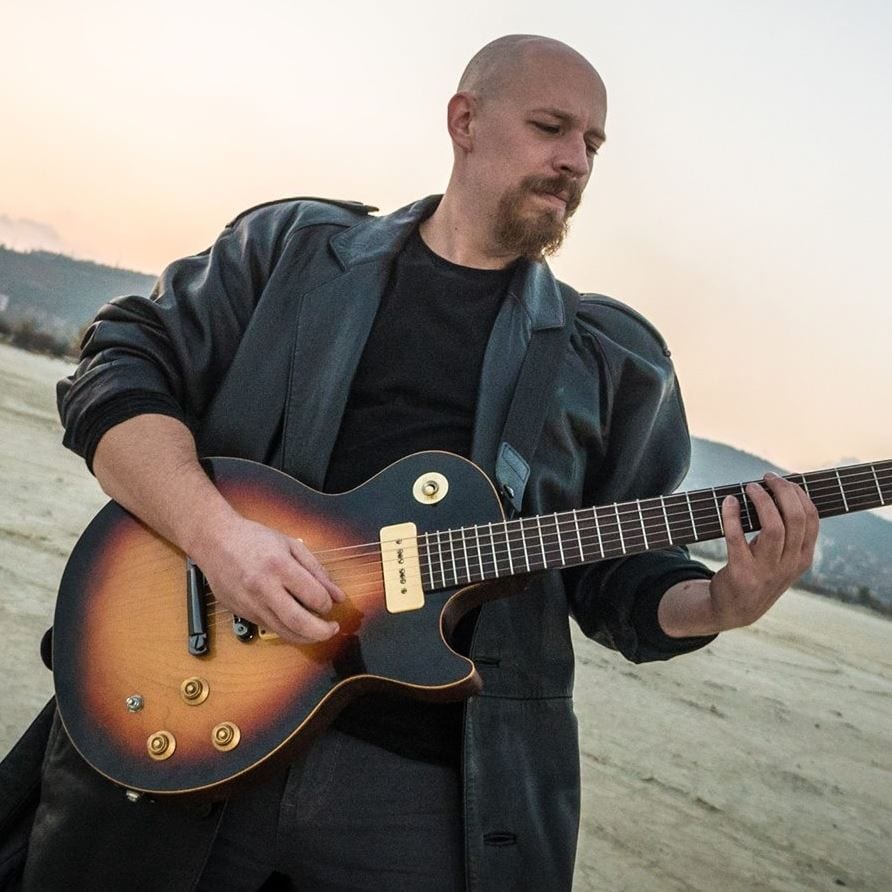 Author: David Slavkovic
David has been playing guitar since 1998, his main focus back then was hard rock and metal. With years, his music tastes evolved and he eventually started appreciating all musical styles. Although officially an agricultural engineer, David began writing for Ultimate Guitar in 2017 where he's currently working as a senior editor.
Hide The Rambling▲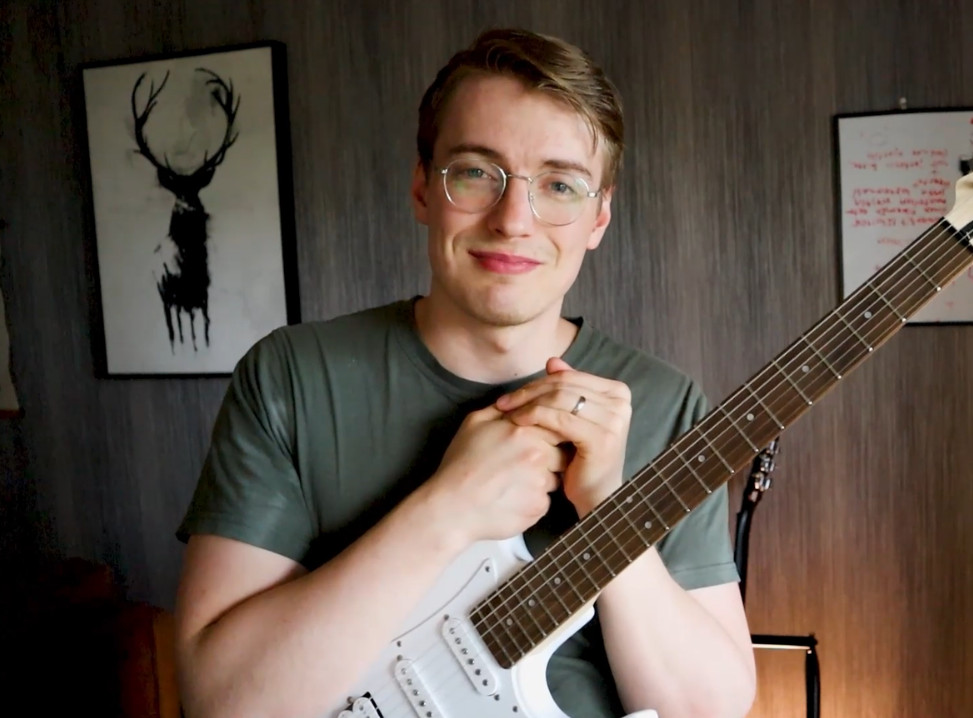 Editing & Research: Teemu Suomala
I first grabbed the guitar in 2009. I started this website in January 2020 because I couldn't do window installation anymore due to my health problems. I love guitars and have played dozens and dozens of different guitars through different amps and pedals over the years, and also, building a website interested me, so I decided to just go for it! I got lucky and managed to get awesome people to help me with my website.
I also got lucky because I have you visiting my website right now. Thank you. I do all this for you guys. If you have any recommendations, tips, or feedback, just leave a comment, I would love to chat with you. I have also been fortunate to produce content for several large guitar websites, such as Songsterr, Musicnotes, GuitarGuitar, and Ultimate Guitar.
I spend my spare time exercising and hanging out with my wife and crazy dog (I guess that went the right way…).
Hide The Rambling▲
---
Are Guitar Wall Hangers Bad for the Guitar?
First and foremost – you need to bear in mind that no instrument lasts forever. Eventually, everything gets damaged, broken, or just thrown away. Especially cheaper instruments. So it's inevitable that your guitar will get harmed in some way sooner or later.
However, speaking of reasonable time frames, using a wall hanger the proper way won't damage your guitar. Of course, for this, you need a quality wall hanger and you need to take care that your guitar doesn't hit the wall or any other objects. But overall, you shouldn't be worried about wall hangers these days, as they're made to keep your guitar safe.
After all, look at any guitar store in the world. Most of the guitars are always on hangers. They don't fall down, they don't hit on anything, and they remain as good as new even when they sit there for months.
How Wall Hanging Can Theoretically Affect The Guitar?
All wall hangers rely on the headstock to hang the guitar. But will this kind of placement affect your guitar in any way? Well, the simple answer is yes. Your guitar cannot be completely unaffected when placed on a wall hanger.
After sitting there for extended periods of time, this could affect the guitar's neck. However, what also affects the neck is having strings on it. Or even not having strings on it. If you ever got the chance to keep your guitar for a long time with no strings, you'd notice that the neck gets warped, even to the point where you won't be able to play anything when you put the new strings on. This is why most guitars, both acoustic and electric, have a truss rod.
So even if your guitar neck gets affected at some point(usually not), it's far from something that will permanently damage the instrument. All you need to do is turn 1/4 of a full circle with a hex key, and you'll be fine. And most of the time, wall hanging is not the cause of these issues.
---
What's The Best Guitar Wall Hanger (Wall Mount)?
Main Wall Hanger Types
There are a few different types of guitar wall hangers that you can find today. Some of them are also quite innovative and don't rely on holding the guitar by its headstock. But most of the regular ones do. Here are the 2 most common wall hangers types:
Fixed Wall Hanger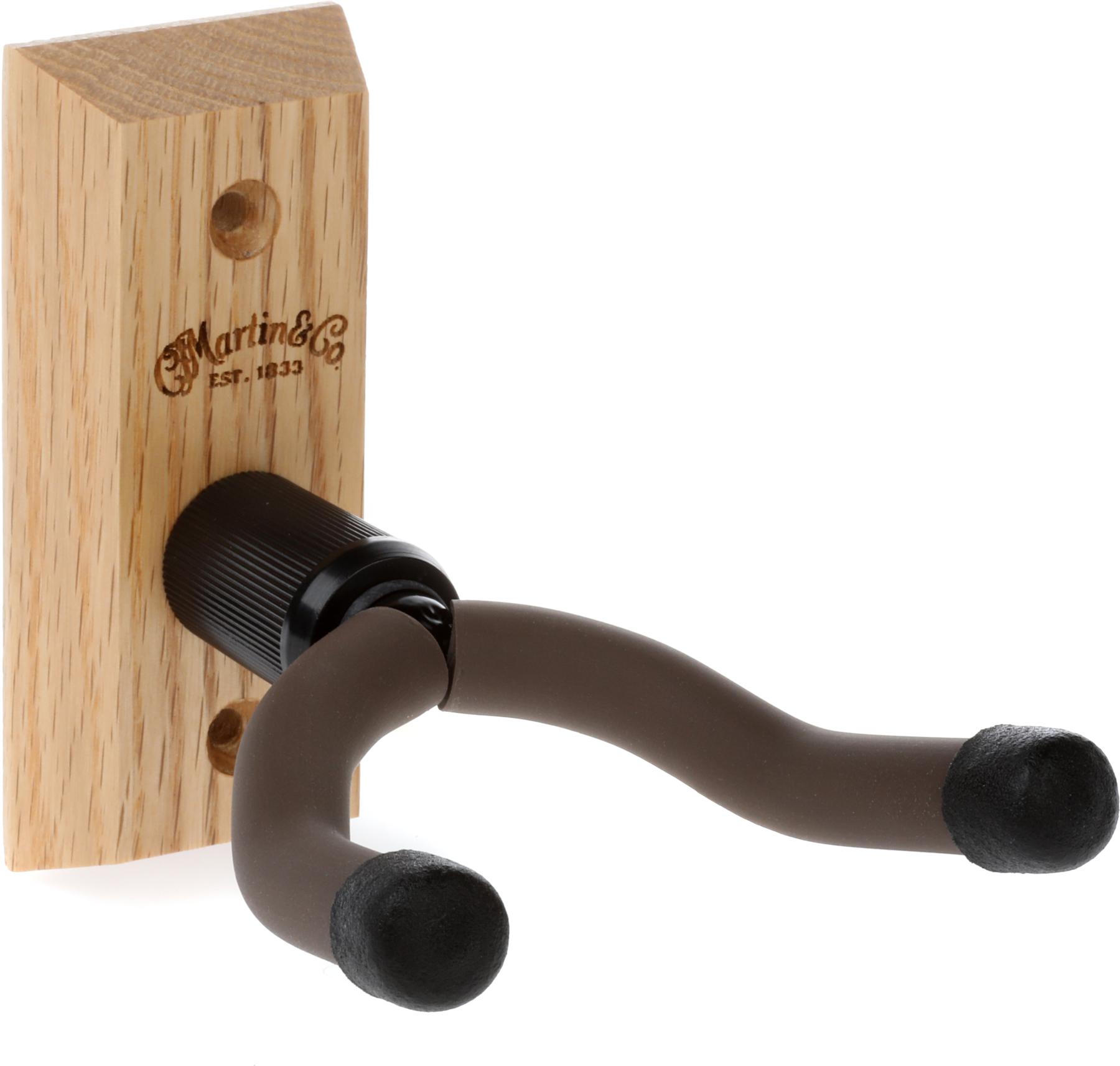 It's basically like a fork where you just put the guitar neck on it. However, it always allows you to turn it a little in order to place guitars with different types of headstocks. For instance, we usually have the symmetrical Gibson type of headstock, with three tuners on each side. But when placing a 6-in-line headstock, you can either turn it a little on its side so that you can place this asymmetrical headstock on it.
Wall Hanger With Auto-Grip or Locking System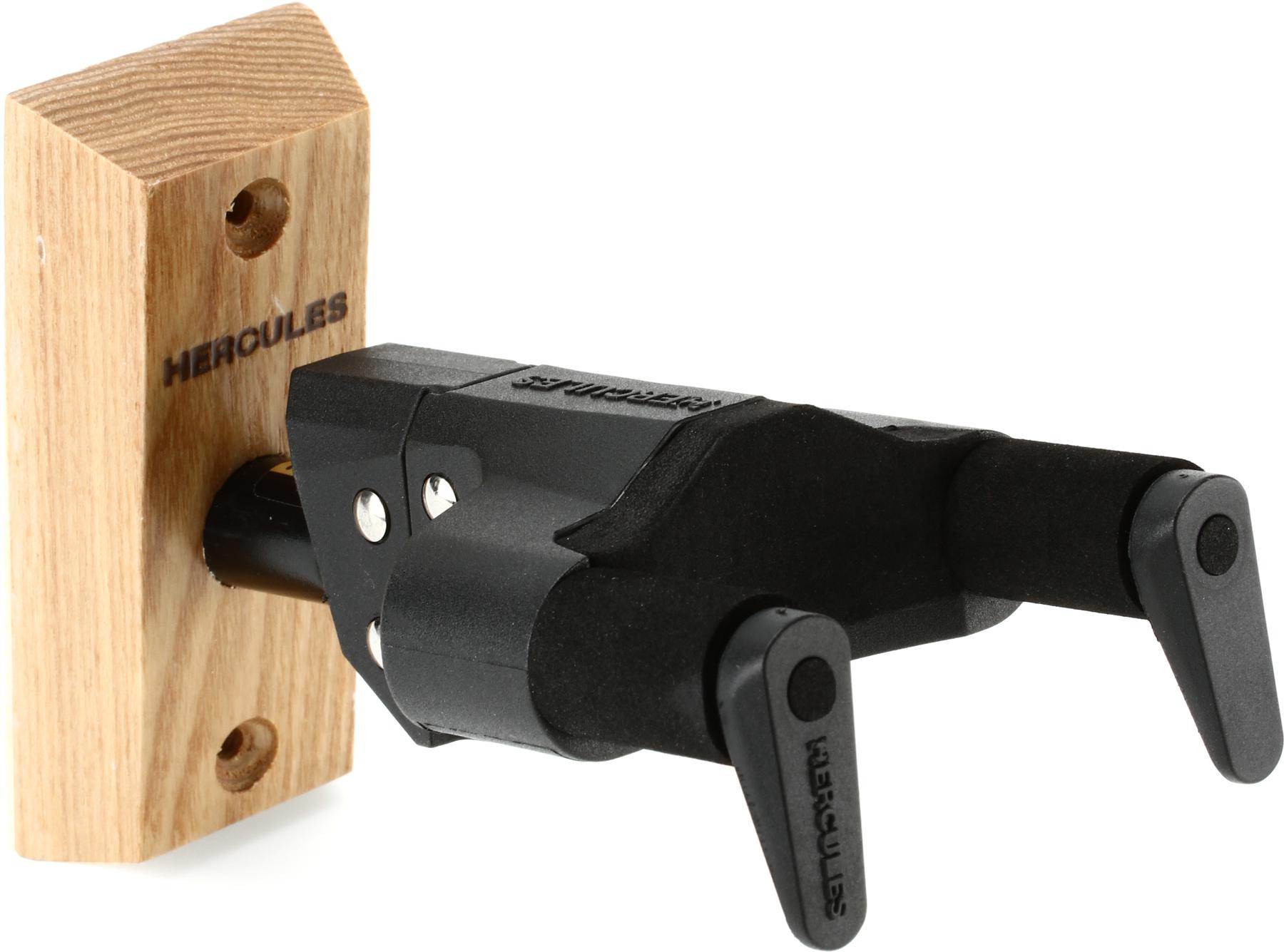 The other common type of a guitar wall hanger has two rods/wings that come into place when you put the guitar on them(photo above). These work well for any type of headstock and require no further adjustments. Also, the two rods/wings protect your guitar from dropping down. I've noticed that many guitar stores use this kind of wall hangers.
Either way, there are so many wall hangers these days and most of them will work well for any type of headstock.
Telecaster headstock is probably one the trickiest one to find a good hanger for. Gladly we have done the work for you! Just check this guide if you are looking for an wall hanger for your Tele!
Best Guitar Wall Hangers
What's the "best" might depend on your type of guitar, your setting, and what you prefer. These are a few great examples of wall hangers that you might want to check out.
Best Overall – Hercules GSP38WB PLUS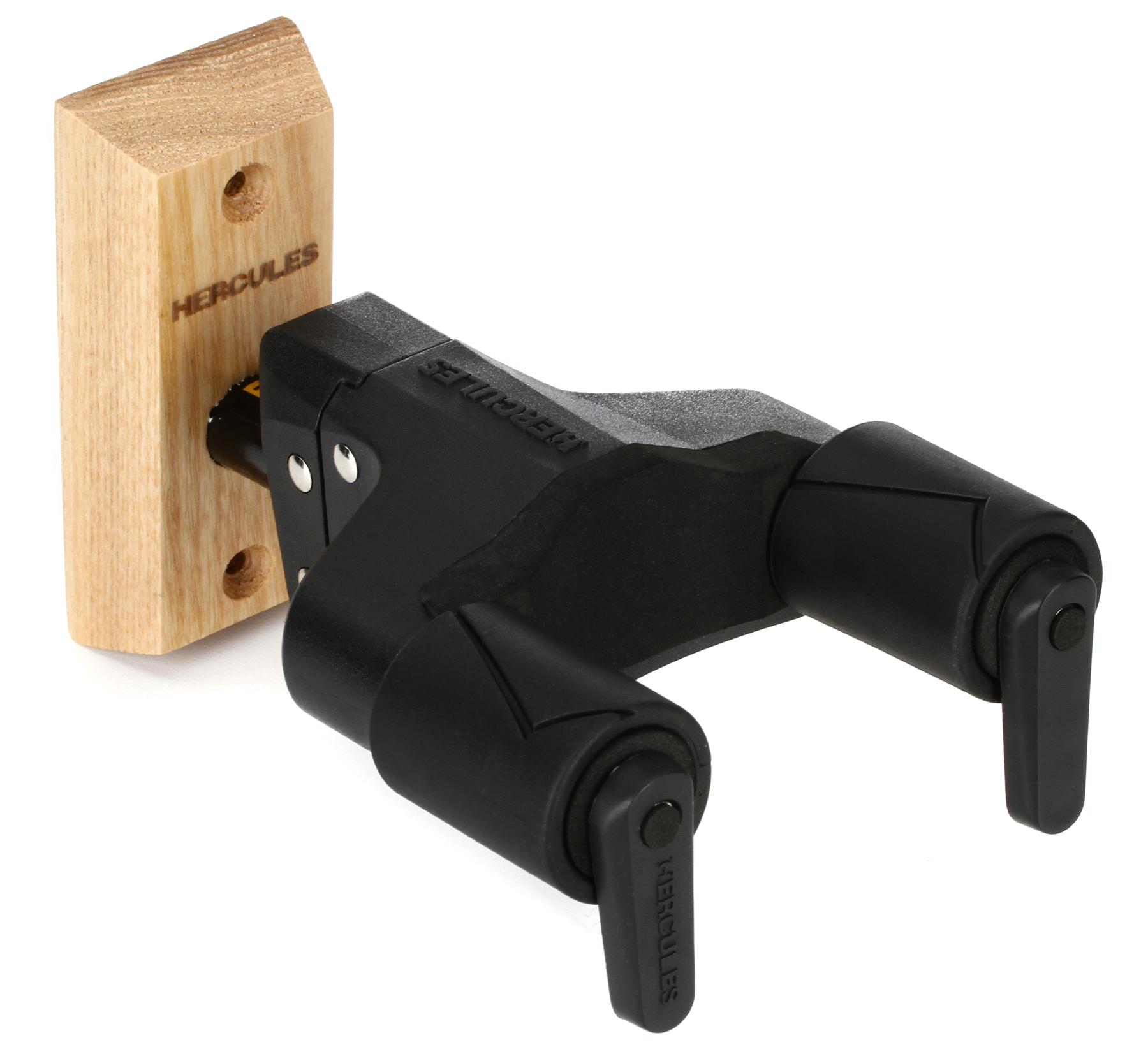 The Hercules Wallmount hanger is one of the best single-instrument wall hangers. It might be a bit more expensive, but the quality is high. It has those two additional "wings" that can help you lock your guitar in place. This auto-locking system helps you to sleep well, knowing that your guitar is safely hanging from the wall.
*Consider all links in this post to be affiliate links. If you purchase, at no additional cost to you, we may earn a small commission. It helps us to keep the lights on, thanks! 🙂
---
Best Without Auto-Locking System – String Swing CC01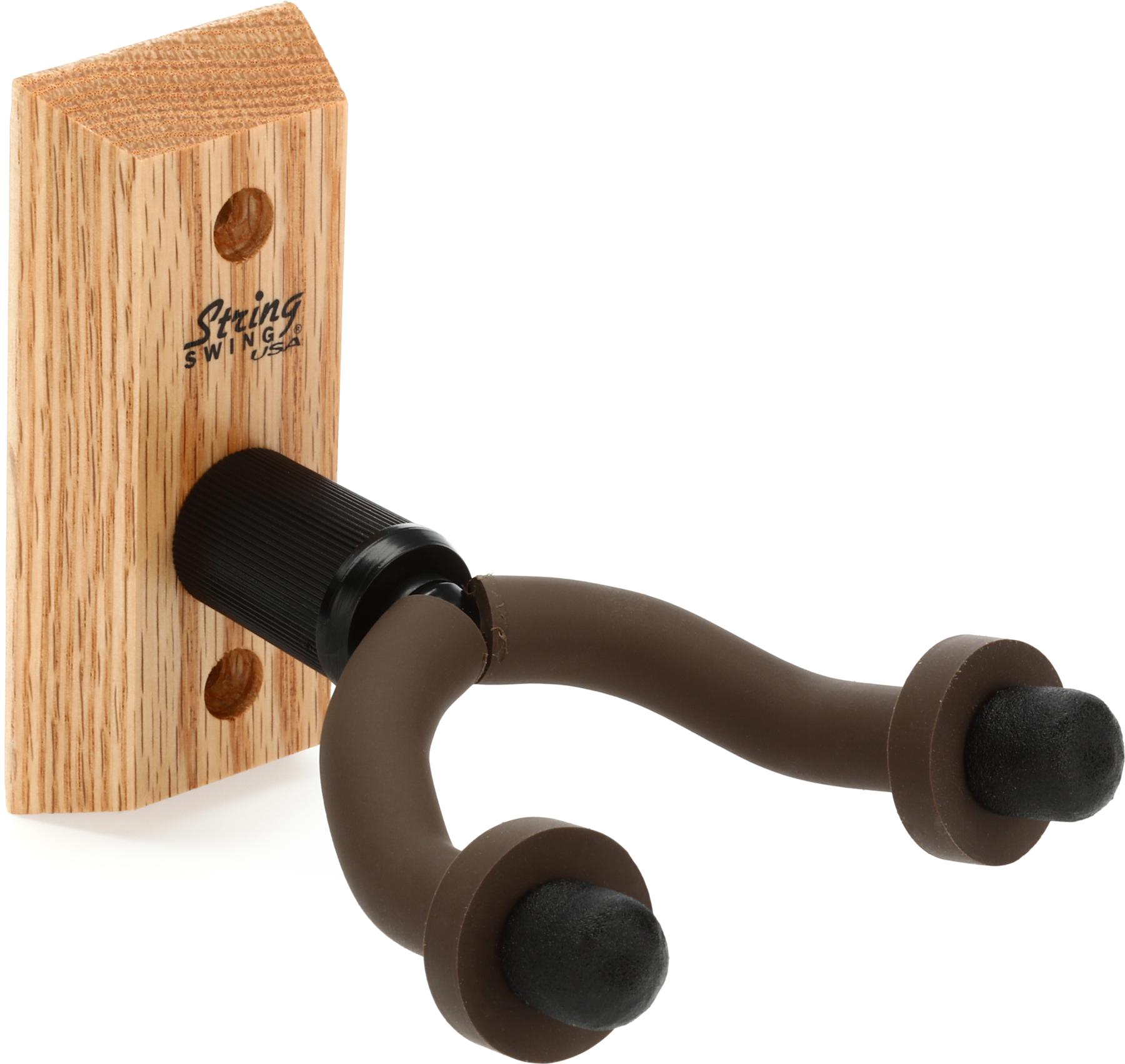 Another great example is String Swing CC01. It's nothing fancy, but it just works. It also has a wooden base for a stronger grip, and it's overall a heavy-duty grip that can hang up to 15 pounds of weight.
---
If You Want to Hide The Screws – Gator GTR Wall Mount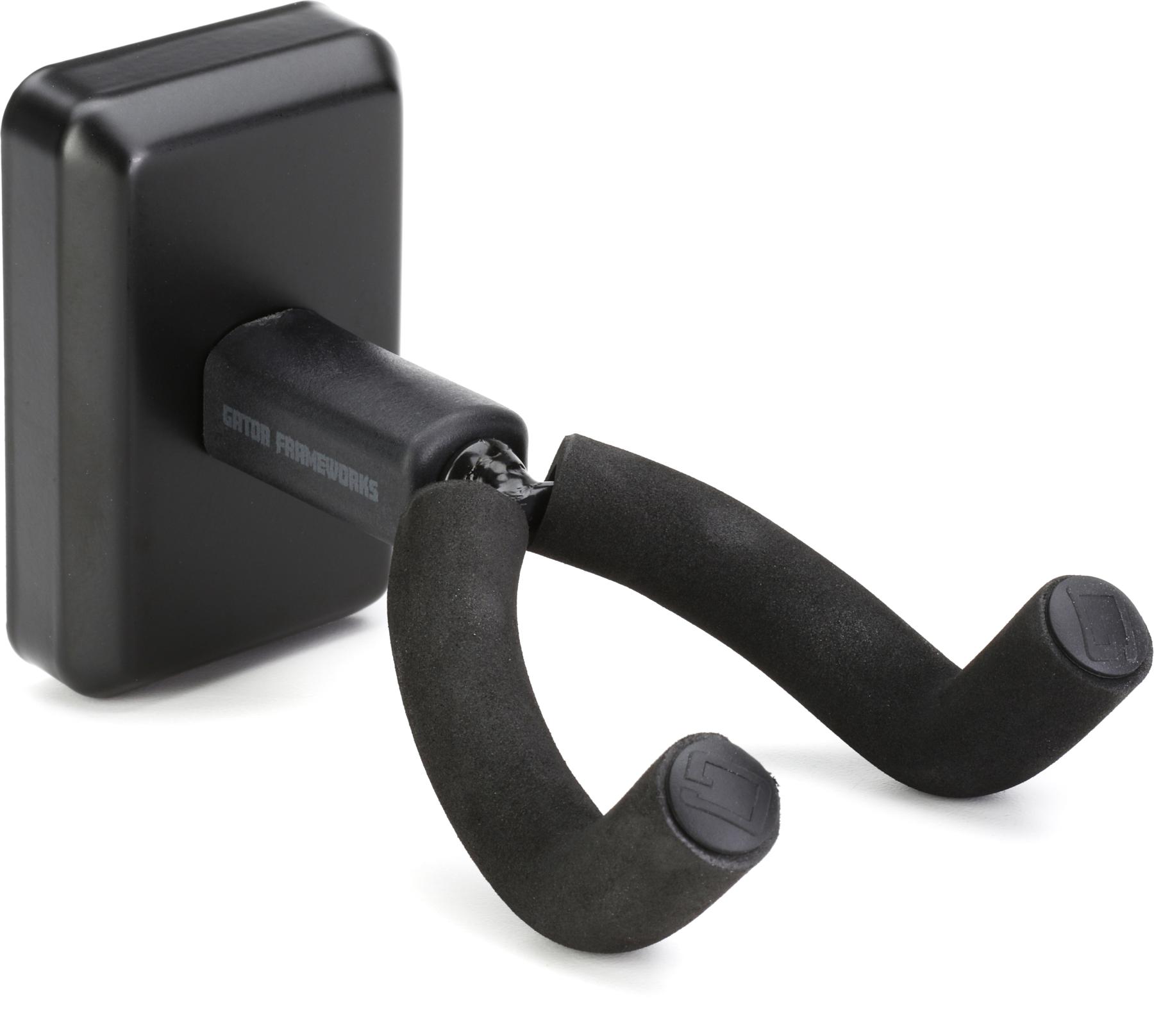 A slightly different one is the hanger by Gator. Gator is a company known for making some pretty sturdy pedalboards, gig bags, and cases. What's really great about this hanger is that it comes with a decorative plate that hides all the screws going into the wall. The design of the swivel yoke is also pretty great for any type of guitar neck, whether it's an angled or a straight one.
---
Best Multi-Guitar Wall Mount – String Swing 5 Guitar Hanger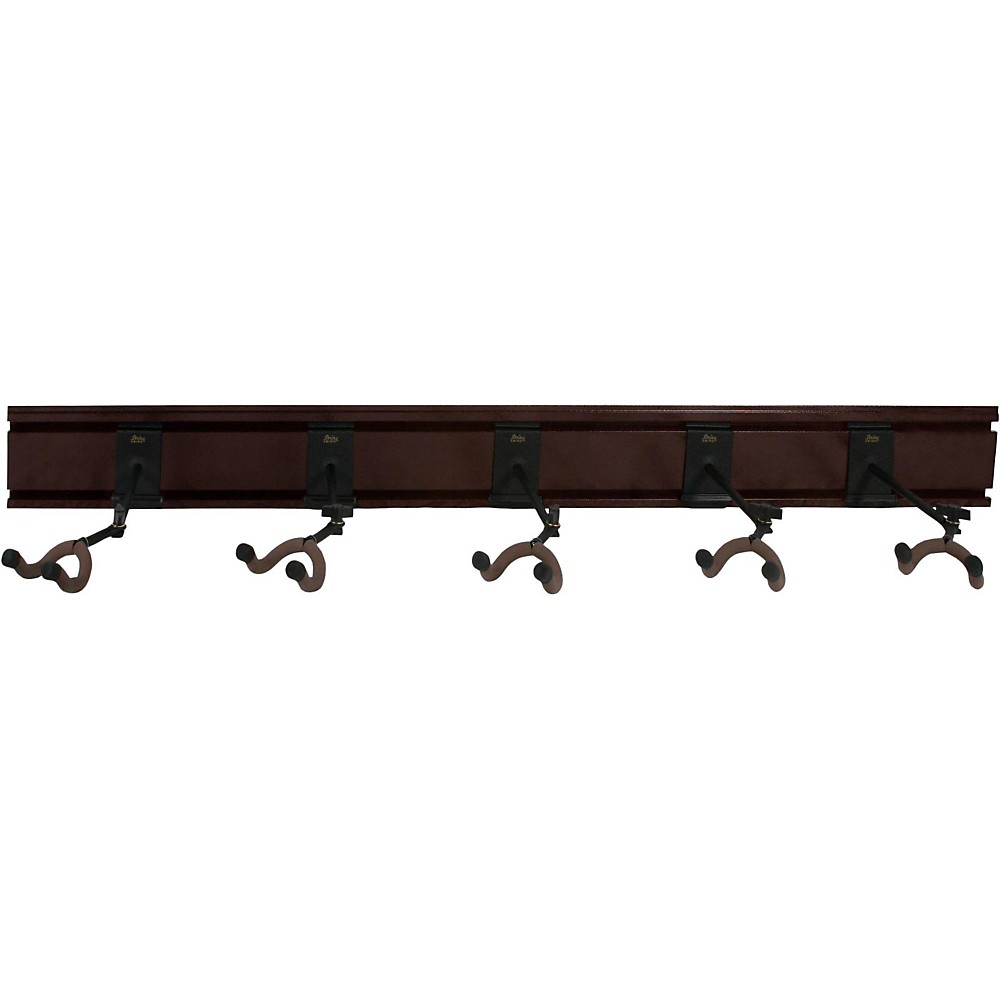 In case you have 3 to 5 guitars, you could definitely use a multi-guitar rack. If this is the case, I would recommend this String Swing hanger for you. It's a really strong and well-built hanger that can handle 5 guitars at the same time. If just a couple of guitars is not enough, this might be the right one for you.
If you want to explore more multi-guitar wall hanger options, check this guide out: Best Multi-Guitar Wall Mounts and Hangers in 2022 – Buyer's Guide.
---
Our Favorite Music Store in The World!
Why?
– Excellent Customer Service (4.7/5 Trustpilot Score)
– Fast & Free Shipping
– Gear is Inspected, Tested, & Ready to Play When it Arrives to You (We love this)
– Fair Prices
Visit Sweetwater:
Where You Should Hang Your Guitar?
You should not just go and hang your guitar on the wall. There are a few placement options that you need to consider.
First, it would be a good idea not to put the hanger on the wall that will expose your guitar to direct sunlight. After all, keeping it for extended periods of time with constant temperature changes is not good for the tonewood, the paint, and the hardware.
Next, you'll need to think about the room where the guitar is stored. Most importantly, you should think about whether there are any moisture issues. This can be extremely harmful to your guitar in the long run.
In addition, you would also think of other potential issues as well. For instance, you should never keep your guitar near any source of heat, or anything that can potentially do mechanical damage to your instrument.
The wall that it's on should be cleared out, without any obstacles on the way. The guitar should hang at a desirable level, not too high so that you have trouble reaching it, and not too low so that it can hit the floor or any objects, people, or pets that might be at that height.
How to Hang Guitar on The Wall?
How to find these studs? Watch this video:
Installing a regular guitar hanger to the wall is usually quite easy, but you should keep these things in mind:
if you live in a rental apartment ask your landlord if installing a guitar wall hanger is allowed
if you live in your own house, ask your wife if installing a guitar wall hanger is allowed(really important)
choose screws that are long enough
check what the wall material is. If it's concrete you need to drill holes before screwing. You might need wall plugs for screws too.
it's imporant to drill screws to the wall frame planks/studs so that they hold up
Here is a great video guide that helps you to install your guitar wall hanger:
Other Ways to Store Your Guitar
In case you just don't feel like hanging your guitar on the wall, there are a few other ways how you can store it. A guitar stand is a good idea but will take more room than a wall hanger.
Check our full guitar storage guide here.
Or you might want a multi-guitar stand to store your guitar collection. If that's the case, check this guide out: Best Multi-Guitar Stands.
Another way is that you can keep your guitar in the box that you bought it in. It's not the perfect solution, but it keeps the guitar safe, and you can just slide it under your bed. A better version of this is a guitar case. Your guitar can rest perfectly in it, and you won't need to worry about any potential damages or other issues, as long as the case is well made.
Learn how to properly maintain your acoustic guitar here.
---
Conclusion on Are Guitar Wall Hangers Bad for The Guitar
So, wall hangers are not bad for the guitar. It can have some impact on the guitar in a super long run, but so many other stuff affect the guitar too. Even the strings give the guitar way more pressure. You can hang your instrument on the wall without being afraid of damaging it. But please install wall hangers carefully.
So keep your guitar safe, don't drop it or hang it to the direct sunlight and keep rocking!
---
You might also like:
We are sorry that this post was not useful for you!
Let us improve this post!
Tell us how we can improve this post?