Last Updated on April 28, 2023 by Teemu Suomala
Author: DL Shepherd
Darren has been playing guitar for over 23 years. He fronted the metal band Suddenly Silence in the early 2000's, and also achieved recognition as an award-winning bluegrass guitarist.
A native of southwestern Virginia, and has shared the stage with many big-name acts from various genres. When he is not playing one of his many guitars, he can be found riding his Harley through the mountains of Virginia.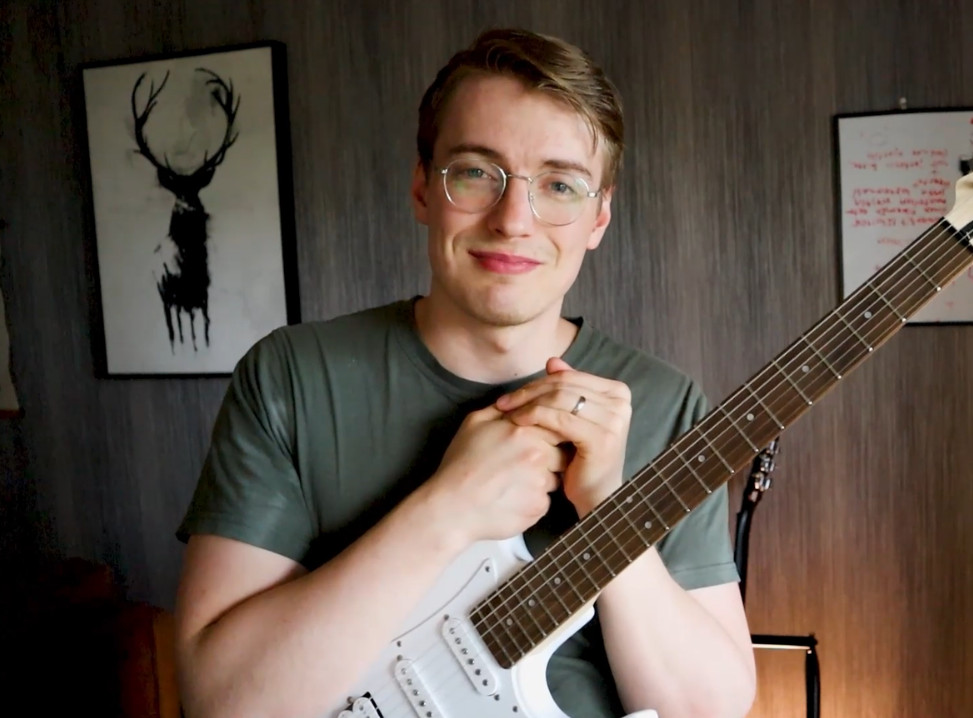 Editing & Research: Teemu Suomala
Playing guitar since 2009. Mainly focused on electric guitars, although jamming with acoustics too. Has played dozens and dozens of different guitars through different amps and pedals over the years. That's why he started this blog in January 2020 and started sharing his experience. Has produced content for several large guitar websites, such as Songsterr, Musicnotes, GuitarGuitar, and Ultimate Guitar.
Whether you've heard of Taylor or not, considering one for your next guitar is a big step. They are one of the most popular acoustic guitar makers in the business. They may not have centuries of guitar making under their belts (like Martin guitars), but they have made a major impact on the music industry with their high-quality, great-sounding, and incredibly playable guitars.
Taylor started off as a business venture by Bob Taylor and Kurt Listug in El Cajon, California, in 1974. Taylor and Listug met while working at a music store in San Diego and later purchased the store when the previous owner sold it. Bob Taylor was only 19 years old at the time!
The young Taylor and Listug were determined to make a living doing what they loved, and they loved guitars. Today, Taylor has 2 factories (El Cajon, CA, and Tecate, Mexico) and employs over 1,200 people. Not bad for a couple of young guys who decided to start a guitar company.
Taylor's innovation in the art of guitar making is one of the main reasons for their success.
Taylor uses high-tech machines to make their guitars, such as computer mills and lasers. They brought a new, modern method of guitar manufacturing to the table which allows them to make guitars with amazing consistency. In other words, the tone won't vary much between different Taylor guitars.
Taylor has also come up with some new tonal improvements to the acoustic guitar, such as their V-Class bracing. This bracing technique allows the guitar to resonate more freely resulting in an increased response. From a tonal perspective, Taylor guitars just sound right.
Let's take a look at some other factors that make Taylor guitars some of the best instruments in the world.
Check our other Taylor Guides:

–5 Best Budget Taylor Guitars Under $1000

–How to Choose The Right Taylor Guitar for You?

–Are Taylor Guitars Good For Beginners?
---
Are Taylor Guitars Any Good?
Yes, Taylor guitars are very good guitars. As a matter of fact, they are amazing guitars. Taylor uses high-tech equipment to craft guitars from both solid wood and layered wood. Their playability and sound are what makes them one of the best guitar manufacturers in the world.
Let's take a more in-depth look…
My Personal Experience With Taylors – What is So Special About Taylor Guitars?
The first Taylor that I ever played was a 2007 Taylor 214. I was in a music shop in Winston-Salem, NC before a concert and decided to play a few guitars while I was there. I had been hearing a buzz about Taylor guitars since I had started playing but for some reason, I had never played one until that day.
I spotted what I believe was a Grand Auditorium-sized guitar hanging on the wall and decided that I would give it a go. It was a fairly ordinary-looking guitar but it was appealing to me because of the body size. The clerk got the guitar off of the wall for me and I sat down with it on a nearby stool.
I remember picking it with my fingers and being surprised by the amount of volume it had for a smaller guitar. Then, I chorded it. I was sold from that point. The playability was unlike anything I had experienced in an acoustic at that time. It just felt natural in my hand.
I didn't have to "fight" to play it. Wherever my fingers landed, there was a note there that required little effort to coax out of it. The sound was focused, clear, and well-balanced.
Was it as rich and colorful as a Martin D-28? No. But it was far from being bland and boring.
I didn't know that the guitar was made of layered wood (laminate) when I picked it up. The clerk made a comment about how they were not real wood, and it surprised me. I had played some laminate guitars before, but they did not have the playability and tone of the Taylor. This forever changed my opinion of laminate guitars. They could sound and play amazingly after all.
Sadly, I didn't end up taking that guitar home with me that day. It would be years before I would own a Taylor guitar, but I never forgot how well that 214 played. I tried to set up my other guitars to play like a Taylor, but alas, it wasn't the same. I finally got one for myself around 2017 – a Taylor 214 similar to the one I had played in that music store around ten years before.
I've never used a Taylor on a heavy tour, but I have used it in the recording studio. It was by far my favorite guitar to record with because of its focused projection and clarity. The Taylor just sounded right on all of my recordings compared to my other acoustics.
So would I buy another Taylor? Absolutely! In fact, it is next on my wish list. Now, if I can just convince the wife that I "need" it, I'll be good to go.
---
What's Good About Taylor Guitars?
Made in either the USA or Mexico
Made from high-quality materials
Incredible consistency due to high-tech machinery
Wide variety of body sizes to fit different playing styles
Models are priced for beginners as well as advanced collectors
Incredible playability
Innovative electronics available on many models
Let's dive a bit deeper!
Tonewoods
Check our full acoustic guitar tonewoods guide here.
Taylor guitars are built with both solid tonewoods as well as layered (laminate) tonewoods. These tonewoods are:
Mahogany
Mahogany has a warm, well-rounded tone. It can make a guitar heavier though because of its density. Mainly used for backs and sides, but some guitars have mahogany tops. Necks are also made from mahogany.
Rosewood
Perhaps the most popular tonewood for acoustics. It has a warm, well-balanced tone. It is lighter in weight than mahogany and tends to resonate more freely. Rosewood is mainly used for backs and sides.
Sapele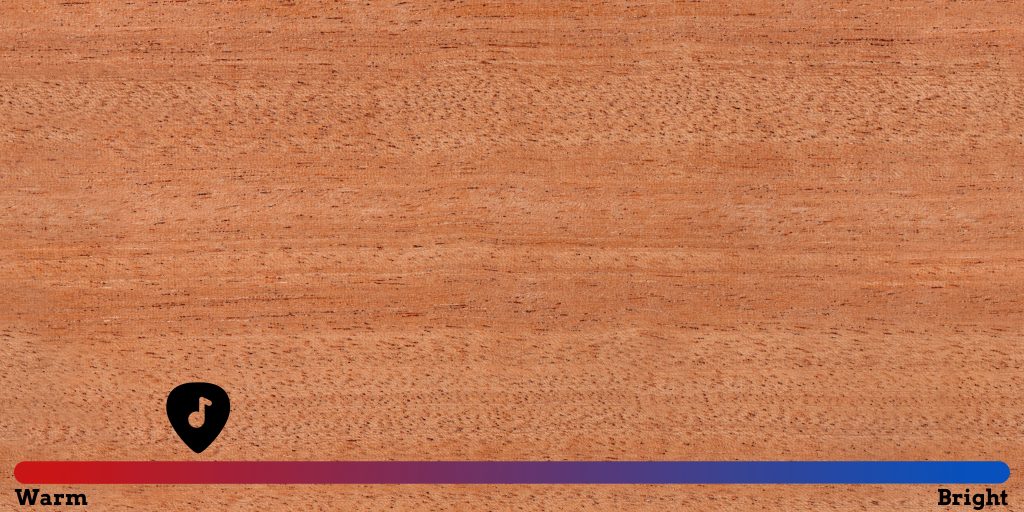 This wood is used in place of mahogany. It is a tough wood that is incredibly durable. The tone is very similar to mahogany with a bit more pronounced treble. It also tends to be more focused than mahogany since it is denser, therefore it does not resonate as freely. Mainly used for backs, sides, and necks.
Walnut
This wood is in between rosewood and mahogany with bright treble and snappy midrange projection. It is dense and will get better with age.
Urban Ash
This wood is reclaimed from trees that are removed from urban environments. It produces a midrange balance and volume comparable to mahogany.
Urban Ironbark
This is another wood reclaimed from trees that were cut down in cities. Why waste a good tonewood, right? It has a well-balanced tone with a crisp treble response.
Koa
This tropical tonewood fits in between the crisp sound of rosewood and the warm sound of mahogany. It is typically used for backs and sides, but a few Koa-topped models are out there.
Ovangkol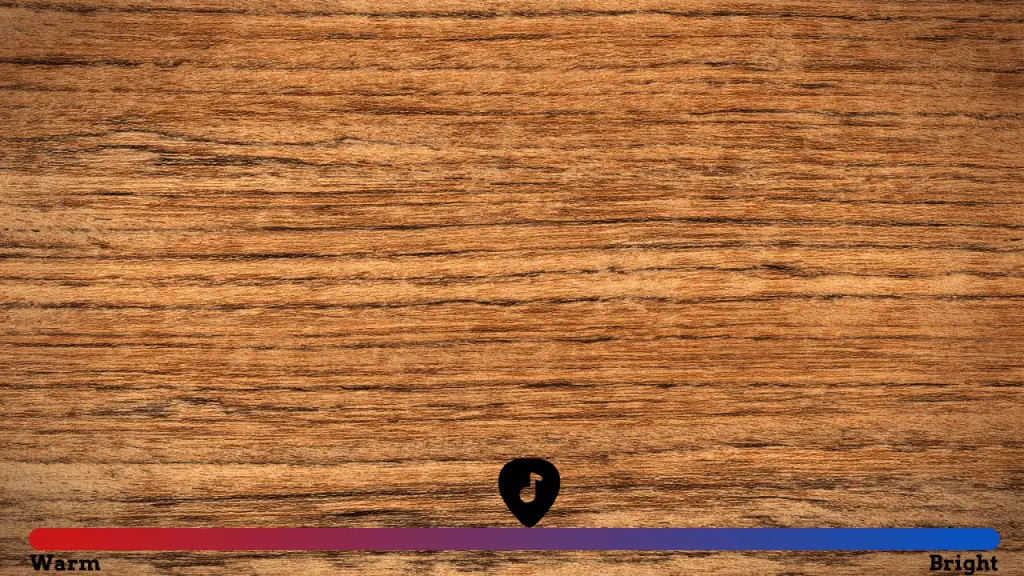 A dense but soft tonewood that offers warm sustain with a tonal profile that is similar to rosewood.
Maple
This tonewood is very bright and crisp. It has a very clear tone without a lot of sustain or overtones due to its density. While it can be used as a stunning top, it is more commonly used for backs, sides, and necks.
Sitka spruce
This is used almost exclusively for guitar tops. It is a softer tonewood with a lot of volume and presence. It also has a very well-balanced tone that pairs well with the tonal bandwidth of a guitar. You can't go wrong with a Sitka spruce top!
Taylor also uses layered versions of Indian rosewood, mahogany, koa, maple, sapele, and walnut. This means that the back and sides are constructed of a thin piece of tonewood with a veneer on each side. This allows Taylor to use their resources more responsibly while providing a beautiful-looking instrument.
Playability
The best part about a Taylor has to be the incredible playability. This is the result of years of guitar design research which has led to new design and manufacturing procedures. In other words: there aren't many guitars on the market that can rival Taylor in terms of playability.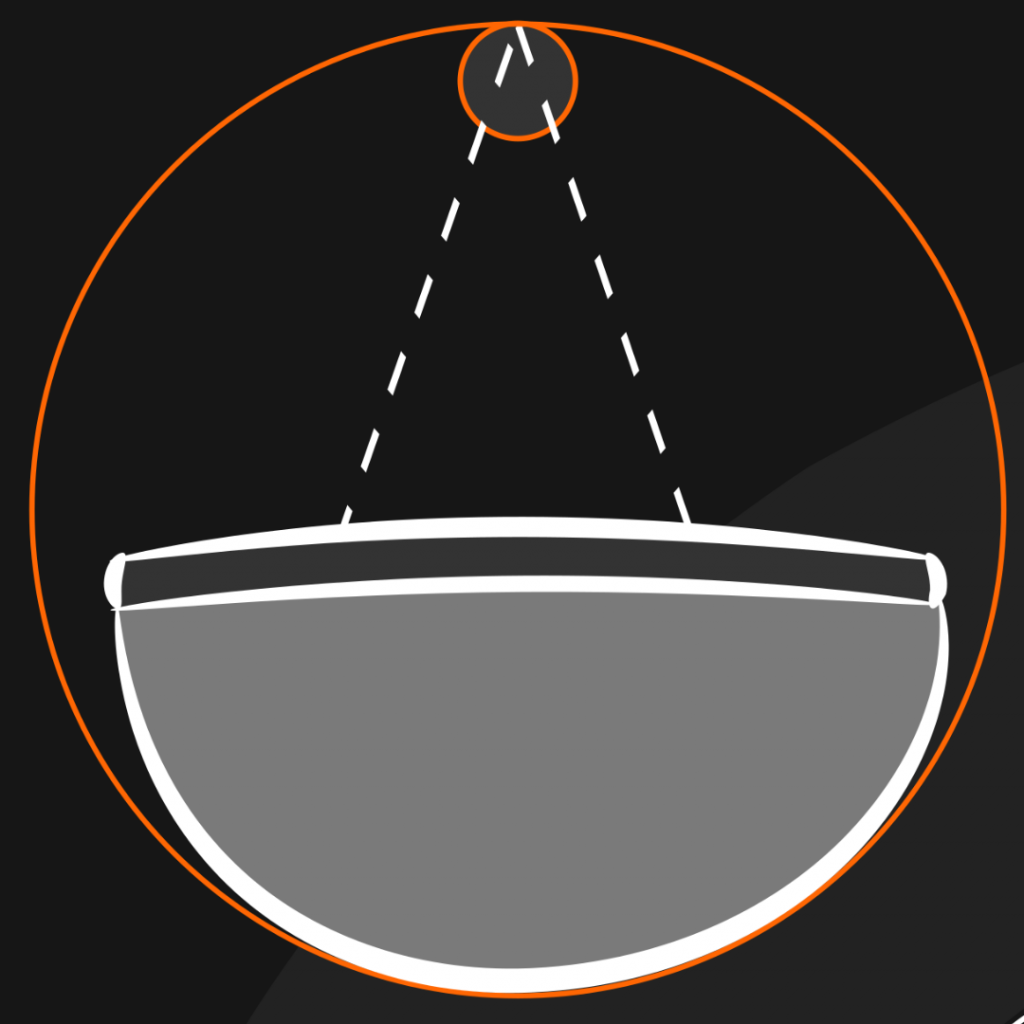 The action is smooth, and the C-shaped neck profile will fit hands of all sizes. Grabbing a solid chord anywhere on the neck is comfortable. Wherever your fingers land, there seems to be a note there.
Taylor makes guitars that you just want to play all day long. You'll find yourself reaching for a Taylor more often than you will other guitars in your collection just because they play so well. I could go on and on about how great they play, but you really need to try one for yourself to see what I mean.
---
What's Not-so-Good About Taylor Guitars?
To many guitarists, an acoustic guitar isn't a "real" guitar unless it is made of solid wood. That is far from the truth, but it does raise the question: Why is layered (laminate) wood bad?
First, it is stiffer and more durable than solid wood which is both a blessing and a curse. Sure, it's more durable and not as prone to warpage as solid wood, but stiffer also means less resonance.
For this reason, Taylor guitars that are made from layered tonewoods are simply not as tonally complex as those made with all solid wood. The tone is very focused and lacks the depth that only solid tonewoods provide.
I have also found that Taylor guitars made of layered tonewoods often lack natural volume and require a heavier picking hand to really make them sing. This is mainly a complaint on larger-bodied models such as the dreadnought. Compared to solid wood guitars, they just don't have the projection.
---
Features of Taylor Guitars
All Taylor guitars offer superb playability. That's pretty much a guarantee. But let's take a closer look at some features of some popular models to find out what makes them so great.
For the first example, we'll take a look at a Taylor 214ce. The Taylor 214ce is made with a solid Sitka spruce top and layered rosewood back and sides. This produces a warm, focused tone that offers a lot of projection from a guitar with a Grand Auditorium body style.
The layered rosewood back and sides are incredibly striking to look at. This is because a veneer is used in place of the natural wood grain, and it makes the grain stand out more boldly. It also features binding around the body for a classic look, as well as a nice faux-tortoiseshell pickguard.
From the dot inlays to the simple Taylor logo on the headstock, it is a guitar with very minimal visual appointments. The beauty of the layered rosewood back and sides makes up for it though. There's also a venetian cutaway for easy access to the upper frets.
It also features Taylor's Expression System 2 electronics system. This system uses a behind-the-saddle transducer to reproduce the tone of the guitar noiselessly and accurately. The controls are mounted on the top shoulder of the guitar for easy access.
Now, let's take a look at the Taylor 814ce. This is Taylor's flagship model and is constructed of a solid Sitka spruce top and solid Indian rosewood back and sides. This produces a full, warm, well-balanced tone with a lot of depth and complexity.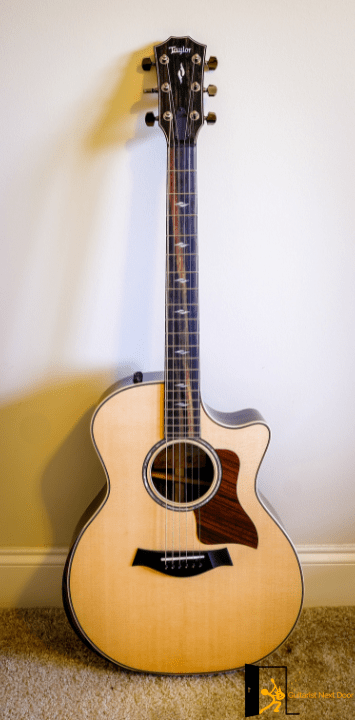 There are some minor visual appointments that only add to the awesome look of the solid woods. Playful inlays, a wood-grained pickguard, and an abalone soundhole rosette add contrast to the beautiful woods. There is a venetian cutaway as well as a cutaway on the upper bout that acts as a great armrest.
Taylor uses the Expression System 2 on the 814ce as well.
They might seem close on the outside, but they are constructed of very different materials. While the tone of the Taylor 214ce certainly isn't lacking, you might want to look at an all-solid wood guitar like the 814ce if you want more tonal depth.
---
FAQs
Why Are Taylor Guitars So Expensive?
Taylor guitars are expensive because of several reasons:
They are made with high-quality materials
Higher-end Taylors are made in the USA
They use high-tech manufacturing processes
While they aren't "all handmade" like other USA manufacturers, this works to their advantage because of Taylor's incredible consistency and playability. Their craftsmanship and attention to detail also put them ahead of their competition. Make no mistake, they are worth every penny.
Are Taylor Guitars Overpriced?
You might think that a guitar made from laminated wood is "cheap" in terms of construction. That's where Taylor breaks the mold. Their construction is as durable as they come, and they sound and play amazingly.
Other manufacturers fail at one or more of these points. They are either constructed poorly or play horribly. Not Taylor!
So for what you are getting, they are certainly not overpriced. In many cases, they are American-made as well. You get a guitar that is American-designed and American-made. Add that to their amazing tone and playability and you've got a guitar that is ready for anything you throw at it.
Are Taylors Good for Fingerpicking?
Taylors are exceptional guitars for fingerpicking. Their smaller-bodied models are voiced well for fingerpicking in general. Taylor's focused tone works well for fingerpicking styles because there is not a lot of overtones that can often over-color the sound.
Their necks are also good for chording all over the neck. This is essential for fingerstyle playing because of the amount of chording that is so often required. It isn't too big or too small.
Are Taylor Guitars Good for Beginners?
Yes, Taylor guitars are good for beginners. This is because they have models that are priced conservatively enough for a lot of beginners, and because they are such amazing players. The playability of Taylor guitars is effortless thus making learning incredibly easy.
Beginners will also appreciate professional features, such as electronics, that they will be able to use as they progress. You will never outgrow a Taylor guitar!
Learn more from this article of ours: "Are Taylor Guitars Good For Beginners?".
Are Taylor Guitars Hard to Play?
Taylor makes some of the easiest guitars to play. Their playability is absolutely incredible! In fact, their playability is one of the main reasons a lot of guitarists gravitate to them in the first place.
Is Taylor Better Than Martin?
Both companies have their strengths and weaknesses. Taylor is better at constructing guitars with laminated woods than Martin. However, Martin makes guitars that sound warmer than most Taylors. Martin's also tend to have more volume (from my experience).
The thing to keep in mind is that Taylor guitars follow a more modern approach while Martin tends to stick to traditional construction concepts. If you want a more modern acoustic guitar, go with a Taylor.
Is Taylor or Gibson Better?
Again, both companies have their strong points. Gibson acoustic guitars tends to be a bit more traditional than Taylor. Taylor guitars are for players who want a more modern acoustic guitar. Both companies use high-quality materials and have amazing tone. Taylor might be slightly more playable and certainly more consistent than Gibson.
Do Taylor Guitars Have A Lifetime Warranty?
Yes, Taylor guitars have a lifetime warranty. Basically, if it broke because of a manufacturing defect, they will repair or replace your guitar.
---
Conclusion on Are Taylor Guitars Any Good
Perhaps there is no other industry in the world that seems to be so stuck in tradition as the guitar industry. Both players and manufacturers tend to have the mindset that, "if it isn't broken, don't fix it." This is where companies like Taylor step in and say, "Wait a minute…We have technology, so let's use it to make a better guitar."
The industry needs that mentality. After all, we live in an age where technology consumes nearly every aspect of our lives. While tradition will forever be present, it is time for manufacturers and players to realize that better guitars can be made with the help of advanced manufacturing techniques.
Taylor does this, and they do it well.
If you've been asking whether or not a Taylor guitar is good, you should realize that they are incredible instruments. Taylor took traditional designs and improved them with modern appointments and manufacturing techniques. They have moved the art of guitar-making forward instead of staying in the comfort zone of tradition.
Grab a Taylor and experience their incredible playability. You'll be hooked from the first note.
You might also like:
We are sorry that this post was not useful for you!
Let us improve this post!
Tell us how we can improve this post?