Best Overall – Squier Mini Strat
Sound
Playability
Overall Quality
Value for Money
Summary

Mini Strat is built on a foundation like this:

3 Single-coils, legendary looks, and easy playability. Clean tones are clear and dirty ones have plenty of attack…rock and especially classic rock is a great fit for this mini axe.

This is why Squier Mini Strat is the best 3/4 sized guitar for me. It also has smaller frets which makes playing chords(especially barre-chords) easier than with other models.

Quality is solid for the price and you get a great bang for your buck!
How Mini Strat sounds:
Check Today's Price on:
*Consider all links in this post to be affiliate links. If you purchase, at no additional cost to you, we may earn a small commission. It helps us to keep the lights on, thanks! 🙂
---
The Next Best:
Really Easy to Play – Squier Mini Jazzmaster HH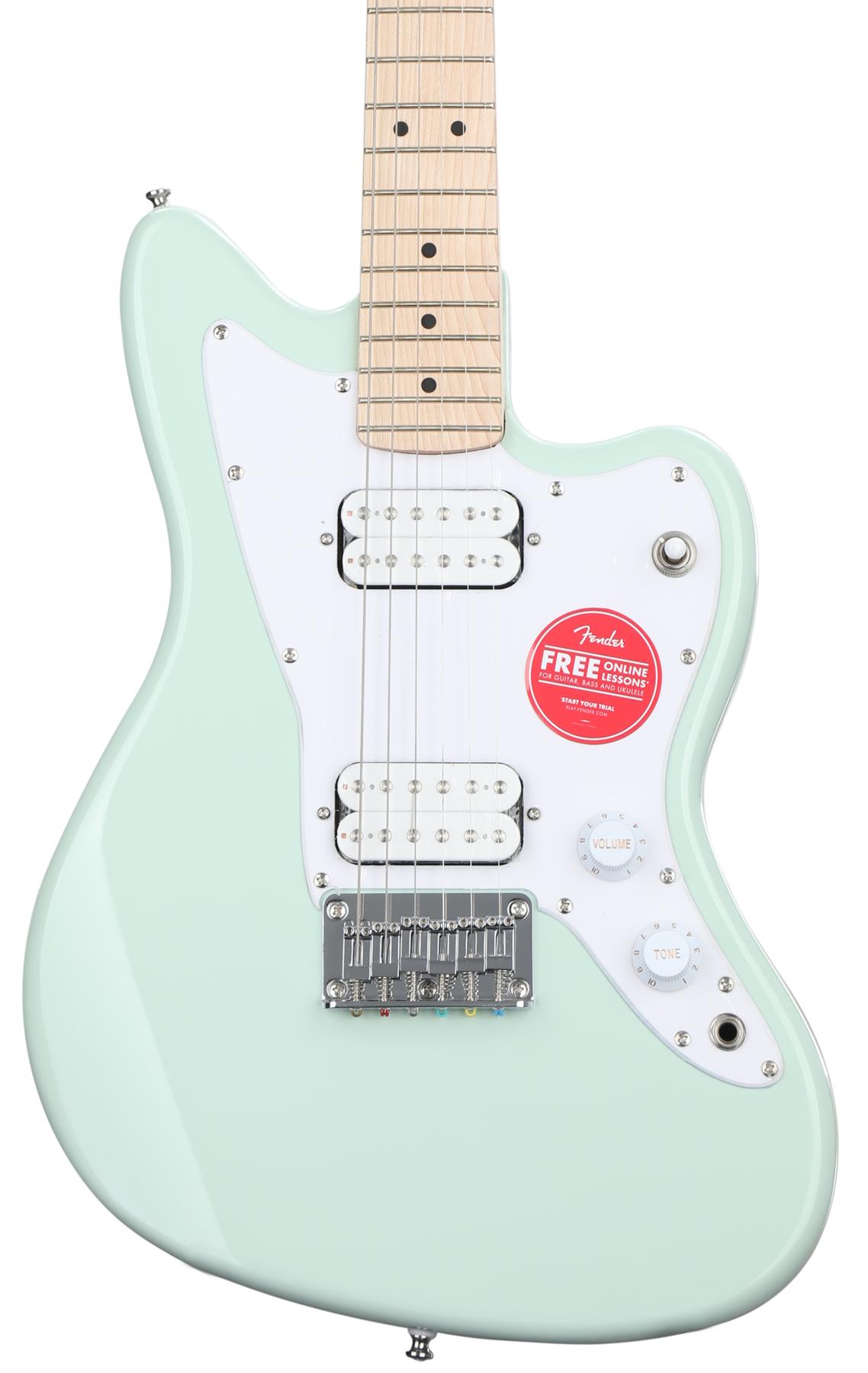 Check Today's Price on
---
---
Summary
Solid beginner guitar!
If you're just looking for a small-hand friendly guitar or maybe your kid's first electric- you could do a lot worse.
In the end, this Jazzmaster is super-easy to play, it sounds solid, and the built quality is good.
Best Budget – SX RST 3/4 CAR
Check Today's Price on
---
---
Summary
Comparing the price of the guitar with its stellar quality, any extra accessories are a very kind bonus.
This is one of my favorite tight-budget beginner guitar bundles.
Overall I think you get more than your money's worth from the guitar alone.
Best For Metal – Ibanez GRGM21 Mikro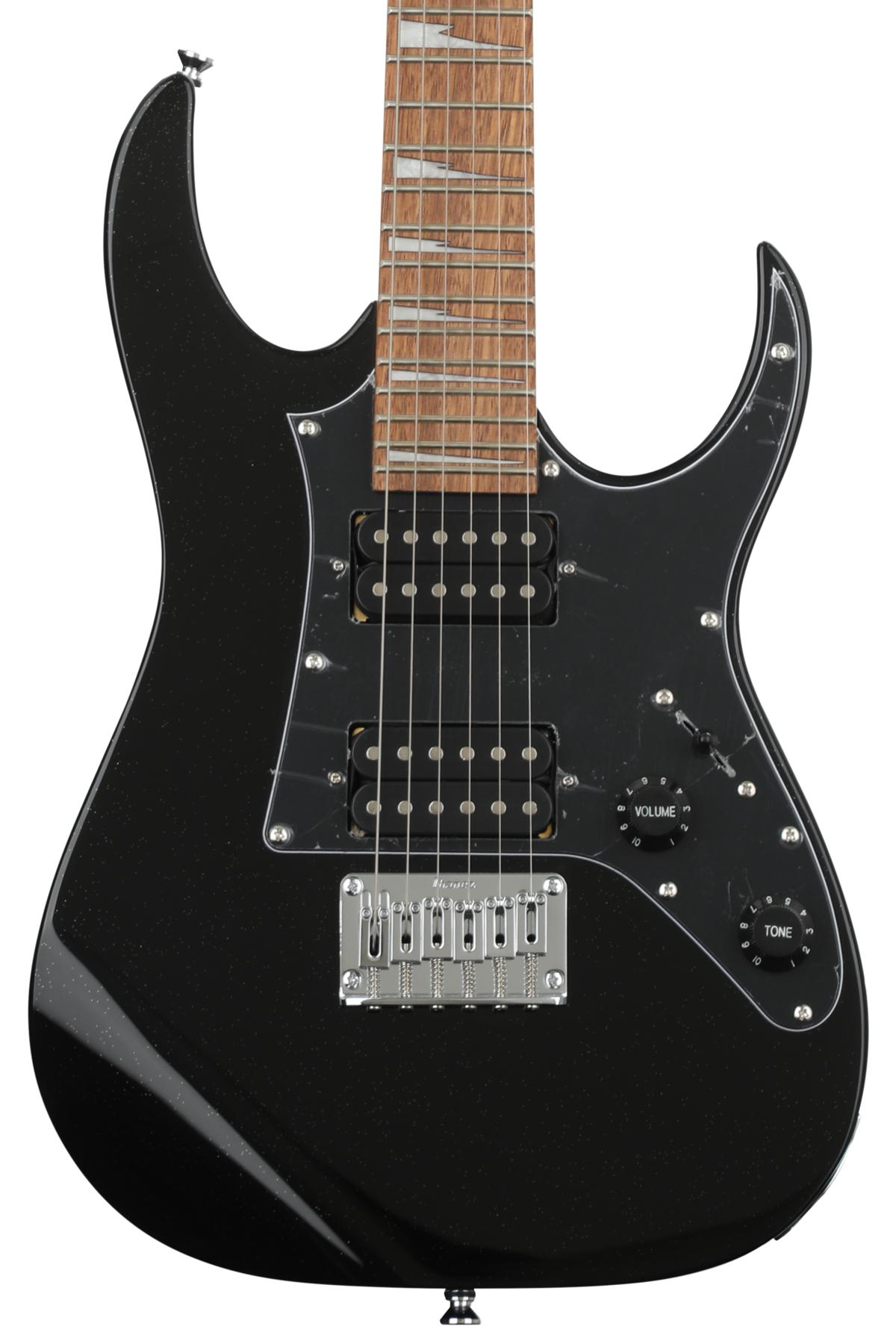 Check Today's Price on
---
---
Summary
This is the best 3/4 axe for distorted tones in my opinion.
Yes, it can get a little bit fuzzy, but it's still better than the others when it's time to churn metal tones.
It lacks some quality(tuning issues), but for the price, it's a solid choice. A great option for kids too.
FREE Access for You! Secret Page Reveals 5 Must Learn Electric Guitar Riffs That Accelerate Your Learning (For All Beginners Who Love Rock and Metal)
(If you want to make progress fast, this is for you). Just tell me where I should send the link:
By entering your email address you agree to receive emails from Guitarist Next Door. We'll respect your privacy and you can unsubscribe at any time.
For anyone who feels that a full-size electric is more guitar than they can handle, 3/4 electric guitars are an awesome option.
They give you comfortable, full playability, and all the tone you need to level up your jams in a compact, fun-to-play size. Whether you're big, small, or somewhere in between, the best 3/4 electric guitar will be a delight to play.
Let's first look at these fine axes, and at the end of the post, you can find the FAQ section that helps you to make the best choice possible.
Every one of these guitars is here based on extensive research and combined 27-year experience of me (Tommy) and Teemu.
Who crafted this post:
Author: Tommy Tompkins
Playing guitar since 2004. Primarily an acoustic guitarist who plays and writes traditional American folk music, with a background in melodic metal and a solid foundation as a bassist.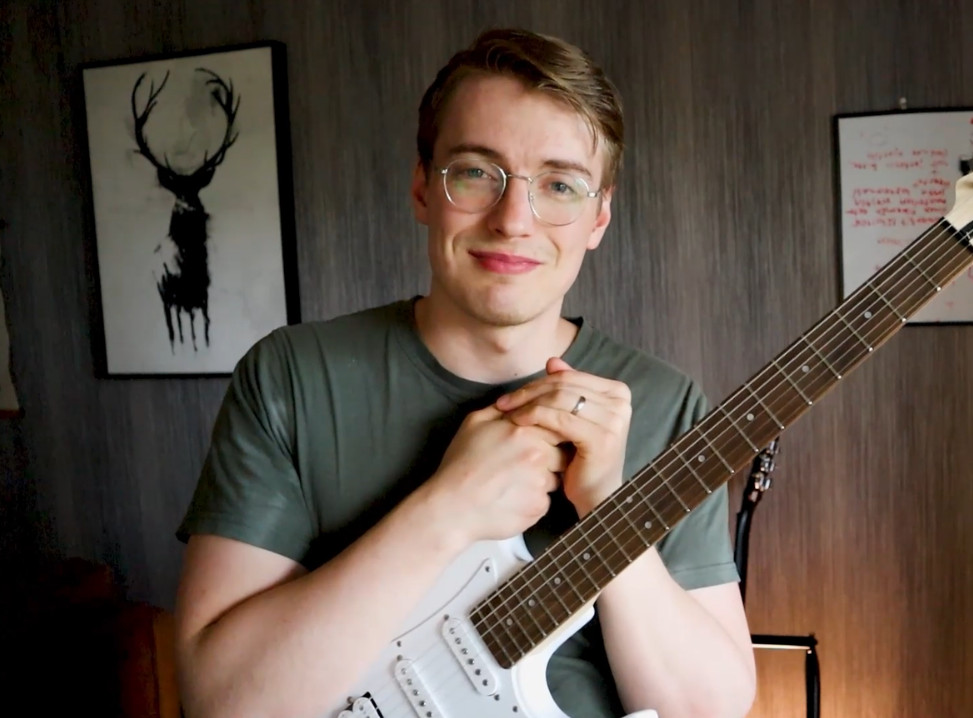 Editing & Research: Teemu Suomala
Playing guitar since 2009. Mainly focused on electric guitars, although jamming with acoustics too. Has played dozens and dozens of different guitars through different amps and pedals over the years. That's why he started this blog in January 2020 and started sharing his experience. Has produced content for several large guitar websites, such as Songsterr, Musicnotes, GuitarGuitar, and Ultimate Guitar.
---
Our Favorite Music Store in The World!
Why?
– Excellent Customer Service (4.7/5 Trustpilot Score)
– Fast & Free Shipping
– Gear is Inspected, Tested, & Ready to Play When it Arrives to You (We love this)
– Fair Prices
Visit Sweetwater:
Best 3/4 Electric Guitars
Best Overall – Squier Mini Strat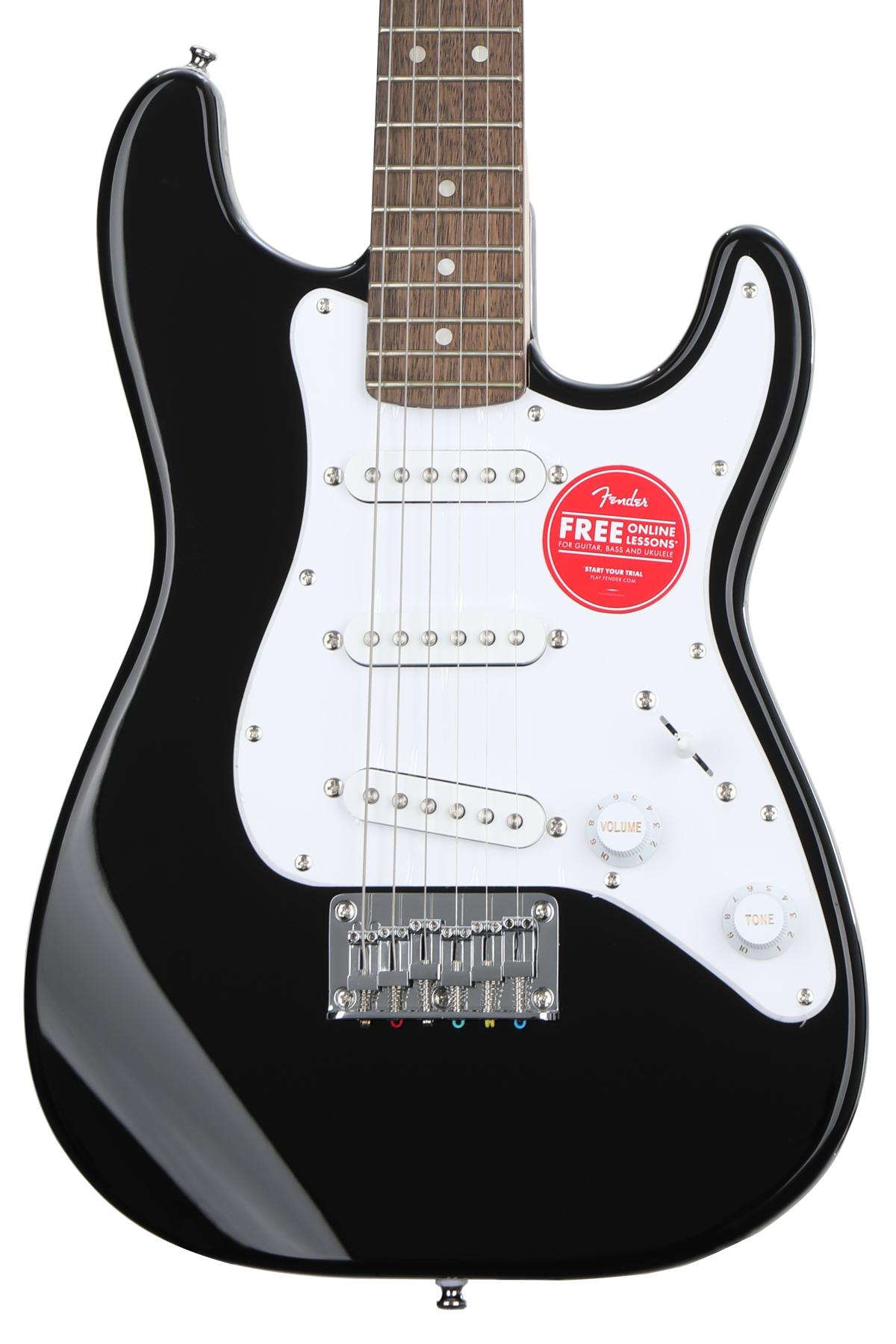 You can read my full review of Squier Mini Stratocaster here.
Sound
This Mini Strat has 3 Standard Single-Coil Strat pickups(just like The Original Stratocasters). These offer you bright and sparkling tones, and this axe gets surprisingly close to original Strat tones.
Clean tones are clear and dirty ones have plenty of attack…classic rock music is a great fit for this mini axe.
But, if you play really heavy stuff, the tones can be a little bit fuzzy. If you want to play metal, Ibanez GRGM21 Mikro might be a little bit better option for you because it has 2 humbuckers.
But overall this Mini Strat sound excellent for the price, and gets beginner guitarist started with a great variety of different tones.
Hear how this guitar sounds:
Playability
Mini Strat's nut width is only 1.6"(40,6m), so the neck really is narrow. Add the C-shaped neck to this and you got axe that's really easy to play, even for kids and adults with really small hands. And the short scale length of 22.75" makes things even easier. This cuts down string tension and makes playing smoother.
Overall, this axe is really easy to play, if you got really big hands or really long and thick fingers, this is not a good choice because small frets will be hard to hit for you.
Quality
I have always been satisfied with the quality of Squier guitars, and this is no exception. For the price, you get darn good value for money.
Looks
If you like iconic Stratocaster looks, you'll like this one too. I do. All the color options, pink, black, and red look great, and the headstock of the guitar fits well into the 3/4 size.
Summary
Pros
Bright Stratocaster sounds
Comfortable and easy to play
The neck is narrow and thin(great for small hands and kids)
Quality is great for the price
Stays in tune well
Cons
Little bit fuzzy tone with the distortion
If you spend more, you get higher quality(but this is good as it gets with 3/4 sized guitars)
This is(in my opinion), the best option out there if you are looking for a 3/4 sized guitar.
With Squier Mini Stratocaster, you get a comfortable guitar that provides a great variety of tones. It's great for rock, blues, jazz, and handles other genres too.
Note: there are Squier Mini Strat beginner packs available too. These include all that you need when starting out.
Check Price on:
---
Really Easy to Play – Squier Mini Jazzmaster HH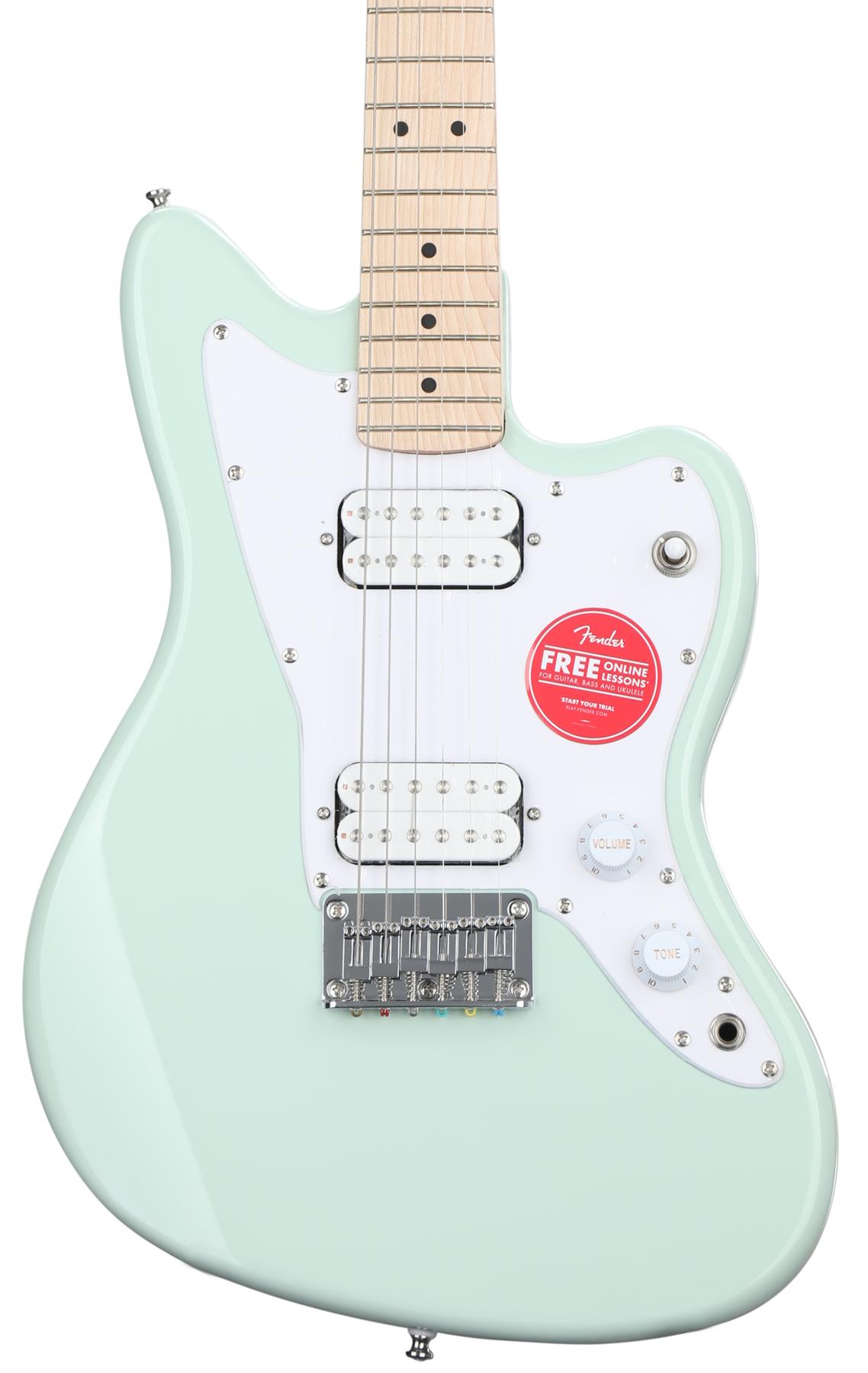 Sound
The cleans of this axe are solid, not as good as with Squier Mini Strat, but by no means bad.
Distorted tones are solid too, but some riffs start to sound muddy pretty quickly. Still, these humbuckers offer surprisingly good sound.
But it's a beginner guitar that you wouldn't want to head on stage with. But by upgrading the pickups, you might get pretty good tones out from this little Jazz-box.
Hear how this sounds:
Playability
The reduced Jazzmaster body shape is as comfortable as it looks, contouring nicely with your body. Plus, it's thin and lightweight, which means less playing fatigue during your longer sessions.
You need to get a feel for this guitar; it requires a fairly delicate touch because of its extremely loose string tension. Couple this with its narrow-tall frets and you can pitch bend almost a full half-step just by pressing too hard on the string.
This is a bit annoying, but if you can adjust your playing style to accommodate it, isn't too much of a problem.
But the low string tension gives you some benefits too…this guitar is super easy to play. Strings don't require a lot of strength from your fingers, and moving your hand around the fretboard is really smooth.
Quality
I won't rag on the pickups anymore here, and overall, this is a well-put-together little electric. All the pieces are solidly attached to one another, and, though small, it feels dependable. Its main construction quality issue is its tuning hardware. This is a common problem in guitars at this price point, so I'm not surprised about this much.
The Mini Jazzmaster's tuning machines don't hold a pitch for any reasonable amount of time.
You'll definitely want to buy a tuner along with this 3/4 Jazzmaster, but this is the case with almost any guitar.
I don't completely understand why so many players have reported issues with the tuning of this Jazzmaster… at least it looks like that the Mini Strat has the exact same tuners, and it seems to stay in tune a way better.
Summary
Pros
Dual humbuckers eliminate feedback issues
Classic Fender poplar + maple tonewood combo
Snappy maple fingerboard adds pop to the round humbucker tone
Cons
Sometimes problems with Tuning machines
Low-grade humbuckers unable to produce a good clean tone
All in all, it's not a bad model. Could it use some improvement? Absolutely. But, is it terrible to play? No, it's actually rather enjoyable for the most part.
This could make a good project axe if you want to invest in new pickups and tuning machines. Then, you'd actually have a great mini electric. With better-sounding pickups, especially with cleans, this could really compete with Mini Strat
If you're just looking for a student guitar- maybe your kid's first electric- you could do a lot worse. Your child is bound to have a good time learning the fundamentals on the Mini Jazzmaster.
Check Price on:
---
Best Budget – SX RST 3/4 CAR
Sound
SX packs three single-coil pickups into this model made with a basswood/maple tonewood combo. Basswood generally delivers a warm tone with somewhat underwhelming sustain, so it's nice that it's brightened up with these three treble-pumping pickups.
Real owners have said that the tone is surprisingly good for such a low-cost shorter-scale electric. It blends creaminess with clarity for a six-string that will work just as well in jazz as in punk.

We found this out when doing research – Teemu (Editor)
Playability
The scale of this SX is a bit longer than normal for a 3/4 guitar, measuring 24 inches. Regardless, it maintains itself as a great guitar for small hands with a nut even more narrow than the Mini Strat.
This slim neck is complemented by a springy and smooth-playing rosewood fingerboard that's silky under your fingertips.
As a nice bonus, this guitar comes with a tremolo bridge. This is a rare find in inexpensive guitars that adds a whole other dimension to your playing possibilities. Granted, it's not a tuning-stable bridge by any means so you'll be out of pitch a lot. But, on the whole, it's a great addition.
Quality
This model has all the prerequisites for an awesome practice electric. Its build is solid. Its pickups are exceptionally balanced and powerful for the price.
Despite being super low-cost and lightweight, it's a guitar I'd consider buying to be my main practice axe if I ever needed a quick replacement. In every way, it's an excellent guitar for beginners.
Summary
Pros
Comprehensive starter pack with everything you need to start jamming
3 single-coil pickups with versatile tone controls
Sensitive tremolo bar for fun and funky pitch shifting
Cons
Highly susceptible to feedback
In dire need of a setup
Comparing the price of the guitar with its stellar quality, any extra accessories it comes with should be regarded as a very kind bonus. While the amp included in the pack might be an underperformer, it's plenty enough to jumpstart your hobby and let you start working on your chops.
This is one of my favorite beginner guitar bundles, and overall I think you get more than your money's worth from the guitar alone.
---
Best For Metal – Ibanez GRGM21 Mikro Review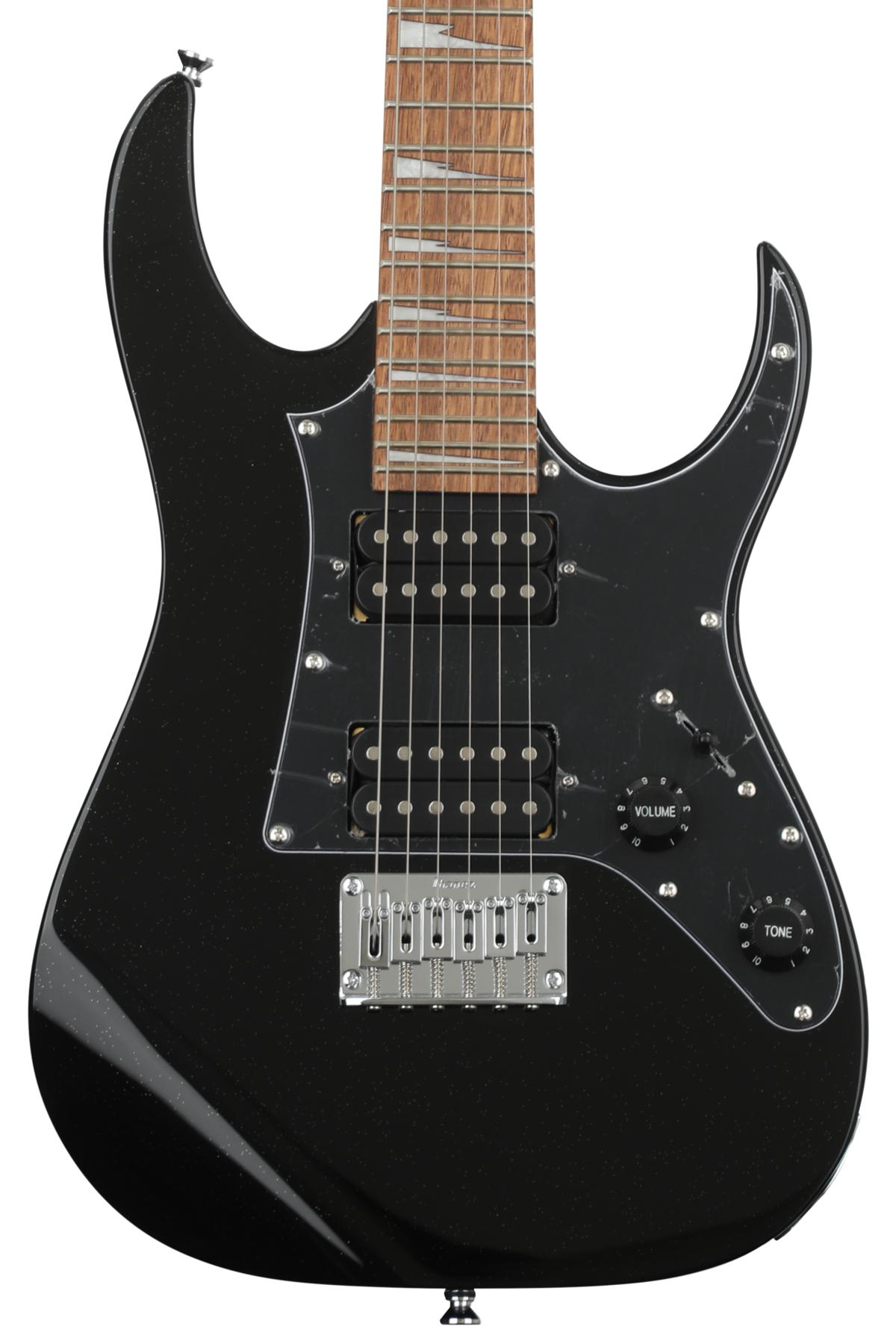 Sound
Neck and bridge Infinity Humbuckers and Poplar body, provide well balanced and controlled tones.
But these axe doesn't give you that warmness and thickness some of us are used to with humbuckers. Tones are slightly brighter, but it still gives you some of that humbucker magic.
Still, sound-wise, this guitar is quite versatile. Good for metal and rock, but clean tones are still soft and clear. Sometimes sounds can be a little bit fuzzy, but when you look at the price tag, it makes sense.
Hear how this one sounds:
Playability
This is easy to play. No question about it.
I tested this in a music store a while ago…
Solid string action and 22-1/5″ scale make strings very easy to press down. You can pull crazy bends with this. The downside is that those ''crazy bends'' can sometimes make this guitar out of tune tho… this is definitely a flaw, but not too bad.
Nut width is 41mm(1.61 inches). It's narrow for sure.
It's really easy to access every corner of the fretboard with this neck. You definitely don't need the hands of the basketball player to play very fast with this.
Quality
Quality is nice. Easily one of the best ¾ size guitars quality-wise too.
But, this guitar has one issue. Staying in tune. In some cases, this is not a problem, but a little bit too often I found users complaining about staying in tune.
Maybe this is not a problem if you end up buying this axe, but be ready for some issues with tuning. Gladly upgrading the tuners is not super expensive.
But for the price, the quality is good in my opinion.
Looks
This guitar is cute. It lacks some high-quality finish, but on the other hand, this is a budget guitar for beginners. When I keep that in mind and look at this axe, I'm satisfied with the looks of it.
Summary
Pros
Really good for small and small-handed people(for kids too)
Versatile
Price
Surprisingly good sounding from cleans to distortion
Great value for the money
Really easy to play
Cons
Tuning issues
Slightly fuzzy sound
You get what you pay for(if you spend a couple hundred more, you get a lot better guitar).
This guitar is a great option for those who are searching for small, easy to play, and versatile guitar with a budget price.
It lacks some quality(tuning issues), but for the price, it's a solid choice. A great option for kids.
Check Price on:
---
Verdict
I think that Squier still got the upper hand with the ¾ size guitars. Mini Strat is easy to play, sounds good, and offer high valuer for money, this is why it's my best overall pick.
On the other hand, Jazzmaster misses with tones a little bit, but playability and value for money are solid. It's a good option for some folks.
If you are into metal, you might want to consider Ibanez Mikro, but a chance of tuning issues keeps the Mikro below Mini Strat in my books. But still, Ibanez Mikro is easy to play and offers high value for money too.
The SX RST 3/4 CAR is a solid option if you want everything that you need in the same pack with a budget price. And it's still better than 90% of the ¾ guitars on the market.
---
Buyer's Guide – FAQ
What Size is a 3/4 Electric Guitar?
We'll take a look at a few examples of these 3/4 electrics compared to their full-size parallels to see how they measure up.
First, let's consider the Squier Mini Strat. Based on the celebrated Fender Stratocaster, this 3/4 guitar has a total length of 39.6 inches and a scale length measuring 22.75 inches. The original Stratocaster has a total length of 44 inches and a 25.5-inch scale length.
With a little simple math, we find that both the scale and total length of the Mini is really only a 1/10 decrease from the "big" Strat, making it a 9/10 size electric guitar.
Next up, the Epiphone Les Paul Express, modeled after the famed Gibson Les Paul. The full-size Les Paul is 40 inches long and has a scale length of 24.75 inches. The student model, Epiphone's Express, is 36 inches long with a 22-inch scale.
Plug this into the calculator and we get the exact same 10% decrease in size as the Mini Strat. This is, again, a 9/10 guitar.
Now, because the third time's the charm, let's measure up one more shorter scale electric.
The Jackson Dinky Minion is marketed as a 2/3 size version of their Dinky series. The Minion's scale is 22.5 inches and it's overall 34 inches long.
Compared to the full-size Dinky at 25.5 inches and 39.3 inches respectively, we again see that they've barely knocked 1/10 off the size, not nearly the 1/3 they advertise.
Why do manufacturers brand their short-scale guitars with these inaccurate labels?
I'm not really sure.
3/4 is arguably more catchy than 9/10, and it certainly makes it seem like there's a much greater difference in size. Plus, it makes a bit simpler to categorize guitar sizes (3/4, 1/2, 1/4), but I can't think of many other reasons for this.
For a truly 3/4 size guitar, you'd have to find one with a scale length around 19 inches, a total length of about 30 inches, and a body width of only 9 or 10 inches!
Are 3/4 Guitars for Adults?
Let's approach this from the benefits of and 3/4 sized axe…
The main benefit of these 3/4 electrics is their shortened scale lengths. Although there's only a decrease of a few inches, this makes a huge difference in both the space between frets and string tension.
Many of the 3/4 models fit the same number of frets as their full-size inspirations, which means the distance between frets has to shrink as well. This can make playing these guitars a lot of fun since complex riffs and scales become a lot easier to reach.
Shorter scales means shorter strings, which in turn equals less tension required to get the strings to pitch. This makes these guitars quite gentle on the fingertips. You don't have to press as hard to fret a note as you do on a full-size guitar.
Both these traits make 3/4 electrics a joy to jam on. Having an easier time can make entering the world of guitar playing much more inviting for adults and children alike.
Who Should Get a 3/4 Guitar?
Now, if you're a pretty massive individual, 3/4 guitars might feel too small, but you'd have to try one to find out for sure. Even if you are on the tall-side, having a small guitar is a fantastic option for traveling, and these 3/4 electrics make travel a breeze.
These guitars work great for just about everyone looking for a low-cost electric. They're especially good for people with small hands. Their shorter, narrower necks make fretting much easier for people with short fingers.
This is as great a benefit for young students as it is for adults who are tired of straining to hit wider chords and scales.
What Makes a Great 3/4 Electric Guitar?
It's important to keep in mind that shaving a couple of inches of wood off the build isn't sufficient to account for the huge price drop you see in these 3/4 guitars.
Companies keep the costs of these beginner models low knowing that many people pick up the guitar on a whim but don't follow through with the work it takes to become proficient. If student guitars were expensive, far fewer people would ever think about starting.
To counteract this, these models are made with generally low-value electronics, mid-quality hardware, and basic tonewoods.
They're not necessarily bad guitars, but tone- and performance-wise, they'll never compete with better quality models.
This means you need to know what is acceptable in a 3/4 electric guitar and what isn't.
First, keep an eye out for plastic hardware.
This is an immediate deal-breaker found in only the lowest quality instruments. Your guitar's hardware (tuning machines, bridge, frets) should definitely be made of metal. Only the best 3/4 electric guitars keep it real with steel throughout the hardware specs.
Next, the pickups need to at least be functional.
Some really bad guitars will have electronics that fizzle out the minute you start playing. This can be due to poor wire wrapping or weak soldering, and it's another thing that disqualifies a guitar right out of the gate.
The pickups of a low-cost 3/4 guitar aren't going to be amazing, but they should work like any other pickup without an overwhelming amount of snap and crackle.
Finally, be sure to avoid any guitars that come defective.
Most electrics will need a setup after you get them, but you shouldn't accept any guitar with broken pieces, cracked wood, curved necks, or badly scratched finishes. While most of this can be repaired, the costs of this maintenance in both money and time will quickly total the cost of a much better guitar.
To sum it up, great 3/4 size electric guitars will combine working, metal hardware, effective pickups, and flaw-free builds at an affordable price.
---
Conclusion
These were the best 3/4 electric guitars, and I didn't' honestly found any more solid options than these 4. There would surely be room for solid Single-Cut 3/4 electric guitars at the market.
All these are tons of fun for all adults, children, beginners, pros, and everyone in between. They're easy to play little music makers that will always have a fond place in my heart. But at the end of the day, I would recommend Squier Mini Strat and Jazzmaster for most players who desire 3/4 electric guitar.
I hope that this review helped you out! If you have any questions, leave a comment down below. Feel free to share this post too.
I wish you all the best and keep rocking!