Last Updated on April 29, 2023 by Teemu Suomala
Best Overall – Orange Rocker 32
Sound
Features
Usability
Value for Money
Summary
The Rocker 32 is an awesome tube box from Orange Amplifiers.

With Orange Voice of the World Gold Label speakers compose the 2×10 configuration, each rated to a 101-decibel sensitivity.

Plus, Orange has kept the home players in mind and added an amazingly useful Half-Power switch. This takes your power output from 30 watts down to 15 watts, allowing you to play at home with the flick of a switch.

You also get:
-Clean channel that is crystalline, with glimmering highs and sultry lows.
-Dirty Channel. The gain is highly malleable. You can play with slight to moderate fuzz or really crank it up to overdrive, pushing the tubes into deathly distortion well-suited for killer metal riffs.
-Ability to switch between mono and stereo sound.

Versatile, easy to use, and sounds great. The best 30-watt tube amp.
How Orange Rocker 32 sounds:
Check Today's Price on:
*Consider all links in this post to be affiliate links. If you purchase, at no additional cost to you, we may earn a small commission. It helps us to keep the lights on, thanks! 🙂
---
The Next Best:
Here's an image summary of the entire article, if you're in a hurry:
---
Are you ready to take control of your tone by choosing an amp that brings your mastery of guitar to the next level? Do solid-state combos lack the oomph you crave? Let's do this!
If you don't need to blow the roof off your building, a 30 Watt tube amp can deliver the perfect amount of power for your playing needs. We've looked at the best on the market to help you choose the best amp for you.
Let's first look at these best 30-watt tube amplifiers, and at the end of the post, you can find the FAQ section that helps you to make the best choice possible.
Who crafted this post:
Author: Tommy Tompkins
Playing guitar since 2004. Primarily an acoustic guitarist who plays and writes traditional American folk music, with a background in melodic metal and a solid foundation as a bassist.
Hide The Rambling▲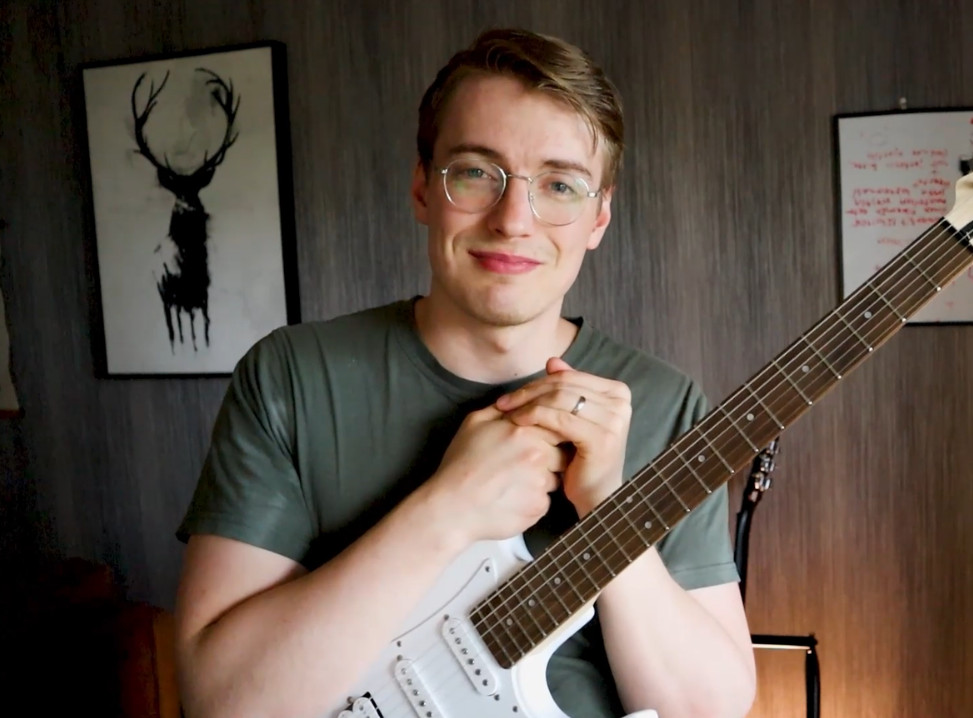 Author: Teemu Suomala
I first grabbed the guitar in 2009. I started this website in January 2020 because I couldn't do window installation anymore due to my health problems. I love guitars and have played dozens and dozens of different guitars through different amps and pedals over the years, and also, building a website interested me, so I decided to just go for it! I got lucky and managed to get awesome people to help me with my website.
I also got lucky because I have you visiting my website right now. Thank you. I do all this for you guys. If you have any recommendations, tips, or feedback, just leave a comment, I would love to chat with you. I have also been fortunate to produce content for several large guitar websites, such as Songsterr, Musicnotes, GuitarGuitar, and Ultimate Guitar.
I spend my spare time exercising and hanging out with my wife and crazy dog (I guess that went the right way…).
Hide The Rambling▲
---
Our Favorite Music Store in The World!
Why?
– Excellent Customer Service (4.7/5 Trustpilot Score)
– Fast & Free Shipping
– Gear is Inspected, Tested, & Ready to Play When it Arrives to You (We love this)
– Fair Prices
Visit Sweetwater:
Best 30 Watt Tube Guitar Amps – My Top Picks
Best Overall – Orange Rocker 32 30W 2×10 Tube Amp
The Rocker 32 is an awesome tube box from Orange Amplifiers.
It's a two-speaker amp and crammed with different tone options.
Speakers:
Orange Voice of the World Gold Label speakers compose the 2×10 configuration, each rated to a 101-decibel sensitivity.
In most instances, this would make it a very loud amp, hardly suited for anything outside of gigging. It can easily compete with a vigorous drummer and flawlessly fill medium-large venues.
However, Orange kept the average player in mind in this design and added an amazingly useful Half Power switch. This takes your power output from 30 watts down to 15 watts, allowing you to play at home with the flick of a switch.
The Rocker 32 has two channels, a clean and a dirty. The clean channel is crystalline, with glimmering highs and sultry lows. Though it lacks an EQ, it's pre-dialed to provide sonic clarity for any guitar.
On the dirty side, the gain is highly malleable. You can play with slight to moderate fuzz for blues, country, and classic rock, or really crank it up to overdrive, pushing the tubes into deathly distortion well-suited for killer metal riffs.
Cool feature:
This amp's most unique feature is the ability to go from mono to stereo sound. In mono mode, accessible by plugging the Left speaker cable to the mono input on the back, both speakers operate as a single unit, projecting a solid sound that lands like a suckerpunch.
Switch to the stereo mode and some really interesting features become available. Once in stereo, you can run your effects either through both speakers simultaneously, or flick a switch to be in Wet/Dry mode to route an unaltered tone through the left speaker with the effects through the right.
Like this, you can get a huge chorus effect, insane-sounding stereo delay, or experiment with any effect you like to fully customize your sound.
This amp is very short on the cons side, and all I can find to complain about is that the control knobs are only marked with pictograms, so you'll have to familiarize yourself with Orange's icon set to know which knob does what.
Hear how The Orange Rocker 32 sounds:
Summary
Pros
Half Power mode for reduced volume, great for in-home playing
2×10 speaker layout with stereo effects capabilities
Two channels: clean and dirty
Can be very loud, up to 101dB
Cons
No EQ on the clean channel
Pictograms designating each control knob; no words — takes getting used to
Definitely one of the best smaller tube amps out there. Handles a great variety of genres well and is a good choice for guitar players who are looking for a versatile amp.
Check Price on:
---
Best Budget – Peavey Classic 30 112 Guitar Combo Amp
The Peavey Classic 30 112 is an update to their popular early-90s model.
It's a compact combo amp that packs a hearty punch. Four EL84 tubes in the power amp give it a thick and creamy low end paired with a formidable mid-range attack.
Despite its open-backed speaker cab, the Classic 30's sound remains on the boxier side. Even when it gets gritty, each note shoots forward with bulls-eye clarity. This is a tube amp built for rock, blues, and country, and it delivers really well in those areas. I love the grit in the mids, never finding the highs harsh or the lows too muddy.
Speakers:
With a 1×12 speaker configuration, it's not the loudest 30-watt amp on the market, but it still carries a volume sufficient for fair-sized clubs.
In way of effects, the Peavey 30 Classic has a nice spring reverb, great for long-sustain chords and soulful lead lines. Additionally, there's a boost button that ups your gain for more crunch at lower volumes. Though these can be switch operated, they require a different footswitch from the one rigged for switching channels.
Cool feature:
One aspect of this amp I really appreciate is the included footswitch. This small bonus accessory adds heaps of added value and usability. Rather than have to hang by the side of the amp to switch channels, you can step away from the source to change your tone with the tap of a toe.
Hear how it sounds:
Summary
Pros
Power-packed for small and medium venues
Strong, dirty mid-range
Two channels and footswitch for easy tone control
Built-in reverb effect
Durably and dependably built
3-band EQ to dial in your tone
Not too pricy
Cons
Closed-sound, not much openness in any range
Lacks detailed harmonic distortion
Both channels sound quite similar
All in all, the Peavey 30 Classic is a great all-rounder, good for many different genres and playing styles. A great option especially if you have a tighter budget.
Check Price on:
---
Great for Blues, Jazz, and Rock – Vox AC30S1 30-Watt 1×12 Inches Tube Combo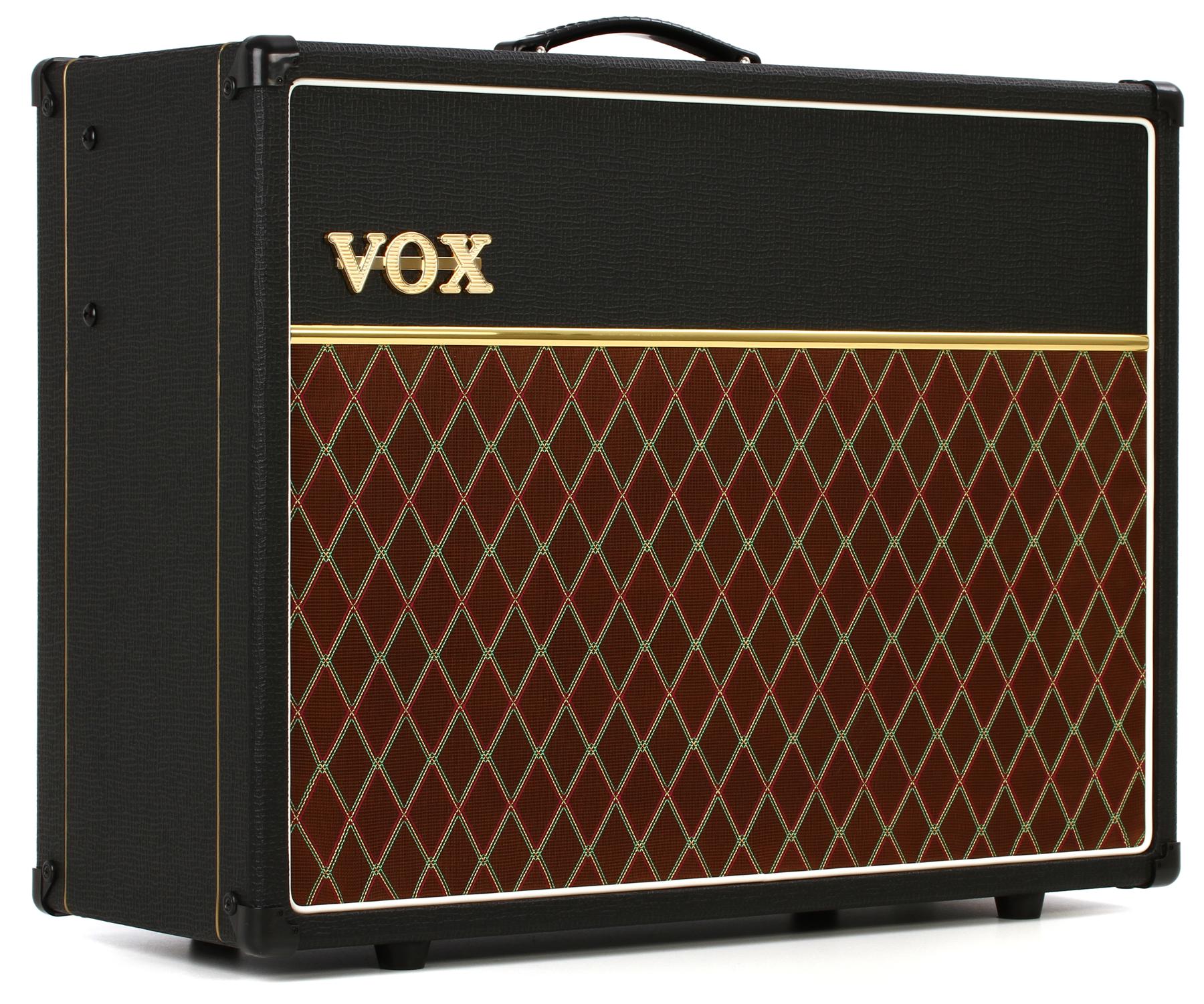 Vox's AC30 series is a legendary line of amps that defined the sound of early British rock.
What made the original AC30's sound a signature of the times was their addition of a Top Boost channel which maximized the gain in the high end. This made for chattery lead lines — listen to The Stooges "Search and Destroy" or any early Beatles and you'll see what I mean.
The AC30S1 emulates that vintage Top Boost sound with a similar configuration of 12AX7 and EL84 tubes in an updated wiring schematic, reproducing the famous tone in a new, smaller package.
Speakers:
Early models of the AC30 switched from a 1×12 speaker rig to a 2×12 configuration, but the AC30S1 hearkens back to the beginnings with a single 12-inch speaker.
This speaker is a custom-designed Celestion, voiced specifically for the AC30S1. Thanks to this, there's a significant reduction in size and weight with very little sacrifice in the way of tone.
This sits in a semi-closed cabinet, open only in a narrow grill plate. The AC30S1 is set up for boxy, incisive mids, dirty, crackling highs, and an admittedly unremarkable low end. It features a digital spring reverb that does a good job of replicating the classic effect, an effects loop, and an external speaker jack for when you need to boost your sound with extra speakers.
Although a small, single-speaker model, the AC30S1 packs tremendous volume. Unfortunately, its Master Volume control isn't very responsive in the lower numbers, so you'll have a hard time finding a quiet level for at-home jamming. But this si common with tube amps.
I would say this isn't a very versatile amp. Indeed, Vox bills the AC30S1 as "Single Channel. Single Speaker. Single Purpose", so you should know before you buy it that it's meant for a particular voice, but it projects that voice with great efficacy.
Hear how this one sound(note that distorted parts are played with a pedal):
Summary
Pros
Classic Vox "Top Boost" channel for jangly, brilliant highs
British classic rock sound with a modern edge
Well-designed, authentic-sounding digital spring reverb
Compact and easily transportable
Articulate grit great for jazz, blues, and rock
EU-versions equipped with a togglable power-saving auto-off feature
2-band EQ allows for some tone tweaking within the vintage Vox 30 framework
Cons
One channel design limits tonal versatility
The Master Volume control has uneven increments — no ability to play quietly
Niche tone not suitable for all genres or playing style
If you are going to mostly play jazz blues and rock and don't want to spend too much, VOX AC30S1 might be a great option for you.
Check Price on:
---
Most Features – Laney Ironheart All-Tube 30W 1×12 Guitar Combo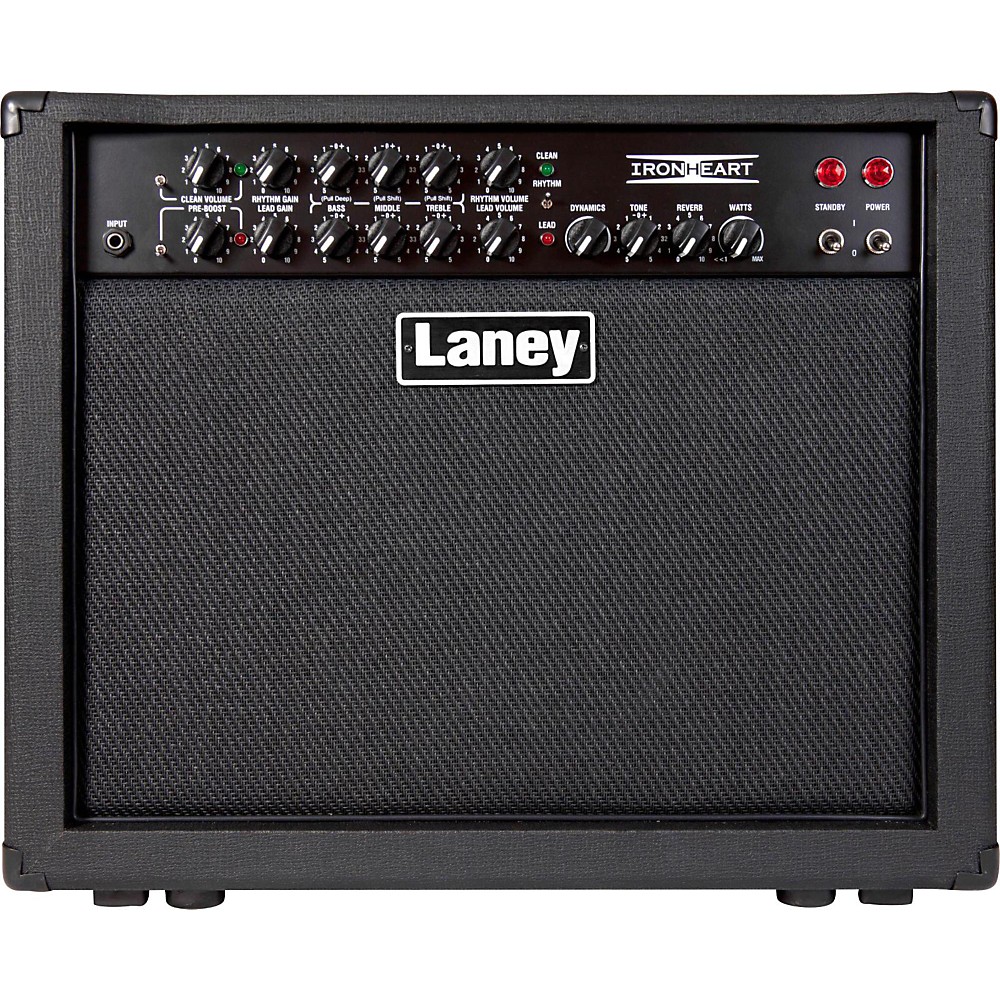 The Laney IRT30-112 is easily the most modifiable tube amp in this list, which can be a big bonus for some players and a detriment to others.
Starting with the EQ, you have three knobs with essentially six controls. Each EQ knob can be pulled, changing the frequency that it alters. This enables deeper bass response, tighter mids, and broader highs.
I love to tweak my tone, so this feature really pleases me, but I know many players who like to keep it simple and would be turned off by having so many variables. In addition to the EQ, there's a pre-boost switch that adds gain to your signal before the power amp, making the tone clearer and louder in the clean channel and adding a truly evil distortion in the lead channel.
There's a master tone control, a dynamics knob that opens or closes your tone, and a digital reverb dial for adding depth to your sound.
At the heart of the Ironheart All-Tube 30 are two 6L6 tubes, giving the overall sound of this amp a more American than British vibe, bringing to mind famous Laney users like Paul Gilbert and Joe Satriani.
Speakers:
The voice of the amp is projected through a single 12-inch HH-designed speaker, fully capable of blasting away small venues with no outside help.
Cool feature:
My favorite feature of the IRT30-112 is the ability to attenuate the wattage. While a 30-watt amp at max power, the Laney Vari-Watts control allows you to reduce the output all the way down to 1 amp, so you can play with its beastly overdrive in the comfort of your bedroom.
Hear how the Laney sounds:
Summary
Pros
Versatile controls to create a huge array of different tones
Included footswitch controls channels, reverb, and pre-boost options
Three channels to easily switch between sounds
Extremely heavy distortion, great for metal
Clean tones that suit a wide variety of genres
Adjustable power output — lower watts for high distortion at home
Side handles for easy carrying
Cons
So many tone controls can be overwhelming
Sound fizzles out at lowest wattages
Booming low end can't dial into vintage rock sounds
Really versatile amp with a great variety of settings to choose from. If you like to really dial your settings to make every playing session unique, this is a great option for you.
Check Price on:
---
Best for Classic Rock/Rock – VOX AC30C2 Guitar Combo Amplifier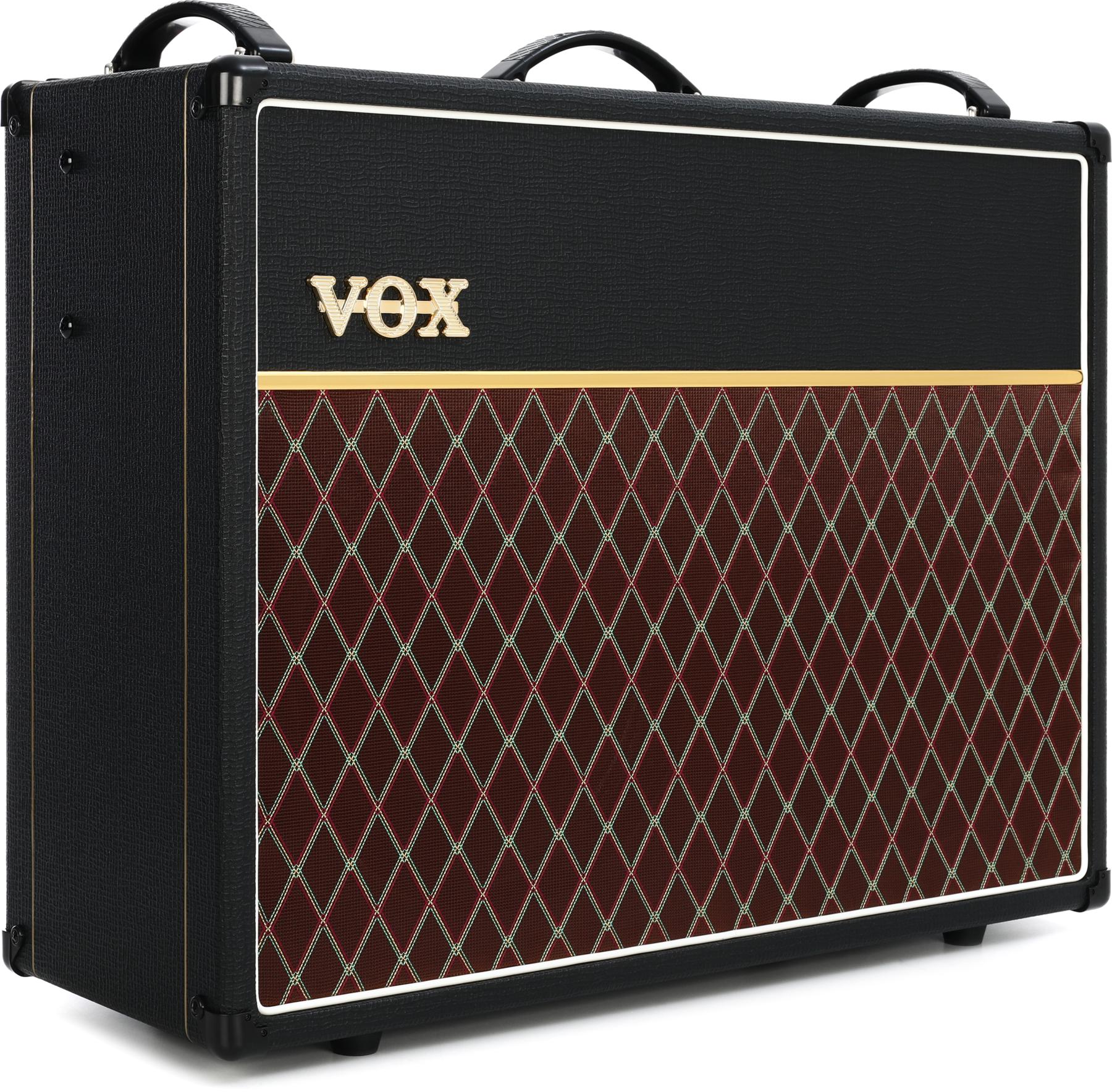 Vox's Custom series was made for the classic rocker.
These amps have been featured in vintage rock from its earliest days and continue to be in use among indie bands into modern times. They're hugely popular for their chiming trebles, and the AC30C2 gives you this and a bit more.
Speakers:
Voiced through a 2×12 Celestion Alnico Blue speaker combo, the EL84 tubes in the AC30C2 sing with clarity even in their dirtiest, most overdriven state.
You have two-channel options in this amp: a normal channel that provides thick, creamy lows and mids, and a Vox's famous Top Boost channel that gives an edgier, higher gain performance, especially in the treble end of the spectrum.
Control-wise, there's not a lot to talk about. Each channel has an independent volume control, and the Top Boost channel can also be altered by an independent 2-band EQ to fine-tune the highs and lows.
Additionally, there is a master volume, master tone, and two effects.
The effects, a reverb and tremolo, enable you to have a lot of fun and to add a lot of depth to your voicings. Both effects have level and tone controls.
Cool feature:
Ultimately, this is an amp made to match the tone of the first Vox tube amps, while offering more in the way of modern-day distortion.
Still, you're rather limited in just how much crunch you can play with.
Hear how this one sounds:
Summary
Pros
Two channels, Normal and Top Boost, add a range of available tones
Two onboard effects, reverb and tremolo, to further personalize your sound
Two powerful 12 inch speakers, great for gigging
Enough grit in the overdrive for hard rock
True-to-fashion British classic rock tone overall
Lots of headroom for big, clean sounds
Simple controls for a pre-specified tone
Cons
Unable to footswitch between channels
Heaviest amp in this list; hard to carry
Relegated to a particular set of tonal variance
Amp made for classic rock. If this sounds good, this might be the right one for you.
Check Price on:
---
Verdict
The best 30-watt tube guitar amp is really a toss-up between the Orange Rocker 32 and the Laney Ironheart All-Tube 30W 1×12. For me, the Vox and Peavey models just don't give enough options; I like to explore nearly every genre, and being stuck in a blues or classic rock setting bums me out.
In the end, I'm going to give the win to the Rocker 32, as it achieves the goal of versatility without being overly complicated like the Laney IRT30-112.
Orange's Rocker 32 can deliver everything you want from a 30-watt tube amp: plenty of headroom for loud, clean tones, deep and mean distortion, enough EQ control to customize your tone, and a range of power that lets you hit the stage just as well as rock out in your living room.
Add to this its added bonus of stereo or mono modes, the Wet/Dry effects loop, and its generally bold, flamboyant voice, and you've got an amp that can't be overlooked.
If you have a tighter budget, Peavey Classic 30 112, is a great option, but if you want to play really heavy stuff, a distortion pedal might be needed.
---
FAQ
Picking the Perfect Amplifier – What are the Advantages of a 30 Watt Tube Amp?
Fans of tube amps will hark about their tonal distinctions — the smoothness of their distortion, the fullness of their sound, and their reproduction of "good noise".
Tube amps are often touted as undeniably superior to solid-state amps. This is not necessarily true in all applications, but they do have certain benefits.
The Tone from Tube Amps
Throughout this article, we will be comparing tube amps to their main competitor, solid-state amps.
What's the difference?
In short, solid-state(transistor) amps utilize electronic components such as transistors and transformers to convert your guitar's electrical signal into a soundwave. Tube amps use vacuum valves (the tubes) which serve to physically heat electrons and transmit your signal along with a series of nodes. Learn about guitar amplifier types here.
It's very technical, and understanding how they work isn't exactly important. What matters is the differences in how they sound in performance and what they're capable of.
Solid-state models tend to be thought of as crisper amplifiers. They're great for clean tones and have a lot of headroom, which is the amount of volume they can produce without becoming distorted.
Conversely, tube amps start to get fuzzy at their medium power outputs, but this fuzz is different from the crackly tin of solid-state amps. This is because of how they handle background noise, transmitting it with a purer harmonic reproduction than the transistors of solid-state devices.
This handling of noise makes tube amps warm and full of bass. They're extra responsive to the nuances of individual guitar techniques and playing styles and can produce a tone that is more genuine to the player's personal touch.
Hear how tube/valve-, and solid-state amp sound when compared head-to-head, (left player rocks with a tube amp, and right one jams with solid-state amp.):
Now that we've got an introduction to their sound, let's break them down by the different scenarios in which you might be using these amps:
Private Practice and In-Home Recording
Tube amps, compared to solid-state, need their master volume controls turned to a certain minimum, saturating the tubes, to sound their best. A 30 Watt tube amp is a powerful box of sound, loud enough to drive your neighbors crazy.
But at the same time 30W allows you to practice and get the full tone you're after when you want to record at home.
Especially if you can change the power of your amp between 30W and a lower number. This is a must if living in an apartment with non-guitar-friendly neighbors.
Full Band Rehearsals
At home, you can hit semi- to full-saturation somewhere around the 5 to 6 volume mark, and it's going to be loud without being overbearing.
When you've got to keep up with an unhinged drummer, another guitarist, a bassist, and some vocals, you'll need to crank that master volume up to max.
A 30-watt tube amp can pull this feat off much better than a solid-state of the same wattage for two reasons.
30 tube watts sound much louder than 30 solid-state watts thanks to their harmonic distortion.
Two, tube amps handle the boost in volume better than transistor amps. Solid-state amps at their maximum capacity, due to a difference in how they transmit noise, squawk with an awful distortion. Tube amps, on the other hand, are made to be played loud and sound their best at max power.
A 30-watt tube amp is perfectly capable of competing with the cacophony of band practice and sounding great while doing it. And for almost every guitar player, 30Watt tube amp is definitely loud enough.
Gigs: Stages Big and Small
When you play out, no matter the size of the crowd, a 30-watt tube should be enough to do the job.
In small venues such as clubs and bars, 30 watts of tube power is enough to reach the back of the room while still maintaining a great tone.
Taken to larger stages, typically your amp will be miked and run through the venue's PA system. This makes your only consideration the overall tone of your amp, and with a 30-watt tube system you'll be sounding great.
Things to Look for When Choosing an Amp
Being an informed buyer will make you multitudes happier with your purchase than if you buy the first amp you take for a test run. There are a few key things to consider when you're choosing the right amp for you.
Specializing Your Sound: what's your tone goal?
Before we get into the specifics of power and size, I'd say the most important thing you'll want to think about is the tone you're after.
If you're a beginner guitarist, you may or may not have a clear idea of the type of sound you want to play with. This isn't a huge issue in the early days of playing, but it's worth giving some degree of thought to.
Who are your favorite guitarists? What's your favorite genre?
Listen, and while you listen, think about what sets their guitar tone apart.
If it's a well-balanced fuzz you love, check out low watt tube amps with enhanced EQ controls, while killer amounts of crunch and distortion call for amps with high capacities for pre-amp.
On the other end, if you're a jazz guitarist looking for a silky smooth clean tone, solid-state amps with plenty of headroom are the direction you want to go toward.
Ultimately, the amp you choose will have a huge bearing on your sonic signature, and you want to make sure you make a choice that suits your style.
Performance Prerequisites: where are you playing?
Unless you're playing unusual colosseums that lack PA systems, you probably won't need mega-strong 200-watt full stacks.
However, you want to make sure you have enough power to be heard, and not too much that you wind up with neighbors who rue your existence. For general performance needs, amps above 25 watts have plenty of power to fill medium-sized venues. Since you'll usually be miked through a PA at larger venues, you don't need to worry about going too much bigger than this.
Anything above 30 watts will start to be too loud to play at home, especially in tight quarters. If you're strictly a hobby guitarist, look for lower-powered amps in the 10-15 watt range.
If you want to know more about how wattage affects the loudness and tone of your guitar, check this guide out: What Wattage Guitar Amp Do I Need? – Complete Amplifier Wattage Guide
Speaker Specs: how size can change your sound
The size of the amp's speakers has a big influence on your sound, so keep this in mind when checking out different models.
This goes back to choosing the right amp for your desired tone, so think about how you want to sound when looking at speaker specifications.
Generally, bigger speakers have a more low-end bass boom, while smaller speakers hold the high-end treble in prominence.
Finally, know the tonal differences between open- and closed-back speaker cabinets.
Typically, open speaker cabs are more ambient and, well, open sounding. Their tones are more natural and warm. Closed cabs are like small speakers — tighter and crisper with more punch and direction.
Tube amps are almost always open-, or at least semi-open back, because tubes/valves need air to cool down.
If you want to know more about the differences between the open and closed back amps and history behind them, check this article out: Why Are Guitar Amps Open in The Back? – History Explained.
How to Choose the Best 30 Watt Tube Amp
I can't tell you what is the absolute best amp, because it boils down to being a matter of personal preference. What I can do is give you some information about how the different aspects of an amp affect your tone and performance.
We have a few main points to cover to know how to choose the best tube amp: tube type, speaker size, amp configuration, and additional features.
Types of Tubes
There are as many types of tubes as there are lightbulbs, and each has different sound qualities. As such, they're one of the main components to think about when choosing the best amp for you.
Knowing how the different tube designs affect your sound is going to make it much easier to know what tube amp is right for you.
I'll give you a quick rundown of the most popular tube varieties, speaking only on their tonal characteristics and ignoring the technical specs of how they're constructed.
Different tubes:
EL34 – gritty, murky warmth with a prominent mid-range; British classic rock tone
EL84 – smooth, full low-range with good harmonic distortion; gritty blues sound
6L6 – sparkling high-end with reduced low- and mid-range; vintage Fender voice
6V6 – crystalline highs and crunchy lows; "California" vibe, American classic rock
6550 – pure highs and lows, dirty mids; lots of headroom for powerful clean tones
KT66 – similar to 6L6, well balanced in all ranges; highly responsive
KT77 – large, open lows, reduced mids, clear highs; big and bold
KT88 – super sharp, similar to 6550, clarity in all ranges; designed for high fidelity stereos
Speaker Size
I mentioned earlier how speaker size can affect your tone, with smaller speakers packing more in the high-end department and bigger speakers having a better low-end boost.
Speakers in amps are described by two numbers, for example 2×10, 1×14, 4×12. The first number is the number of speakers, and the second number is the radius of each speaker cone or the size of the speaker.
I'll break down the common amp speaker sizes and configurations for you, again focusing only on tone and not delving into the physics of it all.
Different speakers:
2×10 – strong high end even at low volumes, biting mid-range distortion when cranked up
4×10 – tight and punchy, bold without being harsh
2×12 – well-balanced in all ranges, wide-open tone
4×12 – super loud, extra powerful, very full sound
1×15 – huge and powerful low end, open mids, softened high end
In addition to the speaker size and setup, remember that there's a tonal difference between open- and closed-back speaker cabinets. To keep it short and simple:
Open-backs will give you a looser, bassier tone
Closed-and semi-open backs tighten everything up and give a boost to the high and upper-mid ranges
Configuration: Separate Head + Cab vs Combo
There are two main setups for guitar amplifiers: combo amps and separate head + cabinet units.
There are pros and cons of each, and to know which is best for you it's good to know the benefits of both configurations.
Combo Amps
Combination amps are probably the first thing that comes to mind when you imagine a guitar amplifier. A combo amp is a single unit that contains the preamp, power amp, and speaker all in one cabinet.
The tonal difference between open- and closed-back speaker cabinets The benefits of a combo amp are:
ease of use and setup
designed for specific tones
often able to be connected to external speaker cabs
If you don't want to get too technical about your tone and are happy to play on a pre-specified setup, combo amps are a great option.
A few downfalls:
They can be heavy and hard to transport
limit your personal sound customization
Head and Cabinet
The head and cabinet style of amplifiers is a two-piece configuration. There is the head, which contains the preamp, power amp, EQ, and other effects. This is set on top of the cabinet, which is simply the housing for the speaker/s.
This could be the right choice if you value:
the ability to fully customize your tone; pairing different heads with different cabinets
ease of transport
volume — separate heads usually have higher watt ratings and large cabinets are loud
If you're really serious about your personal tone, head and cabinet configurations give you a lot of versatility in crafting your custom sound.
Novice musicians may find them to be a bit much, and can be turned off by their couple cons:
complexities of researching best-matching pairs
often too loud for at-home practice
Additional Features: Channels, EQ, and effects
Many amps also have a slew of other controls on the preamp to keep in mind.
Number of Channels
You will find that some amps have more than one channel. This is the electrical route that the guitar's signal takes before it hits and is amplified by the power amp.
Keeping it to the basics, multiple channels allow you to have multiple tones available at the flick of a switch (or press of a button).
This is a useful feature when you want different levels of distortion in performance without the intricacy of several pedals, but can reduce the overall purity of your tone if you are looking for one distinct sound.
EQ
Some amps have complex EQ (equalizer) controls that allow you to tweak your tone in three or more different dimensions.
Others have only a "Tone" knob that allows for slight adjustments.
Like everything I've talked about so far, the choice between the two depends on how much you care about dialing into a specific personal tone. If you're content to play with the sound the amp engineers have designated, lack of EQ controls won't be an issue.
Effects
Finally, we'll take a look at the option of in-amp effects. Effects change your guitar tone in ways that vary from slight to outrageous.
With tube amps, usually there aren't a lot of built-in effects, as these models tend to aim for a more genuine overall tone. The most you'll usually find offered is a reverb.
There are some models with more built-in effects, but these will reduce the authenticity of the preamp's tone, which is the driving factor behind these devices in the first place.
My opinion here is to shy away from amps with an overload of included effects and to buy analog pedals designed for the alterations you want.
Things You Need to Know About Tube Amps Before You Buy
I have two things I must bring to your attention before we dive into our reviews. One is about amp maintenance and the other regards your safety.
Tubes are Temporary
Tubes are very much like lightbulbs in both function and design. Like lightbulbs, they burn out and need to be replaced from time to time.
Besides burning out, tubes naturally lose their luster over time. Replacing old tubes is a great way to get your amp sounding spectacular again. You can buy replacement tubes, and it's best if you take it to a technician to have the old swapped for the new.
If you've got a DIY attitude, it's very important to know how to safely replace tubes before attempting to perform this bit of maintenance.
Why is it important to know how to do this?
Tube Amps Can Kill You
It sounds crazy, but it's true, and in a surprising way.
Tube amps store electrical power in their capacitors, and can give you a high voltage electric shock even when unplugged.
Beware!
You must know exactly what you're doing before you go messing around in the guts of your amp, and follow recommended safety guidelines before and during attempting any type of maintenance.
Now that you know the ins and outs of choosing a good amplifier plus the basics of their maintenance needs and safety issues, let's take a look at our choices for the best 30-watt tube guitar amps.
---
Conclusion on Best 30 Watt Tube Guitar Amps
All of these are great amps, and you are probably not going to waste your money, no matter which one of these you buy.
I hope that this post helped you to choose the best 30-watt tube guitar amp for you. If you have any questions leave a comment down below and feel free to share this post too.
I wish you all the best and keep rocking!
You might also like:
We are sorry that this post was not useful for you!
Let us improve this post!
Tell us how we can improve this post?