Best Overall – Blackstar Silverline Special 1×12″
Sound
Features
Usability
Value For Money
Summary
The Blackstar Silverline Special puts 6 pre-programmed amp models right at your fingertips.

Your tone can be tweaked in nearly every way with the Blackstar Silverline Special. This includes 12 built-in effects that range from funky flange to resonant reverb to colorful chorus mods.

With 4 independent channels, you can program your desired EQ and effects and switch sounds in an instant.

Pros
-User-friendly interface makes changing tones simple
-Various tube emulations to choose from
-Preset modeled tones give you easy versatility
-Powerful 1×12 Celestion V speaker

Cons
-Tube effects lack warmth
-Slow response; not very articulate

I love the presets of this amp. There's not a single bad sound onboard, and it's a lot of fun to play with a wide range of effects.
How Blackstar Silverline Special sounds:
Check Today's Price on:
*Consider all links in this post to be affiliate links. If you purchase, at no additional cost to you, we may earn a small commission. It helps us to keep the lights on, thanks! 🙂
---
The Next Best:
FREE Access for You! Secret Page Reveals 5 Must Learn Electric Guitar Riffs That Accelerate Your Learning (For All Beginners Who Love Rock and Metal)
(If you want to make progress fast, this is for you). Just tell me where I should send the link:
By entering your email address you agree to receive emails from Guitarist Next Door. We'll respect your privacy and you can unsubscribe at any time.
---
Tired of complicated soundboards and a mess of effects pedals?
Whether you're looking for a studio, stage, or street amplifier, a great 4-channel guitar amp can give the versatility you need to rock. 4-channel guitar amps can be sound-machines with a range of effects and inputs to take your musicianship to a higher level.
And here you can learn a lot of cool stuff about our 5 favorites for different situations.
Let's first look at these fine amps, and at the end of the post, you can find the FAQ section that helps you to make the best choice possible.
Who crafted this post:
Author: Tommy Tompkins
Playing guitar since 2004. Primarily an acoustic guitarist who plays and writes traditional American folk music, with a background in melodic metal and a solid foundation as a bassist.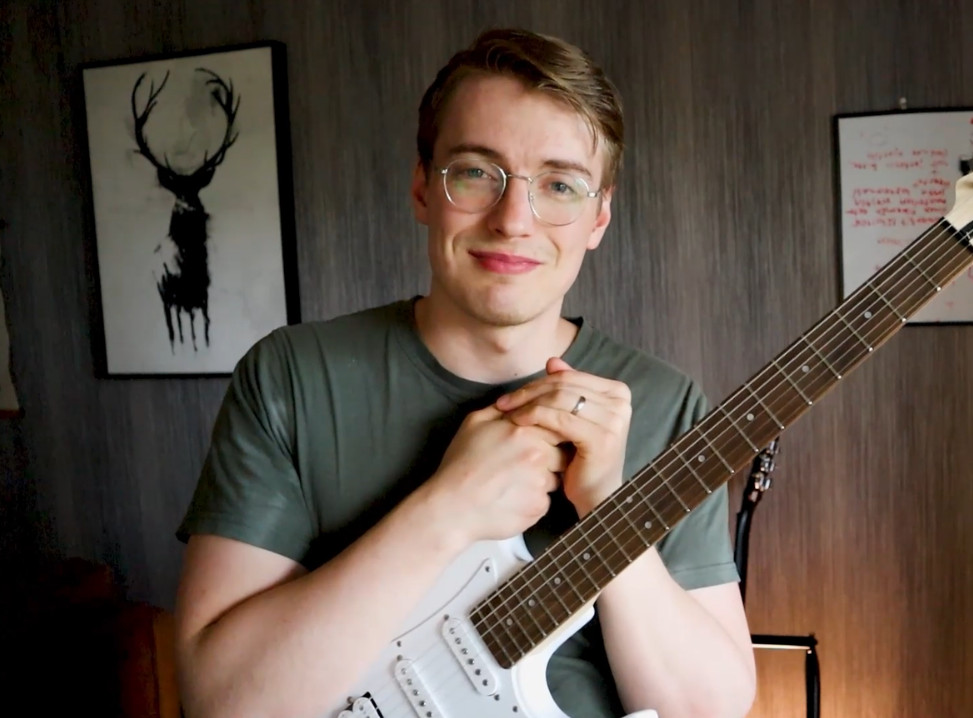 Editing & Research: Teemu Suomala
Playing guitar since 2009. Mainly focused on electric guitars, although jamming with acoustics too. Has played dozens and dozens of different guitars through different amps and pedals over the years. That's why he started this blog in January 2020 and started sharing his experience. Has produced content for several large guitar websites, such as Songsterr, Musicnotes, GuitarGuitar, and Ultimate Guitar.
Every one of these amplifiers is here based on extensive research and decades of combined guitar experience of me (Tommy) and Teemu.
---
Our Favorite Music Store in The World!
Why?
– Excellent Customer Service (4.7/5 Trustpilot Score)
– Fast & Free Shipping
– Gear is Inspected, Tested, & Ready to Play When it Arrives to You (We love this)
– Fair Prices
Visit Sweetwater:
Best 4-Channel Guitar Amps
Best Overall – Blackstar Silverline Special 1×12″ 50-watt Combo Amp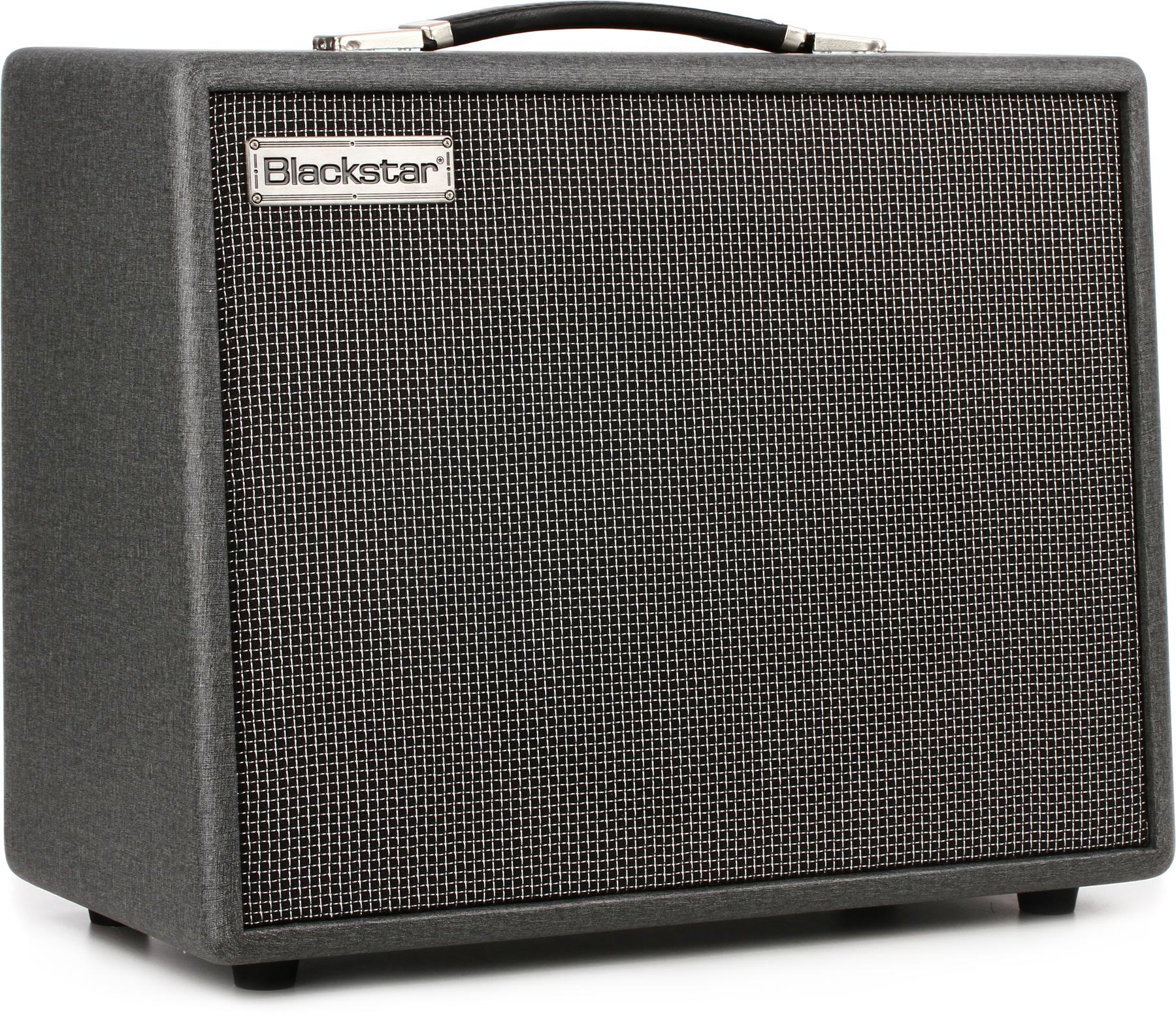 Sound
The Blackstar Silverline Special puts 6 pre-programmed amp models right at your fingertips- or at the tips of your toes if you opt for the footswitch.
These digital emulators include a clean vintage classic rock sound, a bright clean jazz tone, two classic British rock amps, and two hard-driven models for modern rock and metal.
There's not a lot this amp can't do, but it's a bit slow to respond to how hard you strum your axe.
Hear how this amp sounds:
Features
Your tone can be tweaked in nearly every way with the Blackstar Silverline Special. This includes 12 built-in effects that range from funky flange to resonant reverb to colorful chorus mods.
With 4 independent channels, you can program your desired EQ and effects and switch sounds in an instant.
A USB-port allows you to plug into any computer to record. You also get access to Blackstar's INSIDER software, giving you even more preset voices.
Usability
It's super easy to use, though a few controls are hidden in unlabeled knobs.
For instance, to access the midrange EQ control, you have to hold the TAP button and use the Bass knob.
Outside of this, the other controls are right under your nose.
Value for Money
This is a splendid amp for those looking for a range of nice-sounding voices. It does its best to emulate authentic tube tones and pulls off a passable job.
Regardless, with 6 great voices, built-in effects, and free recording software, the Blackstar Silverline Special is worth every penny.
Summary
Pros
User-friendly interface makes changing tones simple
Various tube emulations to choose from
Preset modeled tones give you easy versatility
Powerful 1×12 Celestion V speaker
Cons
Tube effects lack warmth
Slow response; not very articulate
Personally, I love the presets of this amp and think it's great for any guitarist who isn't too picky about their tone. There's not a single bad sound onboard, and it's a lot of fun to play with a wide range of effects.
Check Price on:
---
Best for Street Performances – Roland CUBE Street EX 4-Channel 50-Watt Battery Powered Amplifier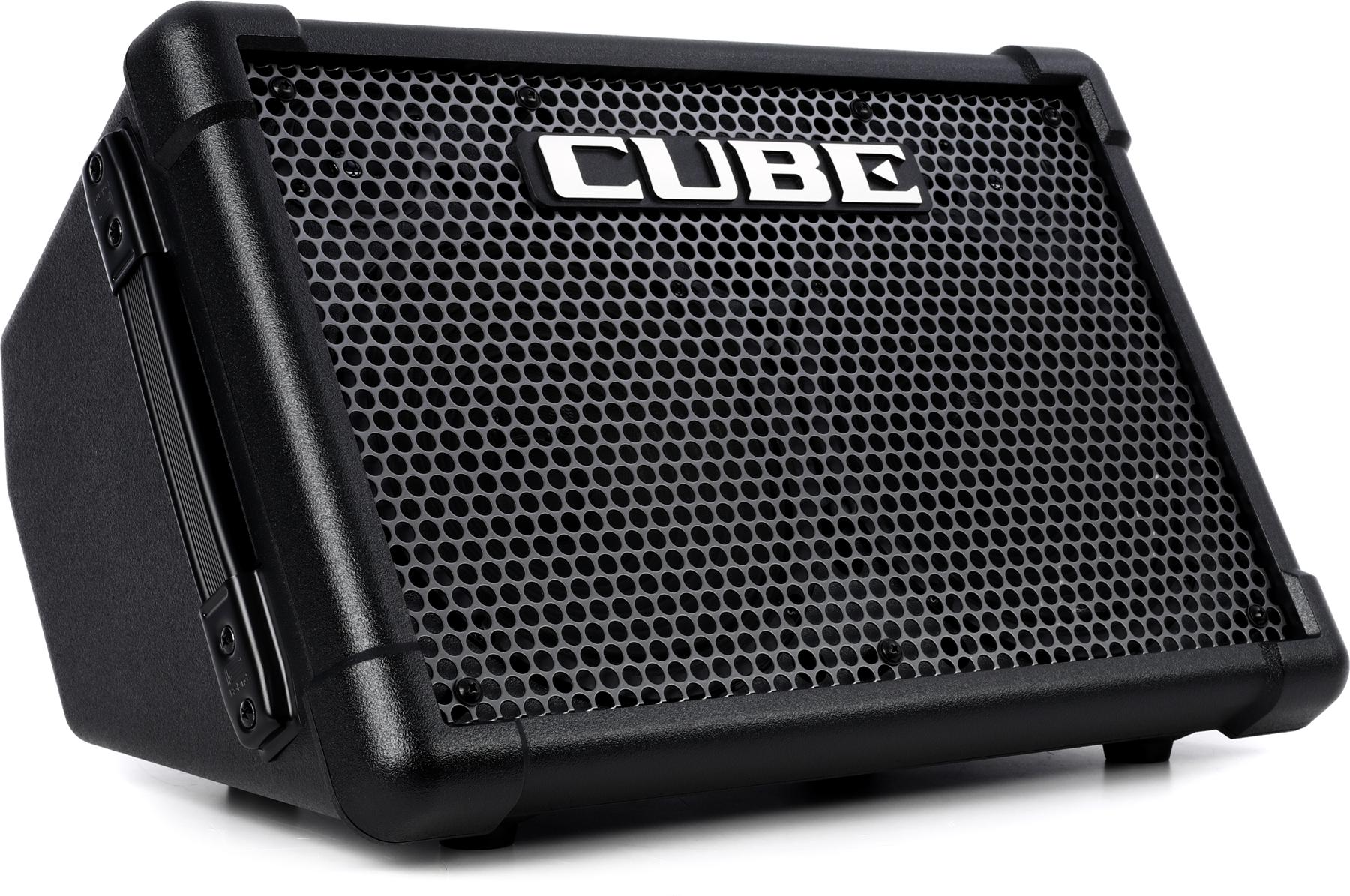 Sound
The Roland CUBE Street EX is designed for traveling musicians. It boasts 50 watts of solid-state power boosted by two 8-inch woofer and two 2-inch tweeter speakers.
This provides ample power for street-corner performances, pumping your sound well above even the loudest traffic.
This 4-channel guitar amp comes pre-set with tonal effects. They include a crunchy distortion for rock and metal, a clean for jazzy rhythm work, and a lead for wailing solos.
There's even an acoustic simulator effect to give your electric a rustic acoustic voice.
In general, these different settings are everything you need for lowkey performances in a variety of genres.
Hear how this amp sounds:
Features
With 4 independent channels, the CUBE Street EX can be used in a wide variety of ways. You can hook up a total of 4 different instruments.
You can route it through external speakers or even link it to an additional CUBE EX to double your performance power.
The i-CUBE Link feature gives two-way communication between the amp and Apple devices. This makes recording to home audio interfaces a breeze.
With an angled design, this amp doubles as a stage monitor. So if you ever decide on an equipment upgrade, the CUBE Street EX will still prove to be useful.
Usability
It's pretty rare to find an amp this powerful that's powered by batteries. This is my favorite feature of the Street EX because I love busking.
You might be a little overwhelmed at the number of controls at first, but once you take a closer look at them you'll see they're pretty intuitive. Plus, you have the option to switch channels via footswitch.
Value for Money
If street-performing or easy travel with and powerful amp is your aim, there's no better amp available.
50 watts of battery power at this price is a steal that any dedicated busker will recognize.
Summary
Pros
Battery-powered combo great for busking
Built-in COSM amp models support clean, crunch, lead, and acoustic tones
Angled design enables use as a stage monitor
i-Cube link supports direct recording into Apple devices
Cons
Weak bass response
Underwhelming distortion
You probably won't be grinding out death metal breakdowns on the street corner so the lack of heavy crunch won't matter much. If you're expecting a versatile amp that's easy to travel with, this Roland CUBE Street EX is a wonderful choice. It does what it should.
Check Price on:
---
Best Budget – VOX VT40X Modeling Amp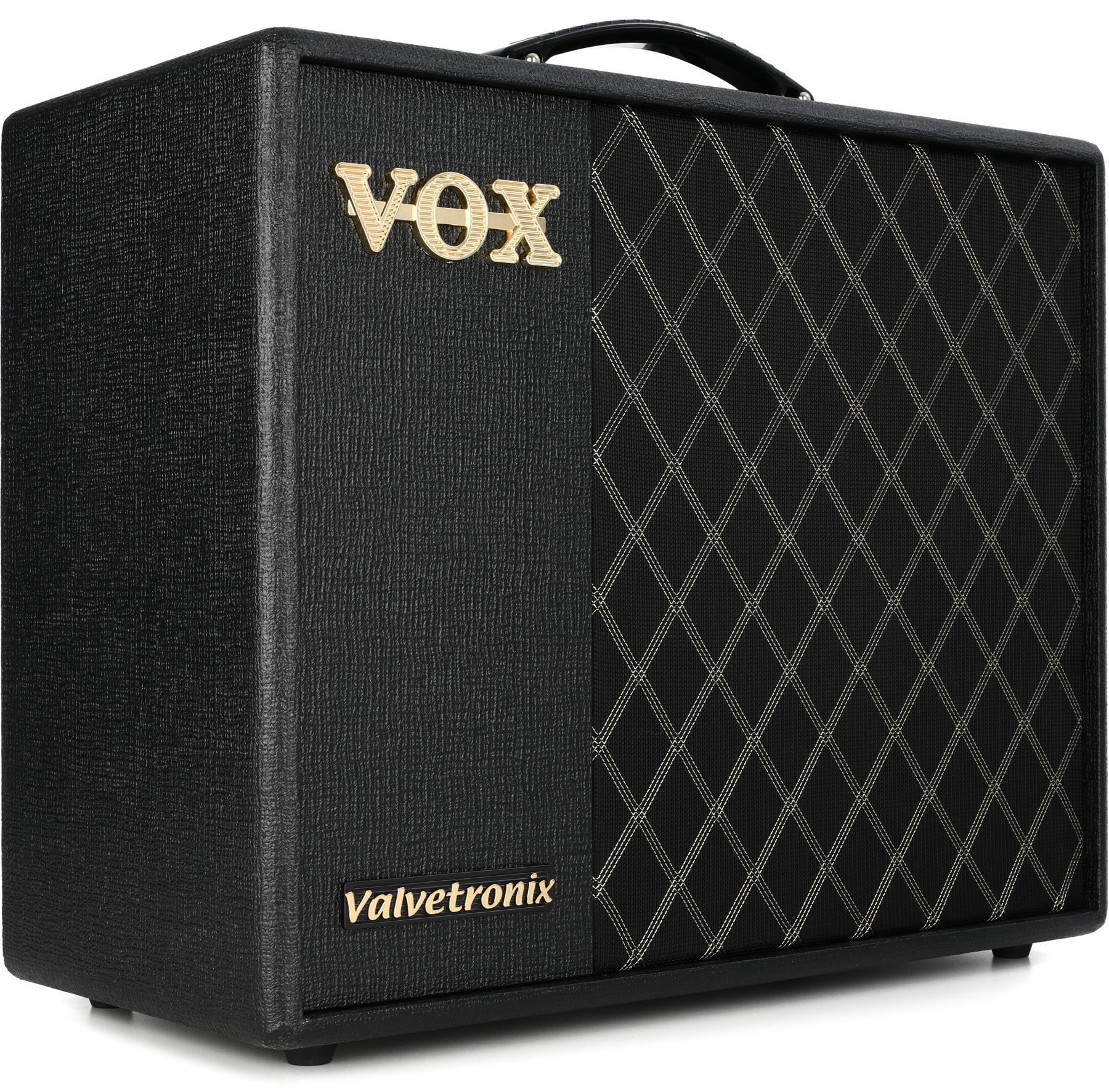 Sound
VOX incorporates real tubes into the preamp of the VT40X to give you true analog distortion in the high-gain settings.
By replicating the signals of hardwired amps, the 11 voices of the VT40X are all really genuine. From clean and clear to dirty tweed to heavy crunch, you have a lot of choices in this amp.
The main issue with the sound is buzzing. You can encounter it with some settings. This can be reduced using the noise-filter option, but in doing so you sacrifice heavily on sustain.
Hear how this amp sounds:
Features
The VT40X has 4 channels with 2 banks each. Once you find the sounds you love, you'll rarely have to turn a knob.
Additionally, you can hook up to a PC and use the VOX Tone Room software to edit the preprogrammed models to your liking. This gives you full control of all your amps settings.
The effects are great as well, including 4 different reverb styles and 8 other effects for a huge range of tonal variance.
Usability
The controls of this model are a bit confusing and will take a lot of getting used to. But, considering how much control you have over your tone, I can accept this
Value for Money
This is the best-priced amp on this list. The lack of sustain when you decide to cut the noise is an annoying problem, but it can be overlooked thanks to the low cost of this great amp.
Summary
Pros
Hybrid modeling amp uses a real tube for authentic distortion
Built-in tuner
Genuine-sounding amp models
2 banks per channel give 8 slots for user-defined voices
Cons
Some hiss and hum
Noise-filter to reduce hum can cut tone sustain
Modeling amps are notorious for cheap-sounding effects, but the use of tubes in the VOX VT40X eliminates that problem. I think it's one of the best hybrid amps on the market.
Check Price on:
---
Runner-Up/Best for Rock – Marshall M-MG30GFX-U Guitar Combo Amplifier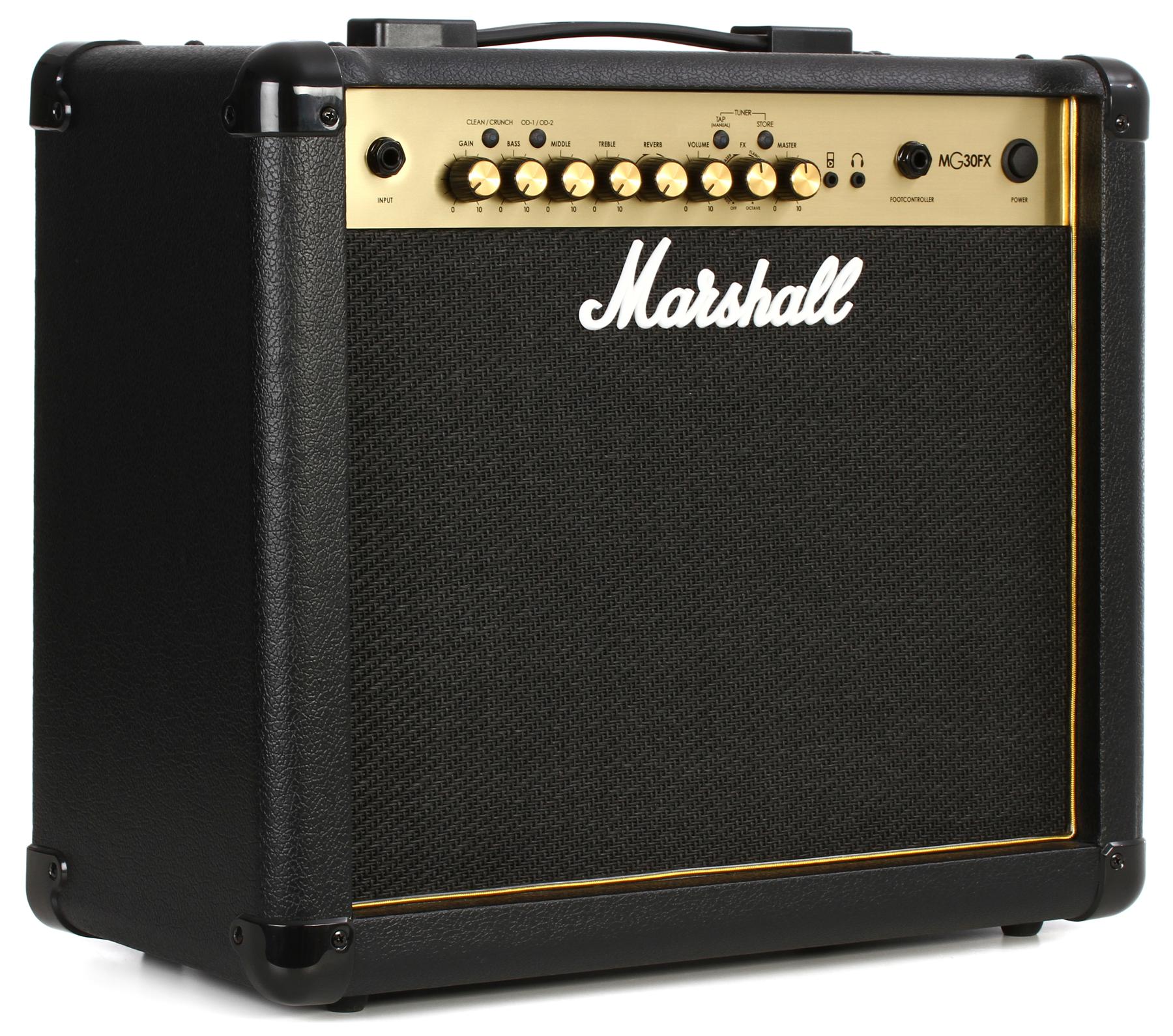 Sound
Marshall is well-known for its rock/metal tone and gives you plenty of that in the MG30FX. You have a nice, crystalline clean, two tube emulators, and a dirty crunch metalheads will love.
Though all the presets are digital, Marshall does a great job of delivering pure-sounding emulators in this amplifier.
The closed-back design makes the mids and bass super punchy, giving this amp a real kick. Still, 30 watts isn't quite enough to make you heard over a drummer, so you'll need to mike the MG30FX up for any real rehearsals or performances.
Hear how this one sounds:
Features
Though the MG30FX isn't as feature-packed as some other amps, what it gives you is solid quality.
The digital effects sound amazing and include reverb, chorus, and even an octave effect for when you want to get weird.
Usability
Every control of this amp is straightforward and readily accessible. You can switch channels either by hand or with a footswitch. Programming your own settings requires only a press of the TAP button and you're ready to rock.
Value for Money
At the same price, you can get a louder amp for sure. But, Marshall has a well-defined tone that many players swear by. This is a dependable model that will last for decades and require next to no maintenance. Overall, a great buy.
Summary
Pros
Straightforward easy-to-use controls
Sleek design with simple functionality
Hard-driven kicking rock tone
Preset models and programmable effects
Cons
Not loud enough for un-miked performances with a drummer
Though I'm more of a tube amp guy myself, I still think this solid-state MG30FX rocks hard. It's tough and vigorous, giving you a rock-ready tone you can only find in a Marshall.
Check Price on:
---
Best 4-Channel Amp head/Most Powerful – BOSS Katana MKII-100-Watt Guitar Amp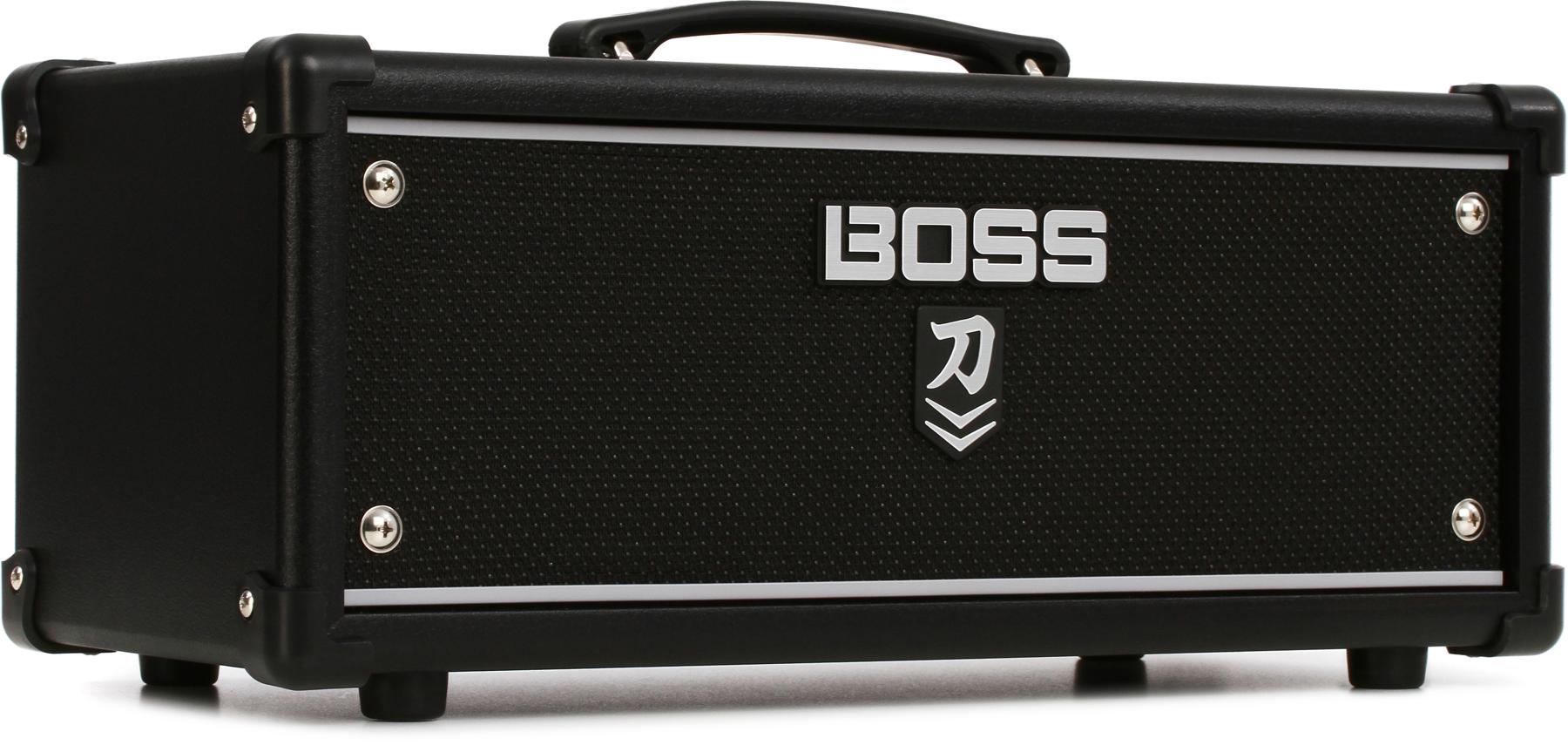 Sound
If you're after loads of volume, this MKII by BOSS is a great choice. It gives you 100 watts of power when you run through an external cabinet.
But, you don't have to worry about blowing your roof off at home, because it also works at 30 watts with the internal speaker.
Its effect presets include 10 different tone programs and several different effects. They sound good, but don't really come through with an authentic vibe.
There's a bit too much high-end gain in this amp, so unless you totally boost your bass EQ, you'll have a rather flat tone overall.
Hear how this amp sounds:
Features
A striking feature of the MKII is the acoustic-electric setting. This is specially designed to work with electro-acoustics, giving an earthy, warm tone that's great for laid-back rhythm work.
There are 5 amp models included that range from overdriven rock'n'roll to smooth clear country voices. Each of these has a second variation, giving you 10 preset mods in total.
Using BOSS's Tone Studio software, you gain additional access to 60 models great for virtually every genre.
Usability
It's uncommon to see an amp head with a built-in speaker. I love this feature of this amp. When you hook it to an external cab, you have some serious power. But, on its own, it's enough to satisfy all your in-home practice needs.
The controls are all easy to understand, and aside from several input/output jacks, there's nothing overly complicated with the MKII.
Value for Money
Generally, I'd say an amp head should provide significantly better bass than the MKII. However, the internal speaker is a great sell. I think if you have the patience and know-how to dial in your EQ, you'll get all your money's worth from this head.
Summary
Pros
A whopping 100 watts of solid-state power
Option to play at 30 watts through an internal speaker
Amp head that doubles as a standalone practice combo
Lightweight, compact design for easy portability
Cons
Too much treble emphasis results in tinny sound
While not my favorite on this list, the BOSS Katana MKII is an interesting head with a lot of playing potential. I'd recommend it to anyone wanting a ton of effects and the power to blast out a big room with them.
Check Price on:
---
Verdict
Looking over all these choices, I'd be least inclined to buy the BOSS Katana MKII. Though it's the most powerful, its tone falls a little short of my standards for amps at similar costs.
That said, I'm a big fan of the Blackstar Silverline Special. With a superior Celestion speaker, great-sounding effects and amp models, and 50 watts of juice, I think it's overall the best 4-channel guitar amp you could choose.
But all these are great amps, no question about it. It really depends on what you like and need…
---
Buyer's Guide – FAQ
What Are 4-Channel Amps Good For?
Guitar amps with multiple channels are a great way to get a range of different sounds with no extra equipment.
Each channel can be set to produce a unique tone. With a flick of a switch, you can easily change from overdriven distortion to crispy clean lead tones.
Having a simpler setup reduces the pressure on you to test and experiment with many different pedals.
Typically, amp-driven tones are going to have more sonic purity than the digitized effects that pedals offer.
This serves to make your sound more genuine. With the voice of your guitar singing true through the amp, all of your playing nuances are clear and bold.
Another great perk of 4-channel amps is that many offer the ability to run multiple inputs at the same time. You can send your guitar, a microphone, and things like a drum machine through the amp at the same time.
This might seem like a lot going on at the same time if you're just starting out playing, but the more experience you gain the more versatility you'll want. Being able to channel multiple inputs will prove very beneficial in your first performances.
What Makes a Great 4-Channel Amp?
Great 4-channel amps provide you with a clear, precise transfer of your guitar's voice that sounds great.
When you're looking for a 4-channel guitar amp, you want to make sure it has the electronic configuration you're after. They come in all the classic setups: tube, solid-state, hybrid, and digital. Depending on your tone preference and personal playing style, you'll want to choose an amp built to your specifications.
Outside of electronic components, you should get an amp that has enough juice for your performances. Look for at least 30 watts of power in a 4-channel amp.
They also have multiple inputs and outputs. This just means that you can plug in more than one instrument or microphone at once, as well as channel your sound through other speakers.
With multiple line-ins, you can reduce your equipment costs and centralize your sound. The option to run through additional speakers gives you a lot more volume potential.
Finally, we'll talk about the effects. Top-of-the-line multichannel amps give you the option to use a different tone on each channel. Generally, you can adjust the gain, EQ, and more for all channels separately.
Who Should Buy a 4-Channel Amp?
You might want to buy a 4-channel amp if your set contains a range of different guitar tones.
They're also a great choice for amateurs who are just starting to explore the gig scene. Not only do they cut down on the bulk of equipment you need to lug around, but they also give you microphone and guitar use in one piece of gear.
Keeping your setup simple in the early days is a perk for both you and the venue's sound guy. In the early days of performing, the less complicated you can keep your gear configuration, the better.
4-channel amps are perfect for buskers. When you're playing on the street, you probably don't want to drag around a complex pedalboard, an amp head, and a big speaker cab.
These multichannel guitar amps give you effects, speakers, and multiple inputs all in one. You'll take up less sidewalk space, have a great tone, and have less of a workout lugging all your gear with a 4-channel guitar amp.
If you're a beginner and aren't sure if you need such a versatile piece of gear but can still afford to get them off the bat, these are amps that you won't need to upgrade for a long time. They're solid, dependable, and flexible amps that will be more than enough for practice and ready to hit the road once you are.
---
Conclusion
4-channels can make things easier for you if you want to quickly shift between different tones. And these 5 are our favorites.
I hope that this guide helped you to choose the right amplifier for you. If you have any questions, leave a comment down below and feel free to share this post too.
I wish you all the best and keep rocking!