Best Overall – On-Stage GS7465
Stability
Portability
Quality
Value For Money
Summary
Everything about the On-Stage GS7465 speaks of great stability.

The neck yoke. One thing missing from most A-frame stands. This adds a magnitude of security to storing your guitar, giving you three points of contact overall.

Most A-frame stands have feet that run parallel to each other. The feet of this On-Stage model are splayed at a slight angle to increase its balance.

I think On-Stage undersells themselves a decent amount with this stand. They could probably get away with charging two times what it costs. I'd say you're getting an amazing deal with the GS7465 any way you look at it.

The best a-frame stand in my opinion.
Check Latest Prices
*Consider all links in this post to be affiliate links. If you purchase, at no additional cost to you, we may earn a small commission. It helps us to keep the lights on, thanks! 🙂
---
The Next Best:
FREE Access for You! Secret Page Reveals 5 Must Learn Electric Guitar Riffs That Accelerate Your Learning (For All Beginners Who Love Rock and Metal)
(If you want to make progress fast, this is for you). Just tell me where I should send the link:
By entering your email address you agree to receive emails from Guitarist Next Door. We'll respect your privacy and you can unsubscribe at any time.
---
If you're like me, you probably shudder at the thought of watching your guitar topple to the floor. This is all-too-common when you don't use a guitar stand.
For the guitarists who treasure their instruments and value the form and function of portable gear, I've reviewed the best A-frame guitar stands you can buy today.
Let's first look at these fine stands, and at the end of the post, you can find the FAQ section that helps you to make the best choice possible.
Who crafted this post:
Author: Tommy Tompkins
Playing guitar since 2004. Primarily an acoustic guitarist who plays and writes traditional American folk music, with a background in melodic metal and a solid foundation as a bassist.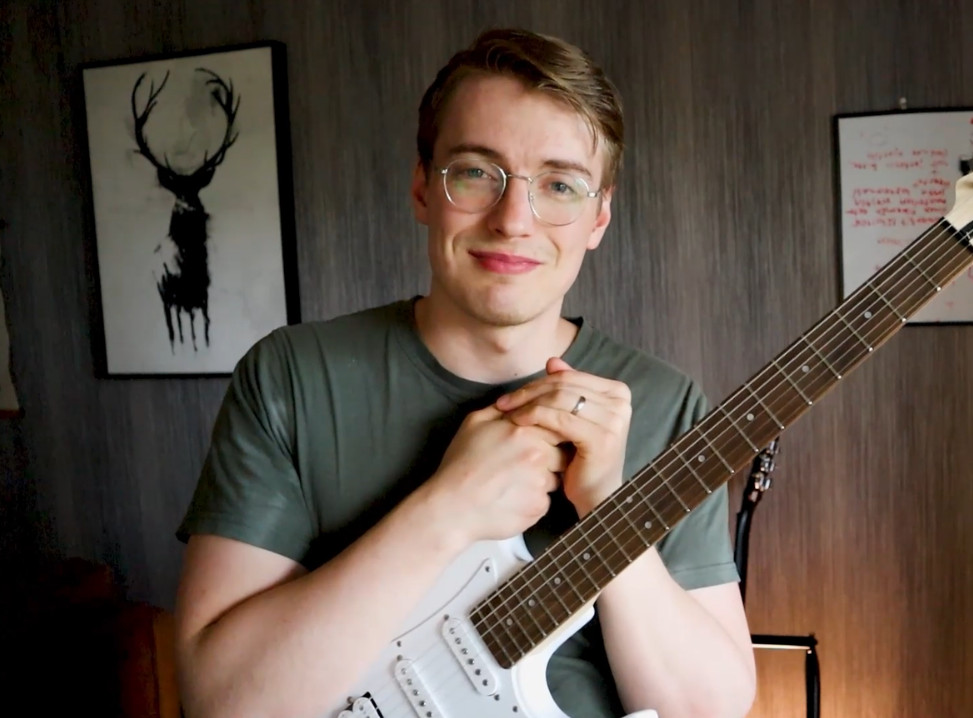 Editing & Research: Teemu Suomala
Playing guitar since 2009. Mainly focused on electric guitars, although jamming with acoustics too. Has played dozens and dozens of different guitars through different amps and pedals over the years. That's why he started this blog in January 2020 and started sharing his experience. Has produced content for several large guitar websites, such as Songsterr, Musicnotes, GuitarGuitar, and Ultimate Guitar.
Every one of these guitar stands is here based on extensive research and decades of combined guitar experience of me (Tommy) and Teemu.
---
Best A-Frame Guitar Stands
Best Overall –

On-Stage GS7465 Pro Flip-It A-Frame Guitar Stand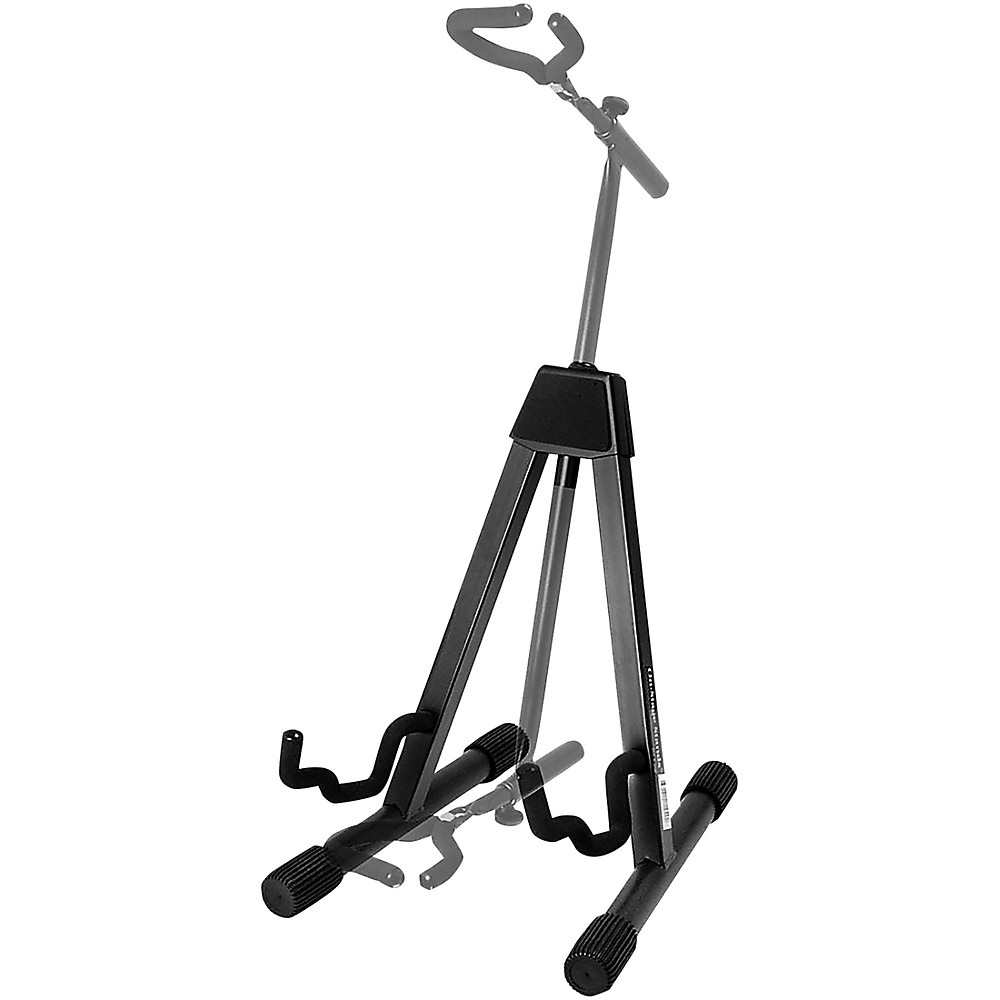 Stability
Everything about the On-Stage GS7465 speaks of great stability. Since this isn't a folding design, it seems that stability and durability were their main intentions with this stand.
The most notable feature of this model is its neck yoke, a trait lacking with most other A-frame stands. This adds a magnitude of security to storing your guitar, giving you three points of contact overall.
With a 10-degrees tilt-back angle, your guitar is set at a stable, nearly upright position. There's no worry of it falling forward nor backward once you get it into place.
Its arms are crafted with a stepped-yolk design that fits both acoustics and electrics with just the right amount of snugness.
While most A-frame stands have feet that run parallel to each other, the feet of this On-Stage model are splayed at a slight angle to increase its balance.
Quality
This is a rugged stand made of very high-quality materials. The metallic frame is composed of heavy-duty 1×1-inch square tubing that is highly resistant to bending.
All the rubber elements are long-lasting and durable. Though they're not nitrocellulose-safe, their non-slip surfaces will keep your guitar where it's supposed to be.
The only major problem with the On-Stage GS7465 is that it doesn't fold to the compact shape that A-frame stands are prized for. This can be a real issue for guitarists who work solely out of their gig bags.
But, if your primary concern is keeping your guitar still and steady, this stand outcompetes most others in the game.
Summary
Pros
A-frame solidity paired with neck yoke for super stable guitar support

Rugged and durable 1×1-inch square tubing

Yoke arm slides between legs for a compact storage shape

Features a Flip-It locking yoke with one-handed operation

Splayed feet layout keeps stand stable despite narrow footprint
Cons
Doesn't fold; won't fit in guitar cases

Flip-It locking yoke can be difficult to get used to
Despite not folding, this is my favorite stand on the list. I wouldn't mind tying it to my gig bag or simply carrying it to the show. When you factor in how stable it is, the lack of portability is a worthy sacrifice.
I think On-Stage undersells themselves a decent amount with this stand. They could probably get away with charging two times what it costs. I'd say you're getting an amazing deal with the GS7465 any way you look at it.
I'd recommend this to any guitarist who cares more about stability than portability. If you want a stand that's sure to keep your guitar safely upright, this is an amazing model.
Check Price on:
---
Best Budget –

AmazonBasics Guitar Folding A-Frame Stand
Stability
The AmazonBasics A-frame stand is the definition of a simple stand, and it does the minimum of what a stand should do.
Simple A-frames are generally not prized for their stability when compared to the more secure tripod design, but they don't do a poor job of keeping your guitar in place.
This model covers all the basic requirements of stability. It has
rubber-tipped feet to keep it firm on the floor

foam-covered arms to keep your guitar from sliding around.

At the top of the "A" is a minimal strip of soft foam to protect the guitar's body from scratches.
It breaks the mold of simplicity a little by giving you 3 width settings. You might not be able to place a violin or ukulele in the arms, but it does fit most standard guitar and bass bodies.
Quality
At the price, I think you could expect a much lower-quality stand than this AmazonBasics model. For the most part, this is an A-frame that will work for years. Its tubing is strong and the rubber feet are thick and dependable.
Plus, it folds flat with no hassle to make it gig-bag friendly.
The only place it falls short in quality is the foam padding of the arms and "A" tip. It's a bit too thin for my liking, and I would probably wrap it with foam tape or some soft material to supplement it.
Without this, the foam is bound to wear down to the metal within a matter of months.
Summary
Pros
Simple A-frame stand at a great low price

3 adjustable width settings for a variety of guitar body shapes

Easy to fold and lock in place
Cons
Low-quality foam on arms wears down quickly
If you're on a tight budget, you can't go wrong with this AmazonBasics stand. It will do you proud for an acceptable amount of time and barely cost more than a bag of coffee.
You don't necessarily need to upgrade from this stand, but I would really advise you to think about what you'll do once the foam starts to fade away.
All in all, this is a great stand for anyone who doesn't want to spend much.
---
Best Looks –

Guitar Stand, Wood Acoustic Guitar Stand, Mini Electric Guitar Stand
Stability
The angles of the Snigjat wooden guitar stand are set to keep your guitar where you want it. The spacing between the legs prevents tipping over. Since it's built with precision, this eliminates the annoying wobble problems present in many A-frame stands.
Though I prefer rubber over foam for guitar stands, the foam on this model is a full ½-inch thick and should last a pretty long time.
Like all decent A-frames, this Snigjat model has rubber feet to keep it set and to protect your floors.
Quality
Breaking from standard, this guitar stand is made of wood rather than metal. This is, I assume, mostly an aesthetic design choice. Obviously, metal is stronger than wood, so this takes away from its durability factor in my eyes.
Still, they chose hardwood ash as the material, so it's not fragile. But, it will definitely break easier than a metal stand would, so you'll have to be careful not to set any heavy equipment on top of it.
It's a folding stand, but it's a bit larger than most other A-frames and won't fit in a gig bag. While this doesn't need to be a deal-breaker, it's something to keep in mind.
Summary
Pros
Made of beautiful ash wood; is a great display piece

Stable base doesn't wobble or tip

Arms can be swung out to different angles

Thick foam padding on arms protects guitar from scratches
Cons
Requires assembly

Is a bit too large to fit in gig bags
I've seen boutique wooden stands that cost four times as much as this one, so if you're into the looks, this is a great value product.
For most players, I'd recommend going with a traditional metal frame just because they're stronger all-around. However, if you play primarily in-home and want to show off your guitar in style, this is a great-looking A-frame stand to have.
---
Most Versatile –

Nordic Essentials

Folding Instrument Stand for Guitar
Stability
I'll say right off, this Nordic Essentials model isn't a very stable guitar stand. It's versatile, but the set of the legs and the angle of the back makes it difficult to balance a guitar on it.
While it doesn't wobble, it doesn't provide quite enough support for guitars or basses. It works amazingly well with smaller instruments, but it takes patience to find the sweet spot for guitars.
Quality
This stand is packed with features, but the problem is that they're rather sensitive. It can fall apart with rough use, so it's good that Nordic Essentials has quality customer service. If you don't handle this stand with care, you'll probably be sending off for a replacement.
Outside of the obvious fragility of the design, it's a good lightweight model that folds small and weighs next to nothing.
Since it fits such a wide range of instruments, you have to ask yourself if the trade-off between versatility and overall quality is one you're willing to make.
Summary
Pros
Fits nearly any stringed instrument bass-sized and smaller

Every piece is adjustable so you can find the perfect fit

Lightweight aluminum construction makes for effortless portability
Cons
Can stop working due to design flaws

Hard to find the balance point for guitars and basses
This isn't an expensive stand, but it might not be long-lasting either. I'd say it's a gamble whether or not you'll get your money's worth. If you're prone to breaking things, it's probably better that you go with a more durable A-frame.
However, if you're an easy-going stay-at-home musician, the Nordic Essentials model does have its perks. I'd recommend this stand to the hobbyist who plays a variety of instruments looking to keep their stand array to a minimum.
---
Most Portable –

Cooperstand Ecco-G ABS Guitar Stand
Stability
When I first looked at this stand, I thought there's no way it could hold a guitar. Well, I'm no engineer so I can't really explain how it manages, but it does indeed work as it should.
You might feel a little uneasy seeing the angle at which your guitar rests because it seems like it could tip forward pretty easily. But, Cooperstand really dialed in the angles to make this stand as stable as something this small can be.
Forgoing foam, this model uses silicone to protect your guitar from scratches, as well as offering a non-slip surface for the guitar to rest on.
It works with most standard-shaped electric guitars and basses and will fit the acoustics of practically any size.
Quality
If you can take the leap of faith required to set your guitar in this stand, there's really nothing to complain about. It's made of high-quality ABS plastic sourced from recycled materials. It's got a sturdy design that should last as long as you need it.
Admittedly, I'd trust it more in the comfort of my home than on a busy stage, but I'd be daring enough to trust it in most ordinary circumstances.
Summary
Pros
Super compact design fits in guitar case underneath headstock

Durable silicone on arms and back keep a non-slip grip on the guitar

Made of ABS recycled plastic for the eco-conscious guitarist

Fits electric guitars, basses, and acoustics
Cons
As far as portability goes, this stand beats them all. It folds so small it almost fits in the palm of your hand and can actually be placed in the headstock compartment of a guitar case. If you're after a stand that is super easy to take with you, this is the way to go.
For the price, you could get a stand that offers a little more in the way of stability, but it's not going to break the bank (or your guitar hopefully).
If you value portability in a stand over all else, this Cooperstand A-frame is a great choice for you.
---
Verdict
I've never been a big fan of things that break easily, so I've got to say the Nordic Essentials folding instrument stand is my least recommended in this review. It's versatile, sure, but that's only good as long as it stays in one piece.
I'm willing to sacrifice portability for stability any day. I'd much rather make sure my guitars are safe than worry about fitting a stand in my gig bag. So, I'm calling the On-Stage GS7465 my favorite choice on this list.

It offers much more stability than the typical A-frame stand while not being unwieldy. You might not fit it in your gig bag, but you'll have no worry of watching your guitar slip from its trusty grips.
Every product in this review has its merits, and whether you're after portability or security, I'm confident you'll enjoy one of these A-frame guitar stands.
---
Buyer's Guide – FAQ
What Makes a Great A-Frame Guitar Stand?
First, I'll tell you what an A-frame guitar stand is. Basically, it's all in the name. With single guitar stands, you have two main categories: tripod and A-frame.
Tripod stands use three legs that typically fold up against the main rod. They hold the guitar using a neck yoke that grips the headstock. They're good for keeping your guitar in place but can lack in portability and overall stability, as their center-of-gravity is a bit delicate.
A-frame stands have a base in the shape of the letter "A". Their two legs generally feature tough rubber feet that keep the stand firmly planted.
They support the bottom of the guitar using rubber-coated arms but usually don't brace the neck. While they might not keep your guitar as secure as a tripod's yoke, their easy-folding and small footprint make them highly portable.
I like both styles of the stand but prefer A-frame models in certain situations...
When I'll be traveling with my guitar, you can't beat their compact size.

Their sturdy legs provide a base that I feel safe leaving my guitars on, so even without the neck yoke I feel confident they'll serve their purpose.
When you're looking for an A-frame guitar stand, you'll want to know what the best ones should include. These are features that affect their stability, their quality, and their overall value.
First and most importantly, a great A-frame stand will have rubber-coated feet and support arms. The feet keep it still on the floor, while the rubber-coated arms protect your guitar's body from damage.
Second, I recommend buying higher-quality products over lower-quality ones that won't last long. Good A-frame stands are built to last from rugged materials that won't bend or break with normal use.
Finally, you should know that these high-quality A-frame stands don't need to cost an arm and a leg. Don't be oversold on a high-priced stand when you can get one with comparable quality and similar features for a lower price. They're not complicated pieces of equipment and really shouldn't cost you that much.
Can Guitar Stands Damage Guitars?
In general, most guitar stands shouldn't cause damage to most guitars. There are two exceptions to note here.
The first thing to be aware of is that some low-quality stands have rubber coatings that wear through to the metal quickly. When your guitar is on the rubber, there will be no problems.
But, the moment you grate your instrument against bare metal, you'll wind up with an unsightly scratch. This is why you should seek out stands made of high-quality materials that stand up against the wear and tear of normal use.
The second thing to know is that the rubber coatings of guitar stands can discolor guitars with nitrocellulose finishes. Chances are, your guitar has a poly finish rather than nitrocellulose, but if you're the proud owner of a high-end Fender or Gibson, you need to be aware of this issue.
Basically, the rubber of the guitar stand can rub away the sensitive nitro finish, leaving behind nasty-looking blemishes.
There are two things you can do to prevent this. First, you can avoid this risk altogether by buying a stand designed for nitro finishes.
These use special rubber that won't damage your guitar. But be warned, there are a couple of shady manufacturers who market their stands as nitro-safe, when in fact they still cause damage.
Check our favorite Nitro-Safe stands out: 5 Best Guitar Stands for Nitro Finish
To be on the safe side, the second thing you can do is to simply drape or wrap a cloth around the rubber where it contacts the guitar. The cloth acts as a buffer and will prevent any sort of damage to your finish.
Aside from these two issues, reliable guitar stands should be completely safe for your prized instruments.
Do You Need a Guitar Stand?
While I can't necessarily say that you do need a guitar stand, I will say that having one is a very smart choice.
Guitars need to be cared for if they're going to play right. The worst thing you can do to your six-string is to let it crash to the floor.
If your idea of guitar storage is leaning it in the corner, a fall is bound to happen sooner or later. I've learned this firsthand, and so have many other guitarists.
Guitar stands are, compared to the costs of repairs or a new guitar, quite cheap. It's a small investment that can save you hundreds of dollars down the road.
So, while they're not an absolute necessity, they do serve the important function of keeping your guitar safe when you're not playing it, and I highly recommend them no matter your experience level.
---
Conclusion
While I prefer storing my guitars on the wall, a-frame stands have been handy when for some reason (the landlord) hanging guitars onto the wall has not been possible.
And these 5 are my favorites, each one has its own strong and weak spots, but overall all of these all really solid stands that will keep your guitar steady and safe.
I hope that this guide helped you to choose the right a-frame stand for you, if you have any questions just leave a comment down below. I wish you all the best and keep rocking!