Last Updated on April 29, 2023 by Teemu Suomala
Best Overall – Fender Acoustasonic 15
Sound
Features
Usability
Value For Money
Summary
You want an amp that can be used for both acoustic guitar and vocals, but you don't want to spend too much?

Enter: Fender Acoustasonic 15.

It gives you full control over your sounds; there are knobs for volume, treble, middle, and bass.

Plus you have chorus-effect to spice up your playing. If I were after the best acoustic guitar amp under $100, this would be my choice!
How Fender Acoustasonic 15 sounds:
Check Today's Price on
*Consider all links in this post to be affiliate links. If you purchase, at no additional cost to you, we may earn a small commission. It helps us to keep the lights on, thanks! 🙂
---
The Next Best:
Every one of these acoustic amps is here based on extensive research and combined 27+ years of experience of me (Tommy) and Teemu.
Compare:
---
You and I are actually in the same place right now; I'm looking to grab a nice amp for my acoustic on a very tight budget.
I want something affordable, but functional and versatile—and of course good sounding—to add an interesting flair to my acoustic jams. So, I'm pretty happy to show you some of the best acoustic guitar amps under $100 I've been considering.
Let's first look at these fine amps, and at the end of the post, you can find the FAQ section that helps you to make the best choice possible.
For more acoustic amp options, make sure to check these articles out: Best Acoustic Guitar Amps for Beginners & Best Acoustic Guitar Amps Under $200.
Who crafted this article:
Author: Tommy Tompkins
Playing guitar since 2004. Primarily an acoustic guitarist who plays and writes traditional American folk music, with a background in melodic metal and a solid foundation as a bassist.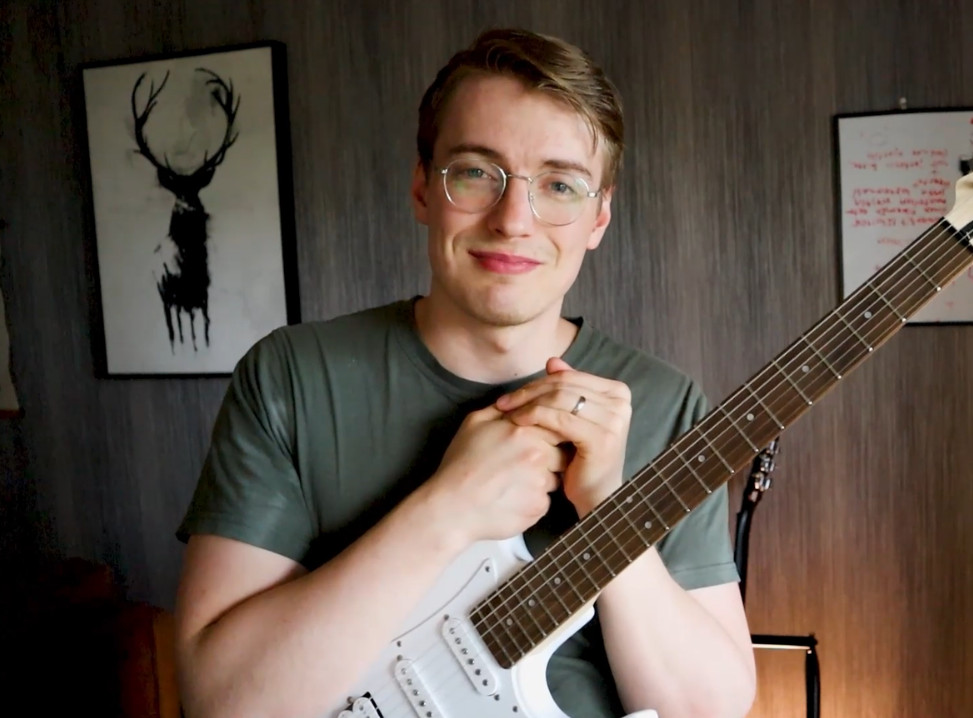 Editing & Research: Teemu Suomala
Playing guitar since 2009. Mainly focused on electric guitars, although jamming with acoustics too. Has played dozens and dozens of different guitars through different amps and pedals over the years. That's why he started this blog in January 2020 and started sharing his experience. Has produced content for several large guitar websites, such as Songsterr, Musicnotes, GuitarGuitar, and Ultimate Guitar.
---
Our Favorite Music Store in The World!
Why?
– Excellent Customer Service (4.7/5 Trustpilot Score)
– Fast & Free Shipping
– Gear is Inspected, Tested, & Ready to Play When it Arrives to You (We love this)
– Fair Prices
Visit Sweetwater:
Best Acoustic Guitar Amps Under $100
Best Overall – Fender Acoustasonic 15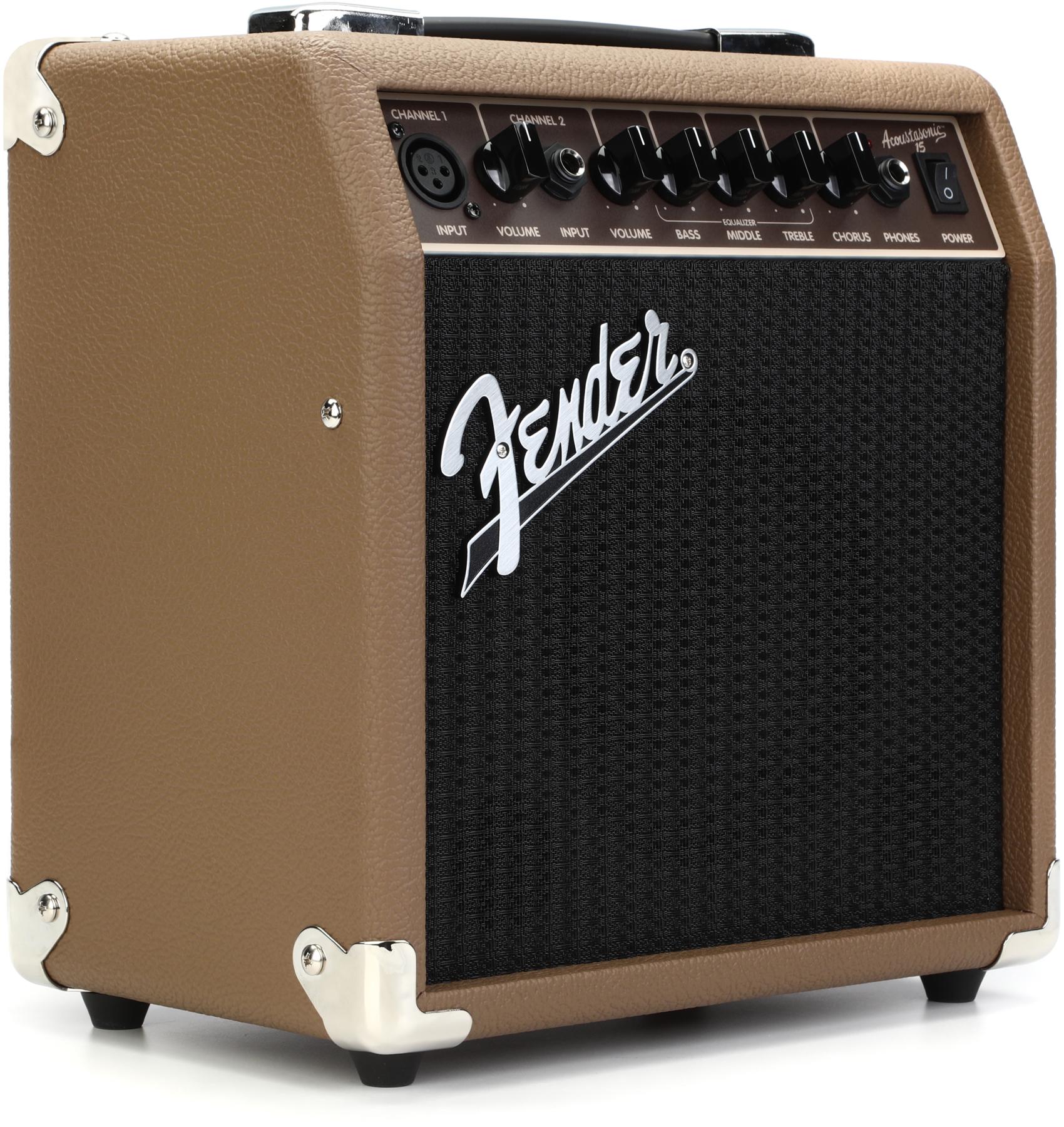 Sound
Fender's Acoustasonic 15 is a kicking 15-watt acoustic amplifier with a well-made 6-inch Fender speaker topped off with a Whizzer cone.
The Whizzer cone clarifies and sharpens your high end, so your riff work comes out sounding clean and articulate. This is a good amp for dreadnoughts because it can add a punch to the low and mid ends.
Smaller-bodied acoustic guitars might sound a bit too sharp through the high-end heavy speakers, but you can boost the amp's bass to try to balance things out.
Hear how this amp sounds:
Features
So, yeah, this is one of the few amps under $100 that actually has 3-band EQ. I love this about the Acoustasonic 15 because it really helps you shape your tone how you want it.
You've also got the option to add a shimmery chorus effect. In the Acoustasonic, you can plug in a mic, but you'll need an XLR cable to do so.
Once you're hooked up, you can change the volume level of the mic channel to blend with your guitar, although the EQ is limited to the instrument channel only.
Usability
The Acoustasonic is a bit bulkier than most other amps in this category. It's AC powered and has no battery options. But, what it sacrifices in portability, it makes up for in tone.
The solidly built cabinet prevents the rattling and shaking common in some of the lower quality amps, and your tone stays sweet no matter how high you crank the volume.
Summary
Pros
Bright and loud acoustic tones
Chorus effect and 3-band EQ for coloring your sound
Small added Whizzer speaker adds clarity to high end
Cons
Can make some guitars sound too tinny
The tone is overall treble-heavy
This is an amp you'll love if you want scaled-back tone controls and the ability to practice both guitar and vocals at home.
It's well made by a trusted brand, so the higher-end price tag can be excused.
Check Price on:
---
Runner -Up – Donner 15W AMP Acoustic Guitar Amplifier
Sound
Donner's 15W Amp Acoustic Guitar Amplifier gives you a pleasant, balanced tone in a small but powerful package.
With the EQ set to flat, your acoustic's voice will come through sounding sweet and serene. Lows are ample despite its small build, while highs are reined in to never be too brittle. If you need to tweak the tone at all, you can use the DGA-1's responsive 3-band EQ controls to dial in to your perfect acoustic voice.
When it's time to hook up a mic, you've got to depend on that channels preset EQ, but you can change the volume mix between the two to try and make things right as they can be.
Hear how this amp sounds:
Features
The DGA-1 gives you 15 watts of power to rock with. This won't really compete in a noisy bar, but for low-key coffee shop gigs, it can be the juice you need.
Aside from its delivery of high-quality standard features like the XLR mic input and single 6.5-inch speaker, this small Donner amp gives you a variable Chorus control.
Although you can't control how much chorus is in the mix, once you've turned it on it's within your power to control the effect's speed. This is a nice upgrade from most amps in this category that limit your effect controls—if they give you any at all.
Usability
You'll have no trouble figuring out the controls of the Donner DGA-1. They're all clearly labeled on the easy-to-use control panel, and each is highly responsive to your modifications.
It would be nice if you had some form of EQ control over your mic input, but without it, you can still make your voice and guitar well heard.
In addition to all these features, the DGA-1 ships with extra guitar picks and an instrument cable. These make it a great choice for beginners seeking their first amp or gigging intermediate players who can always benefit from a little extra gear.
Summary
Pros
Balanced tone at practice and small stage volumes
Solid build in a vintage-looking design
3-band EQ and variable chorus effect to tune in your sound
Cons
Blend between two channels is somewhat poor
Mic and guitar at the same time can sound muddy
Donner's 15W Acoustic Guitar Amplifier is, all in all, a dependable mini acoustic amp with big potential. It wouldn't be my first choice for a gig, but it can tide you over if you're in a pinch while delivering pleasing sound quality and enough effect to make your tone interesting.
With a price tag solidly in the double digits, Donner's DGA-1 is an affordable acoustic amp easily worth its cost in tone and bonus features.
Check Price on:
---
Best for Buskers – Aroma Guitar Amplifier, AG-15A
Sound
The Aroma Guitar Amplifier AG-15A is an amp that exceeded my expectations. I'll admit, when looking for budget amps, my bar is set pretty low. So, I'm amazed how good the AG-15A sounds.
It's clean and clear like an acoustic amp should be, and you can modify your tone with a 2-band EQ.
With 15 watts pumping out of its 5-inch speaker, you've got just enough juice to compete with the traffic for your streetside performances.
Hear how this amp sounds:
Features
Aroma is not one of the big names in guitar amplification. But the AG-15A has enough cool features to quickly forget that. In addition to the standard instrument input, there's a 1/4-inch mic input so you can beef up your vocals as well.
Adding to its usefulness for street musicians, it's got strap buttons on either side. You can carry it with a short handle or attach a guitar strap to play as you walk.
Bluetooth connectivity lets you hook up your phone to play backing tracks or just listen to music. Since it's powered by a rechargeable battery, this Bluetooth feature makes it great just as a simple portable speaker.
Usability
If you look at the diagram in the ad, you'll probably be really confused by the controls. What the heck is "Microphone Reverse Adjustment"?
Here you can see everything clearly labeled. It's a straightforward amp in terms of strict usability.
It's only real issues lie in two areas.
1: Mic volume too low
The microphone channel, no matter how you adjust it, doesn't quite compete with the guitar.
2: No secondary power source
You only have the rechargeable battery running this amp. It's a lithium battery like you have in your laptop or phone, and you know how those lose power over time.
Eventually, the battery in this amp will stop holding power, and when that happens, it's all over.
Summary
Pros
Bluetooth connectivity for wireless backing tracks or accompaniment
USB recharging for super-easy music on the road
1/4-inch mic input for singing along
Cons
Depends on battery-power; if the battery fails, the amp fails
Mic volume too low
Although the battery thing is kind of a big problem for me, it doesn't rule out this amp. I'm still using a 6-year-old iPhone that holds a fraction of its original charge, so I can see myself playing this amp to the very last of its power reservoirs.
At an attractive price, the Aroma Acoustic Guitar Amplifier AG-15A is a good choice for any ambitious busker.
---
Most Portable – Blackstar FLY3 Acoustic Amp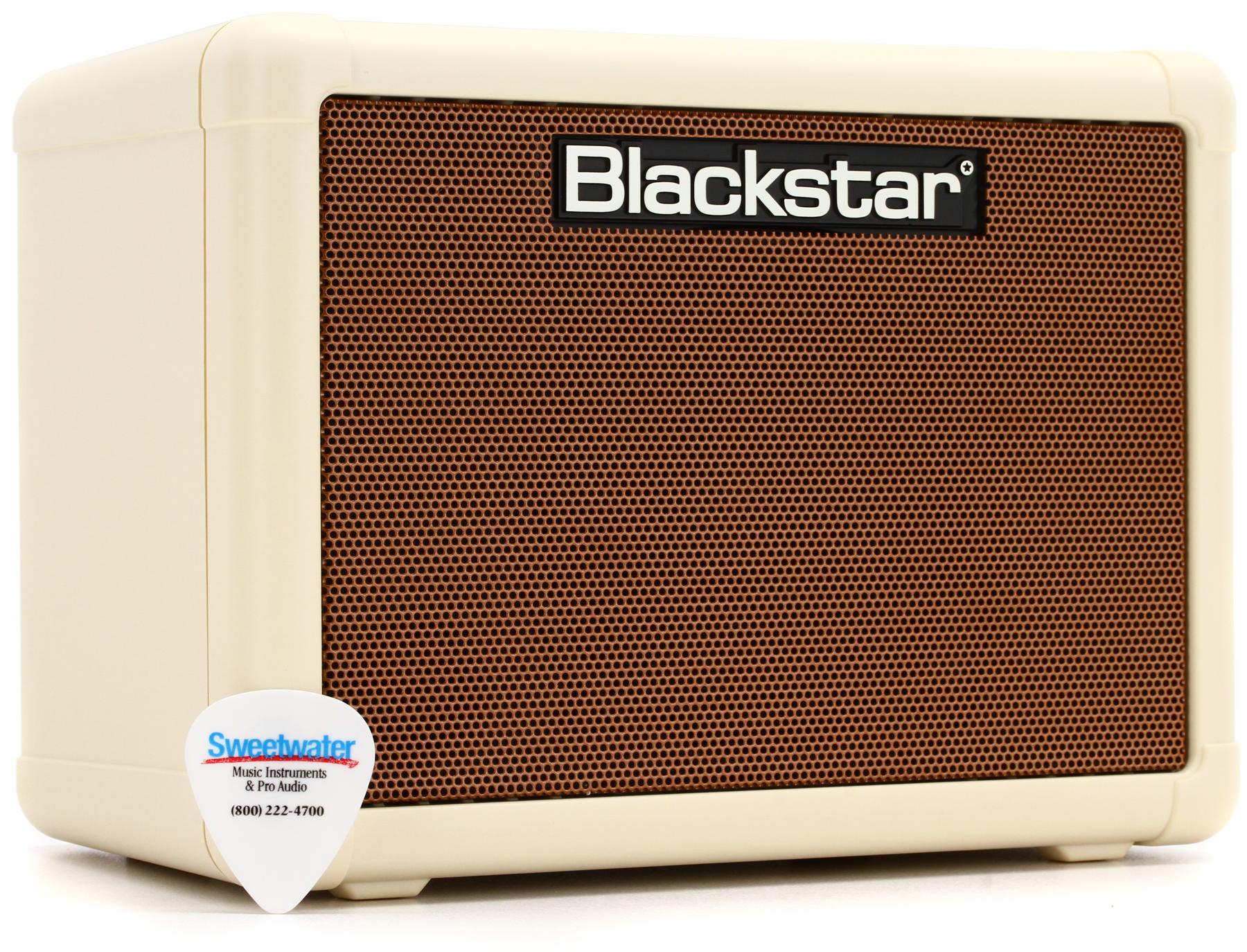 Sound
For such a small amp, this Blackstar Fly3 Acoustic Amp sounds really good!
It's clean and clear without being too sharp like many other small acoustic amps.
Plus, a range of controls gives you the ability to color your tone in several ways. These are things like:
Shape Switch- a channel selection control switching between flat or mid-scoop EQ
Bass and Treble Controls- change the amount of low and high end in your sound
Echo Level and Time- adjust the dryness, wetness, and rate of Echo in your tone
Though at 3 watts it's not loud enough to gig with, the great voice and controls of the Blackstar Fly3 make it a wonderful practice amp.
Hear how this amp sounds:
Features
Aside from its tone-shaping features, the rest of the Blackstar's specs are pretty standard.
It has the usual headphone output jack, AUX, and instrument input jacks—and no input for microphones (sorry singers). One cool thing about it is that it can be connected to an optional Fly 103 Extension speaker, which doubles its output to 6 watts and makes it suitable for cafe-style open mics.
Usability
Everything is laid out simply on its top control panel, and there's really no confusion about what knob does what. Because of this, it's a very user-friendly mini amp.
Maybe the only thing I don't like much about this amp is that you have to buy its DC power supply separately. Otherwise, it's powered by 6 AA batteries.
Blackstar's claim is that you can get a whole 55 hours of performance from these batteries, but let's just say I have my doubts.
Summary
Pros
Super small 3-watt design for easy travel
Built-in digital Echo effect
2-band EQ and Shape switch for playing rhythm, solo, or accompaniment
Cons
You have to buy DC power supply separately
Works only as a practice/travel amp
For the same price as the Blackstar, can you get a louder amp? Well, yeah. But despite it's low power, amps in this price range rarely sound as good as the Blackstar Fly3 Acoustic Guitar Amplifier.
If you care more about a great tone than volume, this amp is a sweet little option.
Check Price on:
---
Most Affordable – JOYO MA-10A Acoustic Guitar Amplifier
Sound
To be straight up, the JOYO MA-10A Acoustic Guitar Amplifier is not what I'd call astounding.
At 10 watts of power, it is decidedly loud for its size, and it's not bad at all.
Actually, there are 2 channels, both a Bright and a Normal, so you have some control of the amp's voice.
But, I think this amp would have been better off with a 2-band EQ rather than the Bright setting. To me, this second channel is too glassy, almost to the point of being harsh.
The Normal channel, however, is surprisingly pristine and clear which makes up for the poor quality of the other.
Hear how this amp sounds:
Features
You can further tweak your tone using the MA-10A's tone and gain controls, and that's about it as far as sound features go.
There aren't any effects to play around with, but I think it would handle a pedal pretty well. It has an AUX-in and headphone jack for quiet practice and playing with your favorite songs. There's no microphone input, making this amp better for players focused on technical skills rather than songwriting.
Usability
With a weight less than three pounds and useful strap buttons on both sides, you can take this amp with you wherever you go.
The MA-10A has got both battery and wall power options. With 6 AA batteries, you can get about 3 hours of playing time out of it.
Summary
Pros
Very low cost for tight budgets
10-watt power for practice or small group jams
Carrying strap + battery power lets you rock out while you walk out
Cons
Poor quality control; amp not very dependable
The second channel is too glassy, almost to the point of being harsh
JOYO's MA-10A is the least expensive amp on this list, so it's no surprise that it's perhaps the least reliable. While it sounds good overall, there are instances where it seems to just stop working for no reason. Otherwise, it might develop really bad feedback problems.
If you need an amp quick, this is a good call. But, I would keep looking if you want an amp that will last you a long time.
---
Verdict
After these reviews, I have a really tough time deciding which one to pick. They're all pretty impressive and I'd like to have them all for different reasons.
The last I'd buy would have to be the JOYO MA-10A. It's got a nice tone and cool features, but if I'm dropping a chunk of cash on an amp, I want to make sure it's dependable. Unfortunately, this amp is not.
The winner is hard to pick, I've got to say that the Donner DGA-1 has most of my attention right now. Its price is nice and its sound, features, and bonus accessories are highly appealing for me. Though I don't often plug my mic in, a sweet little amp like this might change that for me quick.
But even tough Donner is the most interesting option for me, Fender Acoustasonic 15 still offers the best qualities(sounds great) for most folks in my opinion, and that why it's my Best Overall pick.
---
Buyer's Guide
What Can You Expect from a Great Acoustic Guitar Amp Under $100?
Basics and Volume
You should know starting out that these acoustic guitar amps under $100 are in the budget category. As such, expect budget category results.
Now, if you're a bargain hunter like me, you know that these won't be the most exciting feature-packed products, but they can still be reliable and well worth their money.
So in an acoustic amp under $100, you can expect, at the very least, the basics of amp functionality (to varying degrees of quality). Simply put, you can plug your guitar in and it'll make you louder.
A hundred bucks won't give you stage-worthy volume or tone, but it'll buy you plenty of practice power.
Amps at this price range will generally be between 1- to 10-watts, but you can find them even as loud as 15-watts.
Though most of these won't be quite enough to gig with—for that, check out the best small acoustic amps—some can still pull you through a coffee shop show or street corner affair with no problem.
Benefits and Effects
Of course, the best amps come with a few bonus features.
You'll find things like rechargeable power supplies for street performing and auxiliary inputs for working on your solo skills over backing tracks.
There are some that have added effects like a chorus.
Things like this are really helpful if you get bored with your guitar's tone because they can totally change the way you sound.
A couple of these amps even have 2 separate channels so you can plug a mic in at the same time.
This is huge for singer-songwriters like myself because it lets me sing overtop my acoustic stress- and strain-free.
If you find a way to power these amps on the street side, this 2-channel bonus can really up your busking game.
Who Are Budget Acoustic Amps Good For?
The best thing about these amps is that they're versatile. They work for fingerstyle, strumming, flatpicking, and with vocals.

I don't mean that each amp on this list can do everything. But, I think there's an amp on this list for every player.
I used to be all about high-grade expensive gear, but now I see the benefits of budget amps.
For beginners, these are the perfect kind of amp to get for practice. Even though you don't need to play acoustic loud when you're starting out, these easy to use amps can improve your guitar's tone if you start to find it boring to practice.
Intermediate and advanced players can use these amps in many ways. You might like them for adding volume to your street performances or just as fun travel items. They could even be of use in a home studio.
Personally, I'm looking for an amp I can use with an effects pedal to add some variety to my songwriting, and I look forward to choosing the best affordable acoustic amp I can find to help me do that.
---
Conclusion on Best Acoustic Guitar Amps Under $100
At their low costs, these acoustic guitar amps are really for players of any level.
On the one hand, there are battery-powered travel amps like the Aroma AG-15A. Then, there are the mini powerhouses like the Fender Acoustasonic 15 which can pull off small performances.
I haven't quite made up my mind, but I'm confident I'll get a good run from any of these best acoustic guitar amps under $100.
You might also like:
We are sorry that this post was not useful for you!
Let us improve this post!
Tell us how we can improve this post?