Last Updated on April 29, 2023 by Teemu Suomala
Best Overall – Fender Acoustasonic 40
Sound
Features
Usability
Value For Money
Summary
Fender's Acoustasonic blends power and clarity together for a real winner of an acoustic amp.

Packaged in a vintage-looking cabinet are two 6.5-inch Fender speakers. These are each topped with these things called "whizzer cones", which boost your guitar's high frequencies for a crystal-clear treble response.

You also get 2-channels with independent EQ and effects controls.

Fender's Acoustasonic 40 is clean and snappy sounding with just enough versatility to carry itself from the bedroom to the bar.

If I were after the best acoustic guitar amp under $200, this would be my choice.
How Fender Acoustasonic 40 sounds:
Check Today's Price on:
*Consider all links in this post to be affiliate links. If you purchase, at no additional cost to you, we may earn a small commission. It helps us to keep the lights on, thanks! 🙂
---
The Next Best:
---
There's a nice selection of amplifiers that can beef up your acoustic's voice anytime you're struggling to be heard. We've taken a closer look at the market to make sure that you can avoid bad apples as best as is humanly possible…
And now, we reveal the best acoustic guitar amps you can find under $200 to help you boost your guitar's signal without boosting your debt. No matter if you're a beginner looking for your first amp or you've been playing the ol' six-string for a while, there is a great amp for you here!
Let's first look at these fine amplifiers, and at the end of the post, you can find the FAQ section that helps you to make the best choice possible.
Every one of these acoustic amps is here based on extensive research and combined 27+ years of experience of me (Tommy) and Teemu.
Who crafted this post:
Author: Tommy Tompkins
Playing guitar since 2004. Primarily an acoustic guitarist who plays and writes traditional American folk music, with a background in melodic metal and a solid foundation as a bassist.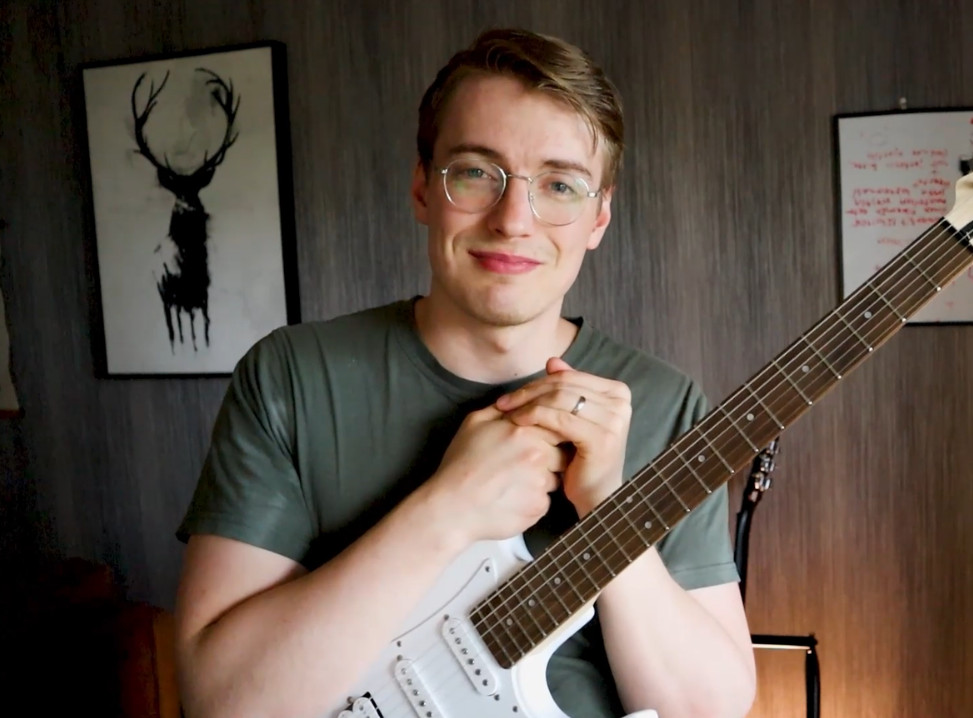 Editing & Research: Teemu Suomala
Playing guitar since 2009. Mainly focused on electric guitars, although jamming with acoustics too. Has played dozens and dozens of different guitars through different amps and pedals over the years. That's why he started this blog in January 2020 and started sharing his experience. Has produced content for several large guitar websites, such as Songsterr, Musicnotes, GuitarGuitar, and Ultimate Guitar.
---
Our Favorite Music Store in The World!
Why?
– Excellent Customer Service (4.7/5 Trustpilot Score)
– Fast & Free Shipping
– Gear is Inspected, Tested, & Ready to Play When it Arrives to You (We love this)
– Fair Prices
Visit Sweetwater:
Best Acoustic Guitar Amps Under $200
Best Overall – Fender Acoustasonic 40
Sound
Fender's Acoustasonic blends power and clarity together for a real winner of an acoustic amp.
Packaged in a vintage-looking cabinet are two 6.5-inch Fender speakers. These are each topped with these things called "whizzer cones", which boost your guitar's high frequencies for a crystal-clear treble response.
You've got full control over your tone with 3-band EQ so you can cue up or key down whatever frequencies you need.
In line with the quality we expect from Fender, the Acoustasonic 40 is a great sounding amp for the price.
Another sound demo for you:
Features
This amp has a lot of good going for it. Not only does it sound good, but it's pretty powerful too. At 40 watts, you can easily fill venues like coffee shops and pubs.
It's a great choice for playing out in smaller venues, especially those short on their own PA system. With a separate channel for a microphone, the Acoustasonic is about all you need to let your songs be heard.
Usability
Maybe my favorite thing about this amp is that it's got separate EQ and effects controls for each channel.
This is a rare feature in amps under $200 that lets you tweak the tone of your voice and guitar separately, adding reverb, bass, etc. as you see fit.
Better yet? Every change is easy to make using the controls on the classic Fender interface.
Summary
Pros
Quality sound from dual Fender speakers + whizzer cones
2-channels with independent EQ and effects controls
Balanced XLR output for connecting to a PA system
Cons
Build quality is a little bit inconsistent sometimes
If you're looking for the best acoustic guitar amp $200 can buy, the Fender Acoustasonic 40 is likely your best choice.
It's clean and snappy sounding with just enough versatility to carry itself from the bedroom to the bar. It's a great fit for budget acoustics to fingerstyle acoustics to Martins and Taylors.
Check Price on:
---
Runner-Up – Stagg 20 AA R USA 20 Watt RMS Acoustic Guitar Amplifier
Sound
Based on sound alone, the Stagg 20 AA R USA 20 Watt RMS Acoustic Guitar Amplifier is a strong contender for the number one spot. Although at 20 watts it's just barely loud enough for laid back open mics, the quality of this amp's voice is a marvel in this price range.
This is a really gorgeous sounding amp that boosts the best of your acoustic's tone.
Whether you want to play mellow jazz, rocking blues, or elegant classical, the highly responsive EQ controls can shape your sound to suit any acoustic genre.
Hear how this amp sounds:
Features
The Stagg 20 AA is outfitted with all the best basics of acoustic amplifiers, like EQ, an AUX jack, and a headphone jack. It's also got a secondary input for your microphone and real spring reverb instead of the more-common digital!
Then, it's got a couple of unique tone-shaping features I want to talk about.
Usability
The first of these is the Active/Passive switch. This is made to accommodate guitars that either have or don't have battery-powered acoustic guitar pickups. Using the amp in Passive mode with an Active guitar and vice versa won't hurt anything, and you might find it can lead to some interesting tones if you tweak things just right.
My favorite feature is the Parametric Mid control. This is a step-up from your basic 3-band EQ.
With the Para Mid, you first use the Mid knob to choose what frequency you want to change, and then the Para Mid knob cuts or boosts that frequency.
This gives you exponentially more options for dialing into your ideal acoustic sound.
Summary
Pros
Real spring reverb
Sensitive EQ controls for honing in your levels
Punchy 8-inch speaker with coaxial tweeter
Cons
Microphone channel has no EQ
If only the Stagg 20 AA had independent tone controls for its microphone channel, it would be my top-rated acoustic amplifier today.
Its sound is so sweet, any crowd you play for is sure to love it. Just make sure you're backed up by a PA for those larger venues because—sweet as they may be—Stagg's 20 watts aren't going to rattle any windows.
Check Price on:
---
Best for Street Performers – Vangoa Acoustic Guitar Amplifier, 40
Sound
The Vangoa Acoustic Guitar Amplifier 40 is a powerful portable amp.
With a rechargeable battery pushing out 40 watts, you can park this amp on the street corner to busk your music to the world.
I can't necessarily say whether or not it would beat out the din of Times Square, but it sure would help.
However, power's not everything, and I think the overall sound of the Vangoa is a bit flatter than I would like to listen to on a regular basis. Seeming to always sound far away, this is an amp I have a hard time connecting with on a "vibe" level.
Hear how this amp sounds:
Features
What it lacks in sonic shape, I'd say it makes up for in features.
Bluetooth,
DI,
USB, and
AUX connectivity give you a wide range of ways to record, playback, or jam along with backing tracks.
Since it's rechargeable, you really can take this amp just about anywhere you want. That Bluetooth feature coupled with this makes it out to be a pretty nice party speaker even without the guitar.
It lasts about 5 to 8 hours on a full charge, so you get about a day's worth of music without having to plug back in.
Usability
From your room to the street and on up to small venues, the Vangoa 40 is a useful speaker.
It can be a little confusing at first learning how to change modes when you want to hook it up, say, via Bluetooth rather than USB. But once you understand how the Mode button works, this should be no problem.
Personally, I might wish for its controls to be a little more difficult if it meant I could have EQ for the non-instrument channels, but for now, I'll have to settle for the factory presets.
Summary
Pros
3 channels and inputs for multi-instrumental performances
Runs for up to 8 hours on a rechargeable battery
Multiple ways to connect to other devices
Cons
Sound quality is somewhat muffled and boxy
Vangoa's Acoustic Guitar Amplifier 40 is an amp I would have loved to have when I did more street performing. Its loud, reverb-optional voice and additional inputs would have probably helped me earn a lot more than I ever did unplugged.
Nowadays, I wouldn't say this is the amp for me, but if you're looking to get a-buskin', I'd call this your best choice under $200.
---
Most Portable – Roland MOBILE-AC Portable Battery Powered Acoustic Guitar Amplifier
Sound
For what it is—5 watts in a mini-sized package—Roland's MOBILE-AC Portable Battery Powered Acoustic Guitar Amplifier is a pretty pleasant-sounding little box.
I would call it a portable speaker, but in fact, it's fit with 2 speakers, each 4 inches across. And thanks to its special Wide effect, you can play with an immersive stereo experience.
Unlike many amps of similar size, Rolan's AC avoids sounding tinny or boxy, keeping a full-throated voice in every register.
It might lack 3-band EQ, but there's enough packed into this small amp that I'd say its Tone knob does the trick.
Hear how this amp sounds:
Features
Looking at it, you'll probably be surprised to find out this amp actually has 3 channels and 4 different types of inputs.
There is, of course, the instrument channel for your guitar. But then you also get a mic input and an auxiliary audio channel that can be fed by either a single 1/8″ plug or by the RCA combo cables.
All told, you could play your acoustic and sing over a backing track all at the same time.
For added spice, you can kick on the Chorus or Wide effects with the touch of a button. Then, you can overlay as much Reverb as you like using its own knob.
Usability
Though each channel of the Roland AC has its own volume control the effects and tone knobs are universal, so controls are limited but simple.
At max power, you'll be playing with 5 watts, which honestly isn't going to get you far from the house.
It's not loud, but it can definitely boost your tone in-home or help you be heard in a lowkey kind of string ensemble or around a campfire.
The only issue with the MOBILE-AC is that if you're running every channel at maximum output, sometimes this can simply overload the batteries. Plugged in with the (not included) AC adapter, this shouldn't be a problem.
Summary
Pros
Gets about 15 hours of power from 6 AA batteries
Dual 4-inch speakers for miniature stereo tone
Chorus, Reverb, and Wide effects
Cons
Can't handle multiple instruments at full volume
Sound quality only OK for performances
The Roland MOBILE-AC is a fun little amp with a surprising number of features and a tone that leaves little to be desired.
If your volume needs don't exceed those of a noisy household, you should find this amp's 5 watts all the juice you need to feel the music when you play.
Check Price on:
---
Best for Recording – Yamaha THR5 Mini Acoustic Guitar Amplifier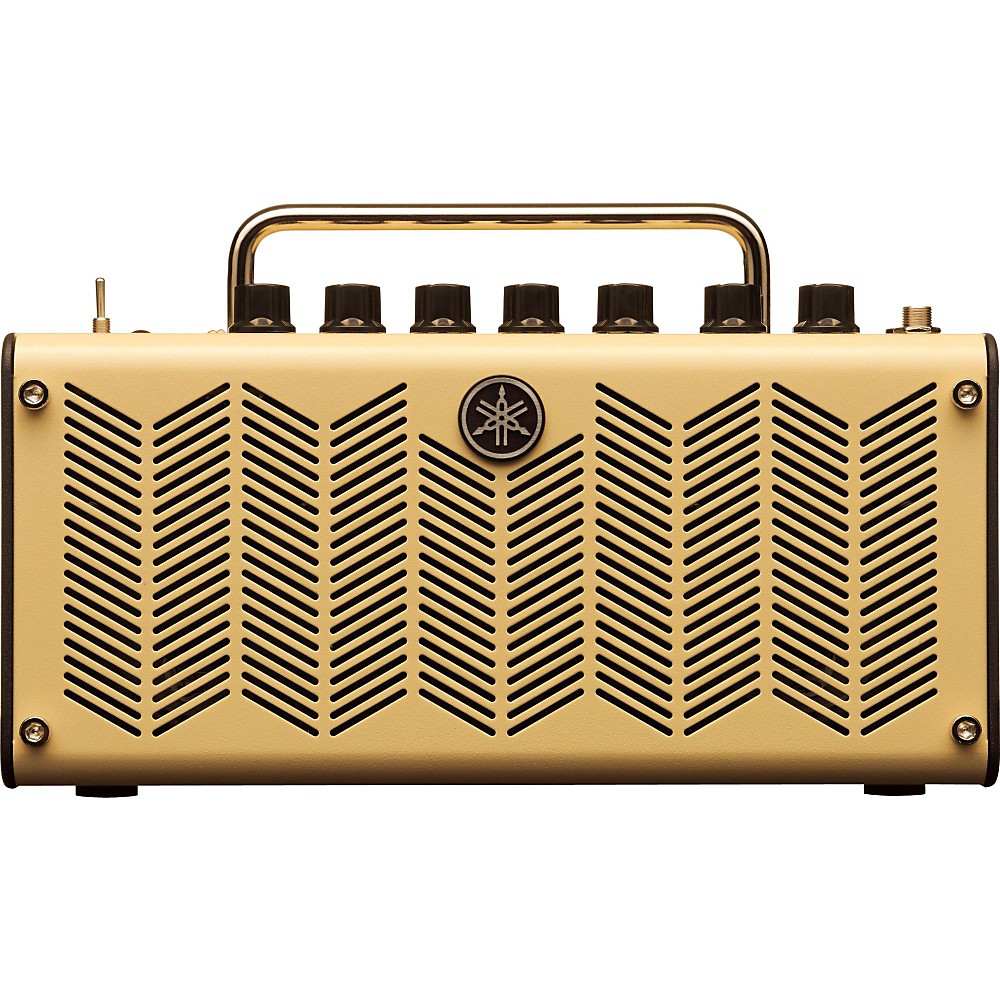 Sound
This is one of my favorite acoustic amps around right now.
The THR5 Mini Acoustic Guitar Amplifier by Yamaha goes several steps beyond the average EQ and effects to give you 5 beautifully designed preset microphone models.
Using their state-of-the-art Virtual Circuit Modeling tech, Yamaha filled the THR5A with true-to-life sounding models that help your guitar sing to its highest standard.
These mic presets range from the soft, warm Nylon to the bluesy, gritty EG Clean and allow you to explore every avenue of acoustic music.
Hear how this amp sounds:
Features
Although it's only 10 watts, every decibel of volume from the THR5A sounds beautiful. And, great-sounding mics aren't all its preset with either.
There are also several effects, including Chorus, Compression, and three different types of Reverb. And just in case the presets don't quite work for you, you can actually plug this amp into a computer and edit the effects and mic models.
This is done through Yamaha's THR Editor software, which is one of the two free pieces of software available with this amp. You also get Cubase AI, a user-friendly recording software that works seamlessly with the THR5A's USB connection.
Combine this software with the exceptional sound of the THR5, and you've got the beginnings of a decent little acoustic home studio.
Usability
Editing the effects through software is one of the more advanced features of this amp, so if you're not great with computers have no fear.
All you need to be able to do to get a great tone from the THR5A is to turn a few knobs. It's as easy as that to choose among the 5 different mics, the blend settings, and the 6 additional effects.
An AUX input is available for your backing tracks, and a headphone jack is there for times when you want a more private practice.
Summary
Pros
Includes Cubase AI recording software
USB connection for easy home studio use
Clean sound quality with preset mic emulations
Cons
Low power for a high price
This is all packaged in a cool looking, space-saving cabinet that only weighs 4 pounds. It's got both plug-in and battery-power options, so the THR5A is ready to go when you are.
Because it's got a low power rating and a fairly high price, I recommend this amp to those who either are looking more into recording their acoustic or to audiophiles who truly care about the shape of their guitar's tone.
Check Price on:
---
Verdict
From all these excellent choices, I'd pick the Roland MOBILE-AC last for my own purposes.
Frankly, I don't see a lot of point in a 5-watt acoustic amp.
It might be a benefit if you don't like to play hard, but amps are generally meant to make the instrument louder than it already is. I'm just not sure how well the MOBILE-AC can do that
My favorite is the Fender Acoustasonic 40. It shares features with many of the other amps, but its dedicated controls for each channel set it apart for me.
Really, from home practice to my preferred small-gig style of playing out, the Fender Acoustasonic could do everything I need and is likely the best fit for most players.
If you would like to see more options to choose from, check our other acoustic guitar amp guides:
---
Buyer's Guide
What Makes a Great Acoustic Guitar Amp Under $200?
The $200 price range contains a wide range of different types of amps, and each one has its own perks.
If anything unites them all, it's that $200 usually gets you an amp that sounds really clean and clear.
Although some models make sacrifices to fidelity for the sake of other features, you can generally expect a crowd-pleasing tone from these amps.
As far as power goes, amps under $200 are all over the place, from 5 to 40+ watts.
This means you've got a lot of room to find an amp that meets your volume needs, whether you're looking for apartment-friendly power or enough drive to hit the stage. Lastly, you'll find a handful of different effects in these amps. Acoustic guitars can really benefit from a touch of Reverb or Chorus, and you'll usually have one or the other in the best acoustic amplifiers.
Do You Need a Special Amp for Acoustic Guitars?
Need and want are two different things here.
You can plug your acoustic into an electric guitar amplifier without any worry of equipment damage. And, if you're in a pinch, it's better to use what's available than to let your songs go unplayed. But electric guitar amps and acoustic amps are really geared for different types of tone.
In general, an electric amp is going to boost your mids and sound pretty thin until you start to get into high-gain territory.
The problem here is that this hi-gain area is where your acoustic will start to feedback. Rather than rolling out smooth tunes, you'll be wailing like a cat.
So it's definitely much better—especially for public performers—to have an amp made for acoustic.
Acoustic amps are factory set with relatively flat EQ and a lot of headroom. This makes your guitar's natural voice the main thing that's heard and lets you boost the volume without squealing feedback issues.
How to Pick the Right Acoustic Guitar Amp for You?
So, what's your main reason for buying an acoustic guitar amp?
For me, I tend to look for ways to get more interesting sounds than six strings alone can provide. I want to dress my acoustic's voice up with reverb or hook up a pedal for some delay or whatever else I feel like.
If, like me, you mostly want to experiment with effects, most of these amps will be a good choice for you. Although they don't all come loaded down with modulations, you hook up a multi-effects pedal to them all and change your tone any way you want.
Since your options aren't limited, you can choose based on price, power, portability, or just overall value to you.
Now, I've done my fair share of busking in the past and know sometimes an acoustic can't compete with the roar of a busy street corner.
For being heard during streetside rush hour jams, you'll want a portable amp with at least 20 watts of juice.
When it's time to take your show to the stage, both the quality and power of your tone are equally important, so you'll need an amp that sings sweet and loud.
How loud your amp needs to be depends mostly on the size of the venue and whether or not they can run you through a PA. Because many amps under $200 don't pack a lot of excess power, you'll be best off sticking to smaller stages when jamming in this category.
In the end, knowing what your main plan for the amp is the best way to get the best one for you.
Jamming at home? You can pick any amp in your budget that plays as loud (or quiet) as you need.
Busy busker? You'll be well-off with a battery-powered amp with a relatively high power rating.
Hitting up local gigs? Please the crowd with the best-sounding amp you can buy.
---
Conclusion on Best Acoustic Guitar Amps Under $200
With a couple of hundred dollars, you can land yourself all kinds of good acoustic amps. There are great choices for street performers, amateur and intermediate performers, songwriters, beginners, and onward.
For an affordable way to push your acoustic into new territory or just to bring your old tunes to new light, check out these best acoustic guitar amps for under $200.
Hopefully this post helped you out!
I wish you all the best and keep rocking!
You might also like:
We are sorry that this post was not useful for you!
Let us improve this post!
Tell us how we can improve this post?