Last Updated on September 12, 2023 by Teemu Suomala
Who crafted this post:
Author: Tommy Tompkins
Playing guitar since 2004. Primarily an acoustic guitarist who plays and writes traditional American folk music, with a background in melodic metal and a solid foundation as a bassist.
Hide The Rambling▲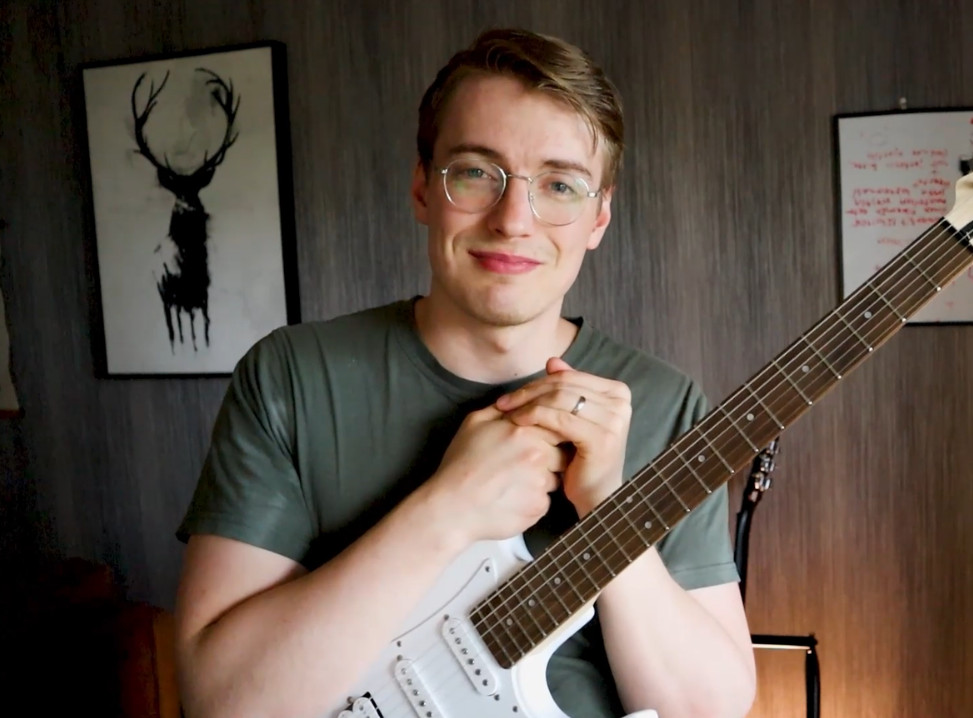 Editing & Research: Teemu Suomala
I first grabbed the guitar in 2009. I started this website in January 2020 because I couldn't do window installation anymore due to my health problems. I love guitars and have played dozens and dozens of different guitars through different amps and pedals over the years, and also, building a website interested me, so I decided to just go for it! I got lucky and managed to get awesome people to help me with my website.
I also got lucky because I have you visiting my website right now. Thank you. I do all this for you guys. If you have any recommendations, tips, or feedback, just leave a comment, I would love to chat with you. I have also been fortunate to produce content for several large guitar websites, such as Songsterr, Musicnotes, GuitarGuitar, and Ultimate Guitar.
I spend my spare time exercising and hanging out with my wife and crazy dog (I guess that went the right way…).
Hide The Rambling▲
Every one of these axes is here based on extensive research and decades of combined guitar experience of me(Tommy) and Teemu.
---
Best Overall Fingerstyle Acoustic – Seagull S6 Original
Sound
Playability
Overall Quality
Value For Money
Fingerpicking feel
Summary
Key specs of the Seagull S6 Original:
-a full 25.5-inch scale length
-an extra-wide nut (1.8-inches) enables me to hit the right strings easily
-and a neck setup for perfect playability (smooth and comfortable!)
-gives us the strings spacing of 2.094" = 53.18mm, I consider this to be a bit wider than usually with acoustics (measured from the saddle. I contacted Seagull for the newest specs).

Pros
-High-quality craftsmanship using hand-selected tonewoods
-Tapered headstock can improve tuning stability and intonation
-Wide nut width for accurate, easy fingerpicking
-Gives us a bit wider string spacing than average acoustic(more room for fingerpicking)

Cons
-Cedar is not as crisp as spruce at high volumes(not a con for everyone)

Still, I found the feel to be spot-on. Complicated fingerpicking patterns are easy when you sit down with S6. And also this acoustic guitar responds almost immediately to every single movement of your hands.

You were looking for the best acoustic guitar for fingerstyle…this is my favorite!

How Seagull S6 sounds:
Check Today's Price on
*Consider all links in this post to be affiliate links. If you purchase, at no additional cost to you, we may earn a small commission. It helps us to keep the lights on, thanks! 🙂
---
The Next Best:
Compare The Key Specs:
---
Compare The Tonewoods: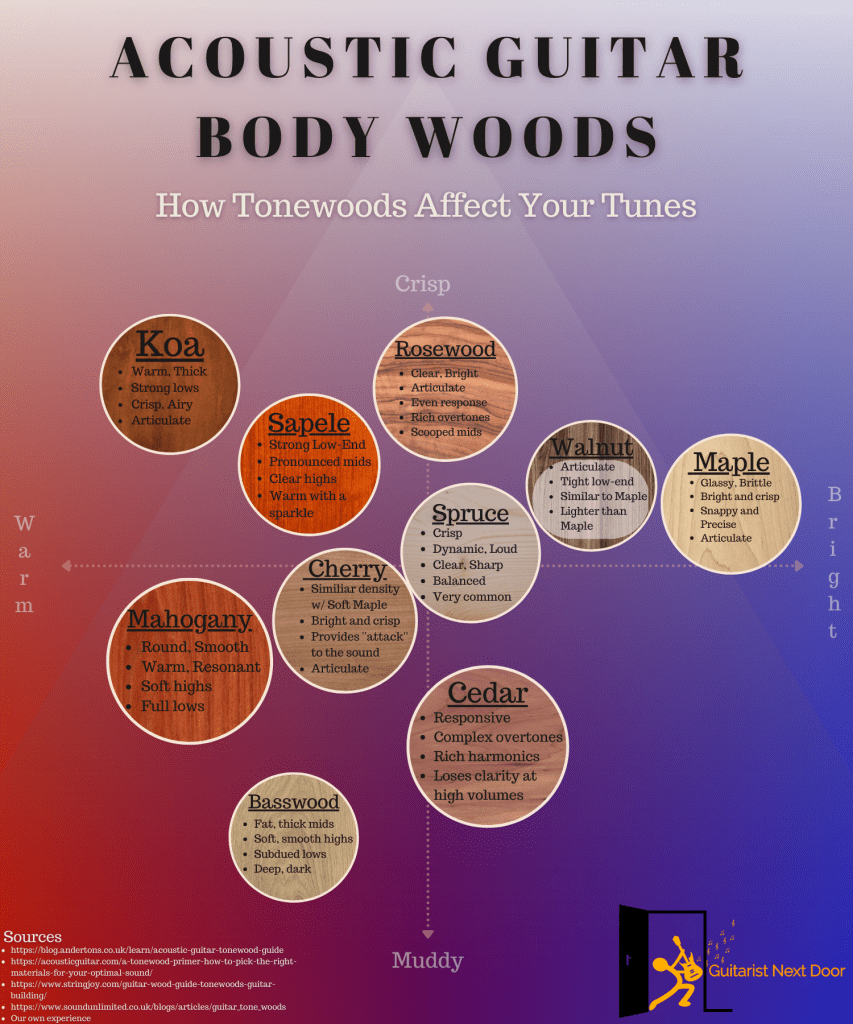 For more cool info about tonewoods, check this acoustic guitar tonewoods article.
---
Fingerstyle guitar is one of my favorite techniques—I love the beauty of harmonious melody lines played over top of a steady thumb-driven bass. I've fingerpicked all sorts of acoustic guitars in my time(since 2004) and I have a clear picture of what makes "the best acoustic guitar for fingerstyle".
Whether you love the spunky bark of a parlor guitar or the commanding voice of a dreadnought, I've got you covered. So no more hitting the wrong strings all the time, thin tone, and neck that makes you wanna quit!
Here you'll find the most responsive, melodic fingerstyle acoustic guitars that cover a range of body types suited for all the many genres of fingerpick acoustic music. Let's first look at these best acoustic guitars for fingerstyle, and at the end of the post, you can find the FAQ section that helps you to make the best choice possible.
Check our other sweet guides for fingerstyle lovers!

Best Electric Guitars for Fingerstyle
---
Our Favorite Music Store in The World!
Why?
– Excellent Customer Service (4.7/5 Trustpilot Score)
– Fast & Free Shipping
– Gear is Inspected, Tested, & Ready to Play When it Arrives to You (We love this)
– Fair Prices
Visit Sweetwater:
---
Best Acoustic Guitars for Fingerstyle
Best Overall Fingerstyle Acoustic – Seagull S6 Original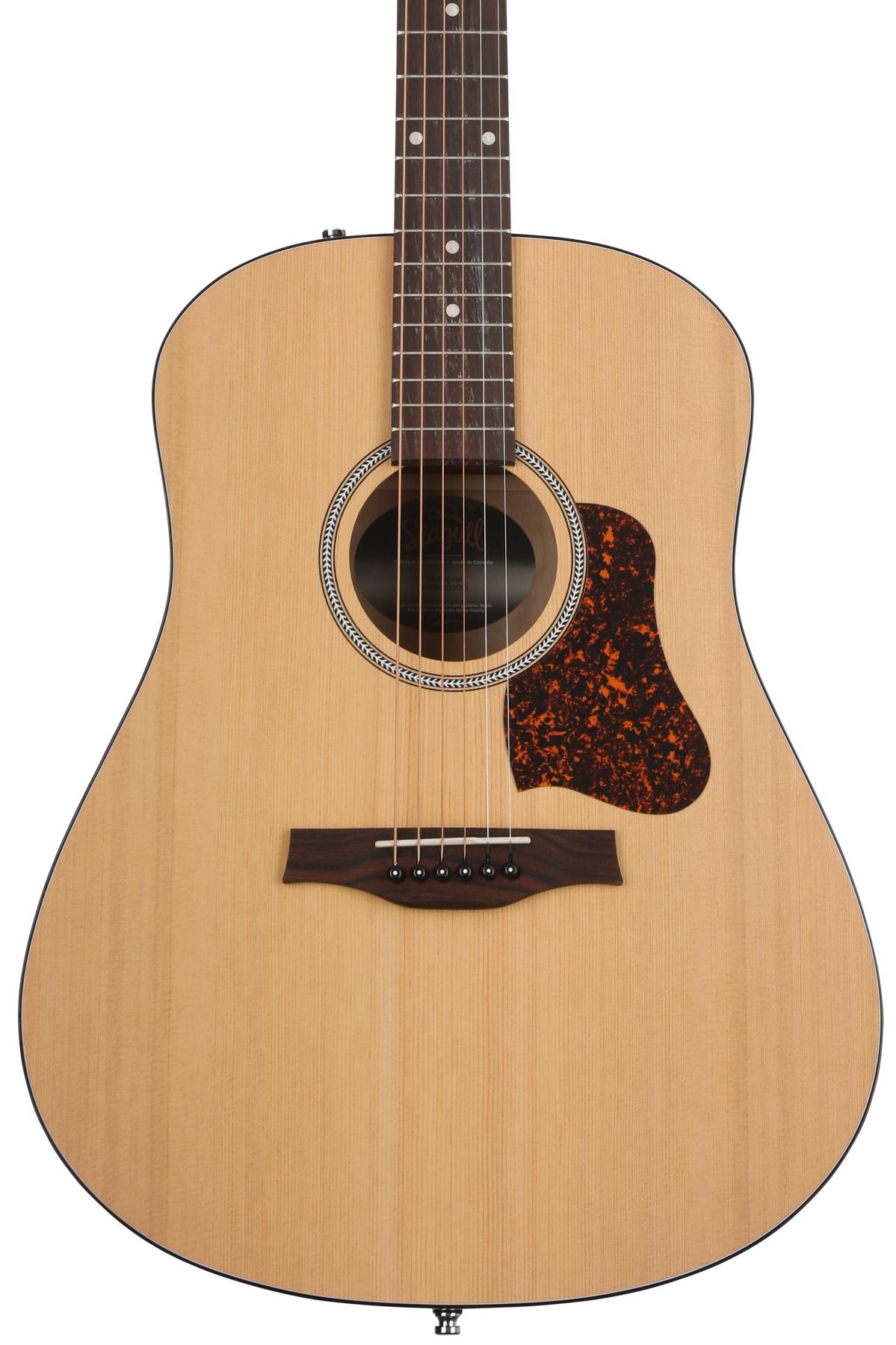 Specs
| | |
| --- | --- |
| Body Shape | Dreadnought |
| Top | Solid Cedar |
| Back & Sides | Laminated Wild Cherry |
| Neck | Silver Leaf Maple |
| Fretboard | 21 frets, Rosewood fingerboard |
| Nut Material | Tusq nut |
| Nut Width | 1.8″ |
| Electronics | No |
| Saddle | Compensated |
| Scale-Length | 25.5″ |
Playability
With a full 25.5-inch scale length, an extra-wide nut (1.8-inches), and a neck setup for smooth playability, the Seagull S6 Original is a fingerpicker's dream come true(at least for me). Although it is a full-size dreadnought, the luthiers at Seagull have taken several steps to make the S6 an easy-to-play acoustic.
Most notable are its cedar top and strong Sitka spruce bracing. What Seagull does is use only the highest-quality pressure-tested top woods. Guaranteeing the top's strength lets them use lighter bracing, so the soundboard vibrates more freely.
This means you don't have to play heavy-handed. Just a light touch is all that's required to make the S6 sing.
So when you sit down with the S6, not only will you find that there's comfortable string spacing to make complicated fingerpicking patterns easy, but also that it responds almost immediately to every movement of your hands I emailed Seagull to make sure what is the exact string-spacing of Newest Seagull S6 Originals. They stated:
The E to E string spacing at the saddle is 2 3/32″ = 2.094" (53.18mm) on the S6 Original and every other Seagull.

Michel Bélanger- Godin Guitars (Godin owns Seagull)
So according to my stats, this fingerpicking guitar has a bit wider string spacing than acoustics usually. And that's one reason why fingerpicking with this acoustics feels really easy and comfortable. But maybe if you got really large hands(I mean REALLY large), fingerpicking effortlessly could require even wider string-spacing for you. But still, this Seagull is one of the best fingerstyle guitars out there.
Sound
This solid cedar top is paired in an unusual combination with laminated wild cherry for the back and sides. Wild cherry is a really uncommon tonewood, but don't let that turn you away. It adds brightness and clarity to the warmth of cedar that makes every note sparkle. This ensures great clarity for the tone.
Seagull uses an extra-thin finish so that every part of the S6 can vibrate like it's meant to, adding resonance and sustain to the beautiful voice of this acoustic. Does this really happen? Let's ask Teemu (Owner and Editor of this blog). He Played Seagull S6 recently.
I did notice Seagull S6 sounding better than most other acoustics at the same price range. But the spot-on playing feel could have impacted my experience. Overall, I'm not sure if extra-thin finish makes a noticable difference. But the great construction, quality tonewoods, and comfortable playability makes a difference for me. At the moment this is my favorite acoustic for around $500.

Teemu Suomala – Guitaristnextdoor.com
With the powerful projection of its dreadnought body, this is a fingerstyle acoustic that sounds just as good under the heavy attack of a plastic pick as it does when played with gentle finger rolls.
In case you are wondering how Seagull S6 Original sounds when it ages, here's a sound demo of one released in 1997:
Quality
Though Seagull still isn't one of the biggest names in acoustics, that's not for lack of quality.
As a matter of fact, each of their acoustic guitars is handmade by a talented team of Canadian luthiers. All the wood used is hand-selected and graded before production, ensuring only the best tonewoods make it to market. There's really no detail overlooked in the construction of the S6. Seagull has specially designed their tops, their bracing, their headstocks, their neck joints—every aspect, really—to provide one of the highest-quality acoustics available.
You can read about all their special qualities here; it's really something to behold. And in case you are wondering…nut and saddle are made of Tusq.
Every time I have laid my hands on top of Seagull guitars, quality has been really good. Nothing to complain about.

Teemu Suomala – Guitaristnextdoor.com
What Others Are Saying
The Good
Well build
High-quality materials
Sounds like a more expensive guitar
Fun to play
The Bad
Some people think Seagull is over-hyped
Summary
Pros
High-quality craftsmanship using hand-selected tonewoods
Tapered headstock can improve tuning stability and intonation
Wide nut width for accurate, easy fingerpicking
Overall comfortable playability
The best tones for around $500 in my opinion
Gives us a bit wider string spacing than average acoustic(more room for fingerpicking)
Cons
Cedar is not as crisp as spruce at high volumes(not a con for everyone)
Check our picks for the best acoustic guitars under $500 here.
The Seagull S6 is one of my favorite acoustic guitars. Even though it's sometimes marketed as an entry-level guitar, I'd recommend this to anyone honestly. You can play smooth and soft for flowing earthy melodies or go full-force with a pick when you want to crank out some harder tunes.
It's affordable enough for beginners but produces pro-level sounds with superb playability, making it my number-one choice for fingerstyle guitar. It's one of the best guitars to me overall.
Our Ratings:
| | |
| --- | --- |
| Feature | Rating from 1-5 |
| Sound | 4.8 |
| Playability | 4.5 |
| Overall Quality | 5 |
| Value For Money | 5 |
| Fingerpicking feel | 4.7 |
Who is Seagull S6 Original for?
Anyone looking for a versatile, high-value instrument that sounds good. And on top of that, the playability is really comfortable for fingerpicking.
Check Price on:
---
Runner-Up – Takamine GD20-NS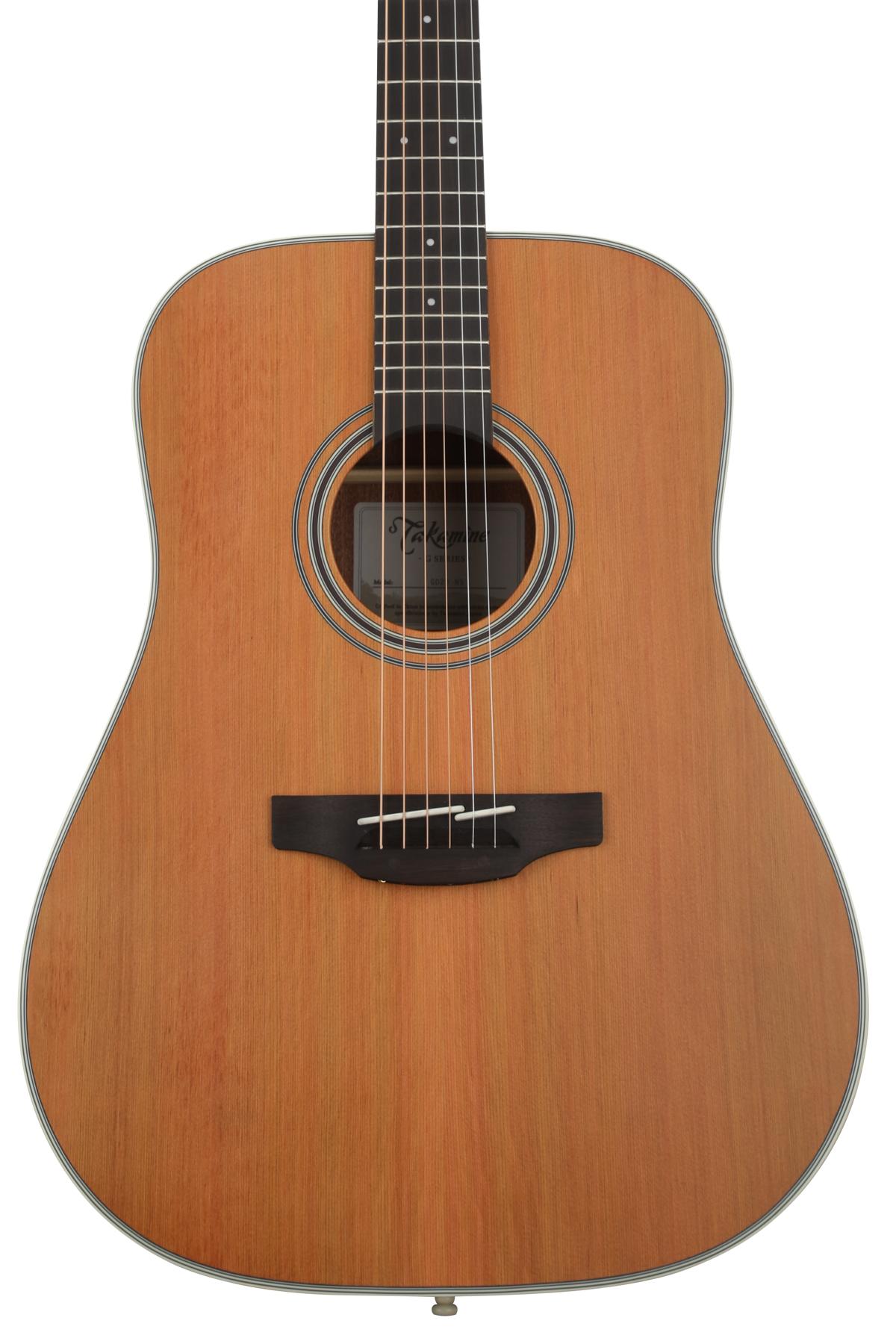 Specs
| | |
| --- | --- |
| Body Shape | Dreadnought |
| Top | Solid Cedar |
| Back & Sides | Okoume |
| Neck | Mahogany |
| Fretboard | 20 frets, Ovangkol fingerboard |
| Nut | Synthetic Bone |
| Nut Width | 1.6875″ |
| Electronics | No |
| Saddle | Synthetic Bone |
| Scale-Length | 25.3″ |
Playability
Takamine's GD20-NS might not be the first guitar you'd think of when you're looking for fingerstyle acoustics, but it's got a lot going for it outside the usual selling points (good construction and high value, etc.)
With a nut measuring 1.69-inches, you don't have wider string spacing that makes some fingerstyle acoustic guitars easy to play. But…
In case if oyu are used to wide necks… if you learn to adjust your technique just a little, any change-over from a wider neck guitar will be easy in time.
And on the other hand, if you're switching from electric guitars to acoustics, you should feel right at home with this neck width. Personally, I like this style of neck for all kinds of fingerstyle playing. It doesn't make string spacing so narrow that fingerpicking is hard, and the slim profile still makes playing fast riffs in other genres a breeze.
12" fretboard radius(quite flat) is one thing that makes playing smooth, no matter if you are playing chords, riffs, or licks.
Sound
The GD20's tone is something special.
Unlike most dreadnoughts, this one is made with a solid cedar top, which changes the whole sound of the instrument. Rather than the brash, bold sound of a spruce guitar, the cedar GD20 plays with a mellow smoothness. But it's never muddy-sounding like an all-mahogany guitar can be.
Instead, every note is clear and articulate. And thanks to the responsiveness of the top, you don't have to play hard to get the full sonic experience this fingerpicking guitar promises.
Hear how this fingerpicking guitar sounds:
Of course, tone-opinions are very subjective…but personally I think that this acoustic guitar offers really good sound for the money.
Quality
There are a few extra cool things going for this Takamine that we can take a look at.
Maybe the first thing you'll notice is that its saddle is split in two.
The 5th and 6th string have their own shared saddle piece. With this design, Takamine tries to ensure proper intonation at every point of the fingerboard so all your progressions are pitch-perfect.
Is this thing a game-changer?
Honestly…not really in my opinion. I have nothing against this design, but I don't think that it does something so drastic that everyone should choose split-bridges from now on. It might even improve the intonation, but it doesn't make a noticeable difference in my opinion.
The next nice oddity in this model is its pinless bridge. That's right—no bridge pins to contend with.
If you've never dealt with a pinless bridge before, this might be a little intimidating. But there's no secret when it comes to how to change strings on a pinless bridge; you simply slide them through the bottom end and thread them out like normal.
I personally like pinless bridges. Once you get the hang of it (and learn to NOT scratch your soundboard with the ball-ends), I think you'll wonder why more acoustic guitars aren't made with this type of bridge.
What Others Are Saying
The Good
Hard to beat the price:value ratio
Plays well
Full tone & nice volume
Comfortable neck
The Bad
Not the best for large hands
Summary
Pros
Cedar and mahogany tonewood combo for a shimmering warm tone
Split-saddle design should improve intonation
Pinless bridge makes string changes easy
High value for the money
Cons
Higher chance of top damage with pinless bridge
Narrow nut reduces string spacing(string-spacing is average)
A punchy midrange, chill highs, and a mellow low end comprise the voice of the altogether lovely and quite affordable Takamine GD20.
Our Ratings:
| | |
| --- | --- |
| Feature | Rating from 1-5 |
| Sound | 4.2 |
| Playability | 4.3 |
| Overall Quality | 4.4 |
| Value For Money | 5 |
| Fingerpicking feel | 4.4 |
Who is this for?
If you are looking for a high-value fingerstyle instrument that sounds clear and full, plus is comfortable to play, this is my favorite pick for around $300
Best suited for softer styles (no heavy-handed blues on this bad boy), I love the rich warmth that's so easily accessible in this fast playing fingerstyle dreadnought acoustic guitar.
Check Price on:
---
Best Budget/Beginner Fingerstyle Guitar – Yamaha FS800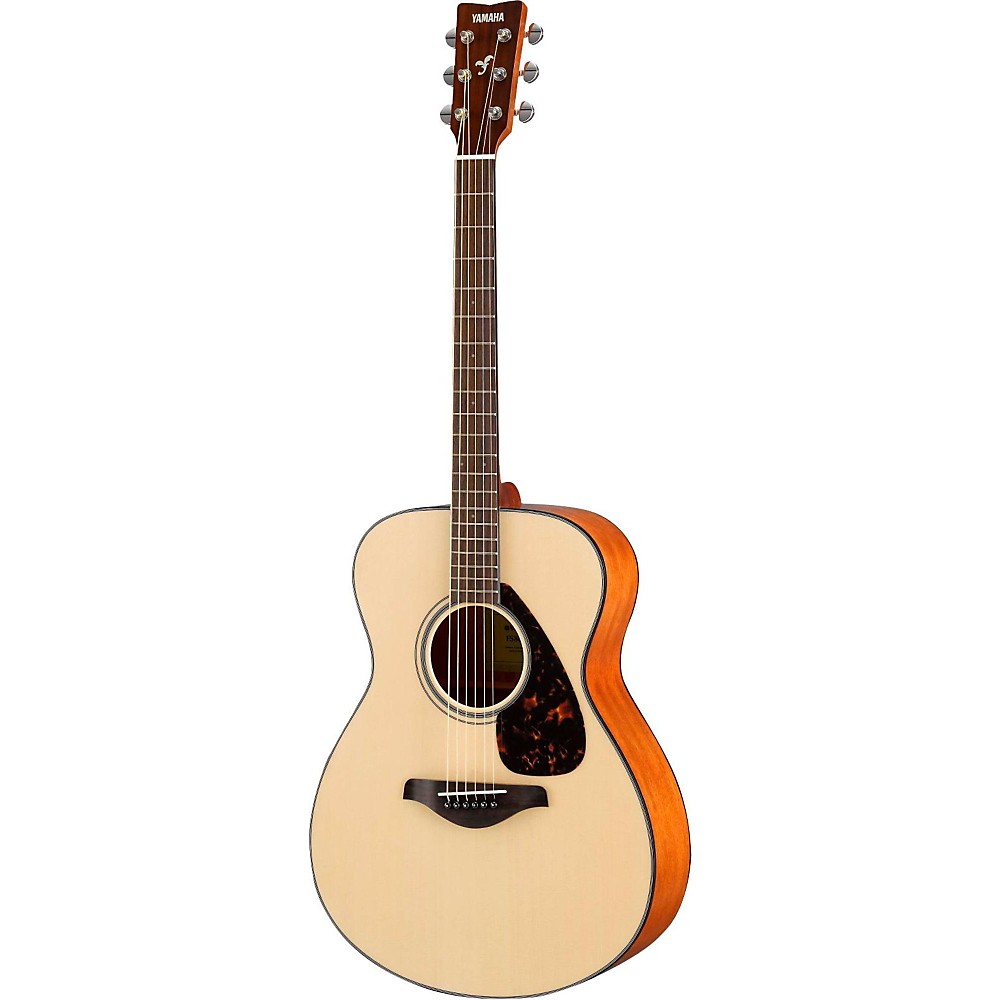 Specs
| | |
| --- | --- |
| Body Shape | Concert |
| Top | Solid Spruce |
| Back & Sides | Nato/Okoume |
| Neck | Nato |
| Fretboard | 20 frets, Walnut fingerboard |
| Nut | Urea |
| Nut Width | 1.6875″ |
| Electronics | No |
| Saddle | Urea |
| Scale-Length | 25″ |
Playability
The Yamaha FS800 is a great budget concert guitar.
Its narrow waist allows it to rest snugly on your thigh. And you can play in classical guitar position just as easily thanks to its smaller bottom bout.
The comfortable body is one of the key reasons playing this fingerpicking guitar is easy. Your finger-picking hand positioning is really easy and smooth. And when the fingerpicking feels smooth with a guitar, you know that you got an excellent budget fingerstyle guitar in your hands.
If you look at its specs, you'll see its nut width is the same as with Takamine GD20-NS (1.69"). But this only translates to again, a 1-millimeter difference in string width at the saddle. You've still got a whole .4-inches of space between each string for your picking hand.
It might take a little more precision than a wider neck, but it's not a problem once you get used to it.
Sound
Honestly, there are few acoustic guitars at the same price point that sound as good as the Yamaha FS800. Yeah, I'm been saying the same thing about every guitar on this post, but I really tried to choose the best guitar from each price range. And in my opinion, I managed to do that.
Its solid spruce top provides a rich tone that is particularly clear in the middle and high ranges. As a concert-shaped guitar, don't expect a lot of bass response from the FS800. It's a little disappointing due to the nato body, but there's still enough low-end there to carry your tunes.
But if you are in search of really full bass tones, this guitar is probably not for you.
On the other hand, if you love a bright guitar with a sharp attack, this is a good way to go.
Hear how this acoustic guitar sounds:
Quality
It's not very common to find a guitar with a solid top at this price so that works strongly in the FS800's favor. But, this is definitely an entry-level model, so be prepared for the typical problems that plague budget acoustics.
For instance,
the tuning machines aren't always very stable
the fret edges might be sharp
the neck finish might feel tacky
And lots of people complain about how high the action is when they first receive this model. Of course, all it takes is a trip to the guitar tech to fix most of these problems, but the FS800 is not always very fun to play right out of the box.
Of course, these issues are not always present, but they can happen for sure.
The nut of this guitar is made of Urea, it's "produced from synthetic ammonia and carbon dioxide" according to Wikipedia.
What Others Are Saying
The Good
Excellent value
Everything a beginner needs
Surprisingly smooth playability
Great Yamaha quality
The Bad
Sometimes quality issues (scratches, etc.)
Tuners are not smoothest to use
Summary
Pros
High-quality acoustic guitar construction at a low cost
Shallow concert body projects focused tones
Optional accessory bundle with hard case, guitar stand, and more available
Solid top at the laminate top prices
Really comfortable body for fingerstyle playing
Cons
Entry-level model with entry-level problems
Bass tones are cut a little
Limited projection
Our Ratings:
| | |
| --- | --- |
| Feature | Rating from 1-5 |
| Sound | 3.8 |
| Playability | 3.8 |
| Overall Quality | 4 |
| Value For Money | 5 |
| Fingerpicking feel | 4 |
Who is this for?
With its small body, comfortable C-shaped neck, and high-quality spruce top, this is a good acoustic for beginners and intermediate fingerstyle players alike.
You might want something with a bit more projection if you're planning to play out. But for all your in-home fingerstyle playing needs, the Yamaha FS800 has what it takes to be a great little folk guitar.
Find more great acoustic guitars for intermediate players here.
Check Price on:
---
Best Parlor Guitar for Fingerstyle – Gretsch G9500 Jim Dandy Flat Top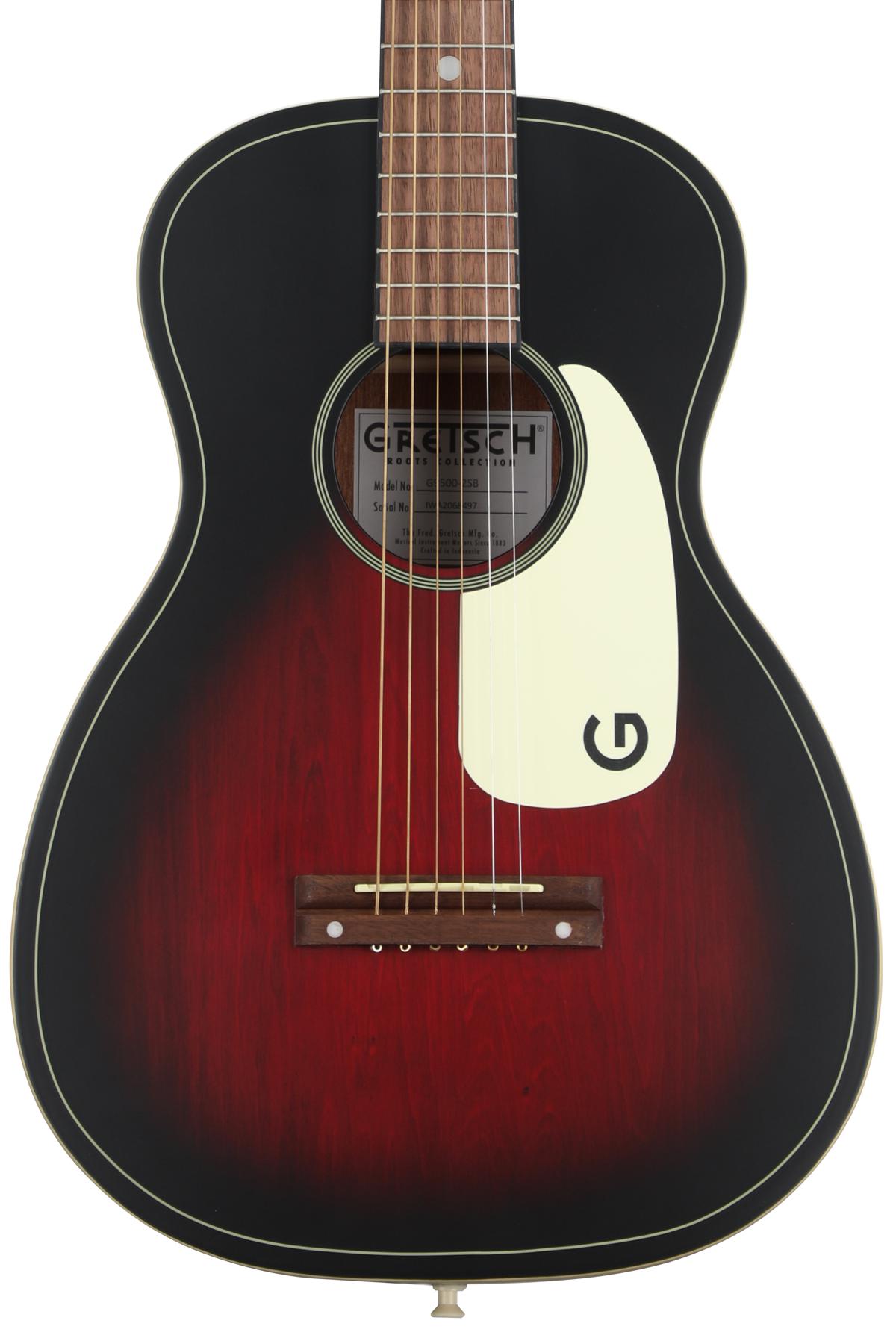 Specs
| | |
| --- | --- |
| Body Shape | Parlor |
| Top | Basswood |
| Back & Sides | Basswood |
| Neck | Nato |
| Fretboard | 18 frets, Walnut fingerboard |
| Nut | Synthetic Bone |
| Nut Width | 1.6875″ |
| Electronics | No |
| Saddle | Synthetic Bone |
| Scale-Length | 24″ |
Find more great Parlor guitars here.
Playability
If you're used to electric guitars or a dreadnought acoustic guitar, it might take some time to get comfortable on the G9500. It's a small guitar, with a 24" scale length and a body that doesn't go deeper than 3.75 inches (9.5cm).
The set-in Nato neck, on the other hand, feels chunky when compared to the rest of the body. It's standard nut width (1.69") and the C-shape is on the larger end of parlor guitars.
But unless you have very large hands it'll feel very comfortable. The string tension is low, and Gretsch has compensated for the 24" scale by providing 12 accessible frets instead of 14.
I could call this and handy, ergonomic, and convenient guitar. All this shows when this guitar is played…
it doesn't take much effort to form chords or to play licks
small body size makes acoustic fingerstyle playing really easy and you have good control over the strings
it's super easy to just pick this up and start your fingerstyle playing session
Here's a tip I'd like to leave you with: Change the stock strings and perhaps adjust the neck action a little bit. You don't NEED to do that, however, but doing just these two changes will make your Jim Dandy feel like it's worth a lot more.
Sound
The G9500 deviates from a typical parlor sound to a more, well, 'Jim Dandy' sound. I would describe its tone as somewhat 'plucky' and 'steely,' and best suited for blues, folk, and country.
The timbre is great for fingerpicking, not so much for strumming (it just sounds too tinny when strummed). It would be a perfect accompaniment to a steel-string or a resonator guitar. There's not a lot of bass, as expected. But the clarity and volume on the mids and highs make this Gretsch a great-sounding instrument for this price.
Speaking of volume, the available loudness is a notch above most budget parlor guitars – a sign of good design and construction.
Hear how this acoustic guitar sounds:
Quality
The Gretsch G9500 takes on an unmistakable vintage approach with a budget twist:
Basswood top & body (budget twist)
A slick Vintage sunburst finish
Screened white purfling and rosette
Finally, a dinky tin-box timbre.
While that won't set any records for durability, remember that this guitar costs less than $200. So don't expect to feel the solidity when you first pick up this guitar. Well, at least the lack of anxiety that comes with owning a $3000 Gibson or Martin somewhat makes up for that.
But it's not just-another-cheap-guitar. It's actually quite well-built for the price with Gretsch trying to squeeze every single bit of detail into this petite instrument. I like this little guitar a lot. It's not perfect, but it's still good.
What Others Are Saying
The Good
Great travel guitar
Super fun to play
Good out-of-the-box setup
Sounds good and surprisingly loud
The Bad
Boxy sound
Not best for strumming
Summary
Pros
Excellent tone and quality for the price
Volume is impressive for the size
Crisp and clear mid and high frequencies
Effortless to play
You have nice control over the instrument with both hands
Cons
Plucky 'tin-box like' sound
Lacks deep bass
Usually not the best option for large hands
Gretsch burbles that the G9500 Jim Dandy is "Crackerjack quality for a steal!". And they have certainly pulled it off!
Our Ratings:
| | |
| --- | --- |
| Feature | Rating from 1-5 |
| Sound | 3.3 |
| Playability | 4.8 |
| Overall Quality | 3.6 |
| Value For Money | 5 |
| Fingerpicking feel | 4.8 |
Who is this for?
A great starter guitar for fingerstyle blues/country/folk-pickin' at a price where one can't be too picky. A good option for kids and small hands too. Plus with its compact size and a crisp 'bluesy' timbre, it's ready to be your next no-frills travel or practice guitar.
Check Price on:
---
Best for Small Hands – Taylor Academy 12e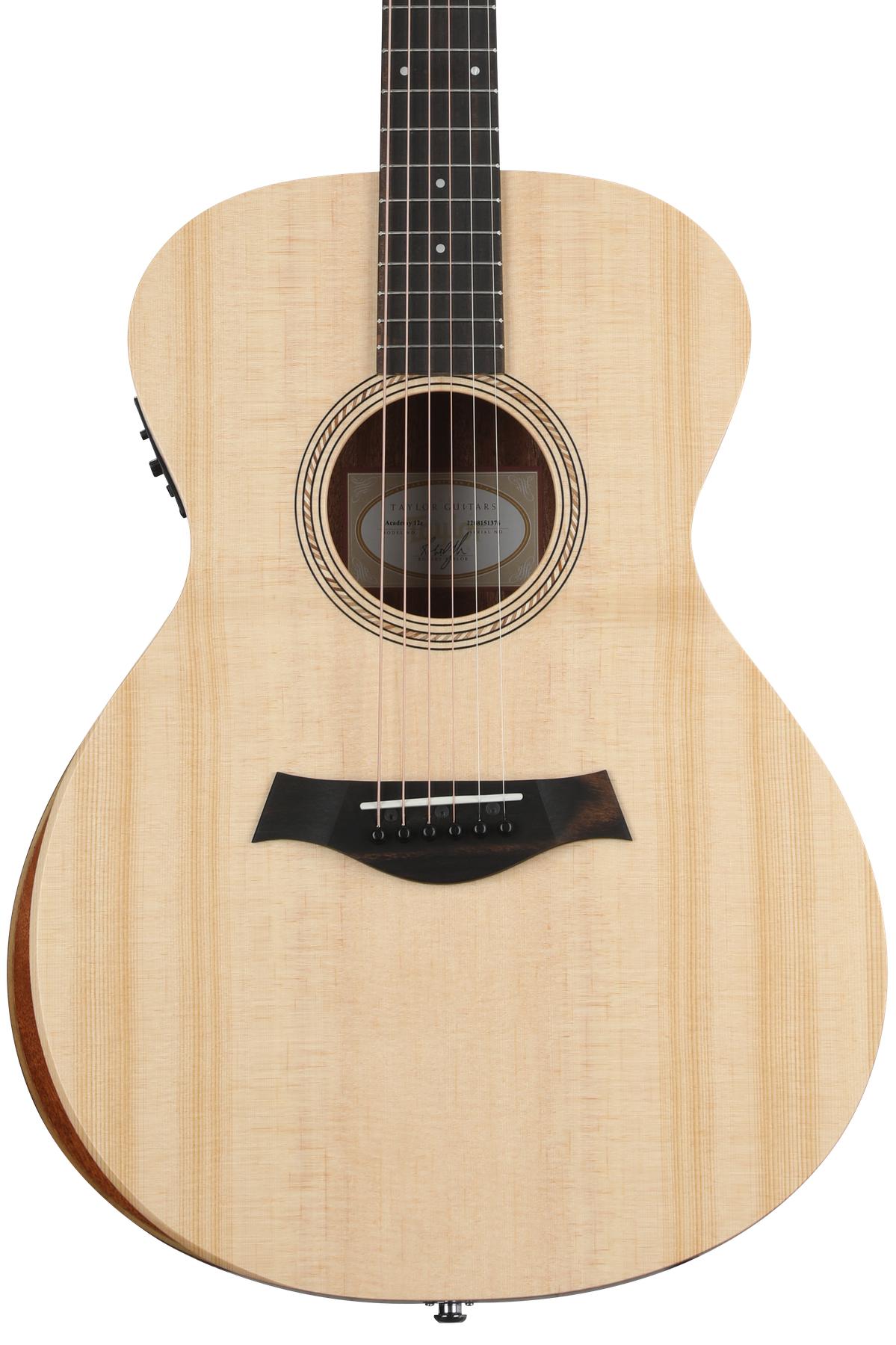 nut wi
Specs
| | |
| --- | --- |
| Body Shape | Grand Concert |
| Top | Solid Sitka Spruce |
| Back & Sides | Layered Sapele |
| Neck | Hard Rock Maple |
| Fretboard | 20 frets, Ebony fingerboard |
| Nut | NuBone |
| Nut Width | 1.6875″ |
| Electronics | Taylor ES-B |
| Saddle | Micarta |
| Scale-Length | 24.8″ |
Playability
Now, like I've said before, I think just about any acoustic guitar is great for fingerstyle playing once you learn the basics.
Depending on just how hard-handed of a fingerpicker you are, the Taylor Academy 12e may or may not be right for you. That's because this model was made with beginners in mind, and it's actually really easily playable for most general styles. But its extra-low action and shorter scale make the strings feel loose and easy to fingerpick.
So if you pick hard and strong like I do (even with my fingertips, yes), you might find too much fret buzz in the 12e. Ofc you can higher the acton, but this guitar looses some of its comfort if that's done.
But if you have a more delicate, precise technique, you'll find the Academy to be really comfortable thanks to features like its integrated armrest and special slim neck profile.
Armrest makes both fingerpicking and using a pick really comfortable.
Sound
I guess there's no surprise here—it is a Taylor, after all.… The Academy 12e sounds great. Pairing a solid sitka spruce top with sapele back and sides, you get a vibrant tone that's rich in every range.
The Grand Concert body size reduces bass power and volume by only a little bit compared to dreadnoughts. At the same time, the mid-range is especially crisp and kicking, while highs sing clear and with huge amounts of sustain.
Seagull S6 Original beats this Taylor when it comes to the fullness of the tone.
Great news for performers is the fact that this Taylor is an acoustic-electric guitar! The Academy 12e is equipped with Taylor's own Expression System 2 piezo pickup and preamp. Instead of 3-band EQ, you're given a tone knob to roll off the high-end, plus the added perk of an onboard tuner.
Hear how this acoustic guitar sounds:
Quality
Again, we're looking at a Taylor, so you can expect a much better-than-average build quality. So, everything's pretty top-notch and there's not much to complain about. You've got a great-sounding pickup system, smooth, easy playability, quality hardware, and Taylor's signature picking hand armrest.
Would I usually prefer another body wood over sapele and maybe a real bone nut and saddle? Sure—but Taylor makes a great use of their materials in the Academy 12 to craft a guitar I wouldn't really change a thing about. As one of the biggest names in acoustic guitars, I trust they know what they're doing.
This guitar has Nubone Nut & Micarta Saddle.
What Others Are Saying
The Good
Open, crisp, and balanced sound
Comfortable & smooth Taylor playability
Great quality electronics
Well build
The Bad
Sounds cheap
Tuner is not very accurate
Summary
Pros
Taylor quality acoustic guitar at a relatively low cost
Expression System 2 pickup and preamp for tone-true amplification
Grand concert body for easy playability and good articulation
Slim neck is really comfortable for small hands
Both fingerpicking and using a pick are easy
Cons
Low action and short scale length limit hard-playing ability
Low-end and volume are slightly cut because of smaller body-size
Our Ratings:
| | |
| --- | --- |
| Feature | Rating from 1-5 |
| Sound | 4.5 |
| Playability | 4.8 |
| Overall Quality | 4.8 |
| Value For Money | 4.9 |
| Fingerpicking feel | 4.8 |
Who is this guitar for?
If you're the kind of player who dreams of owning a Martin or Taylor, the Academy 12e is a great entry-point into the world of high-class acoustics. Though I would say it's too expensive to be a starter guitar, it's a beautiful-sounding model for intermediate players to upgrade to.
The Academy 12e's low action and smaller body enable you to play with next to no effort, so your fingerstyle playing jams can go on for hours. This Taylor is one of the best fingerstyle guitars right now.
Check Price on:
---
The Verdict
I've had such a rewarding time as a musician playing budget-end acoustic guitars, I'll probably never own a Taylor. While there's prestige in the name and obvious quality of sound and construction, I think many lower-cost options provide even more in both tone and playability than the Academy 12e.
For the best pitch and playability in all genres—not just as a folk and blues acoustic guitar—the Seagull S6 is one of the best fingerstyle acoustic guitars around.
Made to the highest quality with no detail overlooked, this is an acoustic you could proudly play for the rest of your life.
If Seagull S6 is not available where you live or you want something more premium, you can also check out Seagull Artist Mosaic. Here's Steve's (from Guitarniche) review of it: Seagull Artist Mosaic Acoustic Guitar [Complete Review].
---
Runner-Ups That Just Missed The Top 5
---
How We Chose These Acoustic Guitars
We decided which acoustic guitars to recommend by using our own experience, doing extensive research, visiting music stores, and asking help from our musician friends
After we had chosen the guitars to recommend we looked for a good way to test the gear. This means either renting it, buying it, testing it in a music store, or visiting a friend who owns it. This time, our main testing methods were playing these acoustic guitars at music stores and relying on our past experience playing these guitars.
Even after this, we'll still do another round of extensive research to make sure that this specific product is in fact, a real cream-of-the-crop candidate.
Then we wrote this in-depth but easily digestible review about these acoustic guitars. We kept in mind who will be playing them, fingerstyle acoustic guitar players.
Most acoustic guitars we recommend are run through tests like these:
We go carefully through the finish and build quality of the guitar.
We inspect the fretwork and edges of the fretboard to make sure there are no sharp edges.
We play the acoustic guitar unplugged and plugged in.
We use different playing techniques, such as fingerpicking, flatpicking, strumming, tapping, and even percussive playing.
We measure and weight the guitar.
We try licks and riffs from different genres.
Learn more about GND's testing and reviewing processes here.
---
Buyer's Guide
What Makes a Great Fingerstyle Acoustic Guitar?
The number one thing you need for a great fingerstyle guitar is…
Good fingers! (har har)
But all joking aside, to find a guitar that will sing beautifully beneath your fingertips, there are a few key traits to look for:
Responsive Tops and Tonewoods
One of the things that influence acoustic fingerstyle guitar playing the most is that your fingers offer a much softer attack than a plastic pick.
To make up for this loss of picking power, a guitar needs to be responsive—meaning it produces higher amounts of volume with lower amounts of energy.
Many different things affect a guitar's responsiveness and overall tone, such as:
Body shape
Body size
Bracing style
Tonewoods
String gauge
Nut and saddle material
But the most important to keep in mind—those with the biggest influence are most easy to shop for—are body style and tonewood choice.
Body Style
Although you can technically play fingerstyle on any shape and size of the guitar, to get the most out of your sound you'll want a smaller body.
In general, acoustics with smaller bodies, like Concert or Parlor guitars, will have a more focused sound. Their tones are usually more balanced between the low and high ranges than dreadnoughts because of their bottom bout reduction.
Why's this good for fingerstyle?
In contrast to rhythm-based strumming styles, fingerstyle has more emphasis on single notes than on volume and projection. A good balance between the bass parts and the melody lines is essential for the best fingerstyle acoustic tone.
Now you might be asking, "Are dreadnought guitars good for fingerstyle?"
I've played fingerstyle on just about every guitar body shape there is, and I think dreadnought acoustic guitars are just "ok" for fingerstyle.
They have their drawbacks…
You have to play harder to be heard,
they're a little more difficult to wield than smaller guitars,
and the basslines can overpower riffs in the middle range.
Of course, there are lots of fingerstyle players who use dreadnoughts for fingerpicking, and the Seagull S6 Original(dreadnought) is one of the best fingerstyle guitars out there right now. But all in all, I would recommend a smaller body size for most people.
Tonewoods
The tonewood you choose for your guitar top is largely a matter of preference, but there are a few recommendations people generally suggest for fingerstyle.
You might be best off with cedar or certain varieties of spruce, like Engelmann or European.
These are lightweight woods prized for their resonance and tonal balance. They're considered more responsive than woods like mahogany and maple because their low densities mean less energy is required to vibrate the tops.
Wider Nuts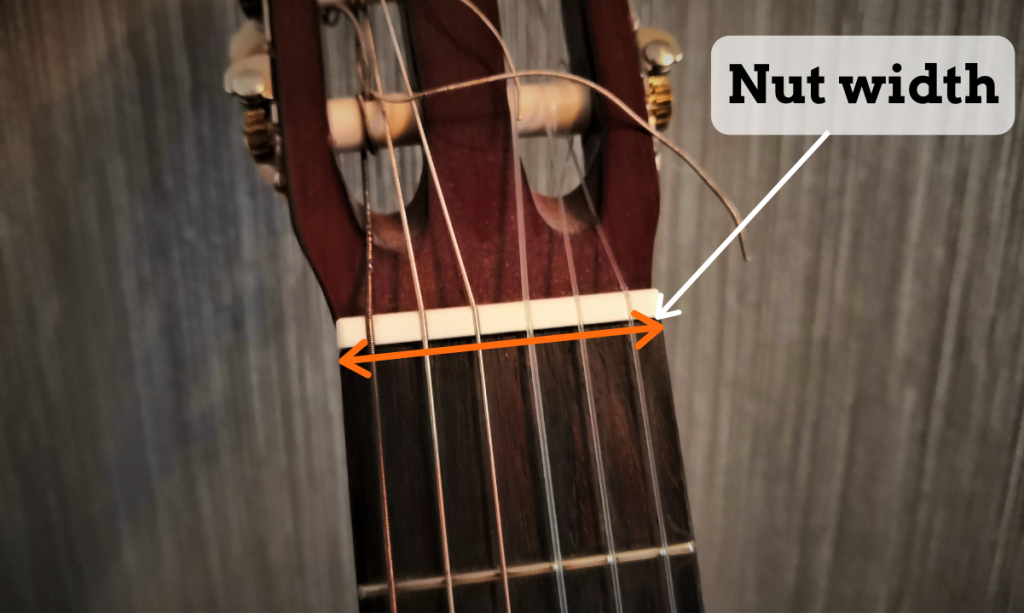 Your fingers need a lot more room for accuracy than a thin little guitar pick, so a wider nut can make playing easier. Compared to narrow-necked electric guitars that are built for speedy flatpicking, the best guitar for fingerstyle allows you to comfortably and accurately play intricate fingerpicked patterns.
Generally, look for acoustic guitars that have a nut of around 1.75-inches, or around 44 millimeters (check these wide-neck guitars out). This will give you the flexibility you need to nail complex chords without cramping your hands.
Now, the difference between classical and fingerstyle guitars—and why you don't have to go up to the full 2-inch nut—is that your normal fingerstyle acoustic guitar has a truss rod. Some classicals like Cordoba C9 Crossover have a truss rod, but most of them don't.
This strengthens and stabilizes the neck so it doesn't have to be super wide, letting you achieve a great balance between speed and comfort. And this kind of stuff is what the best fingerstyle guitar is all about.
The Best Action for Fingerstyle Guitar
You'll hear some players say that you need to have your action set as low as possible. If you've been playing for a while and already have a pretty good fingerstyle technique, I would agree with this.
Having your action really low is great for fingerstyle guitar for a few reasons.
It reduces fretting hand fatigue
It can increase your speed and accuracy
It improves articulation and your overall tone
When you're playing fingerstyle guitar, you can have the action set a lot lower than if you're strumming because you're not attacking the strings so hard. Since they're vibrating with less intensity, you won't have the same problems with fret buzz you would have otherwise.
Strings play a huge role when aiming for the perfect playing feel and tone, check our full guide on how to choose the right aocustic guitar strings here.
But I will say that if you're a beginner, it can help to have your action set not quite so low. This allows you to practice all the essential techniques, including:
fingerpicking,
flatpicking,
and basic strumming.
If your action is too low (setup for optimal fingerstyle), you'll limit what you're able to do. On the other hand, you can still learn fingerpicking with higher action while practicing other guitar playing styles as well.
How to Choose the Right Fingerstyle Guitar for You
Now that you know what makes a great fingerstyle guitar, we can talk a little about how to make sure you get the best one for your needs. Let's look at body shape, as well as tonewoods, electronics, and more.
First…
Electronics
The first choice you should make is whether you are going after acoustic-electric guitar or one without electronics. Just ask yourself:
Do you plan to perform with an amplifier? If so, an acoustic guitar with electronics is a wise choice.
And even if you don't plan to perform with an amp, do you want to have the option to plug into an amplifier available to you? If yes, an acoustic-electric guitar is a smart choice.
Check our full acoustic guitar pickup guide here.
The Best Body
Dreadnought acoustic guitars might not be your best bet for fingerstyle acoustic guitars. But if you mix your playing style up with a lot of strumming, they're not a bad option.
Working down the sizes, you'll find the Grand Concert, which is maybe the best choice for fingerstyle guitar. The shallow body and ample lower bout of Grand Concert body acoustic guitars give them a focused projection that lacks very little bass response.
As guitars get smaller, they become richer in the higher ranges while losing fullness in the low-end, but Concert style bodies are still a prime body shape for fingerstyle guitar. Bright and plucky, Concert bodies are really similar in size to classical guitars, so if you're making the change from nylon string acoustic guitar to steel string, you'll feel right at home with a Concert guitar.
Parlor guitars are your smallest option. They're way brighter than dreadnoughts and lack any of that low-end boom, but they still sing loud and clear. If you love the bell-like chime of a trebly acoustic, parlor guitars are your number one.
Learn more on these body shapes and others here.
Your Perfect Tonewood
If you want
a bright, warm sound that has a mellow burn in every range
but a particular sparkle in the highs
going with a cedar top would probably be your best choice.
Spruce is one of the most versatile of the common fingerstyle tonewoods. It's clear and articulate but still blends enough overtones to be rich and pleasing.
Although these are the most common choices, I personally like to play with a mahogany top. Not only do I have a somewhat harder playing style, but I also like the earthiness and warmth that mahogany gives you. You can read a lot more about how tonewoods affect your sound here.
Your Budget: Are Good Fingerstyle Guitars Expensive?
Maybe most importantly, you've gotta work within what you can afford.
Fortunately, great fingerstyle acoustic guitars are available at just about every price range—from entry-level budget guitars to high-end Taylors and Martins. There's really nothing standing in the way between you and fingerpicked beauty.
To find the best fingerstyle guitar for you, I highly suggest listening to as many different models as you can. It's even better if you can visit a music store to actually give them a test run, but these days that's not so easy.
At any rate, we've gone through several great picks, so check out some demos of these acoustic guitars and I'm sure you'll find one of them to be an awesome match for your fingerstyle dreams. A good fingerstyle guitar doesn't necessarily have to be expensive.
---
FAQ
What Size Acoustic Guitar is Best for Fingerstyle?
There's no definitive answer to this question. But I think I can still help you out…
-If you have small hands, have played electric guitars, or overall like smaller body sizes, I would check parlor guitars, auditorium body style acoustic guitars, and 3/4 & 7/8 sized acoustic guitars.
-If you have handled dreadnoughts and jumbos well with a pick, it's really likely that you will handle them like a breeze when fingerpicking too.
Personally, I grab a Dreadnought when I want more volume and projection from my playing. If I'm searching for comfort, I grab a normal parlor guitar or some other smaller acoustic guitar body style with a cutaway.
Is Fingerstyle Guitar Hard to Learn?
For me, fingerstyle was actually pretty hard to learn for a long time. It was really hard for me to become even joint th groups of decent fingerstyle guitarists.
When I first started playing guitar, I focused mostly on just learning chords so that I could write songs. I picked up a few strumming patterns and didn't focus too much more on technique. Then years later I became friends with a couple of people in high school who were really great at fingerstyle folk music. I was blown away, so I asked, "How did you all get so good at fingerpicking?"
Their answer?
"We just stopped using picks."
So I did the same. Freeing my hand from a guitar pick was super liberating, and I quickly started to learn some cool fingerpicking patterns. Now, fingerstyle is my main technique and is basically second-nature. What that experience taught me is that things are only hard when you aren't used to them. Ditch the pick, and fingerstyle becomes a must. That's how you learn to play fingerstyle guitar my friend.
So, is picking easier than fingerstyle? Is fingerstyle easier than pick playing? Nope! As long as you set your mind to practicing, you can learn any guitar technique you want.
Do You Need Long Fingernails to Play Fingerstyle Guitar?
Personally, I never grow my nails long and think that it isn't necessary.
It can help you get a sharper attack to your tone, similar to using actual fingerpicks. But unless you're specifically after that in your sound, you don't need long fingernails to play fingerstyle guitar.
---
Conclusion on Best Acoustic Guitars for Fingerstyle
No matter if you've never touched a guitar before in your life or if you're a classically-trained master, there's a steel-string fingerpicking machine here for everybody.
When you find the best acoustic guitar for fingerstyle, you'll unlock a world of musical potential as you explore countless picking patterns and new and exciting chord voicings. It's time to let your fingers do the talking, so put down that pick, pick up your acoustic, and let those fingertips fly.
Hopefully this article helped you out. If you have any questions, experiences to share, or you spotted a mistake, just comment down below and let's chat. I wish you all the best and keep rocking!
---
You might also like:
We are sorry that this post was not useful for you!
Let us improve this post!
Tell us how we can improve this post?