Last Updated on April 29, 2023 by Teemu Suomala
Best Overall Acoustic Under $400 – Gretsch G5024E Rancher
Sound
Playability
Overall Quality
Value For Money
Summary
A strong, proud arch-back acoustic that's ready and looking for a fight. This can beat up more expensive guitars(easily). You'll find nothing lacking in any range as you strum through booming progressions and pick out pronounced powerful riffs.

And when you fret a note, you actually feel the fretboard since the frets aren't super tall. This helps you really connect to your instrument and the music. You can really feel it. And it feels good.

Pros
-The unusual triangle-shaped soundhole is unique and eye-catching
-A powerful, rich voice from an arch back design
-Vintage-style frets let your fingers feel the fretboard

Cons
-Non-cutaway acoustic-electric limits high fret access

And the price? No mortgage is needed. The best acoustic guitar under $400.

How Gretsch G5024E Rancher sounds:
Check Today's Price on
*Consider all links in this post to be affiliate links. If you purchase, at no additional cost to you, we may earn a small commission. It helps us to keep the lights on, thanks! 🙂
---
The Next Best:
Compare:
---
Compare The Tonewoods: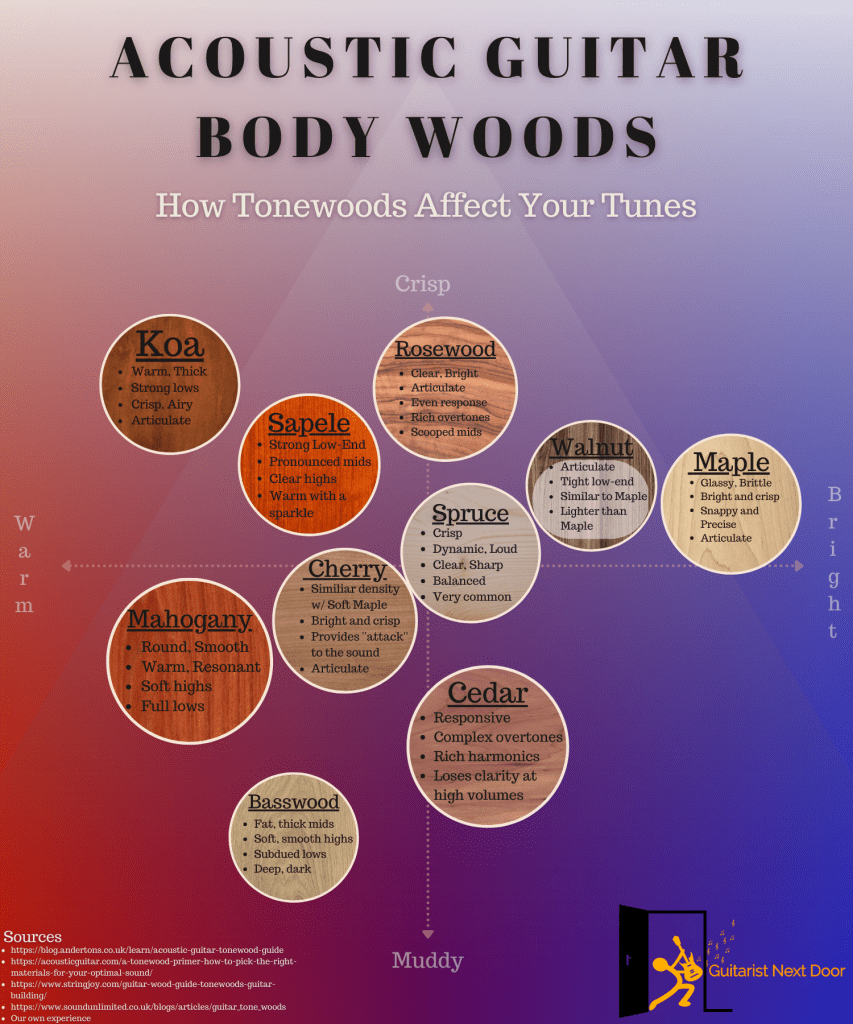 Alvarez Artist Series AD60
Top: Solid Spruce
Back & Sides: Laminated Mahogany
Neck: Mahogany
Fretboard: Laurel
The fretboard and neck don't affect the tone much.
Top: Solid Okoume
Back & Sides: Okoume
Neck: Nyatoh
Fretboard: Ovangkol
Top: Solid Spruce
Back & Sides: Rosewood
Neck: Nato
Fretboard: Rosewood
Top: Mahogany
Back & Sides: Mahogany
Neck: Mahogany
Fretboard: Walnut
Top: Solid Sitka Spruce
Back & Sides: Mahogany
Neck: Mahogany
Fretboard: Rosewood
For more cool info about tonewoods, check this acoustic guitar tonewoods article.
---
Though every player would love to own an original Martin, we guitarists aren't typically known for our fat wallets.
Difference between a sofa and a guitar player? Sofa can suppor a family…
But this is really the best time in human history to be a guitar player! Because even if your stack of cash might be a little thin, it doesn't mean your tone has to be.
I have been playing acoustics (on a budget) since 2004. Guitars are surely evolved, and nowadays it's amazing what you can get. And you are in luck because I have selected, based on my experience, the 5 best acoustic guitars under $400!
Let's first look at these fine acoustic guitars, and at the end of the post, you can find the FAQ section that helps you to make the best choice possible.
Find our picks for the best acoustic guitars under $500 here and for the best acoustic guitars under $1000 here.
Who crafted this post:
Author: Tommy Tompkins
Playing guitar since 2004. Primarily an acoustic guitarist who plays and writes traditional American folk music, with a background in melodic metal and a solid foundation as a bassist.
Hide The Rambling▲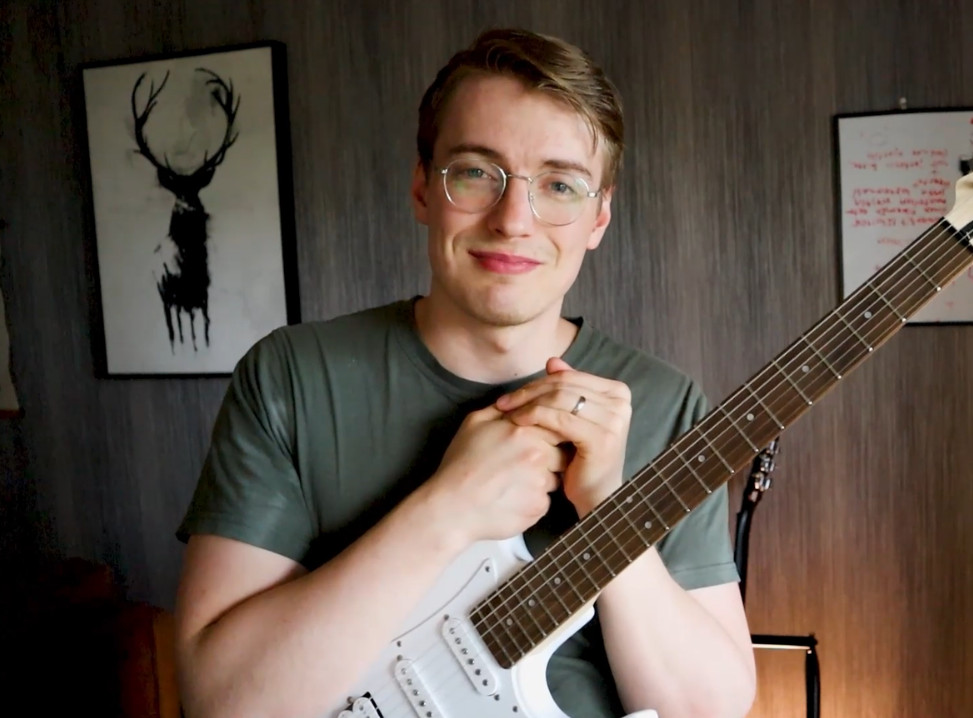 Editing & Research: Teemu Suomala
I first grabbed the guitar in 2009. I started this website in January 2020 because I couldn't do window installation anymore due to my health problems. I love guitars and have played dozens and dozens of different guitars through different amps and pedals over the years, and also, building a website interested me, so I decided to just go for it! I got lucky and managed to get awesome people to help me with my website.
I also got lucky because I have you visiting my website right now. Thank you. I do all this for you guys. If you have any recommendations, tips, or feedback, just leave a comment, I would love to chat with you. I have also been fortunate to produce content for several large guitar websites, such as Songsterr, Musicnotes, GuitarGuitar, and Ultimate Guitar.
I spend my spare time exercising and hanging out with my wife and crazy dog (I guess that went the right way…).
Hide The Rambling▲
Every one of these axes is here based on extensive research and decades of combined guitar experience of me(Tommy) and Teemu.
---
Our Favorite Music Store in The World!
Why?
– Excellent Customer Service (4.7/5 Trustpilot Score)
– Fast & Free Shipping
– Gear is Inspected, Tested, & Ready to Play When it Arrives to You (We love this)
– Fair Prices
Visit Sweetwater:
Best Acoustic Guitars Under $400
Best Overall Acoustic Under $400 – Gretsch Guitars G5024E Rancher Dreadnought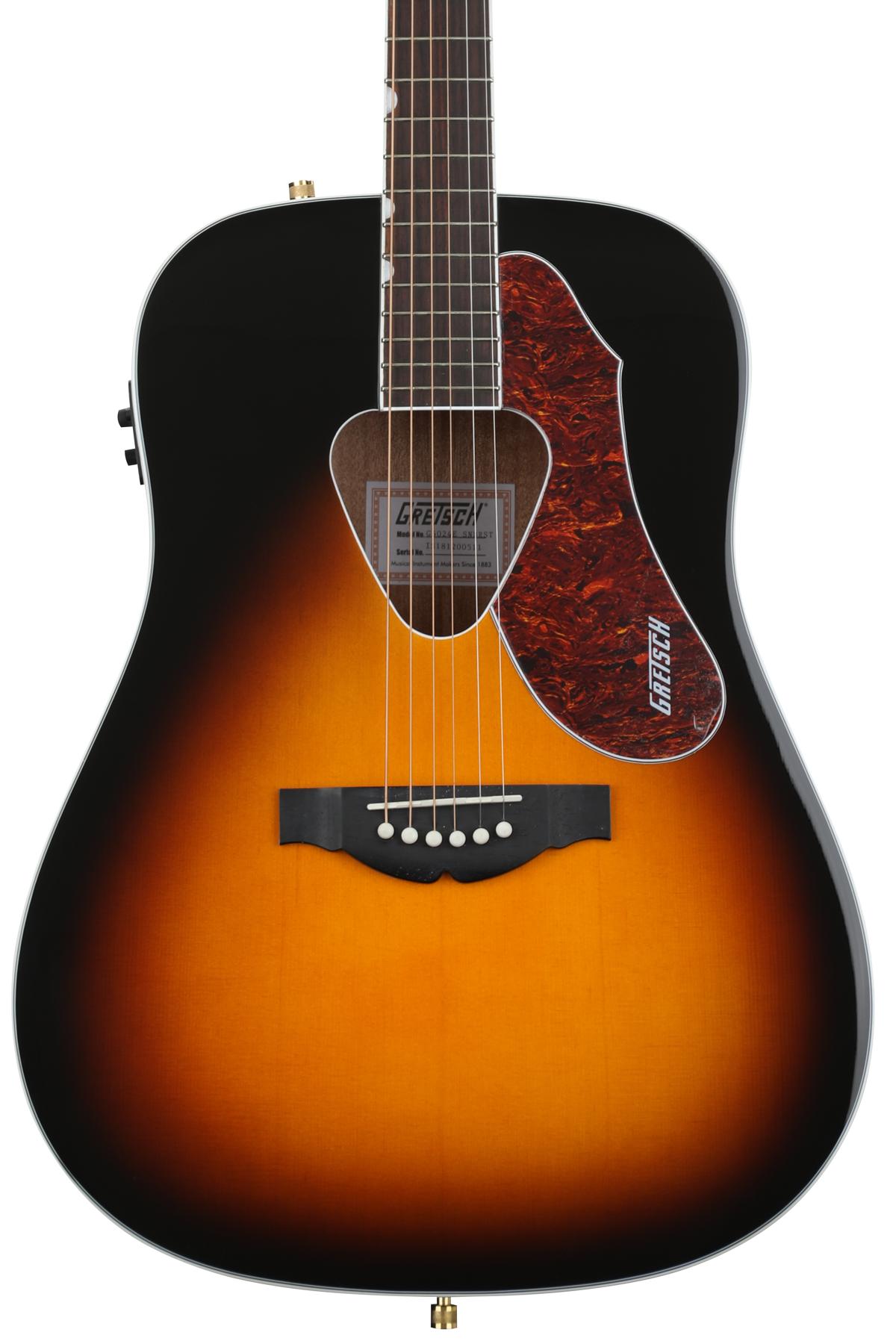 Sound
A big guitar with a big voice, the Gretsch G5024E Rancher Dreadnought is built for volume. Like its name, the tone of the Rancher calls to mind rough and rowdy Western music—a strong, proud arch back acoustic that's ready and looking for a fight.
You'll find nothing lacking in any range as you strum through booming progressions and pick out pronounced, powerful riffs.
And if you ever need extra juice, the Fishman Isys III System and Sonicore piezo pickup duo are at your command. This electronic setup gives you responsive, organic amplification you can mold to your liking with 3-band EQ.
Hear how this guitar sounds:
Playability
These quality tones are right at your fingertips, easily played on the slightly narrow neck.
The Rancher sports a smooth, rosewood fingerboard and is lined with vintage-size frets for an organic playing feel that puts you in contact with the fretboard wood.
This choice of fret size, combined with the G5024E's heavy gauge strings, might make bends a bit difficult.
But the flipside is that the upper reaches of the neck are a little more spacious than average, so high-end licks are a bit easier to nail.
Quality
Constructed with a solid spruce top and mahogany back and sides, the Rancher is right in line with the highest quality acoustics you can find under $400. Its compensated saddle and deluxe die-cast tuning machines hold your strings pitch-perfect through hours of pitch-perfect playing.
I'd rather have real bone than synthetic for the nut and saddle, but that's asking a lot out of an acoustic at this price point.
Summary
Pros
The unusual triangle-shaped soundhole is unique and eye-catching
A powerful, rich voice from an arch back design
Vintage-style frets let your fingers feel the fretboard
Cons
Non-cutaway acoustic-electric limits high fret access
With its unique triangular soundhole and chunky knurled strap buttons, the Gretsch G5024E stands out from the crowd.
A dreadnought that does service to the name, the Rancher is one of my favorite acoustic-electric guitars at an unbeatable price.
This beautiful Gretsch was also selected as the best acoustic guitar for blues.
Check Price on:
---
Best for Fingerstyle – Ibanez AW54CEOPN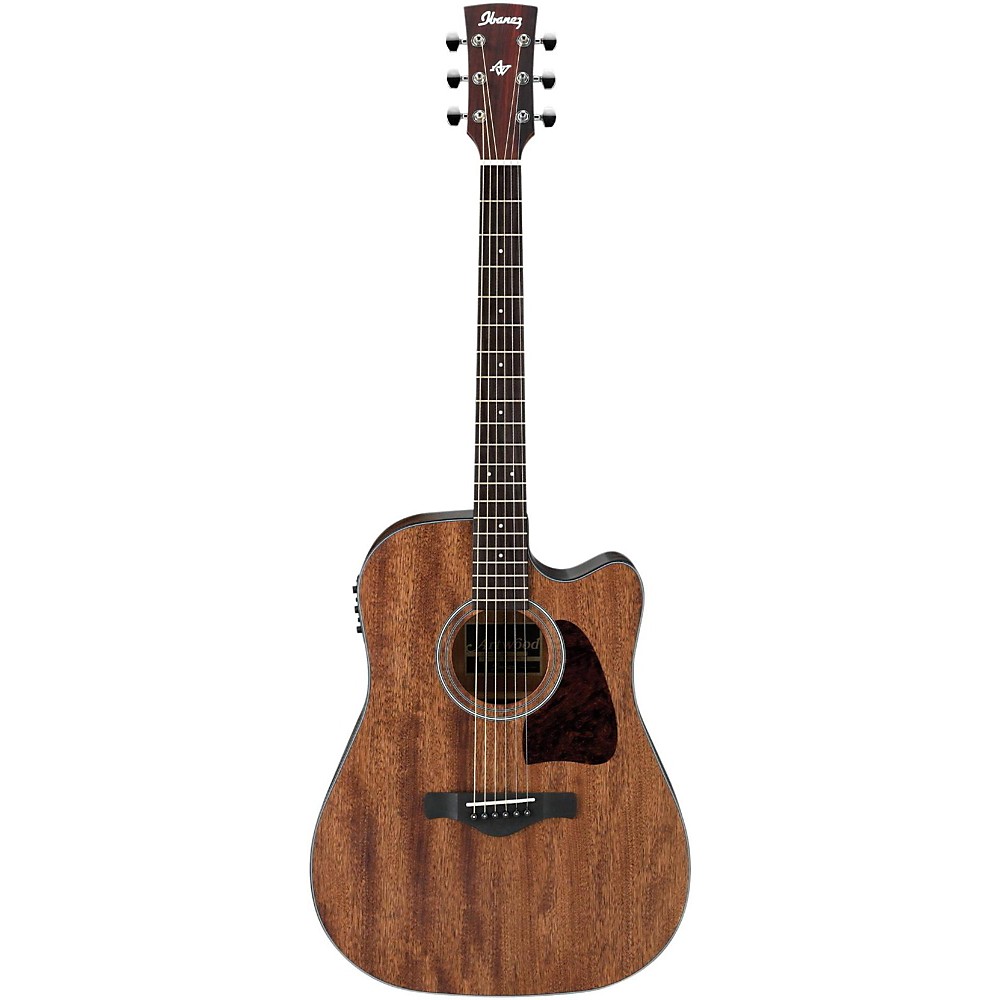 Sound
From Ibanez's Artwood series comes the acoustic-electric AW54CEOPN. This is a full-size dreadnought with a solid low end, a meaty midrange, and mellow highs.
Rich in overtones and more dull than bright, the AW54CE sounds great in soft, fingerstyle folk and similar styles. And thanks to the consistent tone of the Ibanez T-bar under-saddle pickup, you sound just as good amped as you do unplugged.
Now, unfortunately, the tone might be quite different from model to model for one key reason: in 2019, Ibanez switched the body wood from mahogany to okoume. This is, in my opinion, a tonal downgrade.
Though they're both related tree species and share the same earthy warmness, the softer okoume sounds much muddier and less defined than its higher-quality cousin.
Hear how this guitar sounds:
Playability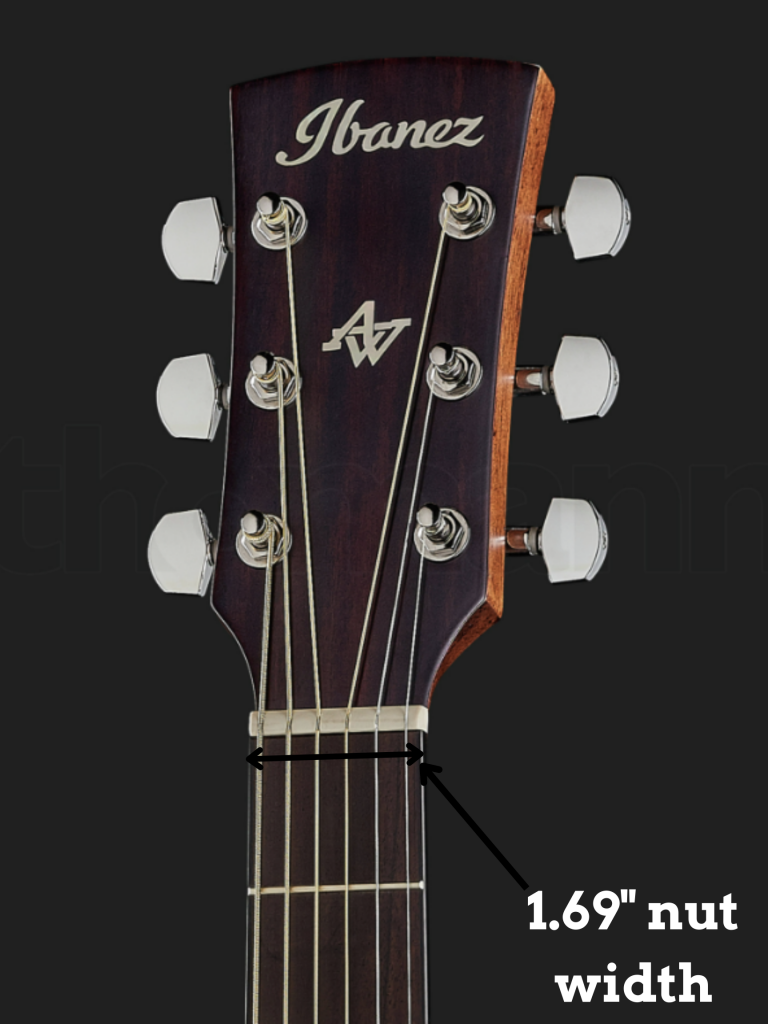 With a neck that's narrow and flat, the AW54CE is smooth-playing like you'd expect from Ibanez.
The neck and fingerboard suffered the same tonewood downgrade as the body in later production years.
Current models come with a nyatoh neck, subbing for the original mahogany. This is topped with an ovangkol fretboard in place of the better rosewood of earlier models. Despite these replacements, Ibanez still delivers comfortable, fast playability in the AW54CE.
And even the highest frets are at your command thanks to the smooth Venetian cutaway.
Quality
So I know I've sounded a bit harsh about Ibanez's tonewood changes in the Artwood series. Who wouldn't want a beautiful, red mahogany model over the duller okoume?
But these are changes we'll see more frequently as more companies look for more sustainable wood options, so I'm trying my best to accept the new normal of guitar tonewoods.
At any rate, at least it's made with a solid top and quality hardware.
And honestly, if I heard an older and a newer AW54CE side by side, I probably wouldn't be able to tell the difference.
Summary
Pros
Mahogany or okoume body provides warm, resonant tones
Open-pore finish shows off the natural wood grain
Phase-switch on Ibanez preamp reduces feedback issues
Cons
No guarantee of a mahogany model
All things considered, it's a great acoustic electric under $400.
If you like a sound that's dark, earthy, and full of overtones, the AW54CE is built to belt those out with dreadnought power.
Check Price on:
---
Runner-up – Yamaha FG830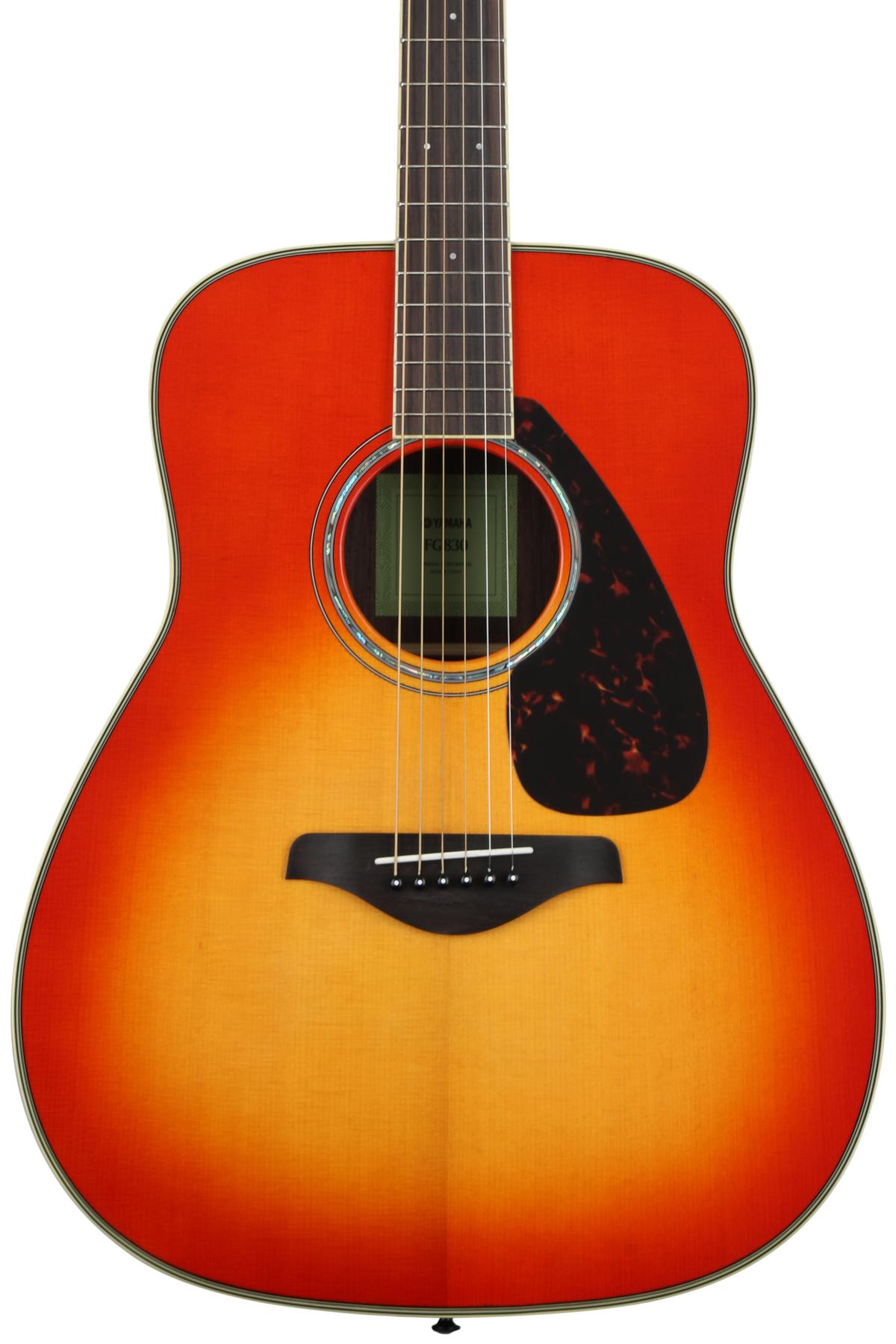 Sound
Yamaha's FG830 is one of the best low-cost acoustic guitars around. From a company that also makes world-class computers, semiconductors, and jet skis, you can expect every spec of the FG830 to be rigorously developed.
This includes its scalloped X-bracing, designed to get every bit of volume out of that body as possible.
So the traditional Western body made with a top-notch pairing of spruce and rosewood sings loud and clear. Each range is balanced in a beautiful mix well-suited for all musical styles.
Hear how this guitar sounds:
Playability
There are two size factors that have a positive influence on the FG830's playability.
First, and maybe most obvious, is the slimmer neck design. It's just a little more narrow than traditional necks, but it smoothly tapers downward from the body to the head for a relaxed grip anywhere on the rosewood fingerboard.
The thing you might not notice but that still affects the playing feel is the body depth.
It's actually more shallow toward the upper bout by almost 3/4-inches.
This way, it sits more naturally against your body and gives your arm more freedom to move in the upper frets.
Quality
One of the best things about Yamaha's guitars is that they are consistent. And consistently good!
I trust Yamaha build quality over most others at this price point. They're made to last from top-of-the-line tonewoods and reliable hardware.
Though the neck is made with cost-saving nyatoh (nato in the specs sheet), I wouldn't know the difference between it and mahogany without reading it.
The only other "cheap" parts are the urea nut and saddle.
You can replace these with bone pieces for increased response and sustain and make the FG830 sound as good as a guitar worth double the price.
Summary
Pros
Made with high-quality woods for a high-quality sound
Dependable Yamaha hardware
Specially developed Yamaha bracing for increased volume
Cons
Gretsch Rancher sound a little bit better in my opinion
Whether you want to play rock, blues, country, folk, or something of your own making, the Yamaha FG830 will do the job better than most. I only rank it below the Gretsch because I think the Rancher is a bit more powerful and sounds a little bit better, but they're each beautiful in their own way.
A top-rated acoustic guitar in every way, you can't go wrong with the FG830.
Find great beginner and budget Yamaha acoustic guitars here.
Check Price on:
---
Best Accessory Bundle – Fender CD-60SCE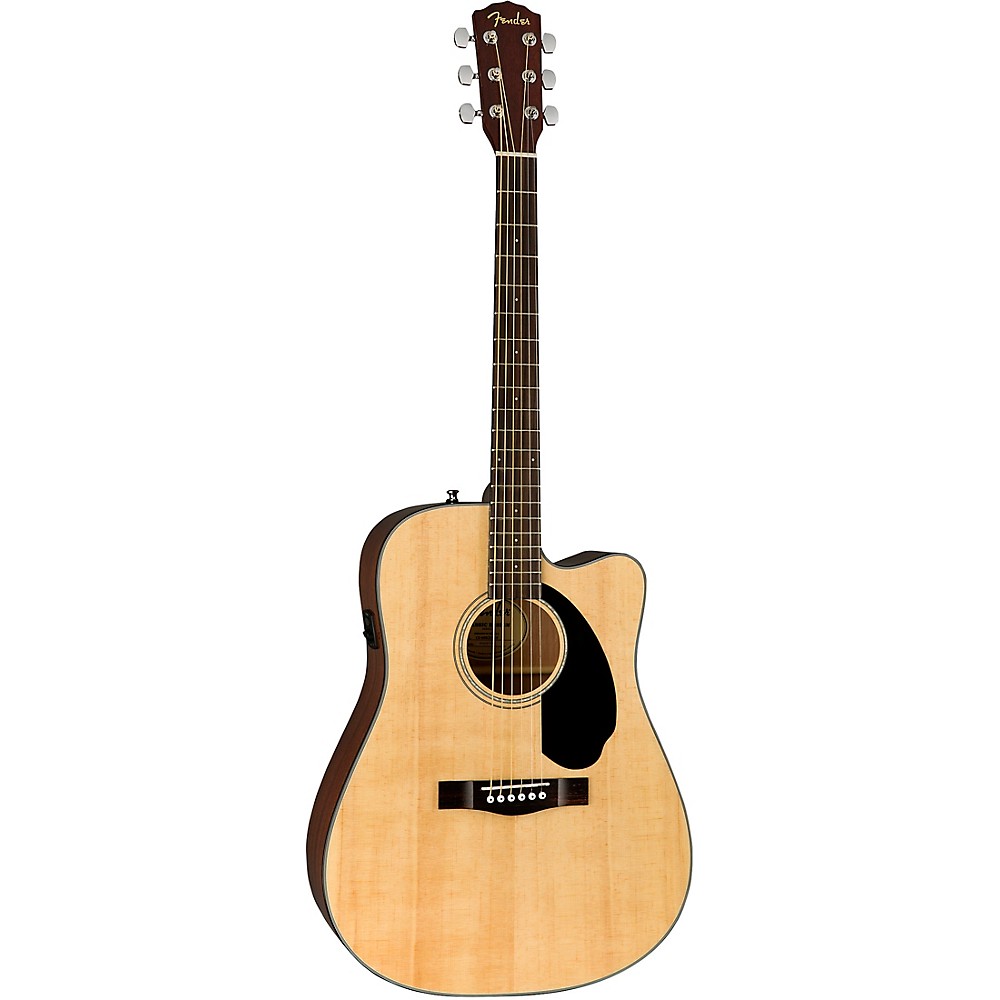 Note: You can of course choose a guitar without accessories or a smaller accessory bundle too.
Sound
The Fender CD-60SCE sounds more like what I used to expect from low-cost acoustics. It's not bad at all, but I think the bar has been set really high in recent years by better models at the same price.
So, although the CD-60's spruce + mahogany combo sounds alright, the laminate construction just isn't as rich and resonant as solid top guitars in this same category.
You still get nice lows and a full mid-range, but it doesn't have the boom of better guitars. And, lacking a little in sustain, the high end seems to fizzle out faster than I'd like.
However, the electronics are actually pretty good, featuring the Fishman Isys III preamp. This gives you 3-band EQ and an onboard tuner, so you can shape your sound and stay in perfect pitch anytime you plug in.
Hear how this guitar sounds:
Playability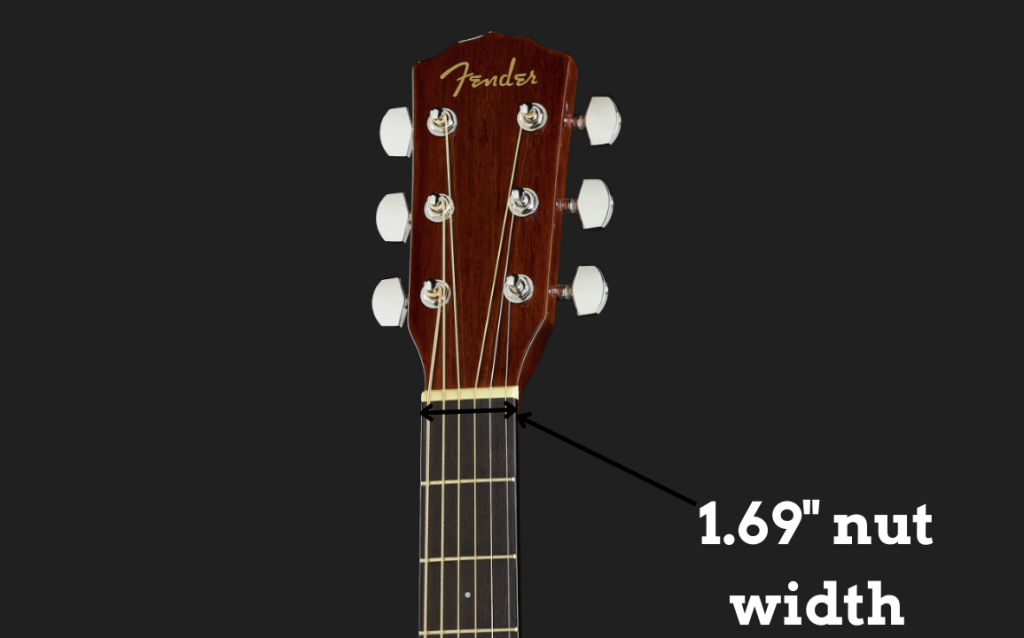 This is a guitar made for beginners, so Fender did all they could to make the neck comfortable and easy to play.
It sports the "C" neck profile, shaped to fit the natural curve of your palm.
Plus, the fingerboard is made with an 11.8-inch radius, slightly curving so those starter open chords are more easily within reach. The fingerboard is real rosewood, the most popular choice for smooth, soft-feeling, responsiveness.
Quality
So, why does a guitar that costs as much as many guitars with solid tops not have this common important feature?
The answer is the high-value bundle of accessories you get with the CD-60SCE. This includes an instructional DVD, a clip-on tuner, extra guitar strings, a string winder, picks, and a polishing cloth. Best of all, you get a hard case! If you want to keep your instrument safe, a hard case or gig bag is essential, so this is a really great thing to get right off the bat.
If you go with another model that doesn't include a case, be sure to check out our recommendations for the best hard cases for acoustic guitar.
Summary
Pros
Includes hard case, instructional video, tuner, and more
Slight fingerboard roundness for comfortable chording
Fishman preamp with 3-band EQ
Cons
Laminate top at solid top prices
This is a great beginner acoustic guitar bundle, with nearly every starter accessory you could ask for.
With the Austin Bazaar instructional DVD, you'll be ready to put that hard case to use and take your show to the stage in no time.
Check Price on:
---
Best Construction- Alvarez Artist Series AD60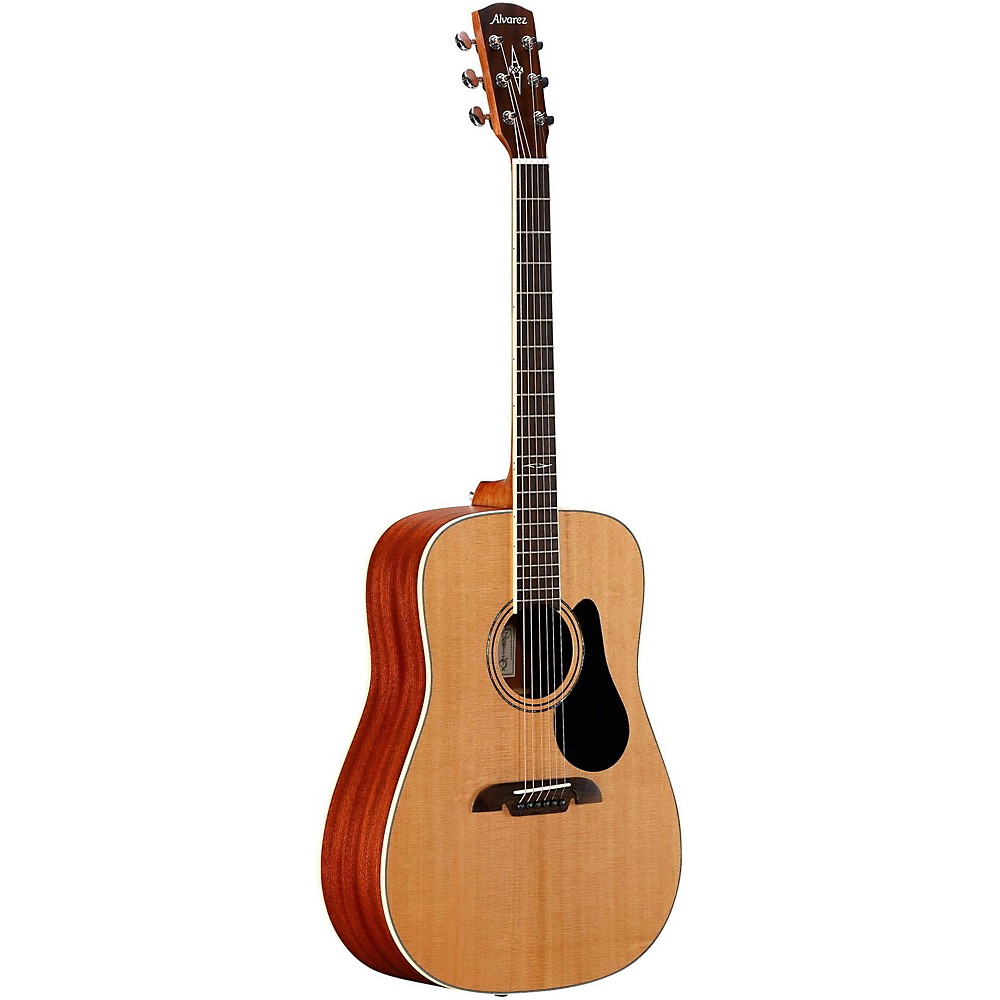 Sound
Made with hand-selected tonewoods and a nut and saddle of real bone, Alvarez looks to optimize tone in every aspect of the AD60. They pair a Solid A+ Sitka spruce top with mahogany back and sides for a classic dreadnought sound.
Everything sounds like it should: the lows are loud and strong; the mids are snappy and full, and the highs have great sustain and clarity.
Alvarez's signature forward-shifted bracing, the FST2 System, adds extra volume to the already loud dreadnought shape, so this guitar can easily fill a room.
Hear how this guitar sounds:
Playability
AD60 has a relatively wide 1.75″ nut width.
Using a neck that's just as wide but tapers thinner than standard, the AD60 feels fast yet substantial. There's no lack of base for your thumb when you need extra grip for tough barre chords, but it's not like a baseball bat either.
You might notice that the strings are tighter than you're used to, and that's because of the bi-level bridge. This breaks the strings at a more acute angle for better note articulation but might make it a bit harder to play when you're first starting out.
Quality
Did I mention that the woods are hand-selected and only the highest grade pieces are used?
That's one of the things I love most about Alvarez guitars. They really care about the quality of the construction, even in the low-cost models. These guitars even come with a great factory set up, with near-perfect intonation and low, fast action. I should know—I've owned two of them, and they were playable right out of the box.
The AD60's inlays are actual mother-of-pearl and abalone, and the nut and saddle, again, are real bone.
The only thing not organic about this guitar is the binding, but the rest is totally high-quality hand-selected natural materials.
Summary
Pros
Made with all-natural materials
Forward-shifted bracing for increased volume
Most of the time, comes with a good setup
Cons
High string tension may be difficult for beginners
I'm a little biased because Alvarez is the brand I'm most used to playing these days, and I would really like to rank this as the #1 acoustic under $400. But, for whatever reason, these guitars remain a less popular choice than other models.
It's great in every way I can see, but slightly harder playability and the general consensus make the Gretsch better.
Check Price on:
---
The Verdict
Fender's CD60-SCE is an honorable beginner acoustic, and its accessory bundle is a great value. But it falls short in both quality and sound compared to other guitars for the same price.
For the biggest, arguably best sound built for all styles of music, the Gretsch Rancher is the way to go.
Though there are many great acoustic guitars under $400, this is perhaps the most powerful-sounding option on the market.
---
Buyer's Guide – FAQ
What Makes a Great Acoustic Guitar Under $400?
While guitars under $400 have their limitations, there are still many benefits at this price point you don't get in lower-cost instruments.
For starters, almost every guitar you'll find in this category will be made with a solid top. Simply put, solid tops sound better. Not to mention, they're more durable, better-looking, and even sound better as your guitar gets older.
This video explains and compares the differences between solid- and laminate-top acoustics:
Next off, these guitars generally have higher-quality tonewoods than budget acoustics.
So instead of cheaper body wood alternatives like basswood or poplar, you'll usually find rosewood and mahogany. These classic, traditional materials give you the tone you expect to hear when you think of acoustic guitars.
You'll also see that there are many acoustic-electric guitars under $400. Whether or not you want the option to plug in is a matter of personal preference. But it's hard to argue that the cutaways often found on these guitars add a great bonus to playability.
Some areas for improvement in these guitars are things like the nut and saddle materials, pickup types, and general construction quality.
There's still a noticeable difference in tone between these intermediate acoustics and handmade Martins and Taylors costing thousands more.
But I've played many shows on guitars at this price point and wouldn't hesitate to do it again. I think in most of these models, you can expect the same level of stage and studio-worthy sound and playability.
Are Cheap Acoustic Guitars Worth Buying?
Absolutely!
If you want to play guitar, I recommend getting anything. Really.
If you can only afford $50 and have a burning desire to make music, look for a $50 guitar. Throughout my life, I've suddenly found myself without a guitar multiple times. Each time, my longing for music grows so strong that I just have to get the very next guitar I can find.
Sometimes, I luck out and have enough money for an intermediate acoustic guitar like we've looked at today. But other times, I've literally only had $50 and ended up with a no-name 3/4-size acoustic that doesn't play past the 12th fret.
Find more excellent acoustic guitars for intermediate players here.
And you know what? I still loved it.
You should get the guitar that is best for you in every way, and that includes the price. If you can afford a guitar that includes everything you want—exotic tonewoods, top-grade electronics, gold-plated tuning machines—by all means, go for it!
But when a cheap acoustic is all you can afford, I think making music is what matters most.
If your guitar has tuning stability issues, this troubleshooting guide will help you.
---
Conclusion on The Best Acoustic Guitars Under $400
The choices are so good at this price point that it's hard to agree with myself on which is the absolute best acoustic guitar model under $400.
These are acoustics ready in every way for the stage and studio, but at a low cost even a beginner can afford.
When your sights are set on learning the ins and outs of folk, blues, and country, these acoustic guitars under $400 are all you need and more.
---
You might also like:
We are sorry that this post was not useful for you!
Let us improve this post!
Tell us how we can improve this post?