Last Updated on April 29, 2023 by Teemu Suomala
Best Overall – MXR M287 Sub Octave Bass Fuzz Pedal
Sound
Features
Usability
Overall Quality
Value For Money
Summary
Pros
-Powerful, thunderous octave-down effect (hard to match)
-Rumbling analog fuzz
-Plenty of features to play with (3-band EQ + Dry mid-range boost)
-Still pretty simple to use

Cons
-High cost
-Not the best for beginners

From a tickle in your ear to a rumble in your guts, the M287 can bring fuzz that is hard to match.

It's a bit costly, so it's probably not for beginners, but the clarity of the tone and the fullness of the distortion are definitely worth it.

My personal bass players opinion:

"This pedal will show you what your bass can really do. It's bound to blow you and your audience away with its powerful sub-octave and gargantuan fuzz. The best bass fuzz pedal."
How MXR M287 sounds:
Check Today's Price on:
*Consider all links in this post to be affiliate links. If you purchase, at no additional cost to you, we may earn a small commission. It helps us to keep the lights on, thanks! 🙂
---
The Next Best:
Compare these pedals:
---
I don't know about you, but when I first started playing bass, it didn't take too long for me to grow bored of the same old clean tone every song. As much as I like to play, I need a little variety in my sound from time to time.
Sometimes, all it takes is just a dash—or a whole truckload—overdrive to re-energize your passion for playing.
Enter: the fuzz pedal.
You don't have to be a hardcore metalhead to get a kick out of these effects units. Fuzz bass can be found in tons of styles— from country to funk to psychedelic to punk.
With a great bass fuzz pedal, you no longer have to be jealous of your guitarist friend's snarling lows and screaming highs. You can get that same gnarly grit and groan with a fuzz stompbox pumping your bass full of distorted power.
So let's dive in and see what makes these our top-rated choices for bass fuzz pedals.
Let's first look at these fine fuzz pedals, and at the end of the post, you can find the FAQ section that helps you to make the best choice possible.
Who crafted this article:
Author: Tommy Tompkins
Playing guitar since 2004. Primarily an acoustic guitarist who plays and writes traditional American folk music, with a background in melodic metal and a solid foundation as a bassist.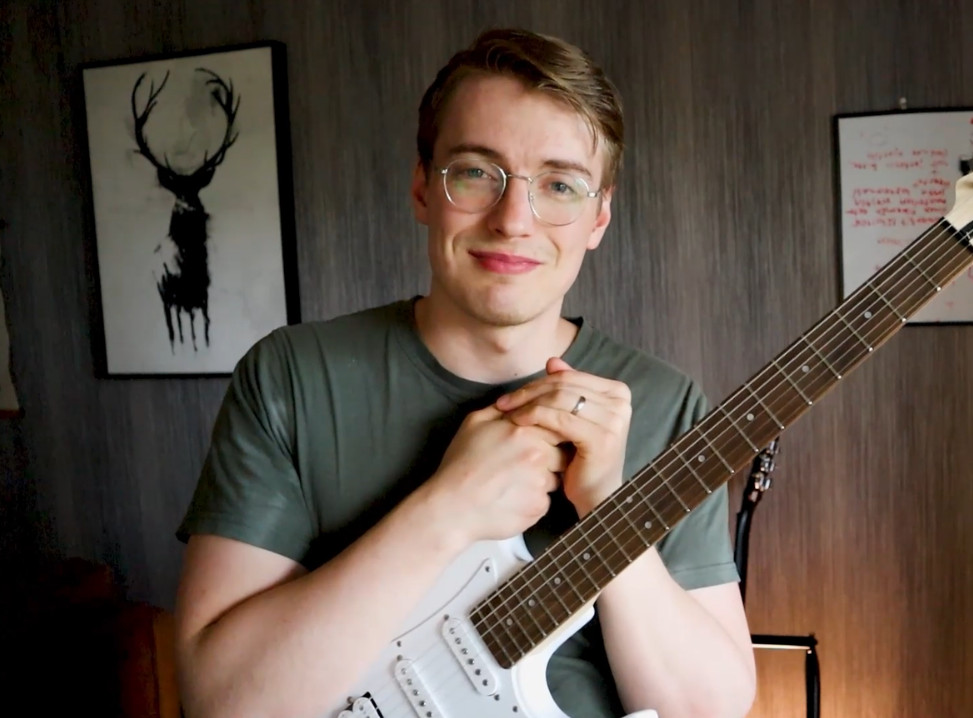 Editing & Research: Teemu Suomala
Playing guitar since 2009. Mainly focused on electric guitars, although jamming with acoustics too. Has played dozens and dozens of different guitars through different amps and pedals over the years. That's why he started this blog in January 2020 and started sharing his experience. Has produced content for several large guitar websites, such as Songsterr, Musicnotes, GuitarGuitar, and Ultimate Guitar.
Every one of these pedals is here based on extensive research and decades of combined guitar experience of me (Tommy) and Teemu.
---
Our Favorite Music Store in The World!
Why?
– Excellent Customer Service (4.7/5 Trustpilot Score)
– Fast & Free Shipping
– Gear is Inspected, Tested, & Ready to Play When it Arrives to You (We love this)
– Fair Prices
Visit Sweetwater:
Best Bass Fuzz Pedals
Best Overall – MXR M287 Sub Octave Bass Fuzz Guitar Effects Pedal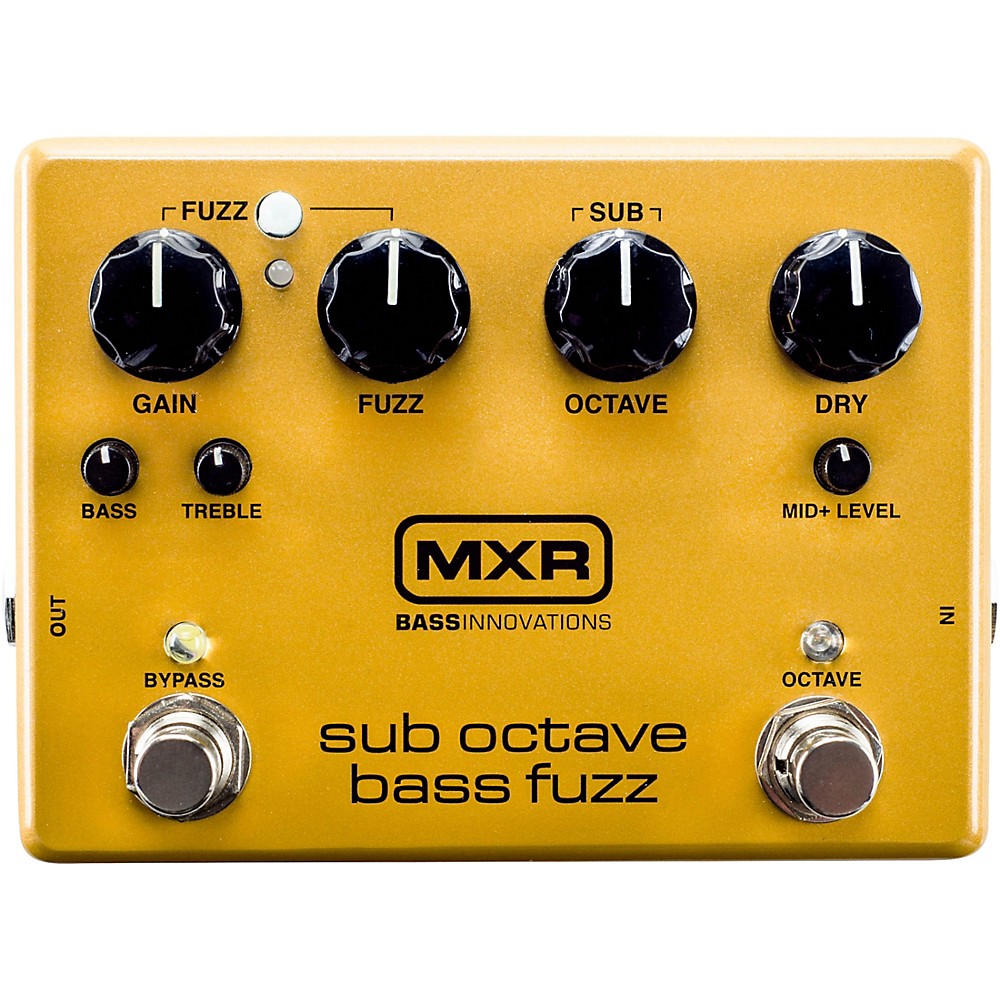 Sound
MXR's M287 Sub Octave Bass Fuzz Guitar Effects Pedal is a titan in its class.
Offering two types of fuzz power, the M287 can take your tone from tame to terrifying with the tap of a toe.
You get both a Bright and a Warm fuzz setting in this pedal.
Warm is great for booming lows and punchy mids
the Bright fuzz puts your highs in the spotlight for when it's time to shred.
What really makes this pedal a monster is its Sub Octave effect. An analog copy of your signal is blasted out an octave below your bass.
Blending this octave into your fuzz gives you a tremendous wall-shaking sound—one of the most powerful bass tones I've ever heard.
Watch another sound demo:
Features
You've got full EQ control in the M287, with simple dials letting you change Bass, Treble, and Mid-Boost to your liking.
The separate level controls for the Fuzz, Octave, and Dry signal sections make blending each sound simple.
Although it does have many more knobs than most bass fuzz pedals, everything's clearly laid out and labeled. Its price might not be beginner-friendly, but its usability sure is.
Quality
When you're paying this price for a pedal, you're going to get a pro-level stompbox.
The M287 is housed in a sturdy aluminum casing that can really take a beating.
With quality electronic components and MXR's award-winning craftsmanship, I would expect nothing else than a long-time companion.
Summary
Pros
Powerful, thunderous octave-down effect (hard to match)
Rumbling analog fuzz
Plenty of features to play with (3-band EQ + Dry mid-range boost)
Still pretty simple to use
Cons
High cost
Not the best for beginners
From a tickle in your ear to a rumble in your guts, the M287 can bring the fuzz like no other.
It's a bit costly, yeah, but the clarity of the tone and fullness of the distortion are definitely worth it.
My honest personal opinion is:
"This pedal will show you what your bass can really do. It's bound to blow you and your audience away with its powerful sub-octave and gargantuan fuzz."
Check Price on:
---
Runner-up – MXR M84 Bass Fuzz Deluxe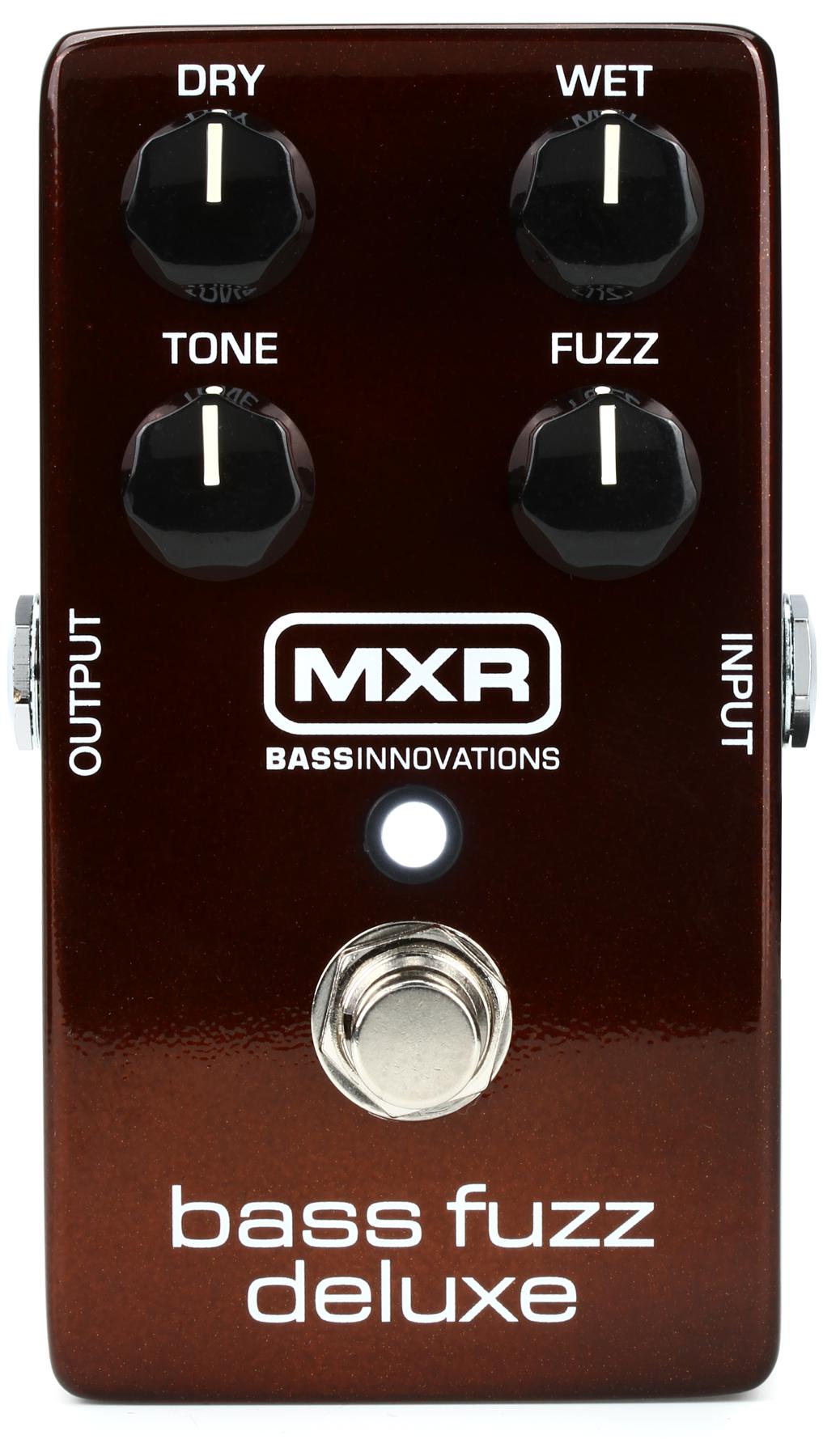 Sound
The fastest and cheapest way to build a massive wall of bass crunch is through the MXR M84 Bass Fuzz Deluxe.
Don't let its small size fool you; the M84 can deliver a blast of wooly fuzz the moment you turn it on.
The Bass Fuzz Deluxe is designed to sound like you're playing from two amps at the same time, one with a clean tone and the other set to overdrive.
And I gotta say, it does this really well.
The Dry signal is just your clean bass's voice—it is unchanged by the Tone and Fuzz controls.
The Wet is where the distortion lives. It's a really full, coarse fuzz that sounds just like a vintage synth when going full force.
You can
blend the Dry and Wet together,
drop the fuzz entirely,
or decimate your clean signal for punchy, ferocious distortion.'
Watch a little demo:
Features
If you're an EQ-fanatic, you might be a little let down by the lack of tone controls on the MX84. So this might not be the best for everyone…
But once you plug in and play around for a bit, I bet you'll find Jim Dunlop did a masterful job of setting this pedal up at the factory.
No matter where you're at on the fingerboard, the sound of this pedal is kicking and responsive.
It doesn't matter if you're going full or soft fuzz. Either way, notes are strong and clear.
The Tone knob lets you brighten or darken your sound to an extent. But, I wish it gave just a bit more brightness for when I want to shred in the high ranges.
Quality
MXR has been a leading stompbox company since the early 70s and they remain a top choice today.
The M84 is no exception in this line of durable, dependable effects pedals.
Specifically designed for professional bass fuzz, this little pedal is just at home in the rehearsal space as it is in the studio.
Summary
Pros
Lets you smoothly blend the fuzz and original signals
Responsive and articulate; sounds great at full distortion
Huge bass tone and long sustain
Easy to use
Cons
Lacks overall brightness
Limited tone control
Considering other bass pedals from this MXR line are actual award-winners, it's surprising you can get the M84 for such a low cost.
The tone you get from the Bass Fuzz Deluxe is unmatched at this price point.
If you like a simple pedal that gets the job done well, the MXR M84 is all you need for disastrous bass distortion.
Check Price on:
---
Best for Beginners – Caline CP-82 FUZZ Pedal Bass Effect Pedal
Sound
Caline's CP-82, otherwise known as "the Foe Hammer", packs a lot of angsty buzz in an inexpensive stompbox.
With the Fuzz knob dialed down to about 2 or 3, there's just a slightly audible rumble beneath your bass.
Around the 5 mark, you start getting into real distortion territory, and past this, things get dirty quick.
A real strong point in this pedal's favor: even with the fuzz at full blast, you don't lose much low-end at all.
But, once you max out the Fuzz, all you're really left with is noise. Powerful noise, but noise nonetheless.
I think the CP-82 works best when it's not cranked to full gain. At the highest fuzz amounts, you really can hardly hear any difference between notes.
Watch a little demo:
Features
I like the simplicity of this pedal a lot—you get just very basic controls, but they all work well.
The Fuzz can be blended (to a point) with the Volume knob.
Although it doesn't preserve your bass's original tone with perfect clarity, you can still hear a decent clean sound even with the fuzz at max if you set the volume low.
The only other controls are 2 switches: Boost and On/Off.
This Boost switch, as far as I can tell, adds both gain and some low-end EQ to your tone. It makes the fuzz A LOT fuzzier.
With the On/Off switch, you can access the True Bypass function of this pedal.
Some pedals still affect your bass signal even when turned off, but the CP-82's On/Off switch lets you skip it in your effects chain.
Quality
The Caline Foe Hammer does a pretty good job of sending your bass into extreme overdrive for being such a low price.
It has a couple of flaws, but none fatal.
While the fuzz is certainly very thick, the lo-fi quality of the sound would make me only want to use this pedal for very specific songs.
When you dial the distortion to 10, you lose a lot of the response and punch vital for strong basslines.
My only other complaint is that the Boost is really only useful at low Fuzz settings. Anything around 5 on the Fuzz knob with the Boost turned on and your tone becomes basically just a big mess.
Summary
Pros
Affordable, functional fuzz
Simple controls for easy usability
Features include Boost switch and true bypass
With some settings you get a solid fuzz
Cons
Very muddy with little note definition on full gain
Boost is useful only with some settings
If you're just looking to dip your toes in the water of fuzzy bass goodness, the Caline CP-82 is a great starting point.
Its simple controls and easy usability make it a great starter pedal or stompbox for beginners.
It won't cost you much at all, so although its sound may not be the best, you still get your money's worth of powerful bass distortion.
---
Best Budget Fuzz Pedal – Donner Fuzz Seeker
Sound
The Donner Fuzz Seeker definitely meets its end of the bargain when it comes to distortion.
You control the amount of fuzz in your signal using the Fluffy knob, which even at its lowest setting still gives you a lot of grit.
When you crank the Fluffy up to 10, you're met with meaty cabinet-shaking blast of fuzz.
The Volume control cleans the tone up a bit but still leaves a dirty haze like you'd get from a slightly overdriven tube amp.
Watch a little demo:
Features
The Fuzz Seeker's Tone knob changes your sound a lot. Rolled all the way back, you'll sound very muffled and far-away, like you're playing in another room.
But at all points past 0, the sound is really sweet. It's just progressively more bright and focused the closer you bring the Tone to 10.
The SCP/FAT switch mods your EQ.
At SCP, you've got more emphasis on the higher end and play with a mid-scoop.
FAT boosts the low and mid-ends and is great for fattening up any bass you lose from the hi-gain fuzz.
Now, the OCTA (Octave) controls probably don't work like you'd think. Unfortunately, it's not very present in the mix even set at max. And when you do hear of it, frankly, it doesn't sound very good.
At most, you get a faint octave-up from your original signal, but it's a poor replication of your bass tone that sounds pretty squealy.
Quality
The build of the Donner Fuzz Seeker is right in line with its price tag. It doesn't feel super durable, so don't go stomping on it too hard.
But where it matters most—the electronic components and wiring—everything works as it should. There's no crackle or pop in the knobs, and all the controls are really responsive.
Summary
Pros
Versatile tone-shaping controls
Great sound clarity even at highest gain setting
Designed for both bass and guitar
Offers good value for the money
Cons
With such a low-cost, I'd be fine with this pedal even if the OCTA effect did nothing at all.
The thick, wooly overdrive of the Fuzz Seeker can be dialed into your ideal tone and used in a wide range of styles, making this the best budget fuzz pedal for bass.
---
Most Versatile – Source Audio Aftershock Bass Distortion Pedal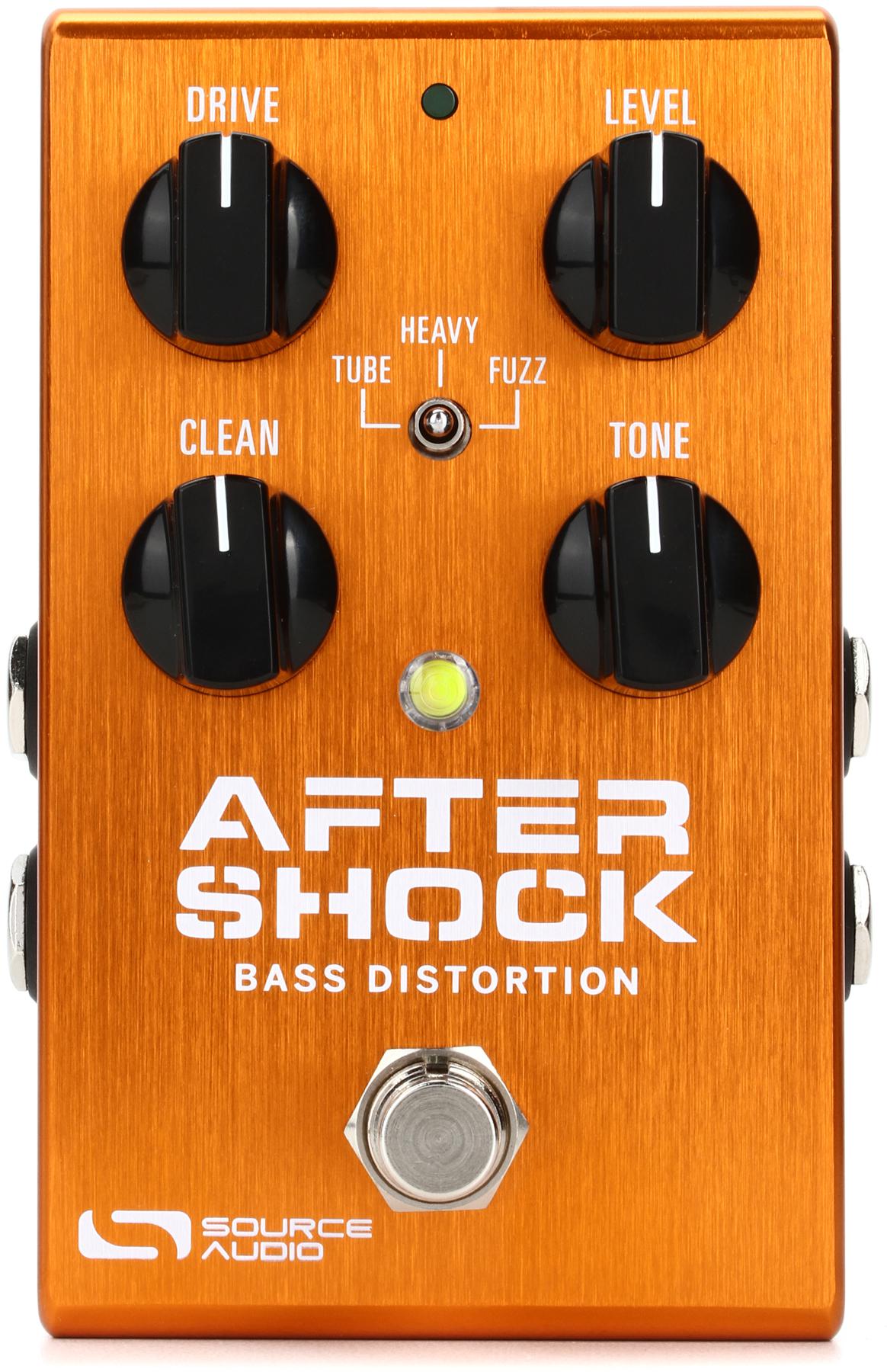 Sound
A digital distortion machine, the AfterShock Bass Distortion Effect Pedal from Source Audio is extremely versatile.
Directly after plugging in, you have access to 3 different flavors of distortion: Tube, Heavy, and Fuzz.
The Tube setting, as you can guess, emulates a classic tube amp
Heavy is more like a modern metal solid-state amp
Fuzz is based on the best vintage bass pedals.
Each of these can be blended with your clean signal, overdriven to your liking, and tweaked with the Tone control.
While I think the difference between analog and digital distortion is usually apparent, the AfterShock could have fooled me for a little while. It sounds meaty and full on every setting I've heard so far.
Watch a little demo:
Features
To cover all the possible sounds of the Source Audio AfterShock would take a lifetime. The possibilities are literally endless.
Why? Because every aspect of this pedal is customizable using an app on your phone or software on your Mac/PC.
I was shocked about the phone editing. You actually connect the pedal to your phone's audio jack using an included cable. It's really interesting!
Then, using the Neuro App sound editor, you have full EQ controls, the ability to stack distortion types, and access to a huge library of presets.
It can be a little overwhelming if you're not very tech-savvy, but the onboard sounds are good enough on their own if you never want to mess with this part of the AfterShock.
Quality
There's a lot more to this pedal than I can unpack in a quick review.
It…
has great studio potential with its dual inputs and outputs
lets you route to multiple digital channels or physical amps
lets you split or stack overdrive engines to create your signature tone
lets you connect expression pedals to further funkify your sound.
And with the included DC power supply and 1/8″-1/4″ cable, Source Audio equips you with all you need for a universe of bass distortion.
Summary
Pros
3 different types of built-in distortion
Fully customizable sounds via app or software
Dual outputs and inputs for recording and more
Super versatile
Cons
Digital fuzz is not as authentic as analog
All the features can be overwhelming at first
Although I would argue that an analog pedal is a better choice if you want pure, strong fuzz bass, the many heavy voicings of the AfterShock are hard to resist.
It's a fun pedal to play with and gives you way more tonal opportunity than any of the other pedals on this list.
So if you can get along with some digital distortion, this is a versatile bass fuzz unit I'm sure you'll enjoy rocking out with.
---
The Verdict
The Caline CP-82 is a great way to see what all the buzz is about when it comes to fuzz bass, but I wouldn't recommend it for any serious use. At home, it's fun, but the loss of definition isn't suitable for the stage.
Donner Fuzz Seeker is a really good budget option.
Source Audio Aftershock is my favorite for feature-gravers.
But the MXR pedals are my favorite options overall.
If you like simple pedals, the M84 is the way to go.
For full tonal control and the biggest fuzz tone around, the MXR M287 is the champion.
---
Buer's Guide – FAQ
What is a Bass Fuzz Pedal? – Explained
If you're familiar at all with stompboxes or effects pedals, you know that they change the sound of your instrument. But how they do this depends on the type of pedal that you're using…how exactly does a bass fuzz pedal alter your tone?
Basically, a bass fuzz pedal takes the signal from your instrument and over-amplifies it before it reaches your output (amplifier).
This is done with solid-state circuitry, usually using transistors, but fuzz pedals may also use diodes and op-amps for the same purpose.
Confused yet?
All you really need to know about how fuzz pedals work is that they clip your bass signal, and they do it hard.
This means that the high and low points of the soundwave are flattened, creating a square wave shape. The part of your signal that gets clipped is layered back onto the soundwave in the form of overtones, and the result is this extremely distorted fuzz sound.
What's the Difference Between Fuzz and Overdrive?
Fuzz is 1 of the 3 main flavors of gritty guitar tones. The other two, overdrive and distortion, work on the same principle of clipping your signal, but there are some key differences. Here's a quick overview, but if you want to learn more, check out this article.
Overdrive
Overdrive is the "softest" type of distortion. You'll frequently find overdrive in tube amps, where it's a natural byproduct of increasing tube gain.
It has a warm, organic sound full of harmonic overtones and is commonly heard in blues.
Distortion
Distortion, in this sense of the word, is basically overdrive with a mix of inharmonic and harmonic overtones.
Whereas tube overdrive produces soft clipping (imagine the sound wave as rounded hills), distortion uses hard clipping, which shaves the tops and bottoms of the soundwave off nearly flat.
This creates a much harsher tone that you'll find in a lot of hard rock and metal music.
Fuzz
Fuzz is the hardest type of distortion. It generally changes your instrument's signal entirely, saturating your sound with both odd and even (dissonant and harmonic) overtones.
Fuzz is actually based on the sound of broken amplifiers and meant to sound really really dirty.
Where Does a Fuzz Pedal Go in Your Effects Chain?
Because fuzz fundamentally alters your sound, it's best to place it as early in your signal chain as possible.
The only pedals that should go before the fuzz are tuners, compressors, and wah pedals.
Depending on the rest of your setup, you may or may not put an EQ pedal before the fuzz unit.
Aside from these few exceptions, run every other effect after your fuzz for the fullest effect.
Take a look here to learn more about the perfect pedal order.
Why Might You Need a Fuzz Pedal?
With their extreme distortion, fuzz pedals are an obvious choice for heavy metal.
From the classic Metallica and Motörhead hits to modern metalcore like Bring Me the Horizon, fuzz bass can add even more heavy crunch to your group's sound.
But beyond metal, you can find fuzz bass in all forms of rock.
It's got an obvious place in the driving in-your-face progressions of punk, and its deconstructed sludgy sound makes it a mainstay in many gothic/industrial bands.
You'll also hear it in a lot of alt and indie rock stuff. If you want to add versatility to pretty much any rock bass riffs, a fuzz pedal is a great piece of gear to have around.
Wanna take your bass for a solo spin? Fuzz is the lead bassist's best friend.
As a matter of fact, it's a prime tool of the bass-led rock band Royal Blood. Their bassist uses fuzz and other effects so well I never would have guessed they don't have a guitarist.
Have a look:
When you factor in the earlier uses of fuzz bass in funkadelic stuff from Sly and the Family Stone, Zappa, and the Edward Broughton Band, you can see that there are hardly any limits to fuzz bass.
It's a pedal for the experimental, the aggressive, the funky, and anyone else who wants to add some immediate spice to their sound.
What Makes a Great Fuzz Pedal for Bass?
There's a lot of variation among the different fuzz pedals, and each has its own pros and cons.
Some are made to replicate the specific tone of classic pedals like the Big Muff or the Fuzz Face.
Others take a more modern approach to sound effects and give you USB access to digitally-crafted distortions.
How much control you have over the effect changes a lot from pedal to pedal.
Minimalist-friendly pedals have just two knobs controlling the amount of fuzz and the overall output.
Then there are complex pedals with
multiple output jacks,
fuzz-type selector switches,
EQ knobs,
Blend controls, and more.
Some bass fuzz pedals do more than just distort your signal; some come with a built-in octave effect as well.
Prices vary widely for bass fuzz pedals, but you're pretty much guaranteed your money's worth in great tone because even the low-cost options are solid little stompboxes.
How to Choose the Right Fuzz Pedal for You
Fuzz is kind of a funny effect—despite how heavily distorted it is, there's still a lot of difference in types of fuzz.
Your best bet in picking the best bass fuzz pedal for you is to listen to different options.
Germanium Transistors
If you want a more vintage-sounding fuzz, you might prefer pedals that use germanium transistors. This is the type of transistor used in the famous Fuzz Face pedal.
Pedals that use germanium have a more tube-like distortion—it's warm and smooth without a lot of high-end harshness.
Silicon-Transistor
On the other hand, if you're after a sound that is closer to modern metal distortion, a silicon-transistor pedal could be the one for you.
Silicon transistors create a brasher, sharper distortion like what you'd get from a solid-state amp. While they do take away some of your bass' low-end beef, they're still a prime choice for bass fuzz pedals.
It's not always clear what type of transistor is used, but the difference is basically warm vs. bright. You can learn more about germanium and silicon transistors here.
After you've chosen to go germanium or silicon, the rest is really up to how many options you want in a pedal.
Like I mentioned earlier, some are loaded down with tone-shaping controls that let you affect every aspect of the fuzz. If you're ultra-particular about your sound, the more controls the better.
Then you've got octave fuzz pedals to look at. They're fun to play around with, but if you know you'll never use this, you might be better off with a dedicated fuzz unit.
Fewer controls don't mean a worse pedal, so don't think you'll be making a mistake if choosing a simple stompbox.
Sometimes less is more, and having just one knob to care about when you want to get dirty can save a lot of hassle.
Best Fuzz Bass Songs
If you want to hear fuzz bass featured in all its glory, check out some of these songs. And once you've got your pedal, give some of these iconic fuzz bass riffs a try!
If you click:
the song name, you can listen to it on YouTube.
the ''tab'', you will find tabs for that songs (if you don't know how to read tabs, check this guide).
the "interactive tabs", you will be directed to the Songsterr interactive tab.
All the tabs are provided through trusted "ultimate-guitar.com" or "songsterr.com". Here are the songs:
The Rolling Stones – Under My Thumb
Frank Zappa – Apostrophe'
Metallica – Ride the Lightning
Motorhead – Orgasmatron
Red Hot Chili Peppers – Around the World
Radiohead – The National Anthem
Muse – Mercy
Muse – Hysteria
Royal Blood – Trouble's Coming
Here's one extra piece…just for fun:
Billy Sheehan – Mr. Big bass solo
>No tabs available :D<
---
Conclusion on Best Bass Fuzz Pedals
Honestly, my whole body's buzzing after listening to these best bass fuzz pedals. That electrified hum of dirty distortion has me all geared up to go jam now!
These pedals are all rocking pieces of gear, whether you just wanna add a little grit to your sound or sink down into the deep depths of sub-octave overdrive.
I hope you enjoy the look on your bandmates' faces when you show up and blow them away with the mammoth tone of your best bass fuzz pedal.
You might also like:
We are sorry that this post was not useful for you!
Let us improve this post!
Tell us how we can improve this post?