Last Updated on April 30, 2023 by Teemu Suomala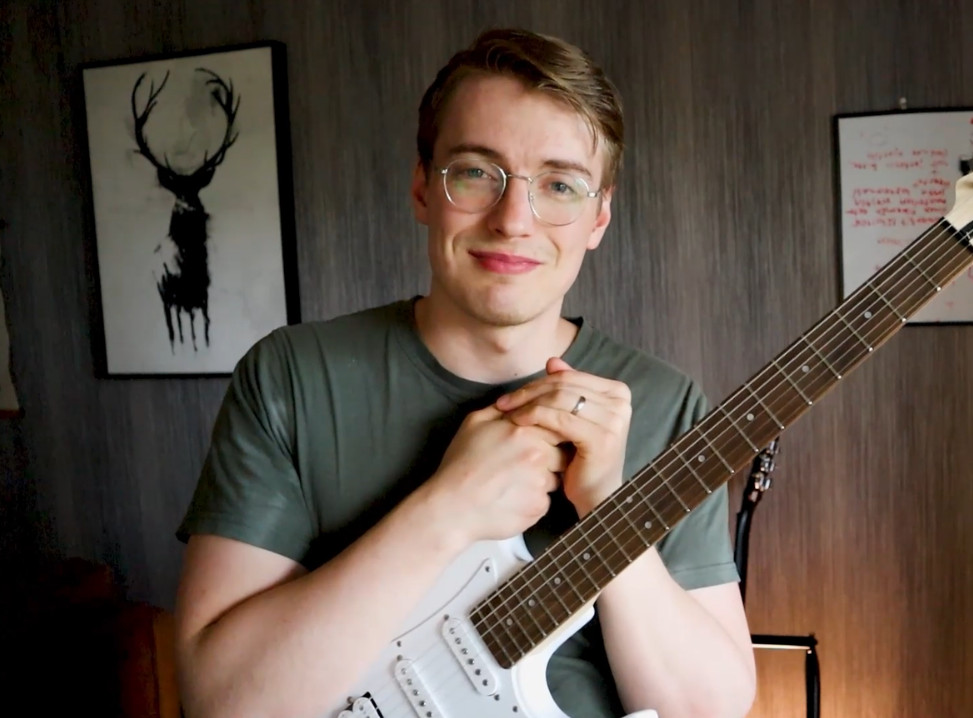 Author: Teemu Suomala
I first grabbed the guitar in 2009. I started this website in January 2020 because I couldn't do window installation anymore due to my health problems. I also noticed that most guitar websites don't do a really good job, so I decided to just go for it! I got lucky and managed to get awesome people to help me with my website. I also got lucky because I have you visiting my website right now. Thank you. I do all this for you guys. If you have any recommendations, tips, or feedback, just leave a comment, I would love to chat with you. I have been fortunate to produce content for several large guitar websites, such as Songsterr, Musicnotes, GuitarGuitar, and Ultimate Guitar. I spend my spare time exercising and hanging out with my wife and crazy dog(I guess that went the right way…).
Best Overall – Fender Mustang LT25
Sound
Features
Usability
Overall Quality
Value For Money
Summary
Fender Mustang LT 25 is versatile, easy to use, and sounds good.

You have a lot of tone options with the amp itself, plus if you use the Fender Tone app these tone options grow exponentially.

Pros
-Super-versatile
-Simple to use
-Great Price:Value ratio
-Sounds great
-Almost endless tone options with the Fender tone app
-Especially clean and rock tones are great
-Offers enough loudness for sure

Cons
-No middle control on the control panel
-Accessing "Delay" and "Reverb" would be easier with control knobs
-Some folks don't like digital amps
-Handle is more or less useless

Personally, I think that this amp is the best guitar amp for beginners.
How Fender Mustang LT25 sounds:
Check Today's Price on
*Consider all links in this post to be affiliate links. If you purchase, at no additional cost to you, we may earn a small commission. It helps us to keep the lights on, thanks! 🙂
---
The Next Best
Compare Specs of The Best Beginner Guitar Amps
---
Choosing your first amps can feel like an overwhelming task…it's true that there are literally 100's of amps to choose from. And all of those are not great for beginners. That's for sure.
In 2021 I dove really deep into the world of beginner/budget guitar amps and tested a ton of them. And in this guide, I will reveal which are my favorites for beginners and why. This post will save you a ton of time, money, and effort. I'm sure that you will know what's the right amp for you after reading this post.
Remember to check the "Runner-ups" section of this post to get some extra amp options.
Let's get started!
Our Favorite Music Store in The World!
Why?
– Excellent Customer Service (4.7/5 Trustpilot Score)
– Fast & Free Shipping
– Gear is Inspected, Tested, & Ready to Play When it Arrives to You (We love this)
– Fair Prices
Visit Sweetwater:
6 Best Beginner Guitar Amps in 2022
Keep These 3 Things in Mind
1. What Music Do You Want to Play?
3. Learn A Little Bit About Basic Features
Get clear with this. Buy an amp that is a good pair with your music taste. I mention which genres each specific amp handles well and which it doesn't so I got you covered here.
Buy the best amp you can afford. That tip will get you far. Don't overspend, but don't save just for the sake of saving. Good amp can be a great practice buddy that motivates you to play more.
Get a basic understanding of the features so that you know what you are getting into.
For example: Does the amplifier have different amp types built in it? This enables you to change your amp's tonality at the flick of the switch.
Or does your amp has to build tone presets? This means that the amp has done for you tones that fit different situations, you can just select which one to use.
Best Overall – Fender Mustang LT25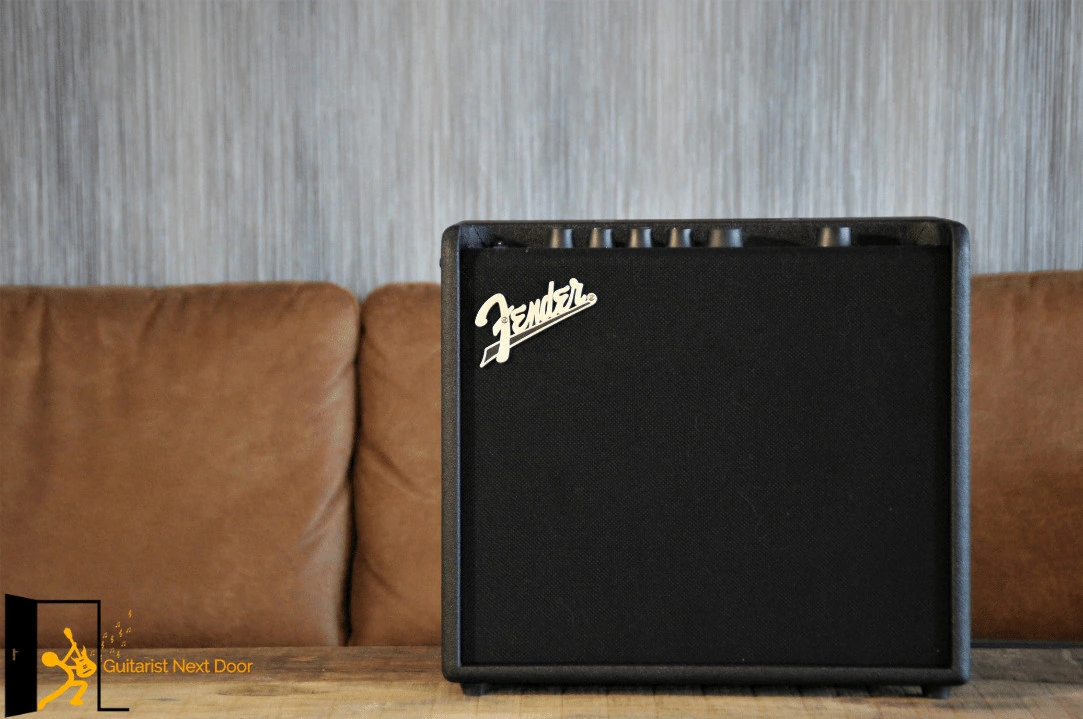 4 Things:
Easy to use
Sounds great
Doesn't cost that much
Tons of different tone options (versatile)
That's why I think this Mustang LT25 is so good for beginners. It gives you so much and the price is still affordable. But a couple of things to keep in mind…
The handle of this is pretty much useless. It's only for short time carrying and for moving it around your home. So this is not the best amp for travelers.
This electric guitar amp is easy to use, but not the easiest. It has a little screen that helps you to navigate and choose the right effects to use. But there are amps that are even easier to use than this (Orange Crush 20RT, Vox Pathfinder 10, etc.).
Now more good stuff.
Then there's the Fender Tone app. And It's awesome! I recommend that you check my full review of this amp to learn more about it. But in a nutshell, it gives you really visual way to choose different pedals and amps. Basically, you can design your whole signal chain. It's really fun to play with it.
You get 30 solid done-for-you tone presets with this guitar amp, but with the Fender tone app, you can access the full library of 100 tone presets.
You can connect to the Fender Tone app via Computer (USB), but note that you can't connect finder Mustang LT25 doesn't to the phone or tablet.
Watch a sound demo I recorded with this:
Summary
Pros
Super Versatile
Still easy to use
Sounds Great
Great bang for the buck
Especially Fender cleans and rock tones are good
You can craft and save your own tone presets
Cons
No middle control on the control panel(you can still adjust your signals middle frequencies via menu)
The handle is pretty much useless
Who is this for?
For beginners who want a great-sounding, versatile amplifier with a beginner-friendly price tag. The best beginner guitar amp for me.
Check Price on:
---
Best Portable(Handles Metal) – Boss Katana Mini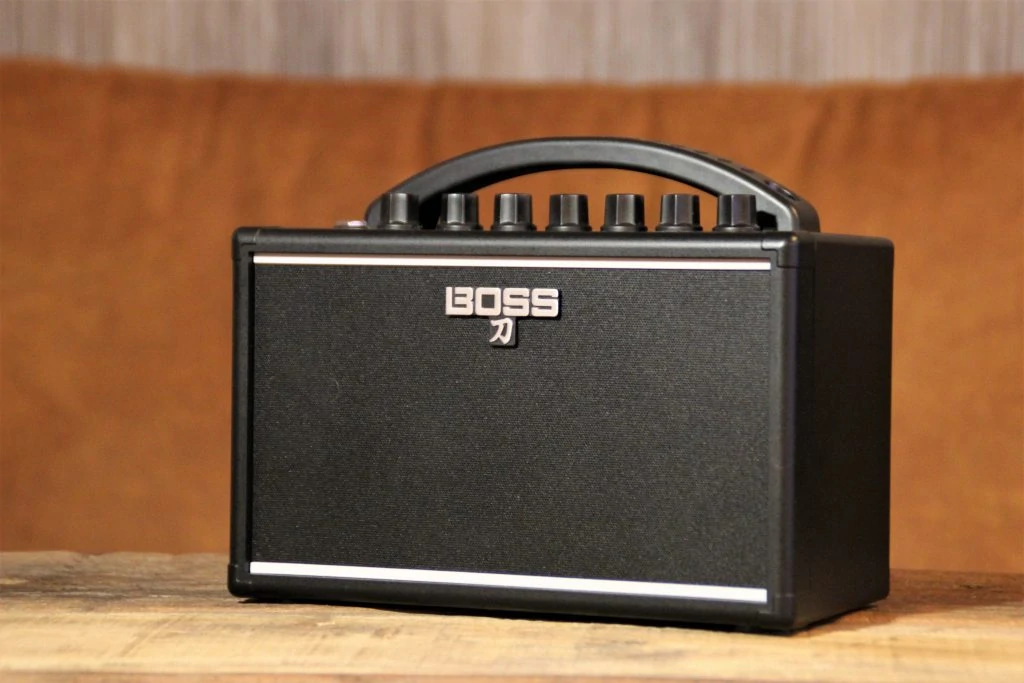 If in search of portability, this is one of the top choices since Roland Micro Cube Was discontinued.
It gives you 3 different amp types:
Clean
Crunch
Brown(Distorted)
With these, you are ensured with all the basic tones you need to get started.
My personal favorite is the Brown channel. It's really stunning how good the distorted tones are with an amp this small and affordable. There's no other amp in this price range (around $100) that can beat Katana Mini when it comes to chugging. So if you are after a cheap metal amp, this is one of the best picks.
The clean and crunch tones are a bit dull sounding, but for the price, still good. And with delay effect and 3-band EQ, you can shape and spice up your tone a good amount.
This amp has a really plastic feel on it, but I don't really mind, because it still offers so good tones for a price this cheap.
You can read my full review of this amp here.
Watch a sound demo I recorded with this:
Summary
Pros
Great for metal
3-channels add versatility and tone options
Portable
Delay effect and 3-band EQ for tone shaping
Solid 6-8 hour battery life in my use
Surprisingly loud
Cons
Cheap feel and look
You can get better crunch and clean tones for less $ (Blackstar Fly 3)
When using the handle, your hand bounces against the knobs a bit
Who is this for?
If you are in search of portability, great metal tones, solid crunch, and clean tones. If you also value 3-band EQ, delay effect, and affordable price, then this Boss is a great option.
Check Price on:
---
Best for Around $100 – VOX Pathfinder 10
When I did my "Best Electric Guitar Amp Under $100" -test, this was the winner for me. Even though its price has gone up a little and you can't find it for under $100 most of the time, I still think that this is definitely worth the price.
Why do I like this?
Open back paired with Bulldog-speaker provide really round and room-filling tones most of the time
Amp is really easy to use and has all the basics features to get you started
It looks stunning
Clean and Crunch tones are great. This amp is made for classic rock.
If all those sound good, this might be the amp for you. But before that, I will shock you and reveal why this amp is not perfect…
First of all, this is not made for metal. No. Nada. This just doesn't handle a heavy distortion.
Also, with my cheap Ibanez (GRX70QA), I managed to get this amp sound pretty bad, tinny, and fuzzy sometimes.
But especially when paired with my Epiphone Les Paul Special VE, I just love how this amp sounded. So balanced crunch and clear cleans. A pleasure to play.
Watch a sound demo I recorded with this:
Summary
Pros
Awesome clean and crunch tones
Looks, feel, and build are great
Open-back tones fill the room nicely
Simple controls
Can be played quietly
Cons
Metal tones are not good
No AUX input
No ⅛ sized headphone output
Who is this for?
If you want room-filling tones that ensure great classic rock, jazz, and blues jams, this amp is a great option. But keep in mind that the heavily distorted tones of it fall short.
Check Price on:
---
Best Simple Rock Amp – Orange Crush 20RT
This is for those who want simple usability without any tone apps and crave solid all-around tones.
Look, I just loved the Orange-styled Rock tones this electric guitar amp offers. I tested those for hours and hours. From mildly distorted to full Orange fuzz. This is hands down one of the best rock amps under $200 for me.
But when it comes to boomy and super mean metal tones, this amp starts to sound too light. Other than that, the gain channel of this mp passes with flying grades.
The clean tones of this thing are solid. They don't give you that much flexibility and don't necessarily shine, but get the job done.
Also, you get
3-band EQ (shape your tone)
Reverb effect
With all this and its stunning looks, this amp is a great easy-to-use guitar amp!
Watch a sound demo I recorded with this:
Summary
Pros
Great rock tones
Easy to use
All the tones are solid
Gives 3-band EQ to shape your tone and Reverb effect
Cons
Metal tones are limited
You can get better cleans for this price
Who is this for?
If you are looking for a simple, no bells and whistles guitar amp that is especially great with rock, then this Orange is a good option!
Check Price on:
---
Most Versatile – Boss Katana 50 Mkii
This is an amp that will serve you for years. It's a bit more expensive than others featured in this article, but you get what you pay for. I bought this in the summer of 2021. And I have been really satisfied.
You get access to the Boss Tone Studio (Computer app) with this amp, but even without it, this amp has been able to serve all my tone needs, and I believe it can do that for most people. And in this review, I'm only going to talk about its out-of-the-box features.
First, this is an open-back amp. Tones of it fill the room and btw. this amp sounds good.
You get 5 different amp types:
Brown (great with rock and metal)
Lead (rock)
Crunch
Clean
Acoustic
With these, you are ensured with a wide range of different tones ad you can jump into every genre with this amp.
You also get a 3-band EQ for great tone control. Plus Booster, Mod, FX, Delay, and Reverb effects. Plus you get 3 variations of each out of the box (in Tone Studio you have 50 different effect types).
What about the flaws? There are a couple…
At least on my use, I had to play with the settings a bit longer to get the tone I wanted. With other amps I have recently tested, dialing in what you want has been faster.
Also, an amp that has this many features is a bit harder to use than the others mentioned in this post. That's the one reason why dialing in my favorite tones took a bit longer.
But all-in-all, this is most likely an amp that I'm going to keep as long as it lasts. I like it a lot.
Watch a sound demo I recorded with this:
Summary
Pros
Sounds great (open-back tones are sweet)
Versatile
Endless tone options
Sturdy build
Powerful
You can choose between 0.5W, 25W, and 50W power. This amp can be played really quietly.
You can craft and save your own tone presets
Doesn't cost that much
Cons
Can take time to get used to(especially for beginners)
Tone Studio is not the most visual (Fender Tone is much more fun to use)
Who is this for?
This is a great amp for those who want an amp that will serve them for a long time. This also sounds great, is versatile, and offers outstanding value for the money.
Check Price on:
---
Best Acoustic Guitar Amp – Fender Acoustasonic 15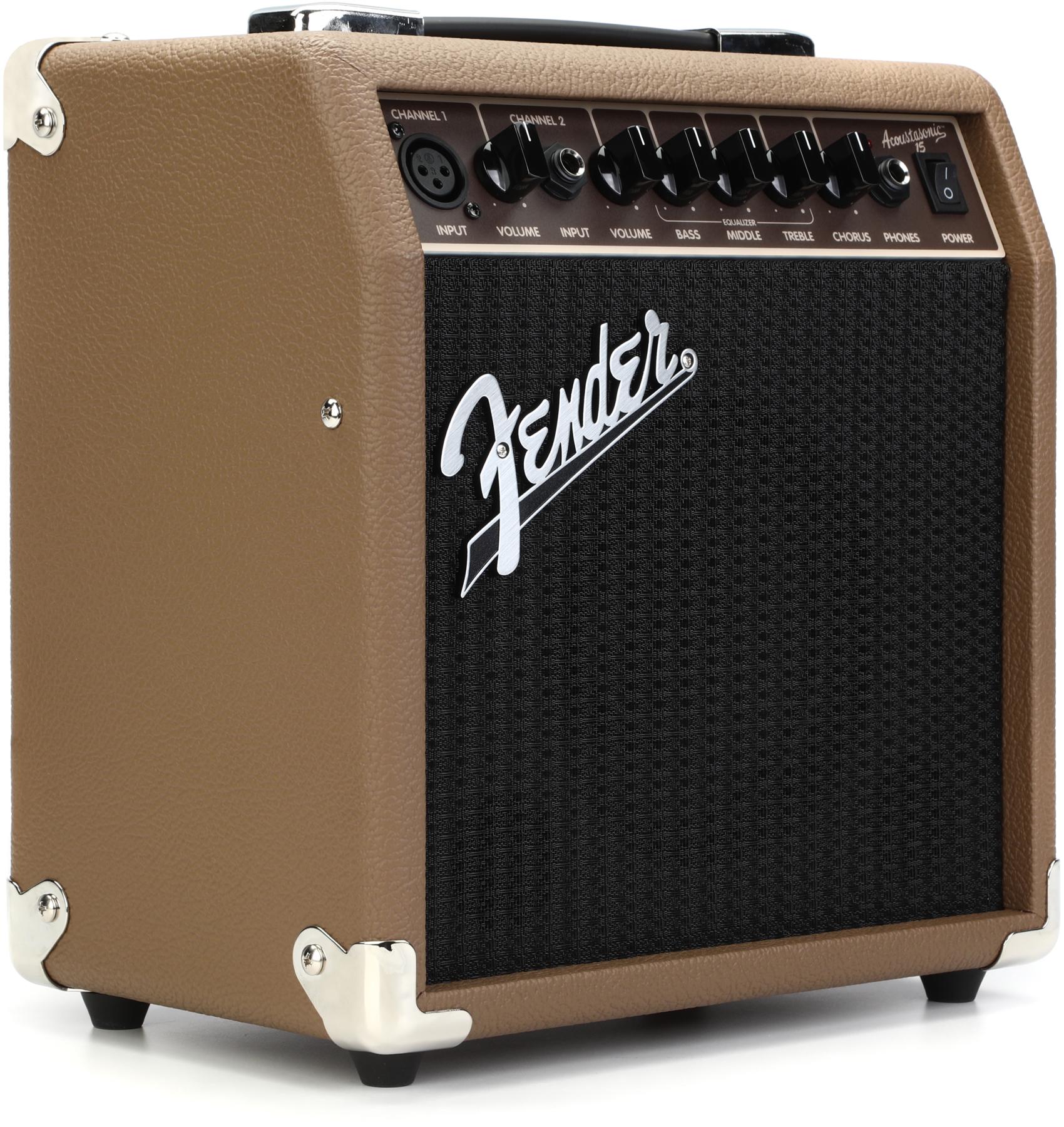 This little acoustic tone box gives you full control over your sounds; there are knobs for volume, treble, middle, and bass. Plus you get a chorus effect that enables you to spice up your tone.
What about the sound of this?
It's clear and has a ton of clarity in it. You can also get this amp to sign surprisingly loud. But the tone is a bit treble-heavy and can make some acoustics sound too tinny.
Couple of other things I have to mention
You can plug your XLR mic into this and drive vocals through it
This amp is easy to use
It looks great (nice vintage style)
My favorite beginner acoustic guitar amp.
Want more acoustic guitar amp options? Check this article about beginner acoustic guitar amps.
Watch a sound demo:
Summary
Pros
Chorus effect and 3-band EQ for coloring your sound
Bright and loud acoustic tones
Small added Whizzer speaker adds clarity to high end
Easy to use
You can plug a mic in for vocals
Cons
Can make some guitars sound too tinny
The tone is overall treble-heavy
Who is this for?
If you are looking for your first acoustic guitar amp and want it to sound good, give you a chorus effect, tone shaping, and simple usability, this is a great option.
Check Price on:
---
Runner-Ups That Just Missed The Top 5
---
Buyer's Guide – FAQ
Are Cheap Guitar Amps Worth it?
I have tested dozens of them and I can say that they absolutely are. But most cheap amps are kind of one-trick ponies, great at some aspects, but lack quality in some. For example, Boss Katana-Mini is great with distortion, but with cleans and crunch, it's only decent.
This is common with cheap amps, so it's important you know what you want and need, and then pick according to that.
But in this article, amps like BOSS Katana 50 Mkii and Fender Mustang LT25 can handle almost anything you throw at them.
What Makes A Great Beginner Guitar Amp?
The beginner amp should be
-Affordable
-Versatile
-Offer basic features (Gain, Volume, 1-3 Tone knob).
-Some effects are a plus
Personally, I would follow a crowd a little if I were a beginner and looking for my first amp. Because usually popular beginner amps are that for a reason. For example, Fender Mustang LT25 is really popular and there is a reason for that. It's a great amp that gives a superior bang for the buck.
I would stay away from the cheapest amps costing $20-50 if possible. But of course, if you are tight on cash, it's better to get some kind of amp and start playing than not getting an amp and delaying your guitar mastery.
How to Choose The Right Guitar Amp for You?
First, get clear on what you want. A couple of questions to help you with that:
What music do you want to play?
Do you need effects to spice up your playing? (Reverb, Chorus, Delay) With these, you can color and add spice to your playing.
Do you want to aka. "shape your tone"? This means that you decrease the low and increase the high frequencies for example. With this, you can make your guitar sound brighter for example. If you want to do this, you need at least 1 tone knob with your amp. 3-band EQ is ideal for this.
Do you need portability? Are you going to travel or move from place to place a lot with your amp? If so, get an amp that has a good handle and portable size.
Are you planning to perform or play in the band? If so, get an amp that has enough power. It depends a lot on the situation. If you are going to perform indoors in a small room where it's not noisy, you don't need that much power. Under 10W can be enough. But if you are going to play with a drummer, aim for 50W when talking about solid-state amps. (Note that power/Watts don't equal loudness but give us some indications of it).
By far the most important question is "what music do you want to play". Because if you got an amp that suits your musical taste, that motivates you to play. A lot.
That's why I stated which genres specific amps featured in this post can handle. But listen to the sound demos too and make your own mind. Which amp sounds good to you?
---
Conclusion on Best Beginner Guitar Amps
Beginner guitarists are spoiled nowadays. You can get soo good gear for soo little money. It's awesome. It decreases the barrier to entry and more and more people dive into the world of guitar playing.
I hope that this post helped you to decide which guitar amp is the best for you. I have a Youtube channel where are tons of reviews and demos about different amps, so check those out too. And if you have any questions, just leave a comment.
I wish you all the best and keep rocking!
Teemu
---
You might also like:
We are sorry that this post was not useful for you!
Let us improve this post!
Tell us how we can improve this post?