Last Updated on December 1, 2023 by Justin Thomas
Author: DL Shepherd
Darren has been playing guitar for over 23 years. He fronted the metal band Suddenly Silence in the early 2000's, and also achieved recognition as an award-winning bluegrass guitarist.
A native of southwestern Virginia, and has shared the stage with many big-name acts from various genres. When he is not playing one of his many guitars, he can be found riding his Harley through the mountains of Virginia.
Hide The Rambling▲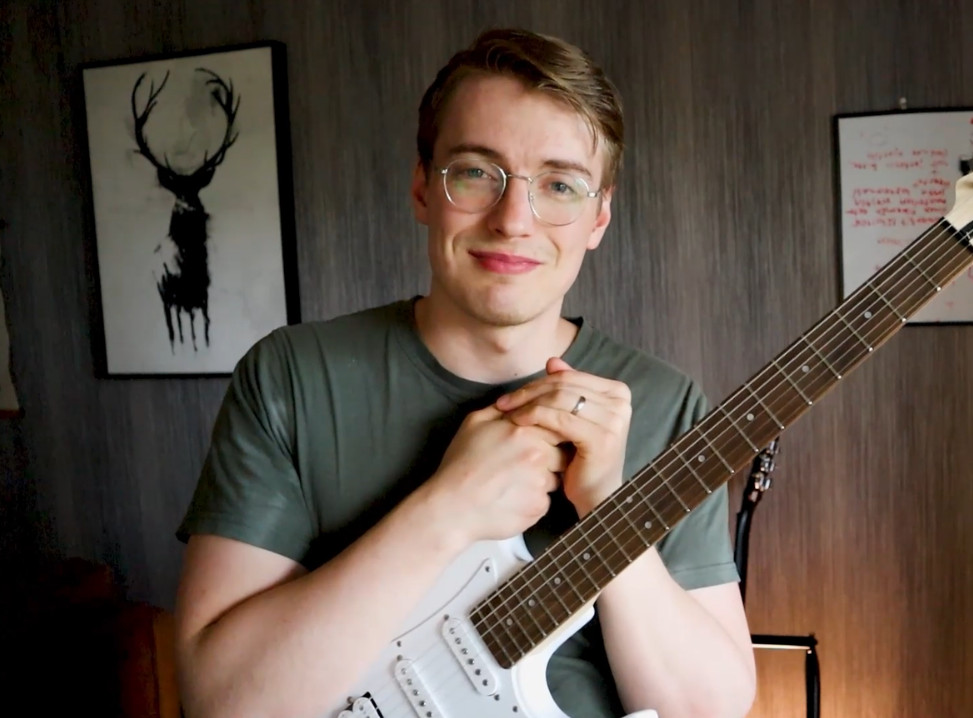 Editing & Research: Teemu Suomala
I first grabbed the guitar in 2009. I started this website in January 2020 because I couldn't do window installation anymore due to my health problems. I love guitars and have played dozens and dozens of different guitars through different amps and pedals over the years, and also, building a website interested me, so I decided to just go for it! I got lucky and managed to get awesome people to help me with my website.
I also got lucky because I have you visiting my website right now. Thank you. I do all this for you guys. If you have any recommendations, tips, or feedback, just leave a comment, I would love to chat with you. I have also been fortunate to produce content for several large guitar websites, such as Songsterr, Musicnotes, GuitarGuitar, and Ultimate Guitar.
I spend my spare time exercising and hanging out with my wife and crazy dog (I guess that went the right way…).
Hide The Rambling▲
---
Best Overall – Stringjoy Acoustic Strings
Sound
Playing Feel
Longevity
Value For Money
Summary
Pros
-Balanced tone from both 80/20 and phosphor bronze
-Play evenly all the way up and down the neck
-Last much longer than other uncoated strings
-Great projection for cutting through a mix
-Factory-direct subscription program allows you to always have a fresh set on hand

Cons
-A bit more expensive than most strings

Who is this for?
-Bluegrass guitar players who insist on nothing but the best in tone, playability, and value. The best guitar strings for bluegrass.
Check Today's Price on
*Consider all links in this post to be affiliate links. If you purchase, at no additional cost to you, we may earn a small commission. It helps us to keep the lights on, thanks! 🙂
---
The Next Best
Compare:
---
Finding the right guitar strings can be a completely overwhelming task. I know. I spent years doing it. Back then, we didn't have cool sites like this one to go to for advice.
We bought them ourselves and tried them.
If we didn't like a set, we either played them as much as we could until they wore out or gave them to someone else. They also came in handy for unclogging drains and made cool decorations. That's another story though…
It's no wonder with the endless amount of strings on the market that players can get overwhelmed and just "settle". But let's not forget that the strings are as important as the guitar. One cannot work without the other. However…
Not all guitar strings are created equal. Not even close.
Since bluegrass guitar playing often requires a lot of lead playing and dynamic rhythm changes, players really need strings that are versatile and tough. They need to work together with the wood in the guitar to bring out that low-down, lonesome sound.
After years of research on my part (literally, this is why my boss trusts me to write these articles), I will now give you our list of the best bluegrass guitar strings.
Check the article DL Shepherd wrote about Best Bluegrass Guitars, it will teach you a lot about characteristics of a great bluegrass axe!
---
Our Favorite Music Store in The World!
Why?
– Excellent Customer Service (4.7/5 Trustpilot Score)
– Fast & Free Shipping
– Gear is Inspected, Tested, & Ready to Play When it Arrives to You (We love this)
– Fair Prices
Visit Sweetwater:
Our reviews of the top 5
3 Things to keep in Mind When Buying
Difference Between The Tone of These 2
The most common types of acoustic strings are 80/20 bronze and phosphor bronze. This refers to the windings on the bass strings. Both fit bluegrass well.
In general, 80/20 bronze strings have a brighter tone while phosphor bronze strings have a deeper, warmer tone.
Understand the construction and tonal qualities of your guitar to determine which strings to try first.
Best Overall – Stringjoy Acoustic Strings
I'm going to be straight up with everyone: Stringjoy produces the best guitar strings on the market. Period.
Here's why…
Stringjoy strings are not only made in Nashville, TN, but they are HANDMADE in Nashville, TN. I'll bet you didn't know that you could still get a handmade string these days.
You can, and they are superior.
What makes these so special is that the folks at Stringjoy used mathematical formulas to develop strings that play the same at the first frets and 14 frets alike. In other words, the string tension is always spot on.
This is incredibly important for bluegrass players because of the string bends and quick hammer-on's and pull-off's that are required for lead playing.
So, what about a specific size and metal makeup?
I've played both their 80/20 bronze and phosphor bronze strings with equal enjoyment. They feel like they are made specifically for your guitar because they are so easy to play. I have also noted that they last much longer than other uncoated strings.
In a bluegrass setting, they project better than any other string that I have tried over the years. Combine all of this together with great customer service and you have a winning combination all around the board.
Oh yeah, and I also need to mention that they have a subscription program. You can sign up and get your strings delivered monthly directly from the factory. There's no middleman to take a cut. And if for some reason they aren't your favorite, you have 90 days to return unopened packs for a full refund.
I think the real test is to get a set and see why we're so excited about these strings. They literally make me want to play my guitar all the time once again, and I never expected strings to be the reason.
I haven't steered you wrong yet: try out a set of Stringjoy strings and your bluegrass buddies will most likely be incredibly impressed.
Pros
Balanced tone from both 80/20 and phosphor bronze
Play evenly all the way up and down the neck
Last much longer than other uncoated strings
Great projection for cutting through a mix
Factory-direct subscription program allows you to always have a fresh set on hand
Cons
A bit more expensive than most strings
Who is this for?
Bluegrass guitar players insist on nothing but the best in tone, playability, and value.
Check Price on:
---
Best 80/20 Bronze – Ernie Ball Paradigm Strings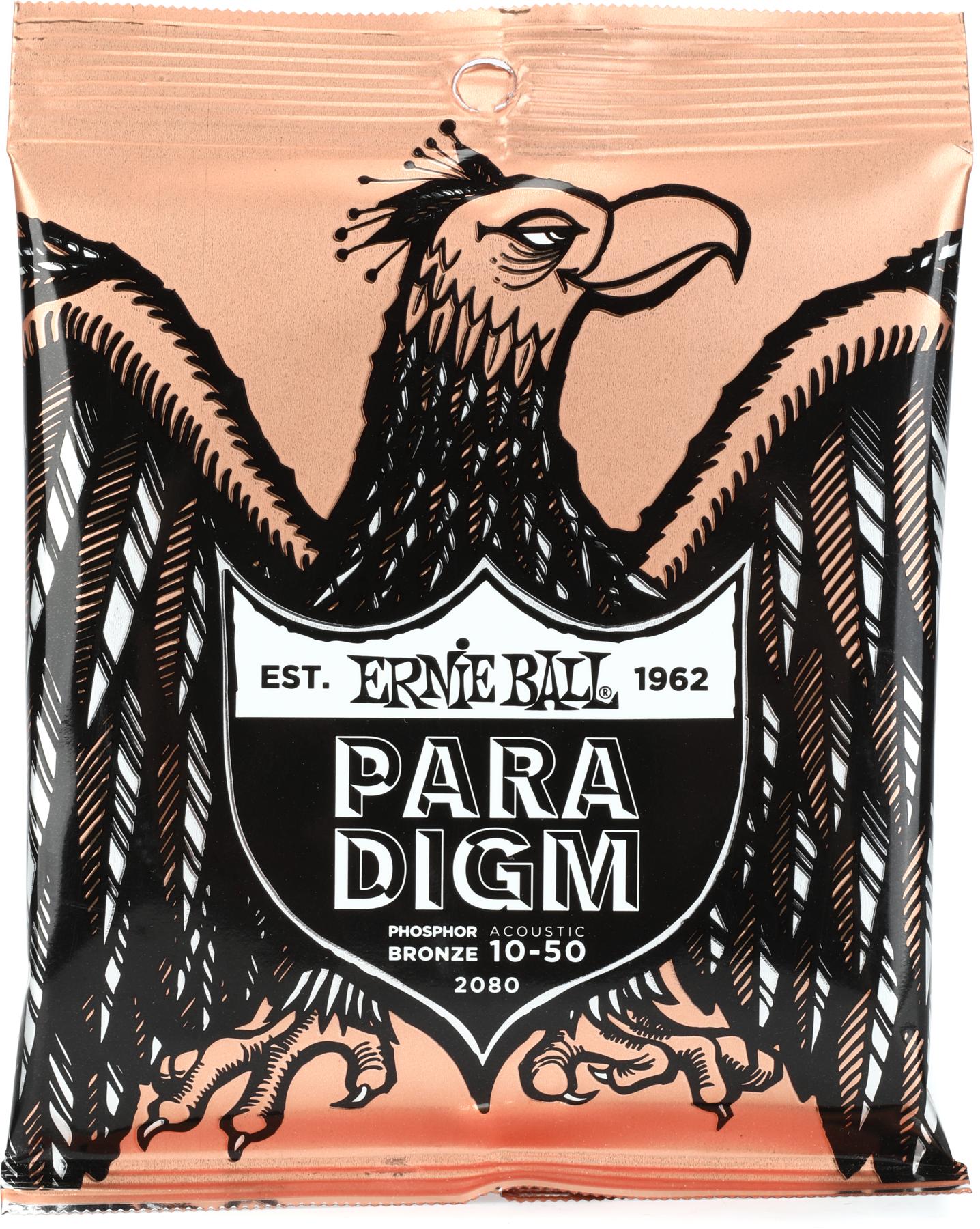 You can't deny that Ernie Ball is one of the industry's leaders in guitar string manufacturing. Gracing the fretboards of countless players for many years, the company knows a thing or two about a good set of strings.
Now, I'll admit that I cheated a bit on this one…
The Ernie Ball Paradigm Series are all coated strings, and we'll get to those in a second. There are several reasons why these beat out all other 80/20 bronze strings, and it doesn't have a thing to do with the coating:
Excellent standard tuning tension
Bright, crisp sound
Excellent compliment to mahogany and sapele constructed guitars
Cutting tone that is the most well-balanced of all 80/20 strings that we have played
If you are looking for a brighter bluegrass tone and an excellent all-around 80/20 string, then Ernie Ball Paradigm Strings – the 2086's in particular – are the string you want to try first.
Pros
Bright, crisp, and well-balanced tone
Very comfortable all the way up and down the neck
Cuts through a mix without sounding forced
Long lifespan
Cons
Some may not like the coating
Will brighten some guitars a bit too much
Who is this for?
Players with darker-sounding guitars who want a brighter, crisp tone.
Check Price on:
---
Best Phosphor Bronze – John Pearse 700M
John Pearse Strings are a favorite of bluegrass and old-time pickers. They were the preferred string of Doc Watson as a matter of fact. You can't argue that!
John Pearse makes the best Phosphor Bronze strings because they have that classic feel, great response, and a warm, rich tone that is great for rhythm and lead playing alike. They are very well-balanced and full sounding with comfortable playability.
String bends are easy to pull off with John Pearse strings because they have a winding that is a little looser on the bass strings. They are a bit rougher in texture, but a little string lube goes a long way.
If you haven't tried John Pearse Phosphor Bronze Strings on your bluegrass machine, you need to.
Pros
Warm and well-balanced tone
Extremely versatile for leads or rhythm
Easy to perform string bends
Cons
Some players with sensitive fingers may find them too rough in texture
Who is this for?
Players with brighter sounding guitars that want a more authentic bluegrass tone.
Check Price on:
---
Best Coated Strings – Elixir Nanoweb 16052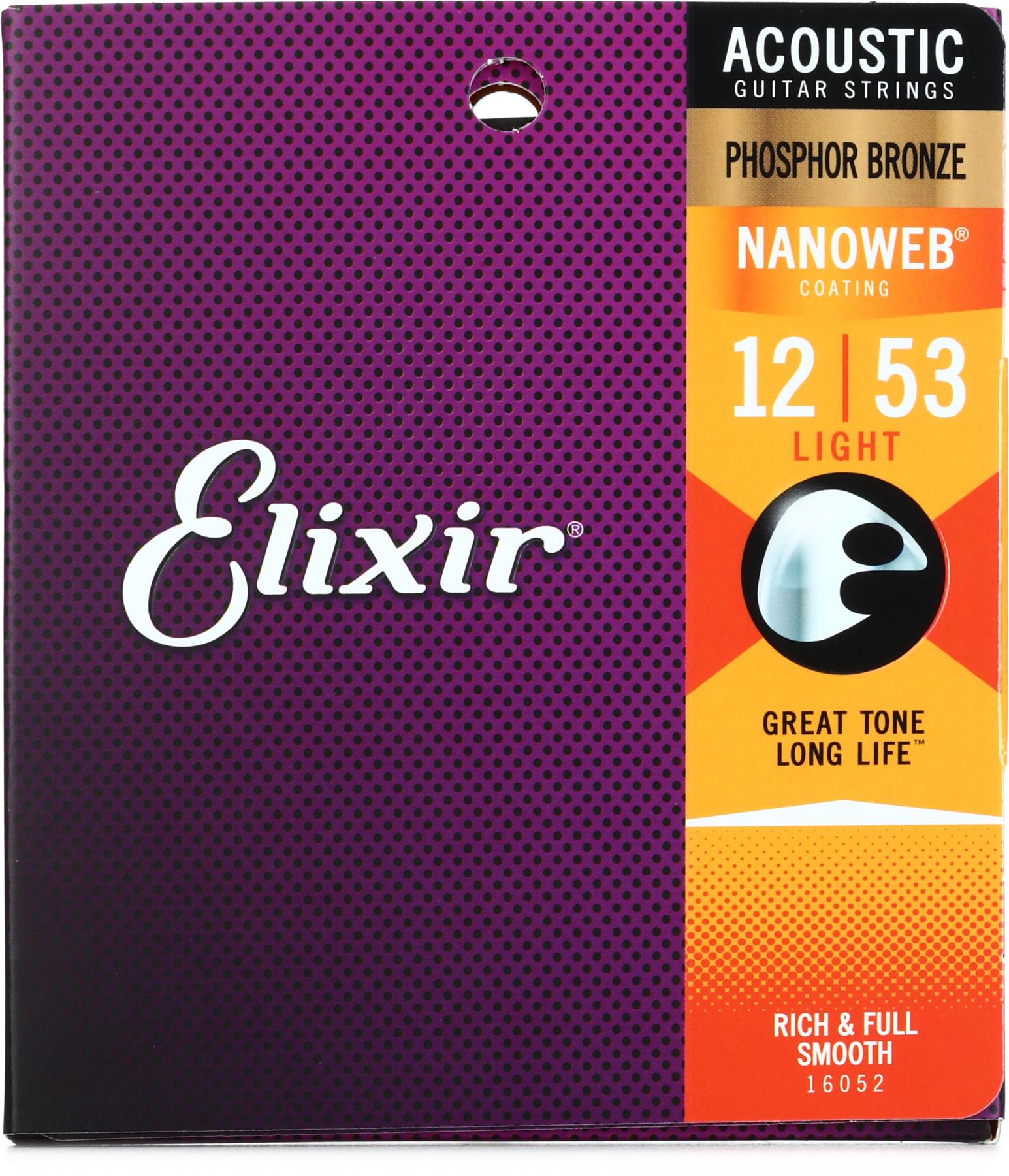 I've already mentioned the Ernie Ball Paradigm as the best 80/20 bronze strings. However, the Elixir Nanoweb lineup simply can't be beaten when it comes to coated (treated) strings.
The reason for this is because of their Nanoweb coating that is invisible, doesn't flake, and keeps your strings sounding great for a much longer period of time when compared to non-coated strings. Even in the coated string category, Elixir Nanoweb Strings outperform other brands by leaps and bounds when it comes to longevity.
As far as tone is concerned, the 16052's are bright and well-balanced with a lot of punch and clarity. They seem to "wake up" your guitar no matter what tonewoods it is made from.
These strings will SING, and they don't lose their voice for a long time. The lifespan, of course, depends on your amount of playing. I can guarantee you that they will outlast uncoated strings, however.
Grab a set of Elixir Nanoweb 16052's, and you'll be able to shred bales and bales of bluegrass.
Pros
Extra long life compared to uncoated strings
Nanoweb coating doesn't flake off
Very versatile, working with many different tonewoods
Cons
The coating is a bit slippery especially if you don't clean them
Who is this for?
Bluegrass guitarists looking for strings that last a long time between string changes without going dead.
Check Price on:
---
Best Budget Bluegrass Guitar Strings– D'Addario EJ11 80/20 Bronze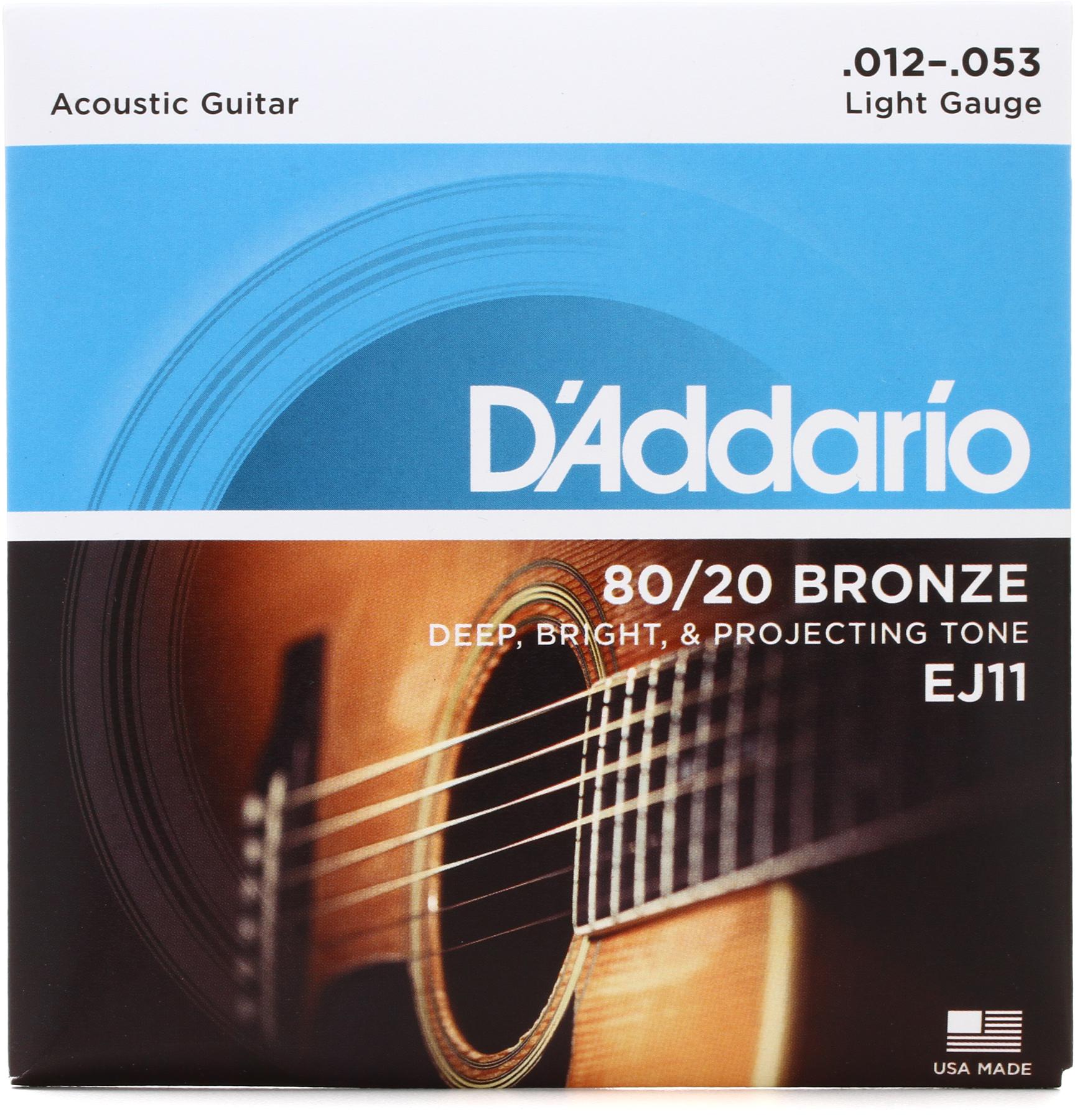 D'Addario is another long-standing name in the guitar string industry. I am almost certain that every guitar player will have a set at some point in their playing lifetime.
And they should…
The D'Addario EJ11 80/20 Bronze Series give you all of the rich, full bluegrass tone with a crisp brightness. For this reason, I recommend them for guitars made from mahogany or sapele.
They play surprisingly well all the way up the neck, and the feel is certainly comfortable. They are not too rough, but not too smooth either.
Perhaps the best part is that you can have these amazing little pieces of wire for a price that even the most destitute of guitarists can afford. Add that to their middle-of-the-road longevity, and you've got yourself a winning bluegrass guitar string.
Pros
Full, rich tone with balanced brightness
Comfortable to play
Affordable for nearly every guitarist
Cons
They do not cut as well through a mix (compared to other 80/20 strings)
They seem to have more breakages than more premium brands
Who is this for?
Bluegrass guitarists who are looking for a quality, affordable string that performs well.
Check Price on:
---
Runner-Ups That Just Missed The Top 5
---
Buyer's Guide
What should you know before buying?
It may take several sets to find your go-to gauge, metallic composition, and brand.
Just because different brands of strings are made of the same material and are the same size, do NOT assume that they sound or play the same!
Learning the characteristics of your guitar's construction is important when finding a pair of strings that complement it. If your guitar is made with tonewoods that tend to be brighter (like maple and rosewood), you most likely want a phosphor bronze set to balance out the tone.
Most bluegrass guitarists use medium gauge strings. These project better and cut through a mix of instruments when playing leads. However, light gauge strings are easier to play.
Try to stay away from newer string materials like aluminum. They simply don't have the projection even though they have naturally high corrosion resistance.
Check our full guide on how to choose the right acoustic guitar strings here.
What makes a good set of bluegrass guitar strings?
The key elements should be:
Well-balanced tone (not too dark, not too bright)
Compliment the tonewoods of the guitar
Feel comfortable
Withstand corrosion relatively well
Allow for versatility (driving rhythms that aren't too loud and cutting leads)
How often I should change bluegrass guitar strings?
This depends on how much you play, how hard you play, and what type of strings you use. Phosphor bronze strings tend to get darker as they age and are a bit more prone to corrosion from the oils in your fingers than 80/20 bronze. 80/20 bronze strings tend to stay brighter longer.
For uncoated (regular) strings, I recommend changing them at least once a month for moderate players and once every two weeks for heavy players.
Coated or treated strings will give you a much longer lifespan because their coating protects the metal against the oils and acids from your skin.
Change strings as often as you need to in order to sound your best! One of the key elements of bluegrass is being able to cut through a mix. You can't do that on dead strings!
To learn even more, check our full article about How often you should change your guitar strings.
How do I tell which size (gauge) of bluegrass guitar strings will work for me?
You need to look at several factors:
Volume
Playability (comfort)
Your guitar's setup
Most guitar manufacturers will ship their guitars with light gauge strings because it makes the guitar more comfortable to play. This is obviously a selling point they use while you're noodling around on one in the music store
First, keep in mind that medium strings are louder than light strings. Depending on your guitar, you may need these to cut through a mix better.
The downside to switching gauges is that you may have to adjust your action, truss rod, or saddle and nut notches to accommodate the extra heft that comes with a heavier gauge.
Taking these factors into consideration will allow you to pinpoint more accurately which strings you should try.
---
Conclusion
So, there you have it, my fellow guitarists: the best bluegrass guitar strings that money can buy.
Let's run over the list:
Ernie Ball Paradigm 2086 is the winner for best 80/20 bronze bluegrass strings
John Pearse clearly wins in the phosphor bronze category
Elixir's Nanoweb series gives coated string fans everything they're looking for
D'Addario's EJ11 80/20 bronze strings are an amazing value for players on a budget
Stringjoy strings provide players with only the best playability, comfort, and can even make playing easier.
You're sure to win with one of our hand-picked choices. Grab a few sets and see why we recommend these for your next bluegrass jam session. You won't regret it.
Related articles:
You might also like:
We are sorry that this post was not useful for you!
Let us improve this post!
Tell us how we can improve this post?