Last Updated on April 29, 2023 by Teemu Suomala
Best Overall – Martin D-28 Standard Series
Sound
Playability
Overall Quality
Value for Money
Summary
This is the bluegrass "standard". It is the guitar that defined the bluegrass sound.
Combine a mahogany neck, ebony fretboard, and Martin's keen eye for quality, and you get the perfect bluegrass guitar.

Pros:
-This is the bluegrass "standard". It is the guitar that defined the bluegrass sound.
-Handcrafted in the U.S.A. – Bluegrass is a genre that is unique to the U.S.A., and the hand-made construction allows Martin to tightly control their amazing quality.
-All solid wood construction allows for a fuller tone and increased natural volume.
-Tone improves as it ages because as it gets older, it becomes lighter and more resonate.

Cons:
-Priced a bit high for budget-minded players
-Some players may find the action a bit too high.
-Although beautiful, they do look a bit too ordinary.

It's the king. It's the legend. It's the Martin D-28. The best bluegrass guitar.
How Martin D-28 sounds:
Check Today's Price on
*Consider all links in this post to be affiliate links. If you purchase, at no additional cost to you, we may earn a small commission. It helps us to keep the lights on, thanks! 🙂
---
The Next Best:
Compare:
---
If you have been thinking about jumping into the wonderful world of bluegrass guitar, then you are in the right place.
It surely can be overwhelming to pick the right axe from the hundreds of guitars on the market today and the idea of investing in the wrong instrument can give you the creeps(at least for me it does). I get that.
But no worries!
I can assure you that this article will give you all you need to know about getting a great bluegrass guitar.
How can I be so sure…? Well, I don't want to toot my own horn but…
I have spent my entire life in the Blue Ridge Mountains of Virginia, so I'm pretty familiar with bluegrass.
I was born in Galax, Virginia, which is the self-proclaimed "World Capital of Old-Time Mountain Music". Bluegrass and old-time music were simply a part of daily life here. And also, I love bluegrass!
I'm so grateful that I've had the amazing opportunity to share the stage with the likes of Doc Watson, Brain Sutton, and Wayne Henderson. Now I want to reveal to you what I have learned over my lifetime about what makes a great bluegrass guitar.
Let's first look at these fine guitars, and at the end of the post, you can find the FAQ/Buyer's Guide section that helps you to make the best choice possible.
Check our picks for the best acoustic guitars under $1000.
Who crafted this post:
Author: DL Shepherd
Darren has been playing guitar for over 23 years. He fronted the metal band Suddenly Silence in the early 2000's, and also achieved recognition as an award-winning bluegrass guitarist.
A native of southwestern Virginia, and has shared the stage with many big-name acts from various genres. When he is not playing one of his many guitars, he can be found riding his Harley through the mountains of Virginia.
Check the article DL Shepherd wrote about Best Bluegrass Guitar Strings, it helps to choose the right set for you!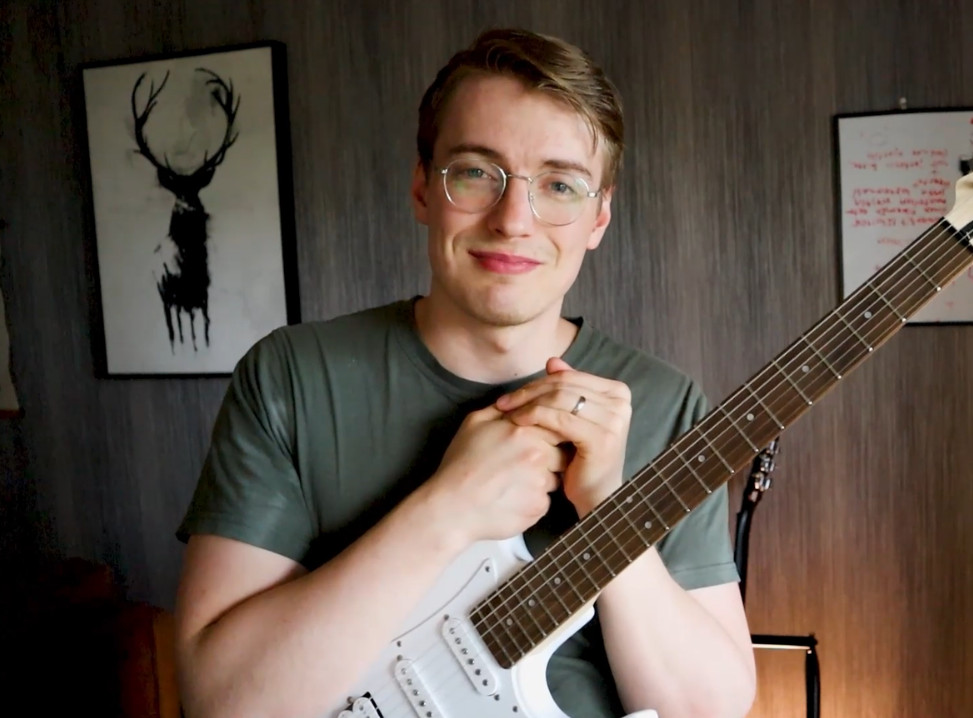 Editing & Research: Teemu Suomala
Playing guitar since 2009. Mainly focused on electric guitars, although jamming with acoustics too. Has played dozens and dozens of different guitars through different amps and pedals over the years. That's why he started this blog in January 2020 and started sharing his experience. Has produced content for several large guitar websites, such as Songsterr, Musicnotes, GuitarGuitar, and Ultimate Guitar.
We can proudly say that Darren Shepherd has played every guitar featured in this article. These acoustic guitars are here based on extensive research and decades of combined guitar experience of Darren and Teemu.
---
Our Favorite Music Store in The World!
Why?
– Excellent Customer Service (4.7/5 Trustpilot Score)
– Fast & Free Shipping
– Gear is Inspected, Tested, & Ready to Play When it Arrives to You (We love this)
– Fair Prices
Visit Sweetwater:
The 5 Best Bluegrass Guitars in 2022
A couple of other posts worth checking out when buying a new acoustic (click the title to view):
First, these posts will help you handle the protection and storage side of things:
These posts help you to achieve the tone you want:
And here are a couple of other acoustic guitar buyer's guides worth checking out, all these are written by our Bluegrass expert Darren:
5 Best Martin Guitars Under $1000
5 Best Taylor Guitars Under $1000
---
Best Overall – Martin D-28 Standard Series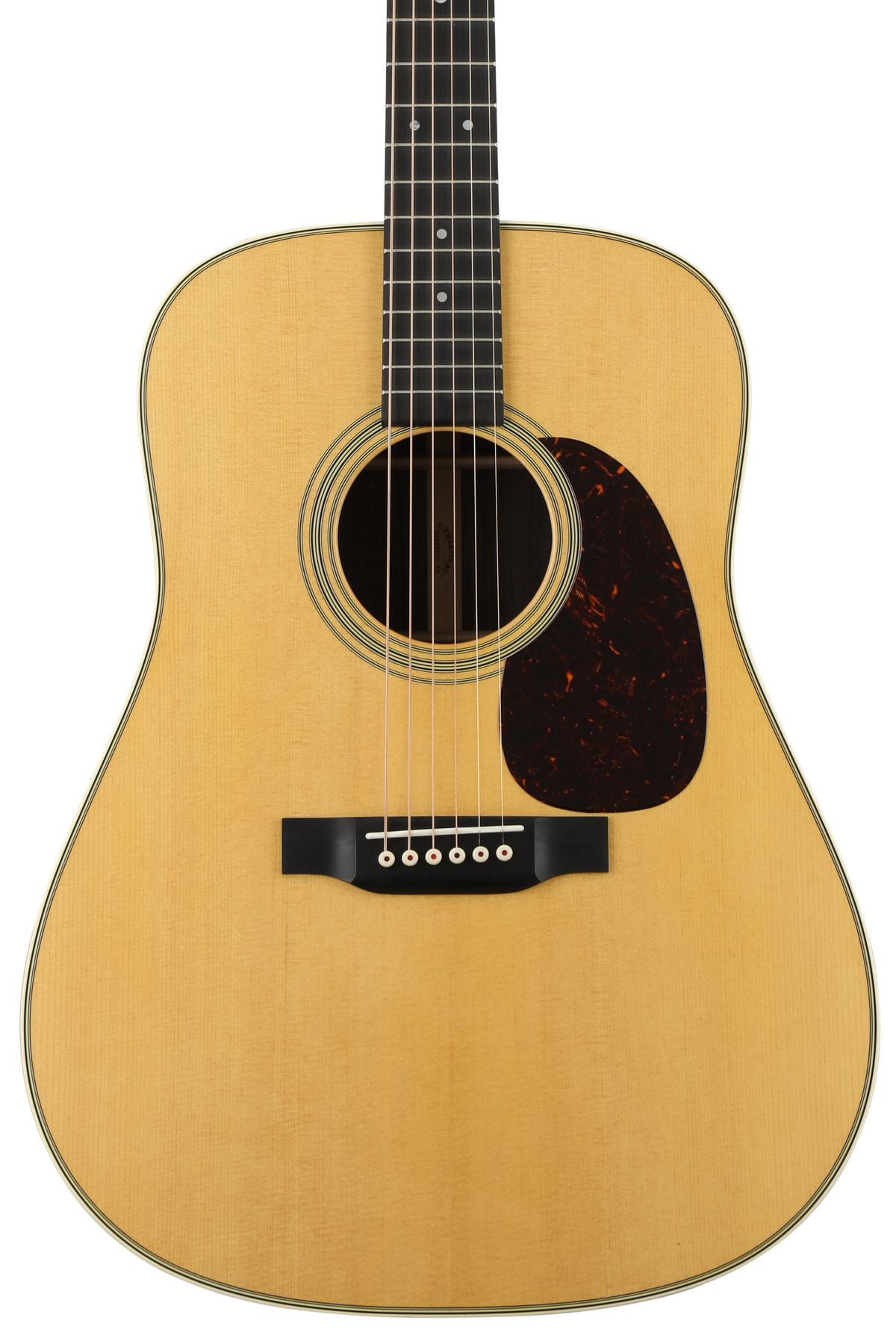 When you play a Martin D-28, you're literally playing an American legend. This is the standard by which all other bluegrass guitars aspire to live up to, and it has defined how a bluegrass guitar is supposed to sound.
The Martin D-28's sound is all in the design.
The size, shape, and all solid wood construction make it a force to be reckoned with when it comes to cutting through the mix to play a blazing lead.
It is a standard dreadnought-size guitar (Martin invented this size). Dreadnoughts are what we would call "regular" size guitars today, but whenever they were first released, they were significantly larger than other guitars. The size allows it to have much more volume while maintaining the natural tone.
In other words, it doesn't sound like you're trying to play it loud — it is just loud by design!
This volume allows players to really accentuate
individual notes,
chord phrases,
and scales
without becoming lost in the mix of other instruments.
The rich, full, beautiful tone is a result of the solid Sitka spruce top and East Indian rosewood back and sides.
The Sitka spruce top gives it a natural brightness and well-balanced mid-range.
The rosewood provides richness and an overall balanced mid-range tone without causing the bass notes to sound too muddy.
Combine these qualities with a mahogany neck, ebony fretboard, and Martin's keen eye for quality, and you get the perfect bluegrass guitar. It's the king. It's the legend. It's the Martin D-28. These kinds of premium, made in the USA guitars come with a premium price tho… Although the price tag may throw off most budding guitarists, it is certainly acceptable for all experience levels.
If you're a beginner or intermediate acoustic player, then you can look at it as the equivalent of getting a brand-new Corvette as your first car.
If you're dead serious about getting the bluegrass guitar, the Martin D-28 is the way to go.
Hear how this Marin sounds:
Pros:
This is the bluegrass "standard". It is the guitar that defined the bluegrass sound.
Handcrafted in the U.S.A. – Bluegrass is a genre that is unique to the U.S.A., and the hand-made construction allows Martin to tightly control their amazing quality.
All solid wood construction allows for a fuller tone and increased natural volume.
Tone improves as it ages because as it gets older, it becomes lighter and more resonate.
Cons:
Priced a bit high for budget-minded players
Some players may find the action a bit too high.
Although beautiful, they do look a bit too ordinary.
Find more excellent Martin guitars here.
Check Price on:
---
Best Value – Blueridge BR-140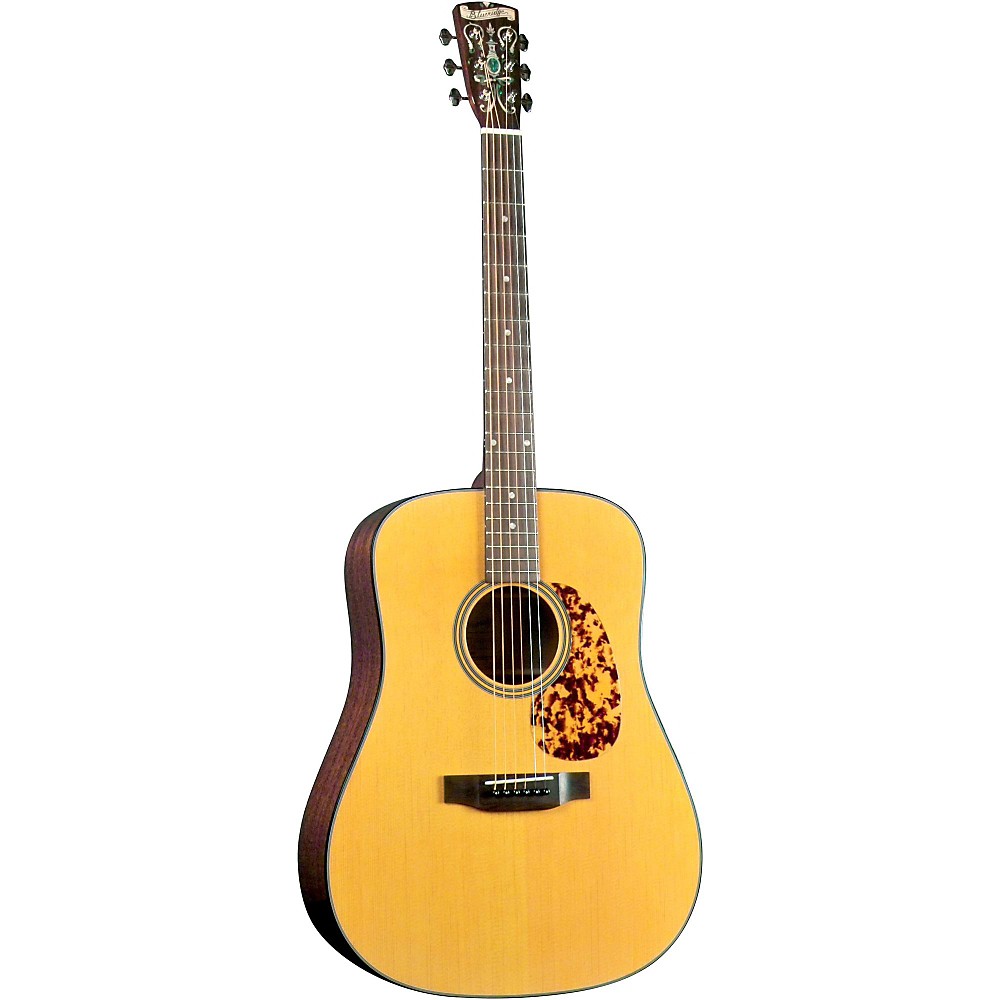 Blueridge may not be a name that is as recognized as widely as Martin, but they make some amazing guitars with a middle-of-the-road price tag. You don't have to worry about taking out a second mortgage just to get a great-sounding bluegrass guitar!
The name alone sounds like it was built for bluegrass, and rightfully so.
The Blue Ridge Mountains extend from Georgia to Pennsylvania and are a place where many famous bluegrass guitarists, such as Doc Watson and Tony Rice, have called home.
If you're wondering whether or not Blueridge guitars hold up to their namesake, the answer is a strong "Yes".
Although they are manufactured far away from the Blue Ridge Mountains (they are made in China), the quality is absolutely remarkable.
The Blueridge BR-140 model packs a lot of valuable features that many advanced and professional bluegrass musicians prefer. They are constructed of all-solid woods and built in the familiar dreadnought body style.
The quality of the wood alone places them way above most other Chinese guitar manufacturers. The BR-140 is built with:
a solid Sitka spruce top to give you that resonance and bright attack that punches through the mix
the mahogany back, sides, and neck give you a warm, thick tone with more bass than rosewood
Instead of using a fretboard of ebony, the BR-140 has a great-looking rosewood fretboard.
The biggest benefit that this brings to the table is the enhanced low end that rosewood provides especially when it is being used as a fretboard.
The lows are not muddy, however. They're smooth and creamy like your favorite milkshake. The combination of smooth lows and punchy mids and highs allows you to cut through a mix to easily showcase your lead-playing skills.
When you back off the volume and play strummed rhythms or bass runs, the sound is simply tough to beat. You will still have plenty of definition and balance – both of which are necessary to fill in the tonal gaps and provide others with a smooth, consistent rhythm tone to solo over.
In addition to the amazing tonal qualities, you also get a neck that is slimmer than that of a typical dreadnought size guitar.
This makes the BR-140 a great choice for those with smaller hands. The action is set close enough to allow smooth playing and yet not create a lot of buzzing whenever you play it with some force. This guitar also looks as good as it sounds and plays.
The guitar is adorned with an impressive headstock design that is classic and very noticeable
The light-colored mock tortoiseshell pickguard sets it apart from many others that typically have a darker, less vibrant pickguard
This guitar leaves a great impression on your audience as soon as you pull it out of the case. The vintage-style tuners add to the classy appearance while being impressively functional and maintain your tuning well even when you're playing outdoors.
If you were to have a professional luthier hand-make a guitar like this for you, then you would expect to easily spend thousands of dollars. Luckily, this guitar is not even in that ballpark.
Hear how this guitar sounds:
Pros:
Has features that most professionals look for in a good guitar
Beautiful appearance
Higher-quality woods than most Chinese-manufactured guitars.
Cons:
Manufacturing techniques can cause inconsistent quality.
Priced a little high for a Chinese-made guitar
Inconsistent factory setup right out of the box (may need adjusting).
Check Price on:
---
Best for Electric Guitarists – Takamine GD30CE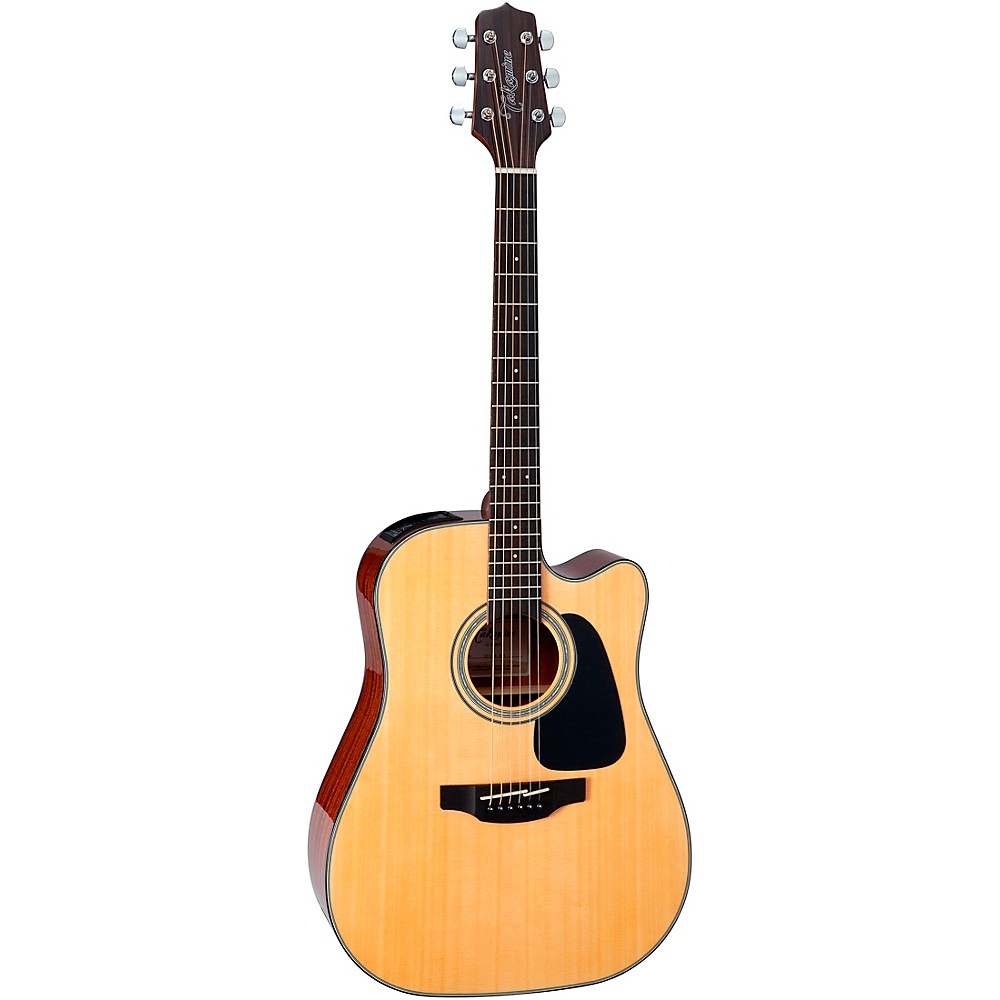 For the electric guitar players out there who want to break into the bluegrass scene, the Takamine GD30CE is the one to consider.
It is a guitar with a lot to offer to those who are either wanting to get an affordable acoustic to add to their arsenal…or for those who want the ability to plug in for an amplified tone.
Takamine is not one of the first manufacturers that come to mind when people think about bluegrass, but it should be.
Their reputation for making quality instruments is pretty impressive, and their lineup of professional musicians (Garth Brooks, Blake Shelton, and Bruce Springsteen come to mind) who endorse them is extensive.
Since they have graced the stages of the world with some of the most famous country, rock, and pop artists, what makes them suitable for bluegrass?
First, consider the construction.
The Takamine GD30CE sports a solid spruce top and mahogany back and sides – a tried and true combination for amazing tone and volume.
According to Takamine, the fretboard, bridge, and headstock overlay are all made of ovangkol. Ovangkol is a very close relative of rosewood and provides more mid-range fullness and great bass articulation. Now that we've established that the wood quality is more than adequate, let's look at some of the other benefits that this guitar offers.
The first thing is the size factor.
This guitar's size is smaller than a dreadnought, and that's a huge factor for many guitarists who feel that the dreadnoughts are too large and cumbersome to play comfortably.
The GD30CE's size is more like a "concert" sized guitar (Takamine refers to it as their FXC body style). The smaller size makes it perfect for players with smaller hands as well as for players that want a guitar that is much easier to handle and transport.
Additionally, the size comes in handy on crowded stages, and it sits very comfortably in the lap while playing in a sitting position.
For those who like to take their lead work on the higher part of the fretboard, the GD30CE comes with a cutaway body that allows easy access to those upper frets.
Electric players will love this feature because it allows them to easily play scales much easier without fighting with the square shoulder of a traditional body style. The smaller body size and cutaway do have some drawbacks when it comes to tone and volume.
Although the back and sides are made of mahogany, you can expect the tone to be a little brighter than a full-sized dreadnought. The main reason for this is because cutaways actually take away from the surface area of the guitar and create a smaller sound chamber.
This is typically not a huge issue when you plug it in because you can use the onboard preamp to adjust the bass, mids, and treble of the amplified signal to make up for the loss of natural low end. However, it won't be as loud or sound as full whenever you play it unplugged, but it still manages to cut through without sounding forced or brittle.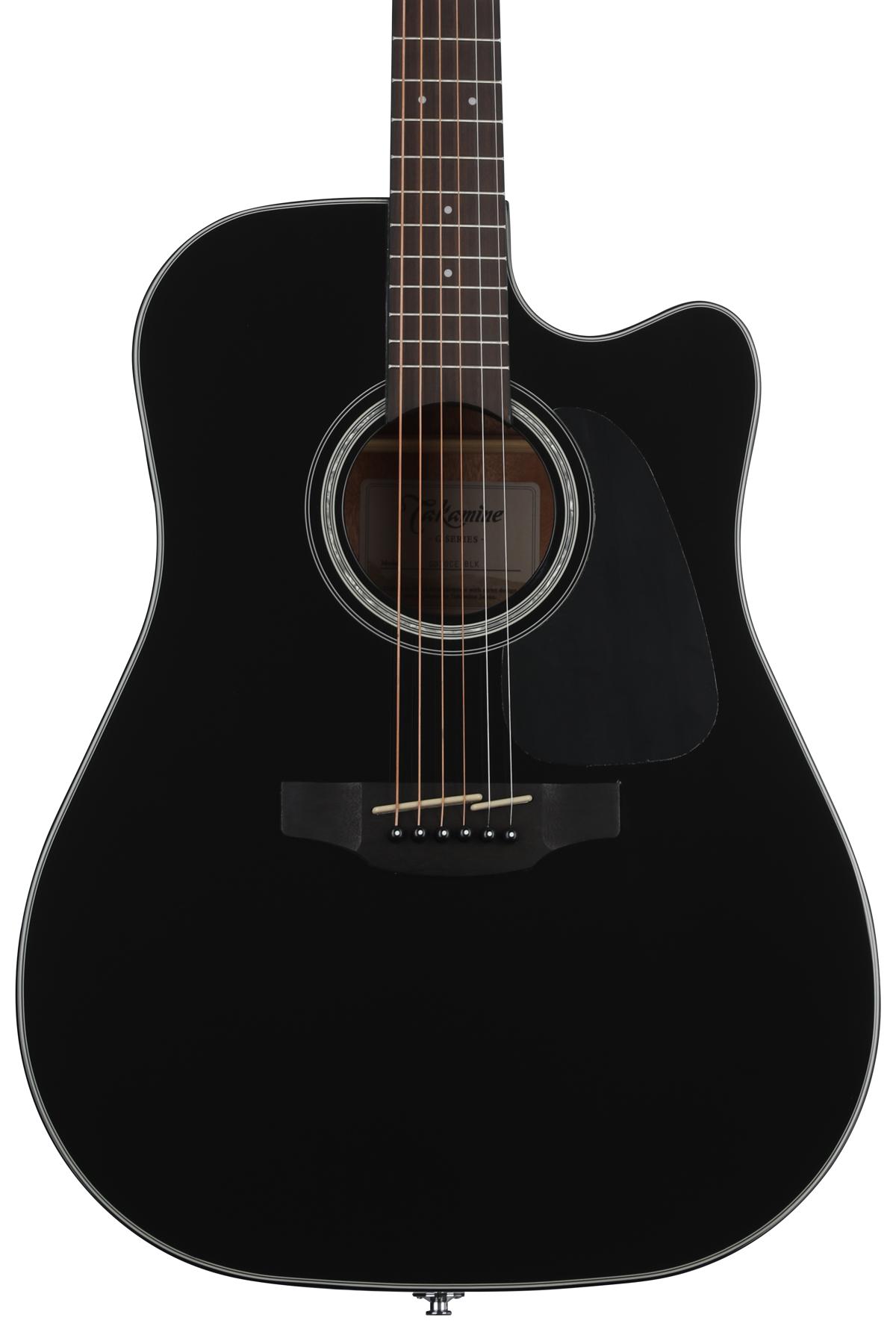 There is also this beautiful black version available.
What about the electronics?
Takamine's TP-4TD onboard preamp is a feature that any player can appreciate even if they never intend on plugging it into an amplifier. It features a built-in tuner which is a lifesaver whenever you're playing outside.
For those who do plug it in, the piezo pickup produces plenty of noise-free sound, excellent feedback control, a 3-band EQ(shape your tone), and gain controls.
Piezo pickups can often be thin-sounding, so this is a huge benefit and makes the guitar a much more versatile instrument.
To wrap all of those features up into one package is pretty impressive, not to mention the fact that they offer 3 colors to choose from:
They offer several other versions of the GE30 as well, including a 12-string version and a version without a cutaway.
The best part is that it will not break the bank. This makes it a great guitar for many budget-minded guitarists to break into the bluegrass scene.
Hear how this guitar sounds:
Pros:
Easy for electric players to transition to an acoustic
Onboard electronics make it versatile
Smaller size is great for those with smaller hands
Available in 3 color options
Cons:
Cutaway body takes away a lot of natural volume
Smaller size may not allow it to cut through a mix as well as a dreadnought
Neck size may be too thin for those with larger hands
Find more great Takamine acoustic guitars here.
Check Price on:
---
Best Budget – Alvarez AD60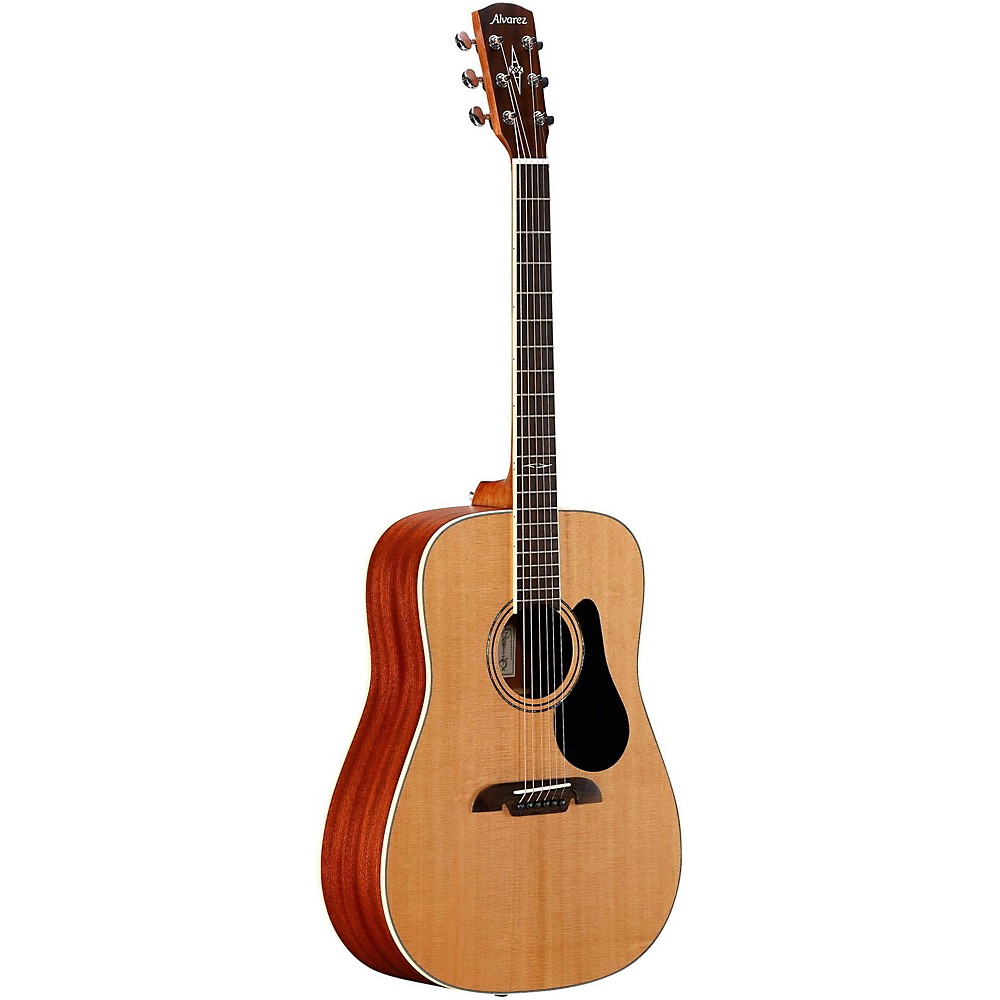 Alvarez guitars completely changed the game when it came to producing a solid-performing, well-built acoustic guitar.
They have a very extensive line of models to choose from, and like Takamine, they have an impressive lineup of professional endorsees (ever hear of Bob Weir from The Grateful Dead?).
The AD60 is a perfect example of a guitar that is
affordable
stylish
and great for bluegrass playing
It all starts with a great selection of tonewoods.
The tried-and-true combination of
a solid Sitka spruce top
and mahogany back, sides, and neck
provide plenty of punch to bust through the mix while giving you the smoothness that only mahogany can provide.
The AD60 also features a rosewood fretboard and bridge – typically found on many higher-priced guitars.
Also…
A unique bridge design,
real bone saddles,
and tastefully subtle embellishments
make it a guitar that appears to be completely custom-built.
One noticeable attribute is the lack of fretboard markers with the exception of a beautiful pearl inlay at the 12th fret.
If you think a lack of fretboard markers makes it harder to play, keep in mind that they still have side markers so you'll always know where you're at on the fretboard.
Once you play it, you'll be hooked.
The neck plays nice and smooth thanks to the semi-gloss finish.
But, if you play in humid conditions, you'll be exceptionally thankful for this because gloss-finished necks can often become sticky when there is excessive moisture in the air.
The neck size is thinner than most guitars without being too thin.
There's still plenty of meat on it to keep your hand from cramping while holding strumming chords for a long time while the action is close and smooth.
String buzz is not an issue even with the close action, and you can really put some force into your flatpicking without worrying about ruining the tone. This dreadnought-sized work of art cuts through the mix with little effort.
It still offers that low-end smoothness that is so crucial to bluegrass rhythm playing, but it is a bit brighter due to Alvarez's unique bracing method. It is specially designed to add substantial strength to the guitar while balancing out the tone.
It may sound too good to be true, but the Alvarez AD60 is incredibly affordable – especially for all of the professional features that it offers.
Hear how this guitar sounds:
Pros:
Incredible quality-to-price ratio
Unique bracing enhances both tone and structural integrity
Amazingly beautiful "hand-crafted" appearance
Professional features such as real bone saddles really enhance the tone
Cons:
Semi-gloss neck finish gives it a "cheap" feel
Lack of fretboard inlays may make it hard for some beginners to learn on
The neck is pretty thin but may still be too wide for some players.
Check Price on:
---
Best Beginner – Fender CD-60S Bundle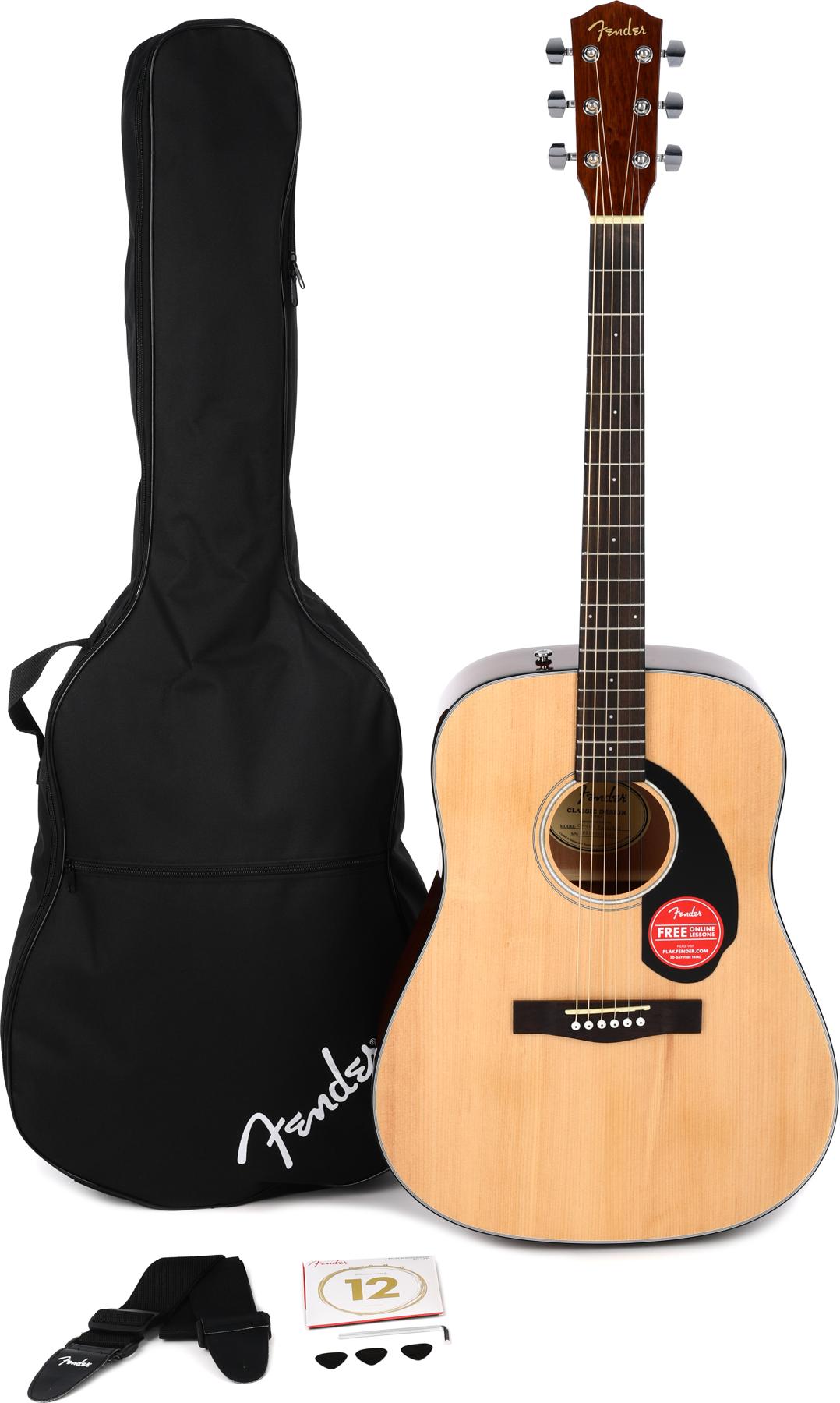 Fender makes great guitars. That's just a simple fact. And now I'm not talking about electric guitars only…
Although the name is more recognizable to electric guitar players, there is no doubt that Fender builds some quality instruments that are perfectly suitable for bluegrass playing.
The CD-60S Bundle is a great example.
This guitar starter package not only comes with a nice guitar…
…but also everything you need to get started playing right away!
We'll start with the most important part: the guitar. It is a dreadnought-size guitar built with
a solid spruce top
with a back, neck, and sides made from mahogany.
For a guitar in this price range, a solid spruce top is a rarity. The wood selection is going to give you that classic acoustic tone with plenty of punch on the mid to high end and a warm, smooth low end.
The neck plays wonderfully with a nice action that beginners and intermediate players will appreciate.
It's smooth, and your chord progressions and rhythmic bass lines will flow quite easily as your playing progresses.
This is a guitar that grows with you.
By that, I mean that you can afford to test the waters a little before committing to a guitar with more features, but even if you do, you'll still find yourself going back to CD-60S simply because it's a fun guitar to play.
This bundle offers beginners a huge advantage.
Because you get a quality instrument, but you also get some invaluable accessories with it.
About the bundle available on Amazon:
The inclusion of a hard-shell case in this package was a brilliant idea. Not only do they offer the best protection for your instrument when traveling, but they are also the best way to store your guitar when it isn't in use. They are lockable, so you don't have to worry about anyone playing your precious guitar when you're not around.
You also get
a headstock clip-on tuner
picks
an extra set of strings
a guitar strap, a polishing cloth
an instructional DVD
This thing is ready to go right out of the box, and the instructional DVD contains useful maintenance information as well as material on how to play. It's different from a lot of instructional DVDs and books, and beginners have all of the information on how to not only play but also keep their instrument in tip-top shape.
With the bundle available on Sweetwater you get:
a gig bag
a strap
picks
and an extra pack of strings
3-month Fender Play subscription
the bundle is more affordable
If you want to jump headfirst into bluegrass, both of these are "the packages" for you in my opinion!
It takes the worry out of purchasing accessories separately and provides you with a great way to get started with one single purchase.
The Fender CD-60S bundle can be grabbed up for an absolute steal. It's not only a great value, but it's a great guitar worthy of being in any collection. Hear how this guitar sounds like(you might be surprised):
Pros:
Incredibly budget-friendly, especially with the included accessories
Fender quality construction and sound
Beginners have everything they need to start playing immediately
Cons:
Finish on some of them is too thick, resulting in a loss of volume
Can sound a little buzzy when played with a lot of force
Some beginners may not appreciate the body size
Check Price on:
---
Verdict
The best overall bluegrass guitar is most certainly the Martin D-28 in my opinion.
After all, it laid the foundation for how a bluegrass guitar should sound. It has been – and probably always will be – the "King of Bluegrass Guitars".
If you're looking for professional features and impressive looks but don't want to throw in a lot of money, the Blueridge BR-140 is the guitar to consider. It does not only looks amazing, but it backs up those good looks with great tone and playability.
For the electric guitarist who is considering venturing into bluegrass territory, the Takamine GD30CE is the way to go. It will provide electric guitarists with a very familiar feel while giving them an instrument that will stand up to the rigors of bluegrass flatpicking. The smaller size is also easier for smaller players to handle.
The Alvarez AD60 was constructed for the budget-minded guitarist without depriving them of professional features. It is a guitar that guitarists of all experience levels could appreciate and offers a substantial edge over many similarly priced guitars because of the incredible sound.
If you're just getting into the bluegrass world, I highly recommend the Fender CD-60S bundle.
Not only is the guitar perfectly capable of holding its own in a bluegrass jam session, but it also provides the budding guitarist with accessories, so they don't have to purchase them on their own.
---
Buyer's Guide – FAQ
What is Bluegrass Guitar?
Bluegrass music is hard to forget once you hear it: driven, energetic, and powerful.
For a guitarist, it provides a unique challenge in the sense that it can take only a little while to learn but a lifetime to master.
Before bluegrass came about, the guitar was mainly played as a rhythm instrument. It was not typically considered to be an instrument that involved a lot of technical lead-playing skills.
As the art form progressed, this idea fell by the wayside…
You will hear many bluegrass guitarists refer to "flatpicking". This is the style that is typically played in the bluegrass world as it utilizes a flat pick to play leads instead of finger picks.
Some artists who helped make flatpicking famous include Doc Watson, Tony Rice, Del McCoury, and Brian Sutton.
Playing bluegrass guitar is fun.
The tight blend of country, Appalachian folk, and blues makes it appealing to guitarists young and old. Since acoustic instruments are the heart of bluegrass, it is important that you get a guitar that is not only going to play well but also sounds amazing.
What makes a great bluegrass guitar?
A great bluegrass guitar is made from high-quality tonewoods.
A spruce top provides the best projection and brightness necessary to really cut through the mix of other instruments, while the overall tone is defined by the wood that makes up the back, sides, and neck.
Mahogany and rosewood are the preferred tonewoods because of their balanced tone.
Rosewood has a bit more low-end definition while mahogany offers a smoother flowing low end.
How do I pick the right bluegrass guitar for me?
Consider your
skill level,
your interest,
and your budget.
If you are just starting off and are not really sure if it's going to be something that you stick with for a while, then I would definitely recommend getting a guitar that is budget-friendly.
If you are more serious and know for a fact that you want to be an accomplished bluegrass guitarist, then I definitely recommend going for a guitar that offers more professional features like all solid woods, handmade construction, and premium-quality hardware.
You also want to take size into consideration.
The majority of bluegrass guitars are dreadnought size, so they may prove to be a little challenging to play for those with smaller hands.
They also have a fairly deep body, so always try to actually play the guitar that is similar in size to ensure that it fits you.
How much is a good bluegrass guitar?
Good bluegrass guitars range from around $200 to about $3000, respectively. There are always exceptions to the rule when it comes to pricing, but this is a pretty typical range.
But yes, even on a tight budget, you can get a nice bluegrass acoustic guitar for yourself.
Keep in mind that some professional luthiers can charge upwards of $10,000 for their guitars, but the majority of bluegrass guitars are much more reasonably priced.
What should I avoid when choosing a bluegrass guitar?
I recommend staying away from guitars that are crafted from a lot of exotic woods.
Examples of these would be
koa,
spalted maple,
and zebrawood
Although they are beautiful, they simply don't have the tonal characteristics of more traditional woods like spruce, mahogany, and rosewood.
Many manufacturers are using more sustainable sources for tonewoods and therefore using woods like ovangkol and padauk. These are suitable because they produce tones similar to the more traditional wood varieties.
If you're in doubt, always research the tonal qualities of the wood and see how they compare to spruce, mahogany, and rosewood.
---
Conclusion on Best Bluegrass Guitars
I have played a lot of guitars over the years, and that experience has taught me a lot about finding the right guitars for bluegrass music.
In fact, my knowledge of bluegrass guitars was gathered directly from the source: from award-winning and professional guitarists.
The guitars listed here were hand-picked because of their ability to meet the needs of guitarists from beginners to advanced players.
They all share common features –
such as a solid spruce top
and they all have attributes that make them great for bluegrass.
Our picks for the 5 Best Bluegrass Guitars of 2021 are meant to offer players choices that stand out amongst the ever-growing marketplace of guitars. It is very easy to get overwhelmed with so many different guitars on the market today, so these were recognized because they stand out from the crowd.
You don't need to take out a second mortgage in order to get a great playing and great-sounding bluegrass guitar. They can be acquired affordably, and the quality can still be found even for those on a tight budget.
Bluegrass guitar is a fun and rewarding style of playing that is truly an all-American art form. Find a guitar on our list that matches your needs and get ready to do some flatpicking!
You might also like:
We are sorry that this post was not useful for you!
Let us improve this post!
Tell us how we can improve this post?