Last Updated on November 22, 2023 by Teemu Suomala
Author: DL Shepherd
Darren has been playing guitar for over 23 years. He fronted the metal band Suddenly Silence in the early 2000's, and also achieved recognition as an award-winning bluegrass guitarist.
A native of southwestern Virginia, and has shared the stage with many big-name acts from various genres. When he is not playing one of his many guitars, he can be found riding his Harley through the mountains of Virginia.
Hide The Rambling▲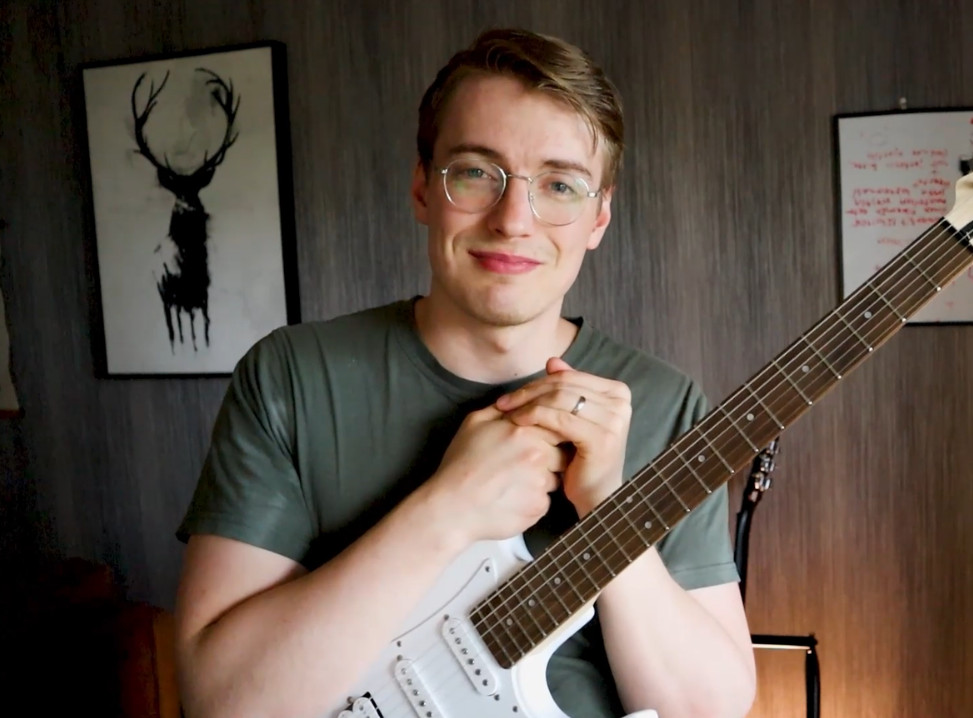 Editing & Research: Teemu Suomala
I first grabbed the guitar in 2009. I started this website in January 2020 because I couldn't do window installation anymore due to my health problems. I love guitars and have played dozens and dozens of different guitars through different amps and pedals over the years, and also, building a website interested me, so I decided to just go for it! I got lucky and managed to get awesome people to help me with my website.
I also got lucky because I have you visiting my website right now. Thank you. I do all this for you guys. If you have any recommendations, tips, or feedback, just leave a comment, I would love to chat with you. I have also been fortunate to produce content for several large guitar websites, such as Songsterr, Musicnotes, GuitarGuitar, and Ultimate Guitar.
I spend my spare time exercising and hanging out with my wife and crazy dog (I guess that went the right way…).
Hide The Rambling▲
---
Let's face it: We all get the blues at some point in our lives. When you're a guitarist, that is not necessarily a bad thing. You can always pick up your axe and put your blues to good use.
But what should you play?
There are tons of great blues songs out there. You might prefer to wail away on some tunes by electric blues guitarists such as Buddy Guy or BB King, or you might decide to pick up the acoustic and play some old Robert Johnson tunes. Either way, you're sure to find some satisfaction.
We've played a lot of blues songs over the years. I mean, even playing guitars for a living can have its pitfalls. I play far more guitars than I am able to buy, after all. That certainly gives me the blues from time to time.
Before we start, let's define the difference between a "riff" and a "lick".
You can think of a guitar riff as a part that sets the mood or theme of a song. A good example would be the intro to Ted Nugent's "Cat Scratch Fever". You just can't play that song without that riff! It is the main theme of the song. There are other songs that use the same chord progression, but the way it is played makes the entire song.
A lick, on the other hand, is a little different. Think of a lick as a run, solo, or fill. If you're still listening to "Cat Scratch Fever" (and you should be), you'll hear Ted go off on a solo that is simply a collection of licks strung together. One of the best breakdowns of his solo can be found here. You'll notice that the solo is broken up into pieces. These pieces are "licks".
So if you've caught a case of the blues, pick up your guitar and try learning some of these blues riffs and licks that we like to jam when we're down and out.
If you don't know how to read chord charts, master guitar chord charts here.
---
28 Blues Riffs and Licks to Learn
7 Best Blues Riffs for Acoustic Guitar
More About Blues:

Check our picks for the best blues acoustic guitars here.
Death Letter Blues – Son House
The main riff of "Death Letter Blues" is a blues standard that was recorded by Son House in 1930. His rhythmic style is very apparent in this song, and it helps the riff build the foundation of the song. While Son played this "bottleneck style" (using an acoustic guitar slide), it is possible to play without the slide. Most of the riff is defined by the way the right-hand plays the rhythm. It is a timeless classic by a legendary bluesman.
Life by the Drop – Stevie Ray Vaughan
The iconic electric bluesman, Stevie Ray Vaughan, created an acoustic blues masterpiece when he recorded "Life by the Drop". The opening lick is followed by a familiar blues swing riff that carries the melody of the song. It has a little more pop sensibility to it than a "standard" blues song. The song is great to learn if you're looking for something that ventures outside of the "blues box" as far as the main chord progression is concerned. The opening lick is great to learn too!
Nobody Knows You When You're Down and Out – Eric Clapton
This Bessie Smith classic was redone by Eric Clapton and therefore made famous as a great acoustic blues song. The riff is actually the entire song and carries the melody. If you're a fingerstyle player, you'll love the chord progression and snappy rhythm work. It has a ragtime feel to it that is filled with walking bass lines. The song is a great riff in itself and definitely worth learning.
Sweet Home Chicago – Robert Johnson
Robert Johnson is perhaps the most legendary of all blues guitarists. His haunting vocal style and solid blues riffs have become the standard by which all blues songs are measured. In the song "Sweet Home Chicago", Johnson lays down what might just be the most solid blues riff of all time. It is also peppered with some intricate licks that are fun to learn as well.
Hey Hey – Big Bill Broonzy
Eric Clapton brought this song to the forefront on his "Unplugged" album. Most people didn't realize that the song was actually written by Big Bill Broonzy, one of Clapton's influences. The one of the things that stands out in the main riff is the finger slide that is used to transition from one chord to the other. It is one of those riffs that you never get tired of playing because it is so interesting!
Devil Got My Woman – Skip James
The main riff of this song is a haunting melody that fingerstyle players will love to dissect. It uses plenty of octaves and fifths to create a lonesome sound while making use of most of the fretboard. You can play it fingerstyle like the original or adapt it to flatpicking with a little practice. It's a blues riff that you can really sink your teeth into as a player.
Baby Please Don't Go – Lightnin' Hopkins
Lightnin' Hopkins version of "Baby Please Don't Go" is an excellent blues song with the main riff carrying the melody of the song. It is one of many versions recorded by blues artists over the years. Each version has its own twist, and Lightnin' Hopkins' version is an interesting interpretation. Its bouncy and fun to play – what more could you want in a good blues riff?
---
7 Best Blues Licks for Acoustic Guitar
Deep River Blues – Doc Watson
Looking for a song that is filled with blues licks? "Deep River Blues" is the one you need to learn! It has seventh chords, diminished chords, string bends, and bass runs jam packed into one song. The song starts out with a fingerpicked diminished chord progression and then mixes in lick after lick of bluesy goodness. It is only fitting that this song be on the list. Doc Watson's 100th birthday was 03/03/2023 and celebrated heavily here in the Appalachian Mountains.
Long Tall Mama – Big Bill Broonzy
This bouncy tune is filled with plenty of country blues licks that will keep your fingers constantly moving on both hands! There's some sliding licks, string bends, and hammer-ons in there along with a catchy bass line that you simply can't get out of your head. If you want a song that is full of country blues licks, check this one out!
Walkin' Blues – Eric Clapton
Eric Clapton's version of Robert Johnson's "Walkin' Blues" is a classic bottleneck blues rendition that completely captures the haunting licks that helped make Johnson's music legendary. It has some very pronounced slides that use the majority of the fretboard. It's a great song that's filled with standard blues licks that are certainly worth learning.
Matchbox Blues – Doc Watson
Doc Watson does a phenomenal version of Blind Lemon Jefferson's "Matchbox Blues". The opening lick in the song is a nice blues-box lick that really helps the riff set the tone of the song. It is filled with plenty of open-string hammer-ons and pull-offs. The song was originally recorded by Jefferson in the 1920's.
Make Me A Pallet On Your Floor – Mississippi John Hurt
This is a classic blues song that has a bouncy main riff with some interesting licks that carry along the main theme of the song. It isn't packed full of long licks, but it has some great transitional licks that fingerstyle players will love.
Jockey Full of Bourbon – Joe Bonamassa
Joe Bonamassa's take on Tom Waits' "Jockey Full of Bourbon" throws in a lot of great blues licks. From the main riff to the blazing acoustic solo played in a minor key, the song is an exceptional blues version of a song that otherwise might not have made it out of Waits' collection.
Jim Lee Blues Pt. 1 – Samantha Fish
Samantha Fish throws down some tasty blues licks in the middle of "Jim Lee Blues Pt. 1". The solo is a testament of her skills and is incredibly fun to learn. If you're looking for a song that mixes modern and traditional blues, then this is one song that you should have on your list.
---
7 Best Blues Riffs for Electric Guitar
Check our picks for the best blues electric guitars here.
Pride and Joy – Stevie Ray Vaughan
This song has one of the most recognizable blues riffs of all time! You just cannot mistake the main riff of this song. It has a walking bass line and a good amount of shuffle to it as well. This is a perfect example of Texas blues at its finest. Not only does it sound good, but you'll catch yourself playing it when everything else just seems boring.
Hoochie-Coochie Man – Muddy Waters
When the main riff of "Hoochie-Coochie Man" starts, you know you are getting ready for a blues trip! It is one of the most famous blues songs of all time, and the main riff is what makes it so catchy. There's tasty licks in the song as well, but the riff is unmistakably blues at its best.
Born Under a Bad Sign – Albert King
Eric Clapton once called Albert King the greatest guitarist of all time. That's a huge deal coming from one of the greatest guitarists of all time! The walking bass riff of "Born Under a Bad Sign" is a classic that every bluesman should learn at some point in time. It is just one of those riffs that gets stuck in your head and stays there.
Cold Shot – Stevie Ray Vaughan
The main riff of this song has a shuffle that makes you want to jam it all day long! It is another classic from the Texas blues riff master and one that is instantly recognizable. There's some great licks in this song too so be sure to pay attention to them.
The Prodigal Son – Ry Cooder
Some may argue that this song is a rock song, and I can agree to some extent. Some may not even think that the main riff is nothing special. However, if you listen closely to how it is played along with the licks, it is a driving riff with sweet simplicity.
Ball of Fire – Robin Trower
This is a peppy blues song with a rhythmic riff that is pretty straightforward. If you like songs with nice licks in the middle of them, this is one you'll like. It has a rock feel to it but it is most definitely a blues song. The guitar playing is absolutely stunning, and you'll catch yourself wanting to learn every note of it.
Before you Accuse Me – Eric Clapton
Many folks have heard Clapton's acoustic version of this song, but have you heard his electric interpretation? It is groovy, bluesy, and the main riff gets stuck in your head. It is a blast to play as well. It has a nice electric guitar slide lick in there as well for those of you who like to use one to blast some blues. Give this version a shot!
---
7 Best Blues Licks for Electric Guitar
Check our picks for the best electric guitar strings for blues here.
Catfish Blues – Jimi Hendrix
Is it a riff or a lick? I'm calling this one a lick because you absolutely have to have the hammer-ons and pull-offs to get it to sound right. It is a haunting song by the most celebrated guitar player in history – and it doesn't disappoint. It has some blazing solos in it that are simply awe-inspiring. Let a true master show you how it's done.
Call Me The Breeze – Lynyrd Skynyrd
Yes, Lynyrd Skynyrd is a rock band, but "Call Me The Breeze" is most certainly a blues song! If you can't find an interesting lick in this song, then something is seriously wrong. There's so much energy in this song, and the licks are stuck everywhere! It's easy to do that when you have three incredible guitarists, I guess. This song taught me a lot about the blues long before I really started playing them.
Red House – Jimi Hendrix
Here's a proper blues tune by Jimi Hendrix. It has everything that you want in a slow blues song: a solid beat, walking bassline, and blazing licks. If you just learn the first riff (before the first verse), you'll be showing it off at your next jam session with friends. Many have tried to duplicate this tune, but they all fall short (sorry, Joe Satriani).
I Put A Spell On You – Christone "Kingfish" Ingram
This song was originally by Screamin' Jay Hawkins, but Kingfish Ingram gives us what is probably the best version of this song. His playing is filled with emotion, and the licks are abundant. From the simple chords he plays as fillers in the verses to the killer solo that has a hint of jazz influence, it is simply a great song from which you can lift some licks.
The Thrill Is Gone – BB King
BB King is the "King of the Blues" for good reasons, and this song is one of those reasons. It has some short phrases and licks that show you just how much a little playing can impact the entire song. Get ready to use those upper frets on this one!
Mustang Sally – Buddy Guy & Jeff Beck
Wilson Pickett may have made this soul classic a standard, but Buddy Guy helped make it a blues song. His duet with Jeff Beck is a hard-hitting version filled with blues licks from front to back. When two amazing guitarists put their talents together on a classic song, the world is rewarded with a breath-taking thrill ride!
Sweet Little Angel – BB King
If you haven't guessed it already, you can learn a lot of great licks from BB King. This is one of his most well-known songs, and it packs a ton of licks! We like the version with Eric Clapton, Albert Collins, Buddy Guy, Jeff Beck, and BB King because they're all taking turns swapping licks on this great song. It's one of those songs that you can freestyle over too!
Check our picks for the best tube amps for blues here.

Check our picks for the best small tube amps for blues here.
---
FAQ
How Do You Practice Blues Riffs & Licks?
The best way to practice blues riffs and licks is the learn the pentatonic scales and work on them. Guitarists will often refer to this as the "blues box". When I began studying the blues, I learned a couple of basic riffs, recorded them, and then practiced my licks over top of them. This allowed me to "freestyle" over my own riffs.
Most blues riffs are fairly straightforward and easy to come up with after a little practice. Try playing along to one of the songs on this list to learn some of them.
How Do You Play Blues Licks On Guitar?
Learning the pentatonic scales is your secret to playing blues licks. The "blues box" will instantly become one of the things that you go for when you start playing solos. After a lot of practice, you'll be able to jump right in and throw in licks right off the top of your head!
What Are The Most Popular Blues Lick and Riff?
Catfish Blues – Jimi Hendrix
Red House – Jimi Hendrix
Cold Shot – Stevie Ray Vaughan
Pride and Joy – Stevie Ray Vaughan
Hoochie-Coochie Man – Muddy Waters
Born Under a Bad Sign – Albert King
How Do You Master the Blues?
You master the blues with a lot of practice! I know that's not what a lot of you want to hear, but that's the honest truth. There isn't a magic pill that can make you a blues master overnight. Practice pentatonic scales and other blues scales to get proficient at playing licks. Playing the blues is just as much about feeling the music as it is playing it.
Where Do I Start with The Blues?
The best starting point to learning the blues is the rhythm. If you don't have the rhythm down, you will have a hard time coming up with licks. Learning to play in the keys of E and A will help tremendously. If you want to learn some country blues on the acoustic guitar, you should learn how to play in the key of C as well.
Learn your scales – especially the E minor and A minor pentatonic scales. You'll need these for playing licks.
What Key Is Most Blues Music In?
Most blues music is in the key of E or the key of A. Some older "country blues" songs are in the key of C.
What 4 Chords Do Blues Songs Use?
Blues chord progressions typically (not always) follow a I, IV, and V pattern and typically be 7th chords. This means that if you're in the key of E, you'll use E7, A7, and B7, respectively. You have to throw a 7th chord in there though. It's hard to get that blues sound without it.
Are Guitar Licks and Riffs the Same Thing?
No, they are not the same thing. The best way to remember difference is that a riff can be played by itself and sound complete, while a lick cannot stand alone. For example, you can play the riff to "Cold Shot" and have a song, but you cannot play the licks and have a complete song.
---
Conclusion
We tried pulling some licks and riffs from different styles of blues. People often forget that there are different styles of blues just like there are different styles of rock. Exploring the sub-genres of blues can yield a ton of different licks and riffs that you can then bring together into your own style.
Did we miss a few? Sure. There are countless songs out there with riffs and licks that are awesome to play. We just picked the ones that we feel are the most fun, influential, and interesting.
Some may require you to learn to play fingerstyle (like "Deep River Blues") while others can be played with a flat pick. Exploring these different styles will make you appreciate the history and diversity that defines this great genre.
With that being said…
Stop reading and start jamming! Have fun!
You might also like:
We are sorry that this post was not useful for you!
Let us improve this post!
Tell us how we can improve this post?