Last Updated on February 20, 2023 by Teemu Suomala
Best Overall – Cordoba C9 Crossover
Sound
Playability
Overall Quality
Value For Money
Summary
What makes the C9 so great, is the crossover neck.
It's closer to the neck of a steel-string acoustic…or even electric!

Nut width is only 48mm(1'88"). So the neck is narrower and also thinner than in most classical guitars. So this guitar is practically classical with a steel-string acoustics neck (Crossover C Shape helps with this). The shortcut to classical guitar mastery with small hands.

This, and great tones and quality are why Cordoba C9 Crossover is the best classical guitar for small hands in my opinion.

Plus truss rod makes adjusting the neck to your liking a real walk in the park(most classicals don't give you this feature).

If you are after THE BEST classical for small hands, this Cordoba is worth a closer look.

How C9 Crossover sounds:
Check Today's Price on:
*Consider all links in this post to be affiliate links. If you purchase, at no additional cost to you, we may earn a small commission. It helps us to keep the lights on, thanks! 🙂
---
The Next Best:
Electric-Acoustic Runner-Up – Kremona Verea Performer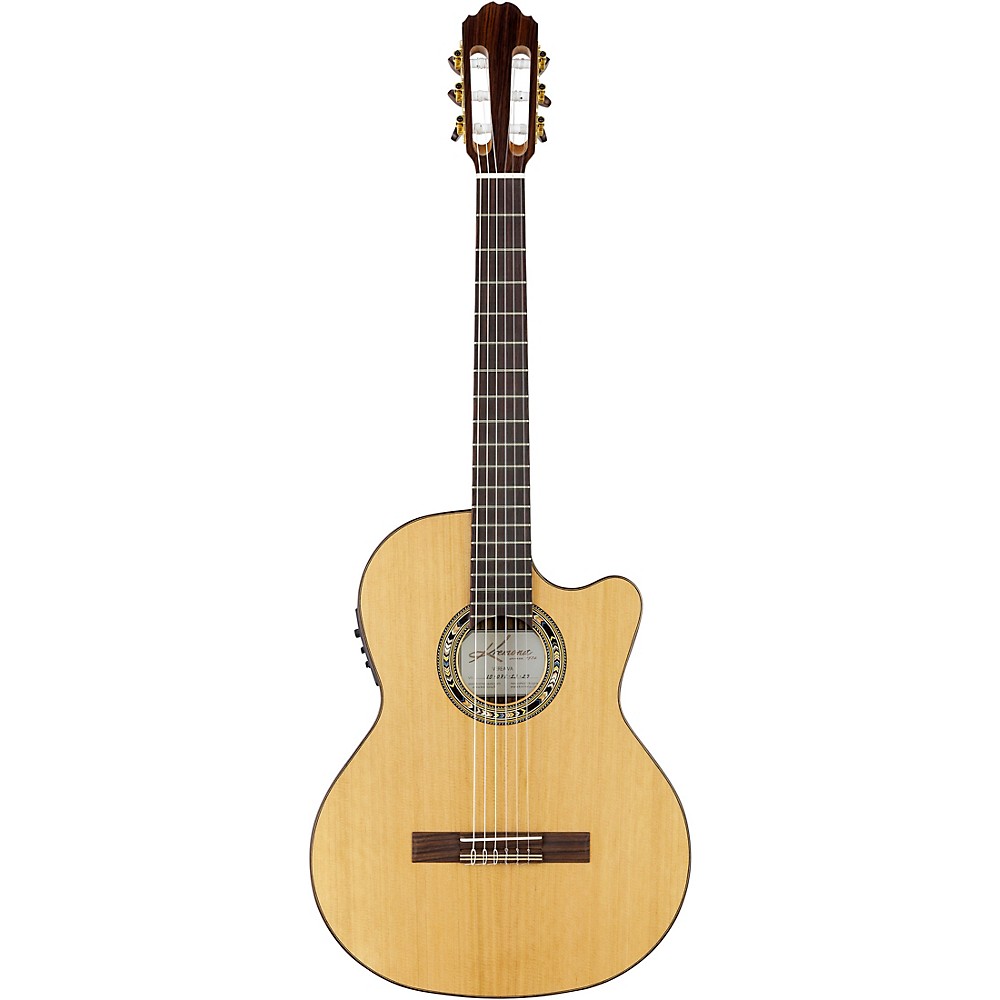 Check Today's Price on
---
---
Summary
1.88" (48mm) nut width and Venetian cutaway give this guitar an edge when compared to other classicals.
It's perfect for anyone who wants smooth playing with easy access to every corner of the fretboard(upper frets too!).
If you are struggling with wide-neck classical, Kremona Verea is the real kryptonite to those problems.
Best for Small Person – Alhambra 1OP-Cadete-US
Check Today's Price on
---
---
Summary
This guitar is comfortable in your hand and easy on your fingers.
Why?
Small size and slim nut width of 1.88"(48mm).
and this is not the only sweet thing for small hands…
The fretboard is just slightly curved, which makes it easier for your hand to wrap around the neck and reach all the frets easily.
Amazing option for kids, smaller persons, and travelers.
Best Budget – Cordoba Dolce 7/8
Check Today's Price on
---
---
Summary
This guitar reduces the stress and the pain that comes from playing classicals with wide necks
–narrower neck(1.97"nut width) than usual
-and shorter scale length
make everything easier for your small hands.
Plus, its out of the box setup is usually spot-on (nothing is guaranteed) so there's usually no need for adjustments.
Narrow Nut- Taylor Academy Series Academy 12-N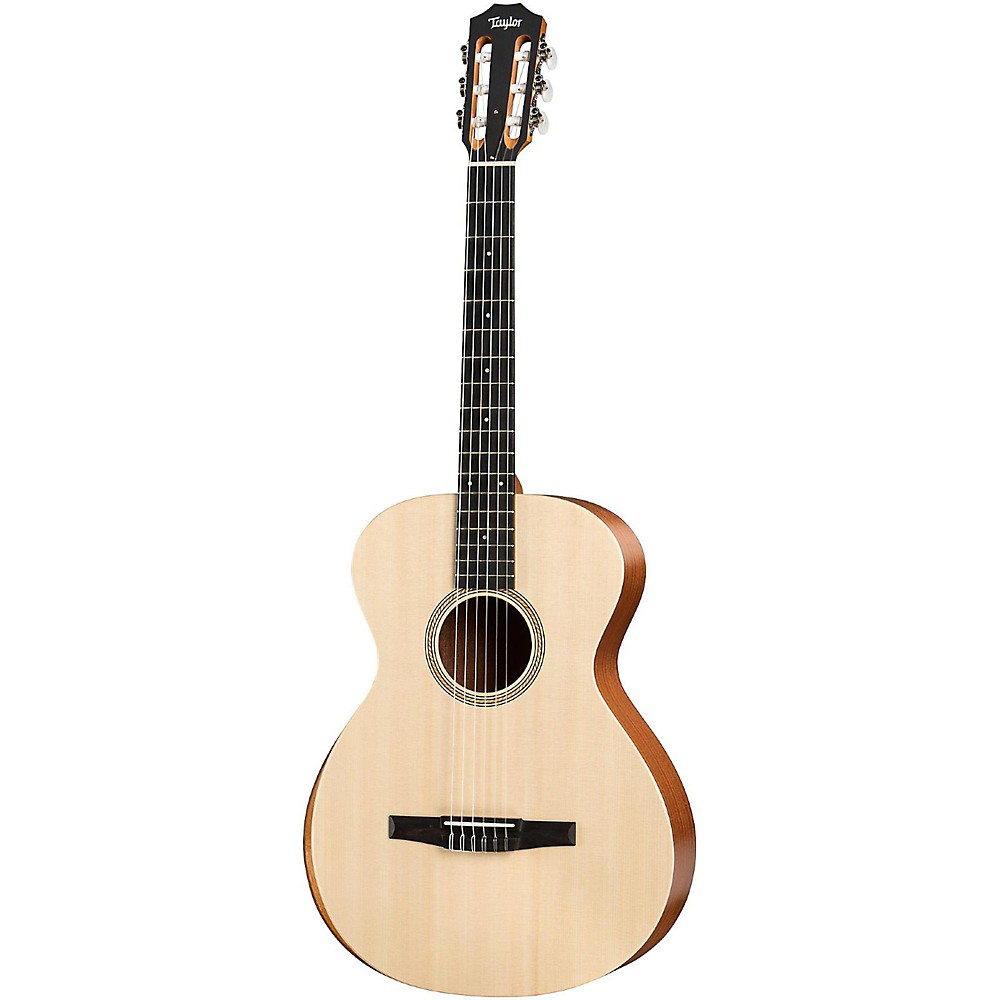 Check Today's Price on
---
---
Summary
The Taylor Academy 12-n near-perfect fit for small hands.
It has a narrow nut(1.875"), making it easier to play and reach all of the frets.
The smaller size also makes it more comfortable to hold against your body.
It feels like an extension of your body when you play.
Here's A Decision Tree to Help You Out:
Playing classical guitar with small hands can leave you feeling and acting something like this:
Because the truth is:
Classical's neck can be uncomfortably wide(usually about 2"inches or more) for even the average-sized player. And for sure, you want to find a guitar that fits you comfortably so you can play pain-, and stress-free for hours.
The good news is…
I have 5 great classical guitars in my mind…classicals that are really good fits for small hands. With these, you can literally save your time and nerves a lot! Because comfortable playing guitar can make your life sooo much easier… So let's look closer at these and see why these are good!
Let's first look at these 5 best classical guitars for small hands, and at the end of the post, you can find the FAQ section that helps you to make the best choice possible.
Every one of these guitars is here based on extensive research and decades of combined guitar experience of our team.
Who crafted this post:
Author: Tommy Tompkins
Playing guitar since 2004. Primarily an acoustic guitarist who plays and writes traditional American folk music, with a background in melodic metal and a solid foundation as a bassist.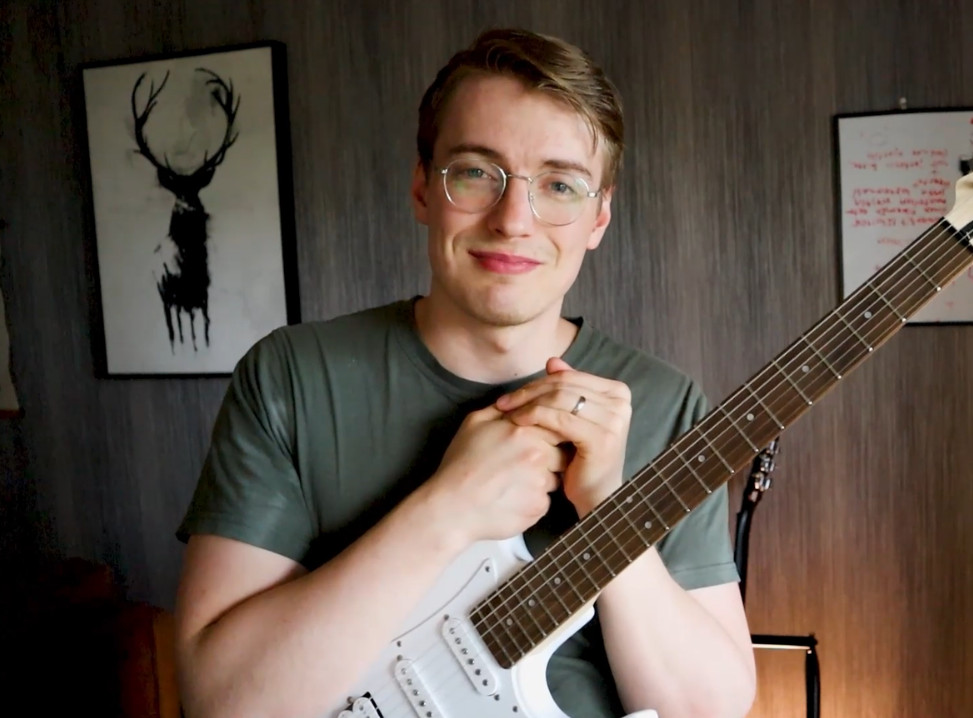 Author: Teemu Suomala
I first grabbed the guitar in 2009. I started this website in January 2020 because I couldn't do window installation anymore due to my health problems. I also noticed that most guitar websites don't do a really good job, so I decided to just go for it! I got lucky and managed to get awesome people to help me with my website. I also got lucky because I have you visiting my website right now. Thank you. I do all this for you guys. If you have any recommendations, tips, or feedback, just leave a comment, I would love to chat with you. I have been fortunate to produce content for several large guitar websites, such as Songsterr, Musicnotes, GuitarGuitar, and Ultimate Guitar. I spend my spare time exercising and hanging out with my wife and crazy dog(I guess that went the right way…).
---
Our Favorite Music Store in The World!
Why?
– Excellent Customer Service (4.7/5 Trustpilot Score)
– Fast & Free Shipping
– Gear is Inspected, Tested, & Ready to Play When it Arrives to You (We love this)
– Fair Prices
Visit Sweetwater:
Best Classical Guitars for Small Hands – Our Favorites
Here's a comparison graph that I made for you about these guitars, hopefully this helps!
How tonewoods affect:
Check tonewoods of these axes:
Discover how tonewoods affect the sound of your acoustic or classical guitar.
A couple of other helpful posts for classical guitar lovers (click the title to view):
First, these posts will help you play with comfort:
And here's another classical guitar buyer's guide worth checking out:
---
Best Overall – Cordoba C9 Crossover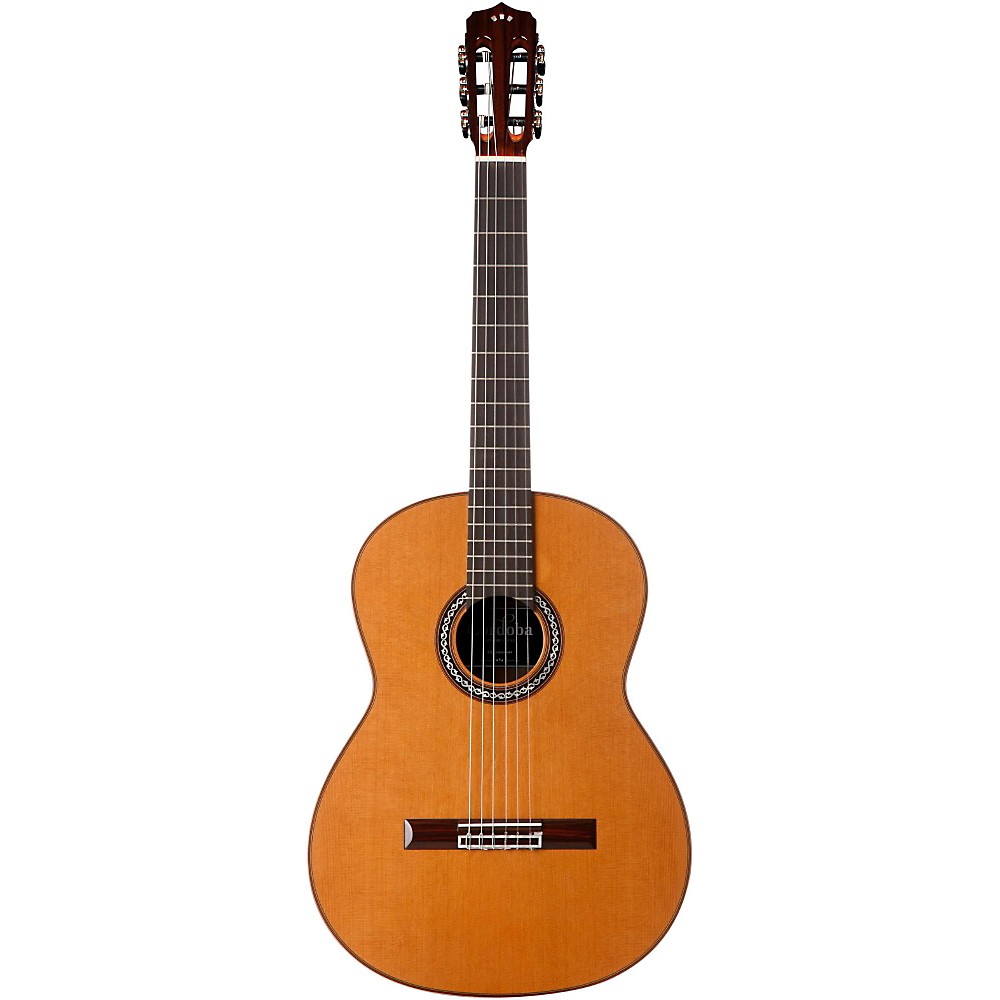 This guitar is for those who have a slightly bigger budget and want a really comfortable classical guitar playing experience.
Sound
C9 Crossover comes with a solid cedar top with a mahogany back and sides. High-standard classical guitar tonewoods. And this guitar really offers great steady sounds from high- to low-end.
Rich and clean. And like you would expect from this price point, tones all-over the fingerboard sound clear and detailed.
I would be 100% happy with the sound if it would be just a little bit warmer, but this is no game-breaker, and just my opinion. But for this price, it's hard to find a better-sounding instrument than C9.
Another Cordoba C9 Crossover sound demo for you(from the real owner):
Playability
Usually, Cordoba makes guitars that are a pleasure to play.
And C9 Crossover is no exception. Out of the box action and setup is usually spot-on, but some adjustments might be needed depending on your playstyle. Here the truss rod is nice to have, you can adjust the neck/action to your preference easily. You don't get this feature with every classical.
What makes the C9 so great, is the crossover neck.
It's closer to the neck of a steel-string acoustic…or even electric!
The nut width is only 48mm(1'88). So the neck is narrower and also thinner than in most classical guitars. Basically classsical with a steel-string acoustics neck!
Cordoba takes the best parts of classical and steel-string acoustics and blends these into a perfect combo for small hands.
C9 has a radiused fretboard, so the fretboard has a slight curve. This makes C9 really comfortable especially for people who are used to playing electric guitars. When you wrap your hand around the neck, you have great reach over the fretboard. So hitting bass notes with low E is not a struggle anymore!
All these features make this great for people with small hands who want a regular-sized body on their classical guitar.
Construction and quality:
Usually, when we are talking about acoustic guitars from this price range the quality is really good. And it should be. Always. And Cordoba C9 Crossover is a high-quality guitar. Every inch of it.
It's hard to find any mentionable flaws from the quality. The Fusion Construction on the body of this instrument makes it ideal for playing any type of Classical music.
C9 has all solid woods in its body:
Western Red Cedar as its top, which has strong projection properties
Mahogany on the back and sides
Mahogany neck
Indian Rosewood fretboards that are soft yet durable to last long without significant wear or tear
Bone nut and saddle will help produce an almost perfect tone and intonation
All these are constructed using Spanish tradition which is Cordoba's trademark. And this is what makes Cordoba C9 Crossover what it is…one of the best classical guitars under $1000.
Pros:
Narrower and thinner neck than in regular-sized classical guitars usually (a good fit for small hands)
Comfortable and easy to play
Sounds really good (rich and full)
Amazing value for the money
Setup is usually spot-on (low action and spot-on intonation)
The truss rod makes neck adjustments easy
Cons:
Sometimes small adjustments to action are needed(depends on your playstyle)
The sound could be just a little bit warmer in my opinion
Summary
Cordoba C9 Crossover is one of the best classical guitars I know of. And for small hands, it's the best Classical guitar in my opinion.
If you can afford it, it's a great choice. It will offer you comfortable playability and great tones for years to come, even if you have tiny hands. Click the button belove before someone else does…;)
Check Price on:
---
Electric-Acoustic Runner Up – Kremona Verea Performer Series Acoustic/Electric Guitar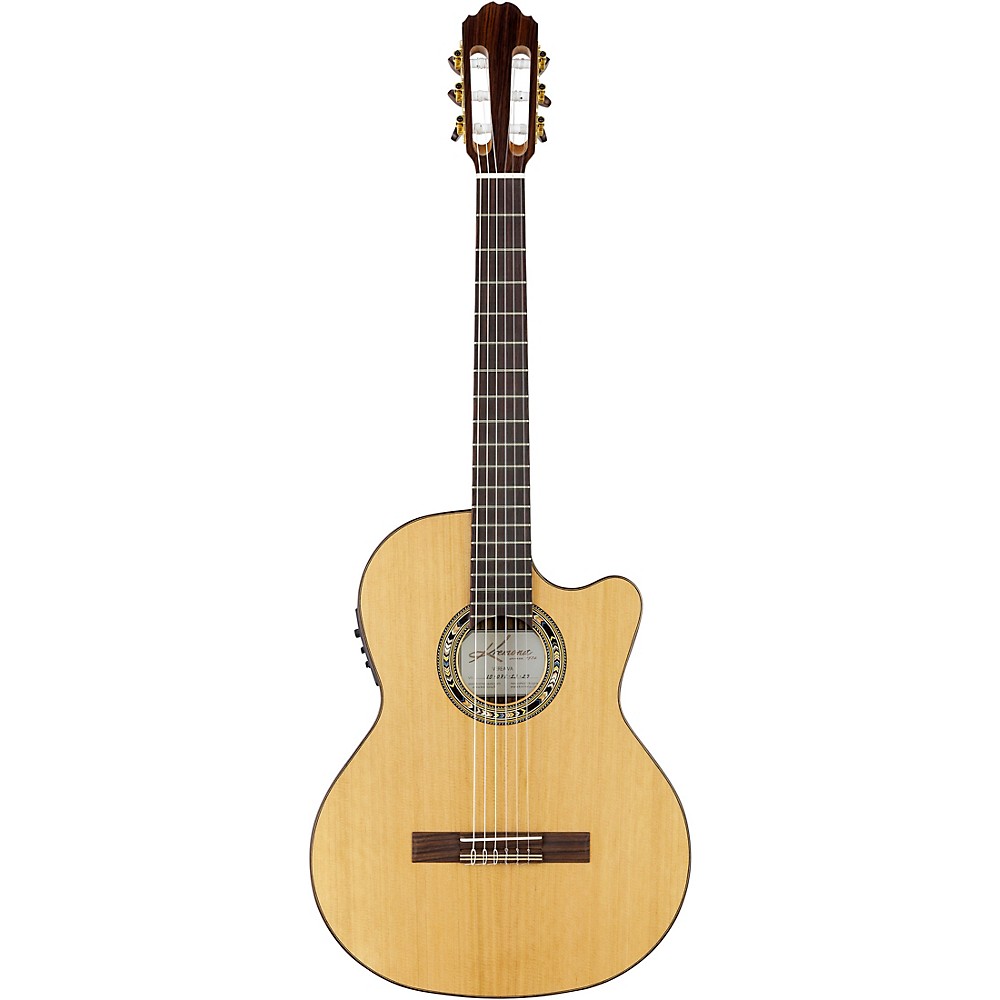 Kremona might not be one of the first names to come to mind when you think of guitar manufacturers…but that doesn't stop them from consistently putting out top-notch acoustics like the Verea Cutaway.
Sound
Kremona's blend of cedar and rosewood in the body give you a tone that is
warm
and thick,
with a boosted low end that many classical guitars lack.
This low-end bump is thanks in part to their use of the Spanish fan bracing system, which in turn gives you a nice kick in volume.
Plugged in, everything is amplified beautifully by the Sonicore under-saddle piezo pickup and transferred without a flaw through the Fishman Presys Blend active preamp. This is a sophisticated pickup system complete with a built-in condenser microphone.
With 3-band EQ and a mic/pickup blend control, you can alter your amped tone to meet all your sonic needs. This adds a ton of versatility to your playing and tones.
But because this is a cutaway, some tones are slightly cut, and this is why this is not tonally THE BEST option. It's not as full-sounding as Cordoba Crossover C9 for example.
But for me, these tones are definitely enough for the price.
Hear how Verea sounds:
Playability
The Kremona Verea classical guitar is one of the smoothest playing classical I've put my hands on.
It's 1.88"(48mm) nut width gives a great amount of grip while keeping the neck narrow enough to accommodate all short-fingered and small-handed players.
An added bonus of a smoothly swooping Venetian cutaway gives you easy access to the upper reaches of the fingerboard, so your playing can span the entire neck with no problem. This is 1 unique thing that this Kremona brings to the table. Playing all over the fretboard with this guitar is easier than with most classicals.
String action might need some adjustments, and gladly Verea has a truss rod, so adjusting is pretty easy.
Overall the playability of this classical is spot-on in my opinion.
Construction and Quality
Each of Kremona's guitars is handcrafted, so there is no detail overlooked and every piece is dialed into perfection. This modern take on the classical guitar features
a solid red cedar top
paired with Indian rosewood back and sides.
The body is a classical cutaway design that sits super comfortably in the lap.
In the hardware department, the Verea is outfitted with dependable tuning machines and a modern-age Fishman/Sonicore preamp/pickup system.
After doing some research, the electronics of this guitar are working really well for most of the user, so I would wait for stress-free playing and durability from this Kremona
Summary
Pros
Handcrafted quality, assuring every detail is fine-tuned to perfection
3-band EQ enables you to shape your tone when plugged in
Acoustic-electric design enables plugged-in playing
Venetian cutaway lets you play the upper frets with ease
Solid cedar top produces better sounds with age
Rosewood back and sides add clarity to the overall warm tone
Reduced nut width of only 48mm reduces finger strain
Truss rod lets you easily adjust the action and intonation
Cons
Nontraditional design not ideal for those seeking historical authenticity
Cutaway body shape cuts some tones off slightly
If you want an electric acoustic classical guitar and the non-traditional look is not a problem, this is a solid choice. A narrow and thin neck make this classical easy to play, even with small hands. Plus great upper-fret access is a nice bonus.
Note that some adjustments to the action might be needed, but the truss rod will help you a lot with this. If you can afford it, it's a great choice. It will offer you easy playability and great tones for years to come.
Check Price on:
---
Best for Small Person – Alhambra 1OP-Cadete-US 3/4
With their headquarters in Spain, over 55 years of experience, and a team of 110 specialized luthiers, Alhambra is known for making some of the best classical guitars on the market today.
Enter, the Alhambra 1OP.
Sound
Cedar and mahogany is a tonewood combo that speaks the essence of classical guitars.
It's
warm,
earthy,
and sings with a gentle mumble in which each note seems to flow into the next.
You won't get a lot of articulation from the 1OP — no crispness or sharp attack — but that's not the point of this design. It's made to be gentle, soothing, and sweet, with a sound akin to golden honey on a warm autumn afternoon.
Due to its ¾ size construction, it leaves a bit to be desired if you're wanting to play loud, but I think it's the perfect living room guitar, well-suited for whiling away the hours learning the classical standards.
Playability
If the volume isn't your focus and you're aiming for perfect playability, the Alhambra 1OP is hard to beat.
With a build that is significantly smaller than the already small design of classical guitars, it's great for child students, teens, and small adults.
Its nut width is a slim 1.88"(48mm), and the fretboard is just slightly radiused, allowing your hand to curve comfortably around the U-shaped neck profile.
With a gig bag included, this ¾ sized instrument also makes for a wonderful travel guitar.
Construction and Quality
This guitar follows the Spanish tradition in almost all ways.
Alhambra combines
a solid cedar top
with mahogany back and sides
and Spanish fan bracing to bring you a classical guitar that sings with historical accuracy.
All Alhambra instruments are handmade by a team of luthiers who each specialize in a particular aspect of guitar construction.
They've been creating beautiful classical guitars for 55 years, and this 1OP student model is a great representation of that quality assurance.
Summary
Pros
Traditional Spanish handmade craftsmanship, expertly built by specialized luthiers(nice quality and build)
¾ size construction is great for not only small hands but small bodies too
Open-pore finish allows for true resonance and purer vibrations
48mm nut width perfectly reduces the nut width for small hands
Comfortable U-shaped neck
Solid Cedar top paired with Mahogany back and sides for extra warm, creamy tone
Naturally oily rosewood fingerboard for smooth scales and seamless riffs
Cons
Reduced body size reduces the volume
Not very accentuated tone; sounds blend together
Travel size not ideal for players who want a fully traditional classical
If slightly cut tones and smaller size are not a problem for you, this is a great choice if you own small hands or are a smaller person.
---
Best Budget Option – Cordoba Dolce 7/8 Classical Guitar
Cordoba is one of the big players in the Classical guitar market. Guitars like Cordoba Dolce are the reason for that. Dolce is ⅞ sized guitar, so it's slightly smaller than regular guitars. And that makes it a good option for small hands.
Sound
Even though this is a smaller guitar(just slightly), the sound is still great. Solid cedar top ensures bright, rich, and full sound, with a strong sustain. Low-end tones are only cut slightly.
Personally I would rather take a small cut from the low-end than sacrifice bright and detailed tones. And those bass notes don't sound by any means with this Dolce. Notes sound clear and not boxed in any way. Personally, I really like the tones of this classical…
Hear how this one sounds yourself:
Playability
Thanks to ⅞ size, this one has a slightly shorter scale length than many other classical guitars. This makes the strings really easy to press down. Great news for small-handed folks. And you don't need strong fingers to play the Dolce(great for beginners).
Nut width is 50mm(1.97inches), so the neck is narrower than in classical guitar usually. This is why the Dolce is really comfortable to play and shifts between chords are easy. Even with small hands.
Out of the box setup is usually spot-on(nothing is guaranteed). No need for adjustments.
Of course, this depends on your own playstyle. And here the truss rod is nice to have, you can adjust the neck to your own preference easily.
Construction and quality
Cordoba has
solid cedar top (provides brightness)
and mahogany sides and back with Spanish fan bracing (warm tones)
Fingerboard is made of rosewood.
So the construction and looks are really traditional for classical guitar. But for this price point, everything is top-notch.
Finishing is great and especially the back of the body is just beautiful. In some rare cases, there has been one small flaw though…
Some users have been facing issues with tuner knobs(plastic part or the button), in some cases, these have been quite fragile. You can sometimes get new ones for free from the manufacturer or you can buy new ones.
These tuner knob problems are not common, but it can happen.
Pros:
Really easy and comfortable to play, great for small hands
Narrower neck than classical guitars in general(again great for small hands)
Sound is better than in most regular sized guitars
Setup is usually spot-on (makes guitar playable out of the box)
Great quality for the price
Cons:
Lower end sounds are cut slightly
Tuner knobs(plastic part or the button) have been fragile in some cases
Summary
This is a great choice for small-handed people who are looking for a mid-priced and easy-to-play instrument. No big complaints. And the price tag looks and feels good too:).
Check Price on:
---
Narrow Nut

– Taylor Academy Series Academy 12-N Nylon String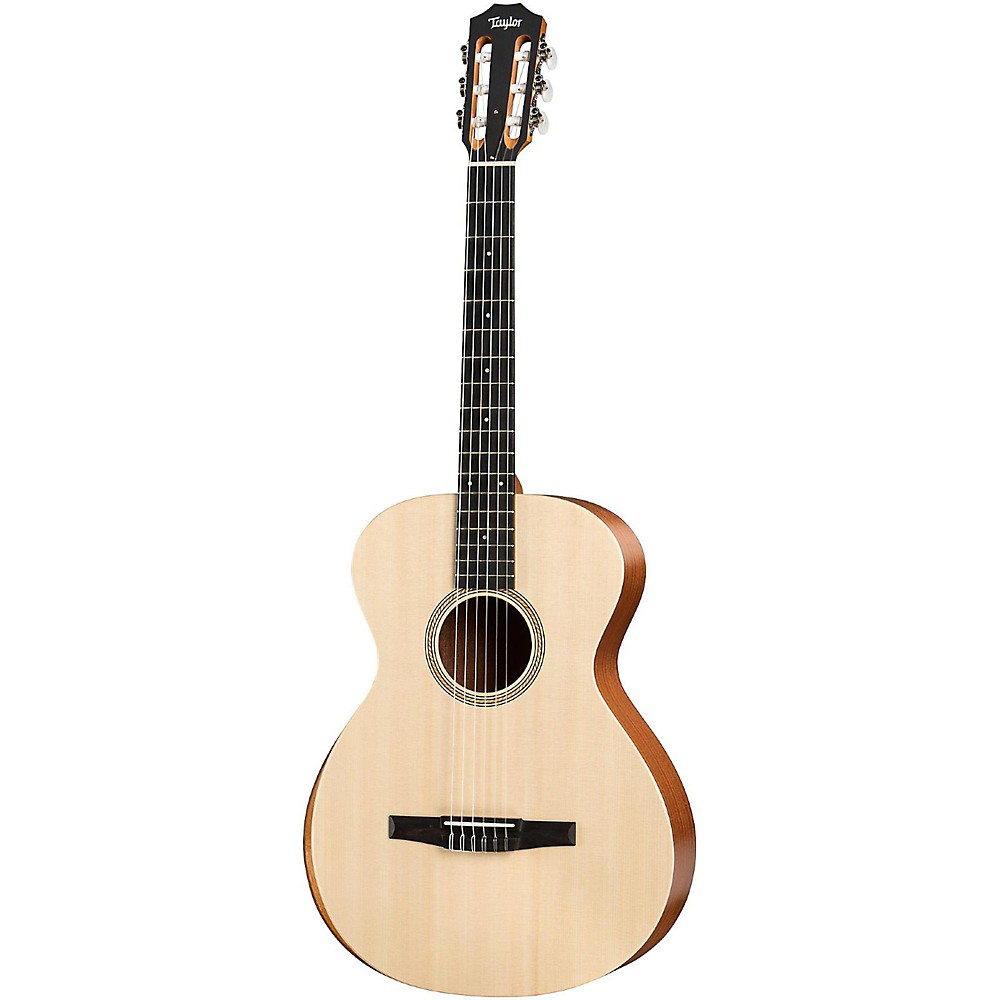 Even non-guitarists have probably heard of Taylor, one of the best-known guitar makers in existence today.
You may be surprised to hear of their classical guitar line…but they deliver the same Taylor quality in their nylon string instruments as they do in their infamous dreadnoughts. Take a look at the Academy 12-N and you'll see what I mean.
Sound
Speaking of important aspects, the sound of the Taylor Academy 12-n is really good. It might not sound like a 19th century classical, but its tone is still very pleasing.
The solid spruce top projects a crisp, eloquent range of fundamental tones which is rounded out by the bassy prominence of Sapele.
A mahogany neck and ebony fingerboard produce the same effect, making a sound that has an open, full midrange with a well-pronounced clarity in all registers.
Although a little bit different, the tones of this Taylor are really good in my opinion…but this might not be the best option tonally for everyone. Especially if you are looking for a really traditional-sounding classical.
Hear how this one sounds yourself:
Playability
The Taylor Academy 12-n has the narrowest nut of these guitars, measuring at 7 keeping the stretch factor at a minimum.
It's all-around a smaller classical.
And the mix of the traditional classical body shape and slightly smaller Grand Concert design is really comfortable to hold against you. These factors combine to make it one of the best classical guitars for small hands,
keeping the in-lap dimensions to a comfortable low,
shortening the reach required to hit all the frets,
and allowing short fingers to easily reach around the neck.
Topped off with Taylor's signature contoured armrest, the Academy 12-n is a cozy guitar any way you look at it.
Playability-wise, it's hard for me to say anything bad about this guitar when it comes to the needs of the small-handed players.
Construction and Quality
Taylor guitars may not be handmade, but their quality control operations ensure that no guitar leaves the factory flawed(at least my research pointed in that direction).
The Academy 12-n has all the markers of exceptional performance that Taylor is known for:
high-quality tonewoods,
great quality tuning machines,
durable construction,
a solid spruce top,
and playability perks.
However, there are one or two things I would change about this model.
First, Sapele. I won't knock this tonewood in itself; it sounds fine in most regards and is a sustainable choice in times when sustainability is of huge importance. But, it doesn't have the same traditional flavor that mahogany and rosewood carry.
Second, the synthetic nut and saddle material. I understand that not everyone wants their guitar to carry the remains of a dead animal, but Taylor's choice of Nubone for the nut knock a couple of points off my overall opinion.
Still, in most important regards, this guitar passes with flying colors.
Summary
Pros
Grand Concert body size offers a slightly smaller build than traditional classicals
47.625mm nut width ideal for small hands
Ebony fretboard offers great attack and high responsiveness
Crisp, smooth tone with good projection
Taylor Guitars guaranteed quality
Contoured armrest for maximized playing comfort
The truss rod is nice to have if you need to adjust the neck
Cons
The nontraditional bracing system reduces overall classical vibe
Sapele tonewood for back and sides is not everyone's favorite
This Taylor has a little bit different specs than classical guitars usually, but it sounds good and the neck is ideal for small hands.
It's a great choice for people who want something a little bit different from their classical guitar.
Find more great Taylor guitars here.
Check Price on:
---
Verdict
This is really a thought match…
All these guitars have really nice qualities and are easy to play.
I give the top spot for the Cordoba C9 Crossover even though it's a little bit more expensive than other guitars on this list. It's simply is that good.
A crossover neck makes it really easy and comfortable to play, even with small hands.
The truss rod helps you adjust the neck and the action according to your own preference.
Sounds are really good, clean, detailed, and rich.
The next spot is a toss-up between Taylor Academy 12N and Kremona Verea Performer Series. But I give it to the Kremona Verea, because the playability and overall feel are so good. Plus the tones of it are more suitable for traditional classical playing.
Cordoba Dolce ⅞ is the best budget option. Easy to play and sound great. You are not going to lose much sound-wise even though this is slightly smaller than regular-sized guitars.
Alhambra 1OP-Cadete-US holds the last place, but by no means, this is a bad guitar. Others just are even better.
This is a great option for a smaller person, who wants high-quality ¾ sized classical guitar. 1OP-Cadete is well built and easy to play.
But tonal abilities are the weakest if compared to the other guitars on this post. The main reason for this is the smaller size.
---
Buyer's Guide – FAQ
How to Play Classical Guitar With Small Hands – Fix This Problem by Making Changes to Your Technique
When we are talking about classical guitars the correct technique is the key. You need to pay attention to your fret hand and especially on your thumb.
Because this can make or break your game(at least it has done that to me).
When I started to hold my thumb at the right place, accessing frets started to be much easier.
Now I have a real golden nugget from Youtube for you…This video explains how to make playing a lot easier for small hands.
But remember, it's not a magic trick, you'll have to practice to make it work. I recommend that you take some time and watch this:
So try to get your thumb in the right place. In the back of the neck. This will surely make playing a lot easier with a little practice.
And if you look at the great classical guitarist playing you can see how they hold their hands.
Fret hand is positioned in a way that frets are as easy to access as possible, and their thumb makes this happen.
Also, remember that even with a proper technique, some songs and notes are just harder than others. You'll have to still show a real effort if you want to master the guitar.
Guitar supports, cushions, or footstools might help you achieve a better playing posture and make playing easier.
Do this with hard parts:
First, you should learn to play those hard parts slowly, but cleanly.
Then start playing it faster and faster until you get there.
That's is the simple path which all guitar players need to go through. There is no other way.
But buying a classical guitar that is suitable for small hands surely makes playing easier for you. This can make your whole guitar journey a whole lot more enjoyable.
This guide gives you more great tips on how to play guitar with small hands.
Small Hands, Big Decisions: How to Choose the Best Guitar
What to Look for in a Classical Guitar?
The Pros and Cons of Classical Guitars
Classical guitar is the predecessor of the steel-string instrument we commonly call an acoustic.
They are similarities and differences between them that set each apart into its own niche.
With these differences come a specific set of pros and cons. Before you choose to buy a classical guitar, it's good to know the benefits and detriments of this instrument.
Pros
Soft, nylon strings are easy on the fingertips. You won't experience as much finger pain on a classical as you will a steel string. Strings are also easier to press down.
Strings are farther from each other, this makes picking and fingerstyle easier.
Warm, mellow sound is great for particular genres and playing styles such as Flamenco, Spanish, and Brazillian.
Smaller, lighter bodies than their steel string counterparts are easier and more comfortable to hold.
Cons
Quiet, soft tone lacks the punch and drive required for genres like rock, pop, and country.
Nylon strings won't build up fingertip callouses as much as steel strings, making the switch to steel-string acoustic more difficult.
The string action is higher and the neck is wider. These qualities can make playing a little bit harder.
Classical necks typically don't have truss rods, and thus must be built wider and flatter than steel-string guitars. But some manufactures are known for including truss-rods in their guitars.
Check our favorite fingerstyle acoustic guitars here.
Quality Control: Components of a Good Classical Guitar
Tonewoods
Classical guitars are traditionally made with tops of cedar or spruce and with backs and sides consisting of mahogany or rosewood.
In this area, I think sticking with tradition is best, but the choice among
cedar,
spruce,
mahogany,
and rosewood,
depends on your particular sound desires.
In brief, spruce is crisp, clear, and articulate, while cedar will be warmer, muddier, and with more overtones.
Mahogany will add warmth and harmonic complexity, while rosewood is tighter with greater sparkle.
You can choose a spruce + rosewood guitar if you want a well-defined sound where each note sings separate and clear,
or choose a cedar + mahogany combo if you love a loose, muddled sound.
Otherwise, the remaining combinations will deliver something in the middle, blending the best elements of each.
Bracing
Bracing refers to the woodwork beneath the guitar's top that influences sound and structural support.
There are three main bracing patterns used in classical guitar construction: ladder, Spanish fan, and lattice.
Ladder bracing is the oldest and simplest of the three patterns. It's not very loud, and the tone it produces is harmonic and warm.
Spanish fan bracing, developed in the 1800s, is the most common in use today. It adds bass depth, volume, and overtone complexity to the guitar's sound.
Lattice bracing has only been around since the 1970s but is gaining in popularity. Lattice bracing might be the loudest of the patterns, and greatly increases the guitar's response.
If you are seeking a truly historical sound, ladder bracing is the pattern for you.
Spanish fan bracing is great if you want a well-balanced, well-projected tone.
Lattice bracing is a more expensive option, but is the way to go if you need a boost of attack and volume to the otherwise chilled-out classical guitar tone.
Other Important Factors
There are a couple more things you need to think about when choosing a classical guitar.
Laminate or solid top?
This is an easy answer: if you can afford it, always choose a solid top guitar over a laminate top.
Solid tops sound better, last longer, and will sound better and better with each year that passes by.
They are, in my opinion, scores better than their laminate top cousins.
Nut and saddle material
This aspect is often overlooked when choosing a new guitar, but I think it's just as important as a tonewood choice.
These parts, which set string spacing at the neck and bridge, are the first point of contact in a string's vibration, and consequently, affect your whole tone.
I believe the best guitars are made with natural nut and saddle materials, like nut or bone.
These materials resonate more truly, picking up the subtleties of the string vibration.
They are more expensive to replace (and to buy in the first place) but outweigh plastic and other synthetic pieces in every benefit.
Wrapping it Up
You have options here and a lot of variables to choose from.
However, in short, the best classical guitar comes down to choosing your favorite
tonewoods,
having a solid top,
the bracing that produces your preferred tone,
and a nut and saddle of natural material.
Take your time, consider your options, play a variety of different guitars, and you'll soon find out what works best for you.
What Makes these Guitars Good for Small Hands?
Nut Width: The Long and Short of It
Now, on to why these guitars are good for smaller-handed players.
Due to their typical lack of a truss rod for support and owing to their lighter string tensions, classical guitar necks compensate their structural integrity with wide necks.
We measure neck width at the nut, this slim piece of bone, nut, or plastic that you find right below the headstock.
The nut sets the string spacing, so the wider the nut, the farther apart the strings, and the farther you have to reach for chords.
A traditional classical guitar has a nut width of 2 inches = 52 millimeters.
Compared with the typical steel-string width of 1.73inches = 44 millimeters, we're talking a whole third of an inch increase in stretch requirements.
The guitars we've chosen have reduced nut widths starting at around 1.85inches = 47mm, lessening the length you have to stretch, offering a more comfortable playing experience for those with short fingers and small hands.
---
Conclusion on Best Classical Guitars for Small Hands
These were my top classical guitar picks for small hands…plus my top tips for choosing the right classical for you!
I hope that this post helped you to decide which is the best classical guitar for your small hands. If you have any questions leave a comment down below, and feel free to share this post too.
I wish you all the best and keep rocking!