Last Updated on November 23, 2023 by Teemu Suomala
Best Overall – Gator Cases ProGo Ultimate 2X
Protection
Quality
Portability
Value for Money
Summary
The fullest padding you can buy.

What's awesome:
-Thick, rugged exterior excels in shock absorption
-Extra-long padded neck block gives great support for guitars neck
-Top carry handle and removable backpack straps for multiple carry options

A secure gig bag that can handle most models of electric guitar. It can be too snug to fit two Les Paul's at the same time since their headstocks are steeply angled. But otherwise, all common models usually fit.

(There is also acoustic/electric combo available)
Check Today's Price on
*Consider all links in this post to be affiliate links. If you purchase, at no additional cost to you, we may earn a small commission. It helps us to keep the lights on, thanks! 🙂
---
The Next Best:
Compare:
---
When you've gotta take multiple guitars to your gigs or rehearsals, why hassle with separate gig bags when one dual gig bag can do the trick? There are awesome double guitar gig bags available nowadays, and this post dives deep with my favorite 5 double gig bags.
These are a great way to safely and securely take two guitars with you when you're on the move. Durable and protective, quality bags that offer great value for money. And of course, I listed all the cons that I'm aware of too.
I included bags from different price ranges and for different needs to ensure that you find what you are looking for.
Note: I didn't include any really cheap gig bags here, because the whole idea of carrying hundreds or even thousands worth of guitars and gear in a 50 dollar bag is not smart at all.
Let's first look at these gig bags, and at the end of the post, you can find the FAQ section that helps you to make the best choice possible.
Every one of these bags is here based on extensive research and 27+ years of experience on our team.
Who crafted this post:
Author: Tommy Tompkins
Playing guitar since 2004. Primarily an acoustic guitarist who plays and writes traditional American folk music, with a background in melodic metal and a solid foundation as a bassist.
Hide The Rambling▲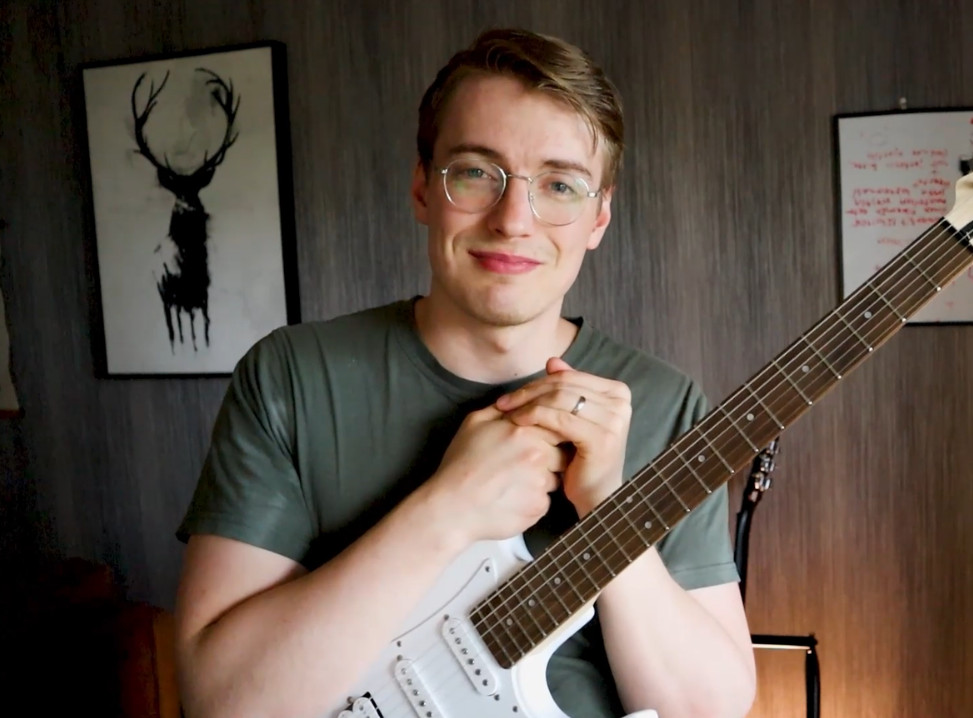 Editing & Research: Teemu Suomala
I first grabbed the guitar in 2009. I started this website in January 2020 because I couldn't do window installation anymore due to my health problems. I love guitars and have played dozens and dozens of different guitars through different amps and pedals over the years, and also, building a website interested me, so I decided to just go for it! I got lucky and managed to get awesome people to help me with my website.
I also got lucky because I have you visiting my website right now. Thank you. I do all this for you guys. If you have any recommendations, tips, or feedback, just leave a comment, I would love to chat with you. I have also been fortunate to produce content for several large guitar websites, such as Songsterr, Musicnotes, GuitarGuitar, and Ultimate Guitar.
I spend my spare time exercising and hanging out with my wife and crazy dog (I guess that went the right way…).
Hide The Rambling▲
---
Our Favorite Music Store in The World!
Why?
– Excellent Customer Service (4.7/5 Trustpilot Score)
– Fast & Free Shipping
– Gear is Inspected, Tested, & Ready to Play When it Arrives to You (We love this)
– Fair Prices
Visit Sweetwater:
Our Reviews of the top 5
Best Overall – Gator Cases Pro-Go Ultimate Double Guitar Gig Bag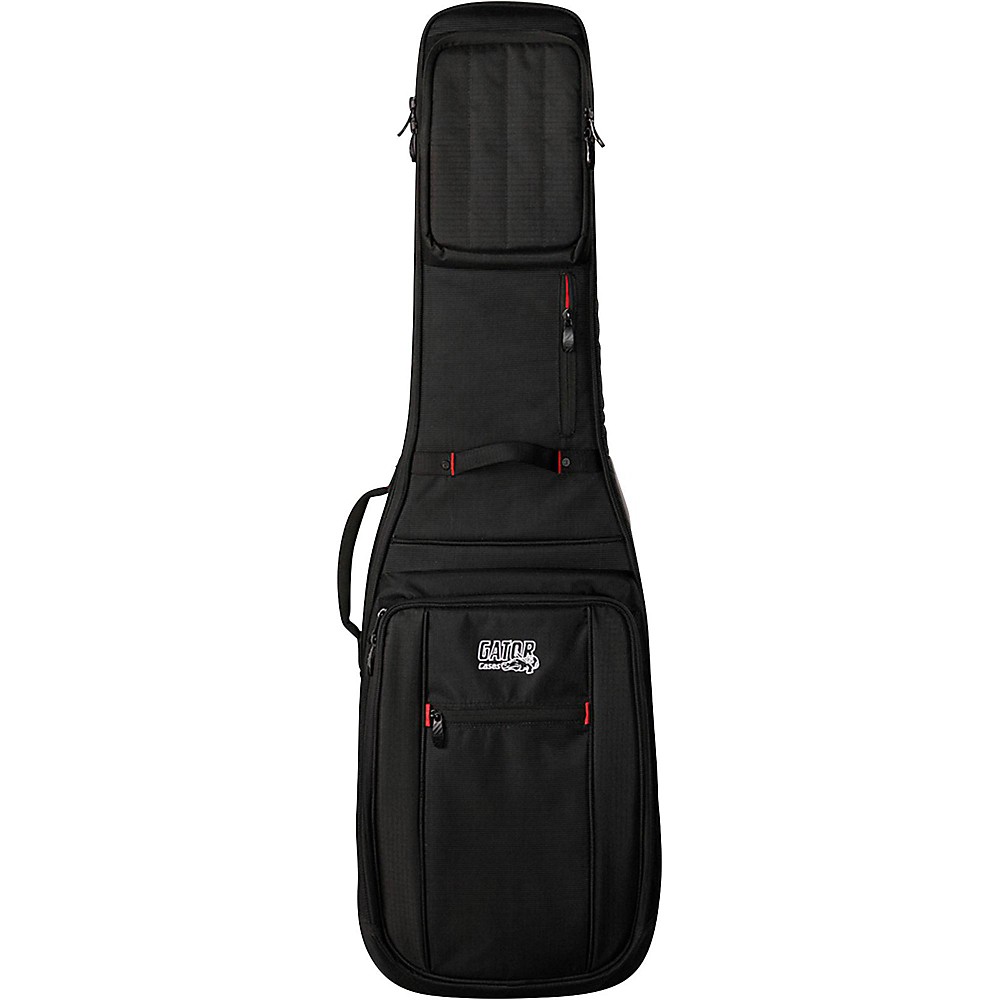 Protection
This Pro-Go Ultimate Double Guitar gig bag from Gator is outfitted with super thick internal padding and a built-in shock-absorbing soft frame. It's a hefty option with quite a lot of bulk, but none of this is superfluous.
Every inch is dedicated to protecting your guitar, and it does a great job of this in every dimension.
Quality
Gator is one of the gig bag brands I trust the most(I have owned their gig bags). The Pro-Go gives you reliable reinforced stitching, great padding, and the handy option to remove the backpack straps when you don't need them.
It also includes a protective rain cover, adding to its water-resistance and keeping your guitars totally dry if you get caught out in the rain.
Durability
I've never heard a moan about the durability of Gator cases. They set every gig bag up with dependable zippers, sturdy stitches, and tough, tear-resistant materials.
My only concern with this model is that the backpack straps appear to attach with plastic hooks, so I'd be sure to brace these with some wire in case they snap during transit.
Summary
Pros
Thick, rugged exterior excels in shock absorption
Extra-long padded neck block gives great support to the guitar's neck
Top carry handle and removable backpack straps for multiple carry options
Cons
Doesn't fit multiple Les Paul style guitars
This is a secure gig bag that can handle most models of electric guitars. Do keep in mind that it's too snug to fit two Les Paul's at the same time since their headstocks are steeply angled.
Overlooking this, I recommend this gig bag to anyone looking for the fullest padding you can buy. The best double guitar gig bag.
Check Price on:
(There is also acoustic/electric combo available)
---
Runner-Up – Reunion Blues RBX2E Double Electric Guitar Bag
Protection
The Reunion Blues RBX2E offers all the key traits of a high-quality gig bag in a sleek, straightforward design.
The quilted chevron exterior keeps the rain away while giving you an additional buffer against bumps and bangs.
On the inside, you've got thick foam on all sides and a super-strong panel between your guitars that prevents them from damaging each other.
Quality
While it's among the most basic-looking dual guitar gig bags, this item hits all the quality markers you need to look for. It's got dependable, cushioned backpack straps and a well-balanced side-carry handle for easy transport. It's even got a "subway grip" above the backpack straps so you can carry it from the top.
My one complaint with this gig bag is that the neck block and bottom bout cushion are stitched into place, limiting the size of the electric guitars you can fit inside.
Durability
Though there are gig bags with stronger exterior materials, the overall build of this gig bag should hold up for years if you treat it right.
Avoid catching the outside on sharp points and watch that your string ends don't snag the interior, and it will be good to go for a long time.
Summary
Pros
Thick padding between guitar compartments
Huge front storage pocket with accessory organizer
Depth of case supports hollow-body electric guitars
Cons
Lower bout support can't be removed; limits internal space
Despite its low cost, there's nothing cheap about the quality of this double guitar gig bag. It's great for standard electric shapes like the Les Paul or the SG. All in all, it's a great buy for carrying two electric guitars.
Check Price on:
---
Best Budget – Gator Cases 4G Series Gig Bag For Two Electric Guitars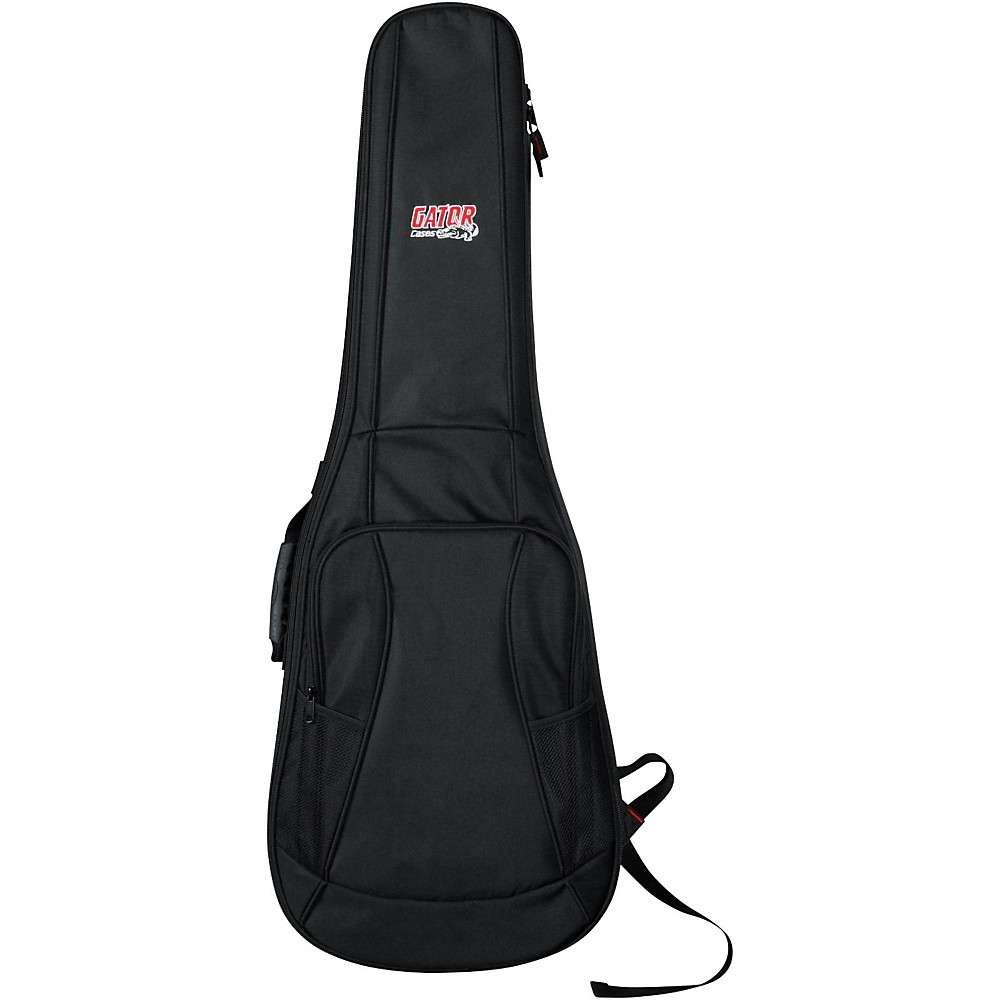 Protection
This 4G Series dual guitar gig bag from Gator is the one mid-grade gig bag on this list, but what it lacks in protection it makes up for in portability.
It lacks the rigid exterior construction of the other models and instead offers 20 millimeters of internal padding in all areas. This is more than enough for all typical travel; you just may not want to put it in the cargo area of a plane.
Quality
The real perk of this gig bag is its lightweight construction. It doesn't weigh even 4 pounds, so your traveling gear remains feather-light and easy to lug around.
Like all Gator cases, it's got strong, dependable handles, tough stitching, and a water-resilient exterior.
Durability
Built to last, this Gator double guitar gig bag is sturdy in every aspect. Its zippers are snag-free and its stitches are skillfully placed. Scratch-protective plates on the inside keep the inner lining safe from rips, adding longevity to an altogether resilient product.
Summary
Pros
Lightweight, comfort-carry design
Non-bulky build securely stows two electric guitars
Simple but spacious external storage pocket and multiple mesh storage pouches
Cons
No neck support or strap reduces internal stability
Because of its reduced all-around protection, the Gator 4G Series gig bag costs considerably less than all the others on this list. It's spacious, able to safely carry two Stratocasters or similar guitars while affording you enough peace of mind for lower-risk trips.
Check Price on:
---
Best for Acoustic & Electric Guitar Combo – Music Area TANG 30 Series Acouelec Bag
Protection
The TANG 30 Series from Music Area gives you simple protection with environmentally-friendly materials. The 900D polyester exterior deflects dirt and rain while the soft interior cushions your guitar with plenty of support.
This gig bag protects the player too, thanks to its reflective strips that shine bright when you walk in the dark.
Quality
The zippers of this double guitar gig bag are top-quality, tested thoroughly to ensure long-lasting functionality.
It's also got cool features like a storage pocket on the backpack straps, the ability to hide the straps when not in use, and a zipping neck pillow to keep your guitars set in place while you move.
Durability
Even though it's made with sustainable materials, these are strong are designed to last against wear and tear. Firmly integrated stitching holds the whole thing together, so it will hold up to years of rugged use.
Summary
Pros
Fits one acoustic and one electric
Reflective sections of exterior give you high visibility when walking at night
Zippers thoroughly tested for reliability
Cons
Internal dimensions too narrow for some guitars
This is a really cool bag that fits both an electric guitar and an acoustic. It's a great choice for guitarists in bands that switch up their sound a lot. Be aware though that the lower bout width might not suit the largest acoustic bodies, so it can be a squeeze with some instruments.
Despite this minor flaw, this is a high-quality double guitar gig bag at a rocking fair price.
Check Price on:
---
Best High-End – MONO M80 Dual Electric Guitar Case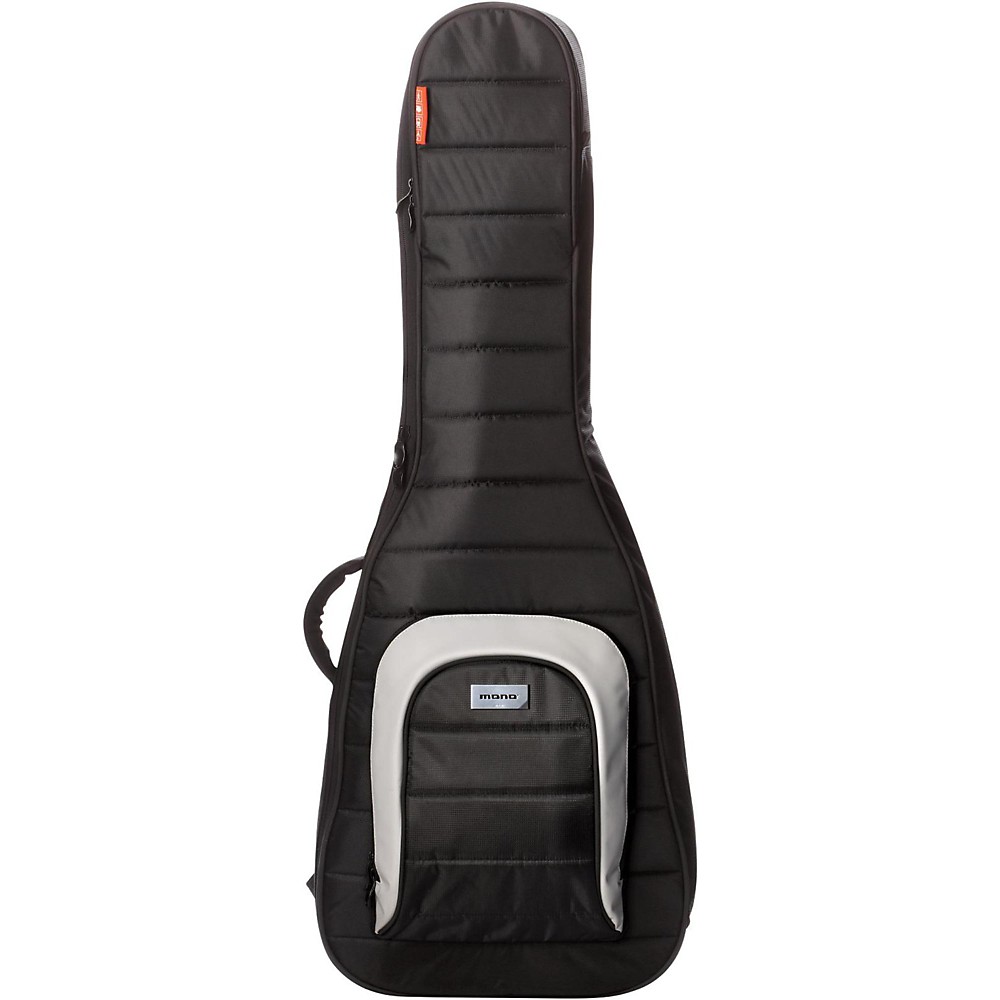 Protection
This is a tank. The most protective double axe gig bag out there.
MONO's M80 Dual Electric Guitar Case has got a strong, rigid "Sharkskin" exterior that is almost totally waterproof and next to impervious to tearing.
The inside is buffered by thick foam padding with specialized impact deflection points in all the critical areas, guarding your guitar against shocking jolts and jostles.
Its proprietary "headlock" system straps your guitars in place, bracing them for major bumps.
Quality
The M80 gives you lots of storage in a compact layout, as well as the ability to tuck your shoulder straps away.
These straps are thickly cushioned, so wearing the bag on your back is comfortable and pain-free.
Durability
Made with military-grade rubber piping and lower bout soles, this is an extremely durable gig bag. The Sharkskin exterior is wear- and tear-resistant, and the interior is protected by robust scratch plates so your strings don't puncture the lining.
With reliable sewing throughout, this case can take a beating.
Summary
Pros
Military-grade rubber piping on the exterior
Zig-zag design gives easy access to both guitars at once
"Sharkskin" exterior provides waterproof protection
Cons
Though it's a bit costly, you're paying for fool-proof protection and a quality product that will last you for hundreds of gigs. It's big enough to fit two of nearly any size electric guitar and keep them super secure on the go. Since you get what you pay for, you can trust you get a top-quality gig bag in the MONO M80.
While this is maybe the best gig bag out there, you can get 90% of what this offers at a much lower price, that's why this MONO M80 is not my best overall pick.
Check Price on:
(There is also acoustic/electric combo available)
---
Verdict
We've got a Gator on each end of the quality scale this time. The 4G series offers only enough protection for relatively low-risk travel, making it my least-recommended dual guitar gig bag. It's great for going to and from the rehearsal space, but I'd be hesitant to put it through any more rigorous treks. Still a good budget option tho.
For overall protection, comfort, and convenience when traveling with two guitars, I fully recommend the Gator Pro-Go Ultimate. As long as you're not taking two Les Pauls with you, there's no safer and more convenient way to bring your two favorite electrics on the road.
---
FAQ
Will a Gig Bag Protect My Guitars?
There are three distinct categories of gig bags, all offering varying levels of protection.
On the low end, you can find the true gig bag. These are low-cost but also low protection. They have very little, if any, padding, and are best reserved for very short trips.
2. In the middle class of protection are the simple padded gig bags. These bags have various amounts of padding, usually between 10 to 30 millimeters thick. The thicker the better; though, their lack of any external support leaves your guitar vulnerable to major shocks.
3. The upper end of gig bags offers great protection from diverse types of damage. They feature reinforced external frames that absorb high-impact knocks and super thick padding to keep your guitar dent- and damage-free.
You're much better off opting for a gig bag of good quality and protection than pinching pennies to risk your instrument's safety with a cheaper option. If your guitar gets damaged, you'll ultimately pay much more in replacements or repairs than you would if you invest in a high-quality gig bag.
What Makes a Good Double Guitar Gig Bag?
This review features gig bags from the middle and upper levels of protection but focuses on those that give you the greatest security and value.
The best double guitar gig bags, above all, keep your guitars safe during transport. This requires ample interior padding, strong stitching, and a design that won't allow the guitars to damage each other.
Internal padding is enough to protect your guitar from dents and scratches, but truly great gig bags also give you sturdy exteriors that can protect from major shocks that might cause snapped necks or broken headstocks.
Of course, a gig bag is no good if you can't fit your guitars inside, so they have to give this protection while keeping the internal compartments as roomy as possible.
To do this, many of these gig bags have straps to secure the neck of your guitar so it doesn't move around too much inside the bag. The best models have cushions at the bottom of the bag and padded neck blocks that you can use or remove to suit the size of your guitar.
On top of it all, good dual guitar gig bags need to be comfortable when you carry them. This means comfy, cushioned backpack straps. They should also have padded side-carry handles for when you have to travel in tight quarters, like on the subway or bus.
When you combine protection and comfort, you get a gig bag that is both fun to use and gives you a much-needed sense of security while taking your guitars on the road.
---
Conclusion
If you're at the level of musicianship that you need to bring two guitars with you to practice or perform, you know that they need to be well cared for.
Don't skimp on protection and risk losing your valuable axes by choosing a low-quality gig bag.
These are, in my opinion, the best double guitar gig bags on the market. With these, you can carry your guitars with ease, comfort, and convenience, all while knowing they'll get to where you're going in one piece.
I hope that this guide helped you to choose the right double guitar gig bag for you!
And if you are looking for ways to display your guitars, these articles might be helpful:
I wish you all the best and keep rocking!
You might also like:
We are sorry that this post was not useful for you!
Let us improve this post!
Tell us how we can improve this post?