Best Overall – Fender Player Telecaster HH
Sound
Playability
Overall Quality
Value For Money
Summary
The warm, thick, and rich sound is guaranteed with 2 humbuckers. Good for metal, rock, and blues. But on top of that…

Fender Player Telecaster HH includes maybe the best split-coil option I have seen and heard(at least in this price range). It comes really close to the original single-coil sound. So funk and jazz/blues are easy-peasy for this guitar.

This is one of the most versatile guitars for intermediate players and the best all-rounder. Plus, it's easy to play and doesn't break the bank.

I have found it. The best electric guitar for intermediate.
How Player Telecaster HH sounds:
The Next Best:
The time has come. You have been playing for a while and now it's time to upgrade for a better guitar…
that's awesome! And by the way, you are in the right place now. This post answers these questions:
What intermediate players should look for?
What is the best electric guitar for intermediate players in general? (all-rounder)
What are the best electric guitars for intermediate players who want to play
What is the best hollow-body electric guitar for intermediate players? (best for jazz too)
I'll also give you some bonus and budget options…
It's impossible to tell what is THE BEST guitar, and that's why I structured this post like this. I'll give you a couple of great options and you can make your decision depending on your playstyle and favorite music.
In my opinion, these guitars are the best options for intermediate players. All these provide nice tones and are comfortable to play. I'll tell you why I think so, and what you should know about each guitar (cons too).
The price point of these guitars is around 500-1000. For that price, you can get a really solid instrument that will serve you for years.
I was doing exactly what you are 7 years ago. Back then, my choice was ESP LTD MH-400. I still own it and I have been satisfied. But this guitar is no longer available, so I cant include it(I would otherwise).
Every one of these axes is here based on my 12-year experience and extensive research.
Author: Teemu Suomala
Playing guitar since 2009. Mainly focused on electric guitars, although plays acoustics too. Started this blog in January 2020.
Wrote Fender Player Strat Review: DL Shepherd
Darren has been playing guitar for over 23 years. He fronted the metal band Suddenly Silence in the early 2000's, and also achieved recognition as an award-winning bluegrass guitarist.
A native of southwestern Virginia, and has shared the stage with many big-name acts from various genres. When he is not playing one of his many guitars, he can be found riding his Harley through the mountains of Virginia.
Now, let's get going!
Use the table of content to jump to the section you want:
Buyer's Guide Summary – What Intermediate Player Should Look For?
I would advise you to look for a guitar that:
Fits your needs (playstyle, experience, weak and strong points)
Is comfortable to play
Is high-quality as possible
You can play the music you love with it
Offers versatility too
I hope that these make sense to you. With these points you can find an excellent instrument for you.
Now it is time to take a closer look at these sweet guitars. First, I will reveal the best all-rounder guitar for intermediate players.
Best Electric Guitar for Intermediate Players:
Best All-Rounder – Fender Player Telecaster HH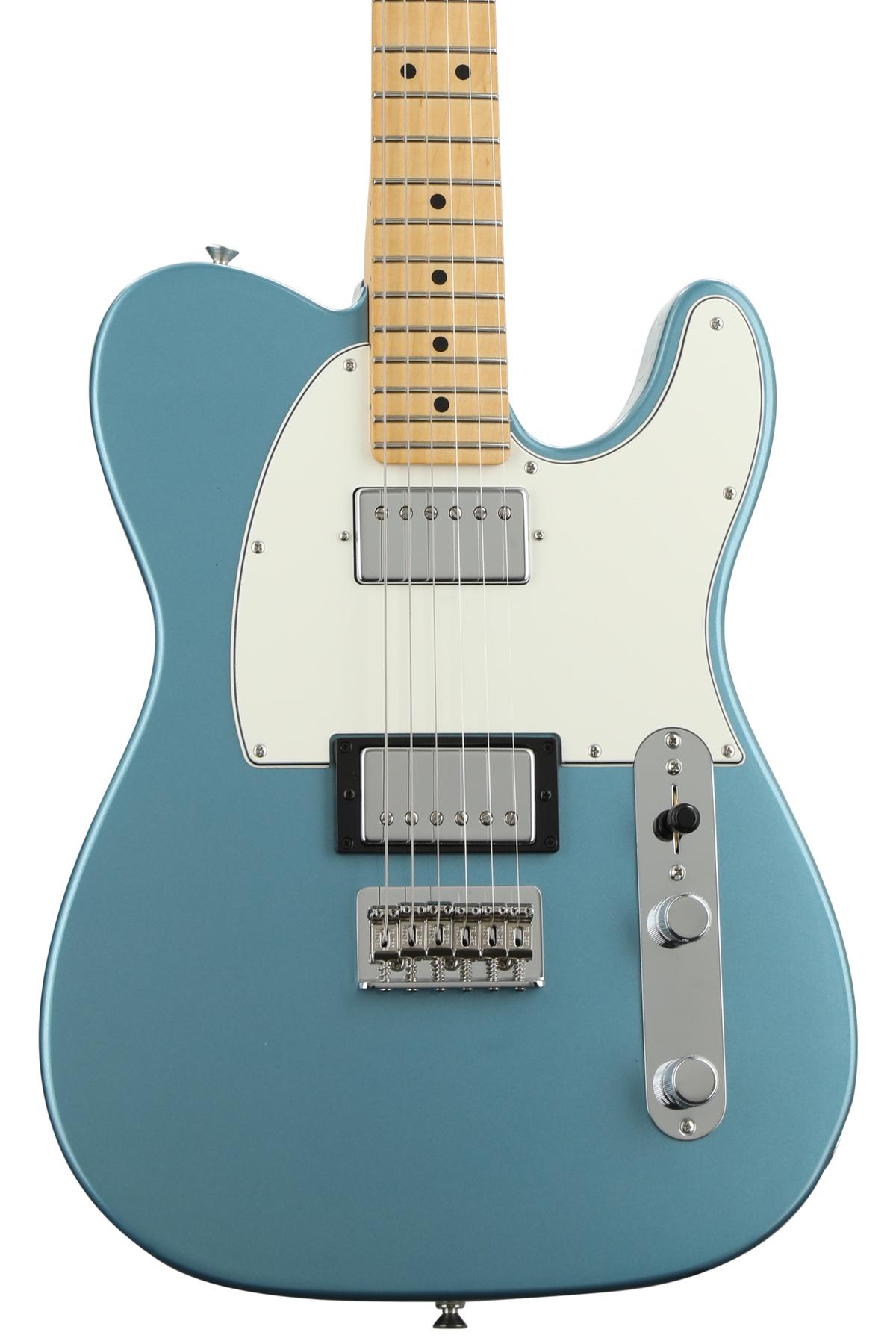 This one is absolute killer guitar and all-rounder. Let me tell you why I think so…
Sound
The main reason for greatness is the sound, and how versatile the tones are.
This Tele has 2 humbuckers. So the warm, thick, and rich sound are guaranteed. It handles metal, rock, and blues sounds well. So the humbucker tones alone are great, but…
Fender Player Telecaster HH includes maybe the best split-coil option I have seen and heard(at least in this price range).
It comes really close to the original single-coil sound. So the spanky tones are possible with this too. Funk and jazz/blues are easy-peasy for this guitar.
These things make this the most versatile guitar for intermediate players and the best all-rounder in my opinion.
Hear how it sounds yourself:
Playability
Fender Player Telecaster doesn't give you too much hard time playability-wise.
The neck shape is Modern C and the fretboard radius is 9,5. Nut width is 42mm(1.65inches). The neck is thin and really smooth feeling. Really comfortable and plays fast too.
But the edges of the fretboard could be just a little bit smoother/softer in my opinion (this is not always the case). No game-breaker since you can smoothen them.
Out-of-the-box action is a little bit high for me. Gladly this is super easy to fix with a truss rod.
Quality/looks
Quality is excellent for the price. It lacks some details and high-quality finish when compared to higher-priced Fenders, but hey, this is why this guitar is so affordable. And the value for money is still super.
The guitar stays in tune well, thanks to good quality tuners. And the looks…amazing! For a long time, I have been a huge telecaster fan. I'm absolutely going to buy a Telecaster at some point.
Pros:
Super-versatile, a wide variety of different tones
Smooth feel
Quality is really high for the price
Stays in tune well
Nice classic look
Split-coil tunes are amazing
Cons:
Edges of the fretboard are a little bit rough sometimes (rare)
Excellent all-rounder with one of the best split-coil tones I have heard. If I didn't own any electric guitars, I would probably buy this one.
Check Price on:
---
Cheaper Alternative
Squier Classic Vibe 50's Telecaster:
This is really similar to Fender Player Tele, the main difference being the lower price, lower quality, and use of 2 single-coil pups.
This guitar is still versatile and can handle almost everything. The neck feels good as in more expensive models, but the sound is a little bit lower in quality(not too bad). Value for money is excellent, and that makes this one an excellent budget option.
Check Price on:
---
Best Electric Guitar for Intermediate Players Who Want to Play Blues – Fender Player Stratocaster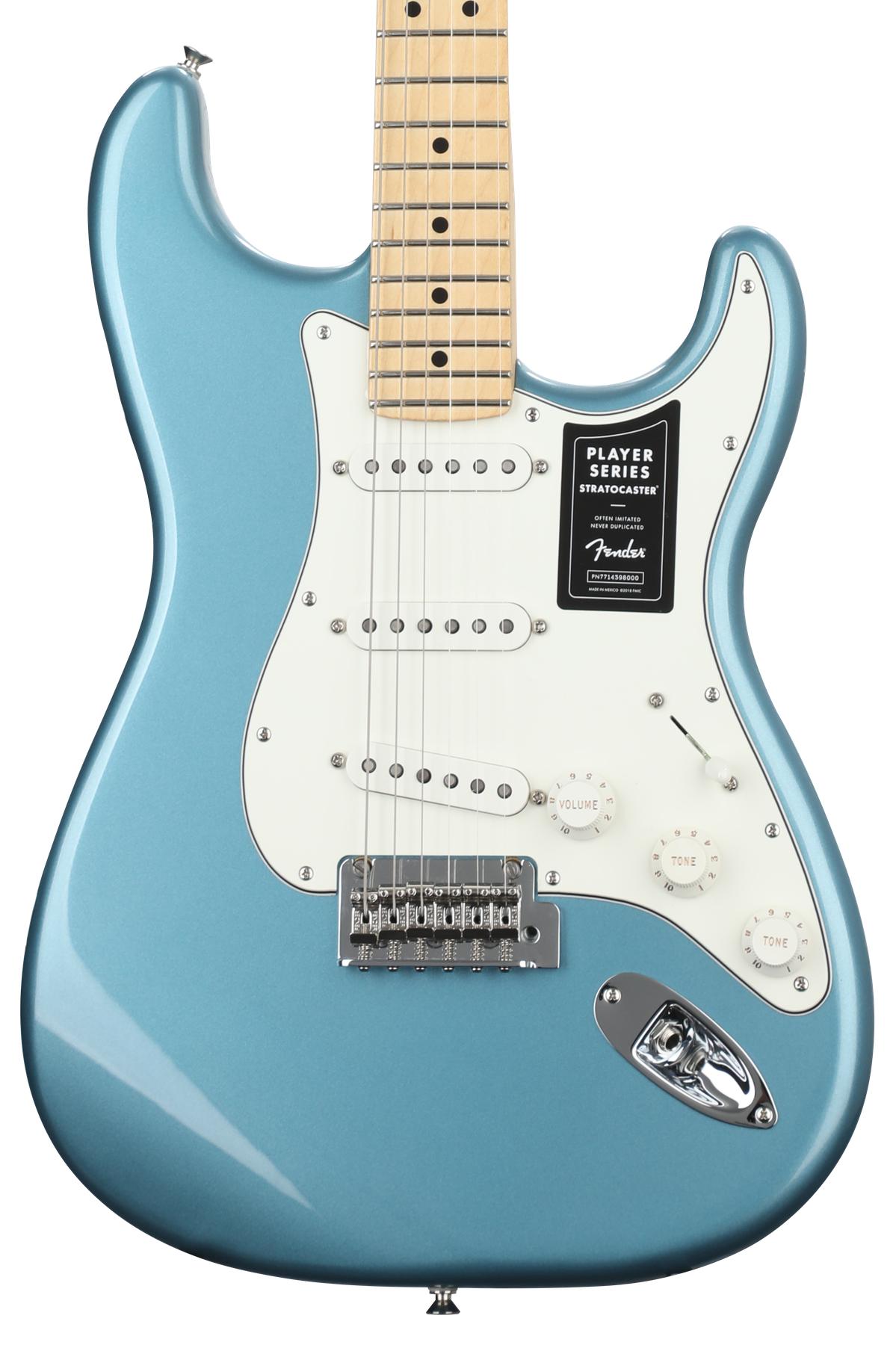 If you're looking to throw down some blues licks a la Eric Clapton, Stevie Ray Vaughn, or Robert Cray, this is the axe you've been waiting for.
The Fender Player Stratocaster is a modern take with vintage appointments. A redesigned body hearkens back to some of the very first Stratocaster models, yet the neck is more modern with medium-jumbo frets for easy note bends.
This particular model has a surf rock-inspired finish (Tidepool) that will definitely get your audience's approval.
The electronics are specifically designed for the Fender Player Series and feature 3 Alnico single coils, 1 volume control, 2 tone controls, and a 5-way selector switch.
That sounds great, but how does it hold up to our demanding test?
Sound
This guitar is blues tone all the way. I'm a huge Eric Clapton fan, and I was amazed at how easy it was to nail that smooth, wailing tone especially with only the neck pickup engaged.
The pickups incorporate Alnico (Aluminum, Nickel, Cobalt) magnets, so expect the tone to be bright and snappy with bass notes that stay in the higher end of the spectrum.
The highs can be a bit harsh if you don't have a good equalizer on your amplifier.
I highly recommend using an external pedal-style equalizer in front of your amp to really help you control those highs.
Single notes have surprisingly good sustain. I suspect that this is due to the medium-jumbo frets.
The maple neck and alder body are great for sustain as well but may also be responsible for the somewhat harsh-sounding high end. Again, this is easily controlled with some amp tweaking.
Hear how this guitar sounds:
Playability
There is absolutely no surprise here when it comes to playability. The modern C-shaped neck provides a nice grip and comfortable, natural feel while the medium-jumbo frets are completely effortless to note all the way up the neck.
The neck radius is 9.5 inches, so it definitely has that old-school Stratocaster feel. In my opinion, the sweet spot on any Stratocaster is up high on the neck.
The Modern C neck is no different. It absolutely wails when you play those 12th fret pentatonic scales.
Overall, the Fender Player Stratocaster was surprisingly easy to play and was definitely designed with comfort and function in mind.
Quality/Build
Fender has been making the Stratocaster and its variations for over 60 years. For the price of the Fender Player Stratocaster, the materials are well chosen.
A solid alder body, maple neck and fingerboard, 2-piece synchronized floating tremolo bridge with bent steel saddles, and a synthetic bone nut are really about all there is to this blues machine.
It has that solid feel that working musicians appreciate, just like the original Stratocasters of a bygone era.
If I were to change anything about it, it would be the nut. I would prefer something a bit slicker – like real bone or graphite – to allow me to bend notes even easier. The synthetic bone is just a bit grabby for my tastes.
I'm just nit-picking at this point. It's a blues axe through and through!
Pros:
Medium-Jumbo frets allow for effortless note bending
Alnico V pickups give a great bluesy snap and smooth articulation
Neck radius has a comfortable, natural feel
Lightweight and incredibly balanced
Cons:
Highs can sound too harsh and can be challenging to tame
Synthetic bone nut is not slick enough
The synchronized floating tremolo causes a bit of tuning instability (classic Stratocaster bridge would be better)
If you're looking to jump up a notch to a well-built blues machine, then the Fender Player Stratocaster is the guitar to get.
It's a Stratocaster that even the great "Slowhand" would approve of.
Check Price on:
---
Best Electric Guitar for Intermediate Players Who Want to Play Rock – PRS SE Custom 24-08
Playability
In my opinion, PRS's wide thin neck-shape really fly's under the radar for most players.
Let's look at something interesting, I have actually never seen these 2 compared head to head like this.
Check this image out to see how Wide thin neck of PRS SE Custom 24-08 compares to Modern C:
And here the wide thin neck does something amazing…
It grabs the good aspects of the modern C shape. Like the comfortable C-shape of the bottom of the neck that just works with hands of the human beings. It's just fits. Like a glove.
So PRS keeps that with wide-thin shape.
But it makes the neck wider, to give real meat and room for your hand and fingers. So the neck really fills your hand like it should and the guitar becomes an extension of yours.
Nut Width is 1.69"(43mm)
It's chunky. It's a wide neck. And it's a wide feeling neck.
This guitar has 5mm (0.019") wider string spacing than usually
5mm (0.019") difference doesn't look like game-changer on the paper. But small things can matter a lot. Especially when it comes to hitting small strings of an electric with your both hands.
And we both know that guitar playing is actually not easy as it seems. It takes a lot of practice. Trial and error. And if you like wider string spacing and fingerstyle, this PRS is a good fit for you.
Sound
Here we come to the reasons why this axe gets 5/5 from me when it comes to versatility.
8 different pickup positions! ("08" actually stands for that.)
Let that sink in. At least I had to think about it for a while…
This video highlights the tones that you can get with each setting(plus Phillip also states that the tuning was stable on his testing!)
So, you can coil-split each of the humbuckers separately. And this really feels sooo premium for this price.
You can jump between the neck humbucker and the split bridge humbucker just with a flick of the switch! Warm riff with the neck pup, and bright solo with the split bridge. Cool!
Usually coil-split control is located on the tone-knob. You pull it to split both buckers. But with this PRS you double the tone options available.
This is the main reason why the versatility is easily worth 5/5 rating from me.
And PRS TCI 'S' humbucker set in a mahogany body capped with flamed maple, the SE Custom 24-08 cranks out the full-bodied tone. The tone PRS is known for.
That TCI stands for: tuned capacitance and inductance.
And PRS Claims that the different tonal factors of these pickups are tuned differently to every body shape to achieve the best tone possible. Sounds a little bit like marketing hype for me, but the guitar still sounds amazing, so I can't really complain!
'S', stands for Student. As this Custom 24-08 belongs into their SE=Student Edition line.
Right now, these PRS TCI 'S' pups are one of the most underrated with some of the Fender's humbuckers(because 95% of people under-value these).
Whether you want to wail the blues like Santana, take it easy like Mayer, or chug like Mark Holcomb, the SE Custom 24-08 responds to your touch well.
This is a kind of swiss army knife-type guitar.
But at the same time this doesn't fell in the category "it kind of does everything ok, but does nothing well".
This guitar can do anything, but it shines with rock, progressive, and experimental stuff. And the #1 reason for this is the versatility.
It's super-hard to find more versatile guitar under $1000(like a-needle-in-a-haystack-hard).
If you don't want to be stuck inside one genre, this guitar is a great pick.
Quality
Is this guitar perfect?
No.
This is a PRS SE model and this results in lower quality control. For example, Phillip McKnight(he runs an awesome Youtube channel), faced an issue with his axe….
When using pickup switch, the neck pickup didn't always work like it should. Reason for that…
Dust inside the pickup switch. Probably no one tested this axe properly in the factory.
But gladly this was and easy fix. See how he did it:
I'm glad that I learned that. Now I know what to do first when the pickup switch is not working!
Stuff like this can be annoying, for sure. But at the same time, it can happen with any guitar. From $200 Squier to $3000 Gibson. We are dealing with products made by human beings that make mistakes.
But gladly we have 1 magic word that can save us if the product we ordered seems to suck.
Refund.
I don't like to refund easily, but I will do that if the product has a flaw that is hard or impossible for me to fix. We have the right to do that.
But this is the only flaw that I found. Quality control let's lemons slip through.
Pros
High-quality pickups and tonewood deliver superb sound
Separate coil-split for both humbuckers adds versatility
Wide thin neck shape ideal for fat fingers
The scale length of 25′ over 24 frets for extra-wide fret spacing(hitting wrong strings is made hard)
Cons
High price, out of budget for many
Quality control sometimes lets lemons slip through
This guitar is super versatile, and it sounds good. Plus the playability is really smooth and comfortable.
If you want to seriously rock, this is my go-to option for the intermediate player. This guitar will help you achieve advanced skill level fast as possible,
Check The Latest Prices to make sure that you don't pay extra:
---
Cheaper Classic-Rock Alternative:
Fender Player Stratocaster
With 3 single-coil pickups, this guitar offers a great variety of iconic rock tones. This guitar shines in classic rock and in spanky sounds. Not the best option for heavy distortion tho.
Check Price on:
---
Best Electric Guitar for Intermediate Players Who Want to Play Metal – ESP LTD Deluxe EC-1000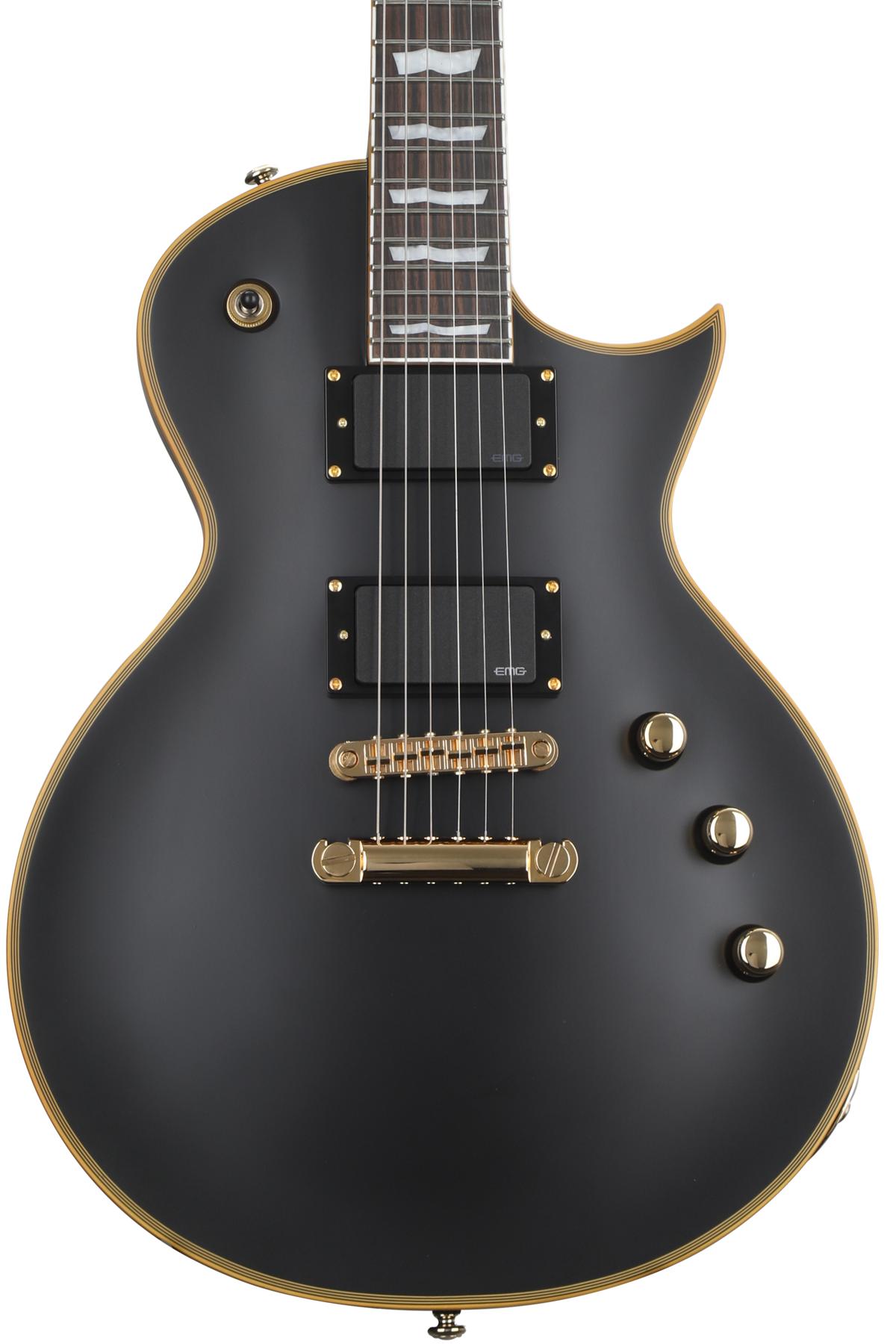 One of my favorite guitars. Handles everything, but it's made for heavy riffing.
I will tell you why I think that this is a great choice. And in the end, I will also reveal an even better option for people who want to play super-fast solos.
Sound
This comes with 2 Active EMG 81/60 pickups (Seymor Duncan option available too). You can be sure that these handle high gain really well.
This guitar produces aggressive, warm and dark tones, especially good for riffs.
Mahogany neck and body, plus ebony fingerboard give the tone even more warmness and richness. And lead tones come out surprisingly well too.
This guitar is also really gentle with the clean tones, so those intros will go just fine with this one.
Plus, this is not "just a metal guitar", it can handle all sorts of music thanks to its high-quality pickups.
Let's hear how it sounds:
Playability
The fretboard radius is 13.78 inches, so it has slightly less curve than electric guitars in general. Playing fast is easy because of this.
Thin-U neck shape makes this guitar really comfortable to play. Easy for your thumb, comfortable for you.
Again, some low frets are a bit hard to reach, but it's nothing too bad. The carving at the back of the neck makes things a little bit easier for you than with Les-Pauls and other Singl-Cut guitars in general.
Out of the box action is spot on. It's pretty low, so it's fitting for me perfectly. All these qualities make this one really easy and comfortable to play.
Quality/looks
Quality is really high for the price. The finish is excellent and this guitar looks stunning. No rough edges. All the details are high quality too, for example flags on the fretboard.
Tuners are also good looking and work well, this guitar stays in tune like a charm.
It is really hard for me to find complaints about quality. It's excellent for the price.
Pros:
Great metal tones
Stunning looks
Spot on the action and smooth neck make this comfortable to play
Versatile
High quality
Cons:
Some lower frets are a bit of hard to reach.
High-quality riff monster for metalheads. That sums it up.
Check Price on:
---
Even More Shreddable Axe
Schecter Banshee GT-6 FR
Fast neck, compound radius and heavy sound. That's Schecter Banshee GT-6 in a nutshell.
Check Price on:
---
Budget option
ESP LTD EC-256
Comfortable to play and sounds really heavy. This guitar is a really good choice if you love heavy riffs.
Check Price on:
---
Best Hollow-Body Electric Guitar for Intermediate Players/For Jazz – Gretsch G5420T Electromatic
A great option for the country, pop, rockabilly, and blues lovers. Lemme tell you why…
Sound
This one comes with 2 Blacktop™ Filter'Tron™ humbuckers. The sound this produces is really gentle and warm. The sound is really detailed in my opinion too, one main reason why I really enjoy listening to this guitar.
This guitar sounds really good without the amp too!
Low-gain tones are actually really solid too, so some classic rock songs sound killer with this. But when you start to crank up the gain, you quickly notice why metal guitarists don't use them with their headbangers.
Tones is well balanced and full, but offers enough crispiness and brightness with bridge pickup.
In my opinion, the sound is where Gretsch G5420T Electromatic shines the most.
Hear how this one sounds:
Playability
Neck shape is U
Nut width is 1.6875″ (42.86 mm)
Fretboard radius 12″ (305 mm)
This one is probably the hardest to play from the guitars on this list because of the chunkier neck. All the guitars on this list are pretty easy and at least comfortable to play, so this is nothing too bad tho.
So the neck is still really comfortable, it feels good to wrap your hand around it.
Last time I played this, my wife had to literally drag me out from the music store. I would still be there without her.
One thing that makes things a little bit harder is the body of the guitar. It's big and the depth of the guitar is deep. If you are used to playing a big acoustic or other big hollow-body guitars, this is not a problem for you. But people like me, who usually play normal sized electric guitar, it can take some time to get used to Gretsch G5420T Electromatic.
Out of the box action is solid. I would make it slightly lower(easy with truss rod)), but it's still good.
Quality/looks
When I have played this one in music stores, the quality has been very good in my opinion. No rough edges, flaws in paint-job, or anything else. Tuning seems to be one of the strongest aspects of it, quality-wise.
But some real owners of this guitar have reported that there has been something to complain about…
In some cases, there have been some cracks in the paint job. In the neck and in the body. And some setup problems too. These are rare, but it's possible. Of course, you can probably return the guitar if there are some flaws out of the box, or set up it again yourself, but this is a minus.
But my experience with Gretsch G5420T Electromatic has been really pleasant, nothing to complain about.
About the looks…in my opinion, this guitar looks amazing and sophisticated at the same time. It has many different color options, and my favorite is the black one.
Pros:
Sounds beautiful
Looks great
Comfortable neck
Does what it should do
Quality(most of the time)
Cons:
Not the easiest to play(U-neck feels thick and bigger body)
In some rare cases, there have been issues with the quality
It can take some time to get used to the big body
When first I laid my hands on Gretsch G5420T Electromatic, I noticed how comfortably the neck is and how gentle the sound is.
Gretsch G5420T Electromatic does what it should almost perfectly. If you are looking for a hollowed-body electric guitar, this is a great option for you.
Check Price on:
---
Conclusion
All these are excellent choices for intermediate guitar players. High quality for the price, comfortable to play, and sound good. My own favorites are
Fender Player Telecaster HH: so good-looking, versatile, and fun to play.
Gretsch G5420T Electromatic: sounds beautiful, stunning look, and totally different from the others.
I hope that you find the right one for you. If you have any questions about these guitars, leave a comment down below. Feel free to share this post too.
I wish you all the best and keep rocking!
Teemu''the worlds okay'est guitar player'' Suomala