Best Overall Electric Guitar for Small Hands – Fender Player Mustang 90
Sound
Playability
Overall Quality
Value For Money
Versatility
Summary
Fender's Mustang 90 gets 3 crucial things right for players with small hands:

1. Its nut width is 1.65"(42mm). This narrow neck is great for a combination of short fingers and small palms. Using the correct technique, accessing all the frets is made easy for you.

2. A 24" scale length reduces string tension, so playing this guitar doesn't require much finger strength. You don't need to drain all your effort to press the strings and this makes overall playability smoother.

3. The slim, C-shaped neck works the best for most players with small hands(my personal favorite too).

Further still, the overall smaller size of the Mustang 90 makes this guitar really easy to get started with.

How Fender Player Mustang 90 sounds:
This Fender Mustang is my favorite for small hands…trinity of playability, tones, and quality is hard to beat.
Check Today's Price on
*Consider all links in this post to be affiliate links. If you purchase, at no additional cost to you, we may earn a small commission. It helps us to keep the lights on, thanks! 🙂
---
The Next Best:
Compare these axes:
Specs
Neck Shapes:
Special Edition Custom Telecaster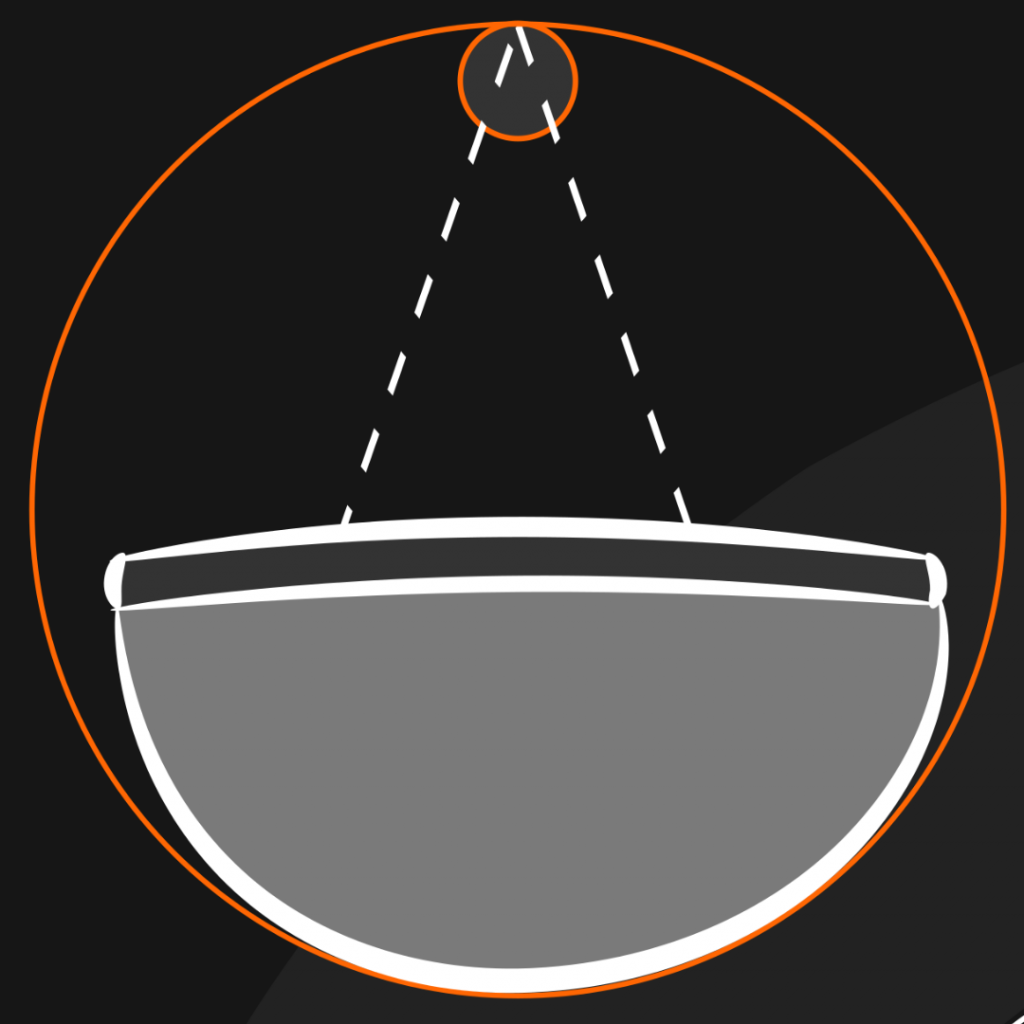 Classic C-shape that usually fits a hand of a human being well.
Not a photo of an actual neck, but gives you an idea of the neck shape.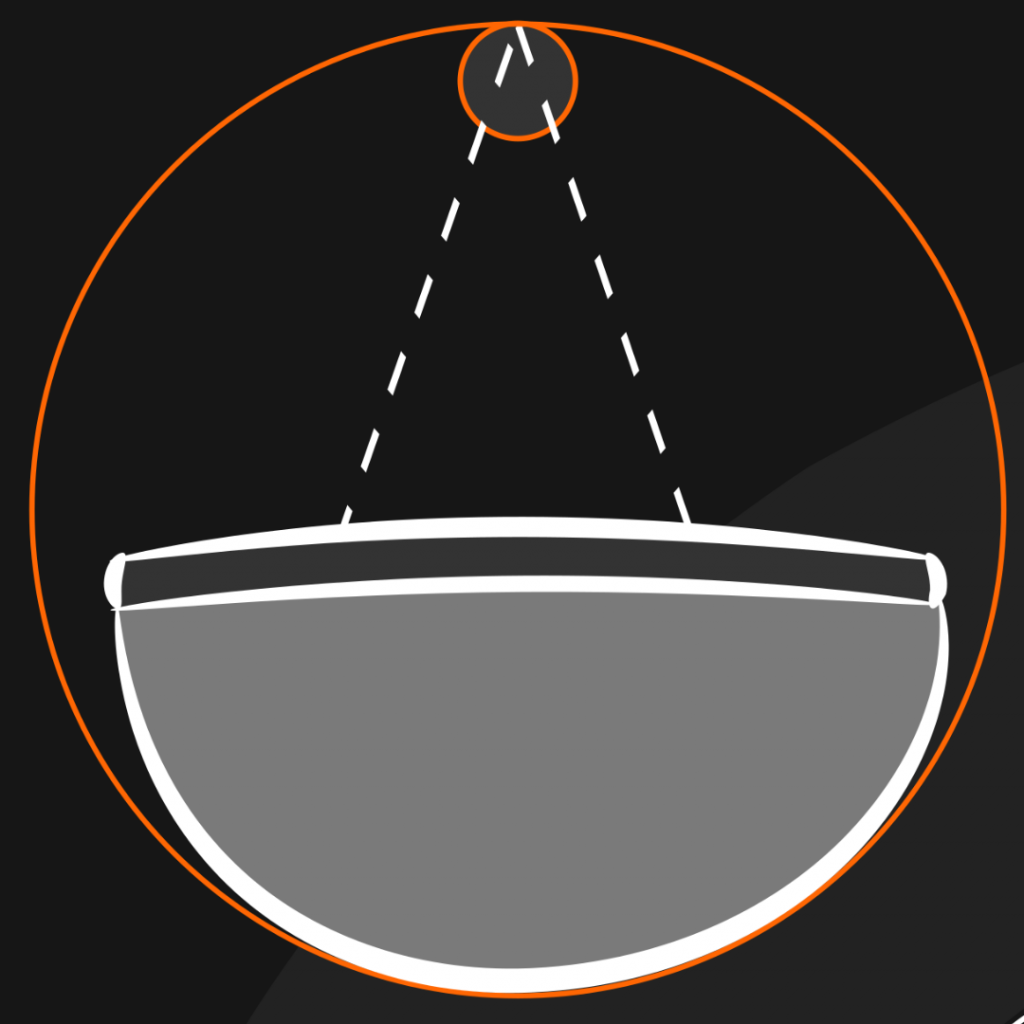 Classic C-shape that usually fits a hand of a human being well.
Not a photo of an actual neck, but gives you an idea of the neck shape.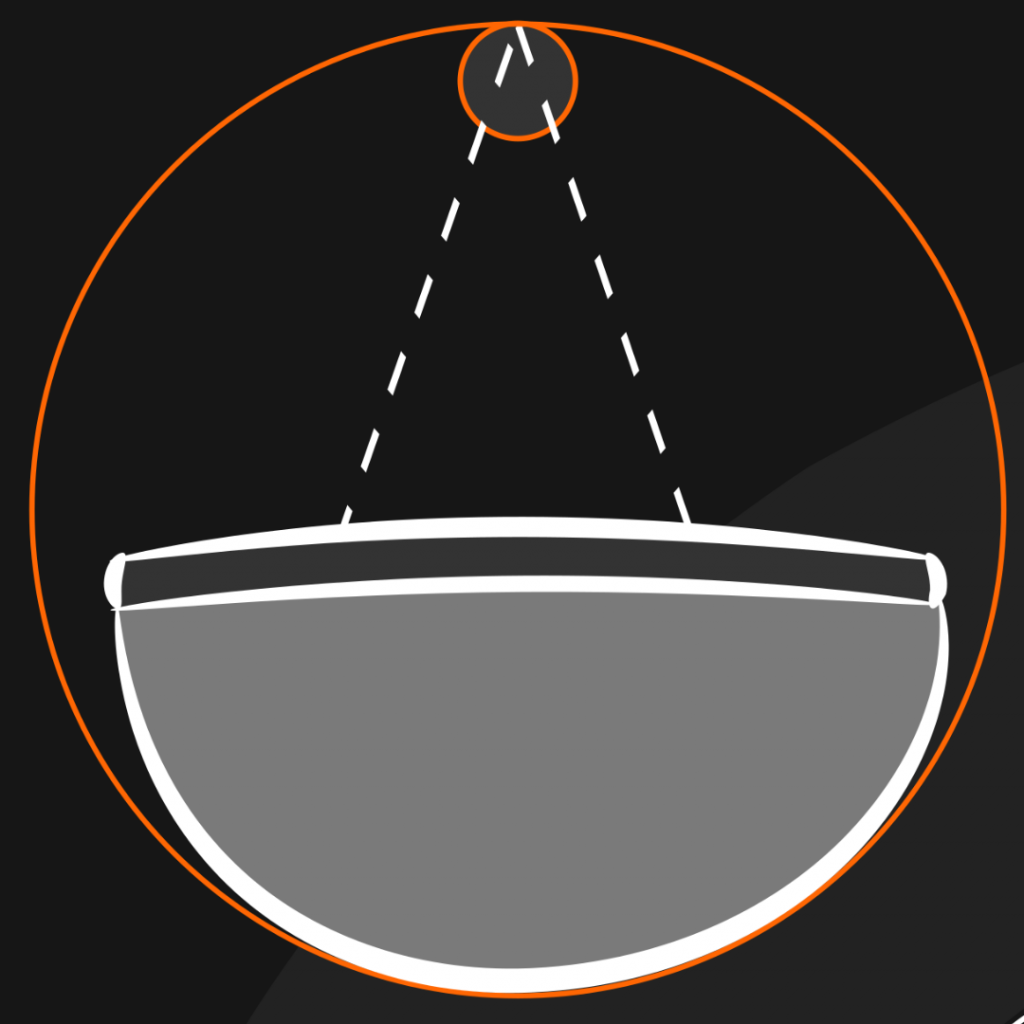 Classic C-shape that usually fits a hand of a human being well.
Not a photo of an actual neck, but gives you an idea of the neck shape.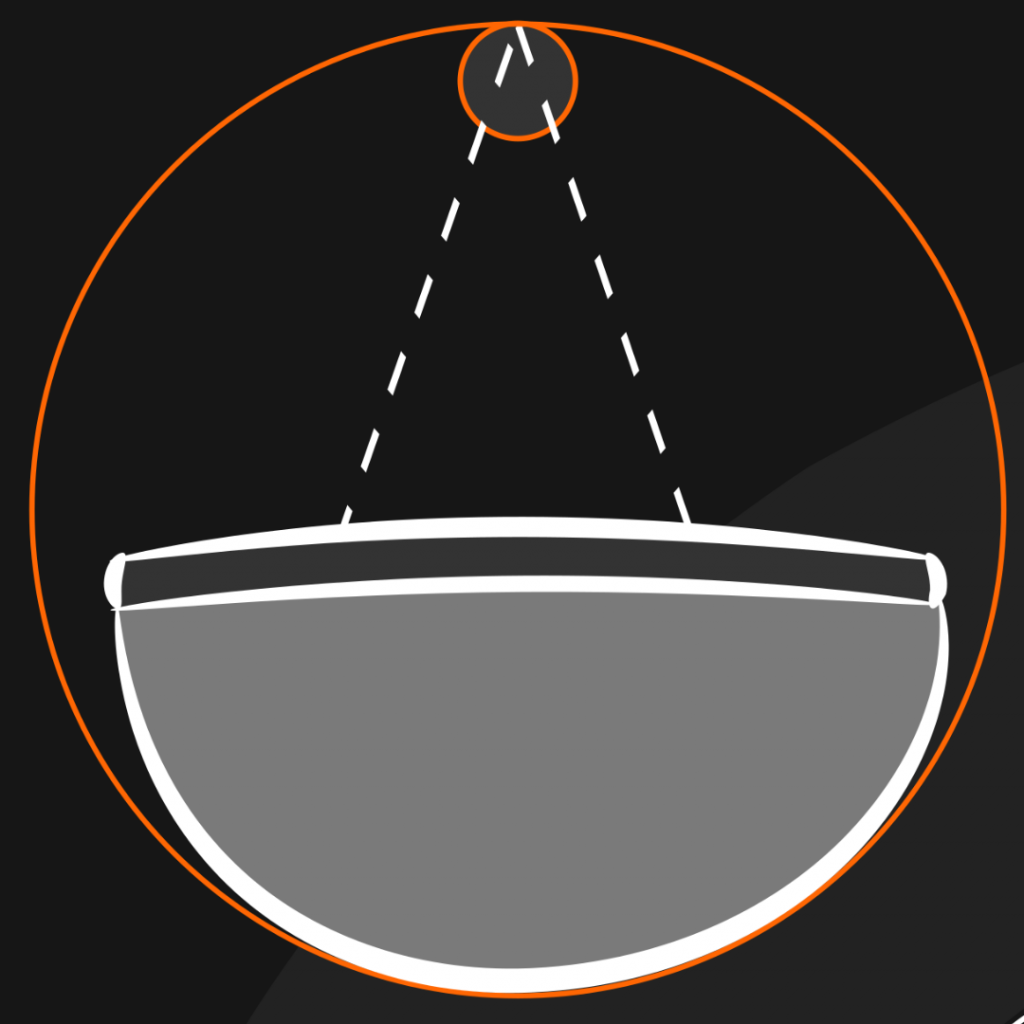 Classic C-shape that usually fits a hand of a human being well.
Not a photo of an actual neck, but gives you an idea of the neck shape.
Modern C. A slimmer version of the classic C-shape.
Not a photo of an actual neck, but gives you an idea of the neck shape.
Pickups tones
Tonewoods affect the tones, but "how much?" is the right question to ask. I would pay some attention to the tonewoods:
Squier Classic Vibe 50's Stratocaster
Squier Affinity Telecaster
Fender Special Edition Custom Telecaster FMT HH
Body: Alder
Neck: Maple
Fretboard: Pau Ferro
Body: Poplar
Neck: Maple
Fretboard: Maple
Body: Poplar
Neck: Maple
Fretboard: Indian Laurel
Specs from Fender's site
Top: Flamed maple
Body: Mahogany
Neck: Mahogany
Fretboard: Indian Laurel
FREE Access for You! Secret Page Reveals 5 Must Learn Electric Guitar Riffs That Accelerate Your Learning (For All Beginners Who Love Rock and Metal)
(If you want to make progress fast, this is for you). Just tell me where I should send the link:
By entering your email address you agree to receive emails from Guitarist Next Door. We'll respect your privacy and you can unsubscribe at any time.
---
If you feel that it's reallyyy hard to play some chords and notes on the guitar because your hands/fingers just can't reach the right spot…
…you know what…this is the right place for you!
Because we are going to dig deep into the world of electric guitars for small hands! Best part?
I've been there… I own a small pair of hands. So I have struggled too. A lot.
And when I started guitar playing, I was a kid, so my hands were even smaller back then. And it was really frustrating once in a while. It just felt impossible to play some songs and chords. For example "Snow" by Red Hot Chili Peppers and barre chords were like Kryptonite for me(I'm no Superman tho…).
Here you can see the reviewer's(my) hand and some measurements: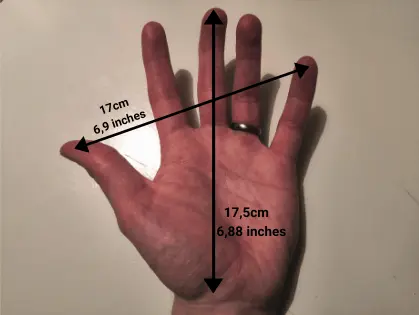 So I'm not one of those folks with baseball-players hands that say "you just have to practice". And trust me…
I have experienced first-hand that playing the guitar with small hands can make you feel something like this:
But my small hands didn't stop me. Yours should not stop you either.
Should you buy a different guitar if you have small hands?
The short answer is this: maybe you should, that can make playing easier and the learning curve shorter. But buying a new guitar is not necessary most of the time.
Because you can absolutely learn to play, even though you have small hands! And even though you have a guitar that is not very "small hand-friendly" you can master the guitar. Many people have done that already, so you can do it too.
But as I said, easier to play guitar can make playing a lot easier.
Let's look closer at the best electric guitars for small hands and at the end of the post, there are some tips that can make playing easier for you right now!
Who crafted this post: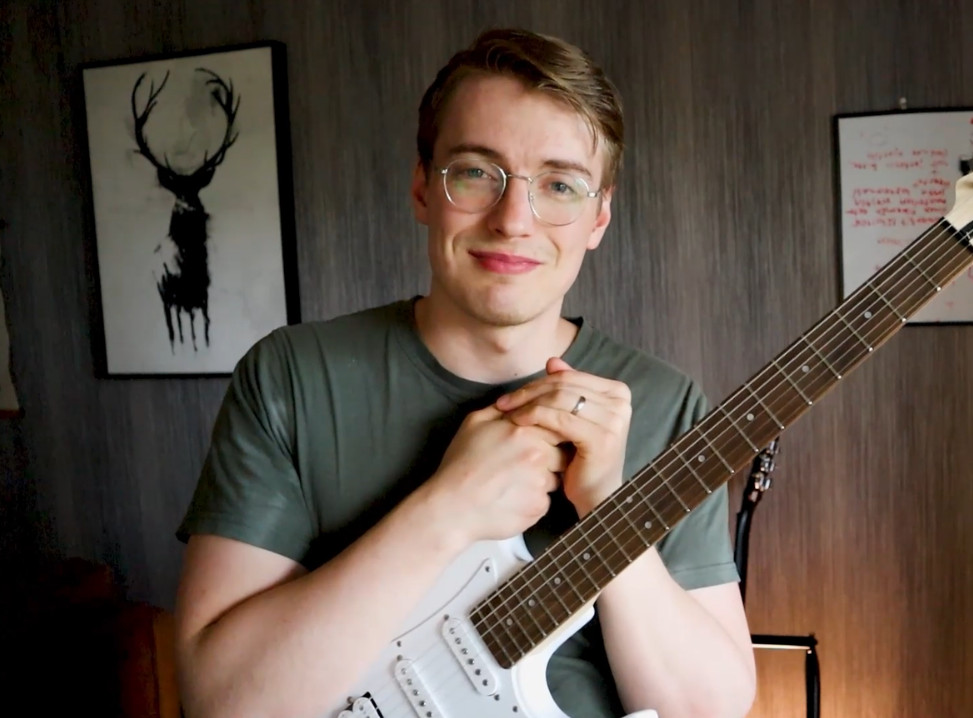 Author: Teemu Suomala
I first grabbed the guitar in 2009. I started this website in January 2020 because I couldn't do window installation anymore due to my health problems. I also noticed that most guitar websites don't do a really good job, so I decided to just go for it! I got lucky and managed to get awesome people to help me with my website. I also got lucky because I have you visiting my website right now. Thank you. I do all this for you guys. If you have any recommendations, tips, or feedback, just leave a comment, I would love to chat with you. I have been fortunate to produce content for several large guitar websites, such as Songsterr, Musicnotes, GuitarGuitar, and Ultimate Guitar. I spend my spare time exercising and hanging out with my wife and crazy dog(I guess that went the right way…).
I have tested all the guitars featured in this articles except Fender Special Edition Custom Telecaster FMT HH. For some reason, music store's near me don't carry it at all. Hopefully I can riff with it soon! Otherwise, I have jammed with these guitars, tested the playability, and the sound…I really like them all.
---
Our Favorite Music Store in The World!
Why?
– Excellent Customer Service (4.7/5 Trustpilot Score)
– Fast & Free Shipping
– Gear is Inspected, Tested, & Ready to Play When it Arrives to You (We love this)
– Fair Prices
Visit Sweetwater:
Best Electric Guitars for Small Hands
Keep these things are mind when reading this post and picking the right guitar for you!
Focus: In this post, We have a laser focus on the ease of play and guitars fit for the small hands.
We are not focusing too much on the looks and sounds of the guitar. All these guitars sound good (of course, you get what you paid for). If I found some other aspects of the guitar worth mentioning, I'll do that.
Fretboard radius: This tells you how curved the fretboard is. In classical guitars, there is usually no curve on the fretboard at all. On the other end of the spectrum are some Telecasters with a 7.25 radius.
A typical fretboard radius for electric guitar is around 12 inches. You might want to look for a radius of 9,5 inches or more, because when the radius is small and the fretboard has a big curve, doing bends and hitting the right strings can be a little bit harder.
Nut width: This means the width of the guitar's neck when measured from the nut. It also affects how narrow the neck is when you go down the neck. Nut width has a huge effect on playability. The narrow neck is almost always a better option for small hands.
The typical nut widths:
Fender Vintage Stratocasters have 42mm(1.65″)
Modern Stratocasters have 43mm(1.695″)
Les Pauls usually have 43mm(1.695″)
String action: String action is the distance between the strings and the fretboard. Closer the strings are to the frets, easier it's to play. Usually, the action can be adjusted easily with electric guitars. But if you make the strings too low, some notes/frets might start to buzz.
Scale length: Guitars scale length is the distance from the nut to the middle of the Fret 12, multiplied by 2. Scale length affects the tension of the strings. Shorter the scale length is, less tension there will be. Less tension usually means that the guitar is a little bit easier to play, because playing requires less strength from your fingers.
The shape of the neck: Most common neck shape of electric guitars is C-shape. The C-shaped neck is usually a good option for players with small hands, it feels comfortable to play and works well for most playing styles.
A good variation of the C-shape is the Modern C-shaped neck. It's a flatter version of the C-shape. Modern C neck works really well especially if you have short fingers.
Slim D, and Thin U- shaped necks are great options too, these are usually slightly bigger in size, but easier for your thumb placement.
Now let's look at those best guitars for small hands!
---
Best

Overall Electric Guitar for Small Hands

–

Fender Mustang 90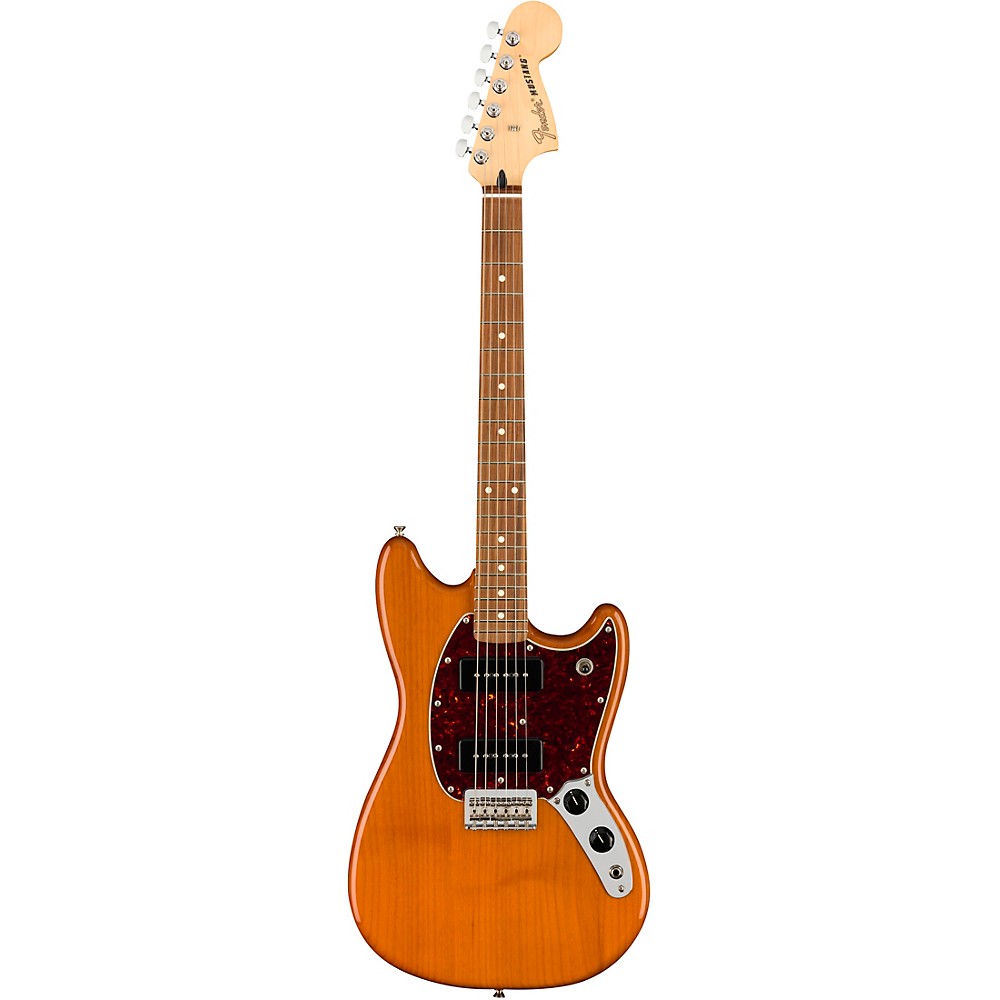 This one is a great rock guitar. You can get good tones from Black Sabbath to Nirvana and from old-school Green Day to Mountain.
This Mustang with P90's offers nice balanced and clear cleans, plus you can get nice spanky funk tones out of it too. Here's another sound demo for you:
But what about the playability?
Fender's Mustang 90 gets 3 crucial things right for the guitarist with small hands: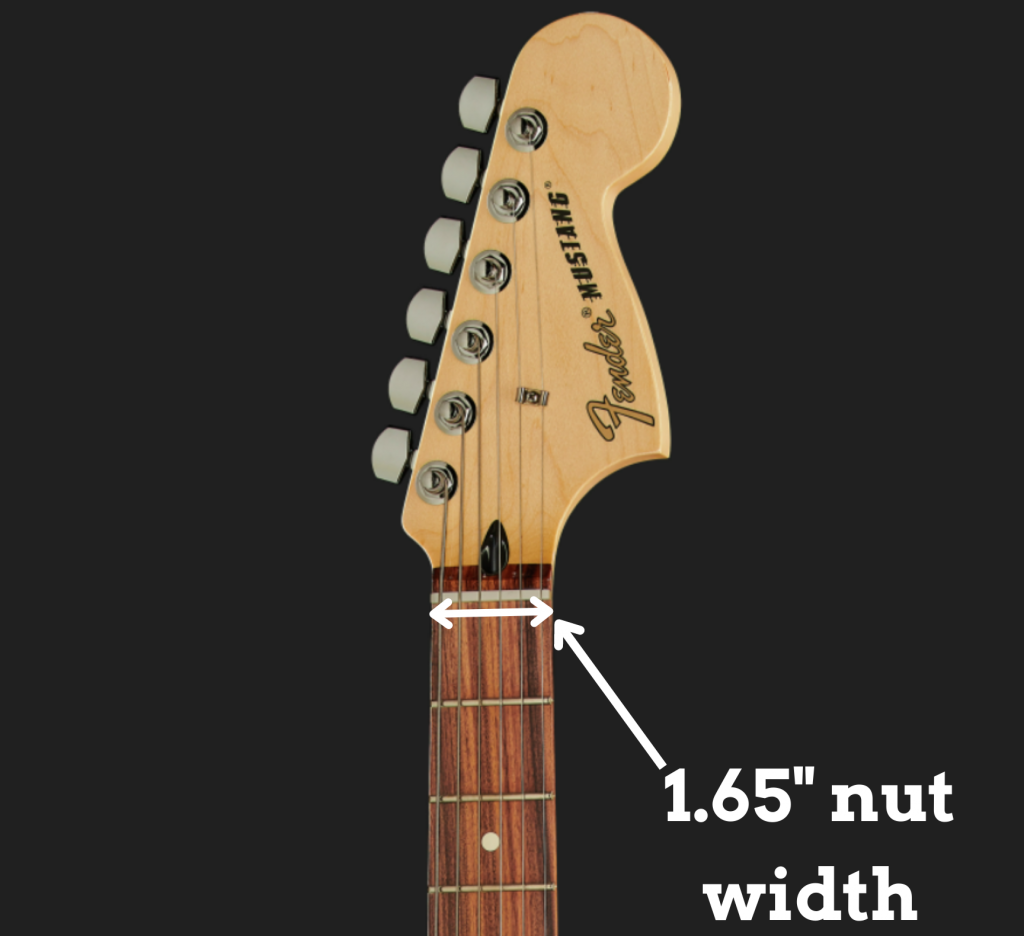 Its nut width is 1.65"(41.91mm). This narrow neck is especially great for short fingers and small palms. Using the correct technique(thumb at the back of the neck), you should be able to access all the frets easily.
A 24" scale length reduces string tension, so playing this guitar doesn't require much finger strength. This makes the overall playability smoother.
The slim, C-shaped neck works well for most players with small hands.
The fretboard radius is 9'5-inches, so there is some curve. But it's flat enough for playing to be comfortable, and bends were really smooth with this kind of neck.
Plus the guitar is small-sized overall, so it's a great pick for, kids, teens, and ladies too.
All above combined separate this guitar from the rest. This Mustang defines amazing electric guitar for small hands for me. It has it all playability-wise. I would heavily consider this guitar if struggling with small hands.
Perfect?
No, but no big issues to be found either.
This Mustang might need some slight action adjustments. Not a major flaw, can happen with any guitar and depends on your play style, but it's worth noting.
I also skimmed through a ton of user reviews, and players have been saying great things about the electronics and lack of hum in the sound. P90's are single-coils, so lack of unwanted hum is a nice plus.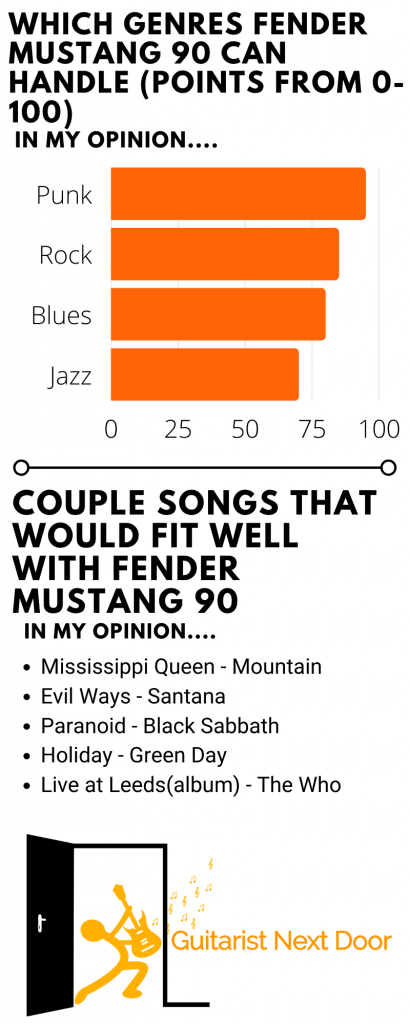 Pros
Spot-on nut width and 24 scale length (less string tension) make this one really easy to play

Good quality electronics

The neck is really comfortable (especially good for short fingers)

Sounds great, best for funk, punk, and rock.
Narrow neck (nut width is 1.65") makes accessing all the corners of the fretboard easy
C-shape just fits a hand of a human being
Cons
Some action adjustments might be needed

Not the most versatile guitar
Summary
The neck of this guitar is one of the best ones for small hands in my opinion. Really reaally slim. Feels good to play.
Sound-wise this is not the most versatile, but not too bad either. Best for punk-rock, rock, hard rock, and funk. If you love rock and want to easy to play guitar, this will be a great option for you.
You can read my full review of Fender Mustang P90 here.
---
Runner-Up –

Squier Classic Vibe '50s Stratocaster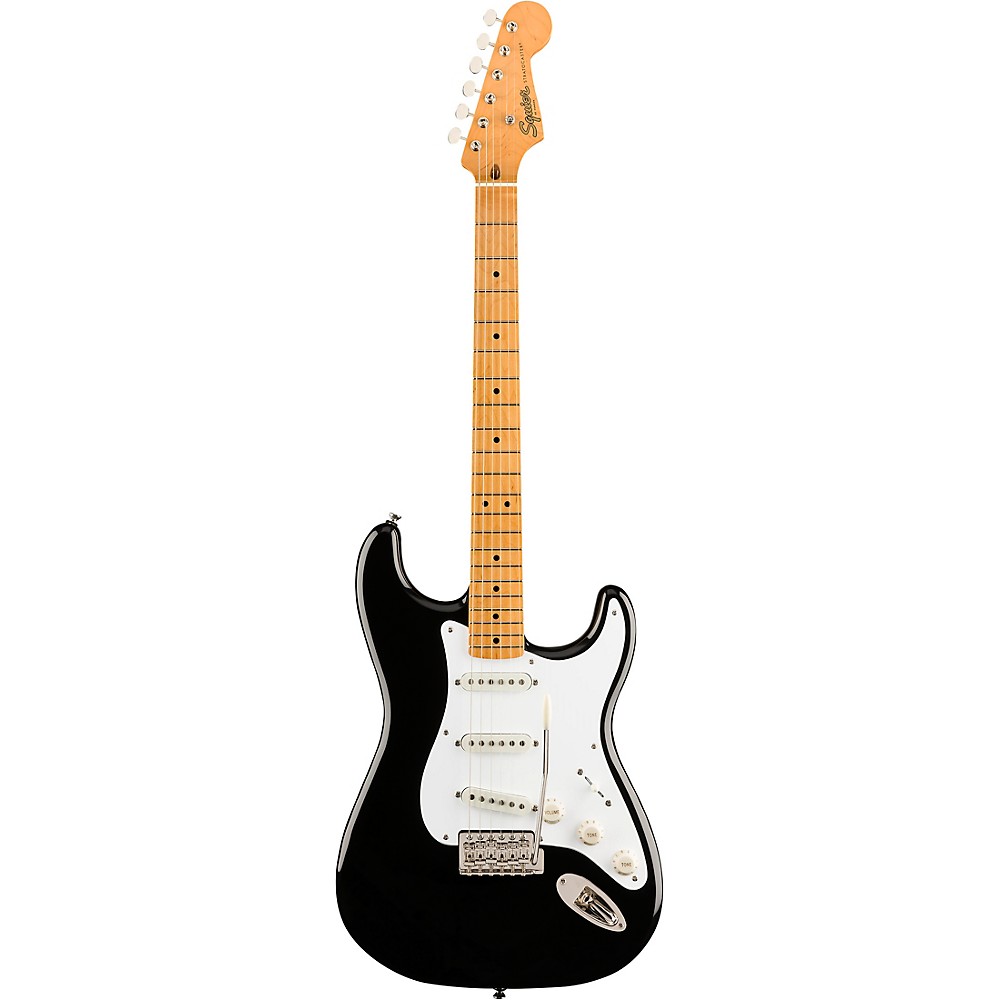 I tried this out in a music store nearby a while back.
I compared lots of different Stratocasters there and I think that this one is a lot easier to play than most Fender Stratocasters. And this Squier didn't lose much to the higher-priced Fender Player Stratocasters sound and quality-wise.
This one is just like Stratocasters in the 50's with some modern updates. For example, it has a 5-position blade switch.
Some key specs for small-handed players:
Fretboard radius, 9'5 inches
Nut width is 42mm(1.65inches)
C-shaped neck
The neck is slim, narrow, and smooth.
It's easy to access all the frets close to the nut when riffing and near to the body when soloing.
Narrow-tall frets make hammer on's, pull off's, and bending very easy…
plus with low action, playing is really effortless, not much finger strength is required.
Fretboard edges are rolled. This makes overall playability and moving your hand up and down comfortable. And for this price, I was surprised by how smooth the fret edges were. So at least I didn't feel any need to start smoothening these up.
I have found out that in most cases, the action in Squier and Fender Stratocaster is a little bit too high for my liking out of the box. Fortunately, the action is easy to adjust. But as always, you might need to do some adjustments after buying this.
But action-wise either, Squier Classic Vibe '50s Stratocaster is definitely not too bad. I'm not even sure if the action needs to be adjusted always(this depends on your playstyle).
Personally, I think that this guitar is really easy to play, and it's also really fun to play in my opinion. Fast rock solos and funk riffs are really a pleasure to play with this axe.
If you want to hear how this one sounds, check this video:
Pros
9,5-inch radius, narrow-, and C- shaped neck make playing really easy

No sharp edges on the fretboard(comfortable)

Amazing value for the money

Nice rock sounds
Cons
Not the best one for heavy distortion

Adjustments to the action are sometimes needed(depends from your play style ofc)
Summary
You definitely get really good value for the money with this one. So easy to play, even with small hands. If you like to play funk, jazz, blues, and rock, this is a really good option. For metalheads, there are slightly better options available sound-wise(check Fender Special Edition Custom Telecaster FMT HH from this post).
You can read my full review of Squier Classic Vibe '50s Stratocaster here.
---
Best Les Paul for Small Hands –

Squier Affinity Telecaster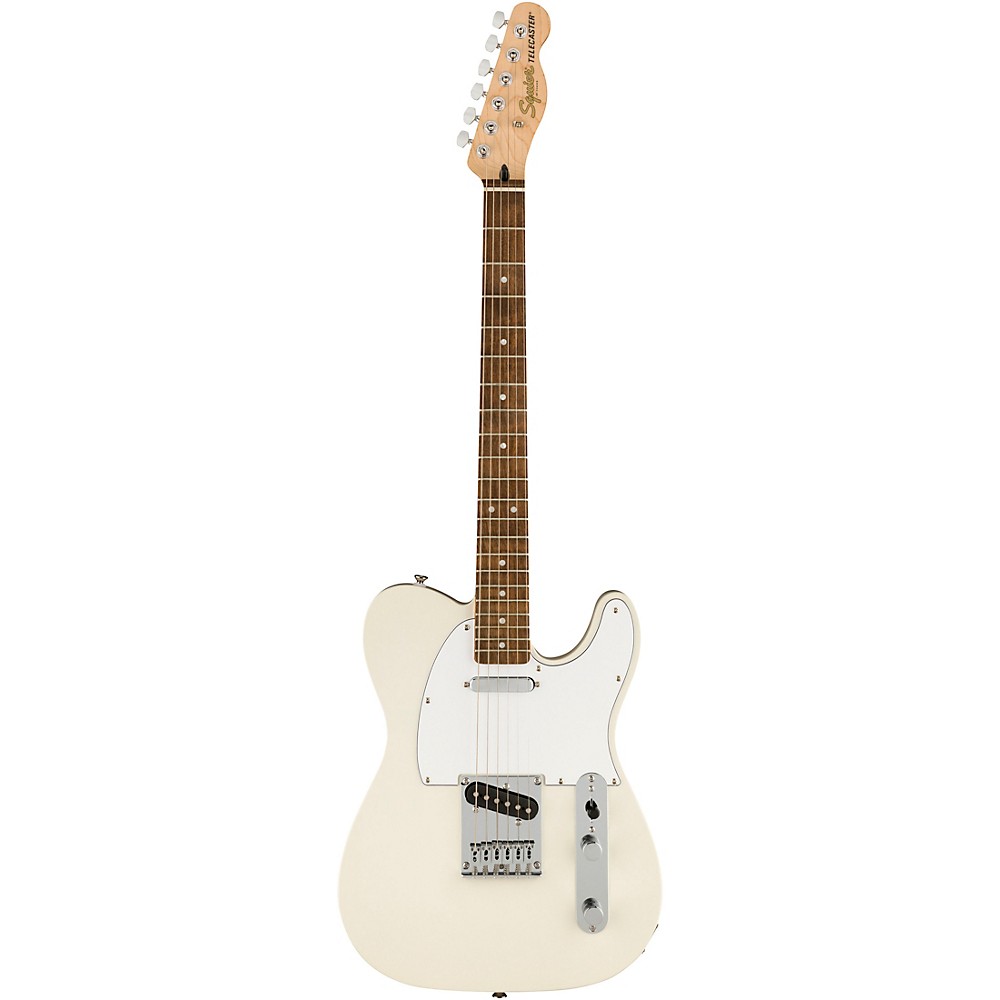 If you are not ready to spend too much yet but really want to learn to play the guitar no matter how small your hands are, this Squier Affinity Telecaster is a great option.
Let's see why!
The #1 thing that makes playability for small hands amazing is the narrow nut width of 1.65'' (42mm).
Yep, it's narrower than usual! Narrow. This small but important detail makes playing a lot easier for small hands. For example, you don't need to stretch your fingers so much when performing barre chords.
The neck shape is C, and for me, it works great.
It's
a well-balanced neck shape—slim enough to enable you to reach every fret with short fingers…
while giving a firm, sturdy feel in your palm.
This Squier Tele's scale length is 25.5″ (648 mm). It's a regular scale length, but at this tension either, strings shouldn't give you too much of a hard time, but for some folks, a shorter scale is a better option.
I myself don't see the standard scale length of these Affinity Telecasters as a huge problem because the slim C neck is super playable in every other way.
I played the Squier Affinity Telecaster a while back in a music store, and oh boy, it was fun.
Playing chords and running solo licks was smooth and effortless. But, the action was a little bit too high for me(again)… Keep in mind though, with a saddle and/or truss rod adjustment you can adjust the action according to your preference.
So really, Affinity's high out-of-the-box action is no big issue.
Of course, guitars this affordable have some issues.
First of all, the edges of the frets and fretboard can feel rough sometimes. This is a simple problem to fix, which you can learn to do yourself here. A tech can always solve this too, but these rough points are definitely a flaw, gladly it doesn't always happen.
What about the sound?
The tones of this Tele are really solid and bright, but a budget Squier obviously won't sound as good as higher-priced Fenders.
Still, the Squier Affinity Series Telecaster guitar provides excellent tones for beginners. This is no doubt an axe you can hone your skills with.
This Telecaster comes with 2 single-coils. In general, these single coils provide warmer tones than those found in Stratocasters. They're less bright and glassy than Squiers Affinity Strat's, with a rounder balance between the lows and highs.
I think they're great for both hard and soft rock, blues, country, and even with some metal.
Hear how Affinity Tele sounds:
Note: Personally I think that Affinity series guitars feel better than Squier's cheaper Bullet series. 7 times out of 10, I would choose to save up some money to buy an Affinity Series Tele or Strat over the Bullet Series.
Also know that if Telecaster isn't your piece of cake, Affinity Series Stratocasters offer the same narrow, slim neck and comfortable playability at a budget price.
Summary
Pros
Slim, narrow neck makes playing easy for short fingers
C-Shaped neck ensures comfortable playability
Rock-solid sound for all beginner guitarist needs
Versatile tones
Great looks
Really high value for money
Cons
Action is a bit too high out of the box (easy to fix though)
Occasional rough fret edges
If the scale length were 24.5-inches, playing would be even easier
To wrap this up, this electric guitar's overall quality and value for money are top-notch.
This Telecaster offers you a thin, slim neck that's comfortable to jam with despite having some rough points. A great choice for beginner players who want a sweet-sounding, easy-playing guitar at an affordable price.
Check Price on:
---
Best 3/4 Electric Guitar for Small Hands –

Squier Mini Strat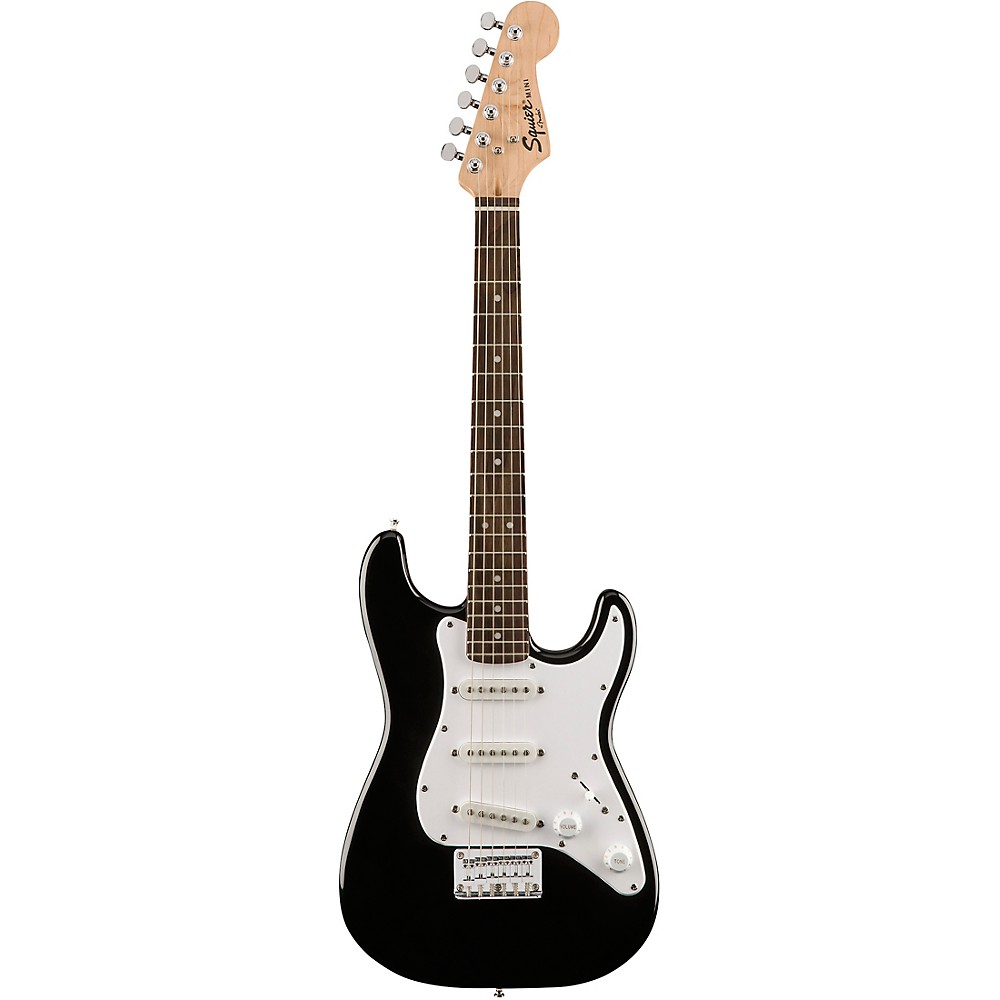 My childhood friend owned this guitar back in the day, and I spent a lot of time with this cute axe back then.
First, why is this a good option for small hands?
The nut width is only 1.6" (40,6m), so the neck really is ultra-narrow. It's thin throughout, following a slim C-shaped neck profile that is the most popular for a reason. Even with short fingers, you should easily be able to reach all the frets on the fretboard.
Plus, the short scale length of 22.75" makes things even easier.
Because of this, strings have way less tension than a full-size Strat and are therefore a lot easier to press down. This smoothens the overall playability. Rocking out on this Mini is easy-peasy in any position.
The fretboard radius, at 9.5-inches, is standard for most Squier/Fender guitars, so you're probably not going to face any issues with it.
Overall, this axe is really easy to play, but if you've got really thick fingers, the narrow fret spacing and super slim neck can cause some problems for you because your fingers are more likely to touch strings they shouldn't.
Mini Strat comes with 3 Standard Single-Coil Strat pickups (just like the Original Stratocasters(ofc these are cheaper versions of those pickups)), which provide you with bright and sparkling tones.
Clean tones are clear and dirty ones have plenty of attack, so you can make this axe sound fairly aggressive if you want. But still, if you play really heavy stuff, the voice of this Strat probably won't handle it well. Things can get fuzzy fast when going too hard on this Mini.
It's definitely not a guitar built with metalheads in mind, but it handles rock, jazz, and blues really well.
Also, this Mini Strat has a 5-way switch that enables you to control which pickup is on or off. With 5 options you have good control over your tone.
Hear how this guitar sounds. Note that the metal riff part is played with heavily modified tones(but you'll see what is possible), other stuff is more natural:
Most of the time I have been satisfied with the quality of Squier guitars, and due to my testing, these Mini's are the ones that deliver solid quality. For the price, you get darn good value for the money.
Of course, the overall finish is not as detailed as the more expensive models and sometimes lemons slip through, but I still think it's an attractive electric. Plus it actually stays in tune pretty well and its electronics should function for years to come.
Summary
Pros
Bright Stratocaster tones
Comfortable and easy to play
The neck is narrow and thin (easy to reach every corner of the fretboard)
Overall small size is great for smaller persons(kids for example)
Quality is great for the price
Stays in tune well
Cons
Becomes a bit fuzzy with high gain and distortion
May have minor flaws in construction and finish sometimes
This is (in my opinion), the best option out there if you're looking for a 3/4-sized guitar. With the Squier Mini Stratocaster, you get a comfortable and easy-to-play guitar that provides a great variety of tones.
It's great for rock, blues, and jazz, and handles other genres well too.
If these things sound good to you, this axe is worth the money as a great small-sized electric option.
You can read my full review of Squier Mini Stratocaster here.
---
For Bigger Budget –

Fender Special Edition Custom Telecaster FMT HH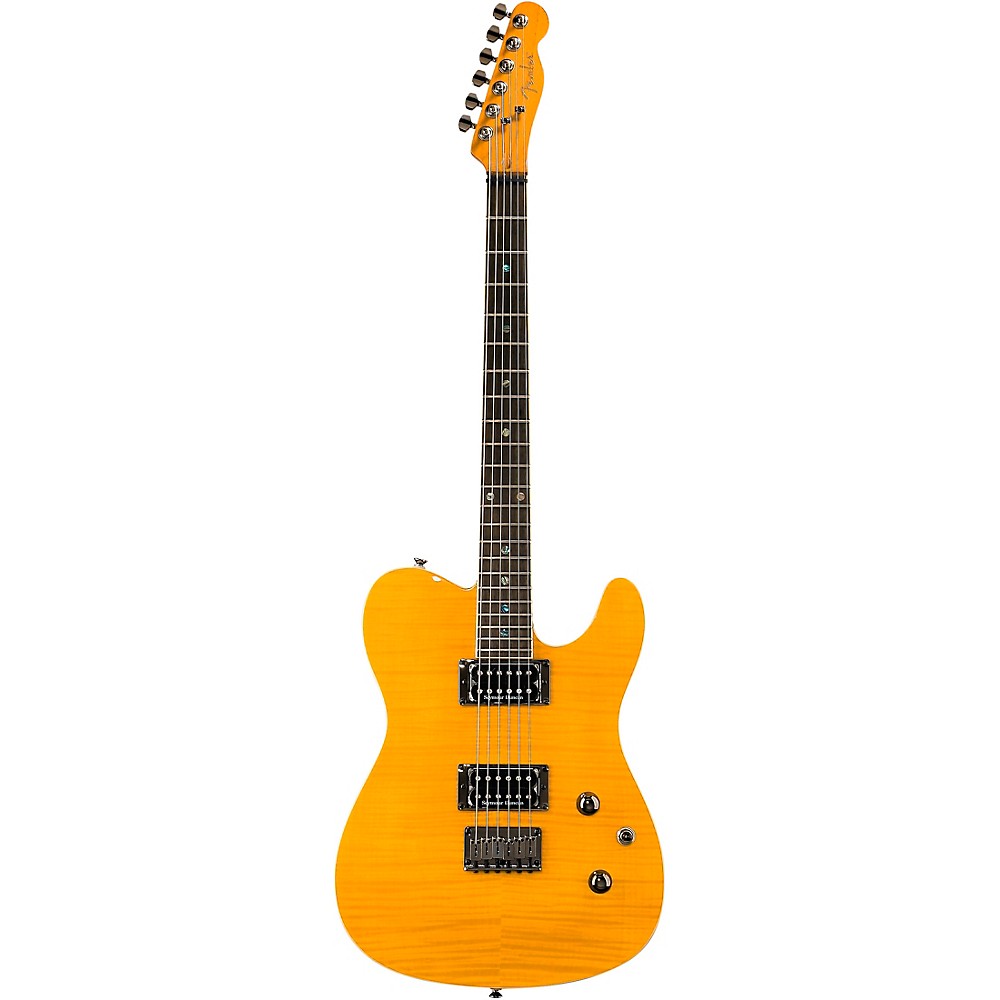 This Fender Special Edition Custom Telecaster FMT HH threw the ESP LTD EC-1000 out of this list. The playability on this electric guitar is just incredible, and the sound versatility is amazing! Let's dive deeper!
Playability
Why is this guitar easy to play?
This electric guitar has a neck that is:
glued to the body
narrow (1.62" = 41.3 mm nut)
C-shaped
Jumbo frets
What these do for you?
First, glued neck increase upper fret access down the fretboard(and looks beautiful).
Secondly, a narrow neck makes wrapping hands around it comfortable. This also makes accessing all the frets easy.
Plus, C-shape of the neck is a great all-rounder shape that works for most playing styles. Rarely do players hate this shape.
And then the jumbo frets. With the right setup and low action, you only have to press strings slightly to hit the right note. So you can easily press the strings, plus you have great access to the fretboard.
This is how easy playability looks like.
Note that both the body and neck are a lot thinner than with regular teles. Plus this Tele has a contoured arch-top instead of a flat-top.
For me, all this feels and seems comfortable…but if looking for an authentic Telecaster experience, this might not provide that for you. Otherwise, the playability is spot-on.
What about the sound?
With both looks and sounds, this is a Les Paul with Telecaster's neck and single-coil twist. You have 2 Seymor Duncan humbuckers that provide thick and full tones and handle stuff from jazz to metal.
These pickups are:
Seymour Duncan SHPGP-1B Pearly Gates Plus Humbucking Pickup (Bridge)
Seymour Duncan SH-1N RP '59 Reverse Polarity Humbucking Pickup (Neck)
All seems great right? But this is not what you get with this guitar…
You get more. You get a coil-split with this Tele. So instead of 3 different pickup settings, you have 6. Instead of humbucker or single-coil type tones only, you get both. I love the tones of this guitar.
Check how this "Tele" sounds:
Pretty stellar right?
A couple of other things…
You get the Fender Standard Cast/Sealed tuners, and due to my research, this axe is a stud when it comes to tuning stability. Also, you get a real bone nut and durable 6-Saddle String-Thru Body Bridge.
All is perfect?
Of course not. This guitar too sometimes suffers from Fender's overseas manufactured guitar problems. Mostly poor setup and finish quality. But bot these can be fixed easily.
You can easily setup your guitar yourself or let a professional handle that.
If setup is so poor that it ruins guitar for you or the axe has finish issues…refund it.
It really is that simple.
But usually, this guitar is solid out of the box, only set up it to your liking.
Pros
You get both, Les Paul and Tele qualities
Slim playability fits small hands
Versatile tones don't limit you
Usually stellar quality
Stays in tune well
Coil-split
Cons
Sometimes poor setup and finish quality out of the box
Might be even too slim/thin for some players
Really slim body and playability, versatile tones, beautiful looks, and great value for money. One of my favorite guitars for versatility and small hands right now.
If all this sounds good, Special Edition Custom Telecaster is a great option for you.
Check Price on:
---
Which One Do I Like The Most?
Now it's time to pick the best electric guitar for small hands for you.
My favorite: Fender Mustang 90
With
9'5 inch fretboard radius

Nut width is 42mm(1.65inches)

C-shaped neck
24' scale
comfortable playability
feeling and sound of a more expensive guitar
this is, in my opinion, the best electric guitar for small hands in general. Although it's not the most versatile guitar, it is still easiest to play.
Best budget options:
If you want ¾ sized guitar, Squier Mini Strat is a great choice. You can move your fingers fast around the fretboard with small hands.
If you want a regular-sized more affordable guitar Squier Affinity Tele is a safe option for you.
Verdict
If you want to see all of these guitars in order, according to how good it is for small hands, the list would look like this:
1. Fender Mustang 90
Not the most versatile guitar of this list. But this is easiest to play, thanks to its thin neck and 24' scale. Strong old school Green Day vibes with this(it was my favorite band when growing up).
2. Fender Special Edition Custom Telecaster FMT HH
A little bit more expensive than the others, but manages to deliver value to justify the extra price. Most versatile small-hand friendly guitar under $1000. Offers an overall slim feel and is really comfortable to play.
3. Squier Classic Vibe '50s Stratocaster
Narrow-, and C-shaped neck, comfortable playability, and feeling and sound of a more expensive guitar it's really hard to go wrong with this.
4. Squier Affinity Tele
The best budget and beginner option. Amazing option for small hands, plus you don't grow out from this guitar easily. It's that fun to play!
5. Squier Mini Strat
Best for kids. Or maybe you just want a 3/4 sized axe no matter what, and then this is my favorite option out there. But especially kids might outgrow this model relatively fast. Still, Mini Strat offers good value for money and can definitely get you started with the guitar!
---
How to Play Guitar With Small Hands – Fix This Problem by Making Changes to Your Technique
You feel comfortable playing those easy familiar notes, but the hard ones give you a real headache. You know what?
I know that everybody says something this…but I'm going to say this anyway…
Those ''hard to play''-notes are called that for a reason. Playing those just takes a lot more effort. For everybody. You have to really practice if you want to learn hard things. But those are called ''hard'', not ''impossible''. So you can definitely learn those. Don't ever give up.
But you can do something else too…
It's not just "hard work". It's also SMART WORK. Because you can definitely make playing easier with some easy/free chances.
When I did these changes, it felt soo much easier to play different notes across the frett board. What are these changes?
You probably need to change your technique a little bit. It's almost always about your technique. And to be more specific, it's about your thumb. Yes. It's in the wrong place.
How can you fix this?
This video does the perfect job of solving this problem. But remember, it doesn't give you a magic trick, you'll have to practice to make it work. I recommend that you take some time and watch this:
So try to get your thumb in the right place. In the back of the neck. This will surely make playing a lot easier with a little practice.
Remember that even with a proper technique, some songs and notes are just harder than others. You'll have to still show a real effort if you want to master the guitar.
Do this with hard parts:
First, you should learn to play hard parts slowly, but cleanly. Then start playing it faster and faster until you get there. That's the path which all guitar players need to go through. There is no other way.
Start slow and clean. And then play it faster but cleanly.
Sometimes playing can feel too hard. You feel like giving up. Your hands are tiny. And guitars are humongous. If that's the case, buying a guitar that is a better fit for smaller hands might be a good choice for you.
This is not a magic trick either, but it can surely make things easier.
The biggest benefit of buying a suitable guitar for small hands is this: It makes learning easier for you. And when learning is easier, you won't lose motivation so quickly. This makes your guitar journey a whole lot easier and more enjoyable.
---
Conclusion
All these guitars are great options for small-handed people. Easy to play and versatile too. I recommend that you think about which suits your needs and buy the best guitar you can afford. But I have to say that the Fender Mustang P90 is the best electric guitar for small hands in general.
I hope that this post helped you to improve your technique and you managed the pick the right guitar for your small hands. If you have any questions related to these guitars or guitar playing in general, go to my Youtube channel and leave a comment there. Feel free to share this post too.
I wish you all the best and keep rocking!
Teemu ''The Small Handed'' Suomala