Last Updated on March 8, 2023 by Teemu Suomala
Best Overall – D'Addario Chromes XL ECG24 .011-.050 Jazz Light
Sound
Playability
Overall Quality
Durability
Value for Money
Summary
These D'Addario Chrome strings were one of the best sets I've ever heard.

I haven't played a ton of different chrome products and was super surprised at the tone of these strings.

The sound in each range is a delivery of fat and full warmth that somehow manages to stay tight and focused throughout.

Pros
-Flatwound design gives huge amounts of sustain
-Chrome wrap wire creates focused, punchy tone
-A good blend between high-end twang and low-end power
-Fat, thick low end due to flatwound chrome design
-High tension adds crispness and clarity to each note

Cons
-Chrome wrap wire coupled with flat winding makes them stiff strings
-Hard to bend, hard to fret
-Not ideal for beginners due to high tension

For an amazingly strong tone with tons of snap and oomph, these D'Addario Chrome Jazz strings are the way to go. The best electric guitar strings for Blues.
Check Today's Price on:
*Consider all links in this post to be affiliate links. If you purchase, at no additional cost to you, we may earn a small commission. It helps us to keep the lights on, thanks! 🙂
---
The Next Best:
Compare Key Specs:
---
A genre so sensitive and full of emotion as Blues needs a good set of strings.
That's why I took a closer look at the 10's of different strings and choose the 5 best electric guitar strings for blues to be reviewed. With these strings, you can wail away for weeks on your axe 'til our troubled times are over.
Let's first look at these fine strings, and at the end of the post, you can find the FAQ section that helps you to make the best choice possible.
If you are also looking for an electric guitar for blues, check this: 5 Best Electric Guitars for Blues.

If you don't need plenty of loudness, here you can find our favorite blues tube amps for home use: 5 Best Small Tube Amps for Blues.

If you want serious loudness, check this article out: 5 Best Tube Amps for Blues in 2021.

If you have a blues acoustic guitar itch, check this: 5 Best Acoustic Guitars for Blues.

If you want to learn some easy blues songs, check this: 27 Easy Blues Songs on Guitar For Beginners (With Tabs)
Who crafted this article:
Author: Tommy Tompkins
Playing guitar since 2004. Primarily an acoustic guitarist who plays and writes traditional American folk music, with a background in melodic metal and a solid foundation as a bassist.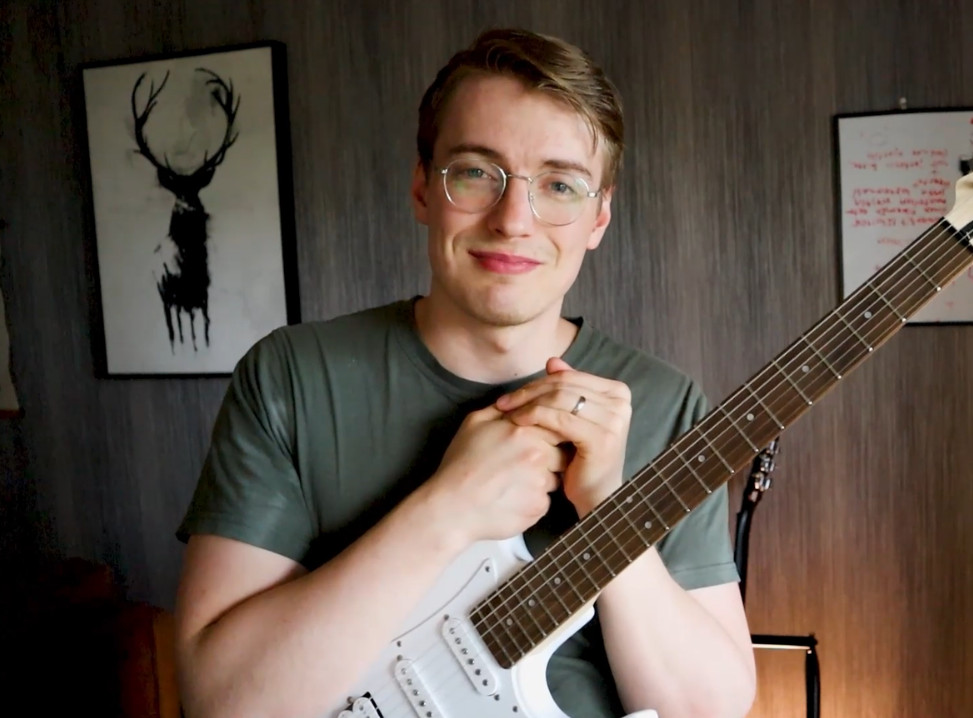 Author: Teemu Suomala
I first grabbed the guitar in 2009. I started this website in January 2020 because I couldn't do window installation anymore due to my health problems. I also noticed that most guitar websites don't do a really good job, so I decided to just go for it! I got lucky and managed to get awesome people to help me with my website. I also got lucky because I have you visiting my website right now. Thank you. I do all this for you guys. If you have any recommendations, tips, or feedback, just leave a comment, I would love to chat with you. I have been fortunate to produce content for several large guitar websites, such as Songsterr, Musicnotes, GuitarGuitar, and Ultimate Guitar. I spend my spare time exercising and hanging out with my wife and crazy dog(I guess that went the right way…).
Every one of these guitars is here based on extensive research and combined 27+ years experience of me (Tommy) and Teemu.
---
Our Favorite Music Store in The World!
Why?
– Excellent Customer Service (4.7/5 Trustpilot Score)
– Fast & Free Shipping
– Gear is Inspected, Tested, & Ready to Play When it Arrives to You (We love this)
– Fair Prices
Visit Sweetwater:
Best Electric Guitar Strings for Blues
Best Overall – D'Addario Guitar Strings Set, Chromes, Jazz Light (11-50)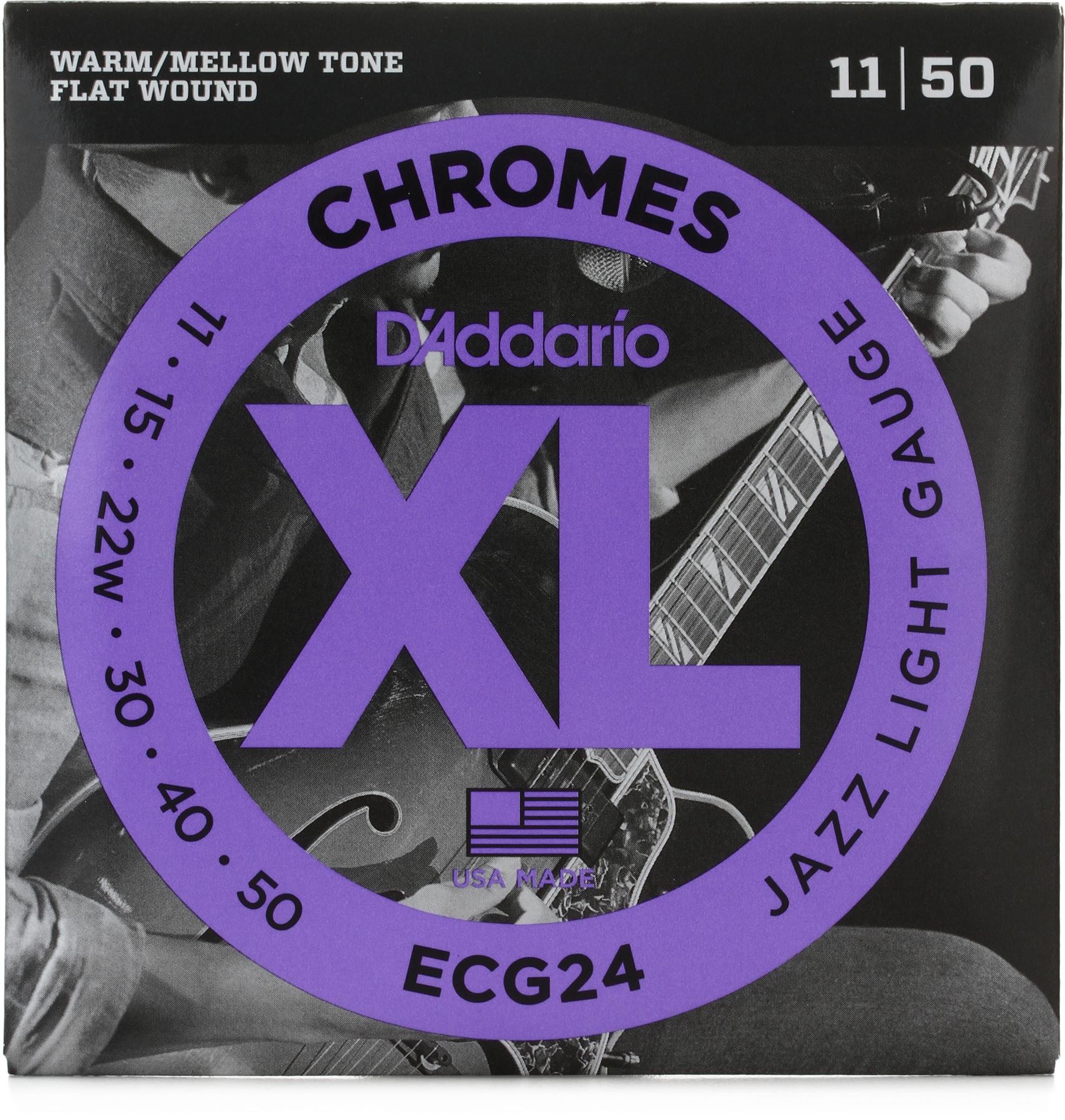 Sound
These D'Addario Chrome strings were one of the best sets I've ever heard. I haven't played a ton of different chrome products and was super surprised at the tone of these strings.
The sound in each range is a delivery of fat and full warmth that somehow manages to stay tight and focused throughout.
They're not subtle strings, and playing nuances aren't exactly translated as they might be with pure nickel strings. However, the duration of the sustain you can get from these flatwound strings is basically without rival.
The power of the low end lets those thick blues chord progressions ring with strength, while your high-end solos come sharp and direct thanks to their high tension.
In the area of string noise, this set is unbeatable. The smooth polished chrome wrap serves to eliminate any squeak or sliding noise at every fretboard position.
Playing Feel
Beginners beware, these strings are kind of hard to play.
Roundwound strings are the norm because they give a good tone and are easy to manipulate. Flatwound strings, on the other hand, are much stiffer and take more strength to fret.
Add to this their heavy chrome plating and unusually high tension, and bends are enough to count as a workout.
They're also pretty harsh on the fingertips, so if you haven't already, you'll build up calluses in no time.
Summary
Pros
Flatwound design gives huge amounts of sustain
Chrome wrap wire creates focused, punchy tone
A good blend between high-end twang and low-end power
Fat, thick low end due to flatwound chrome design
High tension adds crispness and clarity to each note
Cons
Chrome wrap wire coupled with flat winding makes them stiff strings
Hard to bend, hard to fret
Not ideal for beginners due to high tension
For an amazingly strong tone with tons of snap and oomph, these D'Addario Chrome Jazz strings are the way to go.
I think experienced players will appreciate their benefits a lot more than beginners. But, if you're a new guitarist who doesn't mind an additional challenge, the sound of these strings is well worth the workout. Surely one of the best guitar strings for blues.
Check Price on:
---
Best Blues Rock/For Beginners – D'Addario EPN115 Pure Nickel Electric Guitar Strings, Blues/Jazz Rock, 11-48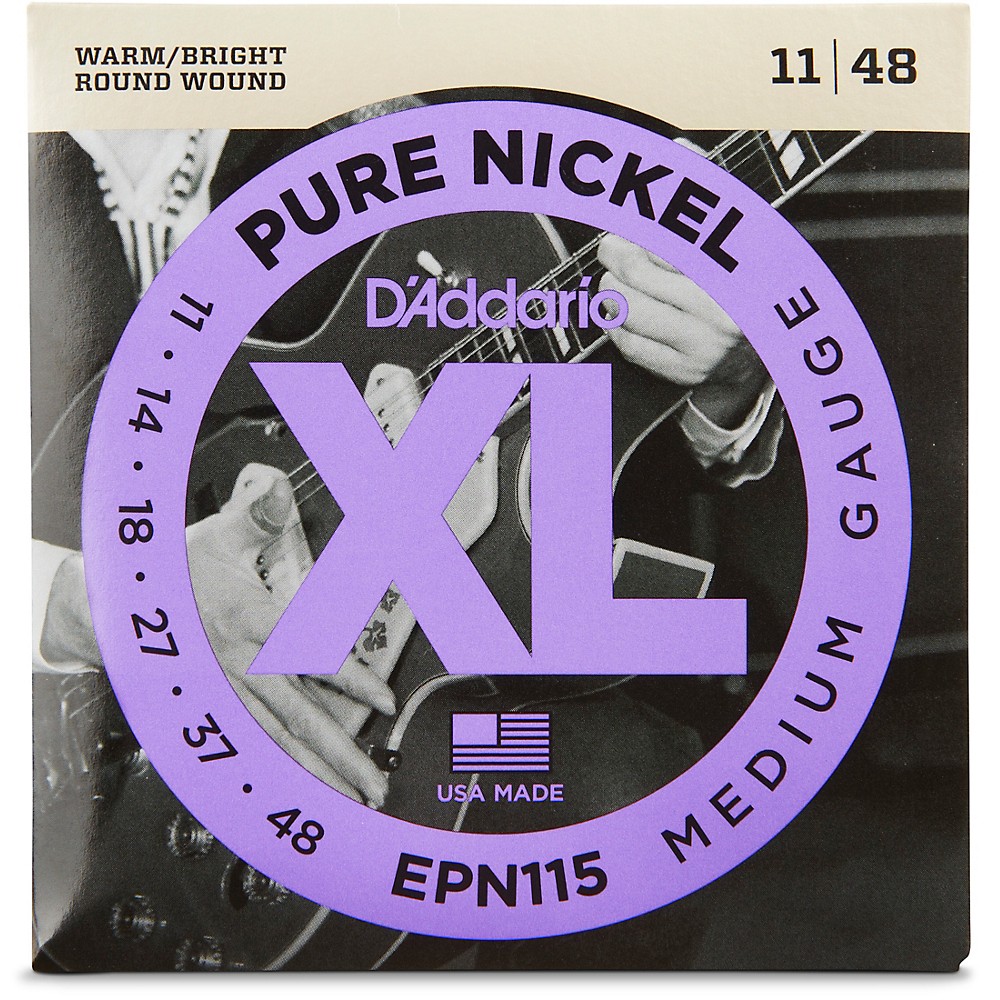 Sound
D'Addario strings are a great mid-priced product that works in a variety of genres.
These pure nickel EPN115s have a warm, mellow vibe that is perfect for traditional blues styles.
However, you don't have to limit yourself to old-timey blues with these strings. They're not so warm that other genres will sound unclear and muddy, so you can jam out in rock and jazz with just as much playing pleasure.
Great fit with blues rock too!
Playing Feel
Being roundwound, these aren't the easiest strings on the fingertips, but the soft nickel wraps take off some of the edge.
D'Addario uses a digitally-controlled wrapping system to make sure each coil is placed with precision. This lack of inconsistencies makes for a very smooth playing surface.
Thanks to this, the whole length of the string will be silky and even, preventing any annoying finger snags or rough spots.
Plus, their heavy gauge construction lets you really hammer down on the frets without warping your notes.
Summary
Pros
Precision-wound for flawless construction
Pure nickel coils deliver traditional blues tonality
Digitally-controlled winding technology creates consistent strings in each package
Mellow tone and smooth playing feel
Work well in all styles of blues as well as jazz and classic rock
Cons
Strings become dirty and grime-coated quickly
High amounts of string squeak and finger noise
Can unwrap at the ball end
You might not get the jingle-jangle you'd want for Piedmont blues out of these EPN115s, but they work well in most styles.
Being heavy gauge, bends are going to be a bit harder in their extremes, and you'll have to develop your finger strength to get the most out of them.
Despite these few setbacks, D'Addario EPN115 Pure Nickel are some of my favorite strings when I want to sound like a 1920s crop-share artist.
Check Price on:
---
Good for Classic Blues – DR Strings Pure Blues Pure Nickel Wrap Round Core 10-46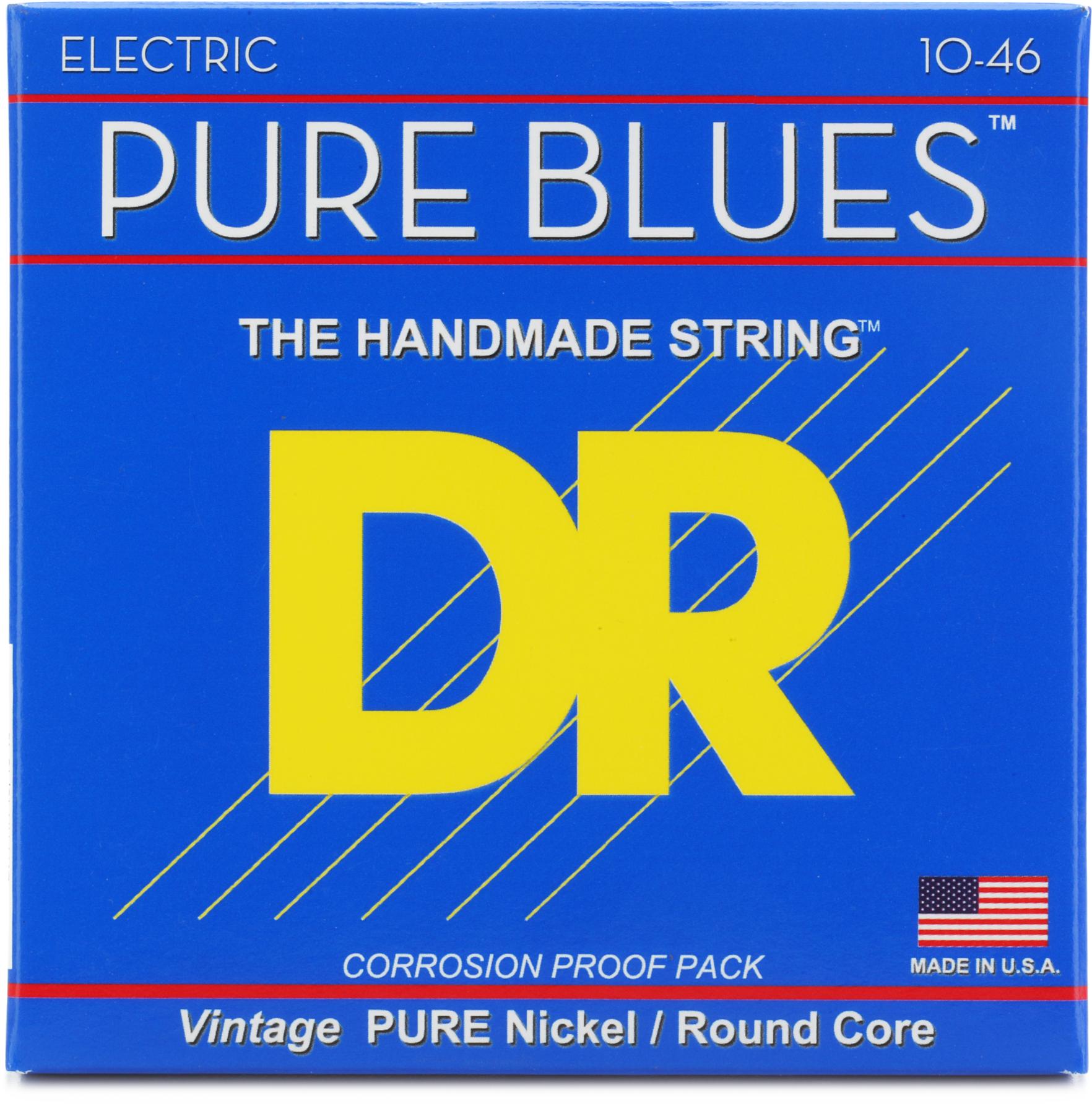 Sound
The real selling point of these DR Pure Blues strings is that they're made following traditional designs. Modeled after the most popular blues strings of the 1950s, they have a pure nickel wrap around a round core wire that combine for a real vintage tone.
The round core wire translates to a nice, open tone that I think sounds great for more mellow blues styles, but they're fine for rocking out as well.
Pure nickel being what it is, these strings deal out lots of overtones that give your sound a full, creamy texture that sings great with a touch of overdrive.
Playing Feel
Most modern strings use a hexagonal core to improve sustain and tone delivery. These DR Pure Blues go back to the classic construction technique of using a round core wire.
This round core softens up the playing feel a bit and creates less pressure on your fingertips. It's a slight difference, but if you play a lot you'll notice the change.
They might not be the most consistent strings in the world, so every once in a while you can hit a mildly rough patch of coils. Nonetheless, this is barely noticeable unless you're hyper-sensitive to string feel.
Summary
Pros
Pure nickel wrap wire that adds warmth and harmonics as they age
Round core wire increases responsiveness
Very touch-sensitive, allowing for full transmission of playing nuances
Increased tonal density due to round core
Reduced finger abrasiveness attributed to nickel wrap and round core
Cons
Poor packaging can result in some strings being corroded before opening
Exposure to oxygen in the package causes reduced longevity
Can be brittle and break easily
Might become unwound quickly
I have one major issue with these strings, and that's their packaging. Though they're sold with the claim of "corrosion resistant packaging," experience tells me this is not the truth. Sometimes, strings have signs of rust before they're even on the guitar.
Due to this, they have a tendency to break fairly quickly, which is obviously a big issue. Unless, of course, you don't mind changing strings every week.
When the strings do last, they last wonderfully well and the tone only improves with age. It's a bit of a gamble, but if you come out on top you'll find yourself set up with a great vintage string for classic blues.
Check Price on:
---
Best Budget/For Beginners – Ernie Ball Regular Slinky Nickel Wound .010 – .046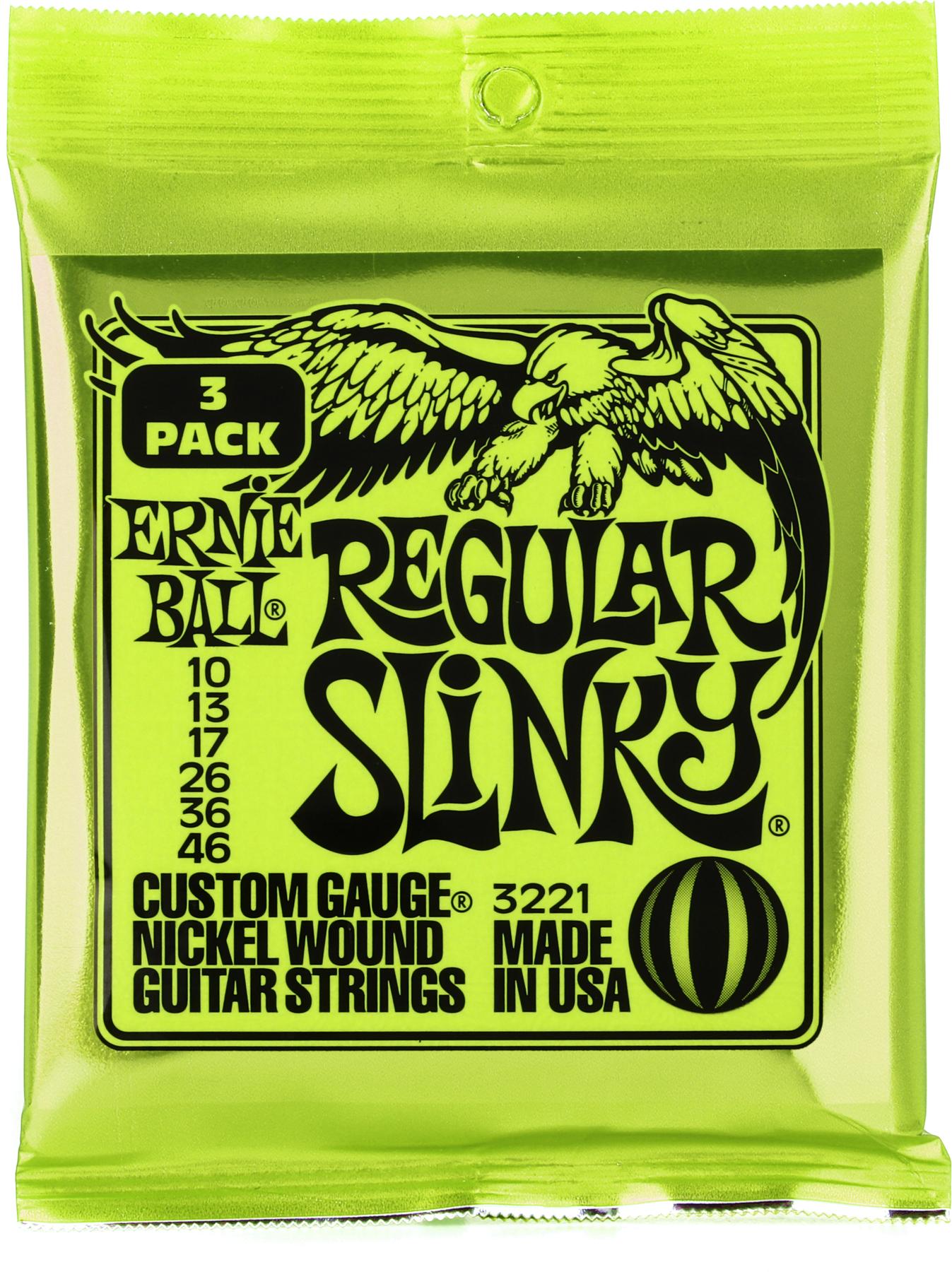 Sound
These nickel-plated steel strings are a great option for players who like the blues but don't want to be stuck in one style.
Ernie Ball Regular Slinky Nickels are really well-balanced in tone, so every range from low to high sounds nice and even.
Their "slinky" design gives you a bit more twang than the average light gauge string. This makes them really good for blues styles where you want a bit of pop and crackle in the high end.
The tin-plated steel core wire is designed for accurate intonation, making every note sound how it should.
Playing Feel
Ernie Ball's Slinky line is made to be a bit lower tension than usual strings of the same gauge. This gives them a looser playing feel that many beginners love. It's easy on the fingertips and the muscles in your hand, so playing guitar doesn't feel like work.
At a 010 gauge, bends come easy and chords are fretted with no problem. They work just as well for crying soul solos as they do for heavy-handed boogie-woogie progressions.
Nickel-plated steel doesn't feel quite as smooth as pure nickel wound strings, but the drop in tension makes up for the rougher material for the most part.
These strings have been a favorite of many pro musicians, from Slash to Jimmy Page, and are some of the most fun-to-play strings I've ever found.
Summary
Pros
Specially-designed tying method keeps strings from slipping during tuning and changes
Nickel-plated steel wrap wire gives a balance of tone great for all blues styles
Tin-plated steel core wire gives a springy, twangy playing feel
Core wire is very durable and strings last a long time
Ernie Ball precision winding technique improves string intonation
Very affordable price
Cons
Sound becomes flat quite quickly
G string has some manufacturing flaw that causes early breakage
Misleading "custom gauge" marketing; strings are standard gauge
For the most part, these are some of my favorite electric guitar strings for blues. Ernie Ball does what they do well, and the Slinky lineup is a great run of strings for blues jams.
Whatever the problem is with the G string that causes it to snap easily is pretty frustrating, but they're so inexpensive that it's really not a problem to replace.
And sure, the tone fades pretty fast, but that's one of the trade-offs you learn to accept for the sparkly clean sound of NPS strings. And on top of that, these bad boys are one really slinky electric guitar strings.
Check Price on:
---
Best Coated Strings – Elixir Optiweb Electric Guitar Strings (light- 010-046)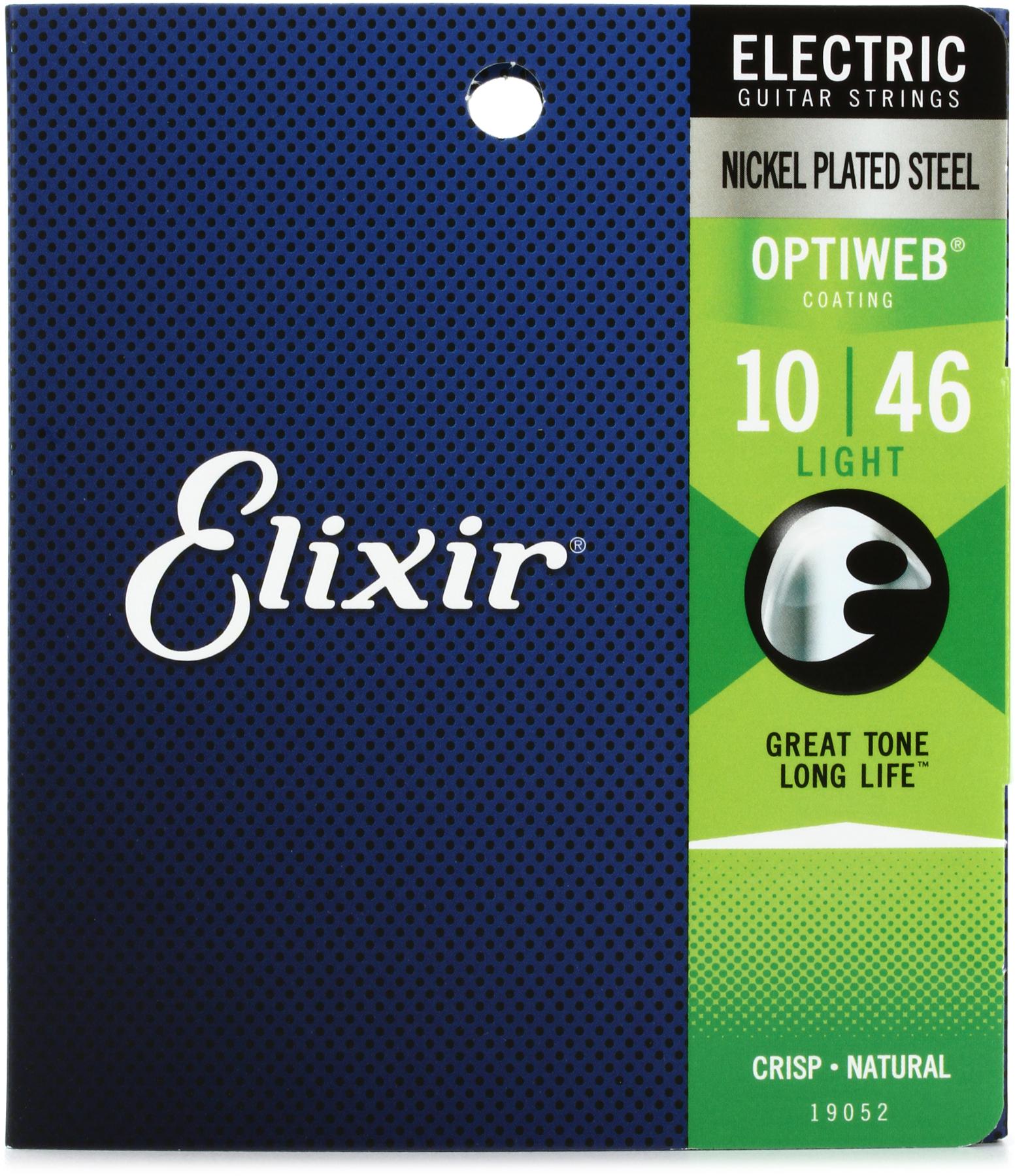 Sound
I'm not a huge fan of coated strings, but if you are, these are some of the best available. Especially for blues.
The newest technology from Elixir is their Optiweb coating. It's even thinner than their already thin Nanoweb products. This gives them a much more natural tone than other coated strings.
Optiwebs are, as far as coated strings go, deliciously round and soft sounding. This is especially true when playing on a humbucker guitar, which is the best application for these strings.
Single coil pickups might not be the best choice when using these strings, as the sound can be a bit harsh and tinny.
Generally, I think coated strings take away too much from the native guitar tone, but if you prize string longevity over a natural sound, these Elixirs are top of their class.
Playing Feel
What sets these strings apart from other coated editions is the Optiweb coating. I won't go as far as to say it's unnoticeable, but it's certainly not a major detriment to their playing feel.
This coating prevents the buildup of sweat, dirt, and skin residue that builds up in string coils as you play. You get a much longer lifetime out of these strings than with uncoated strings, so the feel is smoother for longer.
Speaking of smooth playing feel, these Elixirs are almost slippery. The coating lets you play super fast, so if blues rock or fusion blues are your style, you can really fly through some lightning-fast blues licks and riffs.
Summary
Pros
String coating greatly extends life and durability
Thin coating technology provides a more natural playing feel
Great for players with acidic sweat
Warm, natural tone that works great for blues
Anti-Rust Plating on plain strings prevents rust and corrosion
Greatly reduced string squeak and finger noise
Cons
Coated strings don't feel as natural as uncoated
Coating reduces brightness and tonal clarity
Tone can be shrill on guitars with single-coil pickups
Some players almost need coated strings due to the high acid content of their sweat. If you're one of them, I recommend Elixir over all others. Their coating technology is superior in all ways.
Although you won't get the same resonance and warmth as with pure nickel or other uncoated strings, Elixir does all they can to reduce the artificial sound and feel coated strings can have.
Check Price on:
---
Verdict
Of all these sets, I'd caution just a bit against the DR Pure Blues strings. They really need to improve their packaging because there's really no excuse for receiving strings that are pre-rusted.
If you receive a seemingly-fresh set, they sound good for a while, but this exposure to the elements causes them to deaden out way too quickly. Because of this, these are my lowest-rated strings in this review.
My number one recommendation is essentially a tie between the two D'Addario offerings.
I think the D'Addario Pure Nickels are great for beginners looking to get into the blues, as they're soft to play and give you that vintage blues sound you'll be looking for.
Professional players will have a great time with the D'Addario Chrome Jazz strings. When finger-strength isn't an issue, you can get a wealth of tone from this set that is, in my experience, without rival. In addition to rock and jazz, I think these are the best electric guitar strings for blues on the market.
---
Buyer's Guide – FAQ – How to Choose The Right Guitar Strings for Blues Music
What Makes Good Blues Guitar Strings?
Blues is an old genre that has branched out in a lot of different directions since its inception. It's also a very individual-oriented style of music; each player puts his personal spin on a song, even the standards.
Because of this, there's not one particular string that can be considered the best. There are, however, some things you can keep in mind when choosing the right set for you.
If the historical delta blues is your style of choice, a really classic sounding pure nickel string that gives you a lot of warmth and resonance is a great option.
Fingerpicked Piedmont blues players will find a lot of enjoyment in flatwound medium gauge strings. These have a good response and are easy on the fingers.
If the hard-hitting sound of Texas blues gets your blood pumping, I'd consider heavy-gauge strings like those used by Stevie Ray Vaughan to be the right choice.
Styles that use a lot of wailing bends, like soul-blues, are best played with easy-twanging light gauge strings.
Now, there are a lot of different factors to consider when choosing the right guitar strings…
All in all, I'd recommend looking for a set that's not overly bright and metallic sounding. Aim for strings that have a good middle ground between clarity and harmonic richness, and you'll find a lot of enjoyment in your playing.
All About Blues String Gauge
Gauge, if you didn't know already, is the measure of how thick the strings are. This is measured in thousandths of an inch and denoted with numbers like 008 and 012. A 008 string is a very thin string, measuring only 8/1000 inches thick.
The numbers for each string position don't vary by much, but even small changes can have a big impact on playability and tone.
For instance, high E strings typically range from a minimum size of 008 to a maximum of 014. It's only six degrees of difference but is enough to consider 008s to be extra light and 014s to be baritone strings.
When playing the blues, I'd say the ideal gauge is somewhere between 009 to 011.
009s are normal light strings and will allow for easy bending with enough sustain to let your solos sing.
011s are heavy gauge and will maximize your sustain without being overly hard to bend.
In my opinion, anything lighter will be too short-voiced for the soulful notes often associated with blues. Anything heavier will be difficult to play for the average player and is best suited to hard rock and metal. But choose what you like the best!
In the end, the gauge you choose is up to your personal playing style and the types of tones you hope to utilize in your music.
If you're not sure what's best for you, start with a medium gauge…do this:
See what you like about it and what you'd change. Experiment with small increases and decreases in gauge with each subsequent string change, and eventually, you'll find your guitar string sweet spot.
Best Electric Guitar String Material for Blues
There are many different metal types that strings are made of. They can range from a plain nickel to gold-plated steel, with lots of variation in between.
The material your strings are made of will affect not just your tone, but the playing feel as well. This makes string material another good aspect to experiment with in finding the perfect strings for you.
NPS
Most modern strings are made of nickel-plated steel. Nickel-plated steel, or NPS for short, is a good neutral ground for strings that has many benefits.
It's a warm-sounding material that isn't bogged down by an overabundance of harmonics. It's also bright, but not so bright that it'll make your guitar sound like a wind chime.
When you're starting out in your search for the perfect strings, NPS is a good place to begin with.
Pure Nickel
If you're looking for a more vintage tone, pure nickel strings were the material of choice in the 50s and 60s. They're a lot warmer than NPS strings and have really nice resonance.
Pure nickel will bring your brightness down a notch but give you that classic blues vibe that a lot of players are looking for.
Other good options for blues are Monel strings. Monel is an alloy of copper and nickel. These were the original metal strings of the early 20th Century. They're brighter than pure nickel, warmer than NPS, and are very resistant to corrosion.
My advice? Try a different type of string material every time you change strings, taking note of the characteristics of each. In time, you'll find a string that fits your groove better than all others.
Blues Tunings You Should Try
There are so many alternate tunings I could write a book about them. Some of the most popular tunings for blues guitar include a simple half-step dropped tunings to full open tunings that make an unfretted strum a complete major chord.
Stevie Ray Vaughan was known to play in dropped Eb. In this tuning, each string is brought down a half-step, so E-A-D-G-B-E becomes Eb-Ab-Db-Gb-Bb-Eb. Dropping your tuning like this lowers the tension of the strings and lets you bend every note a lot easier.
If you want to play around with a finger slide, open tunings are great to mess around with. There are tons of different open tunings, my favorites being open-D and open-G.
Open-D tuning is great for fingerstyle blues and is really fun to jam in. In open-D, the string configuration is D-A-D-F#-A-D. Some great songs to try in open-D are "Little Martha" by the Allman Brothers and "Dust My Broom" by Elmore James.
For open-G tuning, fewer strings need to be changed. Open-G is D-G-D-G-B-D. It was used a lot by Led Zeppelin, like in the song "Black Country Women." You can also try playing "Can't You Hear Me Knockin'" by the Rolling Stones for a nice blues-rock jam.
Open tunings are great for writing original riffs and learning some amazing blues classics, and I think you should try them all.
---
Conclusion on Best Electric Guitar Strings for Blues
Choosing the best electric guitars strings for blues was actually a ton of fun! I hope that this post helped you to choose the right strings for you.
Thankfully, most strings aren't very expensive and it's no difficulty to try out new sets in your beginning years as a guitarist. Keep experimenting, be observant of the differences in tone and playing feel, and you'll land on strings that you love.
If you are more into rock, check this string guide out: 5 Best Electric Guitar Strings for Rock in 2022.
If you have any questions, just leave a comment. I wish you all the best and keep rocking(or playing blues)!