Last Updated on September 20, 2023 by Teemu Suomala
Best Overall Electric Guitar Under $200 – Ibanez GIO GRX70QA
Sound
Playability
Build/Finish Quality
Value For Money
Versatility
Hardware
Summary
(I own the black-colored version of this.)

The most versatile. Easy to play. Stays in tune.

When I first took this out of the box and played it, I send a text with a photo to my friend saying this:

"How can you get a guitar this good for this price."

Rough fret edges had to be smoothed a bit and I had to make action slightly higher to get rid of fret buzz. But otherwise, the guitar doesn't get better than this for under $200

The best electric guitar under $200.

>Read and Watch Full Review of The Ibanez GRX70QA<
How Ibanez GIO GRX70QA sounds:
Check Today's Price on:
*Consider all links in this post to be affiliate links. If you purchase, at no additional cost to you, we may earn a small commission. It helps us to keep the lights on, thanks! 🙂
---
The Next Best:
Sound Comparison & Review of All 5:
If you have even tighter budget, check this article: 5 Best Cheap Electric Guitars (Around $150 or Less).
---
Let's face it. There are a lot of affordable guitars out there, but they don't always sound good or offer even good-enough quality. You may have to buy several before you find one that works well…
But don't worry! I bought and tested the 5 best electric guitars under $200 so you don't need to spend hours researching different models until you find the right one. This guide will walk you through everything you need to know before making a purchase!
Read our take on the age old debate. Do expensive guitars sound better?
So I got personal with these axes and have made research and tested these together easily over 100 hours. With this hands-on experience, I can give you a truthful review of the best electric guitars under $200.
For more information on any of these electrics, go through this article and if that's not enough, be sure to check out their full reviews. I went into detail on their hardware, construction, playability, and more. Plus, you can see unboxing videos and complete sound demos to help you choose the right guitar for you.
This test/review is not sponsored. I bought every one of these guitars with my own money.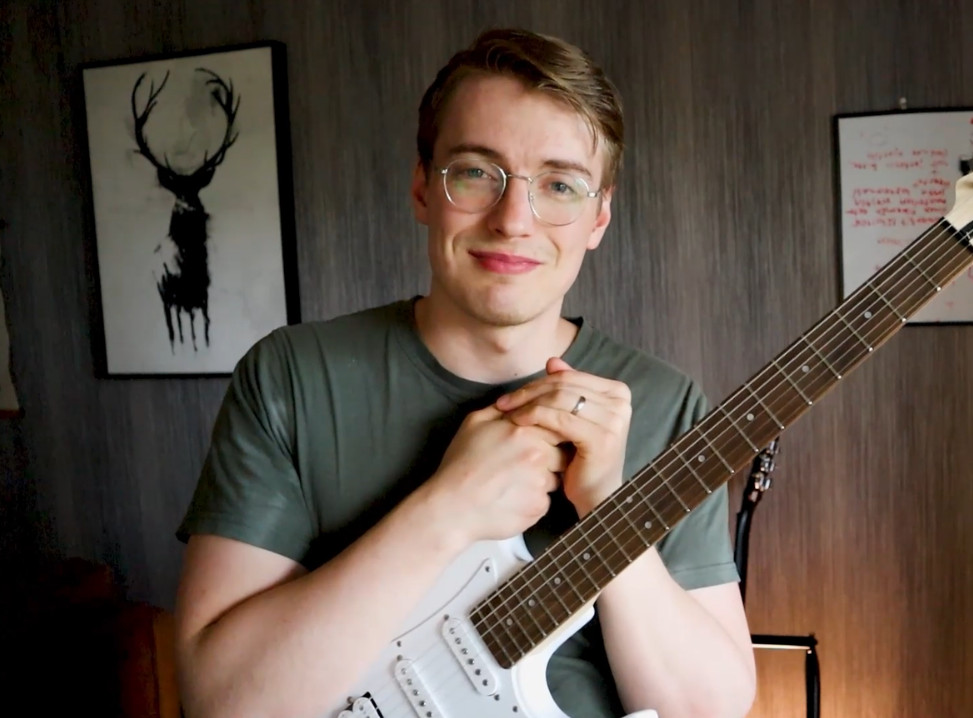 Author: Teemu Suomala
I first grabbed the guitar in 2009. I started this website in January 2020 because I couldn't do window installation anymore due to my health problems. I love guitars and have played dozens and dozens of different guitars through different amps and pedals over the years, and also, building a website interested me, so I decided to just go for it! I got lucky and managed to get awesome people to help me with my website.
I also got lucky because I have you visiting my website right now. Thank you. I do all this for you guys. If you have any recommendations, tips, or feedback, just leave a comment, I would love to chat with you. I have also been fortunate to produce content for several large guitar websites, such as Songsterr, Musicnotes, GuitarGuitar, and Ultimate Guitar.
I spend my spare time exercising and hanging out with my wife and crazy dog (I guess that went the right way…).
Hide The Rambling▲
Proofreading & Fact Checking: Tommy Tompkins
Playing guitar since 2004. Primarily an acoustic guitarist who plays and writes traditional American folk music, with a background in melodic metal and a solid foundation as a bassist.
---
Best Electric Guitars Under $200
Presenting Competitors
Our Favorite Music Store in The World!
Why?
– Excellent Customer Service (4.7/5 Trustpilot Score)
– Fast & Free Shipping
– Gear is Inspected, Tested, & Ready to Play When it Arrives to You (We love this)
– Fair Prices
Visit Sweetwater:
Looks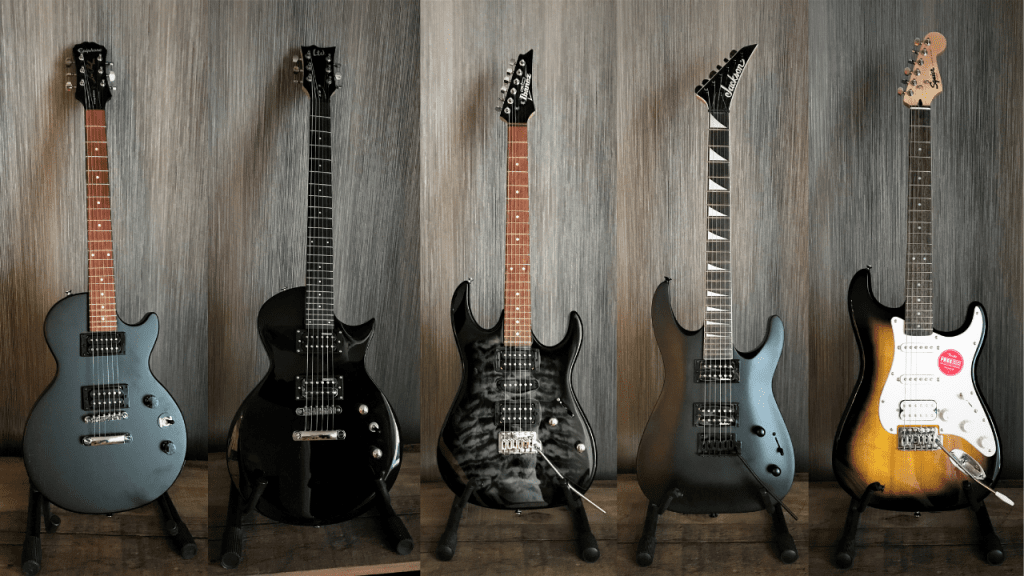 We'll start this roundup with the most subjective category—the looks.
My favorite's the Jackson JS22 Dinky, but you might love the ESP or the Squier and that's OK. The looks probably matter the least, so we'll move through this part quickly.
Whatever your personal taste, I've been sure to point out the good, bad, and ugly of all these budget guitars.
Jackson 4.8/5
The Jackson Dinky, in my opinion, looks just about flawless. This is a guitar that screams, "SHRED ME!"
The Superstrat body shape is rad. The all-black hardware + finish is sweet. And the Shark-fin fret inlays? The cherry on top.
I would change a little about the headstock—maybe slap a decal on the truss rod cover and ease that point a bit. But aside from that, I love the looks of the JS22.
Wanna learn more about how Jackson got its hardcore aesthetic? Check here for the story of how Randy Rhoades helped make Jackson guitars.
Epiphone 4.5/5
The Epiphone LP Special Vintage Edition won 2nd place in the looks competition.
Like the Jackson, this Epiphone has that sleek matte black finish that I love. Paired with the classic Les Paul body style, it's a tough axe to beat.
The chrome bridge looks nice, but the tone knobs aren't what I'd go for. It's a minor issue, but they could be better than these cheap stock knobs.
Otherwise, I really dig the looks of this axe. If you really want to buy a guitar with a worn classic vibe, the Les Paul Special Vintage Edition is your best guitar choice under $200.
Squier Bullet Stratocaster HSS 4.2/5
Speaking of vintage guitars, let's take a look at the Squier Bullet Strat HSS.
In most ways, this guitar looks pulled straight outta the 1950s. If you're a Fender fan, the looks of this Strat do not disappoint.
Personally, I don't exactly love the brown sunburst finish, but that's just me.
This particular model had some minor scratches in the finish. That doesn't necessarily mean yours will have any damage—I think this one just might have been a floor model for a while.
Overall, this is a pretty guitar that does a good job of pulling off the vintage Stratocaster look.
Ibanez GRX70QA 3.8/5
Modern Stratocaster and quilted maple top are usually great when we are talking about the looks of a guitar in my opinion. And these are fine with this Gio, but there just weren't were attractive color options available in my opinion.
This black with a mix of gray in the top was by far the best in my opinion and looks better in real life than in the product images. But still, this Ibanez is not my favorite.
Look of the fretboard and neck fit really well these modern strat looks, but the headstock shape and looks are not ideal for me…little bit cheap looking, but hey, this is a cheap guitar! So these small cosmetic things are far from a deal-breaker for me.
ESP LTD EC-10 3.5/5
The ESP LTD EC-10 looks similar to guitars I ranked the highest, so you're probably surprised it has my lowest looks rating.
You'd really have to see it in person to know what I mean, but this axe has a cheap appearance. It's not exactly ugly—but if you judged these guitars just on looks, this would probably be the last you'd want to buy.
The biggest issue I had with the EC-10's looks is that the finish is really easy to smudge. It gets dirty quick. So if you go with this choice, you'll want to keep a cleaning cloth handy.
---
Quality of The Hardware
The hardware quality in electric guitars under $200 can make or break an axe.
Most of the guitars I checked out had surprisingly good hardware for this price, although one fell short.
So moving on to the bridges, tuners, knobs, and more…
ESP LTD EC-10 5/5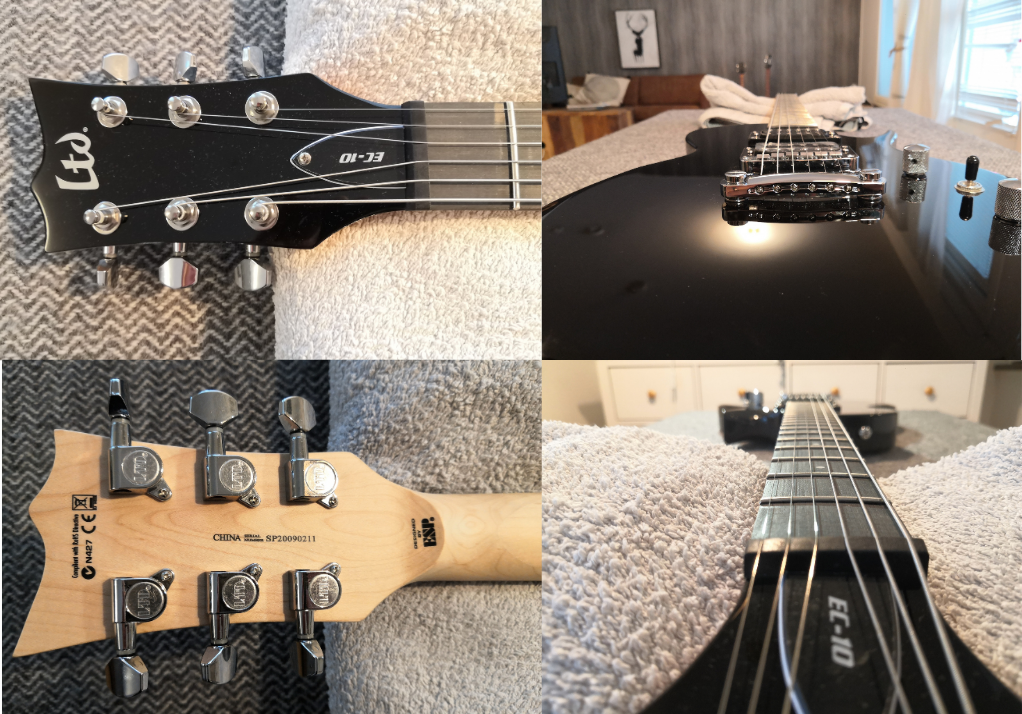 What the LTD EC-10 lacks in looks, it makes up for in hardware.
Of all the guitars I reviewed, this one has the best tuning machines. Paired with the Tune-o-Matic bridge and Stopbar tailpiece, you hardly ever need to retune this axe.
The knobs work great, the strap buttons are perfectly sized, and everything feels put together solid.
If you're after an electric guitar with dependable tuning machines and well-built hardware, be sure to consider this EC-10.
Jackson JS22 Dinky 4.9/5
The Jackson JS22 Dinky was almost tied with the EC-10 in the hardware category.
And maybe this is just me being picky, but I knocked off a point for the strap buttons. They're pretty difficult to get your strap on and off.
Aside from that, the JS22's hardware blew me away. Especially considering it's got this squealtastic tremolo bridge—it's kind of a shocker this guitar is so affordable.
Ibanez GIO GRX70QA 4.5/5
This Gio gives you great hardware for the price, but loses to EPS and Jackson, mostly because of slightly worse tuners.
Not bad by any means, but not the best either. Especially out of the box, guitar was a little bit hard to tune, but that's probably because the strings were not properly stretched, but after some stretching and fine-tuning my tuning stability-worries were left behind.
Otherwise everything, saddles, tremolo arm, and block, etc. all seem, feel, and work really well for the price.
Squier Bullet Stratocaster HSS 4/5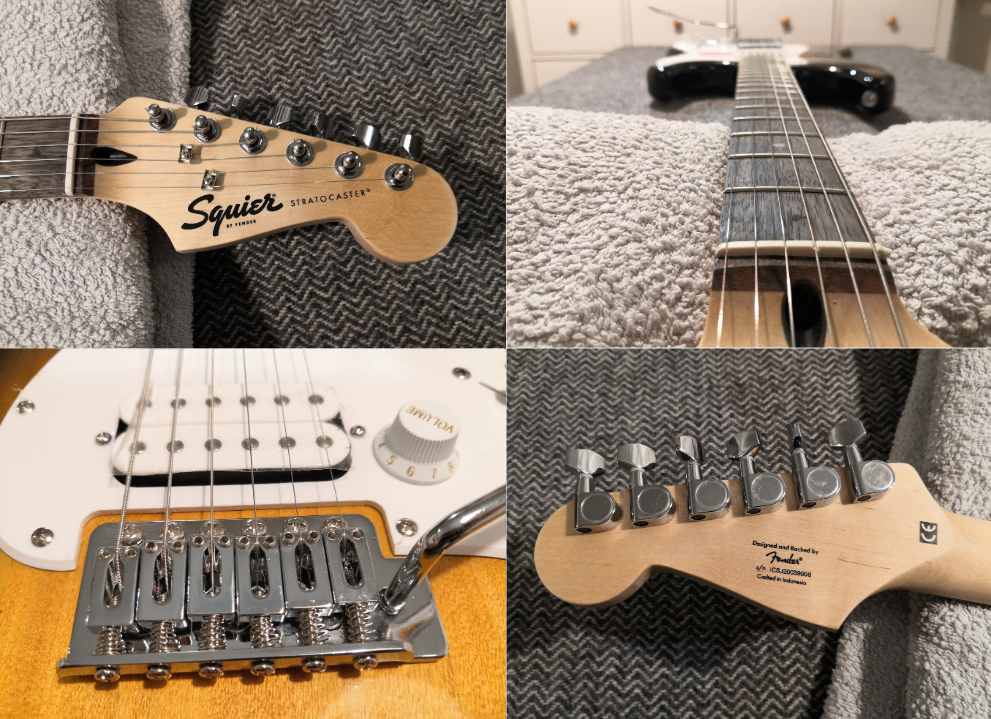 The Bullet Strat's also got better hardware than I expected.
Its tuners aren't as stable as the ESP or Jackson, but you can still whammy away without losing too much pitch.
On this particular model, the synthetic bone nut looked extremely worn. I honestly don't know why they sent this guitar out with such a bad nut.
Besides this, I didn't have any major complaints about the Bullet Stratocaster's hardware.
Epiphone Les Paul Special Vintage Edition VE 2.5/5
It's sad because as much as I liked the sound and looks of this axe, it lost a lot of credit in the hardware review.
The tuning machines of the Les Paul Special Vintage Edition are kind of stuff that makes Epiphone a joke brand to some people(not to me tho). They're bad. For first 2 months, this guitar went out of tune really often. After that, it got a bit better. Fine-tuning is also annoying, because hitting the right spot is made too hard especially with low E.
I can live with these issues, and you can still have ton of fun playing this. But this for sure goes out of tune easier than any other guitar I have tested.
There's hardly anything else wrong with this budget electric guitar. But unless you just looove tuning after every song, you'll want to upgrade the hardware of this axe.
If your guitar won't stay in tune, check this tuning troubleshooting guide we made for you.
---
Quality of The Electronics
Now we're starting to get into what really matters—the things that affect your guitar's sound and performance.
The electronics are like a guitar's vital organs, so I paid special care in seeing how healthy these axes were.
You can see indications on how hot they run from this graph:
The Jackson and ESP are both powerful metal machines, whereas the Squier and Epiphone are a bit more lowkey.
There's more to the electronics than just pickup resistance though. So here's how these budget guitars stack up in terms of their electronics and wiring:
Epiphone Les Paul Special Vintage Edition VE 5/5
The Les Paul VE's tuners might suck, but its pickups are rocking… and bluesing and countrying and jazzing and more.
What I mean is they're really versatile and also shockingly powerful for a cheap guitar.
The 650R and 700T humbuckers are the same pickups you'll find in Epiphone's models that are over $100 more expensive(Epiphone Les Paul 100 for example). At the under $200 price, they're worth every penny and more.
This was the only guitar that had any questionable soldering in the internal wire connections. But, the only sub-par connection I could find didn't lead to any performance issues.
Everything factored in, I've gotta call the Epiphone LP Special VE one of the winners in this category.
Jackson JS22 Dinky 5/5
The Epiphone Les Paul is great because it can handle many genres with ease and grace. But in heavy metal, it's blown out of the water by the Jackson JS22 Dinky.
Both guitars get 5-stars in the electronics rating. But if you're a metalhead, you'll definitely prefer the Jackson over the Epi.
The hi-output humbuckers in the Dinky can deliver truly devastating distortion. No other guitar under $200 can crunch like the JS22.
Ibanez GIO GRX70QA 4.8/5
Gio slightly loses to Epi and Jackson because it has slightly more "budget-feeling" pickups on it, these are only featured on Ibanez's cheapest guitars. A small flaw, because these pickups still sound great!
Work with the wires, switch, and solderings is the cleanest and otherwise best overall from these 5 budget axes, and I'm not expecting any electronics issues with this Gio any time soon.
Squier Bullet Stratocaster HSS 4.5/5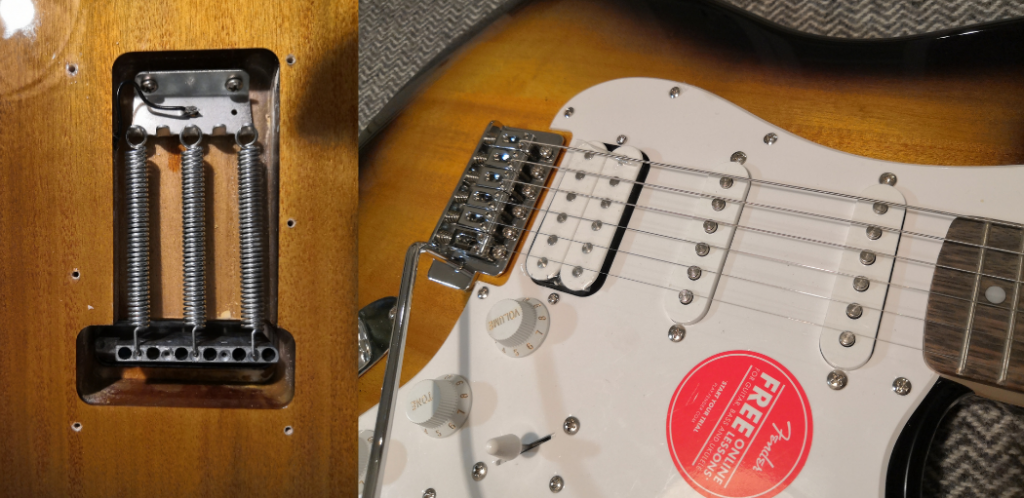 With an addition to the usual Strat single-coils, you also get a humbucker with this Bullet.
This extra pickup gives the Bullet Strat a beefier tone than other low-cost Fenders. It's not really strong enough to play death metal, but it gives you the juice you need for hard rock and not-so-heavy metal.
The lack of tone control for this humbucker takes some points off this Strat's quality. Other than that though, this is a nice well-rounded starter guitar.
ESP LTD EC-10 3.8/5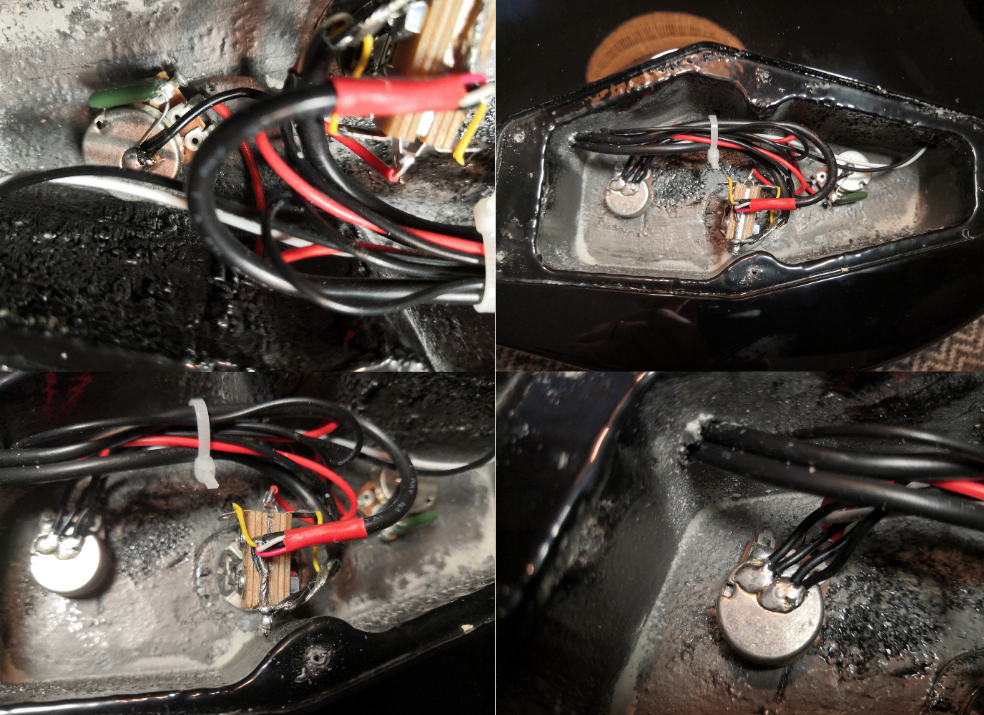 Unlike the Epiphone and Jackson pickups, the EC-10's are basically bottom-of-the-barrel pups.
ESP doesn't use these humbuckers in any of their better models. And you can see why after playing it for a while.
Although they are high output, their overall sound is pretty flat. Plus, they can be harsh and noisy at max volume.
Are they bad? No. But they could be better.
To its credit, the wiring is really clean in the LTD EC-10's guts. Overall, its electronics are still better than average.
---
Build/Finish Quality
For low-cost guitars—especially electric guitars under $200—the general construction can be their worst problem.
This can be a problem particularly when cheap guitars have great electronics. To cut production costs, companies often overlook construction issues in the build and finish.
A lot of these problems you won't notice until you take a close look at the guitar. And some of them you may never notice. At least I wasn't too picky when starting out.
But these minor issues stack up and can affect your playing experience whether you know what's causing the problem or not.
Nearly every guitar in this price range has some flaw with its frets. Blemishes in the finish are also pretty common.
You'll see that even the best of these budget guitars don't rank very high in build quality. But even with their problems, most still exceeded my expectations.
ESP LTD EC-10 3.7/5
The best of the builds goes to the ESP LTD EC-10.
Although I'm not a big fan of this particular finish, at least it's applied well. There were no dings, scratches, or spots to complain about.
The main issue of the EC-10 is its frets. Like most guitars at this price range, a few of the frets are uneven. Many of them also stick a bit past the fretboard. These sharp edges can slow your playing down a bit and are quite annoying.
But even with its uneven frets, there was no fret buzz in this model and nothing else really wrong with its construction.
Ibanez GIO GRX70QA 3.5/5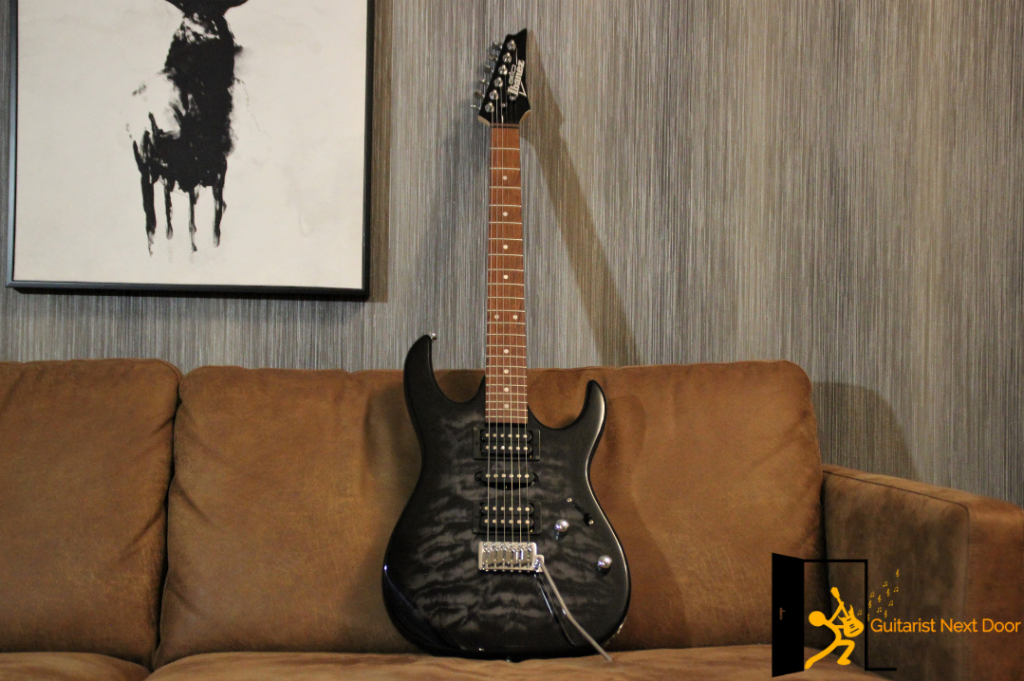 Coloring, the finish, and hardware all great overall…nothing to complain about, but…
Most edges of the frets are a little bit too sharp in my opinion, I had to sand these a bit to make this Ibanez scatch-free to play, and after this easy fix…soo much more comfortable.
Also, frett buzz was present, especially closer to the nut. I checked the frets and 1st and 3rd were a lot higher than the 2nd fret, so this is probably the main reason for buzz. Plus the action was super low.
Again these things could be expected in this price range and even with 100's of even 1000′ dollars more expensive guitars. Gladly this is easy to fix usually. I adjusted the truss rod and the saddles and now this Gio is buzz-free!
Epiphone Les Paul Special Vintage Edition VE 3.5/5
There were only a few problems with the Les Paul Special's build quality.
First off, yes it does have uneven frets. There was a bit of fret buzz playing it out of the box, but I just raised the action a little. Problem solved.
There's a little bit of that rough fret edge issue, but nothing too serious. Not perfect, but not awful either.
If you go with this guitar, you probably won't have this next problem: a crack in the wood under the backplate.
This small crack was the only problem I found in the actual wood of this axe. I really doubt it has any effect on the guitar's tone.
Everything else? Pretty solid.
Jackson JS22 Dinky 3/5
The JS22 Dinky had a similar uneven and rough fret issue to the LP Vintage Edition. Honestly, this is a common problem even in guitars for $100 more.
Rough, uneven frets aren't something to worry about unless they're extremely out of place. None of these guitars are that bad. Learning how to fix rough frets yourself is actually quite easy.
A couple other problems with this Jackson's build quality were in the fretboard and strap buttons.
Its fretboard is a cheap material called amaranth, and it's got some blemishes in it. They're only cosmetic, but still quite noticeable.
Then this strap button issue. This is another one of those "just this particular guitar" problems. When they installed the strap button, the padding got pushed out of place. As a result, there's some wear on the finish and possible corrosion.
Again, not a big deal, but enough problems to knock 2 stars off the construction rating.
Squier Bullet Stratocaster HSS 1/5
The Bullet Strat is the real loser in this category. It's disappointing because this would be a much nicer guitar if the build was better.
So what's wrong with it?
The frets, as you can guess, were uneven and a bit rough. Okay, we expected this.
But the deal-breakers are much worse.
Almost the whole finish of the neck is covered with fine scratches. This guitar either got rough-handled in the factory or otherwise was previously used. There's a lot of apparent wear, even on the back of the neck.
I talked earlier about this Strat's cheap nut. Well, not only was it old and worn—it was also glued in with no care at all.
You can clearly see how messy they were with the glue. It leaked out around the nut edges and even onto the fingerboard.
I think that yes, this actually does affect the tone and playability a bit. That extra glue dampens the nut's resonance & sustain, and the spots on the fingerboard feel when you play.
The Bullet Strat's 1-Star rating in build quality is the lowest rank any of these guitars received.
If you go with this model, chances are it won't be as rough-looking as mine. But be aware that there are some bad construction issues you might encounter—and be prepared to get a refund if needed.
---
Playability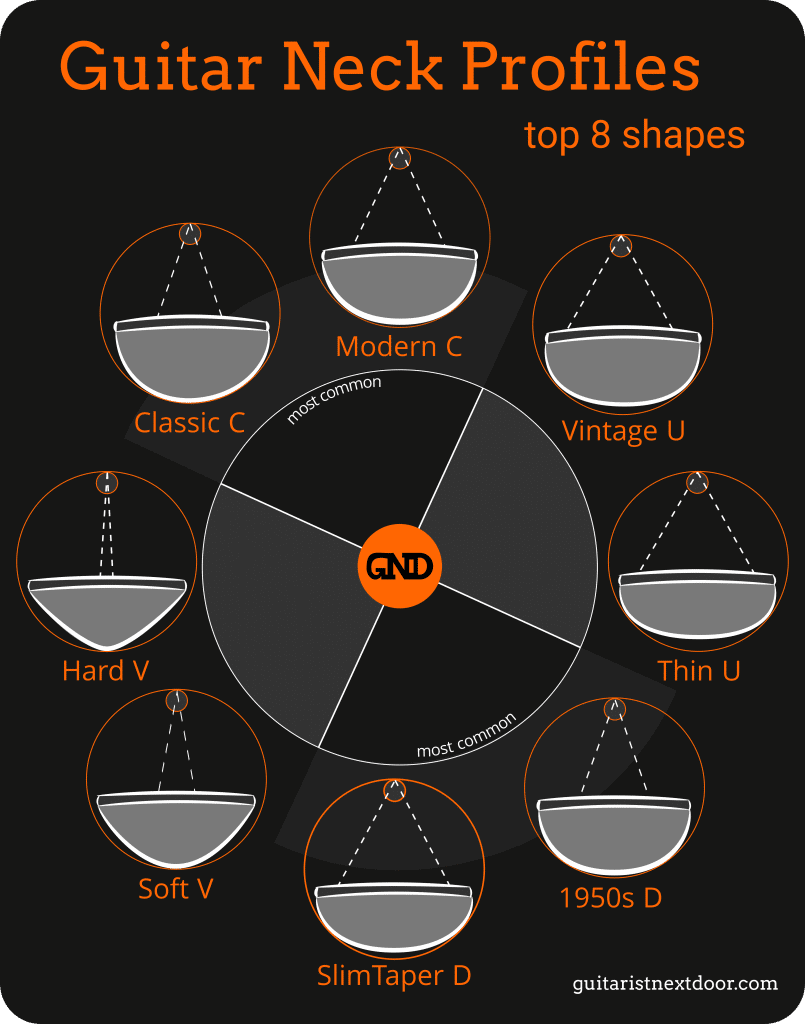 Neck Shape: 60's Slim Taper
Neck Shape: GRX, really thin (mix of Modern C and SlimTaper D in my opinion)
Neck Shape: Speed (mix of SlimTaper D and Thin U in my opinion)
We're starting to get back into more subjective traits. Your opinion on the playability of these guitars could be very different from mine.
I've got shorter fingers, so I usually like guitars with narrower necks. That's why I've got a full review of the best electric guitars for small hands.
If you don't face this problem, the wider-necked guitars might be best for you.
Playability preferences also depend on the type of music you like to play.
For instance, I like to fingerpick a lot, so I favored guitars with good string spacing. But if you're all about high-speed shredding, your taste may be the opposite.
So just treat these playability ratings as a general guideline—a way to help you know which guitar is best for the music you love to play.
Jackson JS22 Dinky 4.8/5
If I were more of a major metalhead, the JS22 Dinky would maybe be my top recommendation overall. Even though I like more versatile guitars, I can't argue against the Dinky's superior playing feel.
This axe is made for palm-muted dropped tuning breakdowns. It's made for high-speed face-melting solos. It's made for sludge and thrash and grime and djent and more. And it's killer when it comes to this stuff.
It's not that you can't play blues and fingerstyle on the Dinky; it's just not designed for that kind of music. The shape of its neck isn't well-suited for barre chords and jazz shapes so much as it is for power chords and metal riffs.
Barre chords were a bit harder with the dinky than the other's I tested. Not impossible, but this is worth the mention.
So if you want the best metal guitar under $200, go for the Dinky. But if you want something more versatile in playability, check out how these other axes compare.
Ibanez GIO GRX70QA 4.8/5
Personally, I find the GIO to be even more fun and easier to play than the Dinky. But, sharp fret issues that I faced drop the score at the same level than Dinky. Still, amazing playability for the money.
GRX neck shapes are really a mix of modern/slim C and slim D, and reching the frets and thu,b placement is easy. Neck also feels really smooth.
But the main things that makes this Gio so easy to play are the symbiosis of medium frets and low action.
This makes hitting the notes around the fretboard smooth and easy. Different runs, even fast ones, feel surprisingly effortless, especially when I remind myself that this guitar usually goes for under $200.
And the contour on the body just brings the guitar closer to you and makes both picking and hitting the frets easier.
Another thing where this Ibanez shines is the string-spacing. It's slightly wider than with the other guitars(Squier has the same) I tested.
Especially if you have thick fingers this small difference can make playing easier. And surprisingly, this helped me too, even though my hands are really small.
Also, finger-picking is usually easier with wider string spacing, and this was the case here too. This Gio and the Squier were easiest to fingerpick in my opinion.
ESP LTD EC-10 4.3/5
The ESP's playability was surprisingly good in my opinion. At first I thought I would dislike it because of the engineered wood fretboard. But, after giving it a chance it started to grow on me.
My small fingers make me biased, but I really like the narrow nut width of the EC-10. The fret spacing is also extra narrow because of the short scale length and 24 frets. This makes playing fast riffs and licks is easy peasy.
The neck feels really smooth. Fast shifts feel like a breeze.
But there are a couple problems worth mentioning. Like you saw in the Build section, it is plagued by rough fret edges.
Then there's the engineered hardwood fingerboard that still bothers me a bit.
In general, engineered hardwood is not a real wood that has been growing from trees anymore. It's pieced together from different wood materials.
Plus, it's not as easy to fingerpick on because of the string spacing, so it limits me from my favorite styles a bi.
But again, this is all just personal. If you've got giant hands, you might not like this small-necked guitar at all. If you've got hands like me and don't like fingerstyle, it might be your favorite from the bunch.
Overall, its playability is definitely not bad and is probably versatile enough for most players.
Squier Bullet Stratocaster HSS 4.2/5
Although they might not say it outright, Fender markets their low-cost guitars to beginners. And, many beginners are young, so the Bullet Strat is great for players with small hands.
It's got the comfortable classic C-shaped neck, perfect for learning the open chords.
At the same time, its 1.65-inch nut width and curvy 9.5-inch fretboard radius give you a slim neck and smooth shreddable surface.
Like all Strats, the strings can feel a bit slinky and aren't great for playing heavy metal. But in pretty much every other genre, the Bullet Strat is a playability champion.
Epiphone Les Paul Special Vintage Edition VE 3.8/5
The Les Paul Special VE also features beginner-friendly playability. However, some of its construction flaws set it back a bit in this category.
The good things first: I really liked its low string tension and general contours. It's comfortable to hold and fun to play. The 60's Slim-Taper D neck profile gives you the classic Les Paul playing feel, but the finish and frets can be a problem.
The gloss neck finish, unfortunately, feels tacky. This is especially true if you've got sweaty palms. A smoother neck finish would help this guitar out a lot.
And while every electric guitar under $200 is likely to have rough fret edges, this is the worst of the group.
They're not razor sharp or anything, but the frets stick out noticeably far past the fingerboard. At best, it's a little annoying. At worst, it can seriously slow down your playing.
If it weren't for these two problems, this Les Paul would rank a lot higher in fun, versatile playability.
---
Sound
Get an idea of how the pickups sound: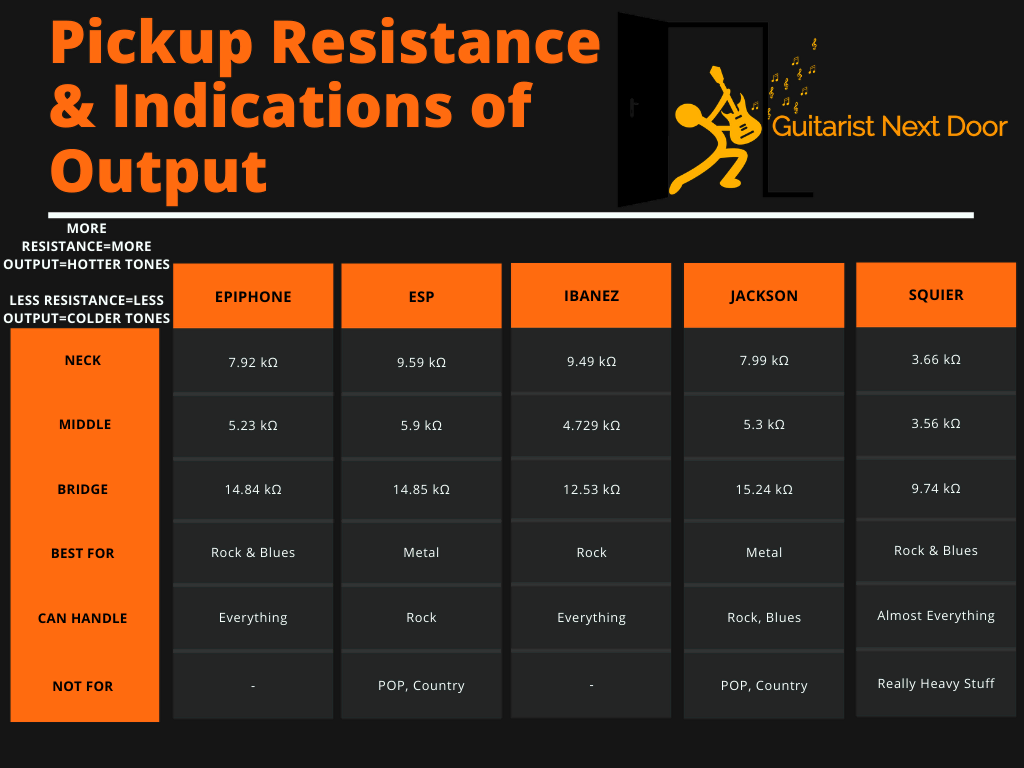 Alright, so for the sounds—be sure to listen to the sound demos I made for these guitars. Telling you an axe sounds bright and clear versus warm and fuzzy can only help so much.
The sound demos were all recorded using the same amp, my Roland Micro Cube GX. This gives you an even, fair representation of these guitars' abilities.
Here's the sound comparison:
What I can tell you is what I liked and disliked about each axe's voice. Plus, I'll tell you from experience what styles I think each guitar is best for.
Ibanez GIO GRX70QA 4.8/5
The Ibanez GIO takes the cake for the best sounds in my opinion.
Having two humbuckers plus a single-coil just gives you a huge range of tones to play in. This is awesome for beginners.
I think it's great because you've basically got the ability to play in every genre. It might not be as bright as the Squier or as dark as the Jackson, but it comes close.
The versatility of the tones is what makes me think this is one of the best beginner electrics you can get. It's just as capable of sweet jazz riffs as it is crunching metal chords.
If you're just starting out, you can use the GIO GRX70QA to explore all musical styles to find what you love to play. And if you've been playing for years, you can use this axe to hone your skillset across the board.
It's just super fun to jam with because it sounds good no matter what you're playing.
Epiphone Les Paul Special Vintage Edition VE 4.8/5
The Les Paul Special VE is really versatile double humbucker axe. It's not as versatile as Squier or Ibanez. But it does an amazing job with rock and blues tones.
But Les Pauls are built to be a bit on the dark side—this would be even darker sounding with a mahogany body.
This extra helping of muddiness doesn't mean that you've gotta stick to grimy distortion though. The hot humbuckers of this Epiphone let you crank out some sweet-sounding cleans for country and blues.
You won't get the jazz snap of Fenders, but the warm resonance of its cleans has its own special beauty.
So although it's made to be more of a hard rock guitar than a country singer, know that you can just about do it all with the Les Paul VE.
Jackson JS22 Dinky 4.3/5
Like I mentioned in the electronics section, the JS22 Dinky is best played in metal. That's the whole philosophy behind Jackson guitars, after all.
So if you're after the hardest, heaviest tone you can get, the Dinky's the way to go.
It does sound good clean, but its undistorted voice lacks the harmonics that make soft styles sound great.
This doesn't mean you absolutely can't use it for genres like country and pop. But if these will be your focus, you'll probably enjoy something like the Squier Bullet Stratocaster HSS more.
But I'll say it again, the Jackson JS22 Dinky is unbeatable as a budget & beginner metal guitar.
Squier Bullet Stratocaster HSS 4.1/5
Squier's addition of a humbucker in the Bullet Stratocaster HSS gives you a much fatter tone than a normal Strat offers. And it's also a lot more versatile.
You still get all the single-coil sweetness that Strats are known for. So, for blues, classic rock, jazz, and folk, the Bullet is an excellent choice. It sounds particularly good with fingerstyle too.
The lone humbucker doesn't offer crunch on par with the Dinky or GIO, but it can grind out some decent distortion. Because of this, the Bullet Strat HSS is a great Fender option for hard rock.
If you're not so much a metalhead as you are a bluesy folk rocker, the Squier Bullet is likely in tune with your style.
ESP LTD EC-10 3.5/5
The ESP LTD EC-10 is a little bit of a letdown sound-wise. Compared to an axe like the GIO with much better electronics and a third pickup, the EC-10 just seems a bit weak.
With its basic humbuckers, there's not a lot of tonal nuance. It sounds best distorted since you can flavor your tone with artificial harmonics. When you kick on the overdrive, the EC-10's smooth performance and even response are great.
Clean and effects-free though, it doesn't have much kick.
The pickups at least are mostly noise-free, and they're not harsh. So, I can't say that the EC-10 sounds bad—just plain.
It's well-suited for metal and hard rock, but you'll probably be craving more resonance when playing clean.
---
Value For Money
So are these guitars worth the cost? Yeah, they all are to varying degrees. Again, this is all my personal opinion of these guitars' value—but I think it's a pretty genuine guideline.
Ibanez GIO GRX70QA 4.3/5
The GIO GRX70QA seems to be the best of these guitars in most ways. It's put together well with high-quality hardware and electronics.
It's versatile, fun to play, and sounds great. Sure, there are a few things I would change about it like X and Y. But overall, I think it's more than worth the price.
Jackson JS22 Dinky 4.2/5
The Jackson Dinky is just as well-built as the Ibanez. Its powerful humbuckers alone could make it worth a bit more than $200.
I would rank it higher if it handled clean songs better, but its performance and playability are undeniable.
If you go into this knowing you're getting a metal axe, you won't be disappointed.
ESP LTD EC-10 4/5
Although I think the EC-10 doesn't sound or look as nice as the other axes here, it's still a high-quality starter guitar.
The hardware and build quality of this ESP are top-notch for guitars under $200.
If you put better pickups in the EC-10, it would be a truly high-class axe. As it is, it's a dependable beginner electric that you can't go wrong with.
Squier Bullet Stratocaster HSS 3.6/5
I would have ranked the Squier Strat's value a lot higher if the one I received wasn't so beat up.
But from this experience, I can't tell you for sure whether you'll get an axe as poorly constructed as this one.
The glue on the fretboard and scratches in the finish are a real bummer because otherwise this guitar sounds and plays great.
You'll have to decide for yourself whether the chance of build issues is worth the cost. I'd say they're not common problems, so you'll probably get your money's worth. And if you make sure to buy from a company that offers refunds (like Sweetwater, Amazon, or Thomann), receiving a damaged axe isn't much of a problem.
This guitar is fun and easy to play and has one of the most underrated pickups out there. This increases value a lot.
Epiphone Les Paul Special Vintage Edition VE 3.5/5
The Les Paul Special VE's main problem is its tuning machines. Like the Squier, if it weren't for this one thing I could say it's worth more.
If I were to make this Epiphone my main axe, I'd have to upgrade the tuners—and that's a bummer. It's not super expensive, but still annoying.
If you want the practice of installing new tuners or really don't mind having to tune often, it's a great axe. Just keep in mind this hardware issue when making your final decision.
But still, this guitar sounds good and is fun to play, so I really can't say that this gives you bad value.
---
Final Verdict
It was a lot of fun reviewing all these electric guitars under $200.
Did I find the perfect axe? No. But I found 5 great guitars I would recommend to a wide range of players.
Winners
Best Overall – Ibanez GIO GRX70QA
The GIO's dependable build, great tones, and fast, easy playability make it the best electric guitar under $200.
Whether beginner, intermediate, or pro, you can enjoy the versatile voice of this rocking HSH guitar.
Its fret edges leave a little smoothness to be desired. But after this one quick fix it would be almost flawless.
Check Price on:
---
Runner-up – Jackson JS22 Dinky
Playing a guitar inspired by Randy Rhoads is always going to be cool. Getting to do it on a budget? It's awesome.
The JS22 Dinky puts full metal power in your hands at a bargain. It's the ultimate affordable guitar for learning to shred and grind the heaviest styles.
It would be amazing if this had a single-coil for playing in blues, jazz, and rock. But this axe is at home with headbangers and an excellent choice if metal's your jam.
Check Price on:
---
The Next Best
ESP LTD EC-10
If you want to avoid any problems with your guitar's construction, the ESP LTD EC-10 is rockin' out of the box.
I might not be the biggest fan of its fretboard or pickups, but it offers a lot in hardware quality.
Its finish is flawless, its tuners are steady and stable, and its playability is smooth all the way up the neck.
Give this one another listen. If its delicate cleans sound sweet enough, you'll dig its distortion and could have a great time with this axe.
Check Price on:
---
Squier Bullet Stratocaster HSS
My guess is that, in a bit of bad luck, I received a faulty Strat.
I definitely expect more of Fender/Squier than a glue-spotted fingerboard. And for the most part, I got more.
The single-coils sing sweet as Strats should. The humbucker lets you rock harder than your basic Fender. And the easy, comfortable playability makes learning riffs fun.
If you look past the quality control issues, the Bullet Stratocaster HSS is an awesome beginner guitar.
Check Price on:
---
Epiphone Les Paul Special Vintage Edition VE
Although the Les Paul Special's got some problems—bad tuners and minor construction flaws—the fat warmth of its humbuckers is hard to beat.
If you love the harder rock of the 60s and beyond, you'll love jamming with this LP.
It gives an authentic vintage tone and playability perfect for gritty blues or thrashing punk. So long as you keep a tuner nearby, it's a great budget axe.
Check Price on:
---
Buyer's Guide – FAQ
How to Choose the Right Guitar for You
Choosing the Best Sound
In the under $200 price range, your options for customizing your axe are admittedly limited.
You won't find many guitar bodies at this price point made of premium tonewoods like mahogany or alder. So honestly, the tonewood isn't something you have to pay too much attention to. Another reason to not pay attention is the fact that body woods don't affect the sound of an electric guitar almost at all.
Your choices are basically poplar or basswood, and these are fairly similar woods.
Probably your most important decision in choosing the best electric guitar for you is what type and quality of pickups you get.
If you want to play music that has a fatter guitar sound (think chunky, earthy, deep, bass-heavy), humbuckers are the way to go.
That's why guitars like the ESP LTD EC-10 and the Jackson JS22 Dinky are great for metal.
Bright, treble-focused music like jazz and pop benefit from single-coil guitars. Single-coil axes like the Squier Bullet Stratocaster HSS are typically best for these cleaner genres.
They give you better note definition and articulation for vibrant chords and snappy solos.
I recommended the Ibanez as the best overall because not only does it combine these pickup types, but it uses high-quality pups to do it.
Choosing the Best Playability
After you've picked the sound of your axe, you want to make sure it will be comfortable to play.
Sometimes, playability can even be more important than tone!
It's easier to chance pickups than the neck.
If you've got small hands, you're likely to be better off with a guitar with a narrow nut. This makes it so that you don't have to stretch your fingers to reach around the fretboard.
Another thing that can benefit small hand players is a short scale length. This loosens string tension so you don't have to press as hard to play. It can also make frets closer together, so stretching for riffs isn't as big a challenge.
Of course, if you've got big hands, you'll likely want the opposite of these things. Smaller necks can feel cramped for long-fingered players.
The guitars in this review are generally around the same nut width, and they're all quite playable.
I'd say they're good "middle-ground" guitars that work for a wide range of hand sizes.
But if you are concerned that your small hands won't be able to manage, go for the narrow-nut ESP LTD EC-10 or slim neck Squier Bullet Strat or Ibanez GRX70QA.
Choosing the Best Quality
As I'm sure you see from this review, none of these guitars is without problems.
Some of these problems—like the discoloration on the Jackson fingerboard—are really no big deal.
But then others—like the weak tuners of the Epiphone—are enough to annoy me more.
Once you've narrowed down your choices to guitars that sound and play well for you, quality is the final consideration.
You have to ask yourself what kind of problems you're willing to deal with in a cheap guitar.
If scratches in your finish are a deal-breaker, receiving something like this Squier will be a big let-down.
Likewise, if you don't want to tune your guitar every 20 minutes, the LP will disappoint. The same as if you want shining clean tones but buy the ESP.
Each guitar has its strong and weak points.
So long as you know what to expect when buying at this price point, you should have no surprise problems. And if these are more than you want to deal with, many of them can be avoided at higher price points.
---
What Should You Expect from Electric Guitars Under $200?
Axes that sell for less than $200 are, by most measures, considered entry-level guitars. But in the realm of entry-level electric guitars, there's a wide difference in quality.
Around this $200 mark is where you start to find guitars that can compete with truly stage-worthy axes.
How Do Cheap Guitars Sound?
In terms of tone, you can usually expect pickups that are equal or a notch above cheap stock pups.
There are exceptions to this, like the ESP LTD EC-10 that uses very basic electronics. But most electric guitars under $200 will have pickups that are also used on more expensive models.
With these low-mid grade electronics, your budget guitar will play dependably with little chance of faulty wiring issues.
Of course, you won't get the clearest studio-quality sounds, but these axes sound good enough to play in "for-fun" jams.
How Do Cheap Electric Guitars Play?
Part of the appeal of many guitars under $200 is their beginner-friendly playability.
You'll find comfortable neck shapes designed to reduce playing fatigue and finger strain, like the Bullet Strat's C-shape and the Les Paul's 60's Slim-Taper D.
One common issue of affordable guitars is rough fret edges.
At this under $200 range, you usually won't run into razor-sharp frets that can cut your fingers. That's more an issue on guitars under $100. But regardless, cheap guitars often have rough frets.
If this is too annoying a problem, you can fix this yourself or have a guitar tech file them down for you.
So maybe you can't expect the best playability in guitars under $200, but it's at least geared toward comfort.
Are Cheap Electric Guitars Any Good? (Under $200)
The overall quality of the best electric guitars under $200 is several steps above the cheapest guitars you can find. Some of them are even better than models you can find at higher costs.
Unlike certain brands that sell what are basically toys for around $50, these are real instruments. Their bodies and necks are built well, so they should last you years of steady playing.
Plus, this dependable construction makes them great project guitars. Add some upgraded pickups and tuning machines to most of these axes and you'll have a guitar worth hundreds more.
They're not exactly guitars you'd want to go on tour with, but they can do everything that any $500+ guitar can do. Especially after some upgrades.
If you're just starting out, any of these axes would be a great choice. They all offer great tones and playability for the money so you can learn all the basics and more.
This can be a great price point for intermediate acoustic players who want to try their hand at electric.
The low cost means you're not out too much if you find it's not for you. At the same time, the high quality means you'll have another great instrument if you decide to stick with it.
You might want to set your sights on a higher quality axe if you're closer to pro. But for many players, electric guitars under $200 can be the best choice.
Learn more about the prices of electric guitars here.
---
Conclusion on The Best Electric Guitars Under $200
I had so much fun while testing these affordable guitars! Surprisingly good quality, playability, and tones… these are definitely not toys. But in the end, choosing the best electric guitar under $200 was relatively easy. Ibanez just offers so great playability and a ton of versatility, so it's impossible to ignore.
I hope that this guide helped you to decide which axe is the best option for you.
If you have any questions, leave a comment down below or go to my Youtube channel and comment on one of my Youtube videos. Feel free to share this post to help others too…
I wish you all the best and keep rocking!
---
You might also like:
We are sorry that this post was not useful for you!
Let us improve this post!
Tell us how we can improve this post?