Last Updated on March 17, 2023 by Teemu Suomala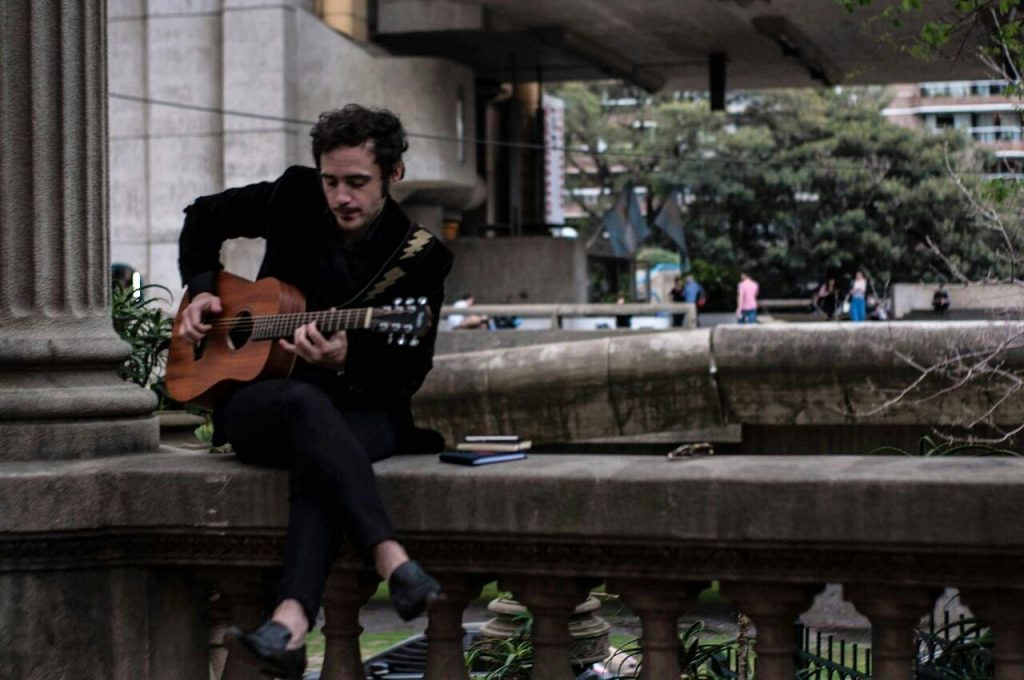 Author: Santiago Motto
Aka. Sandel. Telecasters and all-mahogany Martins lover.
Besides that, Sandel is a professional writer, guitar player, confessed guitar nerd, and all-things-guitar consumer. He has been playing for 25 years which makes him a nineties kid with serious low-tuning youngster years, and a pop palate for melodies, ballads, and world music.
Whenever Santiago is not pouring all that experience and love for the instrument into articles, you can find him playing live shows supporting his music and poetry books as "Sandel". If he's not doing either of those, you can also find him gigging with his band, "San Juan", writing, reading, or enjoying the Sun.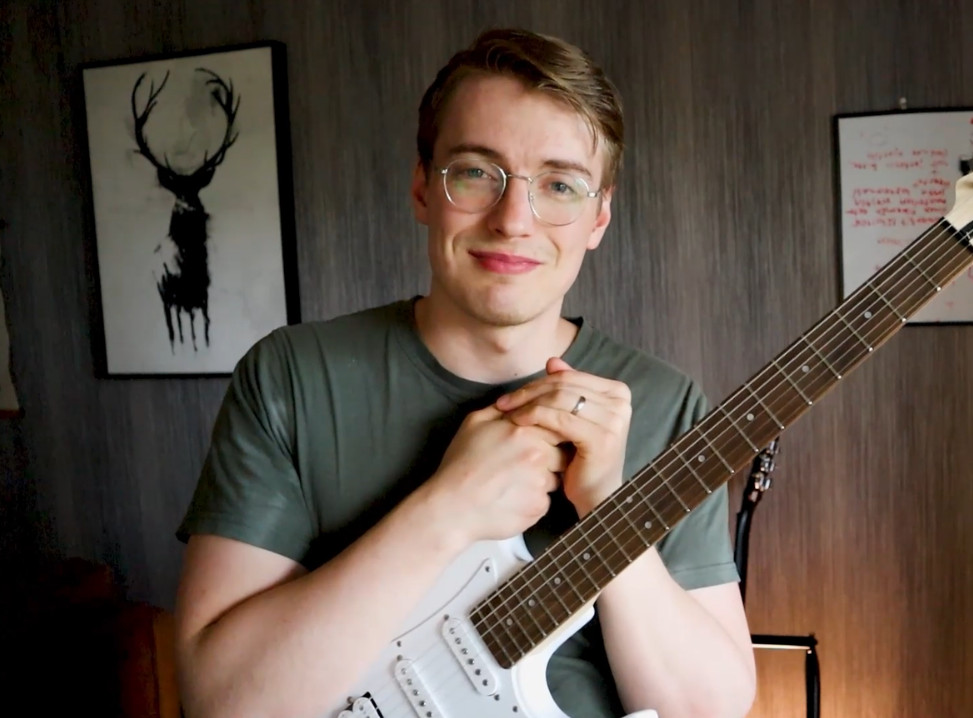 Editing & Research: Teemu Suomala
Playing guitar since 2009. Mainly focused on electric guitars, although jamming with acoustics too. Has played dozens and dozens of different guitars through different amps and pedals over the years. That's why he started this blog in January 2020 and started sharing his experience. Has produced content for several large guitar websites, such as Songsterr, Musicnotes, GuitarGuitar, and Ultimate Guitar.
---
Best Overall Electric Guitar for Rhythm – Fender American Ultra Telecaster
Sound
Playability
Overall Quality
Value For Money
Summary
Pros:
-Contoured body for extra comfort
-Locking tuners for tuning stability
-Noiseless pickups, say goodbye to hum
-Deluxe hardshell case included
-Ultra-comfortable modern-D neck shape
–Compound radius for perfect chords and bends

Cons:
-Not a humbucker-equipped guitar

Who is this guitar for?
The Telecaster American Ultra is the perfect-sounding guitar for a rhythm guitarist who needs a single guitar that can cover all needs. Furthermore, the best rhythm players will find the combination of snap and sweetness perfect to back up vocal melodies and lead guitarists.

How Fender American Ultra Telecaster sounds:
Check Today's Price on
*Consider all links in this post to be affiliate links. If you purchase, at no additional cost to you, we may earn a small commission. It helps us to keep the lights on, thanks! 🙂
---
The Next Best:
Compare The Key Specs:
---
About Electric Guitars for Rhythm Playing
The world has now more guitars and guitar players than it has ever had.
In 2009, the guitar became the favorite instrument for beginners around the world. Yet, after the COVID-19 pandemic, the numbers went up to the stratosphere. Yes, from 2019 to 2020, the increase in guitar sales in the US only rose by 60%.
This means more people are fulfilling their dream of playing the guitar, making music, expressing their creativity, and having fun.
Most of them will become rhythm guitarists holding the song's structure together while some other band member rips the fabric of reality playing lead.
That sounds beautiful, but the moment you set out to buy your next favorite rhythm machine, going from a beginner guitar to a quality guitar, you're faced with tons of different options.
Yes, with this level of competition on the market and the endless choices available; how can you choose the best electric guitars for rhythm?
Well, that's where we come in to save the day.
We've tried, heard, played, and valued a plethora of guitars to boil it down to five. It was hard work and also a lot of fun; what is certain is that your next rhythm guitar is on the list.
Ready?
Here we go!
Check our electric guitar brand guides:

5 Best Ibanez Electric Guitars
---
5 Best Electric Guitars for Rhythm Playing
Keep These 3 Key Things In Mind When Choosing Electric Guitar for Rhythm:
Before we start with the best guitars for playing rhythm, you must know what we based our research and verdict on. These are the three key things we looked at in all the rhythm guitars reviewed to find the best rhythm guitars for you.
This is a word that involves several parts of the guitar. Let's break it down into the most important ones:
· Neck – The neck on the guitar is crucial for it to be comfortable. Moreover, it has a particular relationship with your hands; not two guitar players like the same neck size and profile. So, make sure the neck feels comfortable.
· Weight – Although not an issue for all players, weight is something to bear in mind, especially if you do a lot of standing gigs.
· Contour – The guitar's shape (contoured or not) makes it more comfortable to play it. For example, the relief in the back of a modern telecaster versus the straight body of an older model
This is another very broad category but it can be resolved simply. The tone of a guitar is the natural, organic sounds it makes. For example, a body made of mahogany is rich in low frequencies and a body made of ash is the exact opposite. There's no right or wrong, but the guitar should cover the sonic field you need for your projects.
The final key thing before choosing is setting a maximum budget for your purchase. Why? Well, the world of electric guitars is so vast there is a price range for every player. If you don't set a limit, you'll play guitars you can't afford and end up being frustrated. Take one step at a time when elevating your game and buy the best guitar you can afford.
Best Overall – Fender American Ultra Telecaster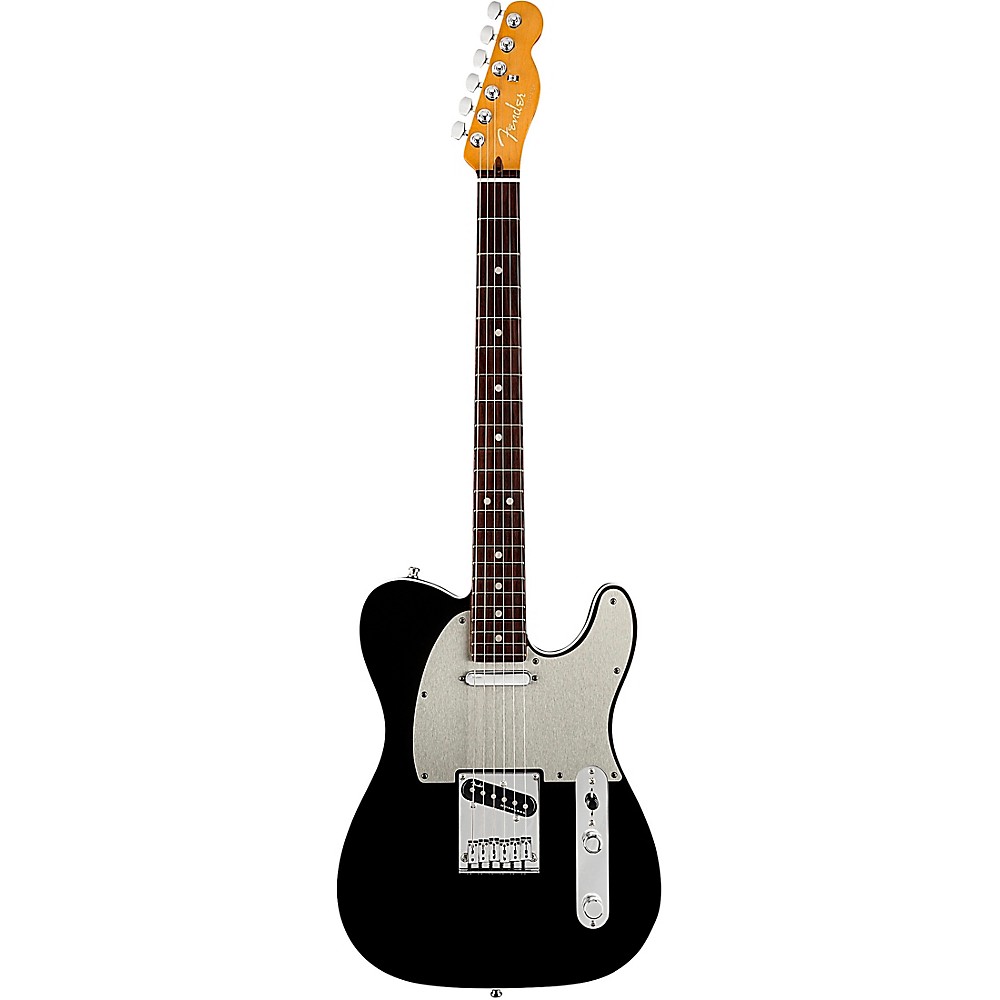 Specs
Body Style
Telecaster
Body Wood
Alder
Neck
Maple
Neck Shape
Modern D
Fretboard
22 Medium Jumbo frets.
Rosewood fingerboard. 10″-14″ compound radius.
Nut
Bone nut
Nut Width
1.685″
Pickups
2 x Ultra Noiseless Vintage Tele Single-coil
Controls
1 x master volume (with S-1 switch)
1 x master tone
3-way blade pickup switch
Scale-Length
25.5″
Bridge
6-Saddle American Tele with Chromed Brass Saddles
Tuners
Fender Deluxe Die-cast Sealed Locking
A telecaster is a rhythm machine that has been making history for decades in the hands of all the greatest rhythm players of all time. Perhaps, the best example is Keith Richards, but we could also talk about Bruce "The Boss" Springsteen, Andy Summers (The Police), Joe Strummer (The Clash), Tom Petty, Jack White, and the list goes on forever.
But that's not all; the telecaster is also a guitar that's great for beginners. Yes, the simplified controls (single volume and tone pots), no-frills approach to its bolt-on construction, and the availability of replacement pieces make it the ideal guitar for playing open chords among all beginner guitars.
In the case of the Ultra version, this is a quality guitar with a modern "D" neck, locking tuners, noiseless pickups, and a contoured and utterly comfortable body. This makes it the ideal instrument to take to every show and play all night long effortlessly.
Also, in the sound department, the rosewood fingerboard paired with the maple neck and the alder body gives this guitar the perfect mix of snap and sweetness that can work in any scenario. On top of that combination, the hum-less pickups, and the S-1 switching system allow the owner of this amazing instrument to play anything from bluegrass to metal.
Finally, choosing this guitar as the overall best is because you can literally show up to any scenario with this case and a guitar cable and resolve 90% of your guitar needs (the other 10% is for really edgy metal stuff and Floyd-Rose craziness, like Steve Vai.
Another solid sound demo:
Pros:
Contoured body for extra comfort
Locking tuners for tuning stability
Noiseless pickups, say goodbye to hum
Deluxe hardshell case included
Ultra-comfortable modern-D neck
Compound radius for perfect chords and bends
Cons:
Not a humbucker-equipped guitar
What others are saying:
I unboxed the guitar today and I was stunned how beautiful it looked. Everything about the guitar is spot on perfect. The neck is simply amazing, it's like butter in my hands. I never thought a neck would get better than my Elite Strat, but this one is. The color of the neck is fantastic too. Looks like a lightly roasted maple neck. The Texas Tea color is beyond awesome. Let's just say this is now my go-to guitar. When I first picked it up, it felt like an old friend. The pickups are smooth but biting when you want that Tele bite. The body contour is appreciated as is the neck contour which makes it easier for me to hit the high notes now. – Blaise from WA
Who is this guitar for?
The Telecaster American Ultra is the perfect-sounding guitar for a rhythm guitarist who needs a single guitar that can cover all needs. Furthermore, the best rhythm players will find the combination of snap and sweetness perfect to back up vocal melodies and lead guitarists.
Who is this guitar NOT for?
If you're looking for a guitar that can work under extreme gain situations, then this guitar might feel a little short. We've got something for you below, though, keep on reading.
Check Price on:
---
Best Hollowbody – Epiphone Casino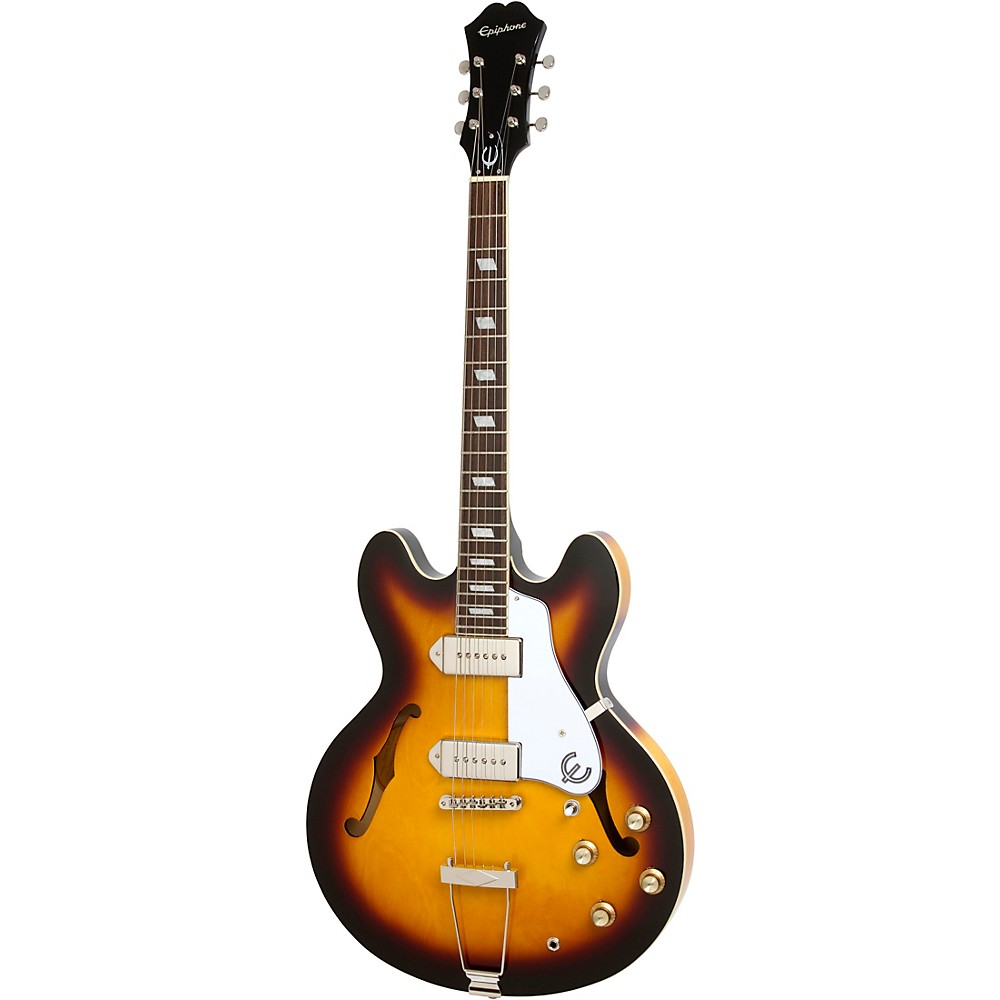 Specs
Body Style
Casino
Top Material
5-ply Laminated Maple
Body Wood
Laminated Maple
Neck
Mahogany
Neck Shape
Slim Taper D
Fretboard
22 frets.
Pau Ferro fingerboard. 12″ radius.
Nut
Faux bone nut
Nut Width
1.68″
Pickups
2 x P-90T Dog-ear Classic Single-coil
Controls
2 x master volume
2 x master tone
3-way toggle pickup switch
Scale-Length
24.75″
Bridge
LockTone Tune-o-matic with Traditional Trapeze
Tuners
Vintage-style
The Gibson Company, which owns Epiphone, has just released a USA version of this guitar based on Paul McCartney's famous 1962 model. This test, though, is based on the Chinese-made model (which are high-quality guitars too); especially the natural blonde finished one that became the ultimate blues rhythm guitar in the hands of no other than John Lennon.
The casino is a hollow body guitar that follows the timeless tradition of mixing laminated maple with a mahogany set neck and a pau ferro fingerboard. This last tonewood delivers similar tones to rosewood adding to the warmth and sweetness of the hollow body.
What's the result of the Casino's tonewood combination? Well, the result is an electric guitar, a rhythm machine that can keep the beat with solid chords and notes in any given context. Furthermore, if you combine that with the P-90 pickups, which are the perfect middle point between humbucker oomph and single coil snap, you get a solid guitar that can take a band's foundations in any direction.
Moreover, you can easily spot it on stages around the world as a jazz rhythm guitar since the hollow body (closer to an acoustic guitar) allows for that scooped sound jazz players need. What is more, if you put flat-wound strings in any Casino, you're instantly in jazz guitar heaven.
Finally, the guitar's neck is a modern iteration of Gibson's famous '60s slim taper design, found on many electric guitars like the SG, which makes it friendly even for beginners or players with small hands.
Check our picks for the best electric guitars for small hands here.
The only caveat with the Casino is that it is a hollow-body guitar, and, as such, it is very prone to feedback. In other words, it is not the best electric guitar for extreme gain settings.
How this guitar sounds:
Pros:
Hollow body design for a bigger sound
P-90 pickups with enough edge and bite
Super comfortable Slim Taper Neck
Quintessential Lennon-approved looks
Cons:
Can't handle much distortion
Hollow-body guitars are more fragile than solid-body electrics
What others are saying:
You can spend a lot more for a hollow body guitar, but you really don't need to. The Epiphone Casino is now my preferred instrument. I play rock, blues, country, jazz standards, all kinds of stuff, and this guitar works for all of it. I play through a Vox AC15 or a Fender tube amp, and the sound is great with either. It's also light weight, so having it around your shoulders for a couple of hours is easy. I've never had "buyer's remorse" about buying this guitar, and enjoy playing it every time I pick it up. – Jim from Buffalo
Find more great hollowbody guitars here.
Who is this guitar for?
This guitar is great for you if you're planning to join a band as the rhythm guitarist, for solo performances (the hollow body sounds bigger, fuller, and closer to an acoustic), and for Beatles fans and tribute bands.
Who is this guitar NOT for?
Shredders and metal guitar players will find the hollow body impossible to tame when much gain is applied to the signal.
Check Price on:
---
Best Premium – Gibson Les Paul Jr Custom 1957 VOS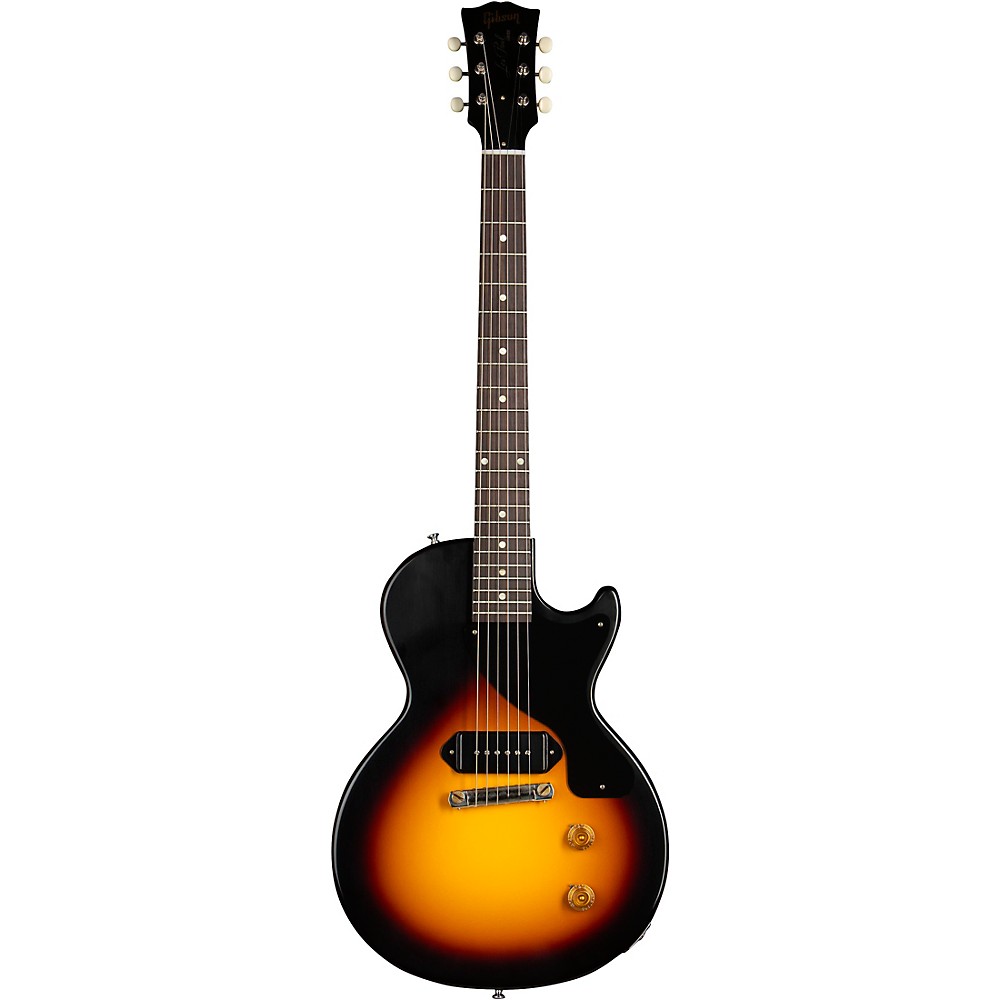 Specs
Body Style
Les Paul
Body Wood
1-piece Mahogany
Neck
Mahogany
Neck Shape
Chunky C
Fretboard
22 Medium Jumbo frets.
Indian Rosewood fingerboard. 12″ radius.
Nut
Nylon nut
Nut Width
1.687″
Pickups
Custom Dog-ear P90 Single-coil
Controls
1 x master volume
1 x master tone
Scale-Length
24.75″
Bridge
Wraparound bridge with Stopbar tailpiece
Tuners
Kluson Single Line
If you started this article looking for the perfect rhythm guitar for rock, this is the guitar for you. Indeed, every riff you play through this all-mahogany rhythm machine will sound thunderous and bigger-than-life. Chords, on the other hand, ooze great articulation remaining crystal clear at all times.
The above is partially why the most famous rhythm guitar player of all time, Keith Richards, uses this guitar alternatively with his beloved telecaster to handle the songs of the Rolling Stones.
But what's the trick behind this one-pickup, two-knob guitar?
Well, when looking for a rhythm guitar less is more. Yes, you need a guitar that can cut through the mix remaining compact and clear-sounding without any gizmo that can alter that original sound. Moreover, there are no bells and whistles many guitar players need for soloing.
Thus, comparing this guitar to, for example, a Standard dual-humbucker setup Les Paul, what you get is a less refined, and more raw and ferocious tone. This is because there is no maple top on the body; it's a solid slab of mahogany. On top of that, the rosewood fingerboard adds sweetness to the overall sound.
Finally, the single P-90 pickup adds just enough edge to the sound to bring the mahogany to life by adding another dimension of texture to the sound.
Yes, you'll keep the low-end growl but there will be defined highs that come from rocking a single-coil pickup on steroids.
Before ending this glorious rant about what an amazing rhythm machine the Les Paul Jr. is, I should add that it is a luxurious custom VOS model but you can also get the Standard Les Paul Jr. from Gibson at less than half the price.
Here's a great video of legendary rhythm guitarist and singer Billy Joe Armstrong (Green Day) talking about his signature Les Paul Jr.
How this guitar sounds:
Pros:
Simple layout; no frills, just tone
Top-notch all-mahogany body and neck
Ferocious, low-end oriented tones
P-90 pickups define the sound
Cons:
What others are saying:
This guitar blew me away from the first note. I don't know if it was just luck or the new Custom Shop quality. The sound of this instrument is incredibly beautiful and warm. Playability and handling are top notch … provided you like a (very) thick neck. This is already very massive, but I have to play nice. One pickup is not a limitation, because whoever chooses Junior does so consciously. In terms of sound, it is located in the Vitage and Rock areas. From warm sounds to sassy board sounds, everything is included. I love this guitar. In terms of sound, it's one of the best in my collection, and it's not small. – Gibson Custom 1957 Les Paul Junior owner from Germany
Find more great guitars with P90s here.
Who is this guitar for?
This is the perfect guitar for the rhythm guitarist needing a machine that can rock, sound huge while playing thunderous riffs, and cut through the band's mix when playing chords.
Who is this guitar NOT for?
Players looking for diversity and a plethora of tones available by changing the guitar's controls will find this guitar a tad limited.
Check Price on:
---
Best Budget – Gretsch G5420T Electromatic Classic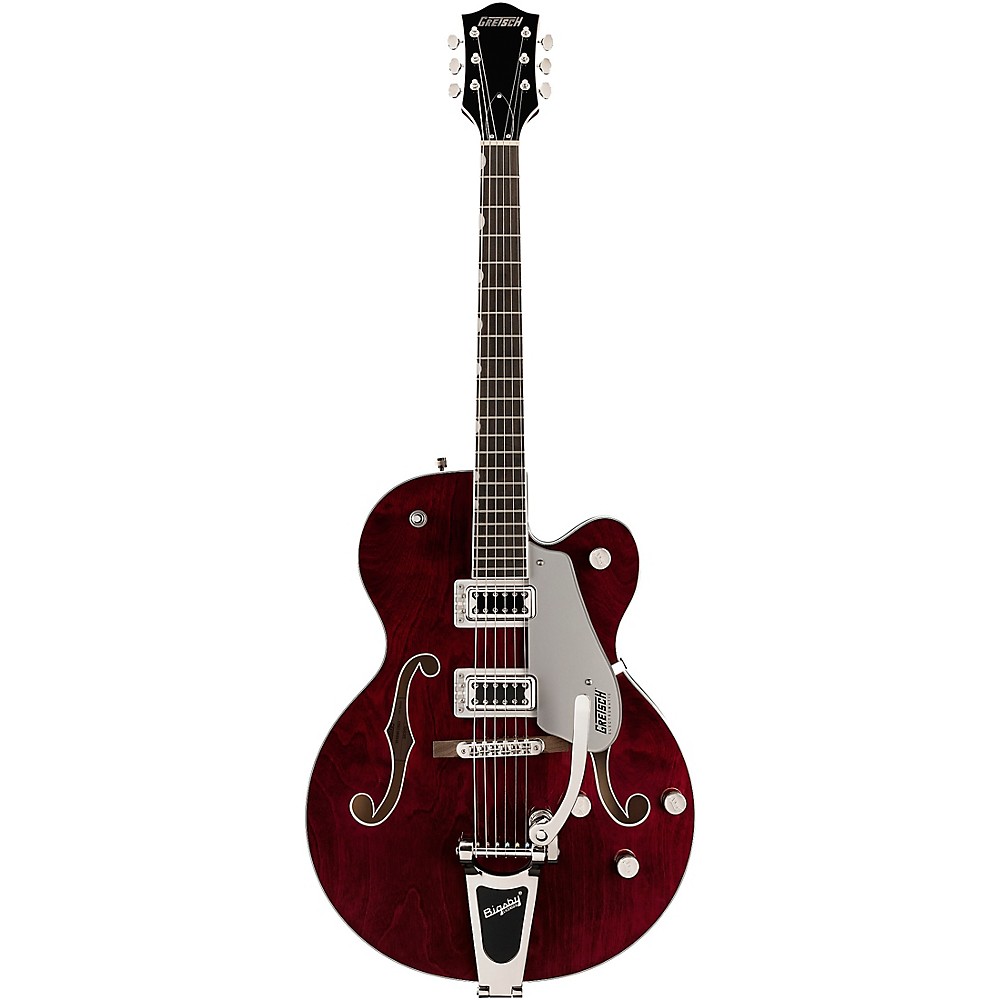 Specs
Body Style
Single-cut Hollowbody
Top Material
Arched Laminated Maple
Body Wood
Laminated Maple
Neck
Maple
Neck Shape
Classic C
Fretboard
22 frets.
Laurel fingerboard. 12″ radius.
Nut
Graph Tech NuBone nut
Nut Width
1.6875″
Pickups
2 x FT-5E Filter'Tron Humbucker
Controls
2 x volume
1 x master volume (Treble bleed)
1 x master tone
3-way toggle pickup switch
Scale-Length
24.6″
Bridge
Adjusto-Matic Bridge with Secured Laurel Base, Bigsby B60 Vibrato Tailpiece
Tuners
Vintage-style Open Gear
For the country guitar and fingerpicking lovers out there who want to capture that huge hollow body tone of a great rhythm guitar player, this is the best electric guitar; a true goldmine.
Yes, coming close to the open tones of an acoustic guitar, this Gretsch Electromatic Series can also be a great jazz rhythm guitar. How so? Well, the utterly defined tones that come from the mix of an all-maple instrument with a hollow body design make this the perfect guitar to play chords and any rhythmic pattern on.
Furthermore, the addition of the Bigsby vibrato allows you to travel to the past and play small lines like the beginning of "Wicked Game", for example. In the same vein, the dual Filter'Tron pickups give this instrument the level of clarity needed to define chords perfectly and the low-end growl to be the biggest rhythmic instrument in the band (apart from the drummer, of course).
Speaking of sounds, the humbucker pickups keep all action hum-less and add a little drive to the signal. That being said, these pickups sound very close to traditional PAF-style pickups, which means they have a low output for a humbucker but are hotter than a P-90 or single coil.
The uniqueness of this guitar doesn't end there either; it features what we know as a master volume knob. This knob will allow you to add more gain to the overall signal without modifying the balance between the pickups (which have separate tone and volume controls). This way, you can just clean up the signal or add more bite with a single knob regardless of what pickup you're playing with.
Finally, this Gretsch G5420T Electromatic Classic can do all without breaking the bank.
How this guitar sounds:
Pros:
Legendary, highly sought-after Filter'Tron pickups
Bigsby vibrato system for details
All-maple construction offers uncanny mids
Master volume enables more tonal options
Cons:
Hollow body design can't handle much gain
Can be more fragile than a solid-body guitar
What others are saying:
I have had this guitar for about 6 months now. This is really the first guitar I have ever bought that I didn't want to change something. It plays amazingly. I did have to adjust the truss a bit but the frets are perfect. The electronics are very well thought out…just perfect. Great American roots music guitar. Highly recommended.
I worked with an Epiphone flamecat for a couple years. This guitar is so superior to that, you can't even compare them. – Fred from Arizona
Who is this guitar for?
This is a great guitar for rockabilly fans, rockers, jazzers, solo performers, and blues players.
Who is this guitar NOT for?
Unless you're Billy Duffy (The Cult) adding too much gain to this guitar might make it scream with feedback. If that's your case, then you might be better off with a solid-body electric.
Check Price on:
---
Best for Metal Rhythm – Charvel Pro-Mod San Dimas Style 1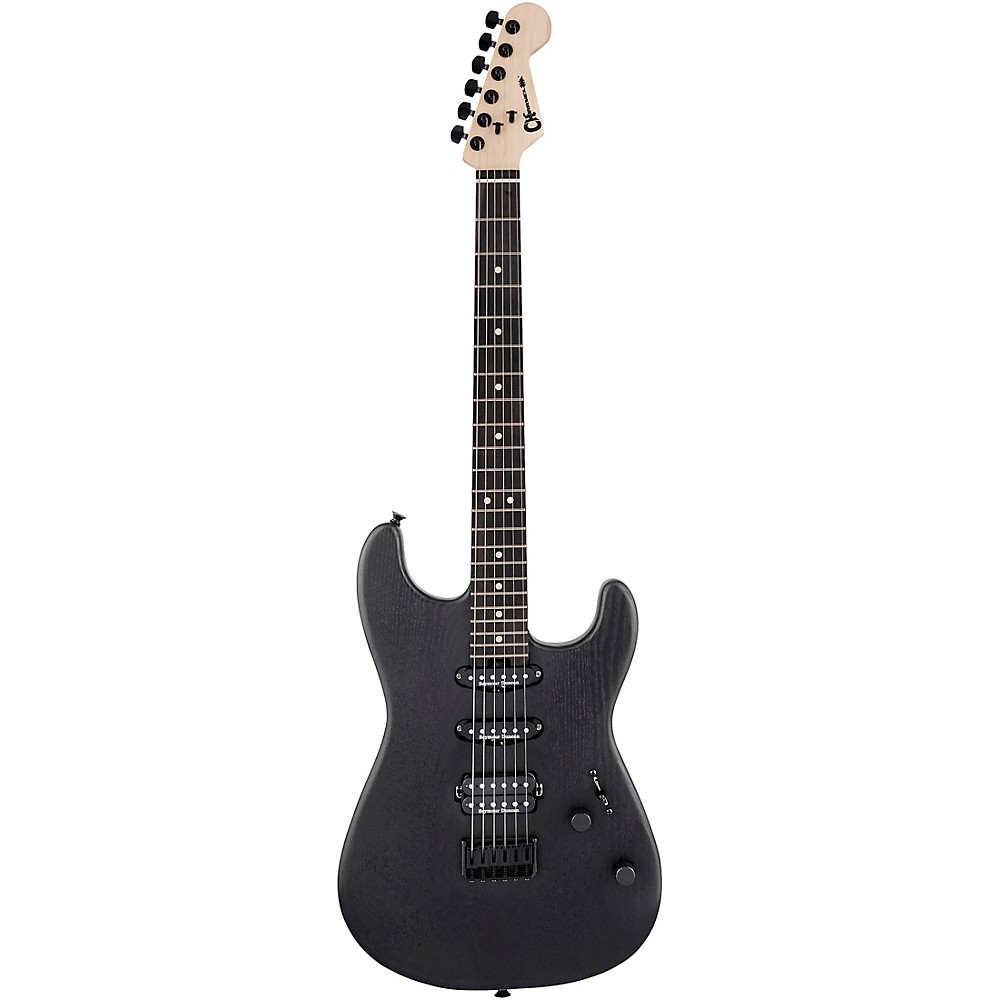 Specs
Body Style
Modern Strat
Body Wood
Sassafras
Neck
Maple
Neck Shape
Speed
Fretboard
22 Jumbo frets.
Ebony fingerboard. 12″-16″ compound radius.
Nut
Black Plastic nut
Nut Width
1.6875″
Pickups
Seymour Duncan Custom Flat Strat SSL-6 RWRP Single-coil
Seymour Duncan Custom Flat Strat SSL-6 Single-coil
Seymour Duncan JB TB-4 Humbucker
Controls
1 x master volume
1 x master tone
5-way blade pickup switch
Scale-Length
25.5″
Bridge
Charvel HT6 String-through body bridge
Tuners
Charvel Die-cast Locking
Those who started reading this piece trying to find the next rhythm machine to play metal music, power chords, and classic rock will love this guitar. Yes, since it is a Charvel, a guitar brand with plenty of metal-oriented guitar models, we immediately associate this guitar with metal sounds.
Well, this guitar, just like life, comes full of surprises.
The first surprise is that it doesn't only do the heavy metal thing, but it can be a great guitar to play rhythm parts on the softer side too. This is because Charvel tried to create the rhythm player's dream metal machine using a blend of known tricks and new experiments.
To begin with, the HSS configuration is utterly-known (there are many popular guitars with this configuration) and has served players for years to navigate from clean to dirty and from metal to blues at the flick of a switch.
Another known trick is to get rid of the floating Floyd Rose tremolo and install a string-through-body fixed bridge. This way, the guitar has a bigger tone and there's no need to go through all the hassles a locking tremolo system brings.
Now, for the innovations, the sassafras body is an unusual choice for guitar wood, especially for a metal guitar. How does this tonewood affect tone? Well, it resembles swamp ash in the way it looks, its weight, and also the tonality it produces. Yes, when coupled with the maple neck and the ebony fingerboard it really shines in the mid and mid-high frequencies.
Thus, if you play in a band and use obnoxious levels of distortion, your guitar will cut through in such a way that riffs and chords will be heard perfectly.
Finally, besides being such a versatile, rhythm-player-oriented guitar, when you step on the distortion and go to the bridge pickup, you'll hear your guitar amp roar and you'll know this is a guitar that can get you in the game.
How this guitar sounds:
Pros:
HSS pickups configuration offers great versatility
Sassafras lightweight body with great mids
String-through-body construction for extended sustain
High gain Seymour Duncan JB in the bridge position
Cons:
What others are saying:
I had a Charvel H/S HT for years and when I left my last hand I sold all of my gear including that guitar…I missed it, until I got this one….it has heavier, more well rounded tones from the bridge humbucker, and great Strat quack and twang from the neck and middle pickups…..I love the 2 and four positions on the 5-way for the quack, and when you roll off the volume it really cleans up nicely,, the neck really cranks for creamy solo tones the humbucker really screams….the body and neck feel great, the satin finish is great…..I'm glad I got it….. – Mark from CA
Who is this guitar for?
This guitar is perfect for the metal or heavy rock guitar player who needs an instrument that can handle chords and riffs and remain clear cutting through the mix.
Who is this guitar NOT for?
Shredders will definitely miss the Floyd Rose. Other than that, this guitar is versatile enough for any player.
Check Price on:
---
Runner-Ups That Just Missed The Top 5
We worked very hard in this packed section of the market to boil down the options to the best five. That being said, we also found some amazing guitars that you should bear in mind when deciding on your purchase.
So, these are the best runner-ups to the best rhythm guitar podium.
---
Buyer's Guide – FAQ
I know what's going on inside your head right now. We've opened so many lines of discussion and touched on so many topics, you have many more questions about the best electric guitars for rhythm.
We just love going the extra mile, so these are the answers you were looking for.
What Should You Know Before Buying?
Going to buy your next favorite rhythm guitar without the slightest idea of what to get is a recipe for disaster. You'll be at the mercy of the sales clerk who will very likely try to talk you into buying a guitar that gives him or her better commission rather than a choice based on your needs.
So, what makes a good rhythm guitar? These are the things you have to decide on before going to the store to get your new electric guitar.
Grab pen and paper, because here we go!
How to Choose The Right Rhythm Electric Guitar for You
Rhythm electric guitars have very different price tags. Yes, you can buy a great rhythm-playing machine for a few hundred bucks or spend a few thousand on one.
Will the $2,000 guitar sound better than the $200 ax? You can bet on it. That's exactly why, if you're looking for a guitar that is great for beginners, you need to make that clear.
Now, with the limitations of your budget, what should you choose in each category?
Let's go one by one solving all doubts along the way.
Pickups
Every electric guitar that's to be plugged into a guitar amp needs pickups. What they do is translate the movement of your strings into electric current (captured through the magnets) that is then converted into sound by the amplifier.
Pickups are very important but are also a fairly cheap tone experiment. Yes, you can try different pickups on your guitar without breaking the bank.
What's the caveat? Well, the only word of warning here is "size and shape".
This is because you can't install humbuckers in the empty space of single-coil pickups and vice versa without modifying your guitar. The same goes for P-90s, of course.
What am I saying with this? I'm saying that you should pick a guitar that already has a humbucker if you're playing high-gain music.
I know that there are small-size humbuckers that can fit in single-coil spaces. Yet, in that scenario, your options will be drastically reduced to those.
On the other hand, if your guitar has a humbucker space you can choose any model and brand.
But for rhythm playing in general, almost any pickup type will work. It really comes down to the music you want to play with your new electric guitar.
Humbuckers in general work for metal, rock, country, blues, punk, jazz, etc.
P90s are great for old-school & lighter metal, punk, rock, blues, etc.
Single-coils work well for lighter metal, rock, blues, funk, etc.
Body Styles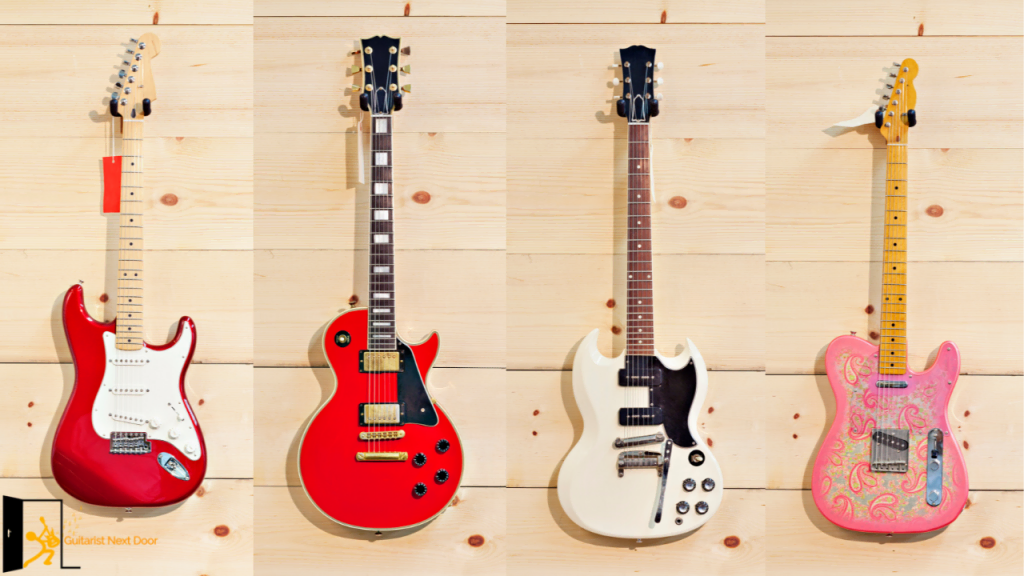 Body styles aren't only an aesthetic statement on stage. On the opposite, the size, shape, and material affect tone a lot.
For example, if you want to take your instrument on the road, you'll be playing 100 dates a year, and you don't have a huge budget to take care of your guitar, a solid-body electric will take the beating much better than a hollow-body electric.
On the other hand, if you need to sound bigger-than-life, don't use much distortion, and can keep your guitar inside a decent case, perhaps a hollow body will be more suitable for you.
Likewise, the contour and the comfort reliefs a guitar body has are very welcome when playing often or for long periods.
Finally, and speaking of that, if you're to be playing guitar for many hours standing, weight is an issue to take into consideration.
In general, body shape doesn't limit rhythm playing that much, but of course, test different shapes and styles out and choose what feels the best.
Neck Shapes
Neck shapes are usually associated with shredders needing the ultra-thin Wizard III necks by Ibanez electric guitars. Yet, playing rhythm and certain chords is easier with some necks than others too.
For example, those who like the chunky, baseball-bat guitar neck will find guitars like the Les Paul Jr. and the Epiphone Casino more to their liking. On the other hand, players who stretch a lot and need to play difficult chords by wrapping their thumb on top of the neck will find slim necks much better.
So, what to look for in a neck? The keyword is comfort. If it feels comfortable for you and you can pull off all your tricks on it, that's more than enough. Test different necks out, and choose accordingly.
Check our full guitar neck shape guide here.
Scale Length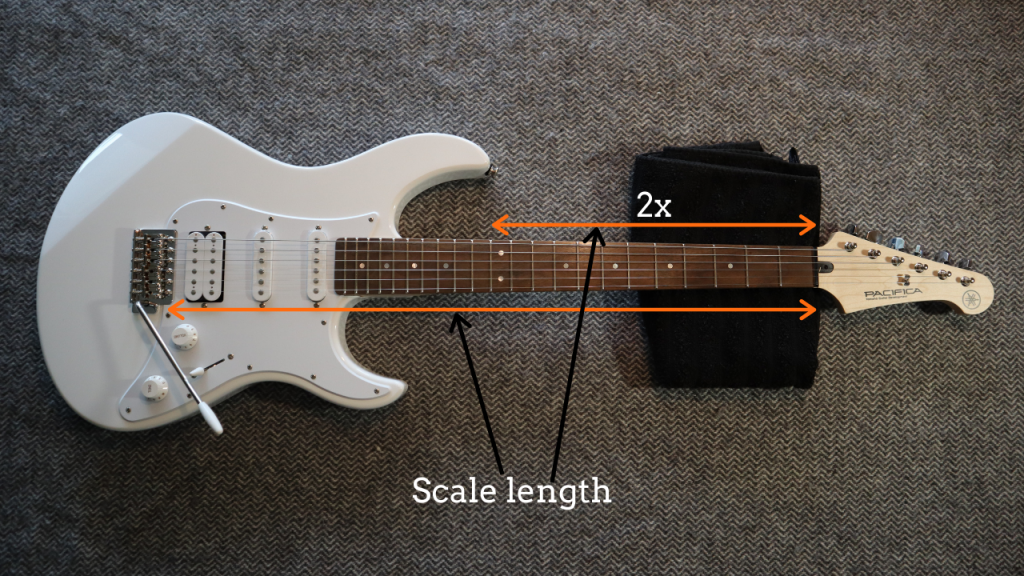 Scale length is something not many people talk about but it's crucial for guitar players; especially playing rhythm guitar.
To begin with, we can talk about two big groups of guitars scale-wise. On one hand, you have Gibson with a 24.75" scale. On the other hand, you have Fender with a 25.5" scale. The third position is many PRS guitars with a 25" scale, but you can consider it a middle ground between the other two.
So, Gibsons tend to have less tuning stability because strings receive less tension. That being said, bends and difficult chords might be easier on them since strings have less tension and are easier to press down.
Fenders offer the player much more tuning stability and can help you play chords more in tune. Yes, this is because the higher tension makes strings more stable and tighter so you won't bend them by mistake.
There are no recipes in terms of scales; it is what feels better for your hands. So, try a 24.75" Gibson and a 25.5" Fender and see what you like the best.
What Kind of Strings You Should Use for Rhythm Electric Guitar?
Strings are another big part of the tone puzzle and the cheapest tone experiment in the world. Yes, changing the strings on your guitar is not an expensive endeavor and the results will be quite different.
My recommendation is that you rock your rhythm guitar with 9-42, 10-46, or 11-52 strings.
Going lower than that will cause most guitars to lose tuning stability and might even make your chords sound weird since you might bend a string by mistake. Believe me, I played guitar with 8-38 strings on and it was a nightmare.
On the other hand, going higher than 11 might mean your guitar turns into a very stable meat-chopping machine because the tension will be too high.
Can Electric Guitar Play Rhythm?
Let me take a brief moment here to bring down two myths that have been around forever. The first one is that electric guitars can handle rhythm playing just as well as acoustic guitars can. Furthermore, if you've ever heard Paco de Lucía or Al Dimeola, you'll know you can also play lead on an acoustic.
That being said, the best rhythm guitars are more associated with simplicity. For example, if you play in a pop music band with a strat and tele; Strats are always more prone to work as lead guitars whereas the Tele is more of a rhythm creator/songwriter companion.
So, can you play rhythm guitar on an electric? Of course, you can; with some more than with others, depending on your playing style.
Is Rhythm Guitar Harder Than Lead Guitar?
This is the second myth we need to bring down: playing rhythm guitar is just as difficult as being a lead guitarist. Yes, lead guitar players listen for something different than rhythm players do.
In this vein, locking in your guitar work with the bass guitar player and the drummer is what I call high-quality rhythm guitar, and what makes a solid rhythm section. For this, you need to listen to the drum kick and the bass syncopation.
A lead guitarist, on the other hand, needs to find spaces where the melody can sit. Furthermore, a lead guitar player needs to find the right scale, licks, and feel for the track and play that over the tight rhythm section.
These two types of playing are necessary to propel a song forward, both take time and practice to master; therefore neither is more difficult than the other. A lead guitarist and the rhythm players out there need to work just as hard.
---
Conclusion on Best Electric Guitars for Rhythm Playing
We've gone through our selection of the best electric guitars for rhythm and offered you five killer options that will get you through any and all scenarios.
Also, we've gone through what makes the best rhythm guitar, some of the criteria you can use to pick your new guitar, extra choices, and a mini-buying guide; we even brought down two common myths about guitar playing!
Hopefully, by now, you have a clear idea of what electric guitar(s) can turn into the best rhythm guitars.
So, get that new gleaming six-stringer and play your heart out for the whole world to listen to.
Happy (rhythm guitar) playing!