Last Updated on February 20, 2023 by Teemu Suomala
Best Overall- Reunion Blues RBCA2 RB Continental Voyager
Protection
Quality
Portability
Value for Money
Summary
If you want the highest standard of protection for your acoustic, the Reunion Blues Continental Voyager RBCA2 is without equal.

With its 1-inch padding, locking neck support, and adjustable end-pin protectors, the RBCA2 will surely protect against just about any danger your acoustic might contact.

Just like its quality isn't cheap, neither is its price. But you get what you pay for, and the RCBA2 provides a level of security that's definitely worth the cost. The best gig bag for acoustic guitar.
Check Today's Price on
*Consider all links in this post to be affiliate links. If you purchase, at no additional cost to you, we may earn a small commission. It helps us to keep the lights on, thanks! 🙂
---
The Next Best:
Compare these gig bags:
---
We love guitars (duh!) and want to help keep yours safe and sound.
When you've got the reliable gig bag for acoustic, you can take your guitar almost anywhere with no worries. But the truth is…all gig bags are not very protective and durable. There is "no perfect" product, but there still are minimum standards a great acoustic gig bag should have. After all, we want to keep our precious Martins, Taylors, and Yamahas safe.
Here are my 5 favorite gig bags for acoustic for different situations and budgets. These can provide your treasured axe with the padded protection it deserves.
Let's first look at these fine bags, and at the end of the post, you can find the FAQ section that helps you to make the best choice possible.
Who crafted this post:
Author: Tommy Tompkins
Playing guitar since 2004. Primarily an acoustic guitarist who plays and writes traditional American folk music, with a background in melodic metal and a solid foundation as a bassist.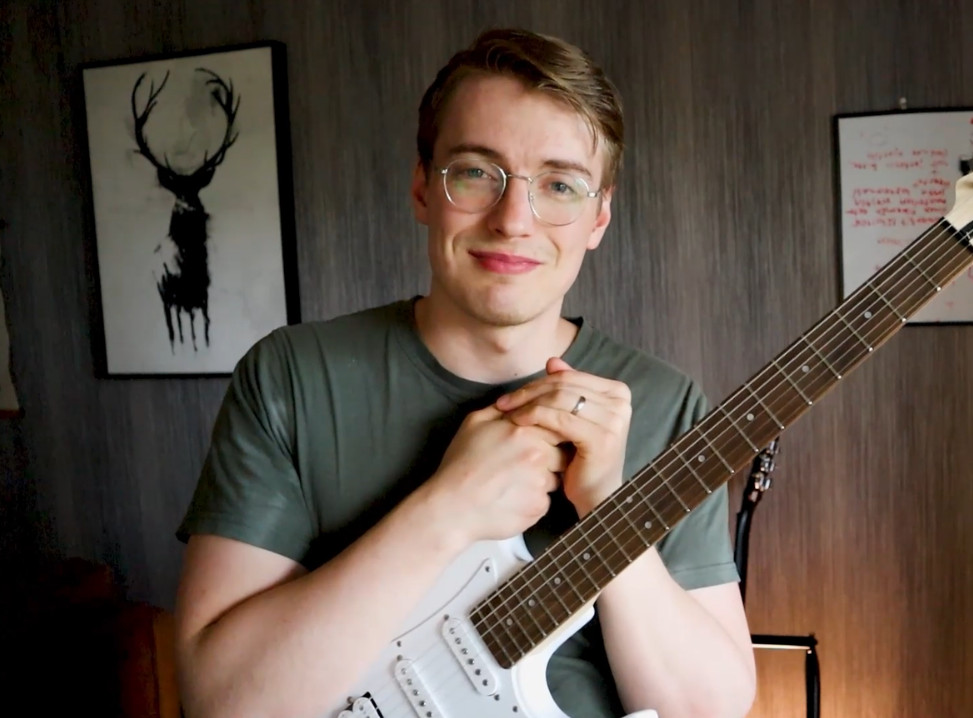 Editing & Research: Teemu Suomala
Playing guitar since 2009. Mainly focused on electric guitars, although jamming with acoustics too. Has played dozens and dozens of different guitars through different amps and pedals over the years. That's why he started this blog in January 2020 and started sharing his experience. Has produced content for several large guitar websites, such as Songsterr, Musicnotes, GuitarGuitar, and Ultimate Guitar.
Every one of these gig bags is here based on extensive research and decades of guitar experience of our team.
---
Our Favorite Music Store in The World!
Why?
– Excellent Customer Service (4.7/5 Trustpilot Score)
– Fast & Free Shipping
– Gear is Inspected, Tested, & Ready to Play When it Arrives to You (We love this)
– Fair Prices
Visit Sweetwater:
Best Gig Bags for Acoustic Guitars
Best Overall- Reunion Blues RBCA2 RB Continental Voyager Dreadnought Acoustic Guitar Case
Protection
I could skip this part of the review and just show you this video instead:
It's pretty crazy, right?
Reunion Blues set out to make this RBCA2 Continental Voyager Dreadnought Acoustic Guitar Case the most indestructible gig bag around. As you can see, they did pretty well.
With its 1-inch padding, locking neck support, and adjustable end-pin protectors, the RBCA2 will surely protect against just about any danger your acoustic might contact.
If you ever feel the need to chuck your acoustic off the top of a 3 story building, chances are pretty good that the protective Flexoskeleton padding system and reinforced impact panels will keep your guitar in one piece.
Quality
This is the highest quality acoustic gig bag I know of. Every part, honestly, is built to last.
The zippers are water-resistant, the outer fabric is near impenetrable, and the interior is reinforced in all areas most prone to failing.
It has built-in abrasion resistance to protect from scuffs and scrapes from heavy road-use, and the whole thing is held together with high-tensile thread. Truly, it's a hard case/gig bag to beat.
Portability
Maybe one thing is lacking in this otherwise excellent gig bag, and that's a front handle. This little added convenience would make the RBCA2 absolutely perfect. It's still really great without it since you get padded handles on the side and back, plus padded backpack straps.
Some people say it sits a little high on your shoulders, but I'd say this is easily overlooked considering all its other virtues.
Summary
Pros
Amazing protection from Flexoskeleton padding system
Stitched with high-tensile thread for extra durability
Reinforced storage pocket for accessory protection
Cons
If you want the highest standard of protection for your acoustic, the Reunion Blues Continental Voyager RBCA2 is without equal.
Just like its quality isn't cheap, neither is its price. But you get what you pay for, and the RCBA2 provides a level of security that's definitely worth the cost.
Check Price on:
---
Runner-up – Gator Cases Transit Series Acoustic Guitar Gig Bag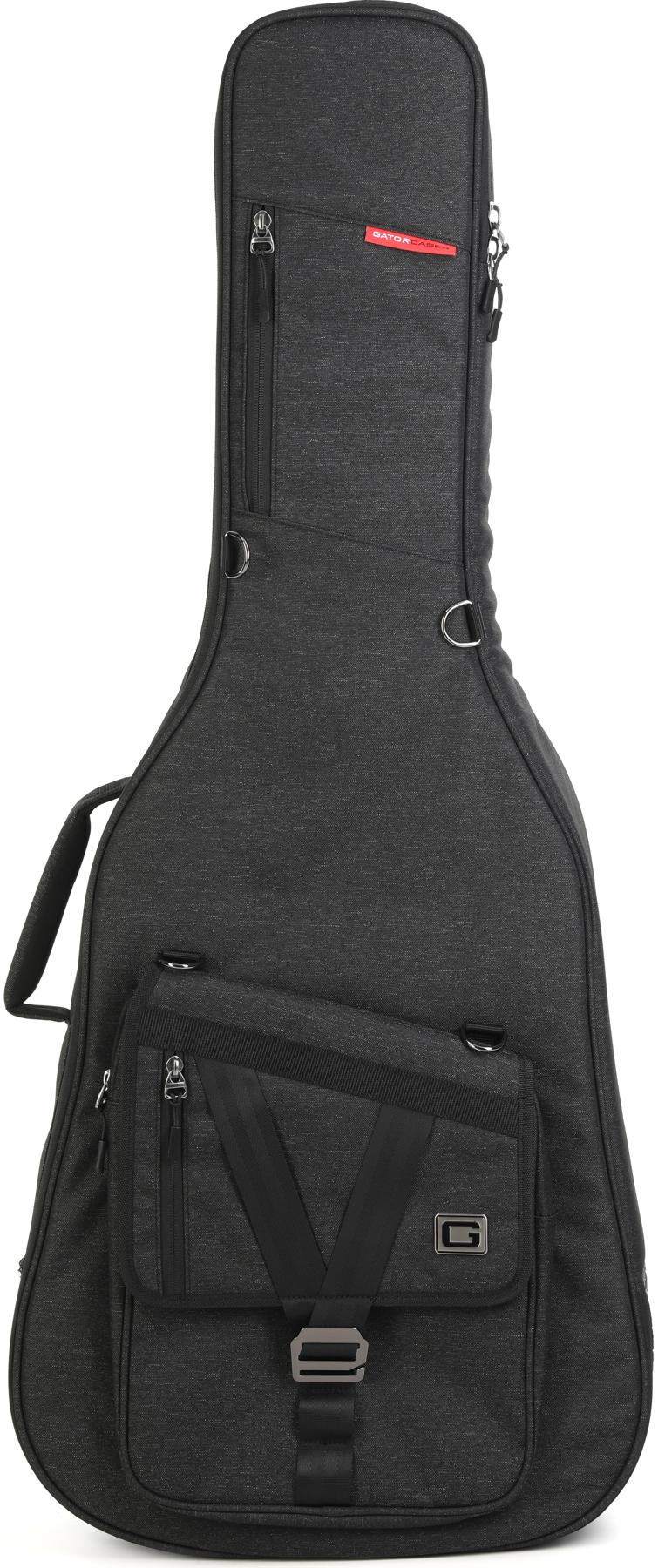 Protection
The Transit Series Acoustic Guitar Gig Bag from Gator Cases provides some of the most superior protection in the world of acoustic soft shell cases.
Made with thick dense foam measuring 20 millimeters thick, your guitar's covered on all sides.
Gator takes it a step further than basic padding though—the Transit Series also includes 3 removable interior padding blocks at the bottom bout, neck, and headstock areas for complete bump protection in all critical locations.
An extra-heavy-duty rubber guard on the bottom adds safeguards against both drops and water, so your acoustic stays safe and dry in even the busiest pubs.
Quality
Durable zippers,
a water-resistant mixed fabric exterior,
a plush interior,
and a riveted side-carry handle…
come together in this gig bag to craft a product of the highest quality.
Gator's one of the most trusted case companies around, and their Transit Series Acoustic gig bag is a fine example of why.
I've owned this bag myself and can say it's more like a hybrid hard-shell/soft-shell than a gig bag. Super protective.
Portability
There is one potential problem…Sometimes the backpack straps on this gig bag give out. It's rare, but it can happen.
Thankfully, the padding is strong enough that a fall from your back will probably cause no damage at all, but it's still a bad issue to have to deal with. Some people recommend avoiding this by reinforcing the attachment points with wire or metal rings. It sounds like it could work and would fix the only poor quality of this otherwise great acoustic case.
There are actually many ways to repair backpack straps, so if one does give out on you it doesn't have to ruin the case.
Summary
Pros
Thick rubber guard protects the entire bottom of the guitar
Removable padding for fitting a range of acoustic body shapes
Durable build from high-quality materials
Cons
Backpack strap attachments may fail(thankfully quite rare)
This is one of the higher-cost gig bags, so it's a real shame that the straps might come off. If Gator Cases would find a better way to attach them, I think this gig bag would have no competitors.
Until then, you can decide if it's worth the risk for you or not. As for me, I decided it was and found this to be one of the best acoustic guitar gig bags on the market.
Check Price on:
---
Most Affordable – CAHAYA Guitar Bag [Premium Version]
Protection
CAHAYA's Premium Guitar Bag is one of the lowest-cost options with the greatest protection. It's not quite on the same level as the high-cost cases on this list, but it does a fine job of saving your guitar from everyday bumps and bangs.
For padding, there's 1/2 inch of foam covering your whole guitar. There's also a small rubber bumper on the bottom to aid in shock-absorbency.
Quality
For the price, the CAHAYA Guitar Bag Premium Version is pretty well-made. It sports a durable, water-resistant Oxford cloth exterior that should last years against normal wear and tear.
The stitching, though hastily done, seems secure, and I've heard no complaints about straps falling off.
On the inside of most gig bags are two plastic guards that keep your strings from tearing the lining. This bag doesn't have those though, so there is a high chance your strings will rip the interior at some point.
Portability
Most soft guitar cases at this price point have cheap fabric handles. CAHAYA gives you an upgrade with heavy-duty silicone grips on both the front and the side. You can also carry it on your back with the padded straps. They're not removable, but I usually never take mine off anyway.
Accessory storage is in the form of two front pockets. One is large enough to carry music books, while the headstock pouch is perfect for picks, tuners, and capos.
Summary
Pros
0.5-inches of foam padding throughout
Rubber bumper and water-resistant exterior
Good protection at a budget price
Cons
Lacks rigidity to protect from crush damage
No scratch plates on interior; bag can be torn by sharp string ends
CAHAYA gives us the most inexpensive acoustic guitar gig bag around that will still keep your guitar safe.
A step up from the un-padded sleeves you can get for the same price, the CAHAYA Guitar Bag Premium Version is the top choice for a budget gig bag.
---
Best Budget – Hola! Music Professional Acoustic and Classical Guitars Gig Bag
Protection
Hola! Music holds nothing back in the Professional Acoustic and Classical Guitars Gig Bag. It's packed with a whole inch of protective cushion shielding your guitar from danger.
To stabilize your acoustic, this gig bag has a chunky neck pillow that straps over the strings. This keeps your guitar from knocking around inside so that the padding can do its job. There's also a pair of rubber bumpers to buffer against drops. And these serve a double purpose of keeping the case off the ground, so no mystery liquids running down the subway floor can seep into your bag.
Quality
With strong stitching and a rip-resistant external covering, the Hola! Music Professional Gig Bag is built to last.
No matter which way you look at it, this is a top-notch gig bag that is only made better by its low cost. Everything feels reliable and secure about it, and I wouldn't hesitate to trust it with my favorite acoustic.
Sadly, you're unlikely to fit a Jumbo-size acoustic in this bag since it's already a tight fit for traditional dreadnoughts. So, be sure to check the measurement of your guitar's bottom bout against the 16-inch width of this bag.
Portability
This gig bag probably has the most padded straps of any I've seen. I mean, these backpack straps really look like you could hike for miles without a hint of pain. Short trips are a breeze too thanks to the ultra-padded side-carry handle.
Plus, when you need to navigate through tight spaces (like on a bus), a convenient hanging loop on the back of the neck lets you easily carry your acoustic upright.
Its main storage pocket is spacious enough for a couple of music books or maybe a laptop, but probably not both.
Summary
Pros
1 full inch of foam padding
Extra-soft handle and adjustable backpack straps
Sleek design to carry your guitar in style
Cons
Probably too small for Jumbo-sized acoustics
I haven't seen any other gig bags of the same quality at this price.
The protection and durability you get from the Hola! Music Professional Acoustic and Classical Guitars Gig Bag is worth 3 times its cost.
---
Most Accessory Storage – Acoustic and Classical Guitars Gig Bag
Protection
With 15 millimeters of padding in some spots and 12 millimeters in others, the Hola! Music Acoustic and Classical Guitars Gig Bag stays just above the minimum amount of protection I would accept.
Like most budget-end gig bags, this one will guard your acoustic from dust and dirt and minor dings and dents. As with this gig bag's Professional version, the basic edition also comes with a strapping neck support block to hold your acoustic steady while on the go.
It also features an extra-large rubber bottom foot for extra protection from short falls.
However, it has little to save it from extreme jostles or hard knocks, so this bag's best when staying close to home.
Quality
This would be my top suggestion for low-cost acoustic gig bags except for one major issue: the zipper.
While it's not a problem in every case that ships, it seems that several do have faulty zippers that can fail without notice.
This same thing happened to me with a different affordable gig bag years ago while I was crossing the street and really messed up my guitar. To put it frankly, it sucked. So I would recommend you just check on the zipper of this bag every once in a while to make sure it seems alright, and maybe stay ready to catch it when you're on the move.
Portability
You've got several ways to carry this Acoustic and Classical Guitars Gig Bag. This includes front, back, and side handles, as well as backpack straps.
Except for the back hanging loop, each handle is thickly padded, so it's a comfortable gig bag to carry around—though, I might be wary of the backpack straps due to that zipper issue we talked about.
Both the storage pockets of this soft acoustic guitar case are relatively huge compared to most other brands, giving you all the accessory space you could need.
Summary
Pros
15 mm of dense padding absorbs jolts and shocks
Extra-large accessory storage pocket
Rugged 600D exterior is durable and water-resistant
Cons
Unreliable zipper may break or malfunction
This is a great gig bag if you never walk too far at one time with your acoustic. Stowed in the band van or in your car on the way to a gig, your guitar will be snug and safe. And, I'm probably being over-cautious in stressing that the zipper could fail—chances are you'll have no issues.
For the low cost and otherwise solid construction, it just might be worth the gamble.
---
The Verdict
Your guitar's safety is something you should treat seriously because repairs will cost you much more in the long run than getting a good case in the first place.
That's why I recommend the budget CAHAYA Guitar Bag Premium version least of all. It's good if you really can't afford anything better but should be your last choice.
The best acoustic guitar gig bag you can get is the Reunion Blues Continental Voyager Dreadnought Case.
Almost closer to a hard shell than a gig bag, this is a case proven to keep your guitar protected even in extreme conditions.
---
Buyer's Guide – FAQ
What Makes a Great Gig Bag for Acoustic Guitar?
I would say that the key components of a great gig bag are
the padding
and overall build quality.
Padding is going to provide the bulk of protection to your acoustic.
It should be at least 10mm thick to be trustworthy at all. Any thinner and you're mostly just protecting your guitar from dust.
Ideally, you want an inch or more of cushion, but anything above a half-inch will do a decent job of saving your axe from dings and dents. "Premium" gig bags take protection to a level above basic foam padding with additions like rubber bumpers, neck supports, and reinforced impact plates.
Any combination of those bonuses will go a long way in keeping your guitar safe from more serious damage.
The next most important thing to consider is the bag's quality. What good is an inch of padding if the bag falls apart while you're carrying it?
Top-rated gig bags should last for years of regular light use and at least a year of heavy touring abuse.
This means they need to be made with durable materials all around, from the zippers to the stitches and everything between.
Will a Gig Bag Protect My Acoustic?
As long as a gig bag has adequate padding, it will keep your guitar safe from most common damage—things like knocking the headstock against the wall, short falls, scrapes, etc.
Many are made to be water-resistant as well, so you won't have to fret too much if you get caught out in the rain on the way to rehearsals.
When taking your act on the road, your guitar will be protected in a gig bag as long as you can keep heavy equipment from falling on it. Keep the drums and cabs secured and everything should be good.
How to Pick the Best Gig Bag for You
So, you know that you want a lot of padding, but what else is important in a gig bag?
Well, obviously, the fit. Although gig bags are often one-size-fits-all, that's not the case for every guitar.
For starters, smaller acoustics like parlors or concerts will fit too loosely in a standard gig bag for great protection. Likewise, if you've got a jumbo acoustic, it might not fit inside a gig bag for dreadnought guitars.
Be sure to compare your guitar's body type to the gig bag recommendations before making any decisions. If you don't have a tape measure handy, can check this handy reference for common acoustic body shape measurements.
If you can measure your axe, just should do it to get some idea if the specific gig bag will be a good fit for your axe. This photo shows what parts of your guitar you probably should measure:
After you know it'll be a good fit, check out if it's got enough accessory storage for you. Every gig bag differs in the number and size of pockets, so find one that will fit all your smaller travel essentials. That's most of what you need to know to choose the best gig bag for you.
You might get lucky and pick a well-padded, high-quality gig bag that is also available in different colors, but looks should be your last consideration.
The most important thing is your guitar's safety, so strike the best balance you can between cost and quality, and you'll go home with a gig bag you're sure to love.
Should I Get a Gig Bag or a Hard Case?
Gig bags and hard cases each have their own pros and cons. Sometimes it's better to have your guitar in a gig bag, and other times in a case.
You might prefer a gig bag if you walk or use public transit to get to your musical destination. They're much less heavy than cases and generally a lot easier to carry thanks to their backpack straps.
They're also easier to store, so if you've got cramped quarters at home, a gig bag could be your better bet.
Hard cases are unbeatable in protection though. Check out our review of the best acoustic cases and you'll see what I mean.
They combine a hard outer shell with thick foam to create the best buffer against damage you can ask for.
Of course, if you're not planning to take your guitar on any rigorous journeys, you might not need so much safety, and a cost-saving gig bag could work just fine. It really depends on the type of trips you plan on taking and how cautious you want to be.
Bike rides, walking, buses, trains, and trams? A comfy gig bag will be great.
For the most part, I would avoid using a gig bag for air travel unless you can take your acoustic as a carry-on.
If it's gotta go under the plane, you definitely need a hard case.
Because remember, airlines break guitars:
---
Conclusion on Best Gig Bags for Acoustic Guitars
Your guitar, as well as your wallet, will thank you for all the repairs you'll avoid by keeping your acoustic protected. When you need a lightweight, comfortable travel option for your acoustic that will keep it safe on the trip, you want the best gig bag for acoustic you can find.
Stay safe!