Last Updated on November 30, 2023 by Justin Thomas
Best Overall – Reunion Blues RBCB4 RB Continental Voyager
Protection
Quality
Portability
Value for Money
Summary
Everything a serious player needs in protection with a durable design that's more than tour-worthy.

Reunion Blues has a great padding system called Flexoskeleton. This is a whole inch (25.4mm for comparison) of shock-absorbing foam.

It has reinforced neck support that locks your bass in place and removable bottom bout supports if you need more space.

A case that won't need replacing for a long time. The best gig bag for bass.
Check Today's Price on:
*Consider all links in this post to be affiliate links. If you purchase, at no additional cost to you, we may earn a small commission. It helps us to keep the lights on, thanks! 🙂
---
The Next Best:
Compare: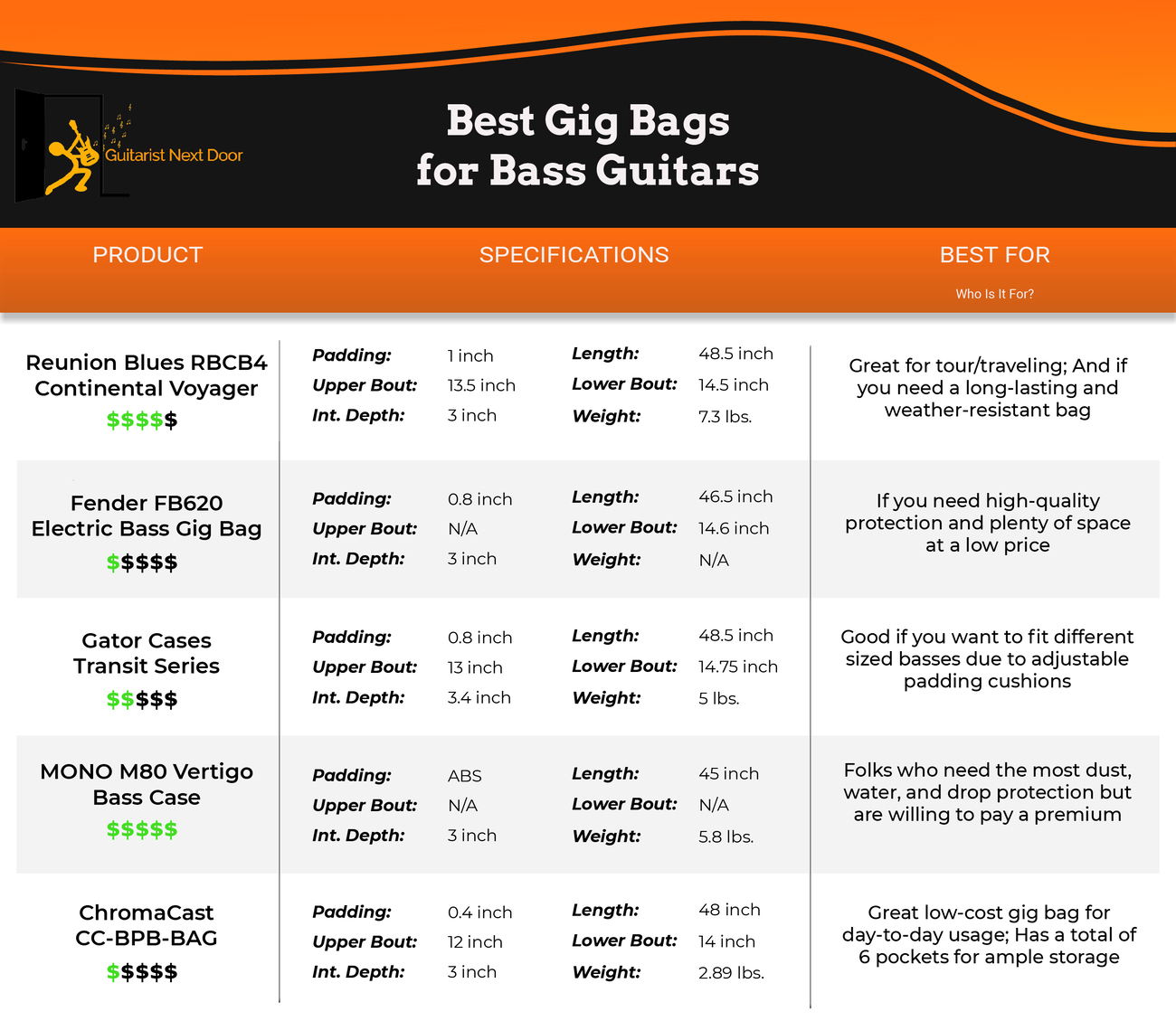 ---
No matter your level of musicianship, your bass deserves to stay safe when it's not busy laying down some lines.
From dust and dirt to dings, dents, and damaged necks, an protective gig bag for bass can do all this! Shield your groove-machine from all sorts of danger. So, you can worry less and focus more on slapping and popping your way to bass mastery.
And I'm about to reveal my 5 favorite gig bags for bass right now!
Let's first look at these fine gig bags, and at the end of the post, you can find the FAQ section that helps you to make the best choice possible.
Who crafted this post:
Author: Tommy Tompkins
Playing guitar since 2004. Primarily an acoustic guitarist who plays and writes traditional American folk music, with a background in melodic metal and a solid foundation as a bassist.
Hide The Rambling▲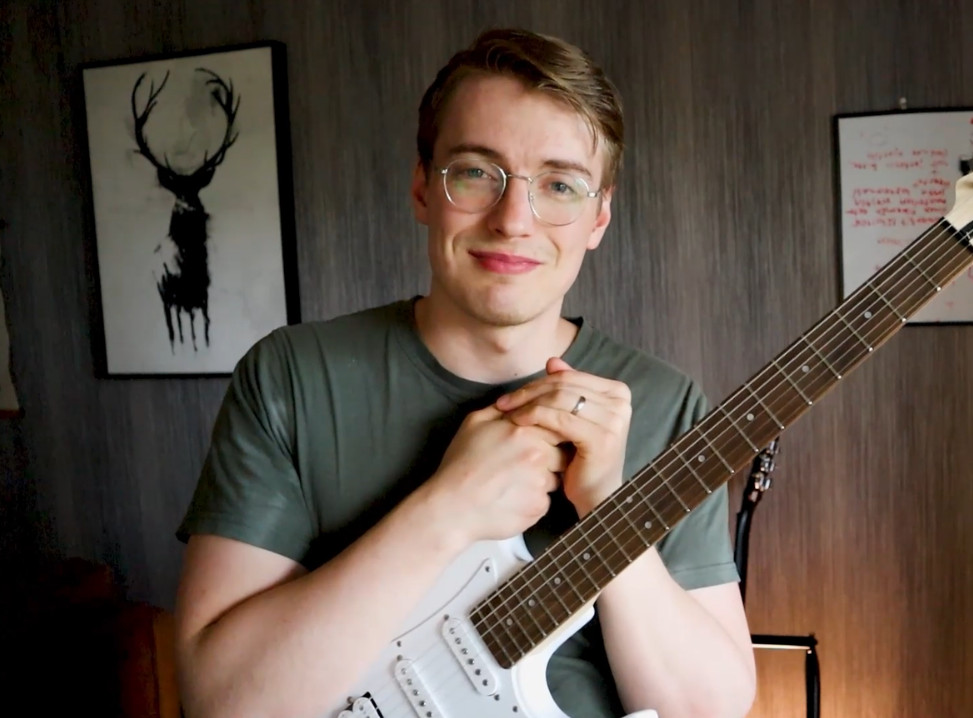 Editing & Research: Teemu Suomala
I first grabbed the guitar in 2009. I started this website in January 2020 because I couldn't do window installation anymore due to my health problems. I love guitars and have played dozens and dozens of different guitars through different amps and pedals over the years, and also, building a website interested me, so I decided to just go for it! I got lucky and managed to get awesome people to help me with my website.
I also got lucky because I have you visiting my website right now. Thank you. I do all this for you guys. If you have any recommendations, tips, or feedback, just leave a comment, I would love to chat with you. I have also been fortunate to produce content for several large guitar websites, such as Songsterr, Musicnotes, GuitarGuitar, and Ultimate Guitar.
I spend my spare time exercising and hanging out with my wife and crazy dog (I guess that went the right way…).
Hide The Rambling▲
Every one of these gig bags is here based on extensive research and decades of combined guitar experience of me (Tommy) and Teemu.
---
Our Favorite Music Store in The World!
Why?
– Excellent Customer Service (4.7/5 Trustpilot Score)
– Fast & Free Shipping
– Gear is Inspected, Tested, & Ready to Play When it Arrives to You (We love this)
– Fair Prices
Visit Sweetwater:
Our reviews of the top 5
Best Overall – Reunion Blues RBCB4 RB Continental Voyager Electric Bass Guitar Case
Protection
Reunion Blues has a great padding system called Flexoskeleton. This is a whole inch (25.4mm for comparison) of shock-absorbing foam.
It has reinforced neck support that locks your bass in place and removable bottom bout supports if you need more space.
The RBCB4 RB Continental Voyager is made with special EVA foam-backed supports at spots more prone to damage, bringing this gig bag to a higher standard of protection than most others.
Quality
It's not just the Flexoskeleton that makes this case great.
Every stitch of this bag is done twice-over with high tensile thread. It's even reinforced in stress-tested areas that are more likely to tear.
Basically, the chances of this bag falling apart are slim to none.
With this level of durability, I'd expect the Continental Voyager to last through years of road use.
Portability
With multiple padded handles including hide-away backpack straps, the RBCB4 is as comfortable as can be.
Storage is limited to one big pocket, but this is also EVA-backed to protect your accessories.
And, since its exterior and zippers are tested for water-resistance, you won't have to worry about the occasional spilled beer.
Summary
Pros
Great craftsmanship gives professional-level quality
Wear- and weather-resistant exterior and zippers
Additional adjustable protective pads
Cons
Though it's not a cheap gig bag, the Reunion Blues Continental Voyager Electric Bass Guitar Case won't need replacing for a long time.
It gives everything a serious player needs in protection in a durable design that's more than tour-worthy.
---
Runner-Up – Fender FB620 Electric Bass Gig Bag

Protection
There's better protection in the Fender FB620 Electric Bass Gig Bag than I would expect in one for this price.
While it's not the most padded bag around, it does have a couple of innovative features that I like.
These are things like its rubber headstock bumper to reduce your shock to the upper parts of your bass. On the other end is a dedicated strap-pin bumper, set between a pair of thick rubber soles.
20 millimeters of foam padding finishes off the safety, securing your bass on all sides.
Quality
Fender's FB620 is wrapped up in a durable 600D polyester exterior with water-resistant zippers so the inside of the case stays dry in wet weather.
All its pieces seem well-made, from the internal endpin cushion to the neck support block. Its only flaw in my eyes is its angled headstock area. This looks cool, I get it! But, the slope of this design reduces the area for a bass to rest inside.
I've heard that even with pretty standard bass shapes it can be a tight fit.
Portability
If you can squeeze your bass inside, you'll be able to carry it in comfort and style.
Its backpack straps are thickly cushioned, and so is the back of the bag itself. You basically get shoulder bumpers that protect YOU from shocks and jolts.
Then there's the side-carry handle, which is also padded, and a grab handle on the back.
Accessory storage is one big pocket on the front that contains a few smaller pockets. You can easily organize your picks, cables, sheet music, and more.
Summary
Pros
High-quality protection at a low price
Padded bumpers on shoulders for extra comfortable carrying
Multi-compartment storage pocket for organized accessories
Cons
Slim design can make it hard for some basses to fit
As the only bag on this list where fit is questionable, here are its internal dimensions:
Overall Length: 46.07″
Body Depth: 3″
Lower Bout Width: 14.57″
If it looks like it would work with your bass, this is one of my favorite gig bags.
The price is hard to beat for the protection you get and, if it fits your bass, I recommend this bag for most non-pro players.
Check Price on:
---
Best for Occasional Performers – Gator Cases Transit Series Bass Guitar Gig Bag

Protection
Gator Cases' Transit Series Bass Guitar Gig Bag offers protection with both its 20mm foam padding plus the use of removable support cushions.
These extra-thick supports are placed in 3 strategic locations:
Bottom bout- protects your bass endpin
Neck- Stabilizes neck and headstock
Headstock- Prevents hardware damage and headstock stress
What I like about these is that they're removable. So if you've got a long bass that fits tight, you can take one or more cushions out while still being protected by the case's rigid foam.
Quality
In addition to its interior protection, the GT-BASS gig bag keeps moisture from your bass with its water-resistant blended fabric exterior.
This bag even protects itself with a thick rubber foot on the bottom. It keeps the bag from wearing down when you set it upright and adds extra shock-absorption overall.
Portability
One thing you've got to look out for with this gig bag is its weak strap connections. Though I owned the acoustic version of this same gig bag and never had a problem, I can't ignore the complaints of others.
What can happen is that the plastic hooks that connect the straps at the bottom of the bag can just break sometimes. This obviously sucks and can be really dangerous for your bass.
It's rare and may not happen to you, but you can preempt any damage this might cause just by reinforcing those points with wire or metal rings or replacing them altogether.
Summary
Pros
20mm of internal padding throughout
3 additional removable cushions for endpin, headstock, and neck support
Ample zipping accessory pockets with adjustable flap closure
Cons
Straps may break if not reinforced
Gator's known for some quality cases, and it's too bad they let these weak plastic hooks slide. I still think this case is worth the money because of its otherwise high-quality construction.
Since its padding, storage, and comfort are all pretty great, I'd recommend it as a good gig bag for semi-regular performers… so long as you feel you can trust it.
Check Price on:
---
Most Durable/Premium – MONO M80 Vertigo Bass Case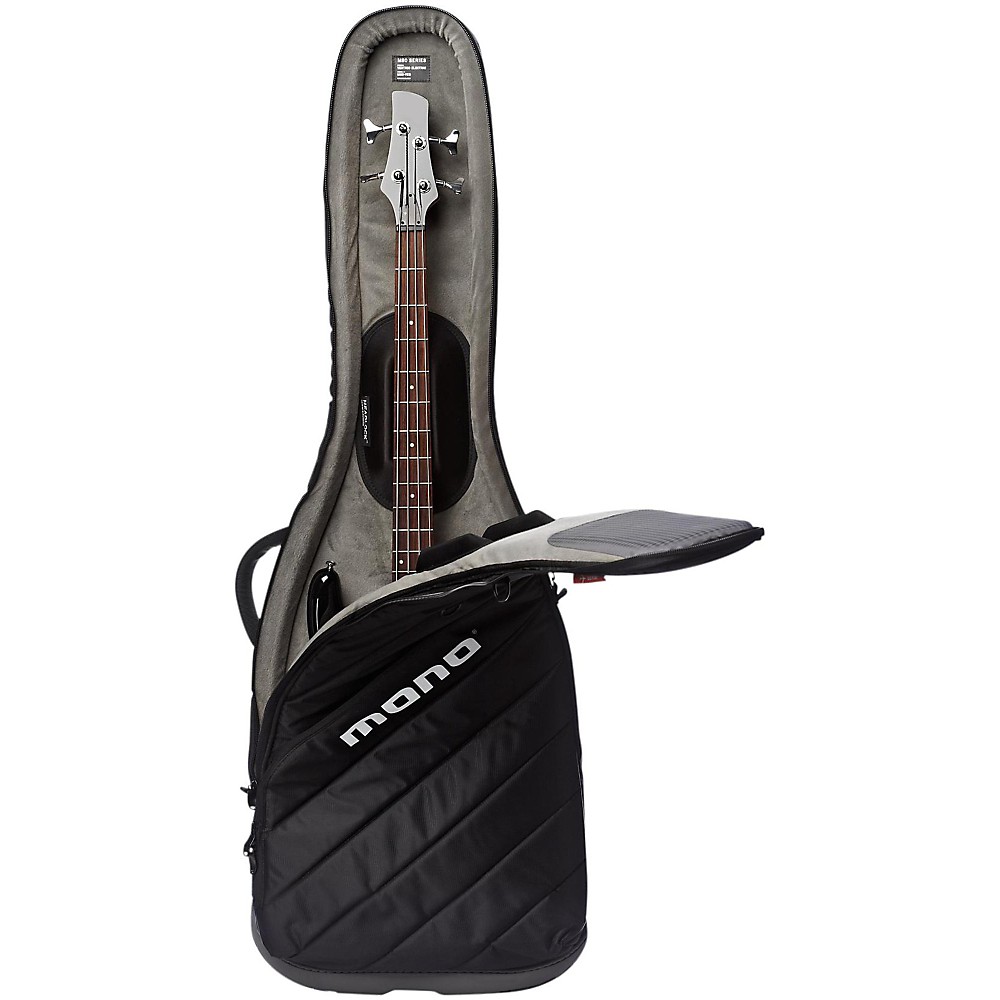 Protection
MONO takes protection seriously in the M80 Vertigo Bass Case.
From reinforced ABS padding with EVA reinforcements throughout to its drop-deflecting "the Boot" bottom sole, your bass will be cradled in security.
Another protective feature offered in this case is the "Headlock" neck suspension system. This is essentially a top and bottom neck support block that clamshell shut over your bass' neck when you close the case. It stabilizes your neck and headstock so they're not damaged by big shocks.
Quality
As a top-level gig bag, the M80 Vertigo is put together to a high degree of quality. Its handle is riveted to the bag so it's sure to stay on, and its backpack strap attachment rings are sturdy steel.
An exterior made of a material called "Sharkskin" provides protection against bad weather while being abrasion-resistant itself.
Portability
For handles, the Vertigo offers padded backpack straps, a side-carry handle, and a back loop. With a slim design, storage is pretty tight in the front pocket.
Although the bag is made to work with MONO's "Tick" external accessory storage, that's an extra cost on top of an already pricey case.
Unlike most gig bags, this one loads from the top. Personally, I prefer bags that unzip fully, but you might like a top-loading design yourself.
Summary
Pros
Headlock neck support automatically stabilizes bass
Thick rubberized sole protects from drops on endpin
Highly water-resistant Sharkskin exterior
Cons
Expensive
Top-loading design is inconvenient
While many people applaud the MONO M80 Vertigo gig bag, it's not my most favorite. It has great features and does a fine job of protecting basses, but I'm not sure if the price is really justified.
Either way, it's a strong bag that's made to last. So if the price doesn't turn you away, I think you'll get a long haul out of the Vertigo.
Check Price on:
---
Best Budget – ChromaCast CC-BPB-BAG Electric Bass Guitar Padded Gig Bag
Protection
As the budget option, the padding of the ChromaCast CC-BPB-BAG doesn't quite compare to the higher-tier products in this review.
Whereas most have 20 or 25 millimeters of foam plus reinforcements and extra cushions, the ChromaCast Padded Gig Bass only has 10 millimeters of basic soft foam.
This really won't protect your bass from more than the occasional ding. There's basically no drop or shock protection. Overall, this gig bag will protect your finish, but can't really save your bass' neck in bad accidents.
Quality
You know the saying "…get what you pay for." Well, it's usually pretty true, especially with the lower-cost things.
This gig bag is very affordable, but it's not going to last for years of heavy travel. It's good for the occasional trip to an open mic, but bouncing around in the back of a tour bus will probably tear this bag down pretty fast.
Portability
The ChromaCast does provide some nice handle choices. It's got the typical side-carry handle, a chunky front grip, and lightly padded backpack straps.
They don't look like the most comfortable backpack straps in the world, but they're better than some.
This bass gig bag really shines in storage, almost to an excess. There are 6 total pockets spanning from top to bottom, so you'll probably never run out of accessory storage space.
Summary
Pros
Super-low cost
Loads of extra accessory storage
Decent foam padding
Cons
Low protection
No neck support
Sometimes all you need is a bag to keep your bass safe at home, and the ChromaCast CC-BPB-BAG Electric Bass Guitar Padded Gig Bag is great for that purpose.
I wouldn't take it on tour, but at a cost so low, it's almost worth just having around as an extra.
We're not all working musicians, and for my own needs, something like this would be fine for safe bass storage.
---
Verdict
Although I like Gator Cases overall, the weak straps of the Transit Bass Gig Bag are kind of unacceptable at that price. I think you can do better with most of the other options.
Personally, I think the Reunion Blues RBCB4 Continental Voyager is just too cool in every way. It's got awesome protection, comfortable carrying features, and a super durable build.
Everything about it appeals to me, and I think it's the best gig bag for bass you can get.
---
Buyer's Guide – FAQ
Will a Gig Bag Protect My Bass?
Basses are some big ol' clunky things, pretty easy to whack on every corner.
How many times have you smacked into the edge of your chair just moving your bass across the room? This kind of accidental ding damage is the exact kind of thing gig bags protect against best.
Sure, these little nicks in your finish can add character to your bass, but it just takes one bad scrape to seriously hurt your finish.
Gig bags give you a convenient way to move your bass safely. They're great for padding against scratches and dents you can get in the course of a day.
When you start looking at the best bass gig bags, the protection they offer becomes more serious. If you play or even plan to play shows, you'll find a lot of benefits in bags that can take a real beating.
Bass fell off your shoulder while you were lugging in a monitor? No big deal.
Wobbly stack of drums tumbled over in the tour van? You're fine.
Caught in the rain then crash in a puddle? Covered.
There are tons of ways your bass can get banged up when you start playing out, and a gig bag's got your bass' back for most of this stuff.
But be aware that they offer little protection in extreme travel situations like flying. If you need to stow your bass in a plane's cargo hold, look for the best hard cases for bass.
What Makes a Great Gig Bag for Bass?
The most important trait of any gig bag is its protection, and we've about covered that. Basically you want to look for a few different elements in bass gig bag protection:
Padding– look for 10 to 25+ millimeters of shock-absorbing padding
Neck support– cushioned pillow blocks that stabilize the neck and headstock
Water-resistance– the best gig bags repel water to varying degrees
Rubber panels– thick rubber on the bag's exterior protects against falls
Durability– the bag should be well-made so that it doesn't fall apart in use
These safety components combine to shield your bass from things like collisions, falls, and inclement weather.
Now a gig bag could in theory be a 20-pound lump of plastic-wrapped foam you shove your bass inside, but that wouldn't be very convenient right? haha
So great gig bags cram all these protective features inside sleek, compact units. They add padded straps and comfortable handles so they're easy to carry.
And, importantly, they try to be as lightweight as possible. Your bass is already heavy enough, so gig bags strike a balance between protection and weight to make your journey comfortable.
The final crucial feature of the best bass gig bags is accessory storage.
The amount of storage space you have can vary a lot from bag to bag. But, you usually have enough room to fit a few instrument cables and the common gear like tuners, picks, capos, strings, and string-winders. You can actually fit in a laptop and lots of sheet music—plus a pedal or two—in bags that prioritize storage. Taking your show on the road just gets easier the better a gig bag you get.
What Is the Right Gig Bag for Me?
This is one of those questions without a definite answer because only you know what you really need. But, I can give you some pointers that will help you choose.
If you're a total newbie to music, you might want to start off with a lower cost gig bag. It's pretty common that people pick up playing bass only to stop a few months in.
At first, it can be the smarter choice to just go with low-cost gear so you're not out a lot if you decide this isn't the hobby for you.
When you've got some experience under your belt and feel confident you're gonna keep playing as time goes on, that's when you should start looking at the more "deluxe" gig bags.
For most of us musicians, we won't exactly be jet-hopping from country to country on global tours, so it's really not necessary to have the most expensive, highest quality gig bag around.
Your bass will be fine in most situations in a mid-grade gig bag. Though not the absolute safest, these are still reliable storage options that will protect your bass when you travel to gigs or the rehearsal space.
Choosing among these becomes a question of how much storage space you want and what level of comfort you're after. Most gig bags strike a nice balance between these two factors, but you might find one that has that extra pocket or strap-padding you're after.
Once you've hit the truly pro stage of bass playing, there are lots of great gig bags that are made for extensive use and hard travel. They're ultra-padded and have special reinforcements to give as much protection as possible.
Storage is ample in these gig bags and they feel great on your shoulders, but this comes at a price (and typically a high one). They're worth it if you really want the greatest feeling of security a gig bag can give you and a convenient way to take your bass on extended road trips.
Basically, if you know what kind of stress your bass will face during your time together, you can buy your gig bag accordingly.
Easy-going playing at home? Aim for low-cost options.
Playing out at the local bar once a week? Mid-range gig bags are a great choice.
Cross-country tours with a show every night? Congratulations! You're a pro, and your bag should be too!
You can find great guitar stands for bass here.
Conclusion
Whether you need a quick budget bag or a case you'll use for years, there's a gig bag out there for you. You might like the Continental Voyager or Vertigo if you're a pro, while the Fender and ChromaCast are better for players who don't have to travel as much.
Whatever your choice, I think you'll be more than happy with these best gig bags for bass.
I wish you all the best and keep rocking!
You might also like:
We are sorry that this post was not useful for you!
Let us improve this post!
Tell us how we can improve this post?