Last Updated on November 29, 2023 by Justin Thomas
Best Overall – Crossrock Metro Series Gig Bag
Protection
Quality
Portability
Value for Money
Space for Accessories
Summary
Note: this gig bag is on/out of stock quite often. Makes sure to get the 335 version of it.

Crossrock's Metro Series ES-335 gig bag is one of the most durable, best protecting, safest, and most comfortable gig bags you can find.

A couple of cool things:

-Over an inch of protective foam
-Extra-large padded accessory storage pocket

This gig bag offers a great value that I don't think can be beaten, letting you safely carry your axe wherever you go without decimating your budget.

These are the main reasons why this gig bag is my favorite for 90% of the 335 owners.
Check Today's Price on
*Consider all links in this post to be affiliate links. If you purchase, at no additional cost to you, we may earn a small commission. It helps us to keep the lights on, thanks! 🙂
---
The Next Best:
Compare:
---
The ES-335 is one of the most iconic guitars ever made—as the first semi-hollow electric, it is a true piece of history that revolutionized guitar music.
Whether you've got the Gibson original or an Epiphone reproduction, you'll want the best gig bag for ES-335 you can find to ensure your guitar's safe wherever you go.
Let's first look at these fine bags, and at the end of the post, you can find the FAQ section that helps you to make the best choice possible.
Find our picks for the best Gibson Electric guitars here.

Gibson ES-335 vs ES-339. How to tell them apart? Which one is for me?
Who crafted this post:
Author: Tommy Tompkins
Playing guitar since 2004. Primarily an acoustic guitarist who plays and writes traditional American folk music, with a background in melodic metal and a solid foundation as a bassist.
Hide The Rambling▲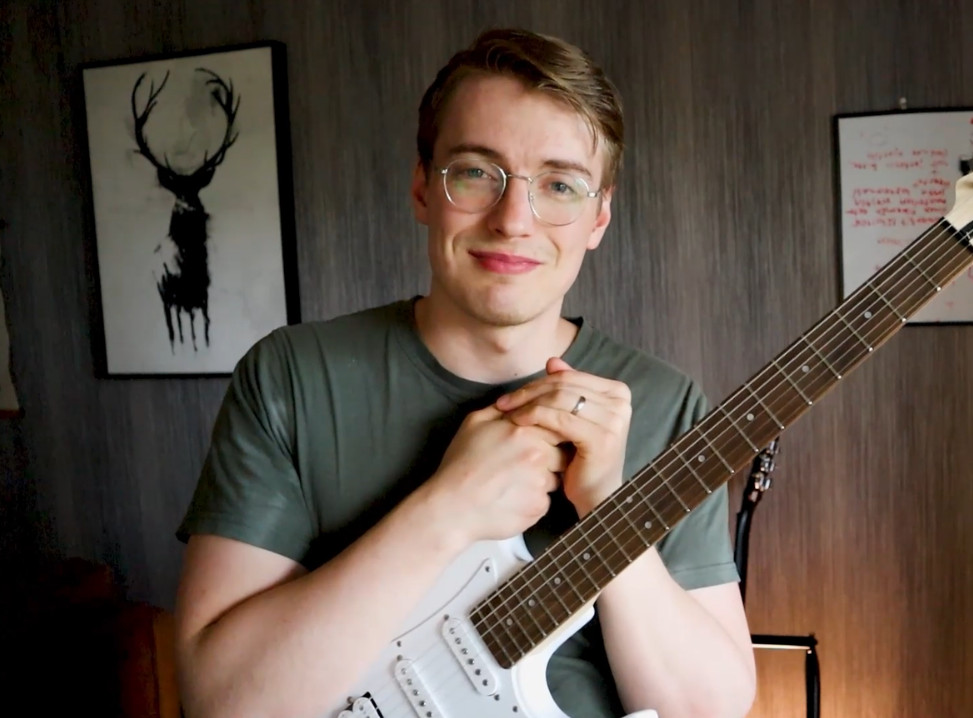 Editing & Research: Teemu Suomala
I first grabbed the guitar in 2009. I started this website in January 2020 because I couldn't do window installation anymore due to my health problems. I love guitars and have played dozens and dozens of different guitars through different amps and pedals over the years, and also, building a website interested me, so I decided to just go for it! I got lucky and managed to get awesome people to help me with my website.
I also got lucky because I have you visiting my website right now. Thank you. I do all this for you guys. If you have any recommendations, tips, or feedback, just leave a comment, I would love to chat with you. I have also been fortunate to produce content for several large guitar websites, such as Songsterr, Musicnotes, GuitarGuitar, and Ultimate Guitar.
I spend my spare time exercising and hanging out with my wife and crazy dog (I guess that went the right way…).
Hide The Rambling▲
---
Our Favorite Music Store in The World!
Why?
– Excellent Customer Service (4.7/5 Trustpilot Score)
– Fast & Free Shipping
– Gear is Inspected, Tested, & Ready to Play When it Arrives to You (We love this)
– Fair Prices
Visit Sweetwater:
Our reviews of the top 5
Best Overall – Crossrock Metro Series Gig Bag
Protection
The Crossrock Metro Series gig bag for ES-335 is really top-of-the-line when it comes to soft case protection.
It features 1.2 inches of super absorbent foam padding to keep your semi-hollow safe from the hardest collisions, as well as a locking neck support pillow and a rubber-coated bottom end.
Quality
With reinforced stitching throughout, riveted handles, and metal-secured backpack straps, the Crossrock CRDG2055AGR is all high quality. Its protective exterior keeps water and moisture away from your ES-335 while looking sleek and cool in a dark gray with red highlights.
On top of this, it's got a low-profile accessory pocket that is also padded, so even your little pieces of gear stay safe on the road.
Portability
This gig bag has really all the handles you'd ever need—backpack style, side-carry, and front and back subway grips. Each is padded for comfortable carrying however you hold it.
And though it might not have much cushion for your back, its slim and lightweight design is built for pain-free portability.
Summary
Pros
Over an inch of protective foam
Extra-large padded accessory storage pocket
Riveted side-carry handle and metal clamps on backpack straps
Cons
Crossrock's Metro Series ES-335 gig bag is one of the most durable, best protecting, safest, and most comfortable gig bags you can find, as well as one of the lowest cost options for semi-acoustic soft cases.
It's really a great value that I don't think can be beaten, letting you safely carry your axe wherever you go without decimating your budget. The best gig bag for Gibson ES-335.
---
Runner-up – Reunion Blues RBCSH RB Continental Voyager
Protection
The Reunion Blues RBCSH RB Continental Voyager really does protection right with its reinforced Flexoskeleton design and inch of durable foam padding.
For most typical travel dangers, this gig bag will keep your ES-335 safe and sound.
The only thing it lacks is a rubberized bottom, but the end-pin protection should cover this deficiency in all but the most extreme cases.
Quality
This is a gig bag made of high-quality materials in superb construction, including a reinforced neck brace system and a weather-resistant Ballistic Quadraweave exterior.
While its backpack straps could be a little more secure, they're overall dependable and should hold up for a long time.
Portability
Perhaps the best feature of the Reunion Blues RBCSH RB is its comfortable weight distribution.
With thickly padded backpack straps and side carry handle, the Continental Voyager feels like carrying a cloud.
Though you may never have to, you could probably walk for miles with this bag on your back without a single ache in your shoulders.
Summary
Pros
A whole inch of protective padding
Rugged "Flexoskeleton" prevents crushing damage
Designed for balance and comfortable weight distribution
Cons
The cost of the Reunion Blues RBCSH is kind of up there, but when you're looking for protection for the famed ES-335, you shouldn't be cheap.
It's a great bag for touring musicians and hobbyists alike, with really no flaws in the design. The price is a little bit up there, but you are probably not going to be disappointed if you choose this bag.
Check Price on:
---
Most Reliable – MONO M80 Vertigo Semi-Hollow Electric Guitar Case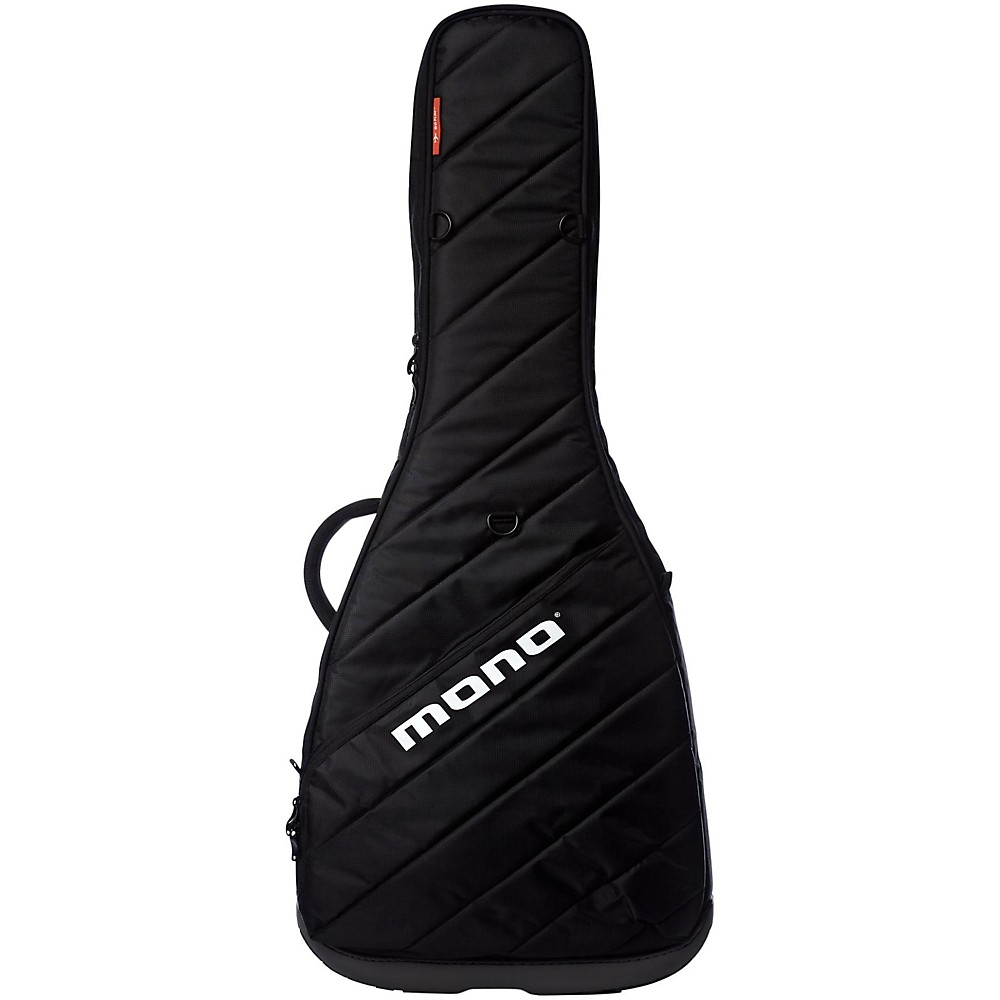 Protection
MONO's M80 Vertigo Semi-Hollow Electric Guitar Case covers all the basics of gig bag protection: thick padding, water-resistance, and impact deflection.
It sports a couple of bonus features too, like MONO's special "Boot", which is a rugged rubber covering on the bottom of the bag. With "The Boot" vertical falls onto the strap button are nothing to worry about.
You also get a Headlock Suspension System that keeps your neck in place without the use of straps or velcro.
Quality
MONO claims their gig bags are made with military specifications. While I'm not sure what an army-issue gig bag would actually look like, I can say that its "sharkskin" exterior is tough as can be, while its riveted handles ensure it won't come apart in your hands.
Portability
This is one of the lighter weighing gig bags for ES-335, which is good because it doesn't have the greatest shoulder strap padding.
It's not uncomfortable to carry, but I think you'll start to feel it in your shoulders after any extended lengths of time on your back.
Summary
Pros
Thick rubber guard on bottom protects against falls
"Headlock" system easily and automatically secures neck in place
Strategically placed impact absorbing ABS panels
Cons
The MONO M80 Vertigo gig bag is the most expensive option in this review, and to be honest, I'm not sure why. It could be that the sharkskin exterior and rubber boot really are that much more superior to all the others, but I can't say with certainty.
If your top concern is durability, the cost is definitely worth it, as this is a reliable gig bag that won't let you down.
---
Best Accessory Storage – Gator Cases Pro-Go Ultimate Guitar Gig Bag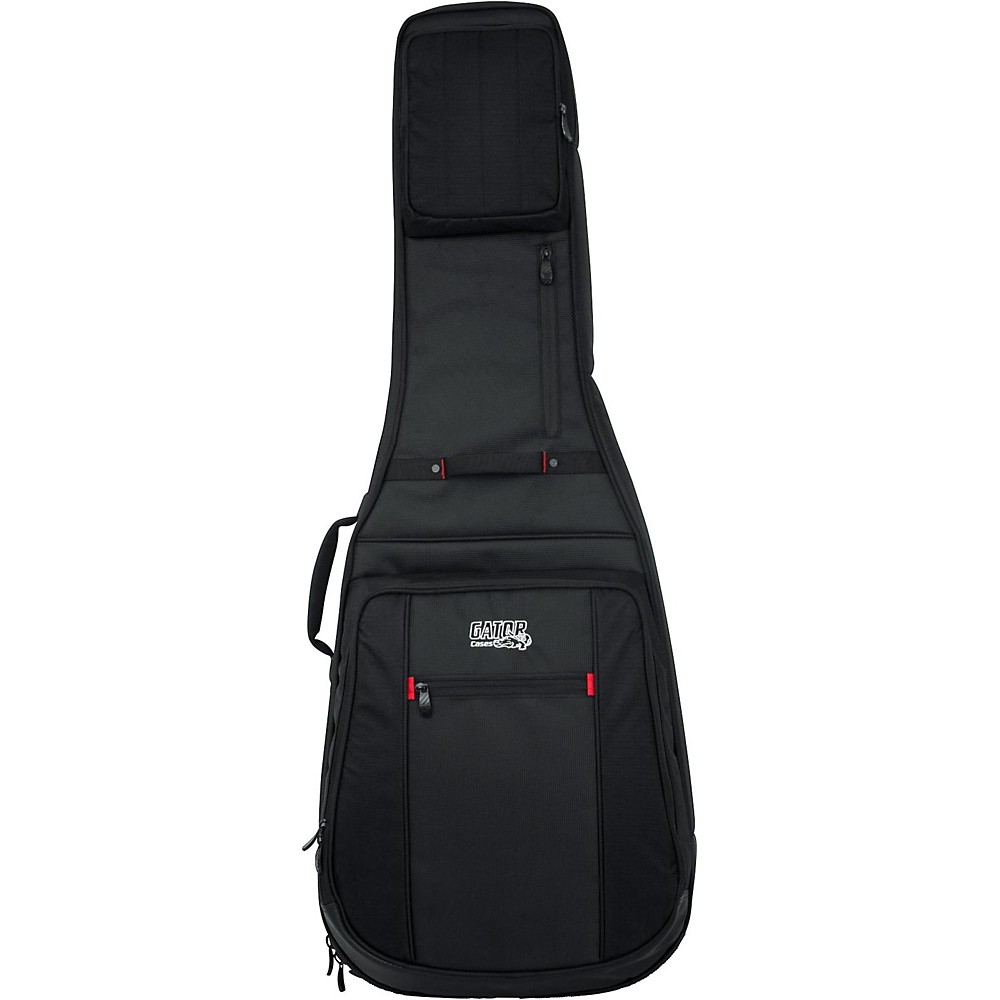 Protection
The Pro-Go series from Gator Cases was actually the set that turned me onto this company in the first place.
Why?
Because they did this demo video showing that you can literally throw your guitar out of a moving vehicle while in the Gator Cases Pro-Go Ultimate Guitar Gig Bag with no damage whatsoever.
This is thanks to its super-thick padding and internal shock absorber called the "body block."
Quality
In just about every way, the Gator Pro-Go is one of the best gig bags out there. It's strong and water-proof and has a couple of really big pockets for storing your extra gear.
However, some Gator bags have inadequate stitching on the backpack strap attachment points which can cause them to fail. In a cheaper gig bag, this could mean the death of your guitar.
Since the protection is good with the Pro-Go, your guitar probably won't shatter if it falls from your back, but this is still a hugely annoying inconvenience if the strap breaks.
Portability
The backpack straps, weak though they may be, are definitely comfortable while they last.
Plus, this gig bag comes with a rain fly you can pull over the case if it starts raining while you're out, a feature not found in many other bags.
My advice? Add extra stitching or even wire reinforcements to the backpacks straps where they attach to the bag, and you'll increase the quality of this model tenfold.
Summary
Pros
Soft, finish-friendly microfleece interior
Strong enough to protect against major drops
Includes hideaway rain cover for added weather protection
Cons
Backpack strap attachment points can break
This is a great bag for the back of the tour van, while maybe not so good as a carry companion due to its weak straps.
The Gator Cases Pro-Go Ultimate Guitar Gig Bag G-PG-335V is one of the safest gig bags you can find in terms of shock absorption and padding, all while falling right in the middle of the price range.
Check Price on:
---
Most Affordable – Reunion Blues RBX335 Semi-Hollow Electric Guitar Bag
Protection
Since this is our second entry from Reunion Blues, you can probably tell that they get the job done right.
Their RBX335 Semi-Hollow Electric Guitar Gig Bag is a prime choice for high-quality guitar protection, sporting dense multi-layer foam, impact protection panels, and a highly water-resistant exterior.
Your guitar is protected on all sides with this gig bag, though you should be careful dropping your ES-335 directly on the bottom bout as it doesn't have any shock-absorbing rubber.
Quality
In all ways but one, Reunion Blues' RBX335 is basically without issue. It's simple protection at its finest, covering all the bases of safety without adding too much to the cost.
The one problem it has is that the stitching on the exterior can rip. This doesn't directly impact the overall protection of the bag, but it will allow moisture in if you get caught out while it's raining, which can potentially damage your guitar.
Portability
This is a super lightweight gig bag, and it's got comfortable padding on both the side-carry handle and the backpack straps so it's not painful to travel with at all.
Additionally, it has a really nice storage pocket that even features a cable organizer, keeping your accessories easily accessible at all times.
Summary
Pros
Multilayer foam for levels of protection
Integrated cable organizer in storage pocket
Lightweight and comfortable to carry
Cons
Stitching on exterior can tear
This being the lowest cost option on this list is a real sign that these are truly the best gig bags for ES-335.
Though it's priced low, it ranks high in all the important categories. Treat it right, avoid snagging the exterior on sharp objects, and the Reunion Blues RBX335 Semi-Hollow Electric Guitar Gig Bag will get you from home to stage to studio with both comfort and dependable protection.
---
Verdict
Normally I really like Gator Cases, but the possible strap dysfunction of the Pro-Go G-PG-335V has me a bit worried. Although if you take extra steps to reinforce the backpack straps you shouldn't have a problem, this is a hassle worthy of the last place.
Now, it's not often that the best option is one of the most affordable, but the Crossrock Metro Series gig bag for ES-335 really nails it in every category. You get comfortable portability, great storage, and amazing protection all at a totally fair price, making the CRDG2055AGR(catchy name right?:D) my top-recommended ES-335 gig bag.
---
Buyer's Guide – FAQ
What Makes a Great Gig Bag for ES-335?
Compared to most solid body electrics, the ES-335 is a big guitar, so your first concern in choosing a great gig bag should be its size.
Not every gig bag for electric guitar will fit the ES. It's something of a cross between electrics and acoustics, and the gig bag you choose needs to be ready to handle this.
Once you've found a bag big enough, you should look for those that offer the most protection.
In gig bags, this protection is mostly centered on foam padding. For this, thicker is better, and you want at the very least 10 millimeters all the way around.
Ideally, protect your ES-335 with 15-30 millimeters of padding.
The next thing to consider is portability. The vast majority of gig bags have backpack straps and a side carry handle, but these differ in their quality and comfort.
Again, the more padding in the straps the better. The ES-335 weighs about 9 pounds, and if you've got a long way to go and poor backpack straps, this can hurt your shoulders in no time.
Also, make sure that the straps are attached really well to the bag! No matter if your guitar cost $50 or $5000, you don't want to lose it because a strap on your gig bag failed. The best gig bags have reinforced stitching all around with an extra focus on the strap attachment points.
With portability and protection out of the way, everything else is a bonus. Look for the features that serve you best, like extra accessories storage, vented carrying systems, cable organizers, and so on.
There are lots of great gig bags for the Gibson ES-335 available, so I feel confident you'll find one you and your guitar will be really happy with.
Will a Gig Bag Protect My Guitar?
A nice padded gig bag is one of the best ways to protect your guitar in most situations.
In any one of the bags in this review, your ES-335 will be safe while walking, biking, driving, jogging, and gigging. They'll keep your guitar safe from scratches and scrapes, bumps and bangs, and dirt and dust.
However, they do have limitations. Only the highest quality gig bags will protect your guitar from major crashes, and even then it's not guaranteed.
They're not great for climate control either. Due to this, there are very few times I'd recommend flying with a gig bag in the plane's cargo hold.
For the utmost protection, a hardshell case is always your best bet, but a reliable gig bag will get the job done too except in the most extreme circumstances.
---
Conclusion
Choosing the best gig bag for ES-335 is an important step to take in protecting this classic axe.
Lucky for you, there are a lot of great options, from the affordable yet super secure Crossrock Metro Series to the ultra-comfy Reunion Blues RBCSH.
You really can't go wrong with any of these ES-335 gig bags, so feel free to choose the one that seems to suit you best. You can keep on rocking knowing your semi-hollow is safely cushioned whenever you're on the go.
I hope that this guide helped you to choose the right gig bag for you. If you have any questions, leave a comment down below and feel free to share this post too.
I wish you all the best and keep rocking!
You might also like:
We are sorry that this post was not useful for you!
Let us improve this post!
Tell us how we can improve this post?