Best Overall – Fender FE1225 Electric Guitar Gig Bag
Protection
Quality
Portability
Value for Money
Summary
This Fender's gig bag can fit a Jazzmaster perfectly without making it look like an overstuffed sausage (which happens too often with other bags).

The exterior of this bag is made from tough materials that won't easily tear or rip apart while carrying it around.

The interior felt liner makes sure that the guitar stays safe against scratches and nicks from other items inside the case itself.

Plus, the sleek and slim design makes easy storage and transport possible! And reverse water-resistant zipper…
Check Today's Price on
*Consider all links in this post to be affiliate links. If you purchase, at no additional cost to you, we may earn a small commission. It helps us to keep the lights on, thanks! 🙂
---
The Next Best:
---
With the unusual offset body shape of the Fender Jazzmaster, it can be hard finding a good gig bag for your guitar.
I'm big on guitar safety and love a good gig bag, so I've put together this list of the 5 best gig bags for Jazzmaster to make your search easier. These gig bags will protect your Jazzmaster anytime you're on the go and give you a comfortable, convenient way to travel with your axe.
Let's first look at these fine gig bags, and at the end of the post, you can find the FAQ section that helps you to make the best choice possible.
Who crafted this post:
Author: Tommy Tompkins
Playing guitar since 2004. Primarily an acoustic guitarist who plays and writes traditional American folk music, with a background in melodic metal and a solid foundation as a bassist.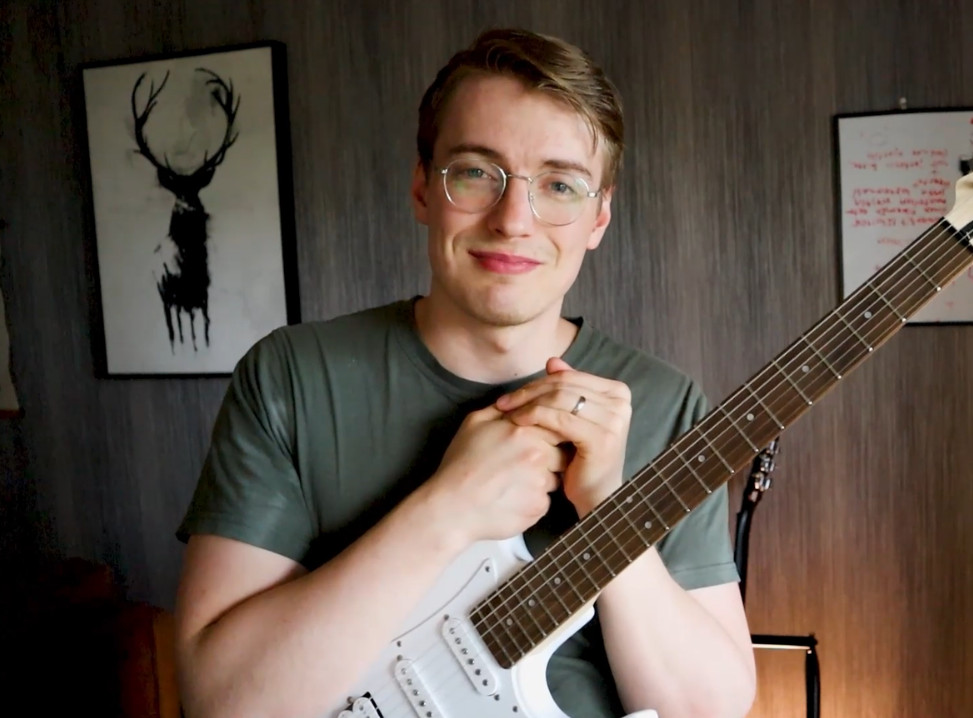 Editing & Research: Teemu Suomala
Playing guitar since 2009. Mainly focused on electric guitars, although jamming with acoustics too. Has played dozens and dozens of different guitars through different amps and pedals over the years. That's why he started this blog in January 2020 and started sharing his experience. Has produced content for several large guitar websites, such as Songsterr, Musicnotes, GuitarGuitar, and Ultimate Guitar.
Every one of these bags is here based on extensive research and decades of combined guitar experience of me (Tommy) and Teemu.
---
Our Favorite Music Store in The World!
Why?
– Excellent Customer Service (4.7/5 Trustpilot Score)
– Fast & Free Shipping
– Gear is Inspected, Tested, & Ready to Play When it Arrives to You (We love this)
– Fair Prices
Visit Sweetwater:
Best Gig Bags for Jazzmasters
Best Overall – Fender FE1225 Electric Guitar Gig Bag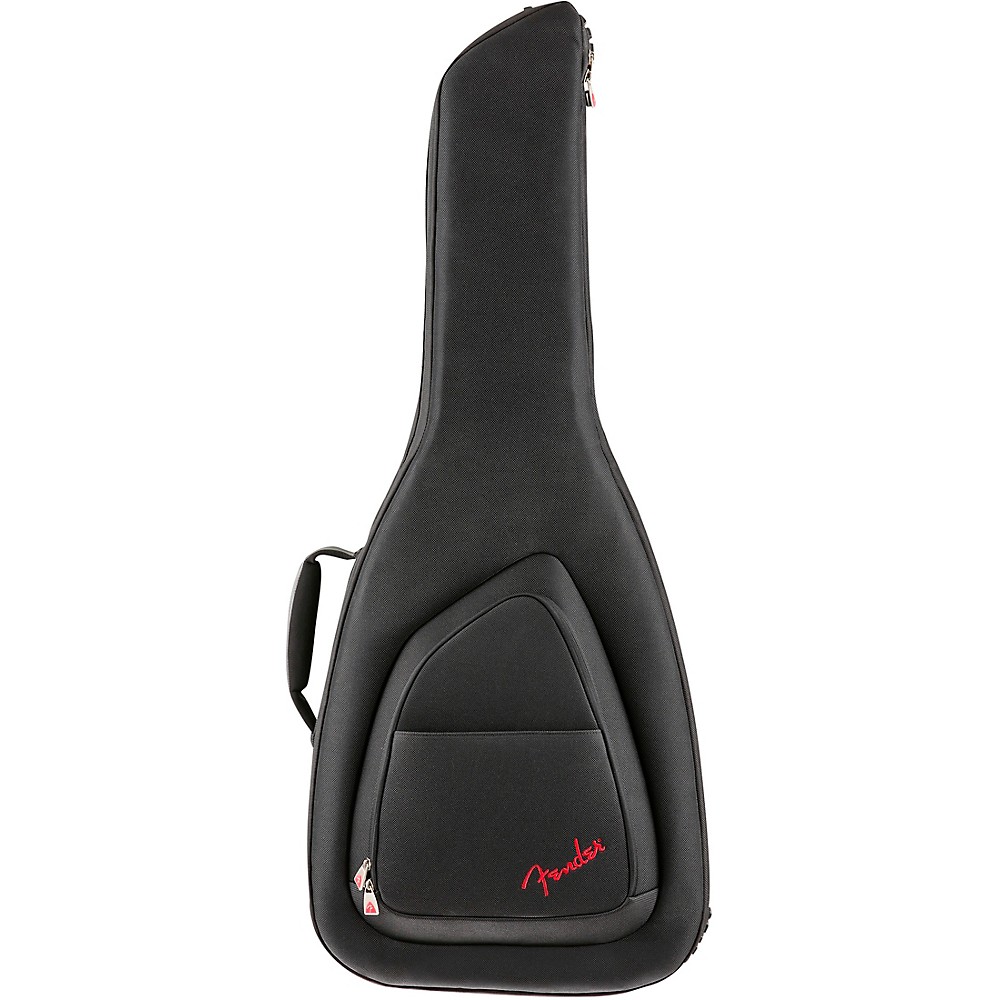 Protection
Fender's FE1225 Electric Guitar Gig Bag is almost as safe as MONO's M80, but it just lacks the ABS panels. Otherwise, it's one of the best gig bags you can find to protect your Jazzmaster.
This is thanks to its ultra-strong 1200-denier exterior, its DOUBLE neck support pillows, and its rubber bumpers on both the headstock and bottom areas.
Quality
All these protective features are in addition to the FE1225's 25-millimeter padding and water-resistant zippers.
With high-quality materials all around, there's no part of this Fender bag I don't like. It's well-built and should last for years.
Portability
Even the backpack straps of this gig bag are shock absorbent, so you know you're in for a comfy haul. Its accessory storage is limited to one somewhat tight pocket, but for your normal travel requirements there should really be no problems with the FE1225.
Summary
Pros
Sleek and slim design for easy storage and transport
Multiple levels of protection
Extra strong exterior
Cons
Tight accessory storage pocket
With all the extra protective measures of this bag, you could expect to pay a few times more than what it actually costs.
Factoring in its cost, durability, convenience, and safety, I've got to call this the best gig for Jazzmaster around.
Check Price on:
---
Most Protection – MONO M80 Electric Guitar Case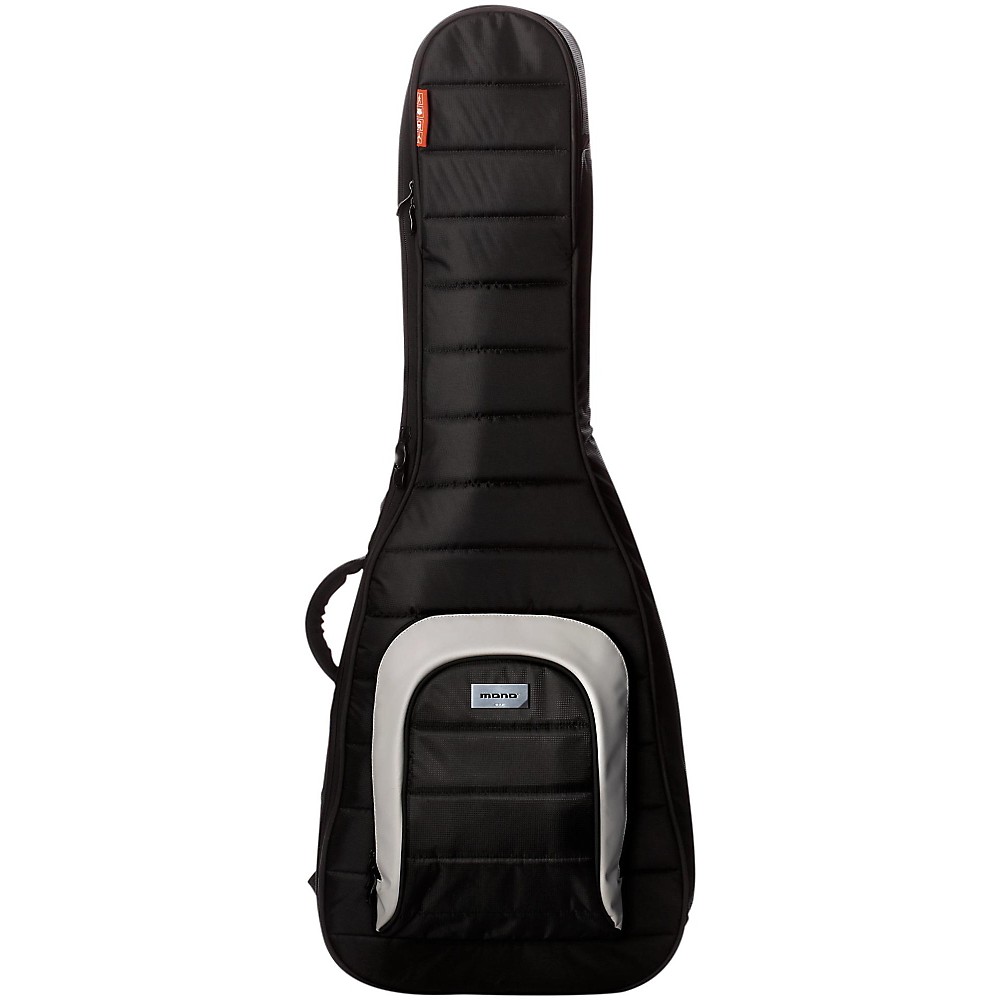 Protection
The padding in MONO gig bags changes from spot to spot in the bag itself, but in the M80 it's ample enough to offer the best protection I can find in a gig bag.
In this model, the padding isn't the only thing to protect your guitar. The M80 actually sports ABS panels at critical points in the case that offer protection similar to hard shells.
Though it still isn't as strong as a hard case, the M80's build from military-grade materials makes it the toughest Jazzmaster gig bag around.
Quality
There's nothing low quality about this gig bag at all.
It's got all the features you could wish for, like:
great protection
waterproof exterior
roomy accessory storage
dependable construction
MONO covers every base, from protection to aesthetic, with a gig bag that looks just as cool as it is strong.
Portability
The M80 has three handles for your convenience, which include backpack straps, a padded side-carry handle, and a back loop.
The backpack straps are padded as well and can even tuck away for easy storage. And even though it's not likely to happen, the rubber feet on the bottom of this gig bag and its internal strap pin protection will keep your guitar safe if the straps ever fail.
Summary
Pros
Waterproof "Sharkskin" exterior
Lots of storage in a slim design
Reinforced with ABS panels for extra protection
Cons
The MONO M80 is a really professional-level gig bag with a price to match.
I'd say it's probably out of budget for most beginners, but its superior protection makes it a prime choice for anyone who wants serious protection.
Check Price on:
---
Most Comfortable – Fender Metro Gig Bag for Strat and Tele
Protection
Fender's Metro Gig Bag might be listed as for Strat and Tele, but it's spacious, flexible construction has plenty of space for your Jazzmaster. On the outside, you'll find 600 denier polyester… but what is 600 denier polyester?
The interior has 25 millimeters of soft foam padding. Though it's not rigid, it's enough to absorb everyday shocks.
Quality
In pretty much every zone, the Fender Metro is a gig bag of good quality. There's no loose stitching or weak points to complain about.
The zippers seem strong and I've seen no complaints about their durability at all.
It might be a little basic looking, but that's not necessarily a bad thing. Because it just works.
Portability
You've got a couple carry options with this gig bag. It's got the typical side-carry handle which features a rugged rubberized grip.
Plus, it comes with padded backpack straps and a contoured back that sits gently against your body as you carry it. For comfort on the go, the only way to get better than this is with ventilated straps.
Summary
Pros
Strong water-resistant 600D polyester exterior
25mm of protective foam
Contoured backrest for carrying comfort
Cons
Somewhat high price for basic protection
This is, in any way you look at it, a fine gig bag. But is it worth its price tag?
I guess in the end that depends on how much you trust Fender as a brand. It's cool to carry your Jazzmaster in a Fender bag, but with some other options, you can do a little better in protection for a similar price.
Check Price on:
---
Best Budget – Gator Cases 4G Series Gig Bag

Protection
Though it lacks a few features that keep it from being the most protective, the Gator 4G gig bag for Jazzmaster gives you a great amount of protection for its price.
It might not have ABS reinforcement or a rubberized headstock bumper, but it does have a 20mm thick lining of Gator's GFLEX padding.
Then, there's a bit of extra cushion in the bottom end to protect your strap pin, along with a small external rubber bumper to aid in shock absorption.
Quality
The GB-4G-JMASTER is water-resistant and made with a durable nylon exterior.
Since it's a bag specifically for Jazzmaster guitars, you'll have no worry about the fit.
But one problem it does have is weak zippers. Although I'm a fixer-upper and won't hesitate to replace a broken zipper with a paperclip or new zipper, it is definitely an annoying issue that the zippers of the 4G series can break quite easily.
You'll want to keep this quality issue in mind when making your final decision, but I wouldn't let it overshadow this gig bag's virtues.
Portability
Aside from its extra-large accessory storage pocket, the GB-4G-JMASTER ranks about average in terms of portability.
It's got cushioned, adjustable backpack straps plus a side-carry and back-carry handle. The back is contoured like the Fender Metro, ensuring a comfortable carry anytime you take it on the go.
Summary
Pros
20mm padding and internal reinforcements
Plenty of convenient accessory storage
Specially-fitted for Jazzmasters
Cons
If you're a fan of Gator like myself, the mid-range price and protection of the Gator 4G Series Electric Guitar Gig Bag for Jazzmaster is probably pretty appealing to you.
And for its price, it's about the best you can get. It falls strongly in the middle of the safety, quality, and comfort categories, making it a good all-rounder choice for the not-too-picky beginner to intermediate player.
Check Price on:
---
Most Affordable – Gator Cases Gig Bag for Fender Jazzmaster Style Guitars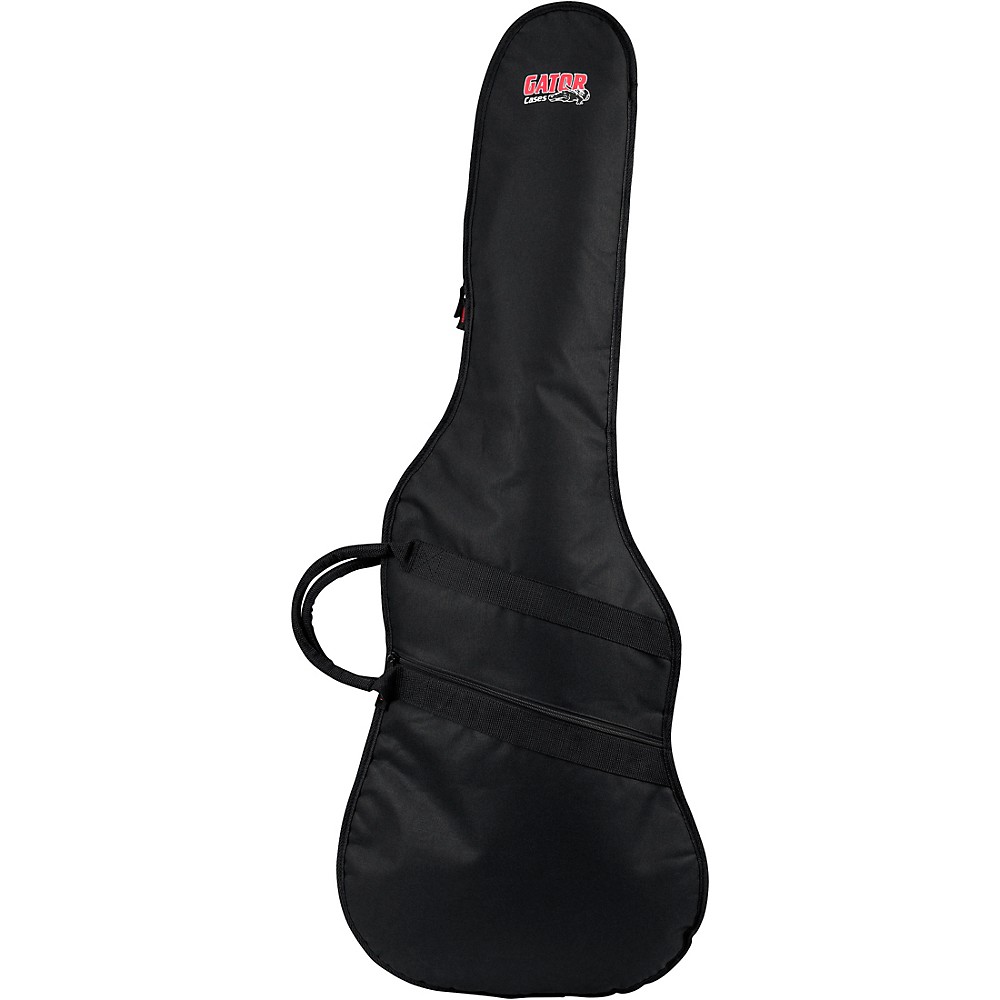 Protection
The Gator Cases Gig Bag for Fender Jazzmaster Style Guitars is definitely the least protective gig bag on this list.
But, it meets my lowest standards of safety at a price that's hard to argue with.
For protection, all it really gives you are a water-resistant 600D nylon exterior and 10 millimeters of Gator's padded shields.
This is enough to keep your guitar safe from minor bumps and scrapes, but if you're planning any hardcore travel, you'll want to be careful with this choice.
Quality
For the most part, Gator's gig bags are fairly reliable and durable.
There are a few of their models, however, that have a pretty big problem. And the GBE Jazzmaster is one of them. The issue is that the backpack strap attachments are made of somewhat weak plastic. It's been known to break, which can be a huge hazard if you're using this gig bag for regular travel.
All I can say is be aware of this if you choose to go the budget route and stay ready to catch your guitar should it fall from your back.
Portability
So as you already know, this bag does come with shoulder straps. It's also got a typical side-carry handle which is lightly padded.
Now, the backpack straps are unfortunately not padded.
This can be quite uncomfortable if you've got a long transit, but if all you've got to do is walk a couple blocks to the venue occasionally, it's not a deal-breaker of a problem.
Accessory storage is limited, but you should still have enough for a couple cables and your basic tuner/picks/capo/etc.
Summary
Pros
Low cost makes it a great budget option
10 millimeters of padding for the minimum standard of protection
Water-resistant exterior and reinforced interior
Cons
Uncomfortable to carry
Low-quality backpack straps
Not very thick padding
I can only recommend this gig bag if you're in a financial pinch. I've been there myself many times, so I understand the need for affordable options. And this gig bag is a solid option if you just want something that covers your Jazzmaster from dust and small scratches.
If I needed a Jazzmaster gig bag in a hurry for as low cost as possible, the Gator Cases GBE Jazzmaster would be my first choice.
Check Price on:
---
Verdict
We've got a lot of great options for Jazzmaster gig bags, which might be a bit surprising considering how strange this guitar is shaped.
On the budget end, the Gator GBE Jazzmaster gig bag is there to keep the dirt of your axe and cushion it if you bump into a wall. But, I would get this as a last resort only if I had an emergency need and couldn't wait to afford a better option.
If you want the best gig bag you can get your hands on, I can't recommend any more highly than the Fender FE1225.
It's got top-notch protection and high build quality at a price that's hard to beat. If you have a big budget, I would consider Mono M80, but for me, the Fender FE1225 offers everything that I need.
---
Buyer's Guide – FAQ
What Makes a Great Gig Bag for Jazzmaster?
In terms of overall length, the Jazzmaster is fairly standard and doesn't give much hassle trying to fit it into most gig bags.
It's also got a headstock mostly similar to the Stratocaster, so this is another area that doesn't provide any trouble.
With Jazzmaster gig bags, you really need to look at whether or not they'll fit your guitar's offset body.
Jazzmasters are about 2 inches wider in total than the more standard Strat, and so they do need slightly larger gig bags. This extra room also helps you fit in that curvy offset waist.
So long as your guitar fits, you're off to a good start.
Next, you want to look at padding. This is the main part of a gig bag's protection.
For the best of the best, I usually recommend at least 20mm of padding, but there are good budget-end gig bags that do a fair job with only 10-15mm. Many even come with neck support pillows for added safety.
After the padding comes durability.
I once had a cheap gig bag literally split apart at the bottom while I was crossing the street. Thankfully the fall only scuffed my finish, but it could have been much worse.
You want a gig bag that will hold together through all your travels. Though nothing lasts forever, a great Jazzmaster gig bag should at least last several years.
Finally, make sure the gig bag is comfortable enough to carry. This will be based on how often you actually travel with it, how far you have to walk, etc. The best Jazzmaster gig bags combine these traits—protection, quality, and portability—into products that give your axe secure protection whether you're on the road or in the comfort of your home.
Will a Gig Bag Protect My Guitar?
For most players, I think a gig bag is just fine as a means of protection. Sure, it's always good to have a hard case laying around just in case you have some unexpected treacherous travel ahead. But for most of us, that's not a real likely scenario.
Gig bags will keep your guitar safe from most dangers you'll encounter on an ordinary basis. I mean things like being knocked over, bumped into, spritzed on, so on and so forth. Household hazards, if you will.
When you pump up the padding thickness, gig bags can really start to offer serious protection. Some of these I would almost risk flying with, but I'll still depend on a hard case for that.
But in the back of a tour van or stuffed in your car on a camping trip? I've taken my guitar hundreds of times on journeys with only a gig bag to keep it safe, and never have I had any issues.
So honestly, for the most part, I think a gig bag will do a great job of protecting your guitar.
---
Conclusion
No matter your budget, there's an awesome Jazzmaster gig bag waiting for you.
From the pro-quality MONO M80 to the beginner-friendly Gator lines, you can keep your axe safe in just about every situation with one of these best gig bags for Jazzmaster.