Last Updated on November 23, 2023 by Justin Thomas
Best Overall- Protec CTG234
Protection
Quality
Portability
Value for Money
Summary
The Protec CTG234 is an absolute safehouse for your Tele.

Under the strong ballistic nylon exterior are several layers of foam padding to protect against even major crashes. On the inside, your guitar is covered with non-abrasive Nylex and has neck support from a padded block.

Plus, the bottom of the bag features removable pads that keep your guitar from knocking on the floor

Pros
-Padded neck block for added protection
-Multilayer foam padding for great shock absorption
-Weather-proof 1680 ballistic nylon exterior

Cons
-High price
-Tank-like build lowers ease of portability

This is the priciest gig bag on this list, but it's well worth the money. You want to keep your guitars safe, and this bag will do it.

Plus, you can travel in comfort with all your accessories thanks to the secure, padded straps and diverse storage pockets. The best gig bag for Telecasters.
Check Today's Price on
*Consider all links in this post to be affiliate links. If you purchase, at no additional cost to you, we may earn a small commission. It helps us to keep the lights on, thanks! 🙂
---
The Next Best:
Compare Key Specs:
---
A great gig bag will keep your guitar safe from scratches and bumps when you take it on the road, as well as give you the storage space you need for all the vital six-string accessories.
If you're the proud owner of Fender's iconic guitar, you'll want to make sure to get the best possible gig bag to protect your Telecaster. This guide will walk you through everything you need to know before making a purchase!
Let's first look at these fine gig bags, and at the end of the post, you can find the FAQ section that helps you to make the best choice possible.
Who crafted this post:
Author: Tommy Tompkins
Playing guitar since 2004. Primarily an acoustic guitarist who plays and writes traditional American folk music, with a background in melodic metal and a solid foundation as a bassist.
Hide The Rambling▲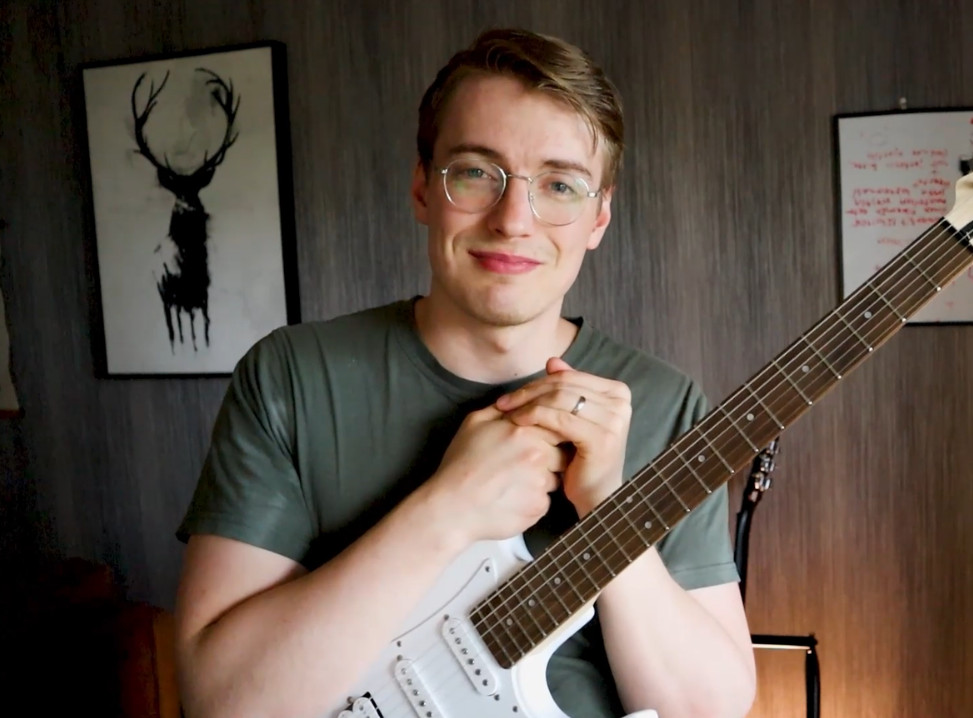 Editing & Research: Teemu Suomala
I first grabbed the guitar in 2009. I started this website in January 2020 because I couldn't do window installation anymore due to my health problems. I love guitars and have played dozens and dozens of different guitars through different amps and pedals over the years, and also, building a website interested me, so I decided to just go for it! I got lucky and managed to get awesome people to help me with my website.
I also got lucky because I have you visiting my website right now. Thank you. I do all this for you guys. If you have any recommendations, tips, or feedback, just leave a comment, I would love to chat with you. I have also been fortunate to produce content for several large guitar websites, such as Songsterr, Musicnotes, GuitarGuitar, and Ultimate Guitar.
I spend my spare time exercising and hanging out with my wife and crazy dog (I guess that went the right way…).
Hide The Rambling▲
Every one of these gig bags is here based on extensive research and decades of combined guitar experience of me (Tommy) and Teemu
---
Our Favorite Music Store in The World!
Why?
– Excellent Customer Service (4.7/5 Trustpilot Score)
– Fast & Free Shipping
– Gear is Inspected, Tested, & Ready to Play When it Arrives to You (We love this)
– Fair Prices
Visit Sweetwater:
Out top 5 picks
Best Overall- Protec CTG234 Electric Guitar Contego PRO PAC Case (Strat/Tele Type Guitars)
Protection
The Protec CTG234 is an absolute safehouse for your Tele. With a lightweight frame, it's somewhat a cross between a hard case and a gig bag.
Under the strong ballistic nylon exterior are several layers of foam padding to protect against even major crashes. On the inside, your guitar is covered with non-abrasive Nylex and has neck support from a padded block.
Additionally, the bottom of the bag features removable pads that keep your guitar from knocking on the floor.
Quality
This is a heavy-duty gig bag that can stand up to a lot of wear and tear while keeping your guitar damage-free.
Although the top of the backpack straps is sewn to the case, the bottom attachment points are strong steel.
The interior lining is reinforced with puncture-resistant patches, keeping the sharp parts of your Tele from marring the inner padding.
Portability
A really nice feature of this bag is that you can store the backpack straps in built-in pockets when they're not in use. Not only does this keep the straps out of harm's way, but it also makes for easy storage.
The backpack straps have the added plus of a chest strap that keeps them from sliding off your shoulders while you walk.
But this bag is rather bulky. Like a tank really. Protective, but not the easiest to carry around (not terrible either tho). But usually, this is the price you have to pay if you want your gig bag to be super-protective.
In terms of storage, this bag is very roomy. There's a padded pocket on the headstock area for storing smaller items like your tuner and strap. Then, on the body section are two huge pockets for your papers, cables, and even a pedal or two. The cable pocket also features a built-in organizer pouch.
Summary
Pros
Padded neck block for added protection
Multilayer foam padding for great shock absorption
Weather-proof 1680 ballistic nylon exterior
Cons
High price
Tank-like build lowers ease of portability
This is the priciest gig bag on this list, but it's well worth the money. You want to keep your guitars safe, and this bag will do it.
Plus, you can travel in comfort with all your accessories thanks to the secure, padded straps and diverse storage pockets.
It's my top choice for a Telecaster and Tele-style guitar gig bag.
Check Price on:
---
Runner-Up – Gator Cases 4G Series Gig Bag For Electric Guitars With Adjustable Backpack Straps

Protection
I've owned several Gator cases/gig bags and those have always been top-of-the-line for protection. They went so far as to have a promo video showing their gig bags can protect instruments from being thrown out of moving cars.
However, the 4G series is essentially their budget line and doesn't offer what I thought was Gator's trademark quality.
It's not a weak gig bag- it's just not Gator tough.
Doubling the market-standard for this price point, they give you 20 millimeters of padding. This is coupled with headstock and bridge reinforcement on the inside to keep the interior in good shape.
Quality
Like the Crossrock, the straps of the Gator 4G are sewn on, which worries me a bit. But, I do trust Gator to deliver on quality, so I'd trust these points more than most other brands.
Aside from that little problem, this is a quality gig bag for the price. It gives you plenty of storage room, even offering a pick clip on the zipper.
Portability
The straps of this case are comfortable on your shoulders. Yet, it's designed in a way that the guitar sits really high on your back. This isn't too much of a problem, but it can be annoying if you're going in and out of rooms or on and off a bus.
They make up for this a bit by attaching a really strong side-carry handle. Its rubber grip gives you an ergonomic way to carry the gig bag with no worry of slipping fingers.
Summary
Pros
Extra guitar pick storage on the zipper
Added headstock and bridge reinforcement on interior
Quality Gator brand construction
Cons
Backpack design sets neck high above the user's head
Minimal padding and water protection
Gator cases are usually pretty expensive, but this one isn't going to break the bank. While it's not Gator's best gig bag, it still meets their quality expectations in most categories.
Since I'm a bit of a Gator fan, I'd say this is the second-best choice on this list for keeping your Telecaster safe on the road.
Check Price on:
---
Comfortable for You – Fender FET-610 Electric Guitar Gig Bag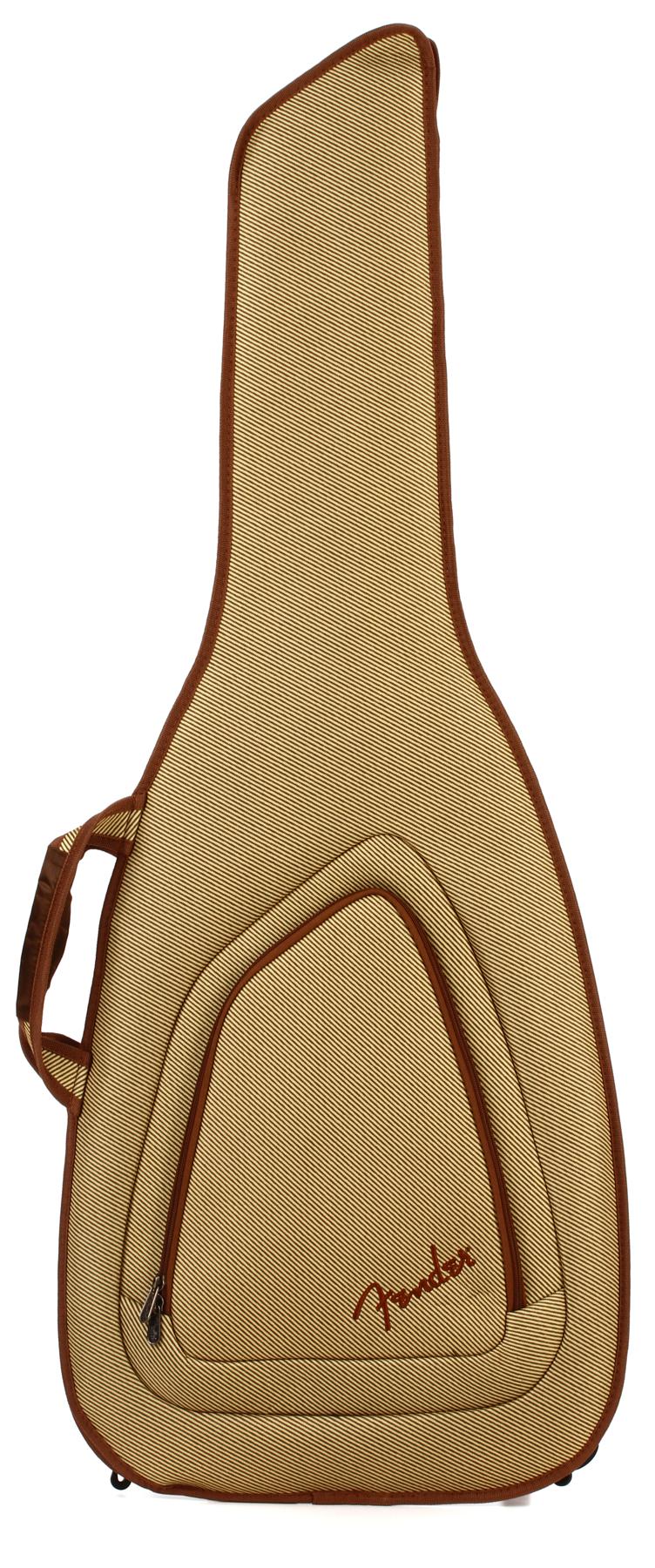 Protection
Fender offers up a great Telecaster gig bag in the FET-610. With 10 millimeters of velour padding, your guitar is protected from bumps as well as scratches.
600-denier nylon covers the exterior, machine-sewed to offer a buffer against the elements.
Quality
With a name to uphold, Fender makes sure to provide quality in their products. This gig bag is dependably put together. The straps are strong and comfortable, the zippers are high-quality, and the outside is highly resistant to tears.
Portability
The air-mesh design of the backpack straps goes a long way in providing you comfortable portability with this case. They keep things breathable while you move so you don't sweat too much to stink up the straps.
Aside from this, two handles on either side let you easily grab and go.
Unfortunately, this gig bag doesn't offer much in the way of accessory storage, with only one pocket on the front for stashing your extras.
Summary
Pros
Trusted Fender quality
Breathable air-mesh backpack straps
Water-resistant polyester exterior
Cons
Minimal accessory storage space
There is more protective options out there
Since you're looking for a Telecaster gig bag, I'd say there's a high chance you're a fan of Fender. You won't be disappointed with their branded gig bag made to fit this model.
It falls right about in the middle of the price scale, and you get your money's worth of protection and durability.
Check Price on:
---
Best Budget – Crossrock 10mm Padded Backpack style Telecaster & Stratocaster
Protection
Crossrock's Tele and Strat gig bag is great because it's made to fit these guitars. With many gig bags, you might have the problem of a tight fit. The bag might measure long enough, but it can take a lot of convincing to get the bag to close with the guitar inside. This isn't an issue with the Crossrock.
Although the padding and exterior aren't the thickest on the market, they're suitable for most purposes. You won't want to smash your guitar into anything with this gig bag, but the usual dangers are well-protected against with the 10-millimeter foam.
Quality
Coming in at a comparatively low price, this Crossrock gig bag delivers a decent level of quality. It's got a few flaws, mostly in the strength of the zippers, but it's great for the price.
If you treat it with care, taking your time to zip it up, you should get at least a few years of use out of this gig bag.
Portability
Like most electric gig bags, the Crossrock model has both backpack straps as well as dual carrying handles. These features make it easy to take with you.
My main issue with this bag is the way the backpack straps are attached. Sadly, both attachment points are stitched. This is a downgrade from the more reliable option of metal hooks, and will probably be the first thing to fall apart.
If you go with this choice, keep an eye on these points and make sure you reinforce them if they start to come loose.
Summary
Pros
Designed specifically for Telecasters and Stratocasters
Padded accessory pocket protects musical extras
Available in multiple accent colors
Cons
Weak strap attachment points
Pocket won't fit music books
This Crossrock Tele and Strat gig bag is about the middle of the road for guitar carrying quality. It's a good price with quality that matches.
Don't treat it rough, pay attention to its weak points, and know its limitations. If you do these things, you'll find yourself with a great Telecaster gig bag for years.
---
Best Tight Budget – ChromaCast CC-EPB-BAG Electric Guitar Padded Gig Bag
Protection
The ChromaCast Electric Guitar gig bag offers about the minimum of protection for Telecasters. It's got light foam padding to protect against minor bumps and scratches, but I'd be careful with any high-hazard transport.
My biggest issue with this gig bag is that it's just barely big enough for Teles. It's 39.5 inches on the inside, giving you one inch of wiggle room trying to fit in a standard Fender.
You'll definitely need to coax the zipper into place, and will probably knock yourself a little out of tune in the process.
Quality
Considering the price, you can't squawk about the quality of this gig bag too much. It's far from amazing, but it does the basic jobs a gig bag should do.
In addition to the minimum requirements, it does give you many storage pockets. This is great, but it really should be one of the last things you look for in a gig bag for your prized Telecaster.
Portability
Since you can fit all your accessories and maybe even a flute in this bag's exterior pockets, it ranks pretty high on portability.
However, the backpack straps aren't very thick, and they look rather flimsily attached. I'm sure it's fine for minimum traveling, but I certainly wouldn't take it on a mountain hike.
Summary
Pros
A low-cost option
Several exterior storage pockets
Decent protective padding for the price
Cons
Very tight fit with some Telecasters
Not very durable
This is the best choice of a Telecaster gig bag for those on a tight budget. It barely costs more than a capo and will at least protect your guitar from scratches.
If you're not traveling every day or for long distances, this will do the job. But, if you're more of a rambling musician, I'd save a bit more for a higher-quality gig bag.
---
Verdict
So there they are, the best gig bags for Telecasters for a variety of needs.
Like I just said, I think the ChromaCast should be your last choice unless you're really pinching pennies. It's fine for a little while, but you'll want to upgrade as soon as you get the chance.
My number one recommendation is the Protec CTG234. I had a hard time finding a flaw with it, and the only thing that I can think of as a con is its high price. Otherwise, it exceeds all expectations for a Telecaster gig bag and is a great product overall.
---
Buyer's Guide – FAQ
How to Choose the Best Gig Bag for a Telecaster?
Not all gig bags are created equal, and some are much better suited for Telecasters than others. When you're choosing the best gig bag for your Tele, you'll want to make sure it meets a few main criteria.
Size
First, you'll obviously need to choose a gig bag that fits a Telecaster. These guitars, no matter the specific model, are a bit on the long side. Be sure your gig bag choices fit guitars with a scale length of at least 25.5 inches.
Though at just under 16 inches long Telecaster bodies are comparable to Les Pauls, their distinctive elongated headstocks add a few inches to the guitars' length. Because of this, you need to know that not all gig bags are one-size-fits-all. When making your choice, look for a gig bag that will fit Telecasters- that is, accommodate a total length of 38.5 inches.
Protection
On top of this, you need to choose a bag that keeps your guitar safe. Low-end gig bags are basically nylon pouches to slip your guitar into and shouldn't be considered for your high-quality Fender.
You'll want to go with an option that has plenty of padding. While a gig bag will never be as secure as a hard case, thick internal padding can protect your Telecaster from most minor bumps and bangs.
Quality
I learned the hard way to go with higher quality gig bags after the straps on mine broke while I was crossing the street. It ended up giving a huge crack in my guitar's body and costing a lot more in repairs than I would have paid for getting a better bag.
Look for gig bags with sturdy, dependable parts. The straps should be thick and strong. More importantly, the point where the straps attach to the bag should be rugged.
Flimsy plastic is prone to break, so seek out gig bags with strong, dense plastic, or even better, metal attachment points.
Portability
Portability is the selling point of gig bags over hard cases in the first place. You'll want a gig bag that's easy and pleasant to carry around. The best have padded backpack style straps that don't dig into your shoulders.
Outside of this, another good quality to look for is rubber-coated carrying handles that give you lots of grip.
Will a Gig Bag Protect My Guitar?
The lowest quality gig bags won't do much in protecting your guitar aside from preventing dust and scratches.
Unless you're on a desperation budget, I would always recommend a gig bag with some level of padding. Not only will these protect your guitar from chips and scratches to the finish, but they'll go a long way in protecting against damage from accidental collisions.
Padding will absorb the shock if your guitar ever gets hit and prevent a good deal of damage. You still shouldn't be careless with your guitar, but with a high-quality gig bag, you can have a little peace of mind.
Should I Get a Gig Bag or a Hard Case?
Gig bags are great because they're easy to carry, lightweight, and give you basic protection while transporting your guitar. Plus, they usually have enough storage for accessories and sheet music. They're great for guitarists who like to keep equipment to a minimum.
If, on the other hand, you're going to be piling into a tour bus or taking your guitar on frequent flights, you might be better off with a hard case. These offer the peak of protection. Guitars in hard cases are just less than invincible when it comes to the most common damage.
However, they're bulky, heavy, and don't offer much in the way of accessory storage. If portability and comfort are your major concerns, a gig bag will be the better choice for you.
---
Conclusion
All these gig bags are good choices, and even the cheapest is completely usable. But I would advise you to buy the best bag possible to protect your guitar, and in my opinion, the Protec bag is the best gig bag for a telecaster.
If that gig bag is too expensive for you, go with Gator or Fender, if you can afford those, and as I said, Crossrock and ChromaCast bags are not worthless either.
I hope that this guide helped you to choose the right a-frame stand for you.
I wish you all the best and keep rocking!
You might also like:
We are sorry that this post was not useful for you!
Let us improve this post!
Tell us how we can improve this post?