Last Updated on November 23, 2023 by Justin Thomas
Best Overall- Hola! Professional
Protection
Quality
Portability
Value for Money
Space for Accessories
Summary
Easily one of the most thickly-padded gig bags under $100…

Pros
-Thick, rugged exterior keeps gig bag's shape
-Neck support pillow with velcro strap keeps neck secure and guitar in place
-1 inch of padding does a great job of protecting the guitar

Cons
-Has an inconveniently tight fit for guitars with long headstocks
-Not waterproof

If you're tight on money but not so tight that you're stuck in the bargain bin, this Gig Bag is a good middle-ground between the cheapest and the bordering-on-boutique.

It does what it's supposed to, does it well, and nothing more. The best gig bag under $100.
Check Today's Price on
*Consider all links in this post to be affiliate links. If you purchase, at no additional cost to you, we may earn a small commission. It helps us to keep the lights on, thanks! 🙂
---
The Next Best
Compare Key Specs
---
The last thing you want to happen is for your precious axe to get busted during transit. That's why it's crucial you keep it safe with a great gig bag or case.
If you haven't got hundreds of dollars to blow, these great gig bags under $100 can protect your beloved guitar wherever you go.
Let's first look at these fine bags, and at the end of the post, you can find the FAQ section that helps you to make the best choice possible.
Check our full guitar storage guide here.
Who Crafted This Post:
Author: Tommy Tompkins
Playing guitar since 2004. Primarily an acoustic guitarist who plays and writes traditional American folk music, with a background in melodic metal and a solid foundation as a bassist.
Hide The Rambling▲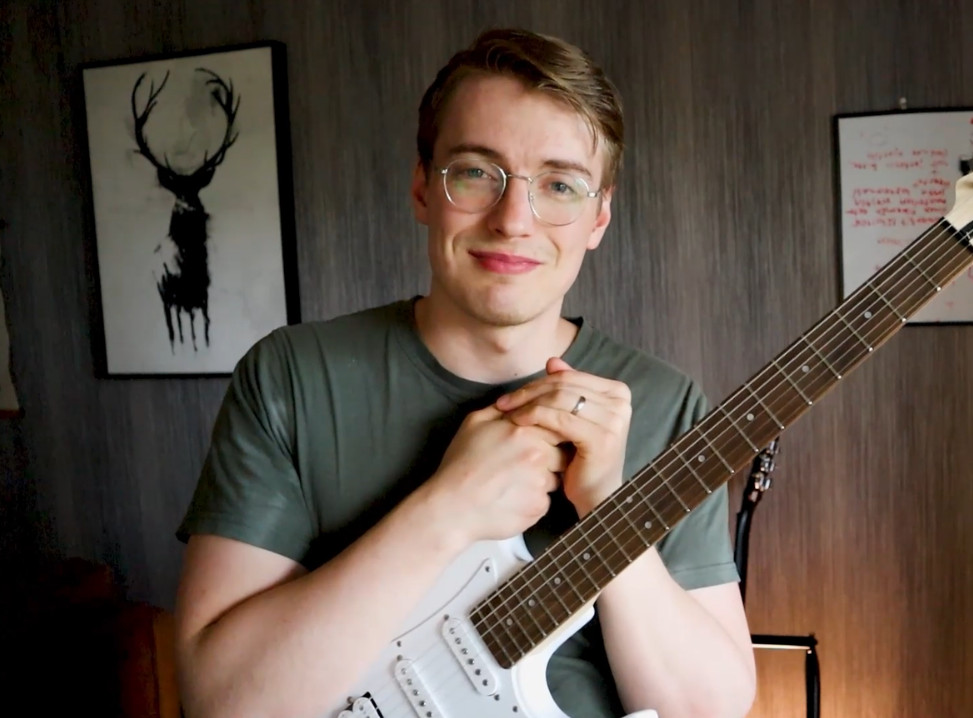 Editing & Research: Teemu Suomala
I first grabbed the guitar in 2009. I started this website in January 2020 because I couldn't do window installation anymore due to my health problems. I love guitars and have played dozens and dozens of different guitars through different amps and pedals over the years, and also, building a website interested me, so I decided to just go for it! I got lucky and managed to get awesome people to help me with my website.
I also got lucky because I have you visiting my website right now. Thank you. I do all this for you guys. If you have any recommendations, tips, or feedback, just leave a comment, I would love to chat with you. I have also been fortunate to produce content for several large guitar websites, such as Songsterr, Musicnotes, GuitarGuitar, and Ultimate Guitar.
I spend my spare time exercising and hanging out with my wife and crazy dog (I guess that went the right way…).
Hide The Rambling▲
---
Our Favorite Music Store in The World!
Why?
– Excellent Customer Service (4.7/5 Trustpilot Score)
– Fast & Free Shipping
– Gear is Inspected, Tested, & Ready to Play When it Arrives to You (We love this)
– Fair Prices
Visit Sweetwater:
Our top 5 picks
Best Overall- Hola! Professional Electric Guitar Gig Bag
Protection
This gig bag from Hola! Music is the most thickly-padded of the products on this list. It packs a full inch of shock-absorbing foam under its tough exterior.
Plus, there's a great detachable neck support that takes the strain off your guitar's structure in transport and a strap you can use to keep your guitar safely locked in place.
This Hola! just offers protection of an lot more expensive gig bag. That's why it's my favorite.
Quality
The exterior is tough to tear or rip, although keep in mind it's not really water-resistant. The stitching is reinforced to keep all the straps fastened to the bag, a crucial factor for me in determining quality.
In addition, the plush interior lining is protected with scratch-proof plates so the sharp parts of your guitar don't cut into the gig bag.
Durability
All these quality measures add up to a gig bag that's beautifully durable. Your main concern would be bad weather, as the exterior basically absorbs liquid. Aside from that, this should get you where you're going many times over.
Summary
Pros
Thick, rugged exterior keeps gig bag's shape
Neck support pillow with velcro strap keeps neck secure and guitar in place
1 inch of padding does a great job of protecting guitar
Cons
Has an inconveniently tight fit for guitars with long headstocks
Not waterproof
This Professional Electric Guitar gig bag from Hola! Music is a good fit for guitars with more traditional builds- think body styles like the Epiphone Les Paul or the ESP Viper.
Though it's in the upper range of prices for these products, the extra padding is well worth the cost. While it's always a bit scary to trust a guitar to an airport's baggage crew, this is the first gig bag on this list I'd choose for flying.
Check Price on:
---
Runner-Up/Best for Unusual Guitars- Ibanez Powerpad Electric Guitar Gig Bag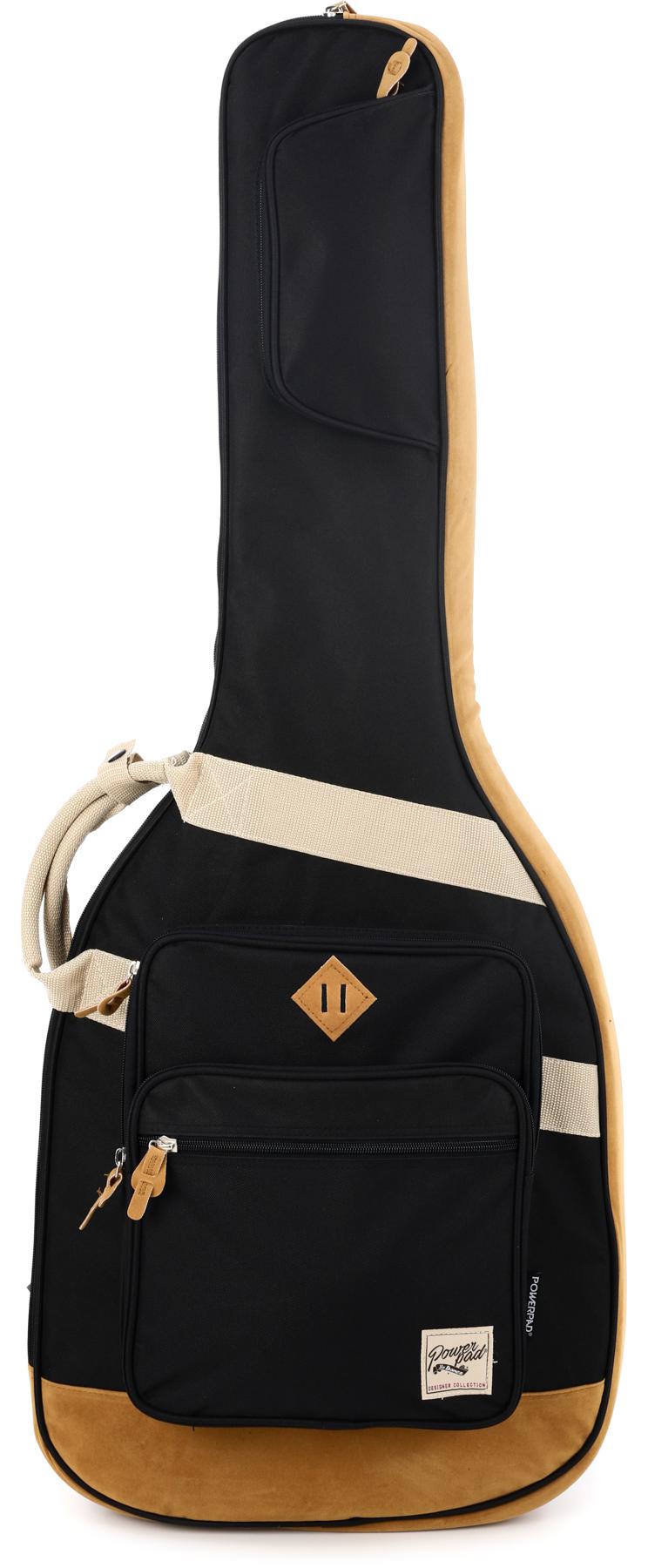 Protection
Ibanez's Powerpad gig bag provides a comfortable 15 millimeters of padding- at he bottom main compartment and the side. The rest is only padded to 10 millimeters.
This isn't too shabby, but it would offer a lot more protection if they went ahead with the full 15 across the board.
Quality
This is the most convenient gig bag on this list. There's tons of space to keep your musical extras in, so taking your show on the road is a lot more convenient with the Powerpad.
As a cool bonus, Ibanez offers this line in 4 flashy colors, giving you the option to personalize your guitar-carrying look.
Durability
Like Fender, I think Ibanez does just about everything with a high standard of quality. I like this brand a lot and think this gig bag would maintain its toughness for a long time.
Summary
Pros
Available in a variety of cool colors
4 big storage pockets to fit all your accessories
A spacious interior fits most guitars
Cons
Light padding in some areas doesn't fully protect your guitar
This choice is quite roomy compared to most of the others. As such, it's a good way to go for unusual body shapes. If you've got an unconventional guitar like the Flying V or Explorer, chances are it will work well in this gig bag.
With a great build and versatility to boot, this gig bag is worth every penny.
Check Price on:
---
Best for Most Fenders/Light – Fender FET-610 Electric Guitar Gig Bag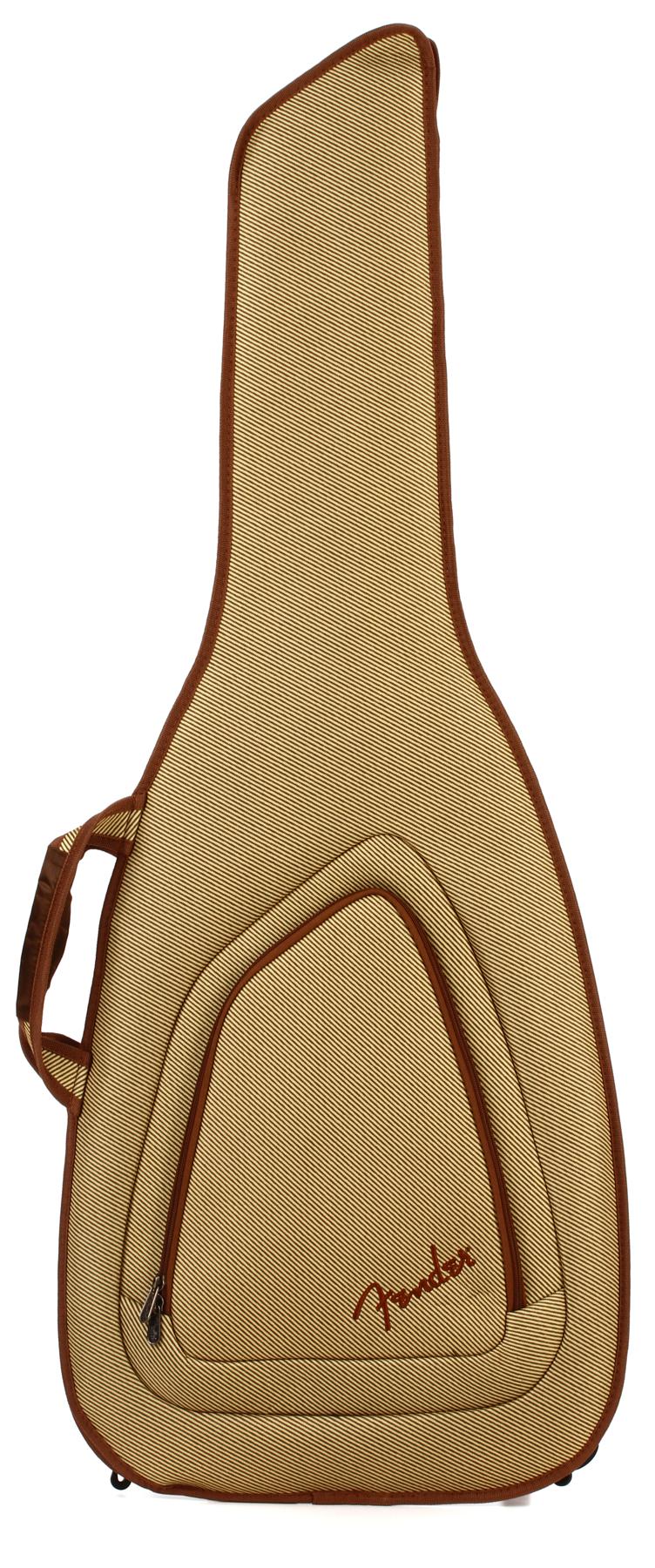 Protection
Fender's FET-610 has the least amount of padding of all the gig bags on the list, but it still gives you the minimum you need to keep your guitar safe.
While it might not protect from high drops to the hard ground, it will keep your guitar from getting scratched from minor bangs.
Quality
Just about everything Fender makes is high quality, gig bags included. The stitching of the FET-610 is strong and dependable, so you won't have to worry about broken straps.
Durability
The 600 denier polyester exterior really supports the durability of this gig bag. It's a strong material that's rather hard to cut or pierce. For the most part, this gig bag should last you a long time under normal use conditions.
Summary
Pros
Tough 600 denier polyester exterior deflects water
10 millimeters of padding with a non-scratch microfiber interior
Single storage pocket to carry small basic gear
Cons
Storage pocket is oddly shaped and won't fit music books
This gig bag from Fender is a great way to travel with your Fender guitars. It fits Stratocasters and Telecasters like a glove. This top design is a good match for guitars with extreme headstocks like the Jackson Dinky.
Though it lacks a little bit in the padding dimension, the overall quality of this bag definitely gives you your money's worth. I think this is a great gig bag for any major Fender fans.
Check Price on:
---
Most Comfortable – Fender FE620 Multi-Fit Electric Guitar Gig Bag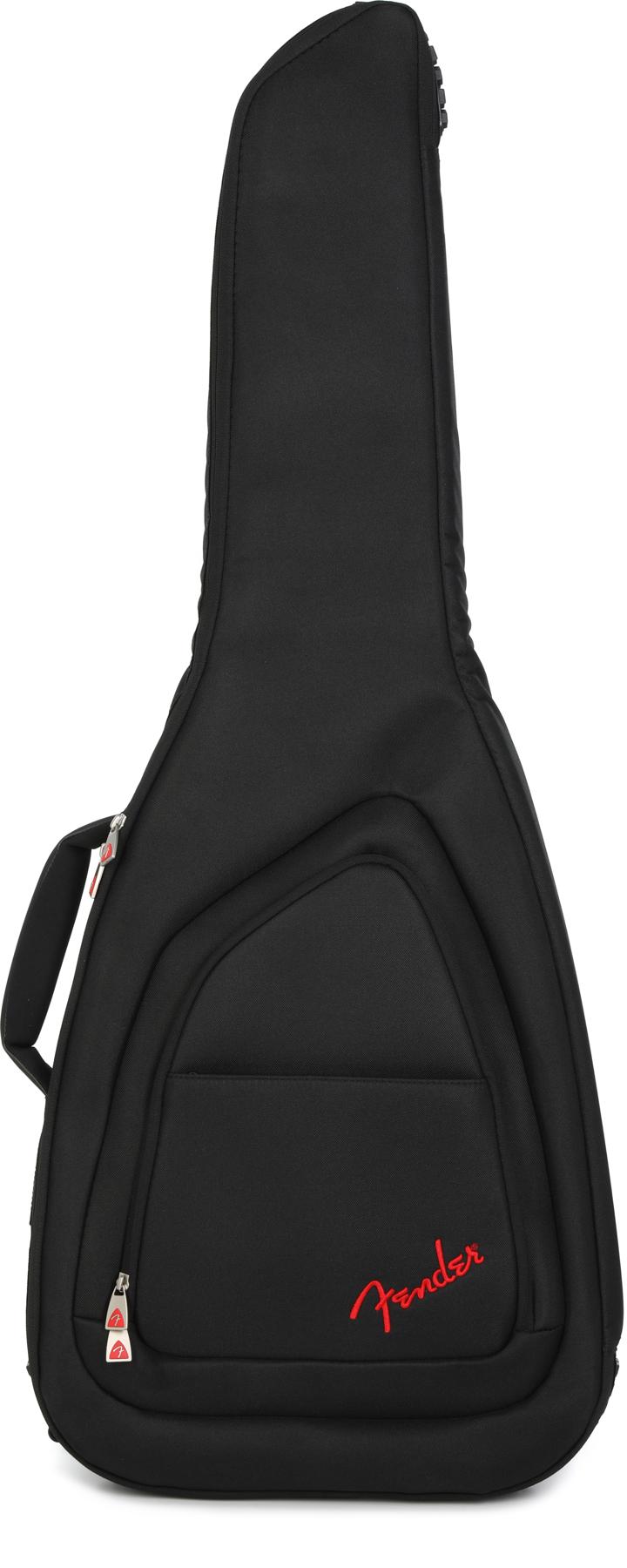 Protection
In the FE620, Fender doubles down on the padding, providing 20 millimeters of thick foam. This is more than acceptable for gig bags at this price and will completely protect your guitar from semi-serious knocking around.
Additionally, this gig bag has some great rubber bumpers on the top and bottom. These increase the shock absorbency and keep your guitar out of harm's way when you set it on the ground.
Quality
The comfort level is maxed out with this gig bag thanks to its air-mesh straps and back pad. It's honestly more comfortable than many gig bags that cost three times the price.
Durability
Everything is secure and built to last in this model.
The stitching is strong and stable, and the zippers really seem high-quality. It's my favorite gig bag from Fender in this line-up, being a great choice for just about any angled-headstock guitar.
Summary
Pros
Rugged protective bumpers at the headstock and bottom areas
Multifunction storage pocket with removable tool pouch
Air mesh back pad and straps cool down your carrying
Cons
Can ship with faulty stitching
A little bit tight fit with large guitars
The extra padding makes things tight in this bag, so it can be difficult to cram the longer Fender guitars in and is best suited to their makes with shorter scale lengths. This bag is the perfect fit for guitars like the Fender Jaguar.
Though it goes for the same price as the FET610, this FE620 is my favorite choice between the two and comes at a great value.
Check Price on:
---
Best Looking – Levy's Leathers Deluxe Gig Bag
Protection
Levy's Deluxe Gig Bag gives you a safe and stylish way to carry your axe around.
Fit with thick 25-millimeter padding to absorb shocks and covered in water-shielding polyester, this is a gig bag that will get your guitar where you're going in one well-protected piece.
A locking neck-support pillow adds stability beneath your instrument while in transit, keeping it where it's meant to be.
Quality
Don't go buy this bag thinking you're making a great score on yards of Levy's leather. Sorry to disappoint, but only the zipper pulls and handles have this hide.
Now, these zippers are something to focus on. The leather pulls are nice, but the real quality of these zippers is they're made of strong brass. Nothing's worse than when your gig bag's zipper breaks, so knowing the durability of this bag does a lot in securing its spot in this list of the best under $100 gig bags.
Portability
The Levy's Leather Deluxe Gig Bag lends you both the backpack and the side-carry handle options.
Its backpack straps, while not breathable, are comfortably padded to the point I think I could walk a marathon with this gig bag.
The leather-reinforced side-carry straps are found on each side of the case and clasp together with a sleek-looking handle.
Summary
Pros
Thick 25-millimeter padding
High-quality leather on zipper pulls and handles
Dependable, long-lasting build
Cons
Can be a tight fit for older, wide Les Pauls
I used to own a Levy's Leather strap, and that was the highest quality guitar strap I'd ever used. That was nearly 10 years ago, and while it's since moved on to another home, I'm sure it's got another few decades yet to give.
I'm confident Levy's Leather Deluxe Gig Bag will hold up much the same. Its moderately high cost seems to barely cover the standard of quality you receive, making this a great bag for any skill level.
Check Price on:
---
The Final Verdict
Surprisingly, Hola! Music won me over here with their Professional Electric Guitar Gig Bag. It's strong, durable, and gives you more protection than the rest at this price point, making it my number one recommendation for the best gig bag under $100.
But every one of these gig bags is a great option. We should be thankful for what we can get under $100 nowadays.
---
Buyer's Guide – FAQ
What to Look for in a Gig Bag?
First and foremost, you want to make sure the gig bag will protect your guitar. This means more padding and the cushier the better.
Some gig bags take this protection up a notch by adding a stiff internal frame. These give you the convenience of a light case while protecting your guitar from harsher treatment.
Many gig bags are water-resistant, so if you get caught out in the rain you don't have to fret about your guitar getting wet.
At the very least, make sure the gig bag has relatively thick foam padding and a non-scratch liner that won't damage your finish.
As for making transport easy, most gig bags do this by design. The best gig bags have backpack-style shoulder straps that let you carry your instrument on your back. If you choose an option like this, try to find padded straps that are kind to your shoulders.
What Can You Expect from a Gig Bag Under $100?
First, expect ample padding. This is, in my opinion, the most important feature of any gig bag. With less than $100, you can typically find between 10 to 25 millimeters of shock-resistant cushioning to keep your guitar safe from bumps and dings.
You can also expect at least one, but often more, storage pockets for taking your accessories or sheet music with you. This is a feature that's often overlooked but one you'll undoubtedly wish you had down the road.
These below-$100 gig bags give you padded straps to make carrying comfortable, and most have reliable side-carry handles with extra grip.
In general, $100 or less will buy you a gig bag you can feel confident will protect your electric guitar from all the usual damages. You don't have to blow half a grand just to keep your guitar safe when you have such great options at this low price.
Conclusion
Above all, you want to make sure that the one you choose will protect your guitar. After that, it needs to be convenient for all your guitar-carrying needs.
To get a gig bag that will do all of this, you can keep your costs pretty low. I'm happy to help you save some money and even more glad to help you protect your guitars, so I hope you find something that works for you from this review of the best gig bags under $100.
I hope that this guide helped you to choose the right gig bag for you. If you have any questions, leave a comment down below and feel free to share this post too.
I wish you all the best and keep rocking!
You might also like:
We are sorry that this post was not useful for you!
Let us improve this post!
Tell us how we can improve this post?