Last Updated on April 29, 2023 by Teemu Suomala
Best Overall – Yamaha THR10II WL
Sound
Features
Usability
Value for Money
Summary
Stuffing 15 digital amp emulations along with 8 effects and 3 instrument modes in a box barely more than a foot wide, the THR10II gives you literally thousands of sound choices.

You also get:
-15 digital amp emulations
-8 effects
-3 instrument modes(works well with acoustic and bass guitars too)

The Yamaha THR10IIWL gives you studio-quality tones and all the latest in wireless technology.

It's a hi-tech amp with high fidelity stereo sound that you can tweak just about any way you want, making it a great choice for tone gravers. The best guitar amp for small apartment.
How THR10II sounds:
Check Today's Price on:
*Consider all links in this post to be affiliate links. If you purchase, at no additional cost to you, we may earn a small commission. It helps us to keep the lights on, thanks! 🙂
---
The Next Best:
---
I'm about to reveal sweet-sounding amplifiers that can make your guitar sing with an "indoor voice" that you AND your neighbors will love. You don't need a mansion to fit these indoors either…
We will walk through everything you need to know before making a purchase so that you can choose an amp that fits your needs (and apartment), gives you versatile tones and sounds great.
Let's first look at these fine amplifiers, and at the end of the post, you can find the FAQ section that helps you to make the best choice possible.
Who crafted this post:
Author: Tommy Tompkins
Playing guitar since 2004. Primarily an acoustic guitarist who plays and writes traditional American folk music, with a background in melodic metal and a solid foundation as a bassist.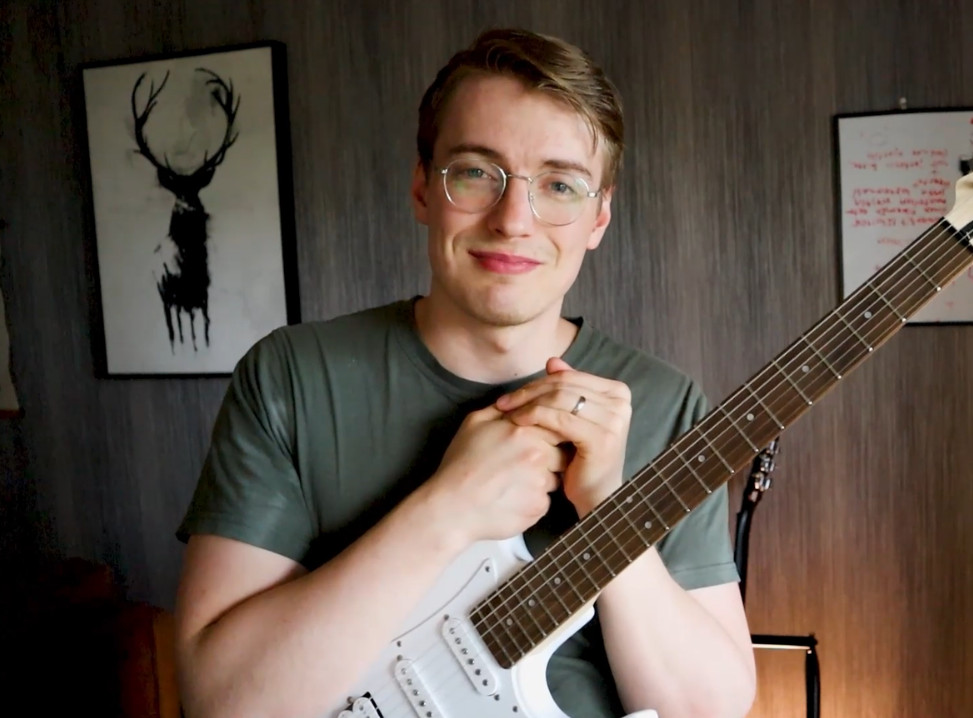 Editing & Research: Teemu Suomala
Playing guitar since 2009. Mainly focused on electric guitars, although jamming with acoustics too. Has played dozens and dozens of different guitars through different amps and pedals over the years. That's why he started this blog in January 2020 and started sharing his experience. Has produced content for several large guitar websites, such as Songsterr, Musicnotes, GuitarGuitar, and Ultimate Guitar.
Every one of these amps is here based on extensive research and decades of combined guitar experience of me (Tommy) and Teemu.
---
Our Favorite Music Store in The World!
Why?
– Excellent Customer Service (4.7/5 Trustpilot Score)
– Fast & Free Shipping
– Gear is Inspected, Tested, & Ready to Play When it Arrives to You (We love this)
– Fair Prices
Visit Sweetwater:
Best Guitar Amp for Small Apartments
Best Overall – Yamaha THR10II WL Wireless Desktop Amp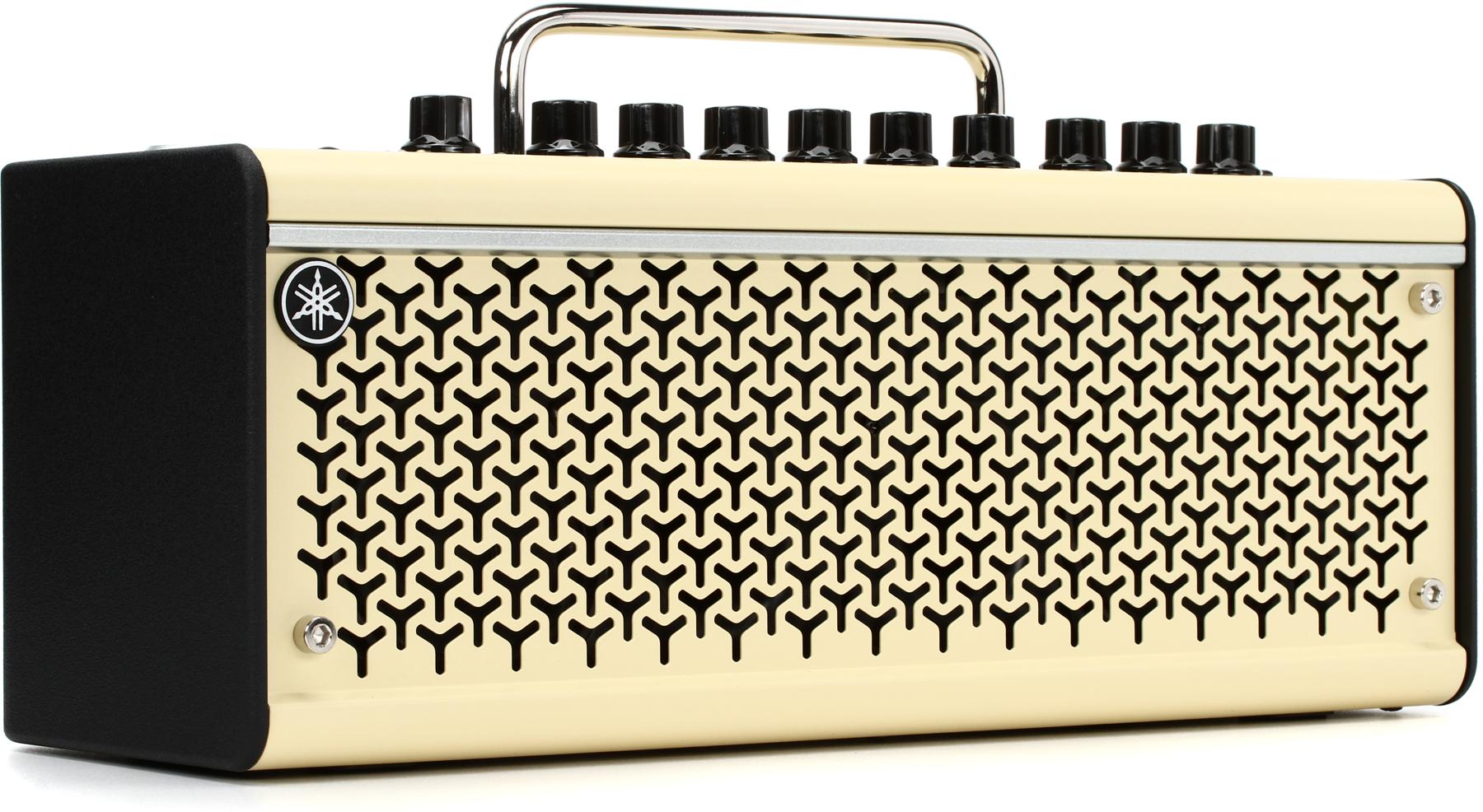 Sound
Yamaha's line of desktop amps has some of the most uniquely modern amplifiers of our time.
The THR10 II WL is perhaps the most high-tech of them all.
Stuffing 15 digital amp emulations along with 8 effects and 3 instrument modes in a box barely more than a foot wide, the THR10II gives you literally thousands of sound choices.
With amp modes ranging from clean and shimmery to crunchy and mean, this is an amp that covers every genre you could want to play in.
Another great sound demo:
Features
Best of all, if you don't like the way one of the presets sounds, you can change it however you want using the THR Editor.
This is software available for both your phone and PC that lets you adjust the settings for all the preloaded amps and built-in effects of this line of Yamaha amps.
The THR10IIWL, the wireless edition of these THR amps, lets you do all this via Bluetooth. However, if you don't need this cable-free tech and want to save a chunk of cash, there is a less expensive THR10II without these futuristic features. It's got all the same amp models and editability, you've just gotta plug in to use it.
Usability
Once you've got your settings how you like them, you can take this amp anywhere with you thanks to its rechargeable battery.
Staying at home? Well, then you can run off wall power using the included AC adapter.
If you really want to explore what cord-free playing means, you can even pair your guitar with a Line 6 G10 Transmitter to eschew the guitar cable itself.
So at home or on the go, cordless or plugged in, you get an easy-to-use interface that lets you pump out beautiful tunes in any style you please.
Summary
Pros
Wirelessly connects for several different uses
Works well with acoustic and bass guitars
20-watts of high-quality stereo audio
Many different amp emulations and effects
Cons
High price for low power(if you need extra power, you can buy a slightly more expensive 30W version)
Although it's a bit pricey for only 20 watts of power, the Yamaha THR10IIWL gives you studio-quality tones and all the latest in wireless technology.
It's a hi-tech amp with high fidelity stereo sound that you can tweak just about any way you want, making it a great choice for tone connoisseurs.
Check Price on:
---
Affordable Runner-Up – Line 6 20-watt (Spider V 20 MKII)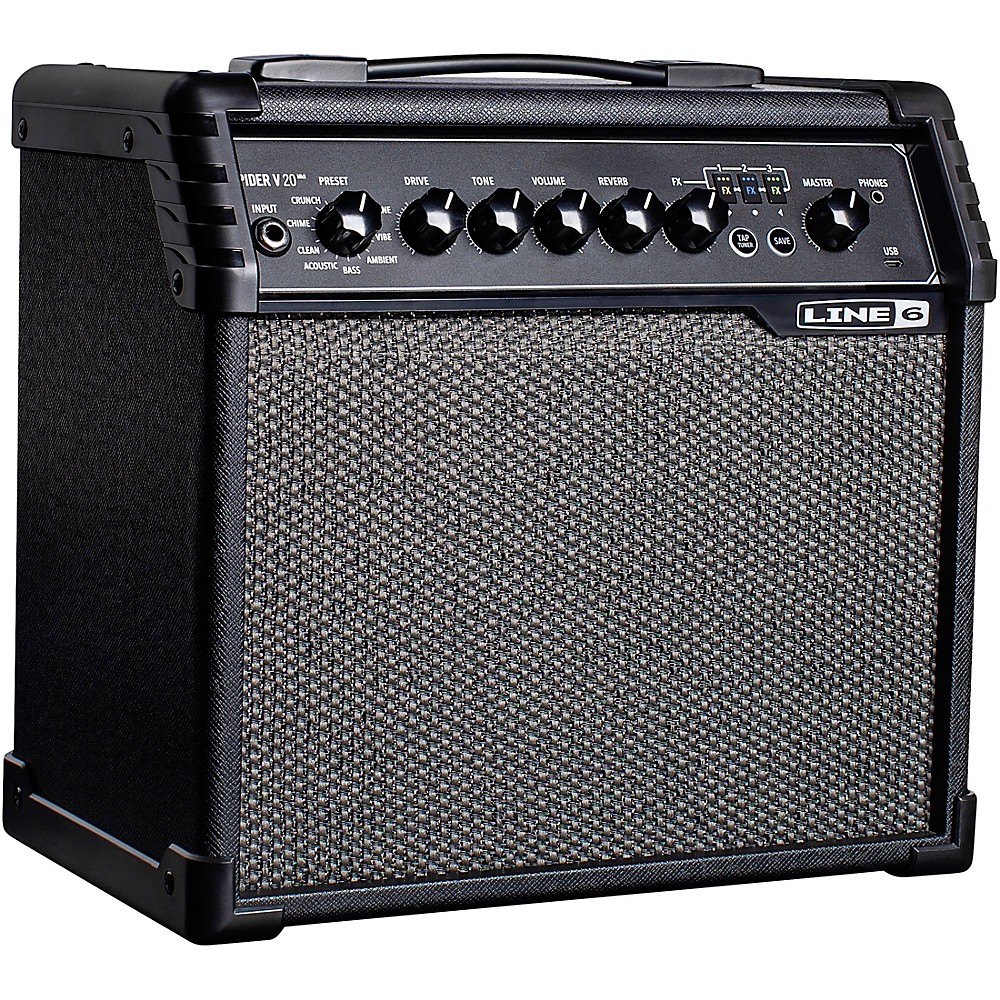 Sound
Looks can be deceiving. For instance, looking at the Line 6 Spider V 20, it's easy to assume it's a run-of-the-mill practice amp.
You'd probably never guess that hidden within its simple black exterior are 9 preset amp models with an additional 200+ waiting to be used once you hook this amp up to some software.
That's no exaggeration. The Line 6 Spider Remote App can be used on your phone, Mac, or PC to access a huge library of amp and effects presets. It's a little overwhelming.
But then again, looks can tell you a lot about something. The Spider V 20 looks like a basic practice amp, despite its offer of hundreds of models, it sounds basic too. It's the combo amp equivalent of a budget multi-effects processor.
Basically, it's a lot of fun to jam around with and write songs with in private, but I probably would not play show with this kind of audio quality.
Hear how this amp sounds:
Features
Unlike the other amps that pair with this kind of editing software, the Spider V 20 MKII lacks the modernized slanted chassis and compact design.
It's a straightforward yet sturdy plywood box housing a quality 8-inch speaker. There are no wireless anythings, and power is your traditional plug-in-to-the-wall style.
So although everything is pretty basic but your tone selection, I'll say again that this kind of amp is a lot of fun to play with.
If you're a beginner totally unsure of what direction you want to head musically, the Spider V has any sound you could dream of and will let you explore all the possibilities ahead of you.
Usability
This is all pretty easy to do, too. I can't personally speak for the software, but no one seems to complain about it.
As far as onboard controls though, you can do a lot with a simple layout, and Line 6 packed it in.
There are actually 3 independent effects sections so you can have many different combos of effects running at the same time.

3-band EQ is replaced in this amp by a Tone control, keeping the user-interface on the simple side.
Finally, you've got a 1/8-inch headphone jack for when you want to keep your jams to yourself.
Summary
Pros
200+ amp and effects presets available with matching software
Low cost
Sturdy cabinet construction
Cons
A little bit low-quality tone
HiFi pro-grade amps like the Yamaha THR are nice to have, but they're not really necessary if you're only playing for yourself.
If I were to buy an amp tomorrow, I'd probably get something like this Line 6 Spider V 20 MKII. It's in my budget and has more effects than I'll ever need, so I'd have years worth of tonal exploration to do in my bedroom.
For songwriting, experimenting, or simply learning what kind of styles you like to play, the Spider V's a great choice of quiet apartment amp.
Find GND's choices for best beginner guitar amplifiers here.
Check Price on:
---
Best Small Tube Amp – BUGERA V5 5-Watt Class Amplifier Combo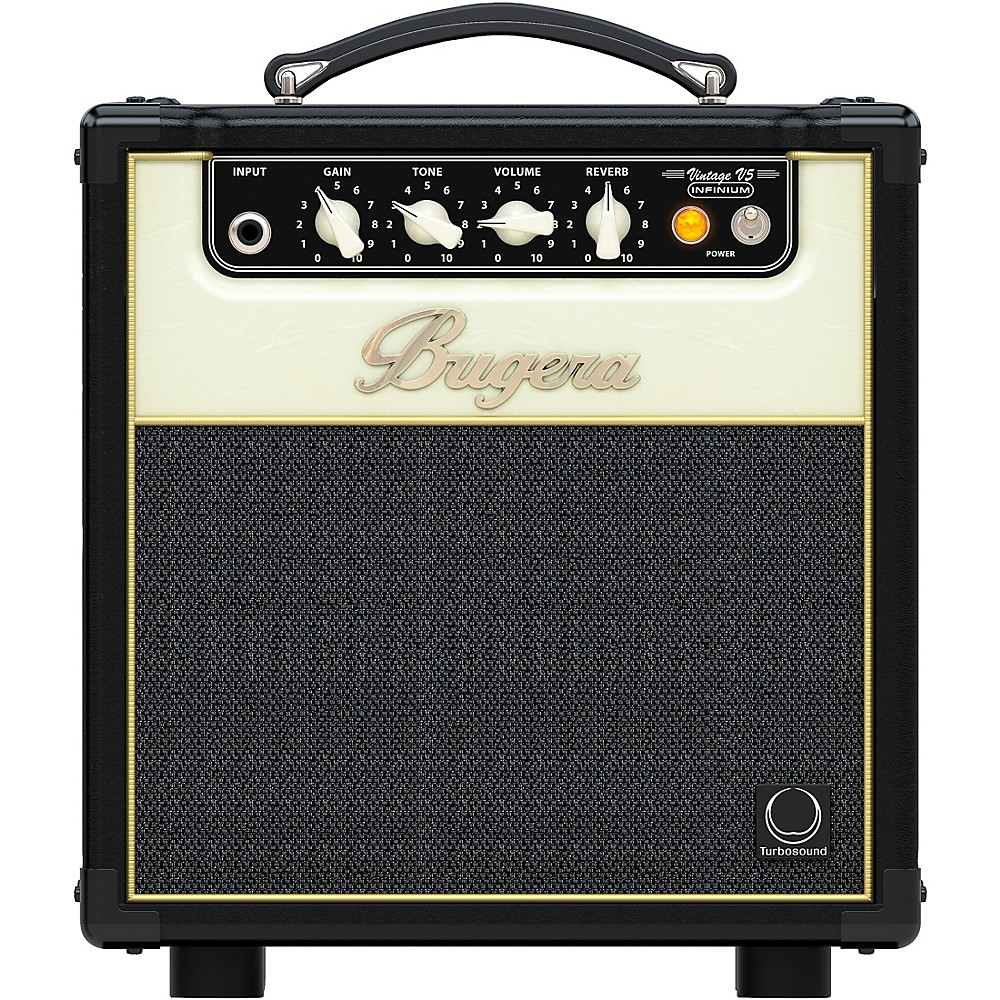 Sound
BUGERA's V5 is one of the best-sounding small tube amps around.
Using a combination of EL84 and 12AX7 tubes plus a vintage-inspired Turbosound speaker, the V5 is a kicking little valve amp that sings like the 60s.
There's not an awful lot of clean headroom in this model, so things get gritty pretty fast when you crank the gain. This makes it a great small tube amp for blues and rock.
Hear how this amp sounds:
Features
Though it's a simple-looking amp, the V5 packs all the basic features you need in a quality amplifier—and then some.
The front panel's got your tone controls laid out clear to see, so setting up your sound is as simple as it gets. Among these controls is a nice digital Reverb effect that adds a lot of character to leads and a depth of ambiance to rhythm work.
Usability
I'm not a huge fan of a Master Tone control in place of a 3-band EQ, but BUGERA'S got this amp set up to sound good no matter what your settings. So, it's not a big deal, all things considered.
One of my favorite things about this amp is the power attenuation switch on the back. At full power, you're blasting with a hearty 5 watts that I'd say could fill up a coffee shop style of show.
From there, you can scale down to 1-watt and even 0.5-watts using this power switch on the back. At this lowest setting, you'll be at perfect bedroom levels to let you rock out freely no matter the size of your flat.
Summary
Pros
Tube amp tonality in a low-watt combo
3 power settings to take you from practice to mini gigs
Basic controls and on-board Reverb
Cons
Single tone control limits versatility
If you're looking for an authentic tube amp to help you sharpen your blues skills and really get in touch with the nuance of your playing style, BUGERA's V5 is a great small valve option.
It's got a voice with plenty of character that doesn't have to scream to sound good, so your low-volume apartment jams will satisfy all your tube tone desires without blowing off the roof.
Check Price on:
---
Most Portable – Vox Adio Air GT 50W 2×3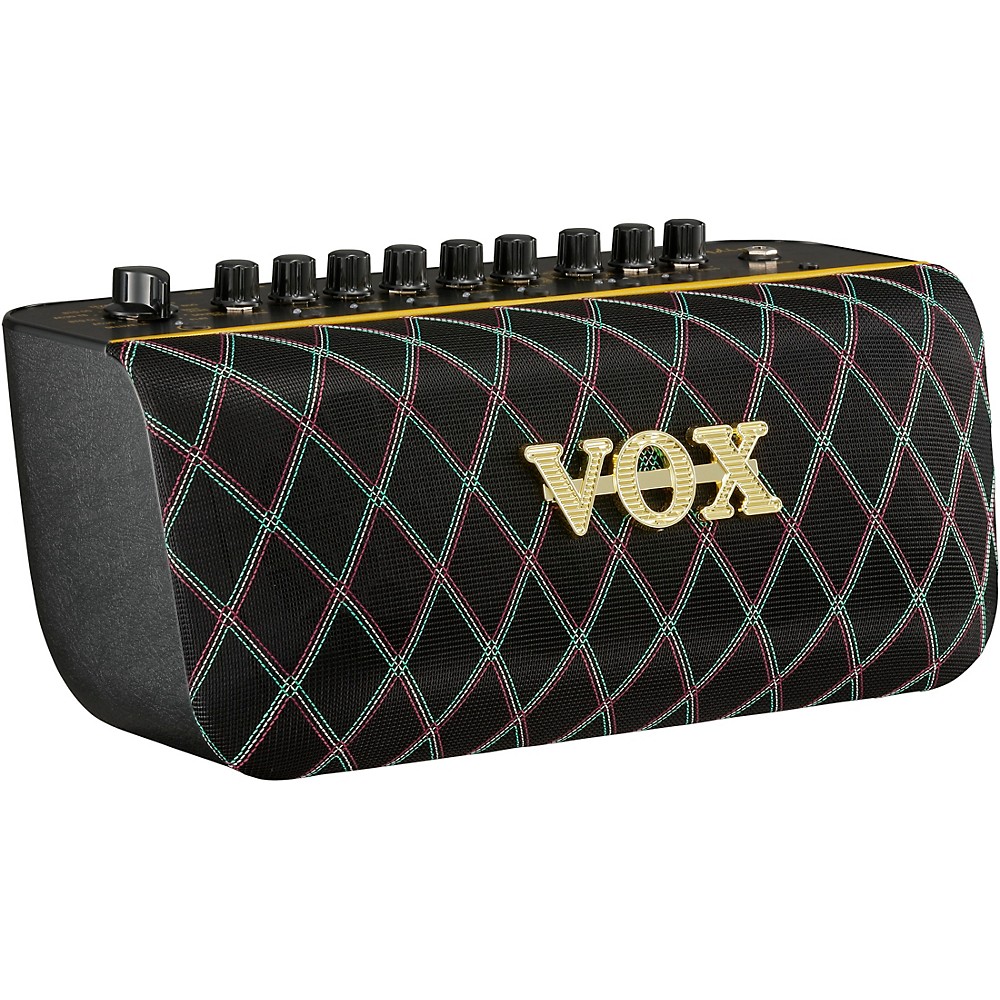 Sound
Vox's Adio Air GT is a mini but mighty modeling amp loaded with nearly a dozen different amplifier models.
There are a few different clean settings like the Boutique and Deluxe, along with a variety of rock'n'roller models like the Brit 1959 and the Double Rec.
The grit in these dirtier models ranges from a light buzz ideal for rockabilly to some serious fuzz made for headbanging.
While there's a lot to choose from, I've gotta say I'm not in awe of the overall sound of these models. Especially in the more distorted models, the tone seems a bit boxy or far away, leaving something to be desired.
Hear how this amp sounds:
Features
In addition to its amp models, the Adio Air GT also has two effects banks.
The first section's got your modulation effects like Phaser, Tremolo, and Chorus, while the second section offers a selection of 4 different reverbs.
And although this amp is only 8 inches tall, it's actually rated at 50-watts and can get pretty loud! But there's a handy master volume control you can use to cut the power while keeping your tone the same.
So though you might get it mainly for your flat, you've got 50-watts and battery power on standby in case you decide to start busking.
Usability
As one of the modern class of amplifiers, the Vox Adio Air GT comes with wireless capabilities that let you do many things cable-free.
This includes cord-free guitar connection, wireless audio playback, and even controlling the amp from an app on your phone.
With the ToneRoom software, you can switch between models and effects all from your phone or PC. However, many people report problems with this software. It can be glitchy and buggy and unresponsive at times, leaving your settings up to what you can change manually.
Summary
Pros
Versatile small modeling amp with many presets and effects
Bluetooth-enabled for wireless playing and playback
Master volume leaves gain and dynamics untouched
Cons
Can be prone to temporary failures
Hard-to-use software
The Vox Adio Air GT offers just about all the same features as the Yamaha THR10II and at a significantly lower price. It's also 5 times more powerful!
But what you don't get with this portable Vox amp is the reliability and fidelity of the Yamaha model. Despite its volume, the Adio barely compares in sound quality.
Because it can get so much louder than the usual small apartment amp, this is a nice choice if you think you'll ever want to showcase your jams out in the open using all the many sounds of this little rig.
Check Price on:
---
Best for Beginners/Budget – Fender Champion 20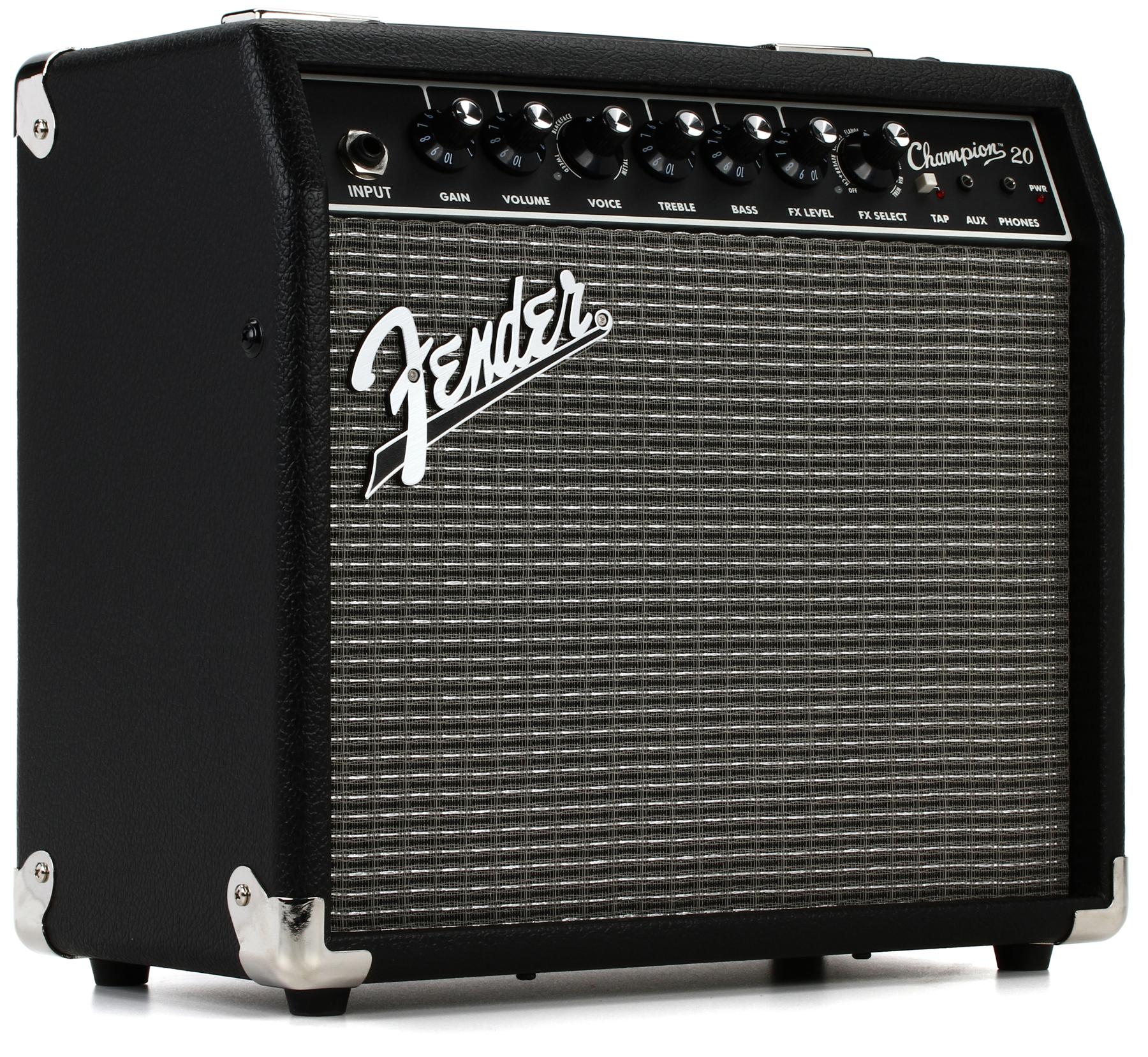 Sound
Fender knows tone, and they do a great job of providing an excellent sampling of the most popular electric guitar voices in their Champion 20.
At only 20 watts, this is an amp that works just as well in a small flat as it would a small coffee shop, pumping out sweet-sounding tunes in almost any genre.
For jazz, soul, and country, there are softer models like the Tweed Deluxe, but you can get nasty easily just by cranking that Voice knob to Metal.
All in all, you've got 12 amp models to choose from that are all delivered as authentically as a budget digital amp can.
Hear how this amp sounds:
Features
Once you've picked your amp model, you can sauce it up with any one of 12 different effects ranging from Reverb to Tremolo and many more in between. Even better, the delay time and tremolo speed can be set with the TAP button!
There's even a Wah effect, which is a real rarity on these lower-cost modeling amps. Now, aside from that, this amp is as simple as they come really. There's no hi-tech Bluetooth or software compatibility.
Fortunately, the preset amp models all sound really good, so there's not a lot of need to change anything in-app.
Usability
Not all of us want or need the ability to access or edit 200+ amp models anyway. Sometimes simplicity is best, and that's what you get with the Fender Champion 20.
All told, there are only 8 controls on this amp, and they're all clearly laid out on the front panel.
Using it is as simple as plugging in and hitting the power, really. From there, you can twist a few knobs and maybe push that TAP button a couple times, and you'll have the majority of the most popular guitar tones right at your fingertips.
Summary
Pros
Simple layout that is very easy to use
Large spectrum of selectable amp voicings
Uncommon effects like Wah and Flange
Cons
So what's not to love about this amp?
Well, for starters, it's all in all pretty average sounding. The clarity and definition of its single speaker aren't going to blow any minds.
It sounds great for practice and songwriting, and I'd even say you could do some minor gigging with it, but it's not exactly reliable. People complain of weak wiring connections leading to lots of hiss and hum, sometimes ending in total amp failure.
If you won't be clunking it around on the road, that probably won't be a problem. And at its low cost, it won't be the end of the world to replace anyway. Nice budget/beginner amp.
Check Price on:
---
Verdict
Unless you're really a tube amp fanatic, I'd recommend the Bugera last among these great small apartment amps.
It really is a wonderful tube amp, but it could be argued that tube amps are made to be played loud. Personally, I can't justify the price of the Bugera for its lack of power and versatility.
So it may be a surprise that I'm suggesting the Yamaha THR10II WL as the best guitar amp for small apartments.
It sounds awesome and has so many different ways you can change its tones, there's no chance of getting bored with this little amp.
Since it doubles as an acoustic and bass amp, it may be the only home amp you need to cover your entire musical arsenal.
---
Buyer's Guide – FAQ
What Makes a Great Guitar Amp for Small Apartments?
The key to finding a great guitar amp for your flat is to keep the power down and the fidelity high.
You might be fretting about your options when searching for an apartment-appropriate amp, but the truth is that small amps don't have to sound bad!
As more and more of us are cohabitating from both choice and necessity, amp makers have decided to meet our needs. So now we have a pretty nice selection of quality-sounding guitar amps that won't rattle the walls.
Options for apartment-friendly amplifiers include models for all skill levels.
On the beginner end of the spectrum are simple, affordable amps. They're somewhat basic, but they give you the tone you need to learn the fundamentals.
Players with more experience (or money) will find many amps that sound good enough to track. And, as a matter of fact, they often do come set up for the studio, sometimes even including recording software.
And when these top-rated amps pack around 20 watts of power, they'll likely be all you need to hit up some small-sized gigs.
Among the other perks of the higher class amps are funky effects, wireless connectivity, multiple channels, and useful portability.
All these features come bundled in relatively compact packages made to pump out practice-level volume, allowing you to jam away without driving your roommate mad.
How to Pick the Right Guitar Amplifier for Me?
If you're a beginner musician, going with the lower-cost options on this list is what I'd recommend 9 times out of 10.
Learn about different guitar amplifier types here.
It's likely your interests will change the more you play, both stylistically and even instrumentally.
For instance, I started out on electric bass before switching to almost full-time acoustic a few years later. I actually did buy a lot of expensive bass gear that I ended up not wanting much afterward and would have been just as well off with a simpler rig.
Among the affordable amps, you'll be able to choose, for example, the more portable or the more effects-driven models based on your preferences and needs.
In general for beginners, I'd recommend a clear-sounding, affordable but reliable amp with maybe a couple different effects.
Once you've been playing for a while and have a solid idea of what your musical niche is, the first thing I'd suggest is looking for amps that suit your sound and style.
You might not be so down with a Fender Tweed-inspired amp if you're into grindcore, and likewise, you might not dig the high-gain of heavy metal amps if you're a jazz aficionado.
Take a minute to listen to different sound samples of the amps that first catch your eye, check their specs to make sure the power and controls are right for you, and you've got a high chance of finding an apartment-ready guitar amp you'll love.
---
Conclusion on Best Guitar Amps for Small Apartments
From the basic low-volume practice amps to scaled-down tube combos for those who need true valve-tones, there are many great options for finding the best guitar amp for your small apartment.
No matter your budget and no matter how high your audio fidelity standards are, there's an amp here that you'll rock and that your neighbor will appreciate.
I wish you all the best and keep rocking!
You might also like:
We are sorry that this post was not useful for you!
Let us improve this post!
Tell us how we can improve this post?