Last Updated on April 29, 2023 by Teemu Suomala
Best Overall – Fender Super Champ X2
Sound
Features
Usability
Value For Money
Quality
Summary
I love the fuzz of tube amps and also love effects, so I'm a big fan of the Fender Super Champ X2.

It gives you a big tube buzz and a large range of pre-programmed settings to experiment with. Its amp modeling includes heavy metal tones, classic tweed style amps, and sweet-sounding clean replicas.

This is a really fun amp to play around with. While the effects may not be pro-quality, they're all you need for endless jamming enjoyment. The best guitar amp head under $300.
How Fender Super Champ X2 sounds:
Check Today's Price on:
*Consider all links in this post to be affiliate links. If you purchase, at no additional cost to you, we may earn a small commission. It helps us to keep the lights on, thanks! 🙂
---
The Next Best:
Compare:
Features
My Ratings
---
If you are looking for a good-sounding amp head that doesn't completely destroy your finances, you are going to get some nice road-worthy options here. Starting here is a great way to kick off setting up your ideal custom rig.
Our top picks are here to give you a good jumping-off point in selecting the amp that will make your tone dreams come true.
Let's first look at these fine amp heads, and at the end of the post, you can find the FAQ section that helps you to make the best choice possible.
If you are unsure about amp heads and their functions, check this little amp head FAQ guide.
Every one of these guitar amps is here based on extensive research and combined 27+ years of experience of me (Tommy) and Teemu.
Who crafted this post:
Author: Tommy Tompkins
Playing guitar since 2004. Primarily an acoustic guitarist who plays and writes traditional American folk music, with a background in melodic metal and a solid foundation as a bassist.
Hide The Rambling▲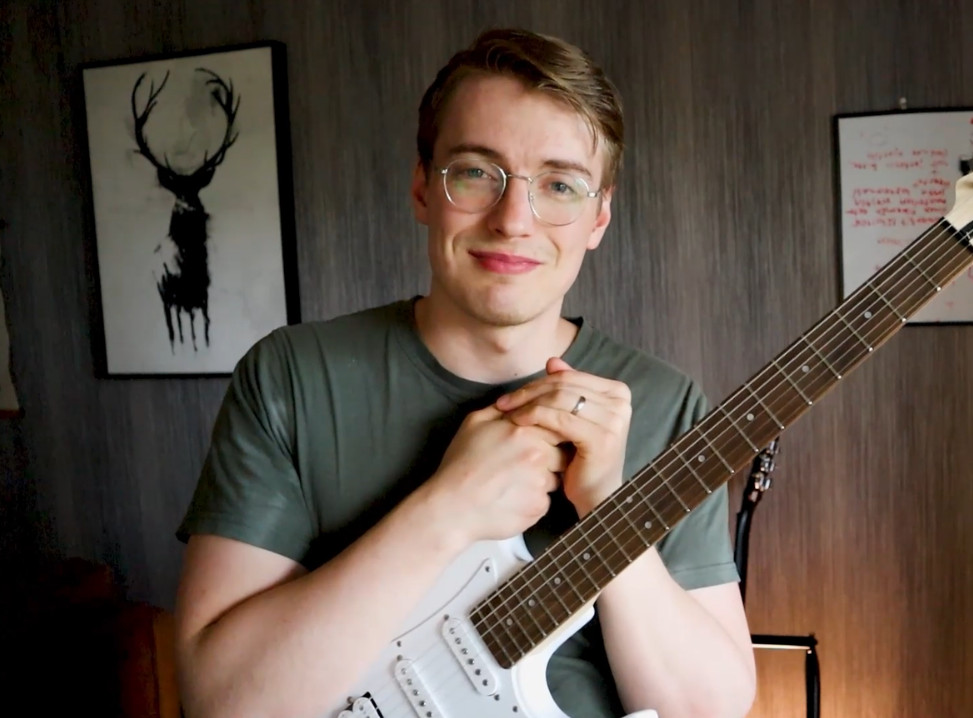 Editing & Research: Teemu Suomala
I first grabbed the guitar in 2009. I started this website in January 2020 because I couldn't do window installation anymore due to my health problems. I love guitars and have played dozens and dozens of different guitars through different amps and pedals over the years, and also, building a website interested me, so I decided to just go for it! I got lucky and managed to get awesome people to help me with my website.
I also got lucky because I have you visiting my website right now. Thank you. I do all this for you guys. If you have any recommendations, tips, or feedback, just leave a comment, I would love to chat with you. I have also been fortunate to produce content for several large guitar websites, such as Songsterr, Musicnotes, GuitarGuitar, and Ultimate Guitar.
I spend my spare time exercising and hanging out with my wife and crazy dog (I guess that went the right way…).
Hide The Rambling▲
---
Our Favorite Music Store in The World!
Why?
– Excellent Customer Service (4.7/5 Trustpilot Score)
– Fast & Free Shipping
– Gear is Inspected, Tested, & Ready to Play When it Arrives to You (We love this)
– Fair Prices
Visit Sweetwater:
Best Guitar Amp Head Under 300
Best Overall – Fender Super Champ X2 15-Watt Guitar Amp Head
Sound
I love the fuzz of tube amps and also love effects, so I'm a big fan of the Fender Super Champ X2.
It gives you a big tube buzz and a large range of pre-programmed settings to experiment with. Its amp modeling includes heavy metal tones, classic tweed style amps, and sweet-sounding clean replicas.
The clean tone of this model is great. With some of the modeled effects, you're able to really boost your volume while keeping out the overdrive. This lets you play around in really any genre you wish.
Hear how this amp head sounds:
Features
The Fender Super Champ X2 can save you the cost of expensive effects pedals with its 15 onboard digital effects. These are all pretty high-quality sounds that give you a ton of tonal variance.
I particularly love the tempo tap feature that lets you specify the rate of the delay effect. Effects aside, you also have two-channel options to choose from to further mod your tone.
Usability
Unlike other amps with so many packed-in effects, the controls of the X2 are all straightforward. To switch effects or voicings, you simply need to turn a knob.
You've got 2-band EQ controlling the treble and bass levels and another knob that controls the level of the effects. Switching channels is done with an onboard button, but can also be accomplished with an optional footswitch.
I'd prefer some kind of labeling so I know which setting is which amp model without consulting the product manual. But this is really the only drawback in usability.
Value for Money
Factoring in how much you'd have to pay for a comparable number of effects pedals, the Fender X2 is a great buy.
The only thing to consider is that its tubes aren't great and are apt to burn out in a short amount of time. Tubes are expensive to replace, so the outlook of future maintenance is a little bleak at the start.
Summary
Pros
Tube clarity with digital versatility
15 built-in digital effects
16 amp model voicings
USB output for recording directly into the software
Loud enough for gigs; low enough for playing at home
Cons
Extra effects features subtract from tube purity
Low-quality tubes probably need replacing pretty soon
Fender has done a great job with the Super Champ X2. It's a really fun amp to play around with. While the effects may not be pro quality, they're all you need for endless jamming enjoyment.
Check Price on:
---
Best for Classic Rock – VHT AV-SP-6H Special 6 Amplifier Head
Sound
This VHT Special 6 gives a great classic rock vibe. Its tubes are designed to provide the tweed distortion sound of the 60s and 70s. It does a great job of this, really kicking out those vintage jams.
The Gain boost lets you flip between the dirty distortion and a ringing clean super simply. Despite being a tube amp, it's got enough headroom to let you work with jazz, country, or other clean genres.
Hear how this amp head sounds:
Features
The Special 6 is pretty slim in features, but what it has are done really well. It's a stripped-down head that focuses more on function than features. So, you don't get an EQ, but you do get a tone knob with a wide range. You also get a cool High/Low power switch that lets you boost the full 6 watts for loud sessions or cut the power for in-home practice.
The Gain boost control is really handy for switching sounds in an instant. It can be operated by an optional footswitch to make things even easier.
Usability
With so few features comes minimal controls, perfect if you don't want to puzzle over a hundred knobs to find your voice.
It actually only has two knobs and two switches, really simplifying the use. Sure, you don't have as much tonal variance as models loaded with effects. But, you have full tube amp capabilities in a compact design that is super easy to use.
Value for Money
If you've got your heart set on classic tube tweed, this is a great value head. It's hand-wired with decent quality tubes that should last quite a while.
Effects will require the extra cost of pedals, but tube purists will find themselves with a great little amp in the VHT Special 6.
Summary
Pros
Simplicity at its finest
Gain boost switch allows for high-volume cleans and crunchy overdrive
High/Low power switch gives easy control of signal strength
6-watt design perfect for playing at home
Cons
6 watts need PA-boosted to play larger venues
No EQ limits tonal variance
Simple design not ideal for feature-craving players
Simplicity is the selling point of this guitar amp head. It's a no-fuss fuzz box that is much more powerful than it looks. I recommend it for the low-maintenance guitarist with a love of vintage jams.
---
Most Affordable – VOX MV50 Series Amplifier Head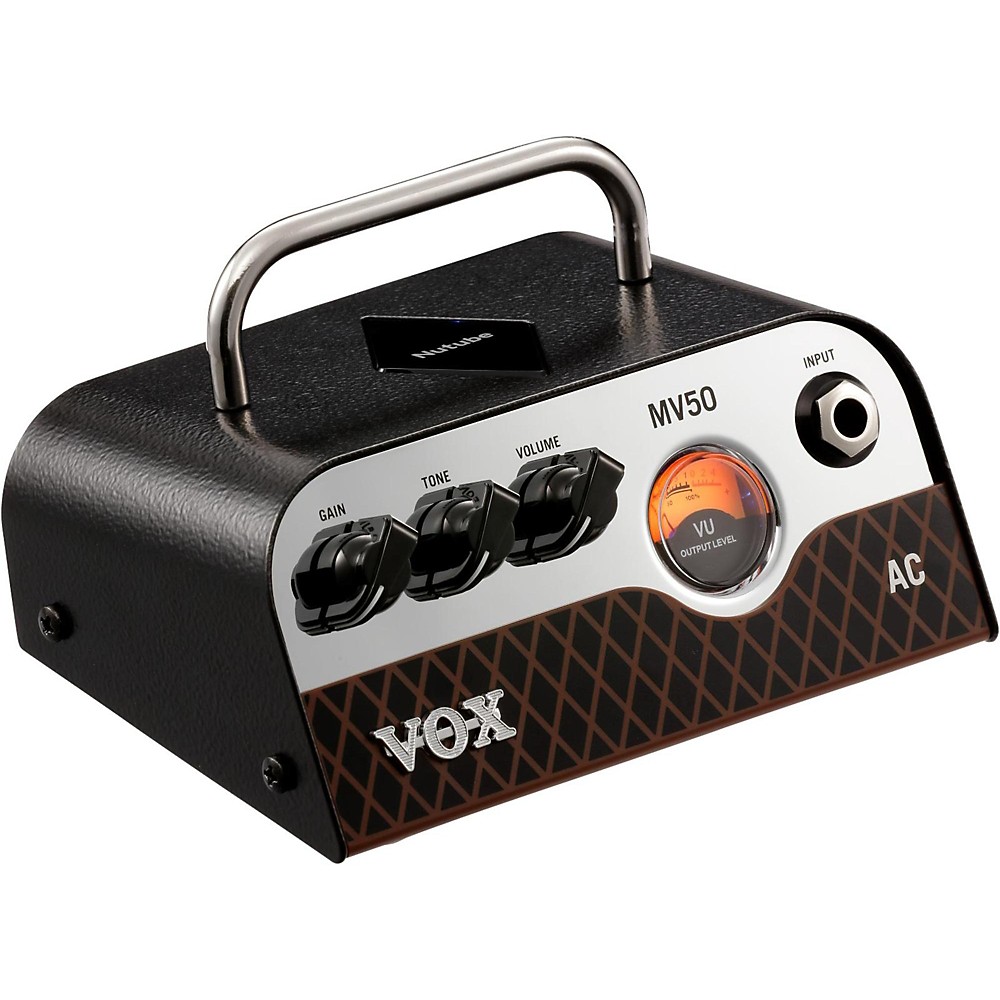 Sound
The MV50 series is a line of unique hybrid amp heads that emulate VOX's full-size models. Whichever model from this lineup you choose, you get 50 watts of power, plenty to blow up nearly any size room.
VOX uses a unique tube technology called NuTube to give you a classic tube tone in an extra small package. The fuzz and distortion of these amps are great.
Unfortunately, there's background noise present with some settings.
Hear how this amp head sounds:
Features
The MV50 series contains 5 different models, each built with a specific purpose.
The MV50 AC is made to model their trademark AC50 tube amp.
The Boutique edition aims to give you the sound of vintage specialty amplifiers.
The Clean model does what you'd assume, putting forth a beautiful clear tone for jazz enthusiasts.
Both the High Gain and the Rock editions are made for gritty, in-your-face distortion.
Usability
Regardless of head choice, each has only 3 control knobs. The knobs vary depending on the model but generally change your tone, your volume, and gain.
On the back of each model is a handy Deep/Flat switch that lets you change the amp properties depending on the cab style you pair it with. Deep is great for smaller cabs, reducing your highs and expanding your sound. The Flat channel is made for large, open-back cabs and gives a hearty mid-range punch.
Although they might look like toys, they pack a ton of power and are a really great choice for fans of VOX's classic amps.
Value for Money
This is a pretty low-cost series. Though it's not feature-packed, if you know the tone you want you can find a good option for you among the 5 different models.
With 50 watts, you definitely get your money's worth of volume out of each edition.
Summary
Pros
Incredibly small; weighs only 1.32 pounds
50 watts of analog power
NuTube technology provides big tube sound in a small package
Simple controls for easy functionality
Flat/Deep switch allows great pairing with different cab styles
Cons
Some hiss and hum
Not much clean headroom
The MV50s are unusual, totally modern amp heads that are surprisingly powerful despite their small size.
If you're not looking for something with a ton of different effects, you'll be satisfied with the tube-like tone provided by these models.
Check Price on:
---
Best for In-Home Practice – Blackstar HT1RH MKII 1-Watt Tube Head with Reverb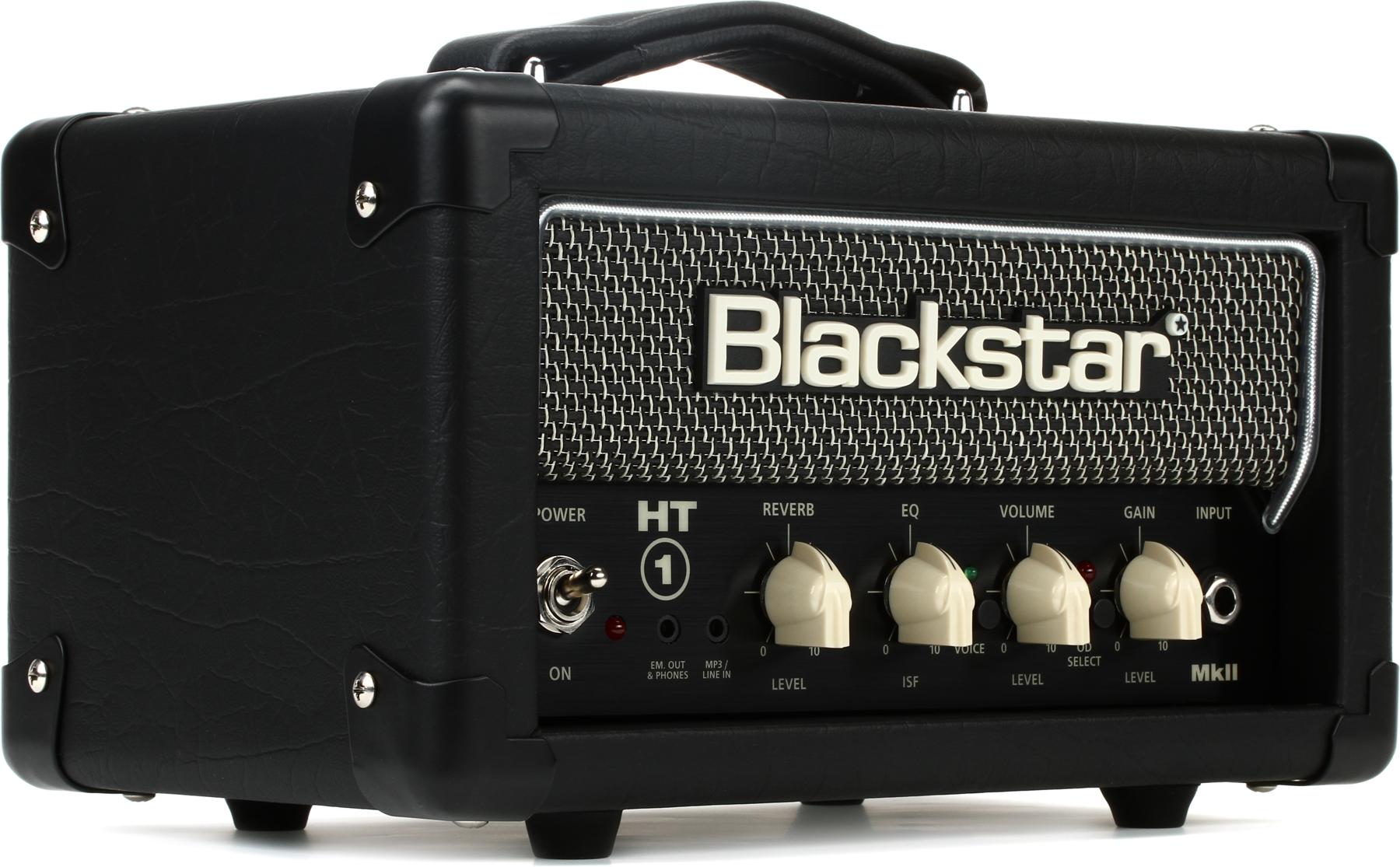 Sound
If your volume needs are low and you prefer to play crunchy, the Blackstar MKII is a great little amp head. Although its clean voices lack character, it's got grit for days in the overdrive channel.
You can tweak your tone from vintage tweed to modern metal with no effort, making it ideal for hobbyist rock'n'rollers and metalheads.
Hear how this amp head sounds:
Features
This is a pure-tube amp head that delivers a lot of straightforward fuzz.
Its controls mainly influence the shape and amount of overdrive you'll get. You can go full crunch for heavy metal to a softer grit for blues and classic rock.
Aside from this, the other notable feature is the nice-sounding reverb control. Take your tone from direct presence to tremulous and spacey with the twist of a knob. It's a well-done reverb that sounds beautiful and authentic.
Usability
If you're looking for an amp that can do clean as well as dirty, keep looking. This Blackstar model is pretty much stuck in the realm of rock amps, as the clean channel just doesn't have the fullness you'll want. Its controls are a little confusing at first, but once you get used to Blackstars terminology they make sense.
At only 1-watt, you'll need a PA to play any kind of show, but it's a great head if you want to play at home without driving your neighbors up the wall.
Value for Money
For low-power amps, the overall sound of the MKII is full enough to warrant its price tag. However, for under $300, I think the limited versatility is a bit of a bummer.
Summary
Pros
Low wattage for a perfect at-home amp
Footswitchable channels for easy range of tones
Great overdriven tube tone
"Infinite Shape Feature" gives a range of voices from classic British to modern American
Cons
Clean channels are a bit disappointing and flat
Not loud enough for standalone gigging or practice with a drummer
I ask for a bit more from my amps than the Blackwater provides. But, it's hard to find a 1-watt amp that packs as much punch as this one, making it a high-value at-home head.
Check Price on:
---
Most Portable – Quilter Labs InterBlock 45 Guitar Head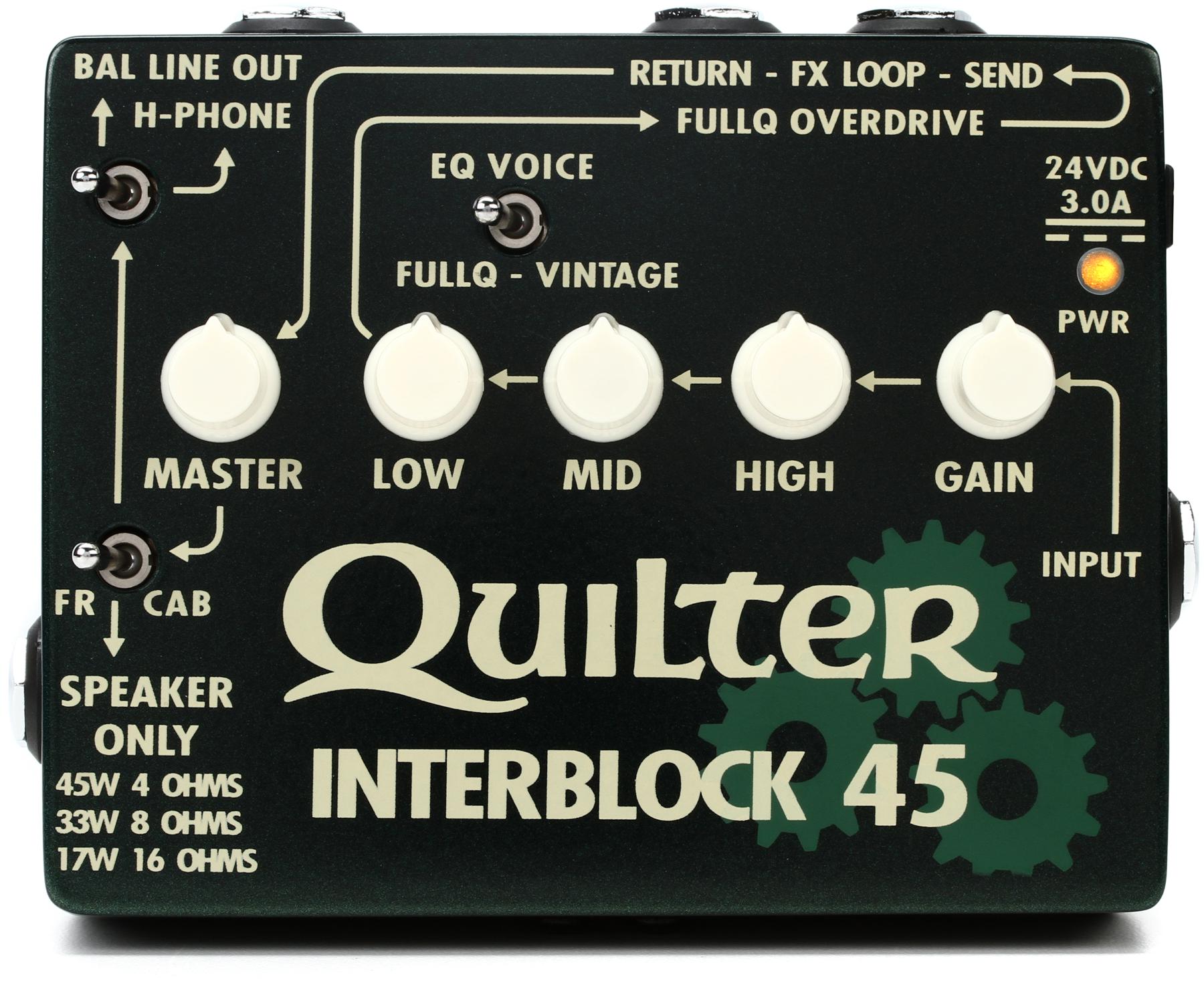 Sound
The Interblock 45 is a highly unusual solid-state amp head. At just the size of a guitar pedal and barely over a pound in weight, it's hard to imagine you'd get much tone out of this little box.
However, it packs a whole 45 watts of power. Since it's not a tube amp, you can't really get any overdrive from this head alone. But, if you play clean styles like jazz, soul, or pop, this is a beautiful head with a chiming crystalline voice.
With an onboard 3-band EQ, you can change your tone to fit your personal style. Altogether, it's a fairly straightforward piece of gear.
Hear how this amp head sounds:
Features
Jammed inside this little box is 45 watts of solid-state power. There aren't many special features aside from its small size and one element I like a lot.
That is, you can flip a switch for the cabinet simulator mode. This lets you eschew a traditional speaker cab and play directly through a PA system. If you like to keep your gear to a minimum, this is super helpful. The cabinet simulator also makes recording at home a breeze, allowing you to plug straight into your computer while on or otherwise into your audio-interface while off.
Usability
To get the most out of the InterBlock 45, you'll need some pedals. There are no built-in effects, and the solid-state build doesn't allow for natural overdrive.
If playing clean is your game, it's a very handy, incredibly small head that can do everything a traditional solid-state head can do.
Value for Money
If you're short on space or otherwise looking to keep your gear as little and light as possible, you can't beat the compact functionality of this model. But, if you need distortion right out the gate, you should go for a tube head or be prepared to drop some extra cash on a pedal or two.
Summary
Pros
Ultra-compact design fits on a pedalboard
Solid-state electronics for great cleans
Can be plugged directly into a PA system
3-band EQ to mod your tone as desired
Cons
Requires pedals for overdrive
Unusual design
I'm more of a tube amp guy myself but can appreciate the InterBlock 45 for what it is. I've never seen anything like it before, and amp really amazed at all the power packed into this tiny box.
Check Price on:
---
Verdict
My choice for the best guitar amp head under $300 is the Fender Super Champ X2. It's loaded with features, comes with a great tube tone, and its amp modeling basically gives you 16 different heads in 1.
Although it's good for what it does, I think for $300 you're better off with a more powerful amp than the Blackstar MKII. For playing at home, it's great, but anyone wanting to jam with a drummer is gonna need a bit more juice than it provides.
---
Buyer's Guide – FAQ
Who Should Buy an Amp Head Under $300?
Amp heads can be super pricey, but you don't need a $2000 rig to start sounding good.
These choices for under $300 are great for dedicated hobby guitarists who are serious about their sound. But, they're also fine for playing shows and recording if you're looking to take your act on the road.
Just because they're not top-of-the-line expensive doesn't mean they're not good enough for gigging. Until you reach the truly professional level of performance you can get by with one of these lower-cost models, no problem.
If you're serious about your tone and want to custom-craft your perfect rig, these amp heads are a great place to start.
What Are These Guitar Amp Heads Good For?
While these aren't the most powerful heads on the market, they've got wattage enough to fill medium-sized venues.
Any larger than a club and you'll probably be miked through a PA anyway, so power only matters up to a point. They may not give you the sonic purity of the most high-end models, but they're up to the challenge of most studio sessions.
What Are the Different Types of Amp Heads?
Amp heads are great for when you want to really customize your tone. You can pair them with a speaker setup of your choosing to dial into your specific sound preference.
There are different types of heads to choose from, including solid-state, tube, hybrid, and modeling. Below, I'll give you a brief outline of what these mean and what they're best used for.
Solid-state
Solid-state amps use hard-wired electronics like transistor circuits to amplify your guitar's sound. They're low-maintenance pieces of equipment and don't need a lot to keep them in working order.
The main benefit of solid-state amps is that they have a lot of headroom. The headroom is the amount of volume you can crank up to before the tone gives way to fuzz. This means you can play crystal clean at super loud levels. It's a great choice for jazz guitarists or anyone who favors undistorted power.
Tube
Tube amps use vacuum tubes to amplify the guitar's signal. They're usually regarded to have more density and power of sound than their solid-state cousins.
Unlike solid-state amps, tube amps need regular maintenance to function. Tubes are very similar to light bulbs and burn out after a while. Replacing your tubes as needed will keep your tone top-notch. With tube amps, your tone starts to get fuzzy at higher volume levels. This gives you a natural distortion that is preferred by many heavy genre guitarists.
One drawback is that they don't sound very good with the volume knob turned low, so you have to play loud to get the most out of a tube amp. Playing loud comes with overdriven grit, so they're better for rock and metal guitarists or people who want a bit of grime in their sound.
Hybrid
Hybrid amps use a combination of hardware types to produce your tone. They might combine solid-state and tube components or tube and digital elements to amplify the guitar. The variation is put into play in the preamp and power amp stages of sound production.
Because there are multiple types of hybrid amps, it's hard to say what they're best used for. Manufacturers can build Hybrids to fit almost any need.
My advice is to listen to recordings using a variety of different hybrid combos to see how the different configurations sound.
Modeling
Modeling amps typically combine solid-state circuitry with digital processors to replicate the voices of different amp models.
Their tone may not be as genuine and pure as tube amps, but they're extremely versatile. With a modeling amp, you have a ton of different amp varieties packed into one rig.
They're great for players who value variety and play in many different genres. If you love using different effects a modeling amp might be great for you.
Conclusion on Best Guitar Amp Heads Under $300
These are all great choices, and once you know what you're looking for, there's surely an amp head on this list for you.
I hope that this guide helped you to choose the right amp head for you. I wish you all the best and keep rocking!
You might also like:
We are sorry that this post was not useful for you!
Let us improve this post!
Tell us how we can improve this post?