Last Updated on April 30, 2023 by Teemu Suomala
Best Overall Guitar Amp Under $100 – Vox Pathfinder 10
Sound
Features
Usability
Overall Quality
Value For Money
Summary
This is my favorite guitar amp under $100.

It gives enough versatility, nice room-filling open-back tones, plus it feels and looks like a more expensive amp.

It's not the best option if you are looking for a metal or a portable amp, but if great classic rock- and clean tones sound good to you, I think that you can't find any better options under $100.

This amp gives really high value for the money. The best guitar amp under $100.

>Read and watch the full review of VOX Pathfinder 10<
How VOX Pathfinder 10 sounds:
Check Today's Price on:
*Consider all links in this post to be affiliate links. If you purchase, at no additional cost to you, we may earn a small commission. It helps us to keep the lights on, thanks! 🙂
---
The Next Best:
Sound Comparison of All 5:
Every $100 dollar amp is not a good option for you! That's for sure…
You can get decent amps on a budget, but amplifiers this affordable definitely have limitations. That's why it's a good idea to do some research before buying. I did research and bought the 5 best guitar amps in my opinion and tested these over 100+ hours.
After all this, I can state that this article has great options for almost every player. Great electric guitar amps for:
Classic rock
Metal
Rock
Blues
1 good amp head
So let's get started and find the best guitar amp under $100 for you!
This article features electric guitar amplifiers only, if searching for acoustic guitar amps under $100, check this guide I made with Tommy: 5 Best Acoustic Guitar Amps Under $100 in 2022 – Buyer's Guide
If your budget is really tight, you can also check this guide out: 5 Best Guitar Amps Under $50 – Tight Budget Tone-Machines
You can also watch a complete in-depth video I made about these 5 guitar amps:
Who crafted this article: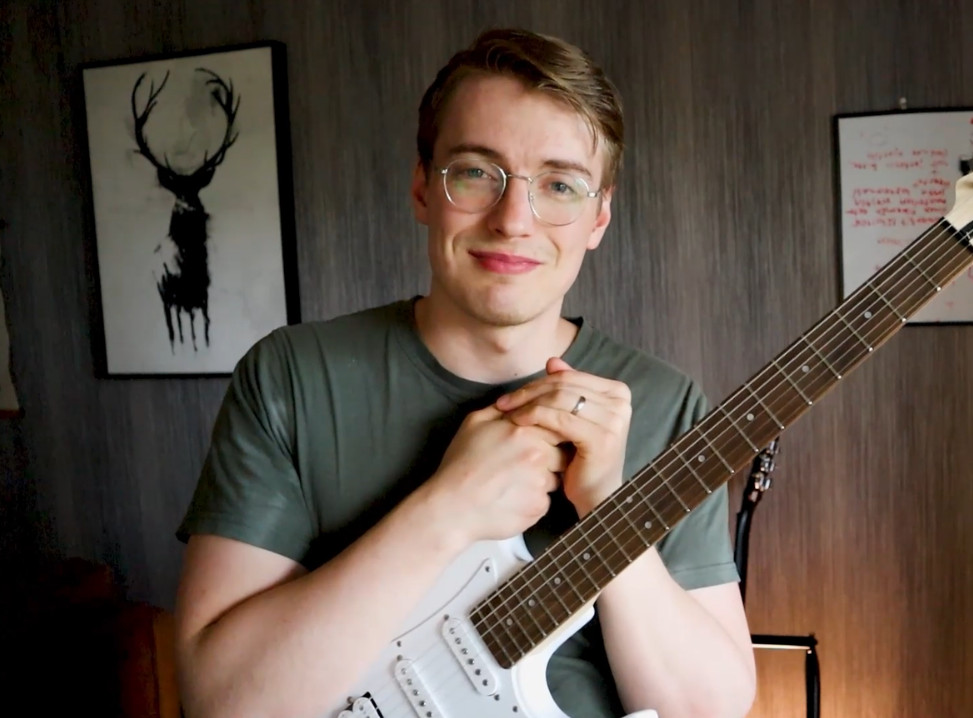 Author: Teemu Suomala
I first grabbed the guitar in 2009. I started this website in January 2020 because I couldn't do window installation anymore due to my health problems. I love guitars and have played dozens and dozens of different guitars through different amps and pedals over the years, and also, building a website interested me, so I decided to just go for it! I got lucky and managed to get awesome people to help me with my website.
I also got lucky because I have you visiting my website right now. Thank you. I do all this for you guys. If you have any recommendations, tips, or feedback, just leave a comment, I would love to chat with you. I have also been fortunate to produce content for several large guitar websites, such as Songsterr, Musicnotes, GuitarGuitar, and Ultimate Guitar.
I spend my spare time exercising and hanging out with my wife and crazy dog (I guess that went the right way…).
Hide The Rambling▲
---
Our Favorite Music Store in The World!
Why?
– Excellent Customer Service (4.7/5 Trustpilot Score)
– Fast & Free Shipping
– Gear is Inspected, Tested, & Ready to Play When it Arrives to You (We love this)
– Fair Prices
Visit Sweetwater:
Best Electric Guitar Amps Under $100
Presenting Competitors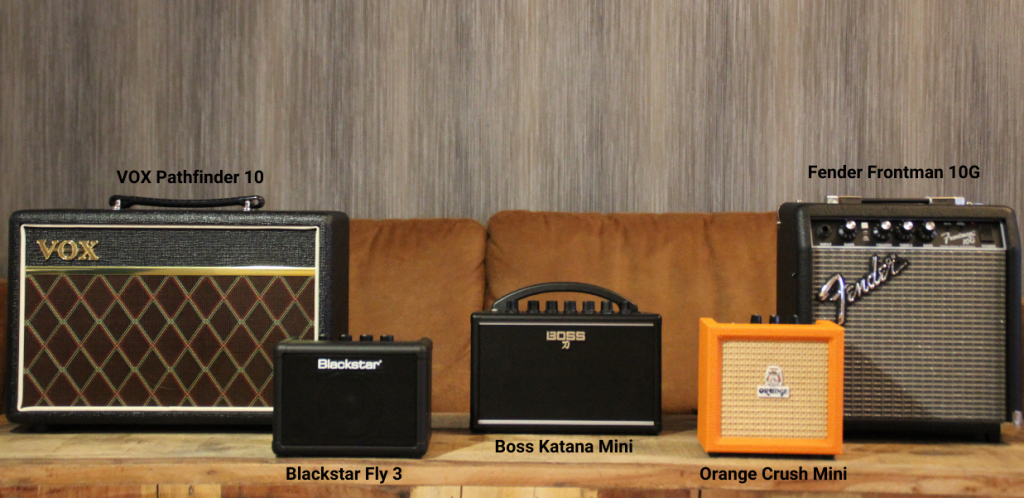 Compare specs:
Compare dimensions: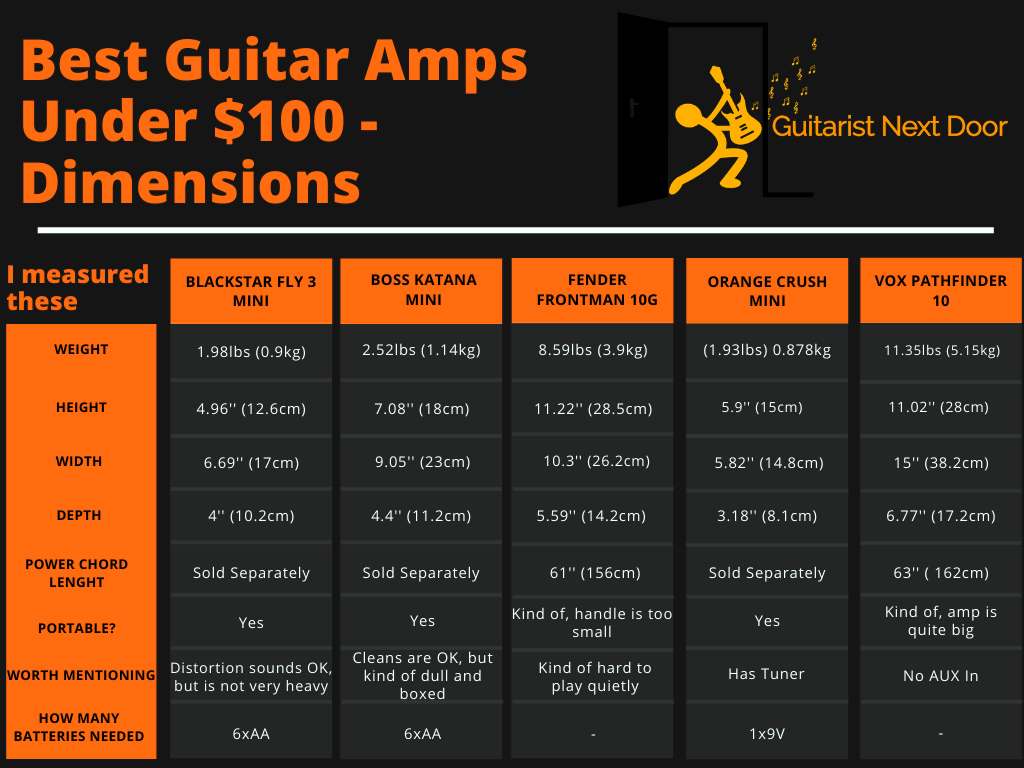 Compare the benefits:
Overall Looks, Feel, and Quality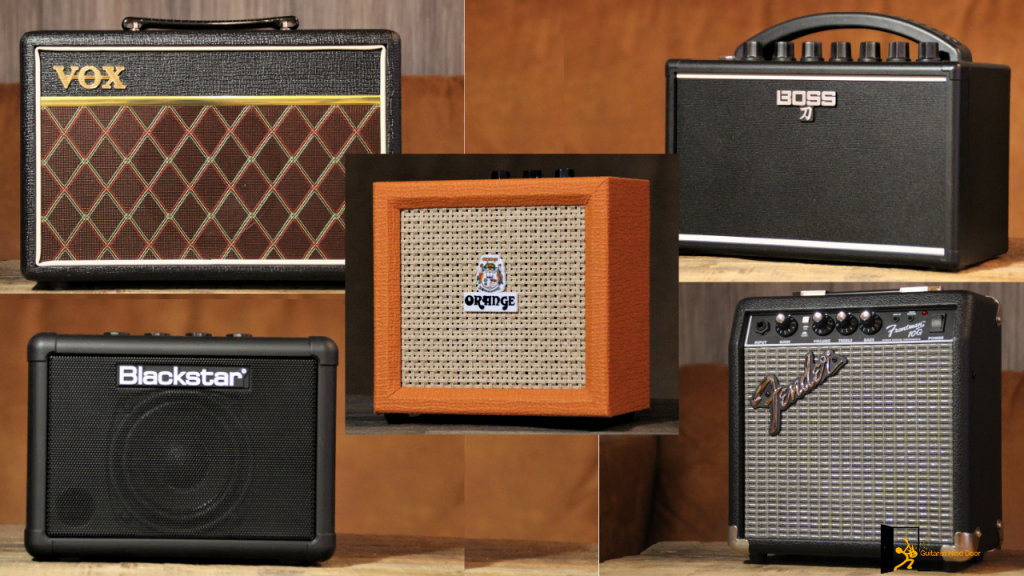 Blackstar Fly 3
Blackstar doesn't even try to look more expensive, and it's good because now it can do other stuff well.
But this Blackstar is not ugly looking and doesn't feel like garbage, knobs don't feel too cheap, everything is well attached and works.
But there are 2 things that should be improved:
The surface of the plastic is quite slippery. And in a portable amp without any kind of handle, this is a small minus.
The use of only 2 rubber legs paired with two slippery plastic ones doesn't work well. This makes the chance of dropping the amp higher.
Otherwise, everything looks and feels solid.
Boss Katana Mini
This the most expensive one, also feels the cheapest. But actually, I like when manufacturers are focusing on tones rather than looks with these affordable amps.
Everything works well, and the cheap looks and feel of this amp didn't really bother me too much, because otherwise, the amp is a great one.
Control knobs, feel a little bit cheap for $100, but does this really matter…? No, in my opinion.
But there is 1 "real" con with the feel of this amp:
When you carry this amp from the handle, your hand either bounces against the control knobs, or it might even be a quite tight fit if you have large hands. And this is not a huge issue, but it bothered me when I was carrying this amp from the handle. So the best place to carry this Katana Mini is a backpack in my opinion.
But it's still a good thing that this amp even has a handle, now carrying and moving it around in your apartment is easier and you won't drop it so easily.
Fender Frontman 10G
Frontman definitely wins Boss and Blackstar in this category, but it sure feels and looks like a beginner amp.
This doesn't mean that anything is bad, I wouldn't hide this in the closet. Nice looking Fender logo and the overall 70's feel and looks of this amp are nice, but you can definitely tell that this is a budget amp…
Control knobs are a little bit cheap looking, but I can say that for the price you get good-enough quality, looks, and feel with this amp.
One minus is the handle, it's kind of useless. Even with my tiny hands, I had to carry this amp with 2 fingers only, and if you have large hands, you might have to carry this amp with only 1 finger. There would be room for a larger handle in my opinion.
Not great, but definitely enough.
Orange Crush Mini
Crush Mini does something right, something wrong here. It feels and looks like an orange amp. I had Orange Crush 20RT in my testing at the same time, and this Micro Crush didn't really lose much to its $100 more expensive big brotherwhen it comes to looks.
But while everything looks really good, something is not right under the surface…
The Speaker… it lacks quality, and I think that you can notice that in the sound section too.
And I think that it's speaker only because you can get nice tones with this amp with an extension speaker. But just with its own speaker, everything is not right.
Vox Pathfinder 10
Pathfinder 10 takes the edge here… it feels and looks like a more expensive amp for sure. Everything from the control knobs to the overall finish to the speaker is really good in quality in my opinion.
And also, the handle is actually usable, even that portability-wise this amp is not the best pick from these 5, because it's the largest.
My favorite things are the golden "VOX"- logo, basket-weave, and the leather looks.
Features
Blackstar Fly 3
Overdrive switch, gain, and volume= set the distortion and volume to your liking. This amp can be played quietly, and it gets pretty loud too.
And then you got the "delay"-effect, usually not found in good amps on this price-, and size range. A great way to spice up your playing. You can also dial-in "reverb" like tones when you set the "Time-knob" to 0, and the "Level-knob" to 10. I especially enjoyed playing clean leads with some delay and dialing in reverb-like effects with crunch leads.
Plus, you get Blackstar's patented ISF (Infine Shape Feature) EQ in this little amp. With this, you can shape your tone more than just with one "treble" or "middle"-knob.
Fully counterclockwise is the "American" setting and fully clockwise is the "British" setting.
American tones are sharper, brighter tones, a little bit like you would dial in more treble. British tones are the opposite like you would increase the middle and bass and smoothen the treble.
Of course, these features are not much when compared to the more expensive amp, but for this price point, I'm satisfied.
Plus, you have an output for Blackstar's Fly 3 extension cab, you can buy this separately or find a bundle where both the amp and cab are included.
Boss Katana Mini
Boss Katana Mini gives you the most from the 5 when it comes to features.
Basic "gain and volume", 3-band EQ, delay, and 3 different amp types. This is amazing for the price in my opinion.
With 3 different amp types you can select between:
Clean
Crunch
Brown(Distortion)
This gives you great versatility for the price, and with 3-band EQ, you can shape your tone a lot. Each basic Frequency-categories:
Bass=Low
Middle
Trebel=High
And with delay, you can do the same as with Blackstar. Spice up your playing, and you can also dial-in "reverb" like tones when you set the "Time-knob" to 0, and the "Level-knob" to 10.
Overall you get great features with this amp, and I don't know if there is a good amp in this price range that offers you more features-wise.
Fender Frontman 10G
Basic beginner-amp features, but definitely enough for this price. Gain, Volume + overdrive switch.
With these, you can set tones between soft cleans and fuzzy distortion.
2-EQ knobs, give you nice ways to shape your tone. With the"Bass"-knob you can highlight or smoothen low-frequencies. "Treble"-knob gives you the opposite.
So, you can get thick and full rhythm tones with "Bass" level high or aim for sharp leads when you turn the "Bass" down.
I found myself mostly using "both knobs half-way"- setup.
With that, you can cover a wide range of different riffs without playing with the knobs all the time. Only with leads, I highlighted the high-notest a little bit with the treble.
Orange Crush Mini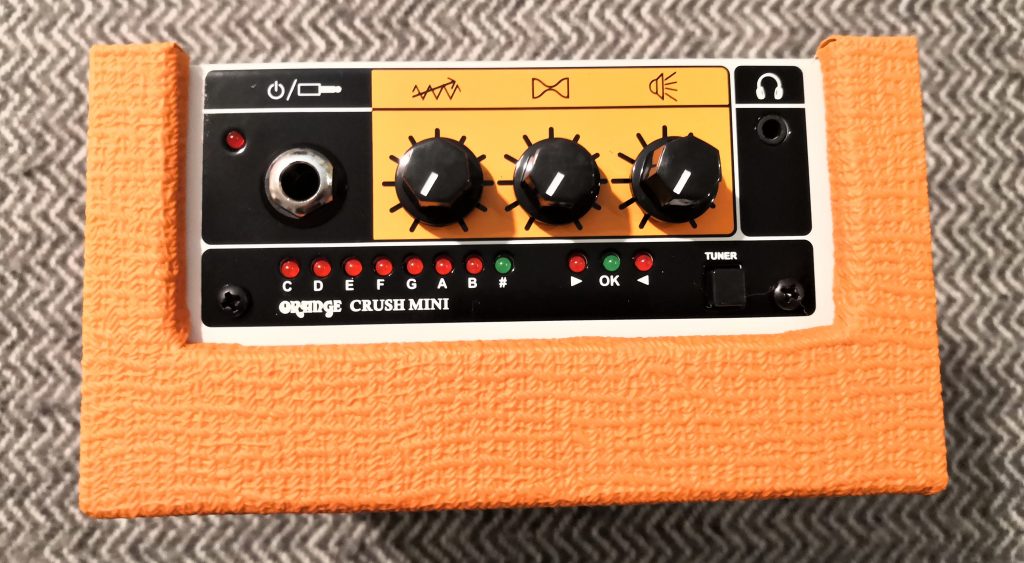 3-knobs is what you get.
Gain to add some distortion into your tone.
Tone shaping. You can either highlight treble(high-end frequencies) if you turn this clockwise, at the same time middle-frequencies are smoothened. If you turn the tone-knob anticlockwise, it does the opposite, highlights the mids and smoothens the treble.
Volume: Increase or decrease the Loudness.
For this and price and size, this is enough, but for those who are graving for features, this Orange is not the best option.
By far the best feature of this amp is the speaker output. So basically you can power up a speaker cabinet with this amplifier, more about this in the sound section.
Plus, you get an actionable tuner with this Mini-amp.
Vox Pathfinder 10
You get exactly the same beginner-amp features with this Pathfinder as with Fender Frontman 10G. So definitely enough, but these amp don't necessarily shine in this department.
Gain, Volume, and overdrive switch are what you need for setting up the distortion and loudness levels to your liking.
With treble and bass, you can shape your tones, either highlight or smoothen, high-or bass frequencies.
So for a practice-beginner amp, these are definitely enough.
Missing AUX-cable input is a small con feature-wise but doesn't ruin this amp for me, but for some players, this could even be a deal-breaker.
Usability
Blackstar Fly 3
In my opinion, the ISF EQ is the only thing that can confuse first-time Blackstar users a little bit(you can learn more about ISF from Blackstar's own article.). But you can get familiar with it fast, and after that, it's even easier than 2-band EQ for example.
Most of the players are already familiar with delay, and if not, the manual helps with this (and with ISF-knob too). I went through the manual and it was really clear and simple, it definitely gets you started.
Overall, this is not the easiest amp to use under $100, but still far from hard-to-use.
Boss Katana Mini
With the most features, this Katana-Mini is the hardest to use. But it still doesn't bring anything alien or otherwise confusing to the table, and that's why I can't really complain.
For experienced players, there is nothing to worry about. For beginner guitarists, there is some learning curve as with any new guitar gear.
But with 7-control knobs and 3-amp types that are clearly presented and also explained in the manual, I wouldn't worry about the usability of this amp.
Fender Frontman 10G
Frontman 10G is designed with beginners in mind and that is noticeable when I used it. I can't imagine anyone having trouble with the usability of this little amp.
All is clear and simple from the manual to the control knobs, I can't really give this amp anything else than 5/5 when it comes to usability.
Orange Crush Mini
The only thing that can confuse at first is the power button because there is none. This amp turns on by plugging guitar-or AUX-cable in, and it turns off when you unplug. If you have both plugged in, it turns off when you unplug both.
Otherwise, only with 3-knobs, this amp is super-easy to use.
Vox Pathfinder 10
Vox brings the same simple usability to the table as the Fender Frontman. Meant for beginners, and manual helps if needed. 4-control knobs and Overdrive-switch are definitely not too much for anyone in my opinion.
Sound
Here's the sound comparison:
Blackstar Fly 3
Fly 3 is a pure classic rock amp in my opinion. This provides great clarity with cleans and it has enough crunch for rock riffs. It's not the best option for metal, but maybe some classic Black Sabbath-style metal riffs can be played with solid tones using this Blackstar.
I especially enjoyed the cleans.
You can dial everything from sharper, brighter American- to rounder, warmer British cleans.
Personally, I found myself using the rounder British cleans more with this amp.
Playing with the "Delay", you can add a nice ambiance and atmosphere to your tone. Especially clean leads with dealy sound really sweet to my ears.
I played with crunch tones quite a bit, too both with the clean channel with full gain and the overdrive channel with low gain. But I enjoyed the crunch tones with the clean channel the most.
As I said, distorted(metal) tones of this amp sound more like crunch or rock tones than distortion in my opinion.
Boss Katana Mini
Katana-Mini is a little Metal-box. There is no doubt in my head about that. It can give you warm and thick tones for heavy riffing, or distorted lead tones with some delay.
Don't get me wrong, you absolutely get better metal tones if you spend more, but for this price, there are no better options in my opinion.
But you can get a better clean and crunch tone for less money. For example, Blackstar Fly 3 gives better cleans for sure.
Crunch and clean of this amp sound a little bit boxed and dull, the clarity just isn't there, these are my major complaints.
But clean and crunch of Boss Katana don't suck by any means, but there are better options available for you if mainly searching for those.
Fender Frontman 10G
Frontman shines in the Clean department.
Especially those bright and sparkling Fender-type cleans are really good for the price. I had a really fun time when playing some funk, blues-style riffs and licks with this amp. With both clean and crunch tones.
So cleans of this amp are really good, crunch is good, but what about the distortion?
You can do some classic rock and rock with it, maybe even some songs from AC/DC. But this is not a metal amp. Distortion gets really dry and too fuzzy easily.
Distortion of this amp is not completely useless for this price, but I wouldn't buy this to practice heavy riffs with it.
Orange Crush Mini
The cleans of this amp sound pretty good, but are really quiet, and also thin. Some funk and clean riffs-overall can go with this, but it's really quiet, and sometimes you have hum present with full volume.
Crunch is ok, you can get a nice amount of loudness out of this amp, but if you try to highlight the high-end tones with tone knob, tones start to be too sharp.
Distorted tones are almost useless in my opinion. Only if you use the first quarter of the tone-knob, you can get nice tones with it. But if I went over that, amp started to sound really fuzzy and sharp. Not good in my opinion.
This is why I think that the speaker of this Orange is pretty bad, it can't do much.
So tonally, 4/5 times I would pick some other option…
But as an amp-head, this orange amp is good, especially for the price. It changes everything. Portable Orange-tones at an affordable price…sounds good to me! But of course, you have to own a speaker-cabinet for this.
Vox Pathfinder 10
Everything else than distorted tones with full treble are good with this VOX in my opinion. Most of the tones are even great.
But again, this amp is not good for metal, but due to my experience, this seems to be the case with VOX amps usually.'
Pathfinder can do rock and even some hard rock, but it's not good for any heavier stuff in my opinion.
It especially shines with cleans and low-treble crunch tones. For this price, it's the best option for jazz, blues, and classic rock in my opinion.
And one thing that makes this VOX special and also my favorite of these 5 is its open-back. This makes tones sound more full, and when I played with this, the sound filled the room in a way that these other amps could not do.
Value For Money
Blackstar Fly 3
You get:
Portability
Nice tones(especially cleans and crunch)
Delay-effect
ISF-EQ that ads versatility because it gives you a way to shape your tone more than just a 1-EQ knob.
This amp gives amazing value for the money.
Boss Katana Mini
You get:
3-band EQ to shape your tone
Portability
3 amp-types
Great distorted tones
Delay-effect
There is no way that I could say that you won't get a nice bang for your buck with this. If clean and crunch tones would be at the same level with Blackstar Fly 3, this would be by far the best amp of these 5. But this little bit too good to be true for this price.
Fender Frontman 10G
You get:
Very good Fender-cleans for the price
Solid Crunch tones
Easy usability
This is not the best of these 5, but you can do a lot worse when buying a budget amp. Nice value for money.
Orange Crush Mini
You get:
Good but quiet cleans
Solid crunch
Nice looks
If I would just going to use the built-in speaker of this amp, I wouldn't buy this. Boss AKtana Mini and Blackstar Fly 3 are a lot better options for that purpose. Still, for the price it's not complete trash, but far from the best.
But if you are going to use this as an amp head, then it's a whole different story…as an amp head, Orange Crush Mini gives great value for money in my opinion.
Vox Pathfinder 10
You get:
Great versatile cleans
Good crunch tones
Some solid distorted tones
Surprisingly good quality for the price
Simple usability
Open back tones(not for all)
Overall, this Vox gives excellent value for money, it's not perfect and it can't do Metal, but it's still a really nice amp.
---
Verdict
Winners
Best Overall Guitar Amp Under $100 – Vox Pathfinder 10
This is my favorite guitar amp under $100. It gives enough versatility, nice room-filling open-back tones, plus it feels and looks like a more expensive amp.
It's not the best option if you are looking for a metal or a portable amp, but if great classic rock- and clean tones sound good to you, I think that you can't find any better options under $100.
Check Price on:
---
Best for Metal/Runner-up – Boss Katana Mini
If good distorted metal tones are the most important thing for you when looking for an amp, this is the best option under $100.
Cleans and crunch are not the best for this price range, and the amp itself doesn't feel high in quality, but the distorted tones absolutely rock.
Check Price on:
---
Best Portable Cleans – Blackstar Fly 3
If you value great clean and classic rock-type crunch tones, plus you want portability, Blackstar Fly 3 is the best option under $100 in my opinion.
It gives enough features and ways to shape tone because of delay-effect and ISF EQ. The tones of it surprised me in a good way. Nice clear sound.
But for distortion and metal, this amp is not a good pick in my opinion.
Check Price on:
---
The Next Best
Fender Frontman 10G
As a beginner amp, Frontman loses to VOX Pathfinder 10, Boss Katana Mini, both are more versatile.
And Blackstar Fly 3 offers better cleans and crunch. So this Fender is not the best option out there in my opinion. Especially the distorted tones are really limited.
But if you are after budget Fender-cleans and solid crunch this amp delivers. So still, not a bad option.
Check Price on:
---
Orange Crush Mini
As a portable amp-combo, I wouldn't buy this. The majority of other amps under $100 are better options.
But if you want to use this as an amp head to power up a speaker cabinet, then this is definitely worth the money in my opinion. You will have Orange-tones easily accessible as a small and affordable amp-head.
Check Price on:
---
Buyer's Guide – FAQ
How to Choose the Right Amplifier for You
When shopping for expensive gear, you usually get amps that can do almost anything well. But with these budget amps, it's different.
Most of these amps are a little bit one-trick pony's, great at some aspects, but lack quality in some. For example, Boss Katana-Mini is great with distortion for the price and size, but with cleans and crunch, it's only decent.
So it's important you know what you want and need, and then pick according to that.
Now we will together go through some important features of an amplifier, and find out how the pick the right budget amp for you!
Sound
Here I would use the 3-main tone categories to make the best pick possible.
Do you want to play cleans(for example, jazz, country, rock ballads)
Do you want to play with crunch tones(cleans mixed with some distortion) ( for example, blues, funk, rockabilly, classic rock)
Do you want to play with distorted tones(for example, rock metal and hard rock)
So basically, what music do you want to play?
Here are a couple of examples:
I want to play heavier stuff like Metallica and System of A Down.
So you need nice distorted tones. From these under $100 amps, Boss Katana Mini would definitely be my pick.
I want to play classic rock like Led Zeppelin and Rolling Stones, but also some clean stuff like Red Hot Chili Peppers.
You need goo crunch and clean tones, overall I would go with VOX Pathfinder 10, but if you value portability Blackstar Fly 3 is a good choice too.
I have found out that with using tough progress like this and then doing research, asking questions, reading, and watching reviews, it's hard to make really bad decisions on what to buy!
By the way, if you have any questions you can ask those on my Youtube-channels comments.
Features
So if you know what you want, picking the amp with the right features is quite easy, but if you don't know what you need or want, it can be a bit overwhelming…let's try to figure this out together…
With features, you can get different tones, ways to shape your tone, or maybe effects on this price range.
For beginners, an amp with gain, volume, overdrive switch, and a couple of tone-shaping knobs is definitely enough. And especially if your budget is tight, that's what you can afford. But as I said, these kind of features are definitely enough.
With these, you can get a nice variety of clean and crunch tones, and usually, you can even dial in some nice distortion.
Also, how much do you want to shape your tone? Do you want to play with different setups a quite bit, or do you mainly use the same settings all the time?
If you want to shape your tone a lot, an amp with 3-band EQ (bass, middle and treble) might be a great pick for you. If you are not tone-shaper, an amp with only 1 or 2 tone-EQ knobs might be enough for you.
If you want some kind of effects to spice up your playing a little bit, the delay-effect would be my go-to choice at this price range.
With that you can drastically change the atmosphere of your playing and also dial-in reverb-like effects, so you kind of get 2 effects with 1(delay+reverb).
Also, if you want to jam with your favorite tracks by using your amp only, choose one with AUX-input.
Usability
How much the amp has features, and how complex it looks is a good way to decide if it's easy to use. Even better ways are these
Read and watch reviews
Ask somebody who has used it for opinion (me for example, go on to my Youtube-channel and leave a comment)
Try to find a music store where you can test it(always the best way)
And if you are the kind of person who wants to play with different settings a lot, I wouldn't worry about usability too much, just pick the amp that helps you to play the music you love and has a lot of features…I know you will love that!
But if you value simplicity, try to pick an amp that helps you to play the music you love and offers you enough features in the simplest possible way.
Portability
Most of under $100 amps are quite portable…but the difference between VOX Pathfinder and Blackstar Fly 3 is big if you are going to carry the amp often.
1 key thing is the handle. If you are going to carry this amp in a backpack, you're probably fine even without one. But if you plan to really carry your amp around in your hands, the handle makes things a lot easier.
For example, even tho that Blackstar Fly 3 is super small, it's not very nice to carry on in your hands (slippery surface). So it's a good idea to pick the spot where the amp travels before you buy. Is it in backback, in your hands or something else?
And some amps have kind of useless handles, for example, Fender Frontman 10G's handle is so small that you can only use it with 2-3 fingers. And if you have a man's hands, you have to use it with 1 finger.
Portability is far from the most important feature of an amp, but take these things into consideration, it can make your life easier in the future.
---
Does it matter what amp I get for my guitar?
It absolutely does. It can make you able to play your favorite music with great tones, or frustrate you because something is just not sounding right.
You can go to my Youtube channel and watch videos that are recorded using Ibanez GRX70QA and a lot of different amps…difference between different amps is huge.
In my opinion, the amp selection is crucial if you want to achieve your favorite tones. So pick carefully…but remember, I'm here to help!
How much is a decent guitar amp?
It depends on what you want…
-If you want great versatile tube tones (no-modeling), be ready to spend some at least around $500.
-If you want and versatile amp for home practice, around $150 will get you started.
-But if you want good cleans and crunch, under $100 is enough.
You get what you pay for, but even on a tight budget, you can sound great.
What Should You Expect from Electric Guitar Amps Under $100?
I have repeated this a couple of times, but let's recap…
-Under $100 you can get some nice qualities…
-…but these budget amps always lack something
So you get some, but don't get everything.
You get nice distortion, but don't get great cleans etc.
So it's important to know what you want and need.
Does Cheap Guitar Amps Sound Good?
Sure, you can get some nice tones out of cheap amps. For under $100, you have to make some compromises, you can't get everything.
You usually have to select between:
-Good clean and crunch vs good distortion.
-Features vs simplicity
-Portability vs loudness
But when you go over $100, you can get surprisingly versatile and good quality tones. For example, Fender Mustang LT25 can give you that.
So you don't have to spend a lot to get a good amp. But you get what you pay for.
Are Cheap Guitar Amps Durable?
In most cases, under $100 amps are so simple, that the durability is surprisingly good. But some mini amps, for example, are really plastic-like and won't handle many bumps.
So how you treat your amp, has a huge effect on this. But in general…
…if you don't receive a lemon, cheap amps are durable due to my testing.
My first cheap Ibanez amp has worked for 12 years, and all 5 amps on this article worked just fine in my use.
---
Conclusion on The Best Guitar Amps Under $100
I learned a lot when testing these amps, and had a ton of fun and played my favorite music. Surprisingly good quality and tones…nice amps for the price for sure. You can definitely choose a great workhorse for you from these best guitar amps under $100.
I hope that this guide helped you to decide which amplifier is the best option for you. If you have any questions, leave a comment. Feel free to share this post to help others too…
I wish you all the best and keep rocking!
---
You might also like:
We are sorry that this post was not useful for you!
Let us improve this post!
Tell us how we can improve this post?