Last Updated on April 30, 2023 by Teemu Suomala
Best Overall Guitar Amp Under $200 – Fender Mustang LT25
Sound
Features
Usability
Overall Quality
Value For Money
Summary
Fender Mustang LT 25 is versatile, easy to use, and sounds good.

You have a lot of tone options with the amp itself, plus if you use the Fender Tone app these tone options grow exponentially.

Pros
-Super-versatile
-Simple to use
-Great Price:Value ratio
-Sounds great
-Almost endless tone options with the Fender tone app
-Especially clean and rock tones are great
-Offers enough loudness for sure

Cons
-No middle control on the control panel
-Accessing "Delay" and "Reverb" would be easier with control knobs
-Some folks don't like digital amps
-Handle is more or less useless

Personally, I think that this Fender is the best guitar amp under $200 for most players.

>Read and watch the full review of the Fender Mustang LT25<
How Fender Mustang LT25 sounds:
Check Today's Price on
*Consider all links in this post to be affiliate links. If you purchase, at no additional cost to you, we may earn a small commission. It helps us to keep the lights on, thanks! 🙂
---
The Next Best:
Sound Comparison of All 5:
---
I was amazed! Amazed at what these guitar amps costing under $200 can do! But at the same time, I realized that these amps are not for everyone…
I bought the 6 best electric guitar amps under $200. Amps that are the best due to my experience (13+ years) and extensive research(over 10 hours)…
And I had soooo much fun with these amps!
I played. Played. And Played. Tested all the tones and features. In this post, I reveal all that I found, and we will find out what guitar amp under $200 is the best for you!
This post has great amps for
Beginners
Budget players
Practice-amp seekers
Feature-gravers
Buskers
Folks who want to record their playing
If you are searching for acoustic guitar amps for $200, check this article: 5 Best Acoustic Guitar Amps Under $200
Let's get started!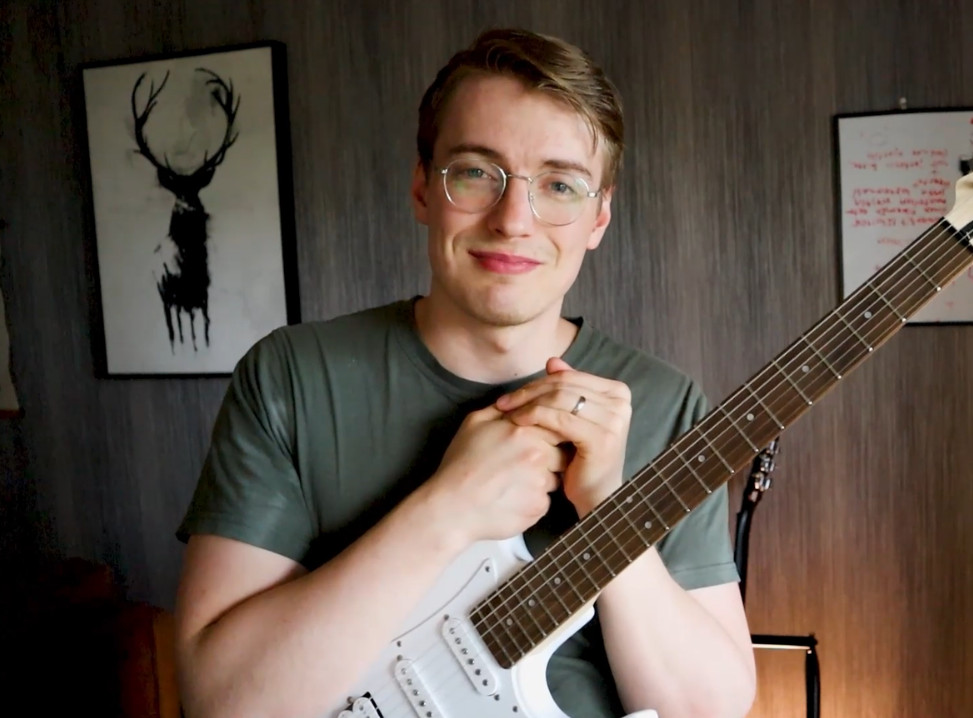 Author: Teemu Suomala
I first grabbed the guitar in 2009. I started this website in January 2020 because I couldn't do window installation anymore due to my health problems. I love guitars and have played dozens and dozens of different guitars through different amps and pedals over the years, and also, building a website interested me, so I decided to just go for it! I got lucky and managed to get awesome people to help me with my website.
I also got lucky because I have you visiting my website right now. Thank you. I do all this for you guys. If you have any recommendations, tips, or feedback, just leave a comment, I would love to chat with you. I have also been fortunate to produce content for several large guitar websites, such as Songsterr, Musicnotes, GuitarGuitar, and Ultimate Guitar.
I spend my spare time exercising and hanging out with my wife and crazy dog (I guess that went the right way…).
Hide The Rambling▲
---
Our Favorite Music Store in The World!
Why?
– Excellent Customer Service (4.7/5 Trustpilot Score)
– Fast & Free Shipping
– Gear is Inspected, Tested, & Ready to Play When it Arrives to You (We love this)
– Fair Prices
Visit Sweetwater:
Best Electric Guitar Amps Under $200
Presenting Competitors
You can also watch a video review I made about these 6 guitar amps:
Specs
Dimensions
Comparison
---
Overall Looks, Feel, and Quality
Fender Mustang LT25
The feel, quality, and looks of this amp are really basic. Plastic knobs and plastic handle(that is not very handy).
I mean, you can move it around the home from this handle, but really carrying this amp(around the town or city etc.) is not very comfortable.
But this is far from being a deal-breaker.
Hardware:
The Cabinet enclosure itself is wooden with a black finish
and amplifier is covered with black vinyl texture
Personally, I think that these features/materials look solid. But just the overall combo of some good aspects plus then plastic/cheap-looking knobs, don't really make this amp shine in this category. Still, Fender Mustang LT25 gives us OK looks in my opinion.
Marshall MG15FX
The most beautiful thing about this Marshall is the control panel. It's stunning, to be honest. The panel, text, and knobs, all are just great. But all the other stuff, the cabinet and overall finish etc. is really beginner amp-like.
I like to compare the looks of this to the Fender Frontman 10G, which is like $80 cheaper. These are on the same level in my opinion.
And 1 thing really bothered me. The backplate is impossible to remove without breaking it. It's really soft chipboard which is like paper really.
I tried to check the insides to learn something new, but I cracked a small part out of it. So if you need to replace the power chord or something else, it's super hard without breaking the backplate.
Of course, looks are far from the most important thing and some folks consider this to be a beginner amp so should it look like one?
The thing is, all the other amps in this price range I have tested look and feel higher in quality. So that's I would wait for more from this Marshall.
Orange Crush 20RT
In this department, this 20RT really shines!
Basket weave vinyl of the amp itself and the woven speaker cloth that covers the speaker looks stunning in my opinion.
In a matter of fact, all aspects of this amp look/feel great:
control-knobs
hieroglyphs of the control panel
logo
and even the backside!
But overall, the feel and look of this amp are something that I would wait for more expensive amp. This feels and looks like a real Orange-amp. This feels and looks like a more expensive amp.
Roland Micro Cube GX
A little tank. That's how this Micro Cube feels like.
Sure, it's not the most beautiful amp out there, but when it comes to durability and quality, this feels like a more expensive amp. I would be satisfied to feel like this for couple hundred bucks more even. The rubber legs of this amp are really stable, whether I placed this on the table or floor, you have to pump it really hard to knock this down.
Knobs feel and look solid too.
All in all, Roland Micro Cube GX is not a stunning amp when it comes to looks. But when it comes to quality and durability, this amp is amazing.
Yamaha THR5
THR5 looks beautiful. Stunning. It's made for displaying it on a desktop. Also, the vintage-styled light inside the amp looks great too! So there is no way that I could say bad things about the looks of this amp.
But the moment you lay your hands on this, it's not so amazing anymore. Not bad by any means, but this amp doesn't feel as beautiful as it looks.
It's all plastic, which is no deal-breaker, but especially the black plastic parts of this amp feel like with $100 cheaper amps(Boss Katana Mini).
When it comes to durability, I have no doubt that this amp would last for a long on your desktop. But if you want to take it on the road, it loses a lot for Roland Micro Cube GX for example. I would not want to pump this THR5 to anything.
So, THR5:
looks beautiful
feels average
is durable on normal in-home use.
VOX Valvetronix VT20X
I have nothing bad to say about VT20X here. It surely looks and feels like a more expensive amp. The vintage-styled VOX looks are stunning to me. It just looks great no matter where you put it.
All the controls and every corner of this amp feel great too. If I would be using this without knowing its price, I would guess the price of this to couple hundred dollars more.
And when it comes to durability, it's stellar. This amp is meant for home use, and it has worked great for me.
And I wouldn't be shy about taking this VOX to the road. Of course, this is no Roland Micro Cube GX either, but this feels like I can really trust it to work. Every time.
Features
Fender Mustang LT25
You get basic controls that you can see on the left.
Plus…
Look at the right side of the settings-board, we have:
4 Buttons:
Back (go back duh :D)
Save (save your own presets and modifications you have done to presets)
Menu (in " Menu" you can access almost all the out-of-the-box features of this amp, effects, pedals, EQ, Volume, Gain etc.)
Tap (set the delay timing to your liking, plus by holding this "Tuner" will activate(btw. tuner is one of the best I have ever seen on an amp))
And 1 Knob (button in the middle)
With this, you can dial in 30 done-for-you presets. And finding these presets is not hard. It's super simple. Just turn the knob.
And if some of these preset just quite ain't what you need. You can modify it.
Add gain or distortion
Add effects/pedals
Adjust different frequencies
So, you can see why I like this electric guitar amp.
There preset for almost any situation ready for you. And selecting the right preset is easy. Plus, there are 20 presets more easily accessible for downloading, when this is plugged into a computer.
Plus, you can design your own signal chain with the Fender Tone app. Read the full review of Mustang LT25 to learn more.
The features of this amp are JUST AMAZING!
Marshall MG15FX
Keeping in mind that this is a solid-state, the features of this amp rock! Actually when talking about this amp, these classic rock! (more about the tones later).
You have 4 channels. For this price, it's great. Feels like premium.
Clean
Crunch
Overdrive 1
Overdrive 2
With these, you have a lot of tone options.
Then this has basic features featured on every amp(that sounded weird). And reverb (that should be included in every amp on this price range). Whit this Marshall you have 2 different reverbs, and these really sound different
Studio reverb sounds like a regular on every amp(not bad by any means)
Spring reverb provides more vintage-type tones
And on top of all this, FX-loop with 5 effects:
Chorus
Phaser
Flanger
Delay
Octave
For this price, the features of this amp give an amazing bang for the buck!
Orange Crush 20RT
This amp gives you all that is really needed from a beginner/practice amp.
You get:
Separate volume for both channels(makes switching between clean and dirty tones easier/faster, because you don't have to set the volume again every time)
Gain to strengthen the signal/add distortion(works with the dirty channel only)
3 band EQ to shape your tone(Treble, Middle, and Bass). Not the most effective EQ(not so versatile) on this price range, but not bad by any means
Reverb(make the sound seem to continue even after you have stopped playing, but not for so long that it's a "Delay-effect")
Chromatic tuner
Nice looking Vintage-styled channel switch(I really love the looks of this)
You can dial in all tones needed for practice with these features(at least in my opinion)
And reverb is nice to have.
Because otherwise, this amp would be too basic in my opinion. Now you have more options, and with reverb, the lead tones of this amp really shine.
I especially loved the options with fast rock/metal lead-type tones and overall rock tones.
You might think: why there is no gain for clean channel? And to be honest, I wonder that… It feels alien for me too.
But on my testing, this didn't limit my tones and playing, because you can get nice low-gain crunch tones with the dirty channel. That kind of tones you usually get with clean channel gain set all to way up.
With this Orange, things are just a little bit different this way… The clean channel is just for cleans. The dirty channel is for crunch and distortion.
As I said, this didn't limit the tones for me.
Overall, as a solid-state, I like the features of this.
Roland Micro Cube GX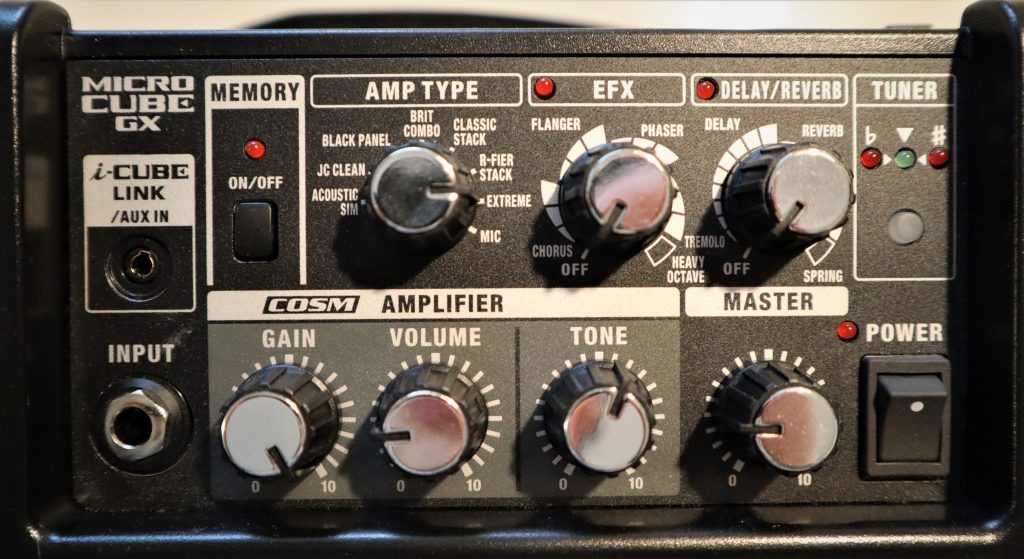 First, only 1 tone knob. This is a small con for sure, but it didn't really bother me too much. Small setback still and limits tone-shaping a little bit.
Otherwise, this amp gives all that I need from a guitar amp.
7 different amp types that really sound different from each other:
Acoustic sim (Acoustic tones)
JC Clean (Regular Electric Guitar Cleans)
Black Panel (Crispy Crunch)
Brit Combo (Classic Rock)
Classic Stack (From Classic Rock to Hard Rock)
R-Fier Stack (Rock and Older Metal)
Extreme (Metal, Modern Rock)
Mic(for recording)
For this price and size, all this feels too good to be true. But this is not all…
Also:
5 effects on FX (Chorus, Flanger, Phaser, Tremolo, and Octave)
Delay and 2 reverbs(Regular and Spring)
Then the basic controls (Gain, Volume, and Master).
Plus 20h battery life. This is mind-blowing and tested by me. First time when I saw this on Roland's site I didn't believe this. But it's true, and it's amazing!
I love the features of this amp!
Yamaha THR5
Again, like with Roland Micro cube GX, only 1 tone knob. Limits tone-shaping but is not a deal-breaker for me.
This amp has 5 different amp types:
Clean (Regular Electric Guitar Cleans)
Crunch (Classic Rock and Blues)
Lead (Lead Tones for Classic Rock
Brit Hi (Rock)
Modern (Hard Rock)
Solid options, but unlike with Roland Micro Cube GX, some of these amp-types sound really close to each other. Mainly Crunch and Lead.
But still, these are not identical amp types, there is some tonal difference for sure. Then again the basic controls Gain, Master, and Volume (I feel like I don't have to explain these).
Then the effects. And I really love these!
On effect-control:
Chorus
Flanger
Phaser
Tremolo
So you don't get an Octave-effect with this amp. So Orange and this are only ones of these amps that don't give you that. While I play with the Octave quite a bit, but it's not a must in an amp for me.
Then on the DLY/Reverb control we have:
Delay
DLY/Reverb
Spring Reverb
Hall Reverb
From these, the Hall reverb is by far the best. With this, I can get one of my favorite clean tones in this price range! Plus you can plug this into the computer, play with the settings/tones and record. For this price, THR5 offers great features!
VOX Valvetronix VT20X
Oh boy, I have to be careful or this section about VOX will be 2000 words long…let's keep it short.
The good thing is that you have 8 different classic amps to choose from. Everyone has tones from clean to tube-overdrive to offer.
Plus, you have full control of your tone with 3-band EQ with its all knobs.
Also, you have
8 User programs(that's how VOX calls them) to save your own presets
33 ready presets
12 different pedals to choose from. From compressor to hall reverb
Bias shift (2 options) and class (2options) to modify your tube tone
With VOX tone room (conntecting via USB) you get 9 amps and 27 presets more
Real tube in pre-amp section(more about thsi later)
So versatility and full control are what this amp gives you feature-wise.
Amps that you get out of the box are:
Deluxe C
Tweed 4×10
VOX AC30
Botique OD
VOX AC30TB
Brit 80
Brit or MKII
Double Rec
User A, User B, User C. You can save customized amp to this by using software)
So you have an abundance of amps to choose from. This is definitely one of the best amps under $200 when it comes to versatility, and the best when it comes to tube tones.
Usability
Fender Mustang LT25
This amp has only
6 control knobs and
4 buttons,
plus 1 button on top of 1 control.
And when you compare this to features this amp has. It's amazing!
The usability of this amp is super clear and simple. At any point, I didn't felt confused. Not at all.
So when it comes to usability, Fender has done an amazing job with this amp!
Marshall MG15FX
For some reason, I felt a little bit overwhelmed at first with this amp. The controls of this amp just didn't connect with my brain for some reason.
A couple of reasons for this:
4-channels separated by 2 buttons and blinking lights
tap delay that was confusing at first(I had a hard time turning it on and off)
But after I got used to these, no problems. Regular solid-state otherwise. This solid-state has some learning curve, especially for beginners. But if you really like this amp, don't let this stop you. If I learned how to use this, you can too.
Orange Crush 20RT
This amp is super easy to use!
Basic 3-band EQ, Volumes, Gain, and Reverb. Doesn't seem too confusing to me. And the fact that you get both, Orange symbols and regular explanations for what each knob does, makes things even easier.
All is clearly presented and works smoothly. There is really not much else I can say about the usability of this Orange!
Roland Micro Cube GX
This amp is easy to use as possible with its 7 amp types (plus "mic" for recording). Clear 7 knobs, and it's clear what every one of these does.
Plus 1 button for the tuner. This amp has been a pleasure to use and play for me.
The only con I can think of is that when dialing for full tremolo (EFX-knob) for example, the knob can slip to the heavy octave accidentally if all this is done fast. Not a huge issue, but honing for perfect muscle memory to operate "oops-free" can take some time.
Yamaha THR5
Same thing as with the Roland. Just 7 knobs. And all 5 amp types are super easy to dial on. Plus accessing all to effects is made easy with 2 separate knobs. And then, 1 button for tuner and tap-delay.
The only con usability-wise for me can sound a bit weird to some…1/4 Phones and Instrument Cable-jacks are next to each other, and I have plugged my guitar cable into the phone jack so many times that I have lost count, haha.
A couple of first times I thought the amp has gone broke because there was no sound with any setting… Not a huge issue, but that's what I experienced using this.
VOX Valvetronix VT20X
Maybe you noticed it already. This VOX has a ton of knobs. And this is the downside of this amp.
Out of the box, this amp is by far the hardest to use from all amps under $200 I have tested. Easily. And the manual this time, it doesn't get praises from me either…
Yes, it explains some things, but for example, what "Bias" and "Class"-controls exactly do for your tone are still unknown after reading the manual.
For example "This changes the operation of the power amp section" doesn't tell much when it comes to the "Class"-button.
And it looks like the amps layout and manual are done by the folks with real tube amp knowledge and experience in mind. So when it comes to usability, this amp is not the best option for beginners or "tube amp beginners". But this is not so hard to use that it ruins the amp. Not at all. But out of the box, it can surely seem overwhelming to use.
The good thing is that you have access to physical tone knobs and the amp selection is made easy with the knob too.
Sound
Here's the sound comparison:
Fender Mustang LT25
First…
You can play almost anything with this amp. Maybe some really edgy stuff, like some super-specific metal tones can be hard to achieve, but other than that, this can handle everything. From acoustic sim to heavy thrash metal tones. From Fender cleans to punk-tones full of attitude.
So versatility is definitely not the problem with this amp.
But what about this:
Can Fender Mustang LT25 Handle Distortion/Metal?
It can.
It's not a metal-machine like some more expensive BOSS Katana-amps for example, but This small Mustang LT can do metal.
For example, ready presets like "Metal Lead" or "Trash Overkill" are really nice for metalheads.
Marshall MG15FX
While having so many features and effects add lots of versatility, the overall tone itself of the amp is nothing exceptional.
It sounds too basic without the effects, even somewhat boring in my opinion, which kind of entails fiddling with effects all the time to get a good sound.
But it's definitely not unusable.
With some reverb and chorus, I think you can get some interesting clean tones out of it. Great cleans for jazz and rock. I also liked the crunch channel for classic rock and blues. With a bit of gain and FX, like reverb/delay, you can get it to a sweet spot for that energetic classic rock and exciting bluesy sound.
But is this the same Marshall sound that changed the sound of music?
Perhaps not.
What about distortion?
The Overdrive 2 is supposed to give you that dark growly metal texture, but I found it to be tolerable for OG metal or some '90s alt-rock at best.
Maybe some '80s Metallica would sound good on it, but anything newer or heavier it just couldn't push it to where I wanted to be no matter how much I cranked up the knobs.
Orange Crush 20RT
I'll start with not-so-good things…
The cleans of this amp are pretty basic. Not bad, but not great either. The problem is: cleans lack brightness and crispiness a little bit. These can sound a little bit dull sometimes.
For example with Marshal lMG15FX cleans offer you more.
But, these cleans don't suck by any means! Not bad, but not great. And with reverb, you can make the clean tones of this amp a little bit more interesting
Crunch
With a crunch, this Orange can give some blues-groove for sure…and classic rock & rockabilly are in the comfort zone of this amp too.
I think that one of the best tones of this amp are in the gray area between crunch and distortion. These are the tones why people love Orange amps.
A little bit fuzzy, a lot of energy and attitude.
I played a lot of my own blues/rock/metal-kind of riffs with these tones. And I had a blast!
Distortion?
For most Rock-music, the distorted tones of this amp are great! Maybe my favorite rock-amp under $200.
But can Orange Crush 20RT handle metal?
This amp can handle metal, but Crush 20RT is not a metal amp in my opinion. Especially for older metal, like Metallica's Ride The Lightning-album type tones this amp is solid.
It's starting to be a little bit too fuzzy for most metal stuff, but it's definitely not unusable. Really growly, mean, and dark metal tones are not very good with this amp. Too fuzzy.
But, the lead metal/distorted tones of this amp are awesome in my opinion. I had a lot of fun when shredding with this amp. The sound is clear and articulate, and the slight fuzzy tone didn't bother me at all.
Roland Micro Cube GX
This Micro Cube is an all-around solid package when it comes to tones. From clean to distortion, everything sounds good to me. It loses with clean-tone options for others than orange Crush 20RT, but the cleans don't sound bad at all. You just don't have so many tone options.
Cleans have a great balance of lows and highs, just how I like it. The tone is not overly muddy or too bright. This balance makes cleans of Roland suitable for many different situations, you just don't have so much tonal control.
Crunch tones are really all-around solid too. You can get down to some mildly overdriven blues tones and to some little bit more aggressive classic rock tones.
Distortion was a total surprise to me. You can get really nice dirty tones out of this amp. This little guy can really compete with bigger amps at this price range and it whips the floor with Yamaha THR5 when it comes to distortion.
The Micro Cube has a surprisingly good amount of low end in its tone overall and it's a well-balacned package with not that much tonal control. But still, it manages to be really versatile.
Yamaha THR5
First, I noticed across the board with the sound that the amp has an overall treble-heavy sound signature.
That's partly because of the digital modeling used, and partly because of the small size of the speakers. There's just not enough room for a deep low-end.
But, this amp doesn't sound bad, it's just not for everyone.
What I love the most with this amp are the cleans. Not much low end, but the sparkling tone is great for rock, jazz, funk, and blues. Especially for leads. Plus if you spice it up with hall reverb, the cleans sound really good to me.
The crunch tones you get with this amp are also really usable. I prefer to use a moderate amount of gain and a low tone setting. This way I managed to get some really nice blues and classic rock tones out of this amp. Again with effects, you can spice things up nicely.
Then the distorted tones…these are limited. You can pull some old-school stuff, like Black Sabbath and older Metallica easily. But this is not your everyday djent machine.
The tone just becomes muddy too easily. And even though this amp usually performs with great clarity, with full gain and "Modern"-amp type, that clarity vanishes and it sounds like tone is coming from underwater.
VOX Valvetronix VT20X
First, I love the modeled, tube amp tones you can get with this amp. And at this price. It's amazing in my opinion. You can get from soft and gentle cleans with "Deluxe C" amp to really mean distortion with "Double Rec" amp. And every single amp has its own tone variety from cleans to fuzzy tube overdrive.
Plus you can spice everything with effects. It's true that this amp doesn't sound exactly like the original amps it's modeling (I didn't expect that either), but for this price, all this amp can do is noteworthy. Points for VOX for making this little amp.
This is not a metal amp in my opinion. It sounds too fuzzy too often. But this VOX still offers some good metal tones, especially with Double Rec-amp. And when looking for a good amp to play metal for under $200 this is not a bad choice.
A couple of my favorite tones:
With Deluxe C-amp I like to dial some gain to make the tone overdrive just a bit, and then I add Hall Reverb. This amps surprisingly good respones is noticable with this setup. You can play really clean, but when you strike the strings harder, you get nice attitude into your playin and tones distorts a bit.
With VOX AC30, I like to setup for nice Classic rock tone. Moderate amounts of gain, plus sometimes even a Overdrive effect and then just rock on. Simple, but sounds good.
Double Rec is for metal riffs. I set the gain high, and usually use Overdrive effect instead of Distortion. There is just more clarity in tone with OD-effect. Then with different "Bias" and "Class"-settings, you can get nice variety of mean tones.
Of course, with some settings, and with my cheap Ibanez that I have played the most with this amp, the tone is only average. But for this price, the versatility and sound quality are hard to beat.
But does the real tube inside the pre-amp section make a difference? Not really. This amp gives us some tube magic for sure, but not because of this pre-amp tube.
Hum?
Some user reviews point out that this amp hums a lot. I only experienced some hum, and it didn't really bother me.
---
Value For Money
Fender Mustang LT25
You get:
30 out of the box tone-presets, plus 20 easily accessible (you can customize these presets too)
20 amp types
25 effects/pedals
Simple usability
Almost endless possibilities with Fender Tone-app
This amp actually sounds good
Keep these and the price of this little amp in my mind, I just can't say anything else than: This amp gives amazing value for money!
Marshall MG15FX
I've tested a lot of budget amps, and I think the Marshall MG15FX packs just enough punch to justify its price tag.
I wouldn't say this amp is the BEST in any department, but it certainly is decent as an overall affordable beginner package.
You're getting:
A total of 6 built-in effects (including reverb) which are great for practicing and getting different clean, crunch, and distorted tones without much effort.
Four channels for more versatility
Great classic rock and blues tones
Chromatic tuner, and
True-and-tested Marshall quality and support
All of which definitely make it a good option for an affordable amp.
Orange Crush 20RT
So you get:
Basic features plus reverb effect
Great rock tones
Solid Cleans
Solid Distorted tones
Simple usability
Great looks and quality
Tuner
For this price, there is no way that I could say that the value for money with this amp is bad.
You get a great bang for your buck in my opinion!
Roland Micro Cube GX
You get:
Portability
Balanced and good-sounding cleans
Nice crunch tones
Surprisingly good distorted tones
Portability
Durability
Easy usability
Tuner
Not too shabby. More tonal control would be nice, but for this price, just 1 tone knob is acceptable.
Yamaha THR5
You get:
Small desktop-friendly size
Good looks
Great cleans
Good Crunch
Ok sounding but very limited distorted tones
You can easily record with a computer
Tuner
Ok portability
Value for money is still good, but it loses to all other amps on this testing on that department. To offer outstanding value for money, Yamaha should cut $30-40 from THR5's price. That's my opinion.
VOX Valvetronix VT20X
You will get:
Great versatility
Good modeled tube tones
Ability to customize and access more amps via Vox Toneroom
Beautiful looks
Great cleans
Great crunch
Good distorted tones
Huge amounts of features
The value for money with this amp is really good. Confusing usability can overwhelm you at first, but once you get used to using this amp, you have an abundance of tones at your fingertips.
Verdict
Winners
Best Overall Guitar Amp Under $200/For Beginners – Fender Mustang LT25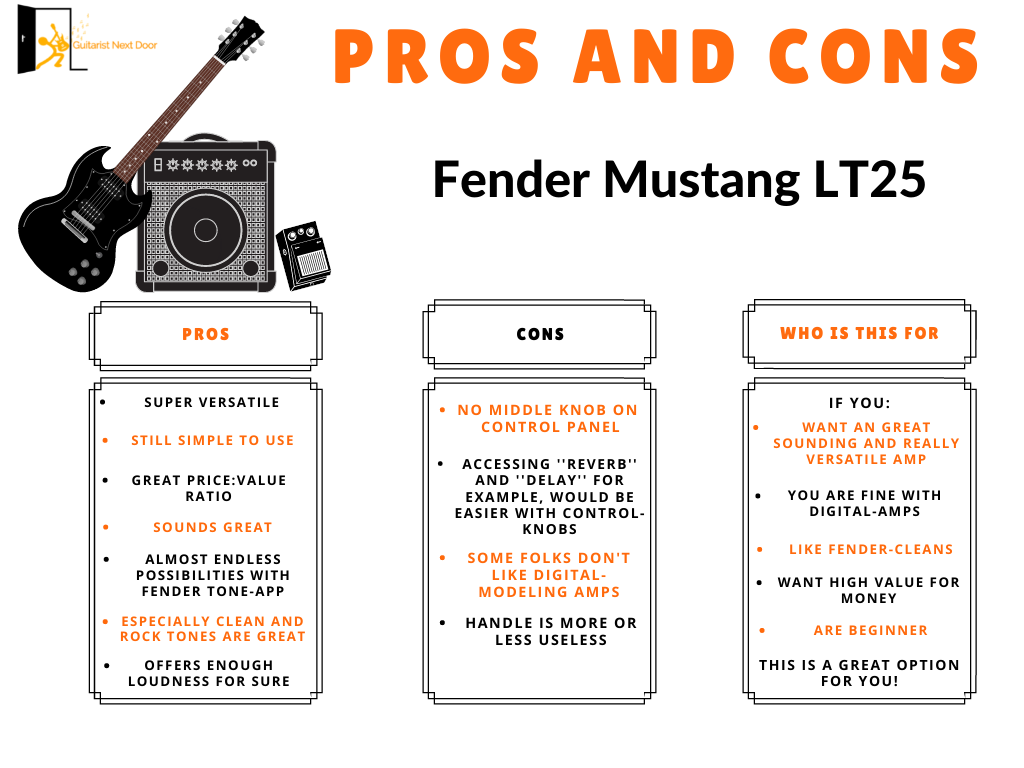 The best guitar amp for beginners. Really versatile, sounds good, and is easy to use. This amp is hard to beat with its value for the money. Plus, the Fender Tone app is really easy and fun to use.
Compare prices:
---
Runner-Up/Great Modeled Tube Tones – VOX Valvetronix VT20X
If you are searching for modeled tube tones or want to get more familiar with them, this is one of the best options. It's not really beginner-friendly because it's a bit overwhelming usability, but it's still a really good amp. I still own this and playing it is so much fun.
Compare prices:
---
Best Solid-State/Best Rock Amp – Orange Crush 20RT
For rock and Orange amps, this is a sweet amp(Orange sweet). It's not the most versatile, but it handles rock so well that it deserves a place in this article. It's easy to use and can handle some metal too. Great practice, budget, and beginner amp.
Compare prices:
---
Best Portable/For Busking – Roland Micro Cube GX
This is one of my absolute favorite amps right now. For its size and price, it's hard to believe what this little amp can do. From its balanced tones to really good battery length, bravo! I don't mean to sound too hyped, but this is my favorite practice amp in 2021. It's not perfect but gets close.
Compare prices:
---
The Next Best
Best Desktop – Yamaha THR5
A nice-looking desktop amp that makes recording easy. It has some really good tones in it, but its limited on the distorted-tone department. Also, the tone is quite treble-heavy overall.
Compare prices:
---
Best Solid-State for Classic Rock – Marshall MG15FX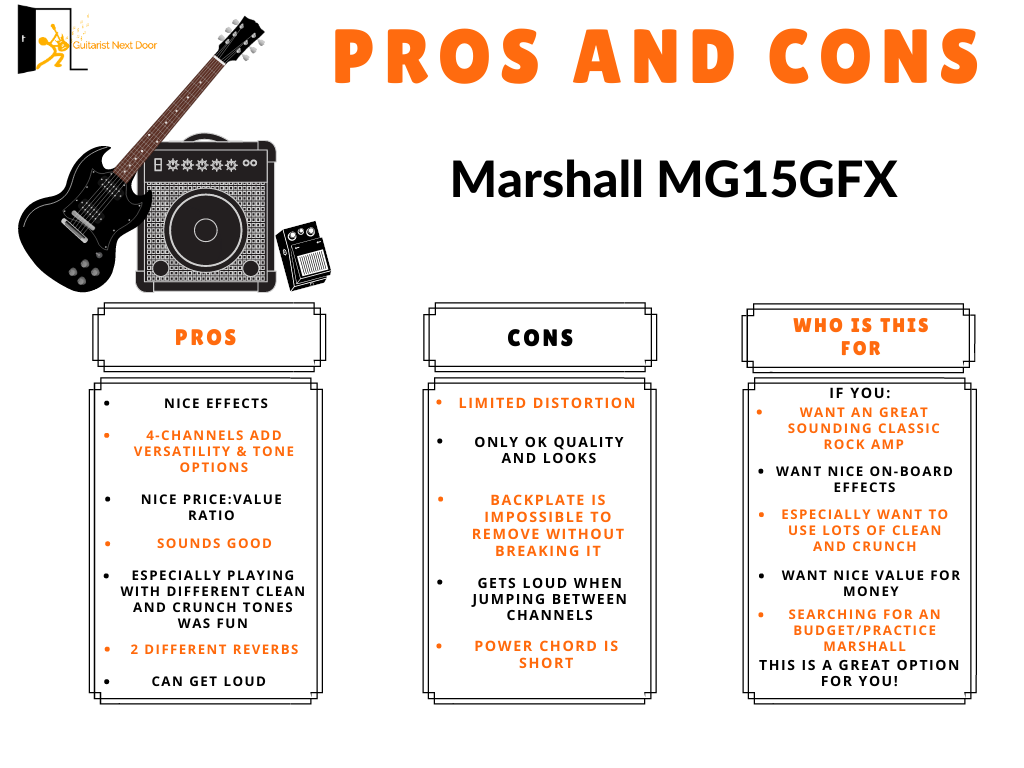 Great amp for classic rock and Marshall lovers. It has a nice variety of clean and crunch tones and has plenty of effects that can spice up your playing.
Compare prices:
---
Buyer's guide – FAQ
How to Choose the Right Amplifier for You
First, you have to have some idea about what you need and what you want. If you are on a budget, you have to focus more on the needs and maybe skip some features from the "wants"-department. But keep this thing in mind: buy an amp that allows you to play the music you love.
If you do that, it's very likely that you are going to be happy with your amp decision.
Let's now dive into different aspects of an amplifier and look at what you can find and expect from amps at this price range.
Sound
Amps under $200 are usually good all-arounders that can handle a great variety of music. For example in this article, you found amps that are no one-trick ponies. But it's still wise to choose an amp that sounds good to you and allows you to play what you want.
When it comes to tones of the 6 amps featured in this article, here's a graph that helps you to make the right choice between them and get an amp that allows you to play what you want.
For beginners
Most of the time, it's wise to choose an amp that offers versatility, because as a beginner guitarist, your musical taste probably evolves. A lot.
By choosing a versatile amp, you don't have to buy a new amp when your metal-amp just doesn't cut it when suddenly falling in love with Country-music.
Features
Here you have plenty of things to choose from. But let's divide features into smaller sub-sections:
Effects
In this price range, Reverb and/or Delay are standard features, and I wouldn't buy an amp for this price without at least either of these. From amps featured in this article, the Orange Crush 20RT is the only one with 1 effect, that being Reverb.
If you want to spice your playing just a little bit, then just 1 or a couple of effects will do just fine. But gladly, most amps have at least several different types of reverbs and delays to choose from. For me, all these are not necessary, and some even sound really close to each other.
For example with Marshall, Flanger, and Phaser-effects sound really close to each other, and I wouldn't pay much more just to have a couple more different types of Delays.
If you only need a couple of different delays and reverbs to spice up your playing, these amps are great options:
Roland Micro Cube GX
Marshall MG15FX
Yamaha THR5
But if you want to have compressor, distortion, delays, reverb effects, then VOX Valvetronix and Fender Mustang LT25 are great options.
For basic playing, the only must for me at this price is to have at least Reverb, but I would prefer Delay because with it, you can usually also dial in some Reverb-like tones.
Loudness/Power
First, loudness and power are not the same things and they don't go completely hand in hand.
For example, even with just 3W's Roland Micro Cube is louder than Yamaha THR5 with it's 5W's.
But wattage can still give us some indication about loudness. To learn more about the power of an amplifier and what you need in the loudness department, check this article.
In case you are going to just play at home, due to my testing, every single amp featured in this article is loud enough.
And also, every one of these amps can be played quietly too. But Marshall and VOX have the tendency to suddenly go really loud when turning on and off or switching the channels/amp-types. So these 2 are the least handy in small apartments, especially when played at nighttime.
But if you are going to perform with your amp, I would stay away from Yamaha THR5. It's my least favorite for any kind of performance.
Otherwise, every single one of these amps can handle small performances at not very noisy places. You just have to choose an amp that gives the best tone for you.
Connections/Apps
There are generally 2 things you have the think about when it comes to connections at this price range.
1. Do you want to plug your amp into the Computer and modify your tone with the software?
If this is the case, Fender Mustang LT25, VOX VT20X, and Yamaha THR5 are great options for you.
2. Do you want to record with your amp?
You can do this with an analog cable or via USB. Fender Mustang LT25, VOX VT20X, and Yamaha THR5 have the USB option for recording. The rest of these have either a 1/8 or 1/4 cable jack for this purpose.
Usability
For beginners, choosing an amp that is easy to use is wise. With a simple amp, you have 1 thing less to worry about. So I would stay from amps that make you feel like being in a spaceship.
But in general, amps in this price range are relatively easy to use, and the manuals are clear. I wouldn't make usability my key decision-making factor, focus on tone instead. But have look at the control panel too, and make sure that it doesn't look too hard to handle.
Size/Portability
If busking, going to practice with band/friends, or just having a small room, the spot-on size of an amp can make your life a lot easier.
From amps in this article, the least portable is the Fender. The handle is quite useless and only for moving it around the house. But none of these amps has a size or weight that makes them really hard to carry around.
If portability is one of your key decision-making factors, I would go with Roland Micro Cube GX. It's by far easiest to handle when traveling and it's a great fit for busking too.
Note: Yamaha THR5 is small in size, but its handle is not comfortable and it's not very good when it comes to portability and durability. It's small for sure, but other than that it doesn't shine with portability.
---
How much is a decent guitar amp?
You can get a decent guitar amp for even under $100. These are more of single-purpose, beginner, or budget/practice amps. You don't get huge amounts of versatility or features, but you can get solid tones out of these.
In this article, I compared 5 amps under $100.
But in my opinion. for under or around $200, you can get a really decent amp, and without even spending hours for research. These amps can be really versatile, have tons of features, and sound really good.
It's never been a better time to be a guitar player, we can get so much for so little money.
Does a good guitar amp make a difference?
Amplifiers can make or break the game. With some you are not going to get tones you like almost at all, and with some, the playing just feels amazing.
And the 2 most important things when choosing an amp are:
1. Does the amp sound good to you?
2. Can you play your favorite music with it?
If you answer yes to both of these, you have probably found the amp that is a great fit for you
How much should I spend on an amp?
Buy the best amp you can afford. If it's $100, fine, just choose one that offers the tones and features you need. If your budget is $200. Great. You can get really nice amps for that price. If your budget is looser, you can find great amps for home use for under $500. You can even buy a really good sound tube amp around that price.
As I said, now it's an amazing time to be a guitar player. We can get really amazing value for our money.
---
Conclusion on The Best Guitar Amps Under $200
I hope. from the bottom of my heart, that this article helped you to choose the right amp for you. I had a ton of fun testing these amps and was stunned because these best guitar amps under $200 were outstanding. We are lucky guitarist boys and girls really.
If you have any questions, go to my Youtube channel and ask in the comments. I wish you all the best and keep rocking!
---
You might also like:
We are sorry that this post was not useful for you!
Let us improve this post!
Tell us how we can improve this post?