Last Updated on April 29, 2023 by Teemu Suomala
Best Overall- LyxPro Electric Guitar Amp 20
Sound
Features
Usability
Value For Money
Quality
Summary
By far the most versatile and has the best tone clean and distorted.

This LyxPro amp gives you a lot of control over your tone. You can pump the bass or treble to your liking, as well as the gain.

In addition to having the power to change your gain levels, there's an overdrive switch for added distortion.

This means you can have a fully-maxed clean tone or a grimy distorted sound with just the press of a button. But of course, this is a really affordable amp, so don't expect too much from it.

But all in all, this is a great choice! The best guitar amp under $50.
How LyxPro 20 sounds:
*Consider all links in this post to be affiliate links. If you purchase, at no additional cost to you, we may earn a small commission. It helps us to keep the lights on, thanks! 🙂
---
The Next Best:
---
Guitar playing can get expensive fast. But, there's no need to worry!
I've put together this list of the best amps under $50 to help guitarists on a budget rock and roll! This guide will walk you through everything you need to know before making a purchase! Let's first look at these fine amps, and at the end of the post, you can find the FAQ section that helps you to make the best choice possible.
If you are willing to go a bit over $50, this article will guide you to choose the best amp for you: 5 Best Guitar Amps Under $100.
Every one of these guitar amps is here based on extensive research and combined 27+ years of experience of me (Tommy) and Teemu.
Who crafted this post:
Author: Tommy Tompkins
Playing guitar since 2004. Primarily an acoustic guitarist who plays and writes traditional American folk music, with a background in melodic metal and a solid foundation as a bassist.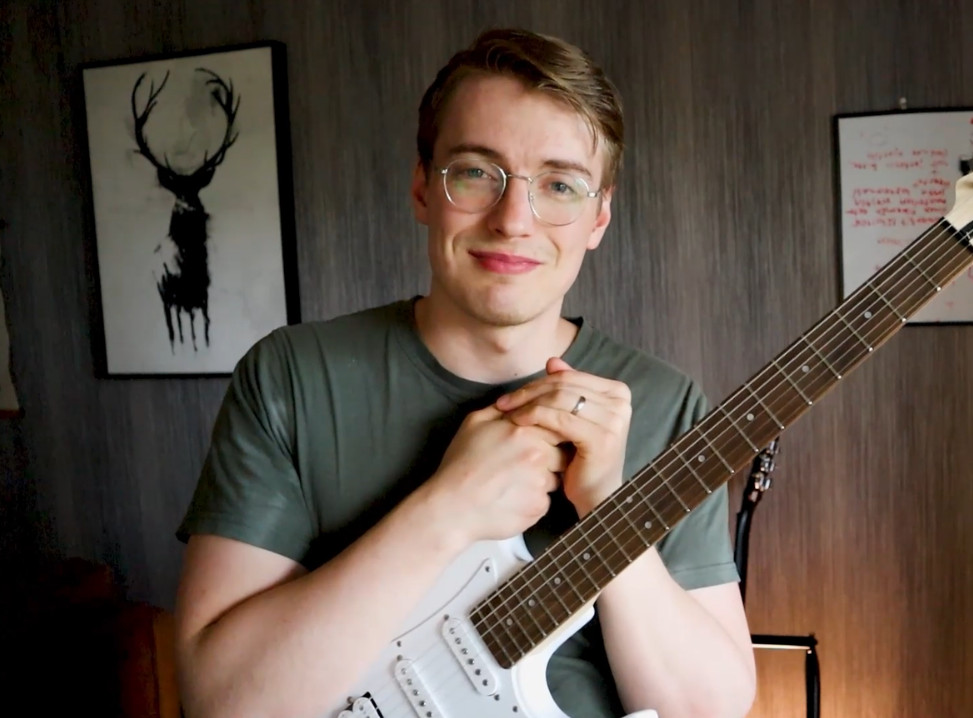 Editing & Research: Teemu Suomala
Playing guitar since 2009. Mainly focused on electric guitars, although jamming with acoustics too. Has played dozens and dozens of different guitars through different amps and pedals over the years. That's why he started this blog in January 2020 and started sharing his experience. Has produced content for several large guitar websites, such as Songsterr, Musicnotes, GuitarGuitar, and Ultimate Guitar.
---
Our Favorite Music Store in The World!
Why?
– Excellent Customer Service (4.7/5 Trustpilot Score)
– Fast & Free Shipping
– Gear is Inspected, Tested, & Ready to Play When it Arrives to You (We love this)
– Fair Prices
Visit Sweetwater:
Best Guitar Amp Under 50
Best Overall- LyxPro Electric Guitar Amp 20 Watt Amplifier
Sound
This LyxPro amp gives you a lot of control of your tone. You can pump the bass or treble to your liking, as well as the gain.
In addition to having the power to change your gain levels, there's an overdrive switch for added distortion.
This means you can have a fully-maxed clean tone or a grimy distorted sound with just the press of a button. 20 watts give you a decent amount of volume, but with only one speaker the tone is a bit cloudy overall.
Great clean soundcheck made by a beginner:
Features
The overdrive button paired with the gain control are really rare on amps in this category. It's a great feature that lets you get the most out of your practice sessions.
There is a headphone jack, but it's a ¼-inch input that will require an adapter for most headphones.
Usability
Switching from a pumped-up clean to a dirty distortion is awesome. But even better is the ability to run your recorded tunes through the amp as you're playing.
This is a great usability feature for practice amps that allows you to test your skills overtop of backing tracks. With this, you can see how your chops compete in the real world.
Value for Money
20 watts for under $50 is a great deal by itself. Add in the bonus features of great distortion and an aux-in, and this is the best electric guitar amp under $50 available.
Summary

Pros
Powerful 20-watt mini amp
Aux-in lets you jam to backing tracks
Various knobs give you versatile tone control
Rubber edges protect cab and keep it in place
Cons
This is my favorite amp on this list. Though it's not as portable as some of the others, it's by far the most versatile and has the best tone clean or distorted. A great choice.
---
Best for Blues – Fender Mini Deluxe Electric Guitar Amp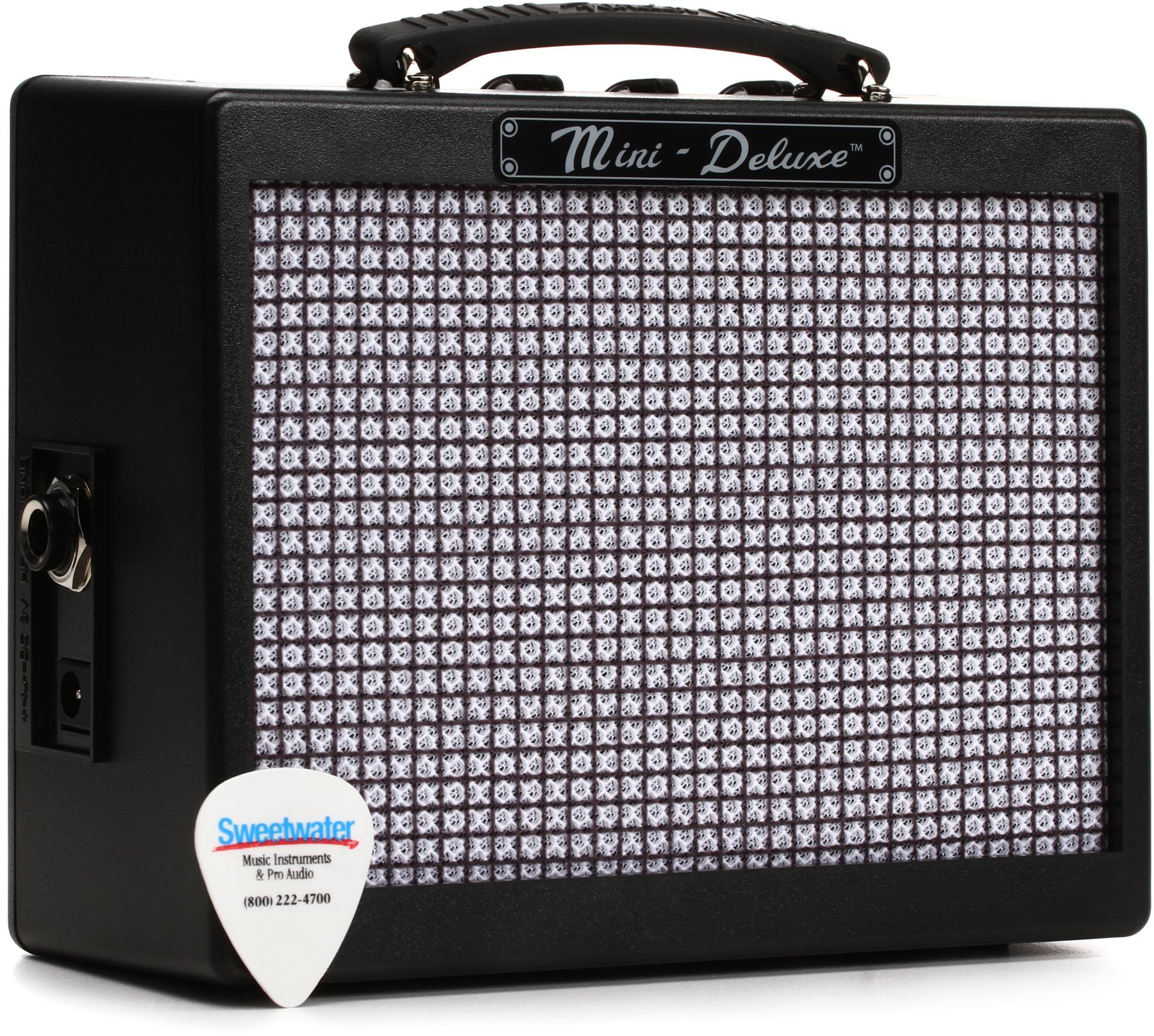 Sound
With only one watt of power, the Fender Mini Deluxe isn't going to blow your socks off. But, it does provide a well-balanced tone built to please in a range of genres.
When you keep the gain knob turned down, you can fully max out the volume for an enjoyable clean tone. This is a crispy, glassy clean that works great in jazz and pop styles.
Drive the gain up and you'll start to hear the vintage vibe of the 60s and 70s. With the gain set to 10, you get a great mini-tweed tone that's perfect for classic rock and blues.
Sound demo:
Features
Like most amps in this category, the Fender Mini Deluxe doesn't have a lot of bonus features. What you get is a dependable carrying handle and a sturdy cab outfitted with the necessary controls.
The chicken-head style knobs add a bit of authority to the looks of this budget amp, so you feel more like a real guitarist than a toy musician.
Usability
Since it's powered by both either a 9-volt battery or a power adapter, you can take this amp with you practically anywhere.
It's great for jamming in your car during breaks at work or for hanging out with your electric around a campfire.
You just need to treat it with a bit of care, because the speaker isn't mounted very securely. Too harsh a bump can cause some major loose parts inside the cab.
Value for Money
Hey, for less than $50 you can get a Fender-branded mini amp that sounds pretty sweet and works like a charm.
I won't knock it, but I do wish they took some extra care in attaching the speaker. Aside from this, it's a solid little budget amp.
Summary

Pros
1-watt power makes great low-volume practice amp
Holds a clean tone with volume set to max
High-gain settings produce vintage tweed tone
Runs on 9V battery or power adapter
Cons
Speaker can come loose from the cab if dropped
Plugging into power source can create some hum
All in all, I like this amp a lot for its classic tweed tone and battery-power option.
Check Price on:
---
Best for Heavy Genres –
Rockburn Amp-10 Watt Amplifier for Electric Guitar
Sound
This Rockburn amp is a great choice for beginner rock and metal musicians. It's got a killer overdrive setting that lets you get some surprisingly heavy distorted sounds.
With separate treble and bass EQ knobs, you can change your tone to work with your preferred style. Jam out with the bass blasted for hearty rhythm work or boost the treble for wailing leads. With the overdrive deactivated, there's still a bit of buzz in this amp's voice, so it might not be ideal for players looking for a clean tone.
Features
This is a rugged little amp, with a thick vinyl covering and a strong plastic cab to protect it from bumps and bangs. Plus, it's got a sturdy handle so you can carry it without a problem.
Aside from the volume knob, you've also got two EQ controls and an overdrive button that makes dialing in your favorite tone easy as pie. A line-out input can be directed to recording gear or headphones when you want to practice in perfect silence.
Usability
Everything about the Rockburn 10-watt amp is straightforward.
More volume? Twist a knob.
More or less treble or bass? Twist a knob.
Distortion? Press a button.
The only real drawback is the lack of battery power. You do have to be plugged into the wall to use this amp. But, with 10 watts of power, you can kind of overlook this flaw.
Value for Money
This amp falls right under $50 but gives you a lot more volume than many in this category. If you're into heavy music genres, it's a great practice amp to have at home. Although, jazz, soul, and pop guitarists will probably want to find an amp that has a better clean tone.
Summary

Pros
10 watts deliver volume enough to fill a small room
Very crunchy overdrive option great for rock and metal
Treble and Bass knobs let you tweak your tone
Strong vinyl covering protects from scratches
Cons
Treble-heavy tone can make guitars sound tinny
Very prone to feedback
Though it's a little heavy in the treble department and isn't among the most portable, I love the powerful overdrive of this budget amp. I'd recommend it to any budding metalhead.
---
Best for Classic Rock – Fender Mini '65 Twin Amp
Sound
The Fender Mini '65 Twin is a scaled-down version of their popular original tube amp. In this mini amplifier, you get a tiny tweed tone that pairs well with many different electronic genres.
Boost the gain and you can crush some rockabilly, blues, and outlaw country to your heart's content. With the gain cut, the dual 3-inch speakers give you a warm clean tone that's great for jazzy riffage.
Hear how this amp sounds:

Features
The best parts of this amp are its portability features. It has the option to be powered either by a 9-volt battery or a wall plug. When you choose battery power, you can clip it to your belt with the built-in clip and walk around while you jam.
Though it doesn't have an overdrive switch, distortion is possible by turning the gain to max.
Additionally, you have a 3.5mm headphone input on the side for when you want to keep your practice private.
Usability
My main problem with this amp is that it doesn't include the power adapter. It's not exactly hard to find one to fit it elsewhere, but it really subtracts from its usability. Aside from that, it's a simple, easy-to-use model that sounds good for its intended purposes.
Value for Money
It's pretty uncommon to find an amp at this price with two speakers, even if they are only 3 inches across. For less than $50 you get the Fender brand, a decent vintage tone, and great portability.
Summary

Pros
Classic Fender tone in a compact package
Kickstand allows you to set the amp at an angle
Belt-clip for on-the-go rocking
2 speakers for a well-rounded sound
Cons
Doesn't include power adapter
Sloppy construction
Though it's not the most sturdy budget amp on the market, this is a great model for fans of Fender who love the sound of classic rock.
Check Price on:
---
Most Portable – Danelectro Honeytone N-10 Guitar Mini Amp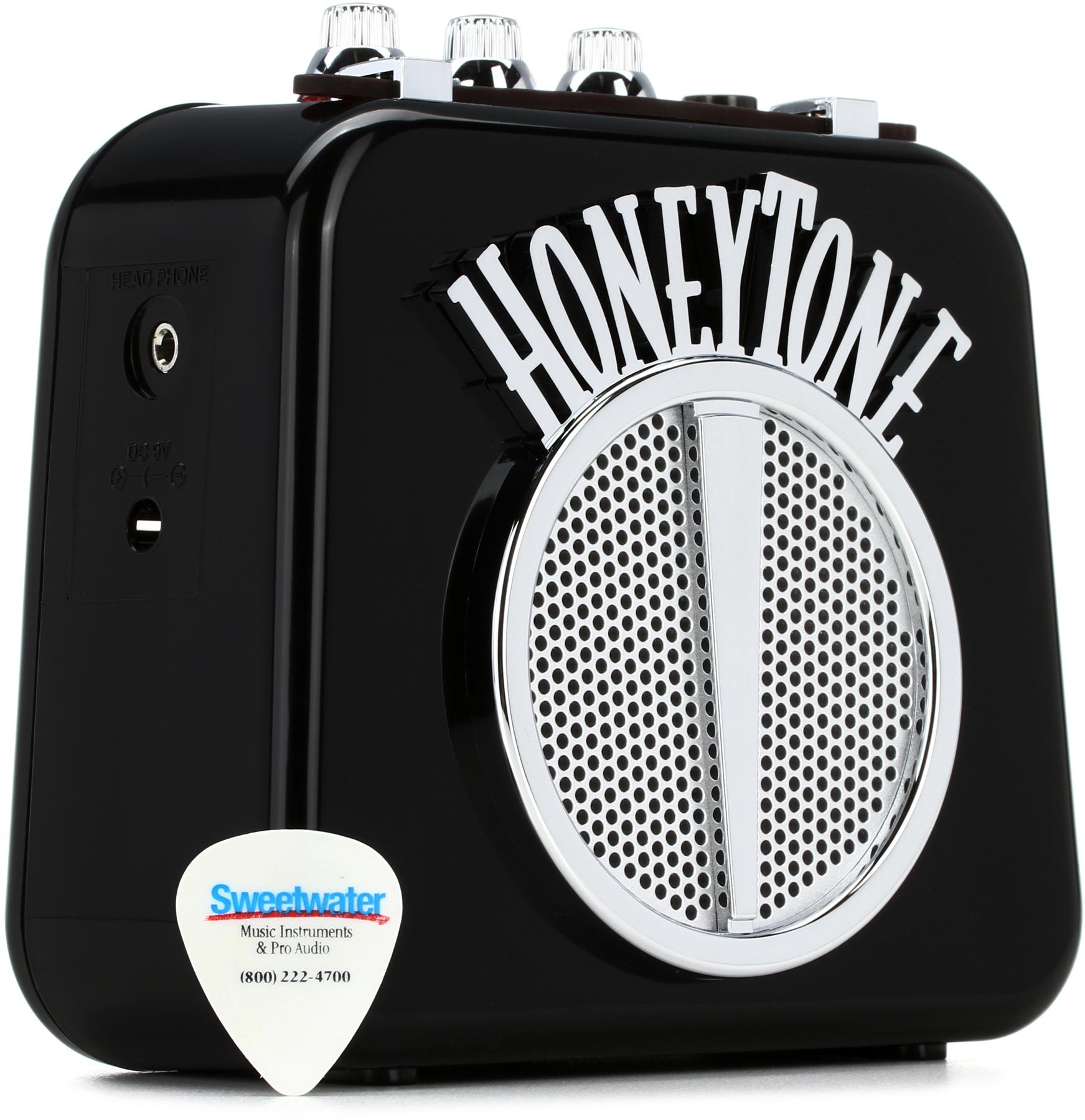 Sound
At a 10-watt power rating, the Danelectro Honeytone N10 gives you a surprising amount of volume. With very responsive tone and overdrive knobs, you can take your tone from fat and dirty to crisp and clean in no time.
Its main issue tone-wise is the thin plastic casing which causes it to have an overall tinny, flat tone.
Hear how this amp sounds:

Features
This is a very small amp that basically fits in the palm of your hand. It's lightweight and features a belt-clip, so you could literally jog as you play if you wanted.
Though its controls look a bit limited, the two tone knobs do quite a lot and let you play with a range of different sounds.
Usability
The main thing you need to know about this amp is that it requires a high-quality 9-volt battery. Cheap batteries lack the juice to fully power the speaker.
If you equip it with a good battery or buy the optional power adapter, it runs fine. The headphone jack makes it easy to play in private and can improve the tone a fair amount.
Value for Money
This is the least expensive amp on this list, but it's also the least impressive sound-wise. If what you're looking for is ultra-portability and a tone that's just enough to play around with, I think it's a great buy.
The extra price of the adapter is unfortunate, but it's still a good low-cost option.
Summary

Pros
Best guitar amp under $50 for traveling or playing on-the-go
Available in an accessories bundle that includes instrument cable
Responsive tone and overdrive controls give versatile voices
Cons
The power adapter isn't included; sold as part of accessory bundle
Runs through batteries quickly
Low-quality batteries won't power it
Of all the best guitar amps under $50, this one looks the most like a toy. It almost is, but it functions well enough at a low-enough cost to be one of my most highly recommended models for the guitarist who never stops moving , especially if you can buy this at the sale price.
Check Price on:
---
Verdict
If you're not trying to jam out in your car or walking around town, I think the LxyPro 20-watt Electric Guitar Amp is definitely the best option here. For the price, it's powerful and delightfully versatile, making it the best guitar amp under $50.
The Fender Mini Deluxe is a fun little amp to jam on. But, the shoddy way that the speaker is attached knocks it down a few stars in my book. From these choices, it's my least favorite despite having a nice vintage tone.
---
Buyer's Guide – FAQ
What Are Amps Under $50 Good For?
These low-watt amplifiers are great for playing at home, especially when you're just starting out.
The early days of learning guitar are filled with squawks and squeals and all sorts of nasty noise. Keeping your volume down in the beginning phases will keep everyone happy.
But, these amps are good for intermediate- and advanced-level players too. The problem with high-watt amps is that you have to crank the volume on them in order to achieve a nice tone.
Low-watt amps let you open up the throttle on the volume knob and drive your sound with the full power of the pre-amp. This gives you a solid tone that expresses the full voice of your electric guitar without window-shattering loudness.
Their portability makes them perfect for busking. If you choose a battery-powered amp or can rig up an external battery source, they make great amps for street performances.
Generally, I'd say if you know what you're buying, there's nothing to complain about in a guitar amp under $50. Yeah, they won't compete with a drummer and can't fill a large room.
But, they're amazing for at-home practice, learning your licks, and hitting the street corner.
What Makes a Great Budget Amp?
The first thing you should ask yourself when buying any piece of musical gear is, "Will these meet my needs?"
If you're trying to upgrade your rig and find an amp to take to band practice, sorry- these amps won't make the cut. But, if your requirements are finding something easy to carry around that can pump out your electric's signal, these are great finds.
The best budget amps should sound at least decent. That means having quality speakers that can handle the wattage of the amp without blowing.
They won't come with any real effects, but good budget amps do offer you the option to add overdrive. This makes them great for practicing rock and blues riffs.
The best budget guitar amps should also provide you with some form of EQ control. This might be 2-band, which lets you change the treble and bass levels or 3-band, which gives you control of treble, mids, and bass.
Otherwise, you should at least find an amp that gives you a tone control along with the master volume. A tone knob basically lets you emphasize the bass when at the lowest setting, the treble when cranked full, and evens the EQ at the middle setting.
Overall, you want an amp that's going to stand up to what you throw at it. A budget amp should be durable and fairly long-lasting. If it's going to break after the first topple, move on and find a stronger amp.
Who Should Buy an Amp Under $50?
Sometimes $50 is all you have to spend, and it's perfectly acceptable to start jamming on a low-cost guitar amp.
Beginners, particularly those living with other people, will find that a budget amp is perfect for playing at home. Their low volume and decent tone will go a long way in helping your roommates (or parents) want to support your new hobby.
These little amps give you all the power you need to learn the guitar fundamentals. They sound fine whether clean or overdriven and let you practice any genre you want to explore.
Since they're inexpensive, it's a good choice if you're not sure about committing to the hobby. As a beginner, you don't want to drop hundreds of dollars on gear that you'll end up not using in a few month's time.
If you're above the beginner skill level, these are nice amps to have in addition to your main setup. Some of them are super portable- even battery-powered- and can be taken anywhere with you.
When you don't need the full power of a 4×12 tube-powered stadium setup, these amps under $50 can be great companions on anyone's musical journey.
Conclusion on Best Guitar Amps Under $50
You can get nice jam-boxes for really cheap nowadays. These really all that you need for practicing with good-enough tones!
I hope that this guide helped you to choose the right amplifier for you. I wish you all the best and keep rocking!
You might also like:
We are sorry that this post was not useful for you!
Let us improve this post!
Tell us how we can improve this post?