Best Overall/Get's You Started Fast: Teach Yourself to Play Guitar
Practicality
How In-Depth
How Engaging
Does What If Should?
Value For Money
Summary
My favorite thing about this book is practicality and how it teaches you through actually doing things.

Pros
-Affordable
-Simple
-Teaches all the basics
-Teaches you by doing
-Don't even try to dive deep with music theory upfront

Cons
-It could dive a bit deeper (fretboard memorization, etc.)
-Photos are straight from the '90s (Even though the book is published in 2003)
-Short, only 48 pages

If someone comes to ask "which book will get me started with guitar", this book is my go-to choice. It teaches all the needed guitar basics in easy to understand manner.
Check Today's Price on
*Consider all links in this post to be affiliate links. If you purchase, at no additional cost to you, we may earn a small commission. It helps us to keep the lights on, thanks! 🙂
---
The Next Best:
---
I love books. And when it comes to learning guitar, a good book can be a great guide. Get you from A to B to C fast.
It can reveal where you should start and what you should learn next. Also, rarely do you get an organized help of an expert for a price this cheap. This is why I love guitar books and books overall when it comes to learning.
In this article, I reveal my favorite 7 guitar books for beginners (I also reveal 7 Runner-ups that just missed the top 7). I also give some good tips that can help you to choose the right one. Let's get started!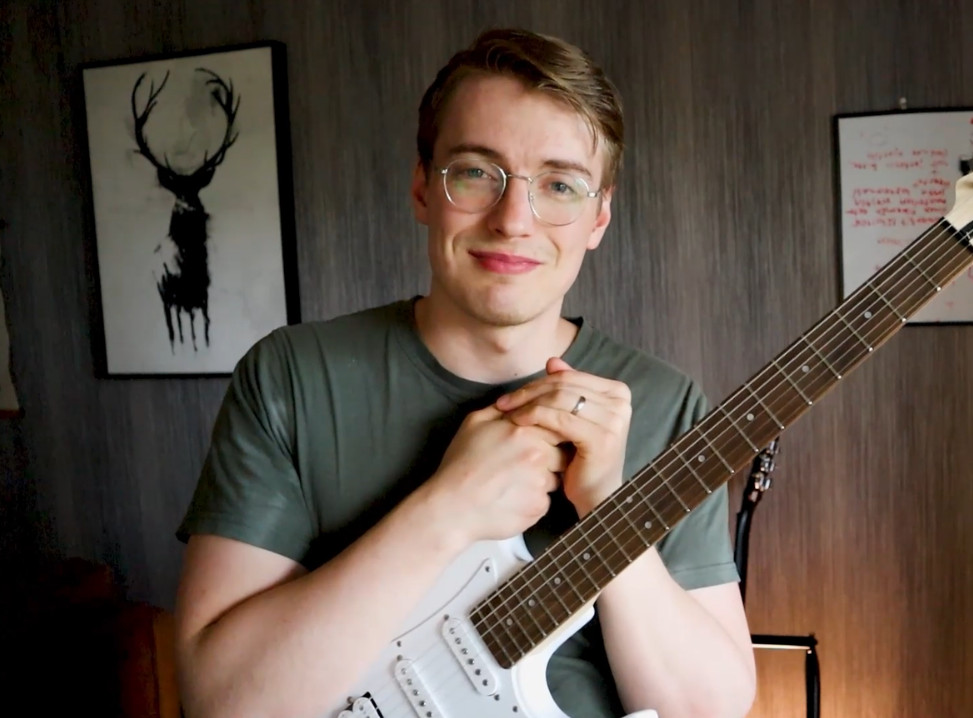 Author: Teemu Suomala
I first grabbed the guitar in 2009. I started this website in January 2020 because I couldn't do window installation anymore due to my health problems. I also noticed that most guitar websites don't do a really good job, so I decided to just go for it! I got lucky and managed to get awesome people to help me with my website. I also got lucky because I have you visiting my website right now. Thank you. I do all this for you guys. If you have any recommendations, tips, or feedback, just leave a comment, I would love to chat with you. I have been fortunate to produce content for several large guitar websites, such as Songsterr, Musicnotes, GuitarGuitar, and Ultimate Guitar. I spend my spare time exercising and hanging out with my wife and crazy dog(I guess that went the right way…).
---
FREE Access for You! Secret Page Reveals 5 Must Learn Electric Guitar Riffs That Accelerate Your Learning (For All Beginners Who Love Rock and Metal)
(If you want to make progress fast, this is for you). Just tell me where I should send the link:
By entering your email address you agree to receive emails from Guitarist Next Door. We'll respect your privacy and you can unsubscribe at any time.
Our Favorite Music Store in The World!
Why?
– Excellent Customer Service (4.7/5 Trustpilot Score)
– Fast & Free Shipping
– Gear is Inspected, Tested, & Ready to Play When it Arrives to You (We love this)
– Fair Prices
Visit Sweetwater:
Best Guitar Books for Beginners
Best Overall/Get's You Started Fast: Teach Yourself to Play Guitar: A Quick and Easy Introduction for Beginners
My favorite thing about this book is practicality and how it teaches you through actually doing things. You can play and learn all the basics at the same time.
Personally, I love learning by doing. If this sounds good to you, this book is a great option.
This book doesn't teach you absolutely everything, but it surely teaches you all the basics. From guitar anatomy to tuning, and from correct playing posture to simple scales.
Here are some highlights:
Learn Open-Position Scales with "The Sailor's Hornpipe" (Popeye's theme). Not my favorite song, but fun concept for sure!
Lean Barre chords with "Canon in Day"
This book teaches you all the basics and is the best guitar book for most beginners, but in my opinion, it could still add a couple of things more:
It could go a bit deeper. Addition of couple more chapters focusing on rhythm and lead separately would be just awesome. Addition of fretboard memorization tips would be great too.
Book is published in 2004. Revision and addition of better quality images would be great.
App companion(extra lessons, tips, and track your progress). This books has definitely profited Hal Leonard publishin a nice chunk. They should re-invest a little, make an app companion and that way they would provide massive value to players.
If someone comes to ask "which book will get me started with guitar". This book is my go-to choice. It teaches all needed in easy to understand manner.
Pros
Affordable
Simple
Teaches all the basics
Teaches you by doing
Don't even try to dive deep with music theory up front
Cons
It could dive a bit deeper (fretboard memorization, etc.)
Photos are straight from the 90's (Even thought book is published in 2003)
Short, only 48 pages
---
Best Exercise Book: Guitar Aerobics: A 52-Week, One-lick-per-day Workout Program
I think that every guitar player should go through this book. And personally, I would buy 1 book that teaches all the basics and then this to support practice.
This book is a great companion if you want to practice every day(that's wise). It gives you 356 different licks to master. Every one of these licks is a bit different and focuses on teaching you something new.
This book teaches you most key techniques used in guitar playing and does it well as it's possible on pages of the book.
And one key reason this book is so great is that it helps you to build a habit of practicing every day. And that's one of the keys to learning guitar fast and definitely.
All-in-all this is one of my favorite guitar books, and online audio coming with this book makes learning easy.
Pros
Does what it should really well
The book covers a wide variety of different genres and techniques(definitely even more than beginner needs in his first year)
Really easy to use if you know how to read tabs
Years worth of practice material for this price is really affordable
Can really improve your skills fast
Online audio tracks available
Cons
Doesn't teach you all the basics (guitar anatomy, how to tune, etc.). So this is probably not the only guitar book you are going to need.
Introduction is a bit dry for the generation who is used to getting info from blogs and Youtube
App companion would make learning more fun and motivating
---
Best for Jazz Guitar: Hal Leonard Guitar Method – Jazz Guitar
For Jazz lovers, I don't really know any books that could compete with this. It teaches you Jazz basics with real songs and I really like that.
Again, photos should be updated for the year 2022's standards. I know that photos are not the main thing, but doing things the same way for 20 years and not trying to improve annoys me.
But whining aside. One thing I really like is that this book teaches you improvisation. It's really important with Jazz guitar, but with guitar playing in general too. And a dedicated chapter for this is just awesome.
Also, the fact that the book doesn't only give you a couple of Jazz-licks to learn, it also teaches you a lot about Jazz itself and about guitar's role in it. This is really important when you dive deep into Jazz music or want to play in a band.
Plus you get online audio access to support your learning.
If the outdated format and photos are set aside, this book really nails being a great Jazz guitar learning resource for beginners and even more experienced players.
Pros
Teaches Jazz basics mostly with real songs
Helps you understand Jazz and guitars role in it
Information itself is really good from cover to cover
Great book for beginner to advanced skill level (has something for everyone)
Cons
Photos were outdated 10 years ago
Format and plain editing could use upgrading. More visuals and shorter paragraphs would make learning more pleasant.
---
Best for Learning Songs: Simple Songs
Learning our favorite songs is the best thing about guitar playing. You probably agree. And for song-learning, this is my go-to book for beginners.
It uses both tabs and chords when teaching you easy but awesome classic songs.
Here's the complete song list:
| | |
| --- | --- |
| Song | Band/Artist |
| Ain't No Sunshine | Bill Withers |
| All Day and All of The Night | The Kinks |
| Beat It | Michael Jackson |
| Blitzkrieg Bop | Ramones |
| Chasing Cars | Snow Patrol |
| Every Rose Has Its Thorn | Poison |
| Everybody Hurts | R.E.M. |
| Folsom Prison Blues | Johnny Cash |
| Free Fallin' | Tom Petty |
| Good Riddance (Time of Your Life) | Green Day |
| Hallelujah | Jeff Buckley |
| Have You Ever Seen The Rain? | Creedence Clearwater Revival |
| He's Pirate | Pirates of The Caribbean: Curse of The Black Pearl Soundtrack |
| Helter Skelter | The Beatles |
| Highway to Hell | AC/DC |
| A Horse With No Name | America |
| The House of The Rising Sun | The Animals |
| I Gotta Feeling | The Black Eyed Peas |
| I Love Rock 'N Roll | Joan Jett & The Blackhearts |
| I'm Your Hoochie Coochie Man | Muddy waters |
| I'm Yours | Jason Miraz |
| In My Life | The Beatles |
| Knockin' On Heaven's Door | Bob Dylan |
| La Bamba | Ritchie Valens |
| La Grange | ZZ Top |
| Lonely Boy | The Black Keys |
| Love Story | Taylor Swift |
| Man in The Box | Alice in Chains |
| Old Time Rock & Roll | Bob Seger |
| Otherside | Red Hot Chili Peppers |
| Pork and Beans | Weezer |
| Rock and Roll | Led Zeppelin |
| Rolling in The Deep | Adele |
| Scarborough Fair/Canticle | Simon & Garfunkel |
| Seven Nation Army | White Stripes |
| Smells Like Teen Spirit | Nirvana |
| Smoke on The Water | Deep Purple |
| Sunday Bloody Sunday | U2 |
| Susie-Q | Creedence Clearwater Revival |
| Sweet Home Chicago | Blues Brothers |
| That'll Be The Day | Buddy Holly & The Crickets |
| Three Little Birds | Bob Marley |
| What I Got | Sublime |
| Wild Night | Van Morrison |
| Wild Thing | The Troggs |
| Wish You Where Here | Pink Floyd |
| Wonderful Tonight | Eric Clapton |
| Wonderwall | Oasis |
| Yellow Submarine | The Beatles |
| You Don't Mess Around With Jim | Jim Croce |
For more easy guitar songs to learn, check this article I wrote for Songsterr: 23 Easy Guitar Songs to Learn.
This book offers a wide variety of songs to learn but leaves some genres out. For example, there are no Metal songs in this book.
Right out of the gate, the overall format looks a bit complex and hard to understand, but if you don't give up after 10 minutes, it's hard to not get value out of this book.
Also, some songs in this book are still harder than others, so learn the easiest first and only after this move to a bit harder ones. This way you don't frustrate yourself unnecessarily
Pros
The majority of the songs are great for beginners
50 songs to learn for this price is affordable
Includes both, tabs and chords
Great songs for almost every player
Cons
Not for metalheads
All songs are not for complete beginners(still for beginners overall tho)
The format can look a bit complex at first
---
Best Classical Guitar Book: Hal Leonard Classical Guitar Method
To be honest, beginner classical guitar book selection is not that great. But what is great is that Hal Leonard has published a solid guidebook for this segment too.
Yes, this book has some of those same flaws that the other Hal Leonard guitar books(old-looking black & white photos and a bit boring format). But it's still a great guide for people who want to dive into the world of classical guitars.
Personally, I like classical music a lot. I listen to it when working for example. And it's great that this book includes some of those classical masterpieces that we all love.
This book also has a little classical guitar care section at the end. It's nothing amazing but gives you all the needed info about the matter (how humidity affects classical guitars and info about storaging).
Again, you get online audio access to support your learning.
All in all, this book is a great package that teaches you all the basics of classical guitar.
Pros
Teaches you all the basics of classical guitar
Revised in 2015
More engaging than the older Hal Leonard guitar books
Teaches you about classical guitar care (remember to read the section about the humidity if you don't want any cracks in your bodywood)
Includes classical songs we all love
Cons
Photos still look old
Still not the most visual learning resource
---
Best All-Around Guitar Guide: The Guitar Handbook
This was the first guitar book I got. And I still own it. It has suffered some wear and tear, but it's an amazing resource for guitar players. It has all that I need.
So if you are looking for a 1 guitar book that covers everything this would be my choice. Most recently I have used the end section of the book because it includes really comprehensive chord carts.
Much as I love this book, it's not perfect. It's a bit old-fashioned, after all, it was made in 1992 (it's older than me!). So it's not as engaging as the most online medias we gather info from nowadays(blogs & Youtube).
But still, the info is on point from cover to cover, and it's nice to have 1 book that has answers to most guitar questions you have.
Pros
Really comprehensive
Great chord chart and scale-sections
Really in-depth guitar maintenance section
Valuable info from beginner to advanced players
Has a value-packed theory section too
The performance technology section can become handy too
Cons
Old-fashioned, new revised version would be awesome
Could be more engaging and visual
The performance technology -section is probably the most outdated
---
Best for Electric Guitar: First 15 Lessons – Electric Guitar
If your dream is to learn electric guitar only, this book is my favorite book resource. It's really practical and teaches you through playing. By the way, those are trademarks of a great guitar book.
This book includes parts from many famous electric guitar songs, such as "All Along The Watchtower", "Carry on Wayward Son", and "Rock You Like A Hurricane".
When you have a chance to learn parts from these kind of masterpieces…well it's the best thing about learning electric guitar.
Also, this book is from the year 2018, and that shows. The book is more engaging and there are more visuals to break up the paragraphs. It's great.
Photos are still black & white but have a bit more modern feel. But still, without knowing the publishing date I would date these photos for around the year 2010.
But to me, this book is still a great way to get your electric guitar journey up and running fast.
Pros
More engaging and visual than the older Hal Leonard-published books
Teaches parts of famous songs with tabulatures
Learning the basics of an electric guitar is easy and straightforward with this book
Nice to have a book that focuses on electric guitars only
Cons
Photos still look outdated
Could include even more lessons
---
Runner-Ups That Just Missed The Top 7
---
Buyer's Guide
Are Guitar Books Worth it?
Yes. Guitar books are worth it. I dive deeper into the matter in this article.
But here's why they are worth it: You need proper systematization when learning any new skill. This is where quality guitar books can help you. Experts have organized topics in the right order and present things in easy to understand manner(usually).
So, you don't have to buy guitar books, but they can definitely be very helpful when learning to play.
Can you learn to play guitar from a book?
I would say yes. You can learn all the necessary scales, chords, techniques, and music theory from books. Of course, you have to put that information to action by actually playing the guitar. But when it comes to gaining knowledge, books are a great method.
What Makes a Great Guitar Book?
A couple of things.
Book has to be written by someone who has expertise in the topic(this is usually the case). But the fact that something is made by experts doesn't actually mean that something is good and will deliver a huge impact.
Book teaches you through playing
Book and the lessons in it have to be structured well so that the reader has a clear road-map
Images, tabs, and chord charts help a lot
Information is easy to put into action
Book doesn't force readers to read 50 pages of boring and dry theory before getting them into action
The books mentioned in this article follow fit these standards really well. And the knowledge every book mentioned here contains is definitely more valuable than the price.
How to Choose The Right Guitar Book for You?
What do you want a guitar book to do for your skills? And what do you want to accomplish as a guitar player? These are the 2 key questions.
For example, if you are just getting started and want to learn the basics and start playing simple songs, the best overall choice of this article is a great choice. Pair that with guitar tabs, and you are playing songs in no time!
If you have played for a while and are interested in getting into playing classical guitar, then get a book that teaches you classical guitar basics!
Choosing the right book is actually pretty simple!
Also, keep in mind that there are definitely many more great guitar books out there which were not mentioned in this article. So do your research and choose one that suits your needs and looks interesting to you. You might actually like a book with just blank text(unlike me)…if that's the case, get a book with just blank text.
Advantages of Guitar Books
Affordable
Structured info written by experts(there might be some bad books out there too, but I haven't heard about them much)
Handy, you can just grab a book and start learning
Easy to skim through and find the right section
Easy on your eyes
Reading books improves your imagination and focus
Easy to borrow to a friend (remember to ask the book back)
Downsides of Guitar Books
Not always very visual
Audio element is missing (sometimes books have some kind of audio companion)
Some people just can't stand reading (you can always learn to love reading)
Prone to wear and tear
Conclusion
Books are one of my favorite methods to learn new stuff. Especially for gaining basic knowledge about some concept or skill. I just love reading.
I hope that this post helped you to choose the right beginner guitar book for you. If you have any questions, just go to my Youtube channel, and ask in the comments!
I wish you all the best. Keep reading and rocking!
Teemu