Best Overall – Fretboard Logic SE
Practicality
How In-Depth
How Engaging
Does What If Should?
Value For Money
Summary
Pros
-Clear, easy to understand format with visuals
-Information is really helpful and will definitely improve the skills of most players
-Manages to explain key concepts well
-Entertaining read too
-Works no matter the style you are into

Cons
-I would prefer an even simpler text format
-All the things won't necessarily sink in with only 1 read-through

This book is the best overall because no matter which genre you are into, it helps you to understand how guitar playing actually works. How do the notes on the fretboard and unique tuning used on guitar work and how to leverage this understanding in your playing.
Check Today's Price on
*Consider all links in this post to be affiliate links. If you purchase, at no additional cost to you, we may earn a small commission. It helps us to keep the lights on, thanks! 🙂
---
The Next Best:
---
Usually intermediate players have one common problem: They don't know what they should learn next in order to get closer to the advanced skill level.
On the other hand, books can lead you from A to B to C relatively fast. And when it comes to learning guitar, it's rare to get organized help of an expert for a price so affordable as books come with.
In this article, I reveal my favorite books for intermediate players. With these, advancing at guitar playing is much more straightforward and easier. I also reveal some runner-ups that just missed the top 5.
Let's get started!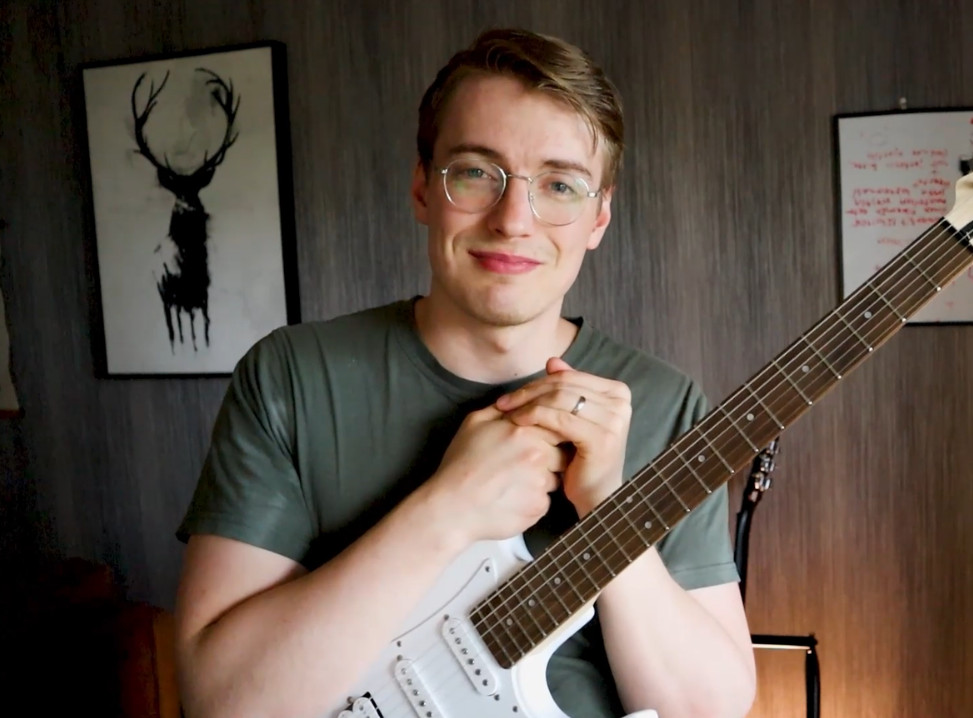 Author: Teemu Suomala
I first grabbed the guitar in 2009. I started this website in January 2020 because I couldn't do window installation anymore due to my health problems. I also noticed that most guitar websites don't do a really good job, so I decided to just go for it! I got lucky and managed to get awesome people to help me with my website. I also got lucky because I have you visiting my website right now. Thank you. I do all this for you guys. If you have any recommendations, tips, or feedback, just leave a comment, I would love to chat with you. I have been fortunate to produce content for several large guitar websites, such as Songsterr, Musicnotes, GuitarGuitar, and Ultimate Guitar. I spend my spare time exercising and hanging out with my wife and crazy dog(I guess that went the right way…).
---
Our Favorite Music Store in The World!
Why?
– Excellent Customer Service (4.7/5 Trustpilot Score)
– Fast & Free Shipping
– Gear is Inspected, Tested, & Ready to Play When it Arrives to You (We love this)
– Fair Prices
Visit Sweetwater:
5 Best Guitar Books for Intermediates
Best Overall: Fretboard Logic SE
This book is the best overall because no matter which genre or style you are into, it helps you to understand how guitar playing actually works. How the notes on the fretboard and unique tuning used on guitar work and how to leverage this understanding in your playing.
For me, this book is a game-chancer.
I like book teaches you by separating the pages into 2 parts. Other for text and other for visuals. This makes going through this book and learning from it a lot more pleasant.
Still, the editing of the text could be a bit simpler and more modern. Use shorter paragraphs and highlight key elements.
But overall, I like the format of this book and the information between the covers is true game-changer material. Great option no matter which style you prefer.
Pros
Clear, easy to understand format with visuals
Information is really helpuf and will definitely improve the skills of most players
Manages to explain key concepts well
Entertaining read too
Works no matter the style you are into
Cons
I would prefer even simpler text format
All the things won't necessarily sink in with only 1 read-through
---
For Improvisation/If Stuck with Pentatonic Scale: Pentatonic Patterns – The Essential Guide For All Guitarists
This book is a great resource if you feel like being stuck. It helps you to unlock the full potential of the guitar's fretboard.
Personally, I have been stuck quite badly inside only a couple of scale patterns, but this book can definitely help connect familiar patterns together and enable much more confident playing.
Note that the author of the book recommends gaining a basic understanding of the minor pentatonic scale before going through this book.
This book teaches you thought actually playing. You get nice licks to learn, plus online audio access for backing tracks, etc. This levels up the practicality of this book a lot.
Pentatonic Patterns is worth the study for players who want to start improvising effortlessly and want to understand pentatonic scale better.
Pros
Practical (teaches through playing & online audio access)
Can "unstuck" your progress
Teaches how scale patterns link to each other
Licks are actually pretty good
Cons
Basic understanding of minor pentatonic scale has to be gained first
---
Best Exercise Book: Guitar Aerobics
I think that every guitar player should go through this book. It helps you insert a practicing habit into your life and gives you something new to learn each day.
This book gives you 356 different licks to master. These cover a wide variety of different techniques suitable for different kinds of styles. From rhythm guitar to sweep picking.
And if the introduction is left out of the picture, the interactivity of this book is top-notch and learning a new lick every day is really easy.
All-in-all this is one of my favorite guitar books, and online audio coming with this book makes learning easier.
Pros
Does what it should really well
Book covers a wide variety of different genres and techniques
Easy to use
Years worth of practice material for this price is really affordable
Can improve your skills fast
Online audio tracks available
Cons
Introduction is a bit dry for generation whom is used to getting info from blogs and Youtube
App companion would make learning more fun and motivating
---
Great For Acoustic Players/Introduces Different Styles: Complete Acoustic Guitar Method: Intermediate Acoustic Guitar
Complete Acoustic Guitar Method does a really good job of introducing different acoustic guitar playing styles. From Bluegrass to Delta blues. This helps you widen your repertoire and sink new picking patterns and techniques into your playing.
The exercises presented in this book are easy to grasp with the audio material, but I would wish that there would a bit more of them in the book. I would love to dive a bit deeper into the different styles. But still, there are enough exercises to help you get familiar with different styles.
I'm personally most interested in the bluegrass style right now. Getting great at Flatpicking would be really awesome.
I also love that this book teaches you some acoustic soloing basics. After mostly playing rhythm and fingerpicking parts, this can become very valuable.
Pros
Introduces you to different playing styles and techniques
Exercises are fun, but still challenging enough to keep things interesting
Teaches you stuff from rhythm playing to soloing
Also teaches playing with different tunings and fretboard mapping
Cons
The book could dive even deeper into the specific styles and offer more exercises
Don't wait for this book to cover everything (only 96 pages)
---
Best Theory Book: Guitar Theory for Dummies
First, if you already know all the basics of theory, check the "more advanced theory book"-recommendation from the Runner-Ups section.
I have noticed that many intermediate players are "quilty" to one thing, I have done it too. I started to learn my favorite songs and definitely got better and better while doing it. But I skipped the theory completely.
There is a reason why I said "theory"…You don't need to learn theory if you don't want to. But learning the basics can definitely help you to progress faster and get a better understanding of guitar playing.
Enter: Guitar Theory for Dummies
It teaches you all the basics. Things such as:
How the music works
Why some songs are so good
How to leverage basic understanding of music in your own playing
Gives you songs to learn (supports your theory learning)
Some concepts can still feel a bit confusing to grasp. Even after reading through parts touching that specifics concept a couple of times. But I wouldn't let this bother me too much, because that's how learning things "worth learning" goes. You don't understand everything with just 1 read-through.
If something feels confusing, use the world-wide-web. For example, this video does a great job of explaining music theory in just 16 minutes.
Pros
Teaches all the theory basics
Has tons of info on it
Helps you to put things you learned into action
Most of the stuff is easy to understand
Has video and audio material online
Doesn't focus only on the beginner stuff
Cons
Some concepts can feel a bit confusing to understand
Quite long book on guitar books standards, some people might prefer a shorter read
---
Runner-Ups That Just Missed The Top 5
---
Buyer's Guide
Are Guitar Books Worth it?
Yes. Guitar books are worth it. I dive deeper into the matter in this article.
But here's why they are worth it: You need proper systematization when learning any new skill. This is where quality guitar books can help you. Experts have organized topics in the right order and present things in easy to understand manner(usually).
So, you don't have to buy guitar books, but they can definitely be very helpful when learning to play.
What Makes a Great Intermediate Guitar Book?
A Couple of things.
Book has to be written by someone who has expertise in the topic(this is usually the case). But the fact that something is made by expert doesn't actually mean that something is good and will deliver a huge impact.
Book teaches you through playing too
Book and the lessons in it have to be structured well so that the reader has a clear road-map
Images, tabs, and chord charts help a lot
Information is easy to put into action
Book doesn't force readers to read 50 pages of boring and dry theory before getting them into action
The books mentioned in this article follow fit these standards really well. And the knowledge every book mentioned here contains is definitely more valuable than the price.
How to Choose The Right Guitar Book for You?
It's time for ruthless self-analysis. What are your weaknesses? A book can be a great guide for you when strengthening the weak aspects of your playing.
Also, think about these questions:
What do you want to learn next?
What style or technique interests you the most?
What currently limits your playing? (Tied to your weak points)
Are motoric skills such as alternative picking, hybrid picking, hand sync, etc. on a good level?
These kinds of questions can you lead towards the right book.
For example, if you feel like your theory knowledge and understanding of guitar playing is in a good level, but your overall playing is lacking a bit, a book like Guitar Aerobics will fit you well.
On the other hand, if you are relatively good at playing itself, but your improvisation skill and fretboard knowledge are lacking…Fretboard Logic SE and/or Pentatonic Patterns are good options.
You get the point. I'm sure that you are ready to choose the book that gets you to the next level!
Advantages of Guitar Books
Affordable
Structured info written by experts(there might be some bad books out there too, but I haven't heard about them much)
Handy, you can just grab a book and start learning
Easy to skim through and find the right section
Easy on your eyes
Reading books improves your imagination and focus
Easy to borrow to a friend (remember to ask the book back)
Downsides of Guitar Books
Not always very visual
Audio element is missing (sometimes books have some kind of audio companion)
Some people just can't stand reading (you can always learn to love reading)
Prone to wear and tear
---
Conclusion
Books are amazing! They match well with learning guitar too. Book is a guided roadmap that can take you where you want as a player.
Hopefully this post helped to choose your next guitar book. If you have any questions, just go to my Youtube channel, and ask in the comments!
I wish you all the best. Keep reading and rocking!
Teemu