Last Updated on February 20, 2023 by Teemu Suomala
Best Overall – KLIQ Guitar Instrument Cable, 10 Ft
Tone
Durability
Overall Quality
Hum Free?
Value for Money
Summary
Why this cable is a great option?

-Gold-plated connectors(rare for this price point) make cable durable and tones clear
-Use of Oxygen-Free copper adds durability
-Hum-free out of the box
-Lifetime Warranty
-Clear and bright tones

Because of its premium qualities and lifetime warranty, this cable starts to look like a no-brainer deal for me. The best guitar cable under $20.
Check Today's Price on:
*Consider all links in this post to be affiliate links. If you purchase, at no additional cost to you, we may earn a small commission. It helps us to keep the lights on, thanks! 🙂
---
The Next Best:
---
You could have the perfect amp and the perfect guitar, but if the cable connecting these two sucks, your tone will be ruined.
The great news is that you definitely don't need to break the bank to get yourself a solid guitar cable. When I was a student, I definitely didn't have more than 20 to spare for a cable, but my small budget didn't ruin my tone and playing experience because I choose the cable wisely.
And now, I'm about to reveal the best guitar cables under 20 bucks(available in 2022) to you. Let's first look at these fine cables, and at the end of the post, you can find the FAQ section that helps you to make the best choice possible.
Who crafted this article: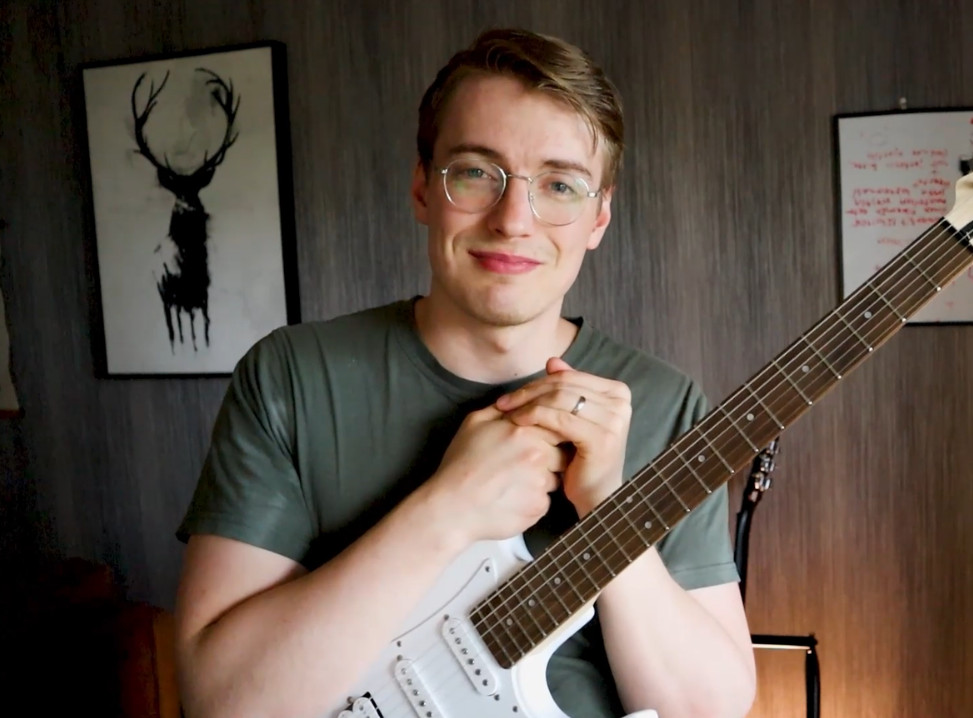 Author: Teemu Suomala
I first grabbed the guitar in 2009. I started this website in January 2020 because I couldn't do window installation anymore due to my health problems. I also noticed that most guitar websites don't do a really good job, so I decided to just go for it! I got lucky and managed to get awesome people to help me with my website. I also got lucky because I have you visiting my website right now. Thank you. I do all this for you guys. If you have any recommendations, tips, or feedback, just leave a comment, I would love to chat with you. I have been fortunate to produce content for several large guitar websites, such as Songsterr, Musicnotes, GuitarGuitar, and Ultimate Guitar. I spend my spare time exercising and hanging out with my wife and crazy dog(I guess that went the right way…).
Every one of these guitars is here based on extensive research and 13+ years of experience.
---
Our Favorite Music Store in The World!
Why?
– Excellent Customer Service (4.7/5 Trustpilot Score)
– Fast & Free Shipping
– Gear is Inspected, Tested, & Ready to Play When it Arrives to You (We love this)
– Fair Prices
Visit Sweetwater:
Best Guitar Cables Under 20
Best Overall –

KLIQ Guitar Instrument Cable, 10 Ft
Kliq Guitar Instrument Cable is a rare find for under 20 pucks because its connector has a gold plating. But does that make it ''worth-a-buy''?
Noise and Hum
When I started with electric guitar in 2009, I had some noise issues with the cables. But I'm surprised that nowadays most budget cables are almost completely hum-free. And KLIQ guitar cable is no exception. Out of the box, this cable is hum and noise-free.
Quality and Durability
This cable has 3 layers of shielding, but the cable is still really flexible and thin. It's a really tight packet, and the outer jacket seems to be protective, so points to the manufacturer for this.
Thin budget cables always give me some doubts…but maybe it's unnecessary. The quality of this cable is really solid, and although I don't like the looks of it(too bright colors), it still feels like a more expensive cable.
This cable also has a lifetime warranty, amazing for this price point. And because of this, buying this cable starts to look like a no-brainer deal for me.
It has gold connector plating. This is rare when you compare different budget cables. As I stated in the Buyer's Guide(FAQ) section:
Gold is not the most conductive connector material, but it's maybe the most durable because of its good corrosion resistance.
Oxygen-free copper is used as a conductor and shield material. This adds more durability. And on paper and what I hear from owners, the durability of this cable is great. Also, manufacturers state that the cables are hand-assembled, which sounds almost unbelievable, but I guess I believe that.
Tone
This cable offers you clean and bright tones, and as I said, you don't have to worry about humming. This cable should serve you well with different kinds of music and instruments. Especially for this price point, KLIQ Guitar Cable offers you really good-sounding jamming sessions.
But would hope that KLIQ provided the Picofarad rating for us, which would help us compare the real quality and capacitance of this cable.
Summary
Pros
Gold-plated connectors(rare for this price point)

Use of Oxygen-Free copper adds durability

Hum-free out of the box

Lifetime Warranty

Clear and bright tones
Cons
Ugly in my opinion

Where's the Picofarad rating?
Right now, this cable seems to be a really good option.
On paper, it offers you really good specs and also sounds good in real life. If the manufacturer would provide the Picofarad number for consumers, this cable would be an even better option(and if it has a low Picofarad rating).
---
Runner-Up –

Fender Performance Series Instrument Cables
Fender can surely build solid axes, but what about a budget guitar cable? Is it any good?
Noise and Hum
First of all, this is maybe the strongest aspect of the Fender Performance Series Cable. There is literally almost no hum at all. You can definitely jam hum-free with this cable!
Quality and Durability
I'm almost always been pleased with the quality of Fender products. And this is no exception. I have no complaints. There have been some poor quality Fender cables shipped to players, but the reason for that has probably been a mistake in quality control.
And about the durability, it's solid. In normal use, this cable should last for a long. The connectors feel sturdy, and the cable feels well-built. But sometimes these Fender cables start to lose their punch when time goes by(this can happen with other cables too).
And here the lifetime warranty kicks in. For this price point, this is a huge bonus(I mean really HUGE). This also reveals that Fender really tries to make budget cables that last for a lifetime.
Again this cable is almost a no-brainer deal because of this warranty.
The outer jacket is rubber, and for cable stepper's that's not the best option.
I don't how Fender handles the situation where you stepped on the cable and broke it, probably they won't care much because this cable is so cheap and still give you a new one(not guaranteed, only my thoughts).
The outer jacket still makes the cable flexible and that adds some durability. In normal use, the rubber outer jacket offers cable enough protection.
Tone
This cable provides clean tones for you. For the price, it's hard to beat. There is no noticeable interference or hum and cable provides rich and full tones.
But when time goes by, these cables sometimes start to lose some tone. Probably because the connector plating starts to wear or stain. The tonal difference is not always noticeable, but this is a minor flaw for sure.
Here the lifetime warranty is nice to have, but again, I'm not sure how Fender handles every specific situation.
Fender doesn't provide the Picofarad rating for us, and that's surely a bummer. They do state that the cable has ultra-low capacitance levels, but the correct picofarad number would be nice to have. Now we don't have good data points to compare this to more expensive cable.
This cable uses Oxygen-Free copper, and that's always a good sign. It adds up to the durability and effectiveness of the cable.
Summary
Pros
Lifetime warranty is a huge bonus

Hum is minimal

Flexible

Tones are clean
Cons
Fender doesn't provide the Picofarads for us

In some cases, connectors start to wore of and stain

Rubber outer jacket can't take much stepping
Fender Performance Series is a really solid option for a tight budget. It's not the most durable, but it comes with a lifetime warranty. It offers clean tones and is quiet and almost hum-free.
---
Good Picofarads –

GLS Audio 10 Foot Guitar Instrument Cable
GLS Audio gives us a lot of info that other cable manufacturers don't in this price range. But is all that just marketing fluff?
Noise and Hum
It's so annoying when guitar cables cause a lot of noise! GLS Audio 10ft cable actually does a pretty good job with this. It doesn't cause any distracting noise when it's in good condition. And this cable doesn't lose much to pricier cables either. But as you would expect for this price, this cable is not perfect. The cable can sometimes hum, especially when nothing is played.
For the price, this cable is still really solid hum-wise.
Quality and Durability
This is still definitely the strongest aspect of this cable. Quality is really solid, it's on the same level as cables costing $30 or more. I have absolutely no problems with quality.
I found one owner saying that the angled connector starts to stain easily. That's good to know, but it seems to be rare. And usually, the downside of affordable products is the fact that sometimes poor-quality units slip by the quality check.
Gladly, returning a damaged item is usually possible.
This cable comes with a 1-year warranty, that's good for cable as affordable as this. And it can handle normal use well and it should serve home guitarist for years.
Cable uses Oxygen-Free Copper as a conductor and insulator copper. This gives the cable more durability. A braided twee cloth jacket offers cable protection, and it also looks and feels like a more expensive cable.
The cable is also pretty flexible, but it can get curled easily, and that can be annoying if you want to move when playing.
You should also know that the angled connector is not suitable for every guitar. For example, a Stratocaster with a cable jack on the top of the body will not work well with an angled connector. (This budget Donner Strat is another example).
But you can always plug the angled connector into your amp and plug the straight connector into your guitar. Almost all guitar cables work both ways.
Overall, the quality and durability of this cable gets good grades from me.
Tone
When the cable is plugged into the guitar and you start playing, the tone is clear. And it's clear as with more expensive cables(I should really do a test video where I compare cables from different price points).
And the nice thing about this cable is the Picofarad number. GLS actually lets us know that! Usually, manufacturers don't and that's probably because the number is so big.
This cable has 38 picofarads per foot, that's really good for this price point. This means that the cable won't "leak" so much signal to the ground, and you will have a better tone.
Tones from low-to high end come out naturally and with full presence. A home guitarist can definitely be happy with the tones of this cable.
Summary
Pros
Oxygen-Free Copper is used, this means better durability and more efficient transfer of signal

GLS(manufacturer) gives us Picofarad rating (38), and it's great for this price point

Cloth outer jacket gives cable good protection

Tones are clear

Hum is minimal when played
Cons
The cable can get curled easily

Some hum especially when nothing is played
GLS Audio 10 is a great choice for a home guitarist. It offers solid durability and decent tones with minimal hum. There is also, 20ft version of this cable available.
---
Sturdy Cable –

Pig Hog PH10R High Performance Right-Angle Guitar Instrument Cable, 10 Feet
The cable comes with a cool-looking package and logo, but how is the cable itself? Let's look at it!
Noise and Hum
This cable is also almost completely hum-free. Especially out of the box.
Quality and Durability
This cable is thick and has a really solid feel to it. The outer rubber covering feels protective. And cable is really sturdy and has a strong build.
One of the most protective feeling rubber cables that I've seen. And for this price point, that is an accomplishment. White rubber parts near the connector look a little bit flimsy in my opinion but it's still protective.
The durability of this cable is good, and the lifetime warranty of this cable removes the fear of it breaking and you needing to buy a new cable too soon.
But I wonder if the oxygen-free copper is as a conductor and shielding material because they don't give us any info about that. That leads me to think that unpurified copper is used, and this can have some effect on the durability in the long run.
Tone
"Fat cable. Fat sound". That's what Pig Hog cables state. The cable is fat for sure. And durable.
But they don't give us the picofarad rating. They don't state that Oxygen-Free Copper is used. This raises some questions for sure.
Still, the cable provides good tones out of the box. Clear and clean.
But how is it in the long run? I have some doubts about this. Pig Hog team could give consumers more info related to copper they use, and capacitance on their product page.
Summary
Pros
Sturdy cable, built to last

Lifetime warranty

No noticeable hum

Clean and clean sounds out of the box
Cons
Questions about the long run tone quality, due to the possible use of unpurified copper (I would assume that Pig Hog would tell us if they are using Oxygen Free Copper)

No Picofarad rating
This is a thick and well-protected cable for sure. But there are some unanswered questions that make me doubt a bit. And that's why it's not my go-to option. But still, it usually sounds good out of the box and seems durable, that's why it still might be "worth-a-try".
---
Best Budget –

Guitar Cable, Mugig Professional Instrument Cable
The cheapest cable featured on this post. Is it still usable and a good budget option for some folks?
Noise and Hum
Again, the hum and noise are not the problems. Cable offers you hum-free playing, and when nothing is played there is almost no noticeable hum at all.
Quality and Durability
Usually, this cable will happily surprise you with its quality. Really solid for this price point.
But when the price point is this low, there is a higher chance of bad quality cables slipping through the quality check. And that's the biggest problem with this cable. This is not common, but it happens more than with the other cable on this post.
But as I said, usually the quality is solid.
And the same thing with durability. Usually, this lasts for years, but sometimes the durability is just not there.
Sadly, I could not find info about the warranty.
Gladly, you can always return the item if it's damaged or unusable out of the box. But surprisingly, Oxygen-Free copper is used as a conductor, this adds some durability.
Tone
The tone is good enough for the price. Some high, and mid-tones are slightly cut.
The reason for this is probably the "leaking" of the signal. And as you would imagine, the manufacturer doesn't provide the Picofarad rating for us(rating probably is pretty bad).
But I would not trash the tones of this cable completely. Other cables on this post will provide better sounds for you, but there are definitely worse cables than this when it comes to tone.
Summary
Pros
Really affordable

Quality is usually good

Almost completely hum-free

Sounds good enough for the price
Cons
I guess that there is no warranty

Missing some mid and high-end tones

No Picofarad rating

Poor quality cables sometimes slip trough the quality check
This cable is definitely better than you would expect. If you have more to spare, buy more quality with your money. If you have to buy a cable for under $10, this is the best option in my opinion. This cable can also be a decent spare cable.
---
Long Budget Guitar Cable
For those out there who have really tight budget and need a long cable, I recommend this: GLS Audio Instrument Cable. For the price and length, it's a really solid cable.
Check Price on:
---
Verdict
This is a thought battle of budget cables. Two that stand out the most are the Fender and KLIQ cables. Both have a lifetime warranty and provide equally great tones.
But I will give the top spot for the KLIQ guitar cable. It has a fabric outer jacket, and I have experienced that fabric cables are more durable. Also, gold-plated connectors are a nice plus.
Pig Hog and GLS cables battle for the third spot. Pig Hog has really sturdy build and a lifetime warranty, but they don't provide consumers all the info that they should.
GLS has a one-year warranty, a good Picofarad rating and it has oxygen-free copper in it. Personally, I would pick GLS cable over Pig Hog.
And the cheapest cable is the last(Mugig). It's good for the price, but I think that you should buy at least a little bit more expensive cable if you have the money.
---
Buyer's Guide – FAQ
What Makes A Good Guitar Cable?
Does guitar cable even make a difference? Yes, it does. And there is a huge variety of cables from under 5 dollars to up to more than 250 bucks. But as I said, you don't have to empty your wallet to get yourself a decent guitar cable.
A good rule of thumb is to stay away from the cheapest cables(under 10), weaker quality of these can affect the tone too much and they are usually not that durable. You could end up spending more with cheap cables becuase you might need to replace them frequently.
Of course, if you have a really tight budget, owning a cheap cable is better than no cable at all…at least I think so. Now, let's look at the different aspects and parts of guitar cable and see what you should look for.
Built
Anatomy of The Guitar Cable
Every guitar and instrument cable usually share the same anatomy.
Outer Plastic or Fabric Jacket,

this part keeps everything inside safe and in one tight packet.

Copper Shielding,

blocks an electric field interference from other sources.

Conductive shielding material,

blocks the external and internal electric field (prevents the core, where the electricity carries the audio signal from ''leaking''.)

Dielectric insulator,

Keeps the core where the electricity carries the audio signal isolated and prevents ''leaking''.

Core (conductor),

in the copper core, the electricity carries the audio signal.
That's how a guitar cable looks from inside.
Picofarads, aka. leaking
I used the term ''leaking" here. That describes the phenomenon, where the electricity tries to find the easiest way to the ground. Insulators are used to prevent this from happening in guitar cables and in other electricity-related objects.
Picofarads per foot (or meter) are used to measure cable's ability to stop the center conductor from leaking the signal to the ground.
For the price under 20, most manufacturers are not giving you a Picofarad rating, probably because the rating is so bad. But when you can find Picofarad amount from the cable package or product page, that's usually a good sign.
Fewer Pickofarads means that the cable's ability to stop ''leaking'' is better. For this price point, under 50 Picofarads is really good.
Sometimes you can hear the term ''low capacitance'' when people talk about guitar cables. Picofarads are used to measure capacitance. So, low capacitance usually refers to a good picofarad rating.
Here's a video that teaches you more about picofarads and how the guitar cable works:
How Guitar Cables are Built
Most guitar cables are built completely by machines. And for the price under 20, that's usually the case.
This won't have a huge impact on your tone. Of course, if you can afford a more expensive cable, you should do that. Some parts might be assembled by human workers when the price goes closer to 50 and 100. Cables built completely by humans are closer to 200 bucks.
But honestly, for a home guitarist, I don't see any reason to go much over 50 dollars when buying a guitar cable. That's all that we home guitarists need. As I said it's still a good idea to not buy the cheapest guitar cables if that's possible.
Conductor material
In guitar cables, a copper conductor(wire) in the middle of the cable is used to carry the audio signal via electricity.
The only thing that varies on the materials is how pure the copper is. The main thing affecting ''how pure the copper is'', is the oxygen level. Nowadays, almost all decent cables use oxygen-free copper as a conductor.
And these cables have usually letters OFC= Oxygen-free cable on their package or product page. If you could not find these letters or words, that probably means that unpurified copper is used as a conductor.
The idea behind the OFC is to remove oxygen from the copper to make it more conductive, and as a result, you'll have a cleaner signal. Also oxygen-free copper has a better corrosion resistance.
But oxygen-free copper won't improve your sound quality much when the cable is new, but when time goes by, corrosion won't spoil your cable and tone so easily. And OF copper is also more efficient and is able to carry more current, when compared to unpurified copper.
I would aim for oxygen-free copper cable, and you can find these under the price of 20. But unpurified copper is less expensive, so if you have really tight budget you might have to buy an unpurified copper cable.
If this is the case, don't worry, this won't ruin your tone. And having a cable with unpurified copper is a lot better than not having a cable at all(haha). But it's good to know that the durability of unpurified copper is not as good as Oxygen-free copper.
Here's a video that reveals more info about the oxygen-free cables:
Connector material
Connectors typically have 4 different kinds of materials and platings:
Nickel

Copper

Silver

Gold
Some say that the gold-plating is superior to the others, and that is true to some extent.
Silver is the best conductor.

Copper comes after that.

Gold has a slightly worse electricity conductivity, but it has better corrosion and tarnishing resistance. This is why gold-plating is usually used.

Nickel has the worst conductivity of these 4, but it has high corrosion-resistant. It's also the cheapest of all four.
For the price point under 20, nickel-plated connectors are usually used. It won't cut the tone much and is durable, but it's still not the best option.
But you can totally be happy with nickel-plating. My student budget cables were nickel-plated too and I never noticed a huge difference.
Also, it's good to remember that sometimes, the effect of stuff like this is only marketing hype produced by the manufacturers. And although the things that I just mentioned are scientifically proven, manufactures can make a bigger deal about these things than they really are.
Outer Jacket Material
Usually, the outer jacket is made of rubber or fiber(cloth). The quality of these materials can vary a lot.
The cheapest cables are not flexible and break easily if someone steps on to them. And one reason for this is the low-quality outer jacket. When the price point of the cable goes over 10 bucks, the quality starts to be decent.
When you compare the rubber and fiber(cloth) outer jackets, there is no tonal difference between the two.
But in general, I would pick the fiber jacket cable over rubber if there is a high chance that someone steps on to them often. Otherwise, it doesn't matter much.
Thickness
Usually thicker cord provides better protection to the cable. And when the cable is thicker, the copper conductor can be thicker too. This makes the cable more efficient and helps it to carry more currency.
I would not buy the thinnest and cheapest cables, because manufacturers probably saved on material quantity and quality when building these.
Length
When the cable grows longer and longer, your guitar will lose more and more tone. How?
To simply put it:
The electricity carries to the audio signal. When electricity moves through the conductor, in this case, the copper wire, it slightly loses its power because of coppers' resistance for electricity. Some electricity also leaks to the ''ground''. The longer the cable is, more tone you will lose.
It's like pushing a wheelbarrow full of leaves. If you push it for 2 feet, you will drop fewer leaves than when you push it for 20 feet.
But length is not all that matters. Cable's ability to stop the center conductor from leaking the signal to the ground plays a big role too. Picofarads per ft ( or meter) is used to measure this. A good Picofarad rating can make some 30ft cable sound better than some 10ft cables.
Fewer Pickofarads means that the cable's ability to stop ''leaking'' is better. Some manufacturers are not providing us with Picofarad ratings, probably because the rating is so bad.
Everything below 50 picofarads is really good for this price point. And when the cable is really short, picofarads are not playing so big role because the signal won't have so much time to leak anyways.
Best Guitar Cable Length
A good rule thumb is to buy a guitar cable less than 10 feet for home use. If you must buy a 20 ft or even 30ft cable, it's not that bad, but you will notice the difference when you compare it to the shorter cables.
The shorter the cable is, the better the tone will be. But don't make things hard for yourself by buying too short a guitar cable.
If you want to learn more about the cable length, watch this video:
---
How to Buy The Right Cable for You
I would carefully consider the price point. Do you need a cable now? Or should you wait for a sale or save more money to buy a more expensive cable? One thing is for sure, you get what you pay for.
If you are sure that you want cable for under 20 pucks, great! You can still get a solid cable with that money. Consider these things:
Cable length,

I would recommend under 10ft cable for the home player, this way you won't lose much tone. If the manufacturer gives you picofarads, pay attention to them. Below 50 Picofarads is great for this price range. Also, if they state that it's ''a low capacitance cable'', it's usually a good sign, but not so accurate and trustworthy.

Can you afford an Oxygen-Free copper cable,

this makes the cable more durable and efficient when carrying the signal.

Outer jacket material,

my experience has revealed that fiber cable is more durable if there is a chance that someone steps on to them often. If stepping on is not likely, rubber cable will serve you well.

Connector material(plating),

under the price point of 20, nickel is almost the only option. It's not the best, but for the price, it's still a good connector material and also durable. If you can find a cable with silver or cold connector plating under 20 pucks, you should definitely look closer at it, it might be a good deal.

Thickness,

usually thicker cables are a better option. It means more protection to the cable and the wiser use of materials. But of course, if the cable is thick, it won't necessarily mean that it's a good cable.

Coiled or normal cable? Coiled cables are those curly ones that you see. These cables shape your tone to the less-bright direction because the signal has more cable to go through. It's like turning your tone control down. These are great cables especially if you want to shape the sound of your single-coil pickups. But if you want to maintain the bright tone of your guitar, buy a normal guitar cable.
Are All Guitar Cables The Same?
No, all guitar cables are not the same.
Different kinds of copper are used to build cables

They also come in different lengths

Thickness, connector materials/plating, and durability can vary a lot

Some cables even have a lifetime warranty
Guitar cable plays a huge role when it comes down to your tone. It can make or break your game. So choose your cable wisely. Gladly, this guide helps you do that and most of the cables nowadays are good in quality.
---
Conclusion on Best Guitar Cables Under $20
All these cables are solid options for folks who are looking for a budget-priced cable that can still transfer a clear signal to your amplifier. The best guitar cables under $20 really.
I hope that this post helped you to buy the right budget cable for you and if you have any questions, just leave a comment. I wish you all the best and keep rocking!
Teemu "the budget cable" Suomala