Last Updated on May 2, 2023 by Teemu Suomala
Who crafted this post:
Author: Tommy Tompkins
Playing guitar since 2004. Primarily an acoustic guitarist who plays and writes traditional American folk music, with a background in melodic metal and a solid foundation as a bassist.
Hide The Rambling▲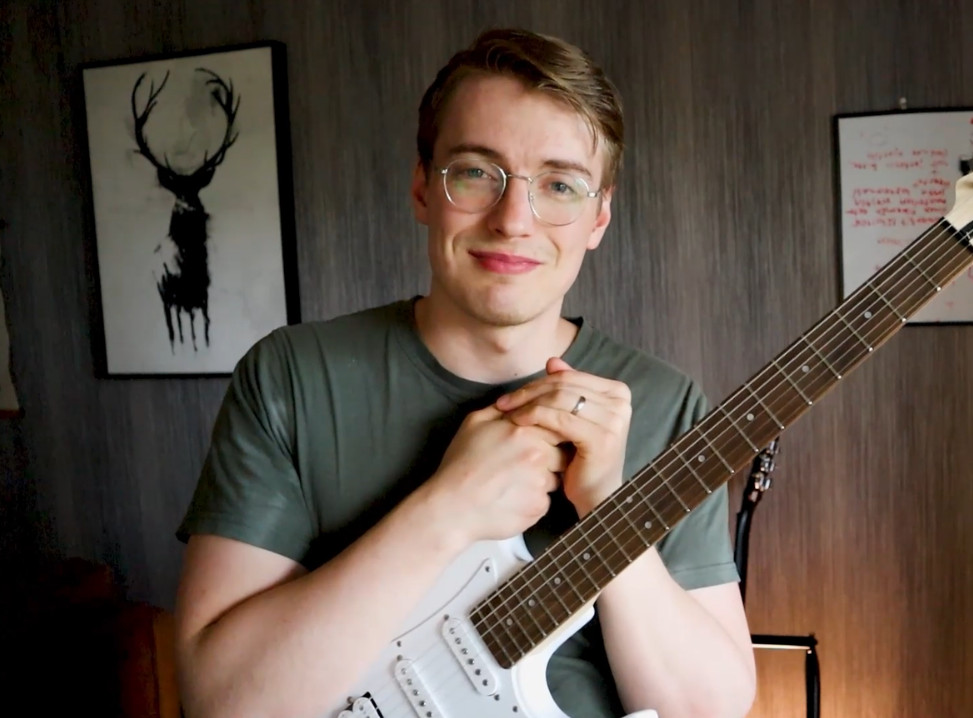 Editing & Research: Teemu Suomala
I first grabbed the guitar in 2009. I started this website in January 2020 because I couldn't do window installation anymore due to my health problems. I love guitars and have played dozens and dozens of different guitars through different amps and pedals over the years, and also, building a website interested me, so I decided to just go for it! I got lucky and managed to get awesome people to help me with my website.
I also got lucky because I have you visiting my website right now. Thank you. I do all this for you guys. If you have any recommendations, tips, or feedback, just leave a comment, I would love to chat with you. I have also been fortunate to produce content for several large guitar websites, such as Songsterr, Musicnotes, GuitarGuitar, and Ultimate Guitar.
I spend my spare time exercising and hanging out with my wife and crazy dog (I guess that went the right way…).
Hide The Rambling▲
Every one of these cleaning kits is here based on extensive research and decades of combined guitar experience of me(Tommy) and Teemu.
Best Overall – D'Addario Instrument Care Kit
Convenience
Quality
Tool Variety
Value For Money
Summary
My top choice for guitar cleaning kits

Even if this D'Addario set had half as many features, the case alone is enough to make it a top-rated choice. Ensuring a safe, spill-free journey, this is the best cleaning kit you can get for travel.

Inside the case, you'll find D'Addario's 3-step cleaning system:
-Restore Detailer,
-Protect Guitar Wax,
-and Shine Spray Cleaner.

Applying these sprays with the included microfiber cleaning cloth will have your guitar shining like new in no time.

Though it's one of the most expensive guitar cleaning kits, the high-quality cleaners, protective gear, and convenient carrying case are well worth the price tag.
Check Today's Price on:
*Consider all links in this post to be affiliate links. If you purchase, at no additional cost to you, we may earn a small commission. It helps us to keep the lights on, thanks! 🙂
---
The Next Best:
Compare:
---
Cleaning your guitar is one of the best ways to make sure your tone stays bright while your axe stays eye-catching. As a cornerstone of instrument care, cleaning should be a part of any guitarist's routine.
Whether you're looking to switch up your cleaning regime or are just getting started with the finer points of guitar maintenance, there's a kit built to suit your needs.
And now, we reveal our 5 favorite cleaning kits. With everything you'll need to revitalize your axe's aesthetic, these are one the best guitar cleaning kits around.
Let's first look at these fine kits, and at the end of the post, you can find the FAQ section that helps you to make the best choice possible!
Check our full How to Clean Your Guitar guide here.
Our Favorite Music Store in The World!
Why?
– Excellent Customer Service (4.7/5 Trustpilot Score)
– Fast & Free Shipping
– Gear is Inspected, Tested, & Ready to Play When it Arrives to You (We love this)
– Fair Prices
Visit Sweetwater:
5 Best Guitar Cleaning Kits
Best Overall – D'Addario Accessories Instrument Care Kit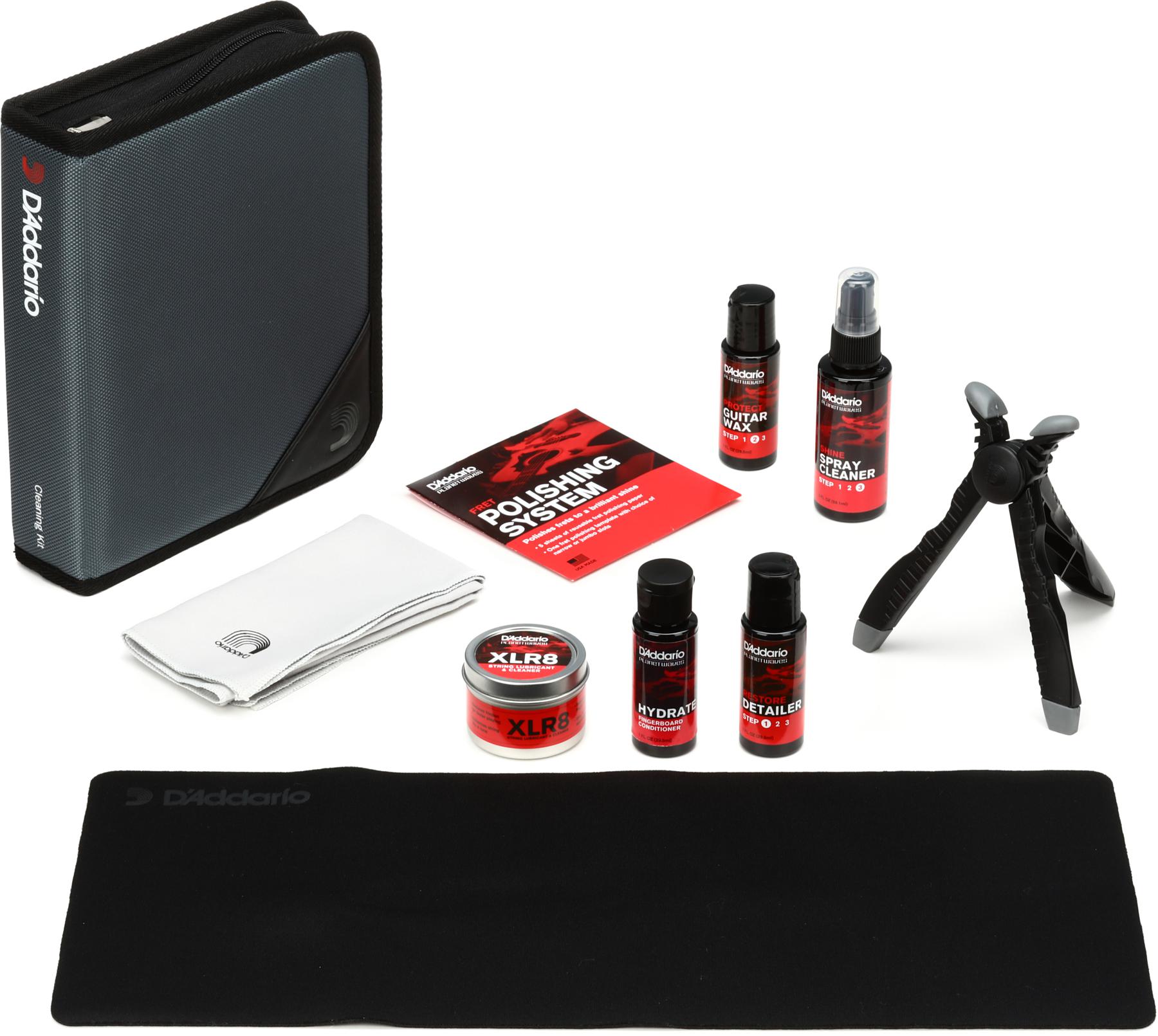 My top choice for guitar cleaning kits is the D'Addario Accessories Instrument Care Kit, specifically the Premium version.
This kit raises an important question: why don't more cleaning sets come in cool cases?
Even if this D'Addario set had half as many features, the case alone is enough to make it a top-rated choice. Ensuring a safe, spill-free journey, this is the best cleaning kit you can get for travel.
Inside the case, you'll find D'Addario's 3-step cleaning system—
Restore Detailer,
Protect Guitar Wax,
and Shine Spray Cleaner.
Applying these sprays with the included microfiber cleaning cloth will have your guitar shining like new in no time.
For maintenance further up the neck, the Accessories Instrument Care Kit provides
a Fret Polishing System,
hydrating Fingerboard Conditioner,
and XLR8 String Lubricant and Cleaner.
One of my favorite things about this kit is that each cleaner and chemical is affordable and easy to reorder when you run out.
To make this cleaning kit extra road-friendly, D'Addario includes a non-slip protective body mat and a super useful "headstand". These together keep your guitar up off the floor so you can shine your axe up anywhere, from home to the tour bus to backstage.
Though it's the most expensive guitar cleaning kit, the high-quality cleaners, protective gear, and convenient carrying case are well worth the price tag.
If you are on a budget, there is D'Addario Accessories Instrument Care Essentials Kit available too.
Pros
Comes in a convenient carrying case
Includes protective mat and headstock stand
Easy-to-use multi-step cleaning and maintenance system
Cons
Check Price on:
---
Runner-Up – Kyser Guitar Care Kit Gift Set
Kyser's Guitar Care Kit Gift Set is a strong contender for the best guitar cleaning kit.
The only thing keeping it from my top choice is its lack of a carrying case, but otherwise, it's one of my favorite cleaning systems.
Why?
Well for me it's the simplicity. Sometimes I'm shamefully lazy and the most I usually do for guitar cleaning is a quick, dry wipe down.
Kyser's kit appeals to me in that you get only one cleaner for each part of your guitar:
a cleaning polish for shining up the body,
lemon oil for refreshing the fretboard,
and string cleaner for extending the life of your strings.
Another handy feature of this kit is the addition of three color-coded microfiber cloths, one for each cleaner. This is especially helpful for maple fretboard owners (because again, you don't want to use lemon oil on maple fretboards).
I'll admit, the price of this kit is a little higher than I'd like to pay, but people (and me) really love the efficacy of these cleaners.
If you're a minimalist like me looking for a simple but high-quality cleaning kit, this Kyser combo is a great way to go.
Pros
Super simple 3-part cleaning regime
Color-coded cotton rags to keep your cleaners separate
Effective products and good customer service
Cons
Cleaners come in low-quality bottles that may break or malfunction
Check Price on:
---
Most Thorough Clean – Jim Dunlop Acoustic Guitar Body System 65 Guitar Maintenance Kit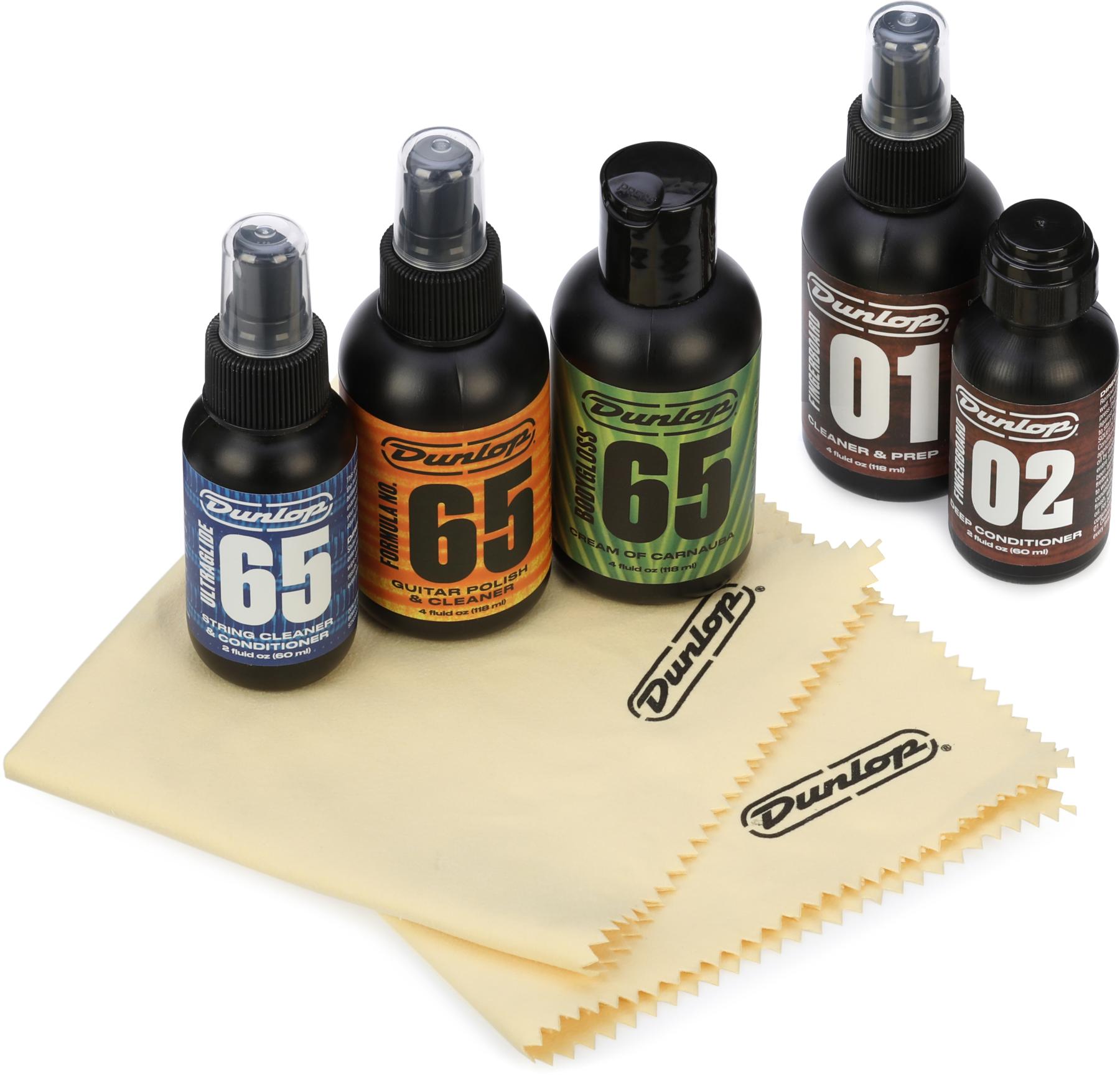 Despite what the name implies, the Jim Dunlop System 65 Guitar Maintenance Kit is not only for acoustics—it does an equally good job of cleaning and polishing electric guitars.
In this 6500 guitar cleaning kit, you get
dual sets of fretboard and body maintenance products
a string protectant
and a fret polishing system.
Although the bottles lack D'Addario's convenient 3-step system labeling, using the Dunlop System 65 is easy once you read through the included instructions.
It's very important to note though that you SHOULD NOT use the fingerboard products on finished or maple fingerboards.
In all, this kit comes with 2 cotton cleaning cloths, a fret polishing cloth, and Dunlop's 5 key guitar cleaners:
Polish and Cleaner- for everyday cleaning
Body Gloss- a creamy carnauba wax for buffing out minor scratches
Ultraglide- a string cleaner and conditioner that protects against corrosion
Fingerboard 01- general cleaner for non-maple fingerboards
Fingerboard 02- a conditioning oil to rehydrate fretboards
As long as you make sure to follow the care instructions for each product, you'll find this is a great combo of guitar cleaners to get your guitar looking good as new.
They're pretty expensive to buy separately, so this complete maintenance kit is a great value and a solid way to get started in total guitar cleaning upkeep.
Pros
Extensive cleaning program with good results
Natural carnauba cream wax buffs out minor scratches in the finish
Contains multiple cotton cloths plus a fret polishing cloth
Cons
Neck cleaning system not for maple necks
Check Price on:
---
Best for Detailing – MusicNomad MN108 Premium Guitar Care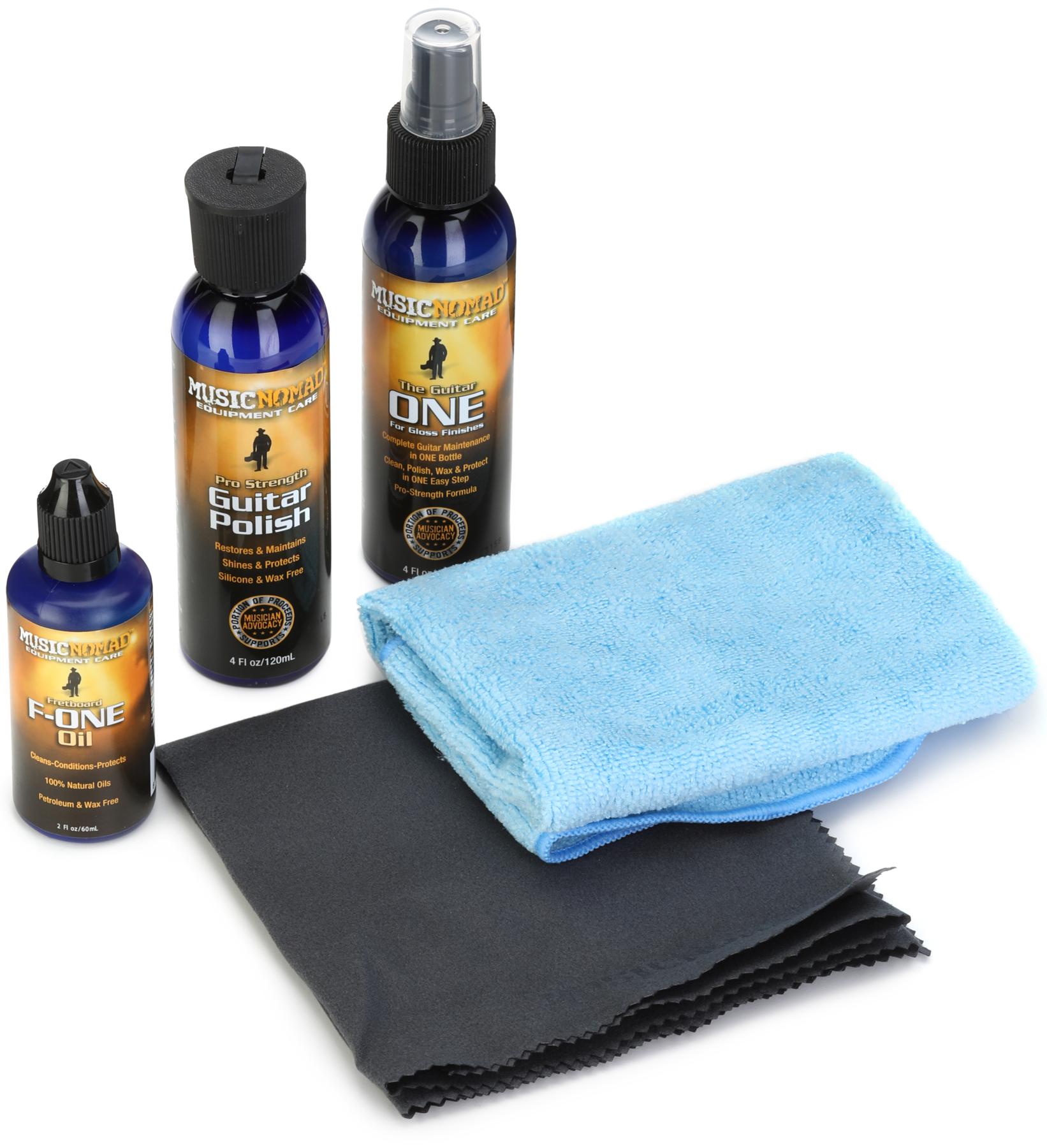 The Music Nomad MN108 Premium Guitar Care kit is designed more for the periodic deep clean than your daily wipedown.
That's because the two main cleaners in this kit—Guitar ONE and Pro Strength Guitar Polish—are pretty heavy-duty.
Guitar ONE is an all-in-one cleaner/polish/wax. It's recommended to be used once a week to get rid of any grime that's built up on your guitar's body.
At the same time, the carnauba wax in the mix fills in small scratches to really make your finish shine. It even adds UV protection and anti-static properties to help keep dust away!
Now, the Guitar Polish is where this kit becomes just a little confusing…
In most kits, the polish is just a light cleaner, maybe with some wax. But the MusicNomad Polish contains actual abrasive elements and is meant to buff out serious dull spots.
You shouldn't just spray this on and wipe around with no care, because that can actually damage your finish. Instead, use just a few drops on problem areas, rubbing it in a circular motion, like you would wax a car.
You can also use this Polish to shine up your hardware and get rid of corrosion and rust, but it's not recommended for gold-plating.
The last element of this kit is a deep conditioner for your fingerboard called F-ONE. Unlike most other guitar cleaning fretboard oils, this one is safe for unfinished maple because it contains no lemon oil.
MusicNomad recommends applying F-One only two or three times a year, so you can expect probably a few years of use out of this one bottle.
Despite having some of the more powerful, longer-lasting guitar cleaners around, the MusicNomad Premium Guitar Care Kit is fairly affordable.
If you're not a fan of waxing your guitars, it's probably not the best choice.
But for anyone who likes to slap a fresh coat on every now and again and really detail their rigs, the MN108 is a quality cleaning kit to have on hand.
Pros
Contains buffing compound and all-in-one wax cleaner for finish detailing
Polish can be used to shine most hardware
Nitro-safe cleaners and maple-safe fretboard conditioner
Pro-quality products used in guitar shops
Cons
Not a typical cleaning system (very important to read instructions)
Check Price on:
---
Best for Improved Playability – MusicNomad MN144 Total Fretboard Care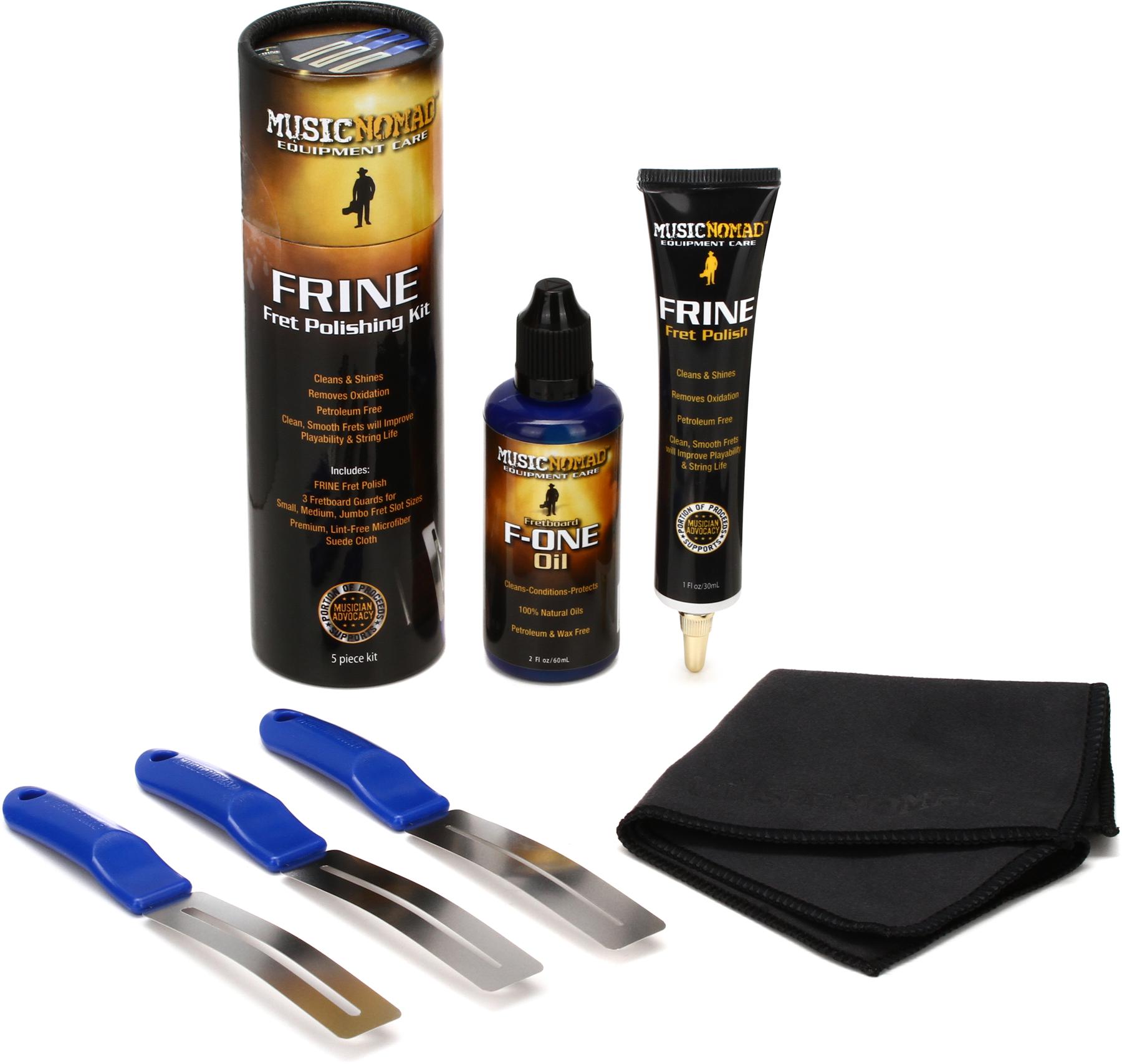 I love a fast-playing fretboard, and MusicNomad's MN144 Total Fretboard Care kit is the quickest, easiest way to bring any old fretboard up a few quality notches.
Though this kit doesn't have any products for cleaning or polishing the body of your guitar, it's a comprehensive way to bring new life to your axe's playing feel.
You start the MN144 system by using the FRINE Fret Polishing Kit.
This is a combo of three fretboard guards and specially formulated fret polish with micro-abrasive compounds. You set the guards over your frets, then apply the polish with the included microfiber cloth.
It removes oil, dirt, corrosion, and any other particulate build-up your frets have accumulated. The guards protect the wood of your fingerboard from abrasion, so your focus can be on shining those frets up to like-new condition.
After each fret has been polished, you give the fretboard a liberal wipe down with MusicNomad's F-ONE Cleaner and Conditioner.
This fingerboard oil is free of petroleum and lemon oil, so it's safe for all unfinished fretboards. It soaks deep into the wood, rehydrating your fingerboard's pores to make the guitar's playability as soft and springy as day one.
If you use this kit in tandem with a deep-cleaning body set, like the Dunlop System 65 Maintenance Kit, you can really revitalize a dusty old guitar.
The MusicNomad MN144 Total Fretboard Kit is the best way to freshen up your guitar when the fingerboard starts to feel like it's holding you back.
Pros
Includes intensive fret polishing kit and long-lasting fretboard oil
Increases fingerboard and fret smoothness, making playing easier
Improves string life by removing corrosion and roughness from frets
Cons
Quite often ships with missing pieces
Check Price on:
---
Verdict
Simply on the grounds that I don't like the thought of waxing my guitar every time I clean it, I recommend the MusicNomad MN108 Premium Guitar Care Kit least of all.
Though opinions differ, I think too much wax is a bad thing, and I'll stick to a cleaner that's not so all-in-one.
In that vein, I've chosen the D'Addario Accessories Instrument Care Kit as the best guitar cleaning kit of today.
Not only is its cleaning system versatile and easy-to-use, but its bonus protective accessories and convenient case make it the top choice for guitar maintenance on the go.
---
Buyer's Guide – How to Choose The Best Guitar Cleaning Kit For You?
Do You Need a Guitar Cleaning Kit?
Although each guitarist has their own care regime, most can all agree on one thing: guitars need to be cleaned.
Letting dirt and dust set on your guitar quickly degrades the brightness and quality of your strings. Built-up sweat and skin on your finish can wear it down over time, and any film of grime is gonna dull your tone. To always sound your best, all you've gotta do is give your axe a good wipe down.
Learn what taking care of your acoustic guitar means here.
But what exactly do you need to keep your guitar looking and sounding fresh as can be?
At the very least, you'll need a soft cotton cloth (I like to use thick microfiber rags) and just a bit of water.
Wiping down your strings, fretboard, and any other spots you've sweated up during your sesh with a damp cloth is the easiest way to avoid having to do any super deep cleans in the future.
Cleaning kits come in when you want to take your instrument care to the next level and show your guitars the love they deserve.
If you take the time to regularly maintain your guitar with a thorough cleaning, it will reward you in turn with years of vibrant tones and hardware that holds up for decades.
Wiping the dirt and dust off your guitar with a cloth goes a long way:
What Makes a Great Guitar Cleaning Kit?
Sure, anyone can take a rag and some water and call it their cleaning kit, but a great care system comes with specially formulated products meant to shine your guitar to the highest standard.
These sets range from the basic cloth and cleaner duo to more complex multi-step regimes that tackle every nook and cranny of your axe. But don't worry, because the best cleaning kits always have great instructions to guide you through the process.
This variation in kit types makes it easy to have both a travel set for touch-ups on the go and a more involved kit for deep cleaning at home.
The bottom line is that great kits clear up the questions of what cleaners and chemicals you should and shouldn't use. Cleaning kits give you a stress- and hassle-free way to keep your guitar looking great.
They're tried and tested to deliver shimmering surfaces quickly and easily while adding to the life and durability of your guitar.
How to Choose the Right Cleaning Kit for You?
The deciding factor in choosing the best guitar cleaning kit for you is really all about how detailed you wanna get with your cleaning.
I'm a pretty simple guy, and to be honest, most of the time I am perfectly happy to clean my guitar with a cloth and water alone.
For me, most attention goes to the fingerboard. I love the way a guitar plays after a fresh fretboard oiling, so kits that have oils and polishes for the frets and fingerboard are my favorites.
Keep in mind when looking at fretboard products that you shouldn't use lemon oil on maple fretboards. Look at maple-safe conditioners instead, or you can skip oiling maple altogether.
Beyond the basic fretboard cleaning kits, you'll find whole body cleansers and kits with cleaning solutions for every surface. Some in this category include waxes meant to preserve your finish. I've gotta give you a little warning here: make sure you know what you're doing when you buff or wax your guitar.
Some finishes, like satin, should never be polished. Others, like nitrocellulose finishes, can be damaged over time by wax buildup. Be sure your finish can handle it before you wax it up.
Every once in a while you'll probably want to deep clean your guitar. It's a great feeling to play a totally fresh feeling axe. You can achieve this with the more intense cleaning kits.
They include cleaners and polishes for every individual part of your guitar and give you everything you need to have your guitar feeling as new as it was the day it was made.
---
FAQ
How Often You Should Clean Your Guitar?
A little wipe-down with a microfiber cloth every week and after every playing session will keep your guitar in good condition. And then a bigger in-depth cleaning when changing the strings every couple of months. This will ensure that your guitar stays in tip-top condition.
Is it OK to Clean Your Guitar by Yourself?
As long as you are using the appropriate materials and cleaning techniques, you should absolutely clean your guitar yourself!
Do You Need to Buy A Guitar Cleaning Kit?
You do not necessarily need to buy a guitar cleaning kit. Microfiber Cloth, Lemon Oil, Vinegar/Water, and Rubbing Alcohol can get you far and your guitar clean.
But buying a guitar cleaning kit is usually the most convenient option, and it also makes sure that you are using materials suitable for guitars.
---
Conclusion on The Best Guitar Cleaning Kit
When a rag alone won't cut through the residue of your rocking out, choosing the best guitar cleaning kit for you is the best way to look and sound your best in every song.
There are simple kits for the quick jobs, intensive sets for the fastidious, and good all-rounders that will cover all your practical bases. Whichever way you go, your guitar's gonna benefit, so don't let another day go by without giving your axe the cleaning it deserves.
I hope that this guide helped you to choose the right guitar cleaning kit for you. I wish you all the best and keep rocking!
---
You might also like:
We are sorry that this post was not useful for you!
Let us improve this post!
Tell us how we can improve this post?