Last Updated on April 29, 2023 by Teemu Suomala
Best Overall – Golden Gate GD-20 Dynarette
Durability
Comfort
Portability
Value For Money
Summary
The most popular guitar cushion…
…for a reason!

The Dynarette cushion is the model that most others are based on. It's the cushion competitors wish they could produce, thanks to its superior shape and materials.

It's perfectly shaped to fit both your thigh and the guitar's waist, adding stability and comfort to your practice.

Plus you have two sizes to choose from!

The best guitar cushion.

Check Today's Price on
*Consider all links in this post to be affiliate links. If you purchase, at no additional cost to you, we may earn a small commission. It helps us to keep the lights on, thanks! 🙂
---
The Next Best:
---
Playing classical guitar can be a real stress on your body if you don't sit comfortably. Plus, poor posture can cause hip and back pain that might develop into chronic issues.
So it's super-important to get the posture right if you want to maintain your motivation and play pain-free.
If you aren't happy using a footrest or metallic support, trying one of the best guitar cushions out there might be your ticket to comfortable classical performances.
And now, let's look closer at these great guitar cushions!
Let's first look at these fine cushions, and at the end of the post, you can find the FAQ section that helps you to make the best choice possible.
Who crafted this post:
Author: Tommy Tompkins
Playing guitar since 2004. Primarily an acoustic guitarist who plays and writes traditional American folk music, with a background in melodic metal and a solid foundation as a bassist.
Hide The Rambling▲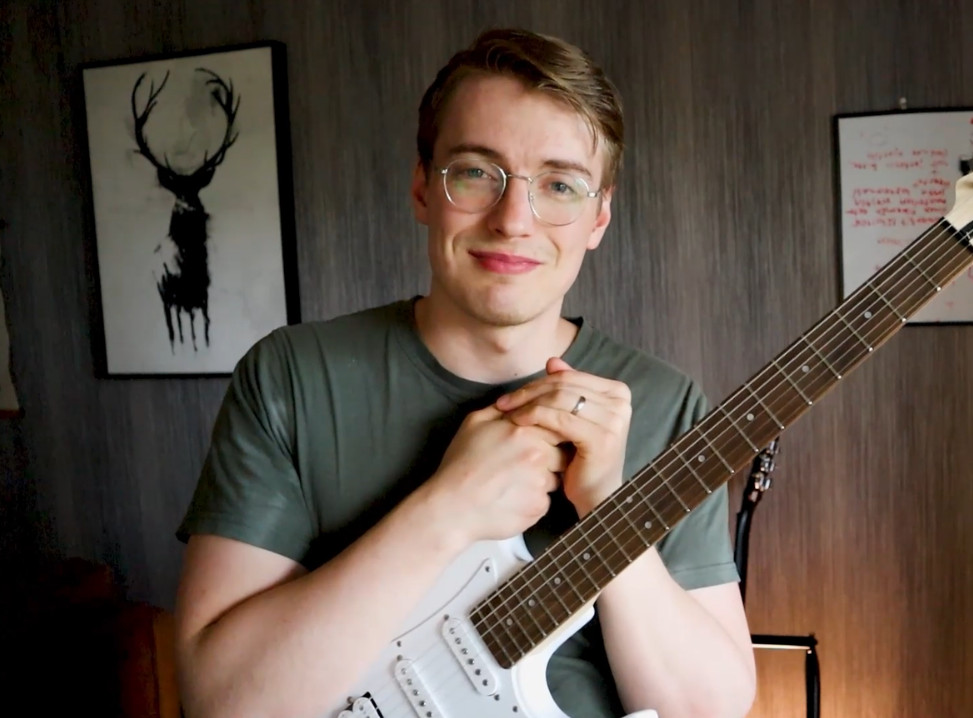 Editing & Research: Teemu Suomala
I first grabbed the guitar in 2009. I started this website in January 2020 because I couldn't do window installation anymore due to my health problems. I love guitars and have played dozens and dozens of different guitars through different amps and pedals over the years, and also, building a website interested me, so I decided to just go for it! I got lucky and managed to get awesome people to help me with my website.
I also got lucky because I have you visiting my website right now. Thank you. I do all this for you guys. If you have any recommendations, tips, or feedback, just leave a comment, I would love to chat with you. I have also been fortunate to produce content for several large guitar websites, such as Songsterr, Musicnotes, GuitarGuitar, and Ultimate Guitar.
I spend my spare time exercising and hanging out with my wife and crazy dog (I guess that went the right way…).
Hide The Rambling▲
Every one of these classical guitar cushions is here based on extensive research and decades of combined guitar experience of me (Tommy) and Teemu.
---
Our Favorite Music Store in The World!
Why?
– Excellent Customer Service (4.7/5 Trustpilot Score)
– Fast & Free Shipping
– Gear is Inspected, Tested, & Ready to Play When it Arrives to You (We love this)
– Fair Prices
Visit Sweetwater:
Best Guitar Cushions
Best Overall – Golden Gate GD-20 Dynarette Classical Guitar Cushion
Durability
The Golden Gate GD-20 cushion is made of high-quality leatherette and sturdy foam.
The leatherette covering is non-porous, so you can clean it very easily and don't have to worry if it gets wet. This helps protect the dependable foam inside, which holds true to form even after hours of playing.
Comfort
The greatest thing about this cushion is it comes in two sizes. There's a medium model, which elevates your guitar around 3.5 inches, and a large model that gives you 5.5 inches of lift.
It's perfectly shaped to fit both your thigh and the guitar's waist, adding stability and comfort to your practice routines.
Portability
This cushion comes with a quality-crafted carrying case that you can either lash to your gig bag or carry in your spare hand. It's a bit too big to fit inside a guitar case, but at just over half a pound, it's nothing hard to haul.
Watch review:
Summary
Pros
The most popular guitar cushion
Available in two sizes, supporting guitar at 3.5-inches and 5.5-inches
The sturdy foam keeps its shape for a long time
Cons
The most expensive option
The Dynarette cushion is the model that most others are based on. It's the cushion competitors wish they could produce, thanks to its superior shape and materials.
If the classical guitar is your passion, this cushion is a great investment into your technique and playing pleasure.
---
Most Portable – Guitar Cushion, YIFAN Guitar Bass Pad for Classical
Durability
YIFAN has done a good job of crafting a dependable product while keeping costs low.
Its materials rival that of the leading Dynarette cushion and are sure to stand the test of time. Except for, that is, the zipper, which is unfortunately easy to snag and break.
Comfort
The key quality of this cushion is the rubber strip on the bottom. This bit of extra gripping power makes a world of difference compared to other cushions, keeping your guitar right where you want it.
This is the #1 selling point of this cushion.
Portability
With a hook on its carrying case, you can easily attach this cushion to your gig bag, making travel quick and simple.
Summary
Pros
Balanced design works equally well for right- or left-handed players
The rubber strip on the bottom keeps a grip on your thigh
Lightweight foam for easy transport
Cons
The zipper of cover can get stuck and break
A close runner-up to the Golden Gate cushion, this model by YIFAN is a good option for those who want a quality support while keeping costs low.
---
Best Leg Grip – Guitar Cushion, Peleustech PU Leather Cover
Durability
Thanks to its PU leather covering, this Peleustech cushion is water-resistant and stain-proof. Smells aren't likely to penetrate, and the thick protection offered by the cover keeps the inner foam free from damage.
Comfort
The thick foam of this cushion is great at supporting your neck while you play. With this, your posture stays how it should- firm and steady. Owing to its extra-wide design, this model sits very nicely on your thigh.
However, its cover doesn't offer much grip for your guitar, making it prone to sliding off.
Portability
Since it's a little larger than the standard guitar cushion, this Peleustech product isn't quite as portable as the rest. But, with its included carrying pouch, it's really no problem to take with you.
Summary
Pros
PU leather is easy to clean
The firm foam holds your posture
Wide design offers additional comfort and stability
Cons
The surface of the cover is slick; guitar doesn't sit steadily
If other cushions have a tendency to slide off your leg or not give you enough of a base to support your guitar, the wider design of the Peleustech cushion could solve your support problems.
It hits right about at the middle range for cushion prices while offering far more pros than cons, so I consider this one of the higher-valued guitar cushions on the market.
---
Best Budget – Andoer Portable Leather Cover Contoured Durable Guitar Cushion
Durability
With a genuine leather cover, the Andoer will last longer than most guitar cushions if you strive to keep it clean. You'll need to be careful about getting it too wet and learn to properly care for the leather. If you manage to do that, you'll get a long period of use out of this cushion.
Comfort
Mimicking the rubber strip of the YIFAN model, this cushion does a great job of holding to your thigh. It's shaped just right to hold your guitar at about 3.5-inches, putting you in the best position for playing classical guitar.
Portability
As it's similarly sized to most other guitar cushions, this is portable in the sense that it's lightweight and comes with a nice carrying bag. But, be aware that there's very little chance you'll fit this in any guitar case.
Summary
Pros
The real leather cover is resistant to tears
Reliable zipper for long-term use
Has a great grip on thigh and guitar
Cons
Andoer is able to offer a great cushion at the lowest price on this list. Though you'll need to be careful about keeping it clean, you'll enjoy this cushion for a long time.
---
Best Standard Support Height- Guitar Cushion PU Leather Cover
Durability
In line with its low price, the MIFXIN cushion uses what seems like a slightly lower quality of PU leather than other cushions we've looked at. It's dependable so long as you don't snag it on something sharp, so take good care of it and it should hold up fine.
Comfort
The dimensions of this cushion follow the industry standard. It holds your guitar at right around 3.5 inches and provides a stable way to support your neck for classical technique.
Portability
Another cushion offering a hook on its carrying case, you can simply lash this to your gig bag and go. Otherwise, you can attach a cord to this hook to make lugging it around a breeze.
Summary
Pros
Soft foam reduces pressure on the thigh
PU cover unzips fully for easy cleaning
Ergonomic design assists in keeping guitar neck angled
Cons
Cover can be easily damaged
Falling into the same mold as most cushions of a similar price, you get a fairly dependable cushion with this MIFXIN model. Just be careful not to cut the cover, and you'll get your money's worth.
It's a great cushion for guitarists just wanting to try this method of support.
---
The Final Verdict
For this type of product, I'd recommend the best you can get. As it stands, the original Golden Gate GD-20 Dynarette is my number one recommendation.
Though leather might be more durable than its faux counterparts, I'd avoid this with a guitar cushion. Because of this, the Andoer would be my last choice of cushion support.
---
Buyer's Guide – FAQ
What Is a Guitar Cushion?
One of many different ways to support your guitar at an angle while you play, guitar cushions are somewhat crescent-shaped blocks of foam. The inner curve of the cushion cups your thigh while the outer curve cradles in the guitar's waist.
This props up the upper bout of your guitar's body, making it easy to hold the neck at the angle best suited for classical or flamenco techniques.
What Makes a Great Guitar Cushion?
There's not much variety in the world of guitar cushions, but the best all share the same qualifying features.
First off is the factor of ergonomics.
You'll want to get a cushion that is designed to function comfortably. There are some that are impractically shaped and basically unusable, so keep your eye out for cushions that won't fit smoothly between your guitar's bouts.
Next, they should be at least somewhat durable.
The construction of a guitar support cushion is often two-piece. There's the inner block of foam and the cover that goes over this. The best guitar cushions have removable covers that you can clean to keep them fresh.
These covers are typically made of either
genuine leather or
PU (polyurethane) synthetic leather.
There's not a whole lot of difference in functionality- or durability-wise, but if you go with the PU option you should check to see if it offers a good grip on your guitar's body.
Finally, high-quality guitar cushions usually come with some sort of carrying case. This makes travel easier as well as protects the cover from snags and tears.
A cushion probably won't fit in your gig bag, so having a carrying case is essential to keeping it safe and easy to transport.
Why Might a Guitar Cushion Be Right for You?
If you're serious about classical technique, guitar cushions are recommended by many pros. They're one of the most comfortable ways to ensure your technique and posture stay dynamically relaxed.
Perhaps you've tried a support and found it to be a hassle to set up and keep in position. Guitar cushions require no adjustment and are usually slip-free.
Unlike guitar footrests, they'll help you keep your spine straight and hips even, which prevents painful strain to these parts of your body. Like this, you're apt to get much more out of your practices.
In addition to this, I think guitar cushions look pretty elegant. If you think brace-style guitar supports throw off the organic looks of your playing with their awkward and mechanical appearance, guitar cushions can offer you stability while maintaining a natural aesthetic.
Guitar Cushions vs. Guitar Supports vs. Guitar Footrests
Among the different methods of supporting your playing posture for styles that call for an elevated neck, there's no best solution.
They all have their pros and cons, and I'd say it's best that you try out a variety if you're having a hard time feeling comfortable when you play.
Footrests
Guitar footrests(also known as footstools) are nice because you keep close, intimate contact with your guitar's body while you play. There's no need to hassle with setting something between you and the instrument, so they're simple to use. However, they're generally not as easy to transport as other types of supports.

Check our footrest guide!
Brace-style guitar supports
Brace-style guitar supports often offer adjustability as well as portability, so they're nice if you like to have a range of angle options. Their main problem is they sometimes tend to not hold the guitar very securely.

Check our classical guitar support guide!
Cushions
Cushions are the simplest method, requiring a simple place-and-play setup. However, they're not adjustable, and you need to be careful not to cut their covers since they're not very durable.
---
Conclusion on Best Guitar Cushions
I'd recommend you to experiment with as many different supports as you can, taking note of what works and what doesn't. As important as proper playing posture is, I'd say the most vital tip is to not settle for uncomfortable positions and equipment.
These are the best guitar cushions around if you find that this style of support is optimal for you.
I hope that this guide helped you to choose the right guitar cushion for you. If you have any questions, leave a comment down below and feel free to share this post too.
I wish you all the best and keep rocking!
You might also like:
We are sorry that this post was not useful for you!
Let us improve this post!
Tell us how we can improve this post?