Last Updated on April 29, 2023 by Teemu Suomala
Best Overall – Hercules FS100B Large Foot Rest
Stability
Portability
Overall Quality
Value for Money
Adjustability
Summary
The Hercules FS100B is a great, strong footstool.

It has five height positions that range from 5 inches to 10 inches. While this might not work for the shortest players, it offers enough variation for most.

Plus,

It's a very easy stand to use, with all parts moving smoothly over one another. It takes no effort to set it to your desired height.

Additionally, it's super simple to fold up when you're ready to take it on the move.

Best guitar footstool in the market in 2022.
Check Today's Price on:
*Consider all links in this post to be affiliate links. If you purchase, at no additional cost to you, we may earn a small commission. It helps us to keep the lights on, thanks! 🙂
---
In this video, you can see Hercules, Tetra Teknica, and On-Stage footstools compared(video is not made by me, but it's super helpful):
The Next Best:
Compare Key Specs:
---
With a footstool(also called a footrest) you can usually get rid of a lot of pain caused by improper posture.
But there are so many footrests on the market… it can be hard to choose one that will work best with your needs and size.
That's why we've compiled a list of our 5 favorite guitar footstools (footrests) in 2021. All these products have been selected based on our combined 27 years of guitar experience and 10+hours of extensive research.
These footrests are great for classical guitarists or anyone wanting to enhance their playing position. You can even use a footstool to support your other leg when playing the classical and the other one when it's time for electric guitar jamming!
Let's first look at these fine footrests, and at the end of the post, you can find the FAQ section that helps you to make the best choice possible.
Who crafted this post:
Author: Tommy Tompkins
Playing guitar since 2004. Primarily an acoustic guitarist who plays and writes traditional American folk music, with a background in melodic metal and a solid foundation as a bassist.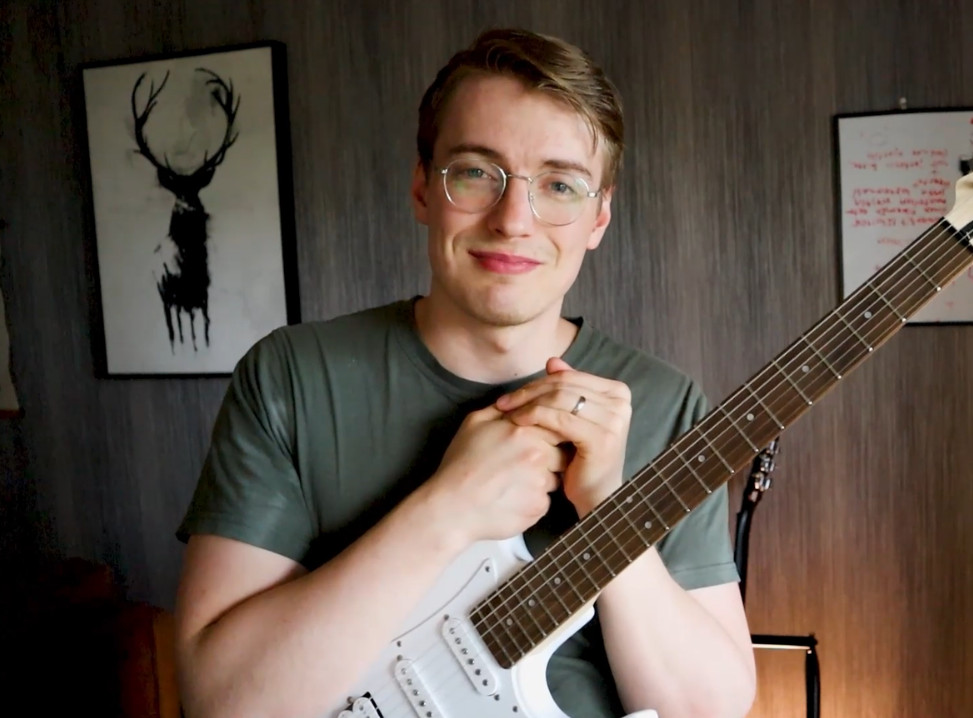 Editing & Research: Teemu Suomala
Playing guitar since 2009. Mainly focused on electric guitars, although jamming with acoustics too. Has played dozens and dozens of different guitars through different amps and pedals over the years. That's why he started this blog in January 2020 and started sharing his experience. Has produced content for several large guitar websites, such as Songsterr, Musicnotes, GuitarGuitar, and Ultimate Guitar.
---
Our Favorite Music Store in The World!
Why?
– Excellent Customer Service (4.7/5 Trustpilot Score)
– Fast & Free Shipping
– Gear is Inspected, Tested, & Ready to Play When it Arrives to You (We love this)
– Fair Prices
Visit Sweetwater:
Best Guitar Foot Stools
Best Overall

–

Hercules FS100B Large Guitar Foot Rest Plate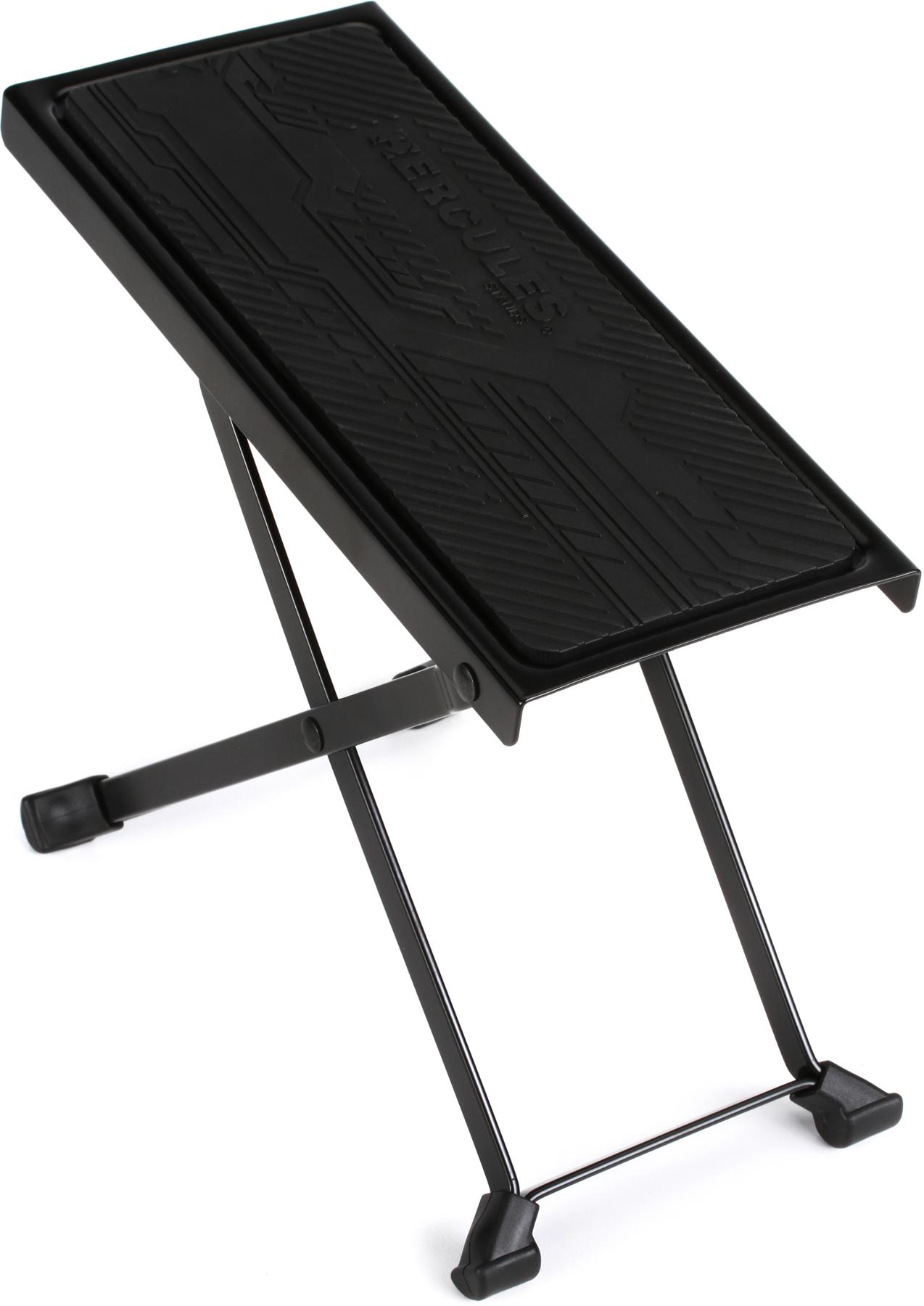 Convenience
The Hercules FS100B is a great, strong footstool. It has five height positions that range from 5 inches to 10 inches. While this might not work for the shortest players, it offers enough variation for most.
It's a very easy stand to use, with all parts moving smoothly over one another. It takes no effort to set it to your desired height. Additionally, it's super simple to fold up when you're ready to take it on the move.
Quality
For the most part, this stand really is "Hercules" strong. It can support a maximum of 185 pounds, so you could almost stand on it with no problem.
Unlike many lower-quality stools, the support arms won't break or bend under pressure.
Its one setback is that the rubber feet on the bottom of the legs might wear out quickly, causing a lack of grip and possible floor damage.
Overall Value
This is one of the more expensive stools, but it's also much stronger than most competitors.
As long as you take care of it, you shouldn't have to replace it for several years, making it a good investment for any serious guitarist.
Pros
Reliable, sturdy construction

Strong metal legs resistant to bending

Easily folds down to a stowable position

Five height settings fit a wide range of musicians
Cons
Rubber feet wear out easily

Angled positioning can't be changed
Check Price on:
---
Runner-Up –

Tetra-Teknica Essentials Series GFR-01 Guitar Foot Rest
Convenience
With a minimum height of 4.5 inches and a max of 9.5, the Tetra-Teknica stool works for guitarists both short and tall.
Between these two settings are four other fixed positions, so you should have no trouble finding a height that works for you.
It folds flat for easy transport and weighs only 1.4 pounds, though it can support much more.
Quality
The biggest issue with this footstool is that it doesn't lock into settings very well. When you pick it up to move it, the legs slide out of place, requiring you to reposition it.
It can also be difficult to open and adjust as the legs seem to bind upon themselves.
Aside from this, it's metal and rubber components are strong and should last for a long time.
Overall Value
Though it has a few minor problems, the cost-to-value ratio of the Tetra-Teknica stool is great.
If you're on a tight budget, this is a really good option.
Pros
Six adjustable heights between 4.5 inches and 9.5 inches

Non-slip rubber surface keeps your foot planted

Rubber feet protect floor surfaces
Cons
Hard to open and close

Height settings unlock when moved
---
Fo

r Big Feet –

Neewer Extra Sturdy Guitar Foot Rest
Convenience
With a height range between 3.9 to 10 inches, almost every player will find their perfect position with this Neewer guitar footstool.
It's super lightweight and collapses flat in a second, so taking it to gigs or the studio is as easy as can be.
An extra-long foot platform lets you comfortably rest your foot no matter your shoe size, while a secure rubber covering keeps your foot in place.
Quality
This is a low-cost footstool that does what it's supposed to. It's not difficult to use and can be adjusted to your preferred height quite easily.
The only complaints I have with this footrest are the strength and position of the legs.
First, they're not very sturdy, so they can be bent if you apply too much weight to them.
Second, the way that they are positioned under the foot platform makes it so that the stool can easily fall over. This happens especially at the tallest height adjustment. It can also tip forward if you put your foot too close to the end of the rest.
Overall Value
Since it doesn't cost much at all, I think this is a pretty good value guitar footstool. As long as you don't overexert it or accidentally place heavy equipment on it, it should last a long time.
And, if it does break, you can buy a replacement without going broke.
Pros
Wide range of height adjustments from 3.9 inches to 10 inches

Lightweight and easy to move

Long platform supports big feet
Cons
Unstable design can easily tip over

Thin metal legs might bend under too much pressure
---
Best Budget –

On-Stage FS7850B Guitar Foot Rest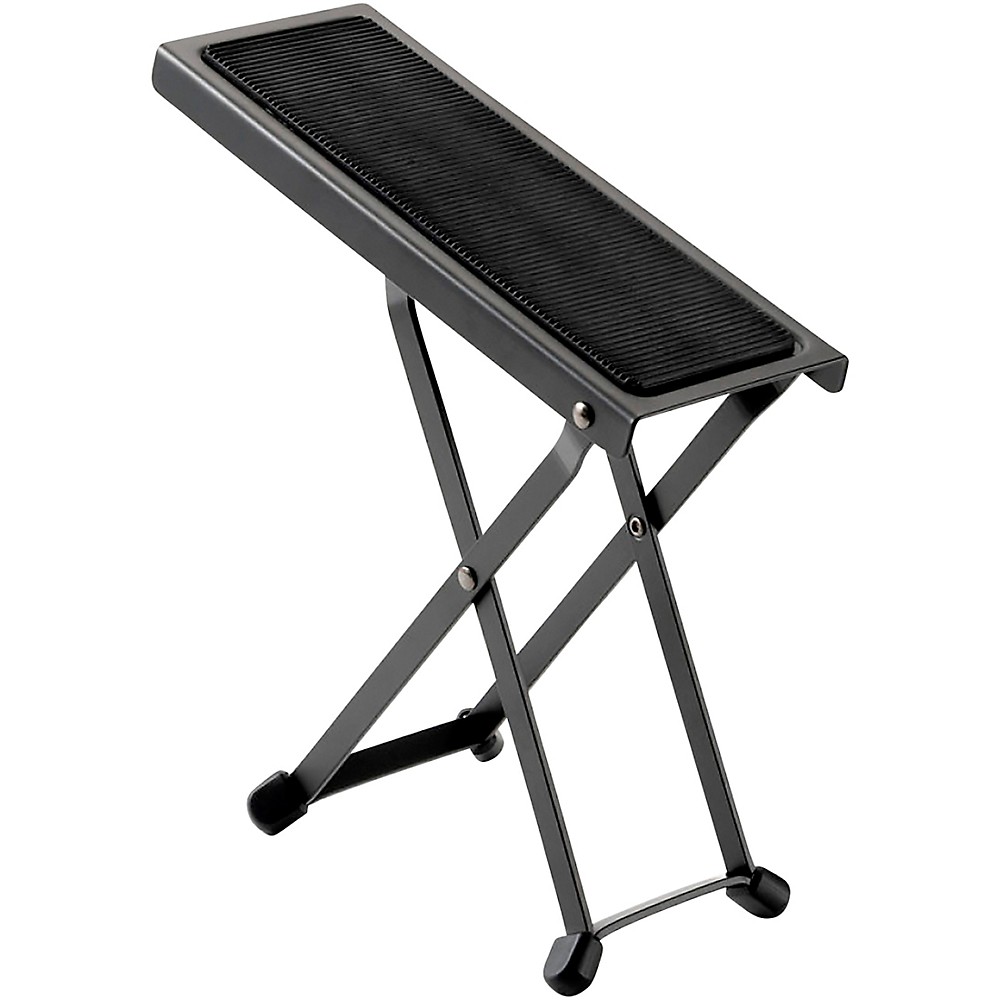 Convenience
Like every stool on this list, the height of the On-Stage FS7850B is adjustable in increments.
It's really small, which is a great feature for when you need to frequently take it on the road.
However, this can be a setback if you have really big feet. It's fine for average-sized players, but if you're a guitarist with extra-large shoes you might be uncomfortable on such a small stool.
Quality
The best thing about this footstool is that it has the ability to adjust the angle. Most footrests don't have this option, keeping the angle constant at each height.
This gives total control over your foot position while playing and lets you find the ideal resting point for your personal style.
Despite its low price, this has a quality construction and shouldn't fall apart on you.
My only issue is the plastic feet. They have little grip on the floor, so if I start tapping my foot or shift my leg, the stool moves with me.
Overall Value
This is the most affordable guitar footstool on this list and has the added bonus of an adjustable angle.
I'd consider this feature worth a decent amount more, even if its feet don't hold on the floor very well.
Being so small, this is the best option if traveling is your main consideration.
Pros
Adjustable height and angle

Non-bulky design can fit inside gig bag pocket

Stable construction keeps it upright and properly positioned
Cons
Small platform doesn't fit the player's whole foot

Plastic feet don't grip the floor well; can scoot and slide around
Check Price on:
---
Best Wooden –

Wood Guitar Footstool
Convenience
As far as ease-of-use goes, the PUNK Wood Guitar Footstool is one of the smoothest operators on this list. It folds and sets into position flawlessly.
Sadly, it has the fewest options for height adjustments of any of these footrests. Its lowest setting is 4.5 inches with a maximum height of 6.5 inches.
Consequently, it's really only good for average-sized guitarists. So, if you're extra short or extra tall, this stool isn't a good option.
Quality
The wood of this stool is truly beautiful. But, I think there was too much thought given to looks and not enough to design.
There's no rubber grip on the platform, so your foot can slide off easily. Also, the feet aren't coated or rubber-tipped, so it slides across the floor with the slightest nudge.
On the positive side, it's really sturdy and durable, although it can be scratched if you're not careful.
I'd say this stool is best for at-home use with not a lot of movement from room to room.
Overall Value
This stool is almost three times more expensive than the average guitar footrest. It's also considerably less versatile.
My verdict is that if you're focused on getting a footstool that looks great and won't be moved much, go with this one. Otherwise, the other four options are much better choices.
Pros
Made of beautifully finished natural wood

Strong, sturdy, reliable construction

Attractive design looks great in-home studio settings
Cons
Small range of height adjustments

Not ideal for tall guitarists

No rubber grip on a platform or on feet

Expensive
---
Verdict
I'm going with the Hercules FS100B as the clear winner here. Though it's the second most expensive, it's the most reliable and useful among them all. Its overall quality and value make it the best guitar footstool on the market.
I prefer function over form, so I have to say that the PUNK Wood Guitar Footstool's good looks can't save it. It's aesthetic and simple to set up, but it's pretty limited in terms of functionality and usefulness.
These all are good options, choose yours according to your preferences and needs.
---
Buyer's Guide – How to Choose
What Makes a Great Foot Stool?
Everyone's body is different and there's really no one-size-fits-all in footstool heights.
Even if you buy one that's suited for your height, you might want to try having your leg at different positions. So, I suggest choosing a footstool with a height that can be changed.
Another thing to look at in a foot stool's convenience is portability. I play guitar in just about every room of my home, so it's important that my equipment can be easily moved.
I like it when they're lightweight, well-designed, and easy to take from place to place. This is especially important when you're playing gigs because you'll want to avoid gear that's hard to transport.
I like to get high-quality items that won't need to be replaced. With guitar footstools, this means they should be sturdy and dependable. Every model in this list is built to last and is made with a high standard of construction.
It's worth it to save for a good footstool. Otherwise, you might end up paying twice as much in the long run if you have to buy a replacement.
I always keep in mind a product's overall value. Basically, is the footrest worth the money?
My choice of the best guitar footrest depends on its price-to-value ratio. I'm willing to spend more when the product is convenient, high-quality, and long-lasting.
Why a Guitar Foot Stool Might Be a Good Option for You
Guitar footstools are usually marketed to classical guitarists. For sure, if you play classical or flamenco music they're good to have around.
The main benefit of a guitar footstool is that it helps you get into the correct playing posture for these styles. Watch to the video below to learn more about the correct classical guitar playing posture:
They're used to prop up the leg underneath your fretting hand. This makes it easy to keep the neck of your guitar at the right angle and makes fretting easier.
Guitar footrests are a great option if you have a hard time staying in the right playing posture. Using one will make your fingerstyle guitar experience much more enjoyable.
Check our favorite fingerstyle acoustic guitars here.
You can use a stack of books to get the same effect, but this is inconvenient if you play in more than one place. Plus, you wouldn't want to look so unprofessional if you're going to be on stage.
I play classical but mostly stick to other styles. Still, I think it's more comfortable to have my leg elevated. Otherwise, I tend to hunch my shoulders and curve my spine. After a few hours of this, my back really starts to ache!
If you play a simple rhythm with a lot of basic open chords, you might not benefit from a footstool. First-position progressions don't need a lot of fancy fret-work. They're easy to reach without lifting the neck.
If you're more adventurous, many chords in higher positions will be easier with the neck at an angle.
Putting a few extra inches under your foot will make hard-to-hit chords much easier to hold.
Foot Stool vs. Guitar Support
Guitar supports are another option for keeping your guitar at a raised angle.
They solve one issue caused by footstools – hip pain caused by having your feet at different heights.
Guitar supports come in several different styles, but they all serve the same task.
They sit between the bottom edge of your guitar and your lap. Supports can range from A-framed shapes to more complicated designs to simple cushions.
Some are adjustable and have a lot of different moving parts. These are the best for convenience since they can be changed to fit any player.
Others, like the support cushions, are easier to use and have a high cost:value ratio. But, they might not be as good at getting you into your favorite position.
Guitar supports are a good choice if you easily experience hip and lower back pain.
I prefer foot stools because I don't like having anything between the guitar and my body. Also, I think guitar supports can feel a bit awkward and uncomfortable.
If support sounds like a better option to you, check our favorites out here: 5 Best Classical Guitar Supports in 2022 – Buyer's Guide.
Guitar Foot Stool Alternatives
Before you buy a footstool, you might want to see if having your leg supported can help your playing.
An easy way to do this is with a stack of books. This is an easy, height-adjustable way to check if a guitar footrest will help you.
If you play without shoes, you can try using a cushion under your foot. Though, this doesn't give the same stability as a solid surface.
My favorite alternative is a guitar stool. These are comfortable chairs that support not just your legs, but your back too. If you like this option, I reviewed the best guitar stools with a backrest in this article.
Conclusion on Best Guitar Footstools (Footrests)
That's it! These were my favorite footstools and tips for you.
I hope that this post helped you to find the best footstool for you. I wish you all the best and keep rocking!
You might also like:
We are sorry that this post was not useful for you!
Let us improve this post!
Tell us how we can improve this post?