Last Updated on May 5, 2023 by Teemu Suomala
Best Overall – Fender Player Mustang 90
Sound
Playability
Overall Quality
Value For Money
Versatility
Summary
Fender's Mustang 90 gets 3 crucial things right for the guitarist with short and fat fingers:

1. Its nut width is 1.65"(42mm). This narrow neck is great for short fingers and small palms. Using the correct technique, accessing all the frets is made easy for you.

3. A 24" scale length reduces string tension, so playing this guitar doesn't require much finger strength. This makes the overall playability smoother.

4. The slim, C-shaped neck works well for most players with short fat fingers

Further still, the overall smaller size of the Mustang 90 makes this guitar really easy to get started with.

If all this sounds good, hit the button below to see if the price is a good fit and then come back to listen sound demos and learn more!

How Fender Player Mustang 90 sounds:
Check Today's Price on:
*Consider all links in this post to be affiliate links. If you purchase, at no additional cost to you, we may earn a small commission. It helps us to keep the lights on, thanks! 🙂
---
The Next Best:
---
The truth is…playing the guitar that is not a good fit for you can make you feel something like this:
I've got short fingers too, and it can ABSOLUTELY make things harder… But I've managed to maintain my motivation for over 10 years now. How…?
There are 3 main reasons for that:
Using the correct technique and posture
Playing music I love
Choosing comfortable-to-play guitars
And these are in order for a reason. Technique and playing music you love are more important than really comfortable guitar. But really comfortable playing guitar can help too… To help you make a decision about which guitar is best for your needs, I have gathered the 9 best guitars for short and fat fingers based on my experience.
This guide will walk you through everything you need to know before making a purchase! We have a laser focus on the guitar needs of players with short, fat fingers. So if your fingers are stubby, this is for you.
This post talks about guitars that have fairly slim necks (a good fit for short and fat fingers). If your problem is that you are not reaching all the frets, this post is for you! If you are hitting the wrong strings because you have really meaty fingers, I would go after wide neck axes. So check these posts out:
If you are looking for an electric guitar for small hands in general, or just want more electric guitars to choose from, check this guide.
Who crafted this post:
Author: Tommy Tompkins
Playing guitar since 2004. Primarily an acoustic guitarist who plays and writes traditional American folk music, with a background in melodic metal and a solid foundation as a bassist.
Hide The Rambling▲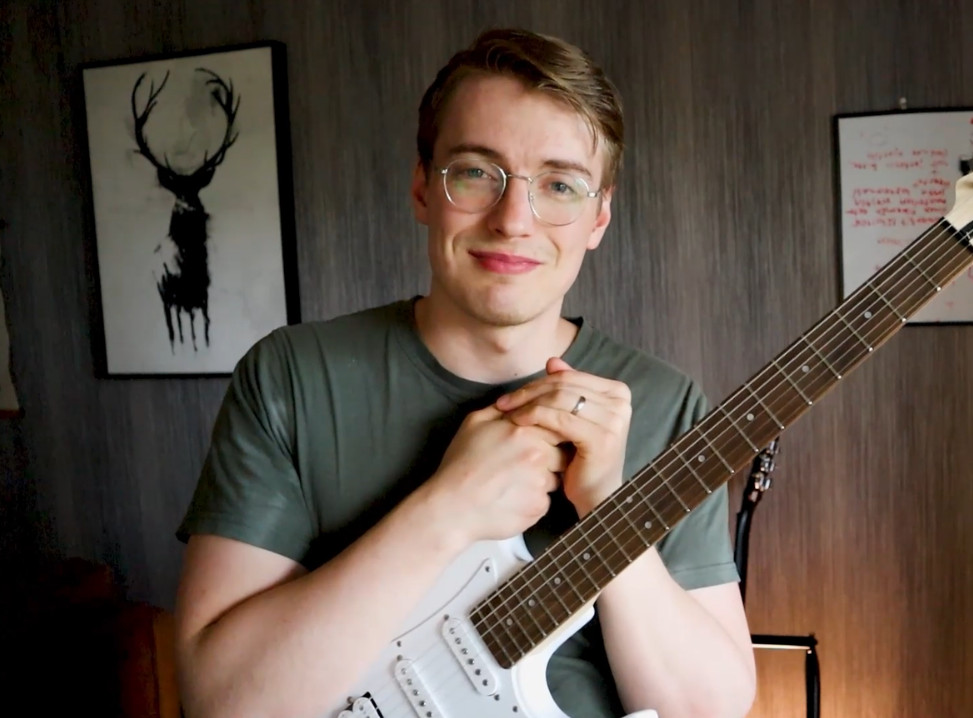 Author: Teemu Suomala
I first grabbed the guitar in 2009. I started this website in January 2020 because I couldn't do window installation anymore due to my health problems. I love guitars and have played dozens and dozens of different guitars through different amps and pedals over the years, and also, building a website interested me, so I decided to just go for it! I got lucky and managed to get awesome people to help me with my website.
I also got lucky because I have you visiting my website right now. Thank you. I do all this for you guys. If you have any recommendations, tips, or feedback, just leave a comment, I would love to chat with you. I have also been fortunate to produce content for several large guitar websites, such as Songsterr, Musicnotes, GuitarGuitar, and Ultimate Guitar.
I spend my spare time exercising and hanging out with my wife and crazy dog (I guess that went the right way…).
Hide The Rambling▲
Every one of these guitars is here based on extensive research and decades of guitar experience on our team.
---
Best Guitars For Short Fat Fingers
Best Electric Guitars For Short Fat Fingers
Here are a couple of comparison graphs that I made for you about these electric guitars, hopefully this helps!
Features
Tones That The Pickups of These Guitars Offer
This graph reveals tonewoods and more:
This photo reveals how electric guitar tonewoods affect the unplugged tones: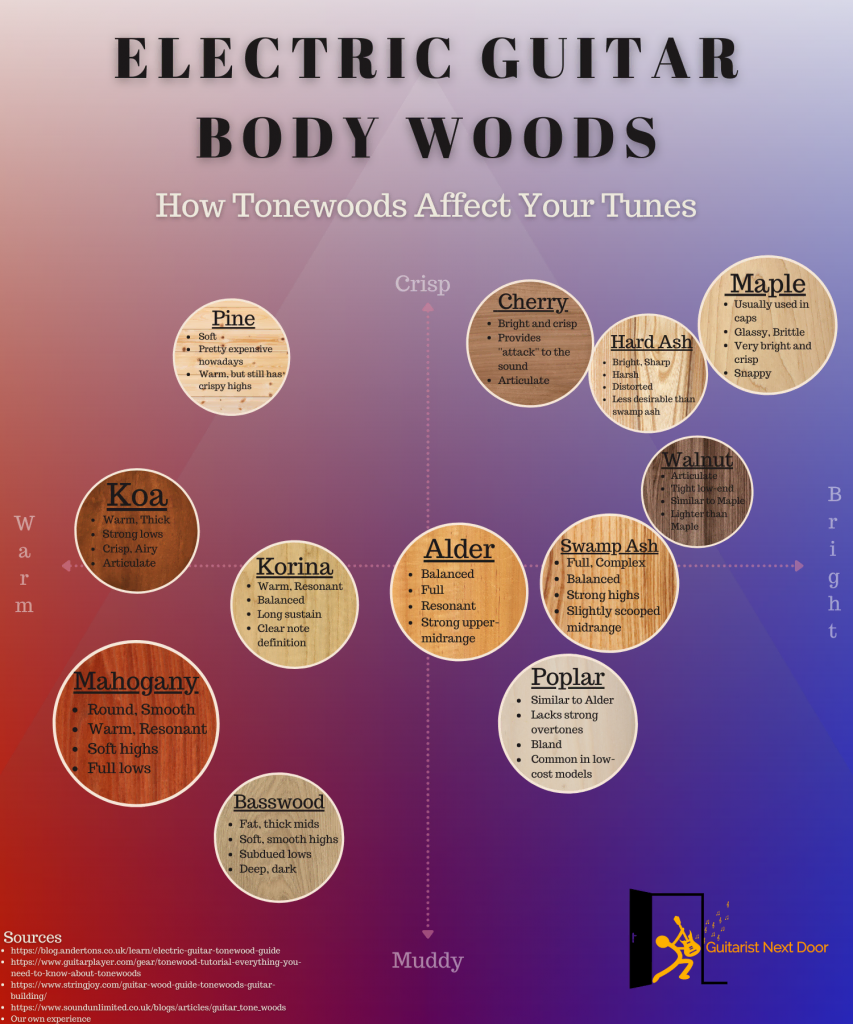 My Ratings
Our Favorite Music Store in The World!
Why?
– Excellent Customer Service (4.7/5 Trustpilot Score)
– Fast & Free Shipping
– Gear is Inspected, Tested, & Ready to Play When it Arrives to You (We love this)
– Fair Prices
Visit Sweetwater:
Best Overall/Really Comfortable Neck – Fender Mustang 90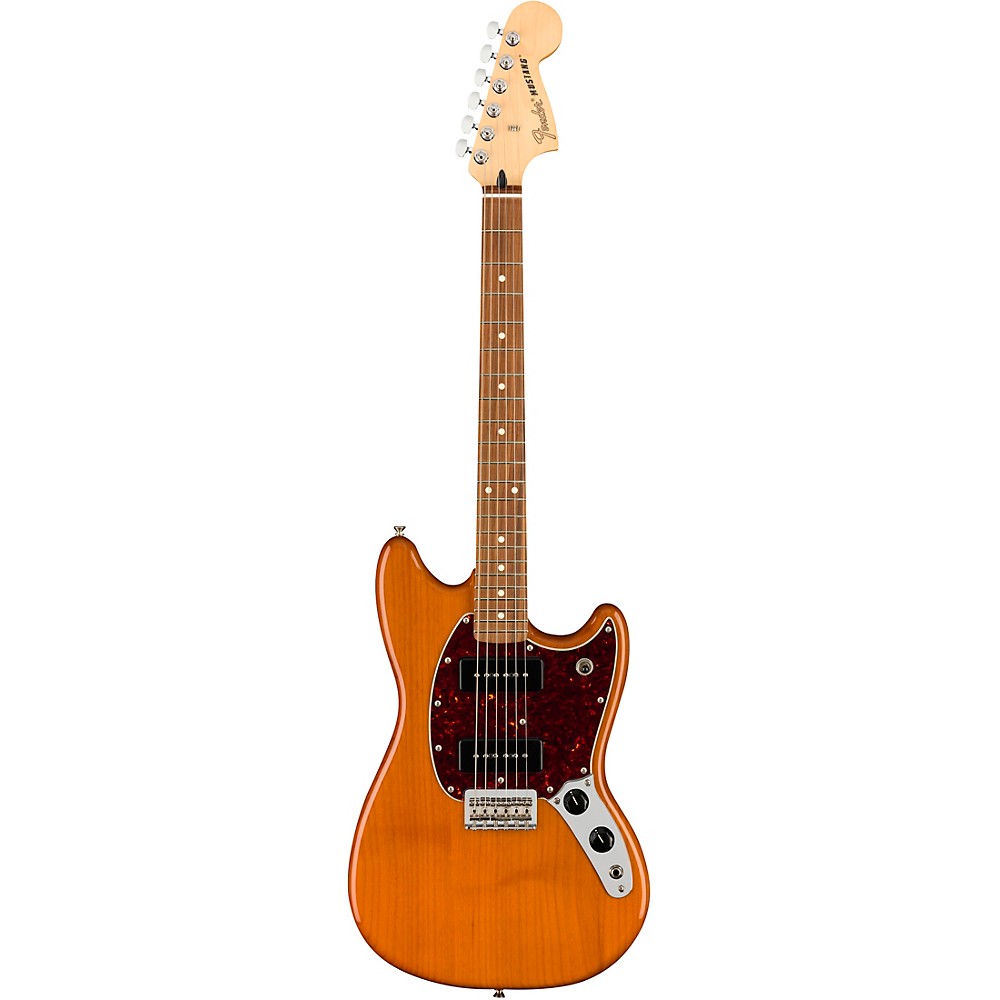 Fender's Mustang 90 gets 3 crucial things right for the guitarist with short and fat fingers:
Its nut width is 1.65"(42mm). This narrow neck is especially great for short fingers and small palms. Using the correct technique, you should be able to access all the frets easily.
A 24" scale length reduces string tension, so playing this guitar doesn't require much finger strength. This makes the overall playability smoother.
The slim, C-shaped neck works well for most players with short, fat fingers.
Further still, the overall smaller size of the Mustang 90 makes this guitar really easy to get started with.
For me, playing guitar like this after wide-neck axes kind of brings eating with a spoon vs scoop into my mind…The difference is huge for me. Enough about the spoon vs scoop for now :D.
The fretboard radius of this Mustang is 9.5 inches, so there is some curve, and this doesn't make playing too hard for you.
Mustang is not a shred machine like some Ibanez and Jackson axes, but playing fast is far from impossible with this Fender. And if you have a large palm but short fingers, a bigger curve can sometimes make playing more comfortable…
Because your hand naturally wraps around the neck and your fingers (in a round shape already) have enough room to hit the right strings when the curve is present.
The fret wire size is medium-jumbo—a common, comfortable fret size that works for most players. You can adjust the action low or high without worry about fret buzz.
Playing is effortless, especially with low action.
And speaking about the action, this axe might need some slight adjustments. Not a major flaw, and it depends on your play style, but it's worth noting.
I also like to check some user reviews to provide you guys with a bit wider range of experiences. Several users have been saying great things about the electronics and the lack of hum in the sound. So you can expect nice clear tones typical of Fender's electrics.
To me, Mustang 90's voice is thick and warm, but some of that single-coil brightness still shines through.
If you can't decide between humbuckers and single-coils, these P90s are a solid option.
If you want to hear how this one sounds, check this video:
Summary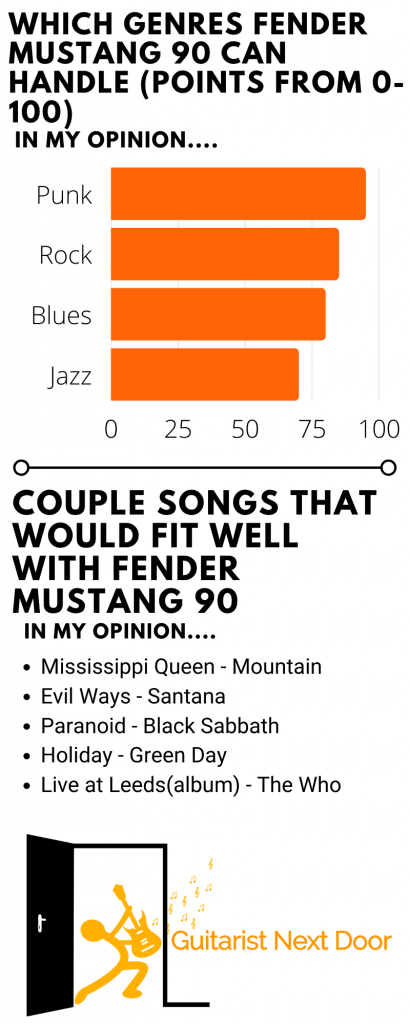 Pros
Spot-on nut width and 24" scale length make this one really easy to play
Good quality electronics
The neck is really comfortable (especially good for short fingers)
Sounds great; best for funk, punk, and rock
Versatile tones
I like how bent saddles feel against my picking hand (it's comfortable)
Cons
Some action adjustments might be needed
Doesn't offer you the full warm humbucker nor spanky single-coil tone experience
The neck of the Mustang is one of the best for short, fat fingers in my opinion. It's really thin compared to most axes and seems like one of Fender's fastest-playing necks. A great fit for both intermediate and advanced players alike.
Sound-wise, this axe is unique among its class because of its Mustang P90 pickups—definetly best for punk rock, rock, and funk.
If you are into this kind of music and want to rock out on an easy to play guitar, this will be a great option for you.
You can read my full review of Fender Mustang P90 here.
---
High Value for Money – Squier Classic Vibe '50s Stratocaster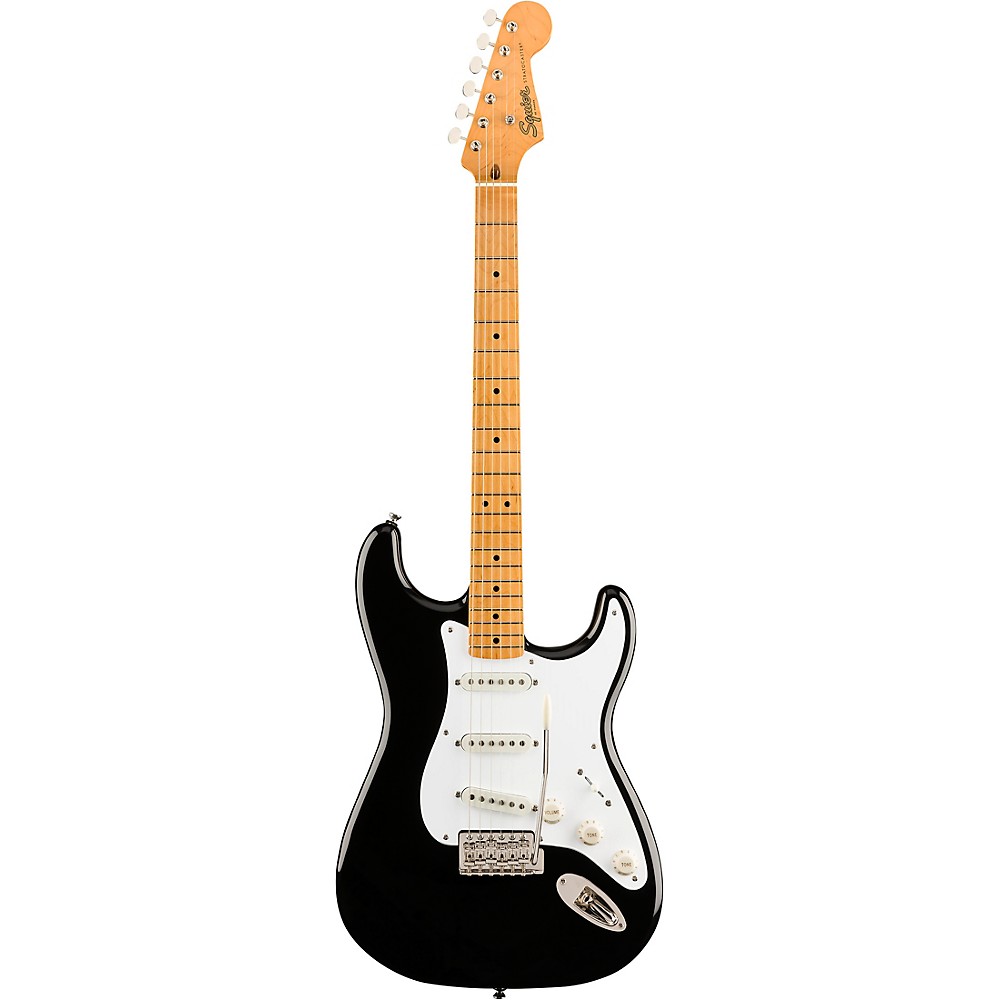 I first tried this guitar 2 years ago.
I'd gone to a nearby music shop to test out different Strats, and this Squier Classic Vibe was a lot smoother-playing than most others I tried.
This was even easier to play than some of the Fender Stratocasters! It didn't lose much to the higher-priced original Fender Strats either in sound or in build quality.
Classic Vibe 50's is just like Stratocasters from the Golden 50s with some modern updates:
for example, it has a 5-position blade switch that adds tonal versatility.
Even though it's a Squier, this Strat sings with the poppy, crystal voice that's made this guitar famous.
The Classic Vibe Strats have
a fretboard radius that is good for short and fat fingers, measuring 9.5-inches
the nut width is a narrow 42mm (1.65inches)
These qualities make this Strat very comfortable and easy to play.
Its C-shaped neck gives it a really smooth feel, rounding naturally with your palm. It's a breeze to shred quick riffs with this axe in my opinion.
Your thumb can rest comfortably at the back of the fretboard, so reaching all the frets is easy no matter how short your fingers.
Narrow-tall frets make hammer-ons, pull-offs, and string bending no problem at all. The fret edges are all rolled, so there are no sharp fret edges to deal with.
Usually the action in Squier and Fender Strats is a little bit too high for me. And the Squier Classic Vibe '50s Stratocaster is no exception. It's not too bad (it's still playable), but I would set the action slightly lower to make things easier (this really depends on your playstyle).
Fortunately, adjusting the action is easy with saddle adjustments (sometimes the truss rod might need little adjustments too). And lastly, of course, you get better quality if you are willing to pay more.
But for this price, this Squier is a great option in my opinion!
If you want to hear how Squier Classic Vibe '50s Stratocaster sounds check this video:
Summary
Learn moce about this Squier 50s Strat here.
Pros:
9.5-inch radius and narrow, C-shaped neck make this one really easy to play
No sharp edges on the fretboard (sleek and comfortable)
Amazing value for the money
Vintage rock sounds
Cons:
Not the best choice for heavy distortion
Adjustments to the action are sometimes needed (depends on your style, of course)
The Classic Vibe '50s provides great value for the money. It's an easy-to-play Strat even with the shortest fat fingers.
If you like to play funk, jazz, blues, pop, and rock, this is a really good option. However, metalheads will want to look for something with chunkier pickups.
If you are into blues, this article will help you achieve the tone you want: Best Electric Guitar Strings for Blues
Check Price on:
---
Best Budget/Really Narrow Neck – Squier Affinity Telecaster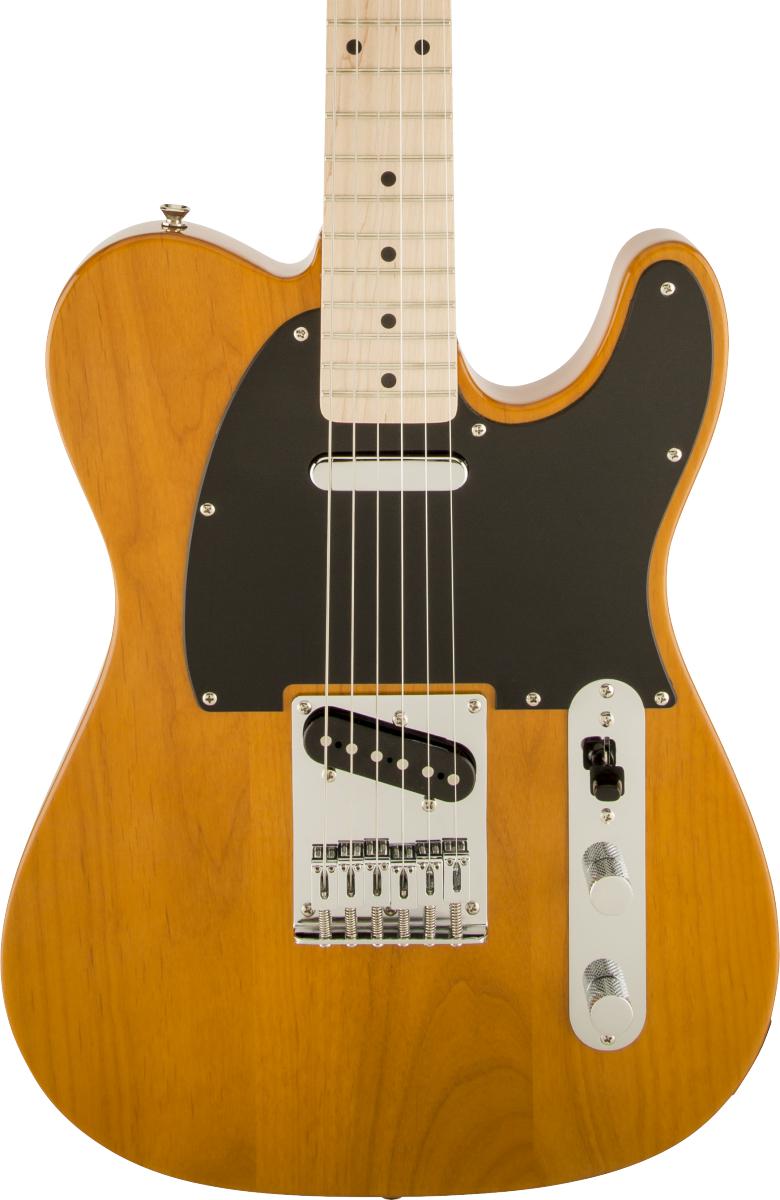 If you are not ready to spend too much yet but really want to learn to play the guitar, this Squier Affinity Telecaster is a great option.
Let's see why!
The #1 thing that makes its overall playability better is the narrow nut width of 1.65'' (41.9mm).
Yep, it's narrower than usual! This small but important detail makes playing a lot easier, especially for people with short and fat fingers. For example, you don't need to stretch your fingers far at all to fret riffs in 1st position or to perform barre chords.
The neck shape is C, and for me, it works great.
It's
a well-balanced neck shape—slim enough to enable you to reach every fret with short fingers
while giving a firm, sturdy feel in your palm.
This Squier Tele's scale length is 25.5″ (648 mm). At this tension, strings shouldn't give you too much of a hard time, but for some folks, a shorter scale is a better option.
I myself don't see the standard scale length of these Affinity Telecasters as a huge problem because the slim C neck is super playable in every other way.
I played the Squier Affinity Telecaster a while back in a music store, and oh boy, it was fun. Playing chords and running solo licks was smooth and effortless. But, the action was a little bit too high for me(again)…
Keep in mind though, with a saddle and/or truss rod adjustment you can adjust the action according to your preference. So really, Affinity's high out-of-the-box action is no big issue.
Of course, guitars this affordable have some issues.
First of all, the edges of the frets and fretboard can feel rough sometimes. This is a simple problem to fix, which you can learn to do yourself here. A tech can always solve this too, but these rough points are definitely a flaw.
The tones of this Tele are really solid and bright, but a budget Squier obviously won't sound as good as higher-priced Fenders. Still, the Squier Affinity Series Telecaster guitar provides excellent tones for beginners. This is no doubt an axe you can hone your skills on.
This Telecaster comes with 2 single-coils. In general, these single coils provide warmer tones than those found in Stratocasters.
They're less bright and glassy than other Squiers, with a rounder balance between the lows and highs. I think they're great for both hard and soft rock, blues, country, and more.
To nail your rock tones, check this article out: Best Electric Guitar Strings for Rock.
Hear how Affinity Tele sounds:
Note: Affinity series guitars feel a lot better than Squier's cheaper Bullet series. Personally, 8 times out of 10, I would choose to save up some money to buy an Affinity Series Tele or Strat over the Bullet Series.
Also know that if Telecaster isn't your piece of cake, Affinity Series Stratocasters offer the same narrow, slim neck and comfortable playability at a budget price.
Summary
Pros
Slim, narrow neck makes playing easy for stubby fingers
C-Shaped neck ensures comfortable playability
Rock-solid sound for all beginner guitarist needs
Versatile tones
Great looks
Really high value for money
Cons
Action is a bit too high out of the box (easy to fix though)
Occasional rough fret edges
If the scale length were 24.5-inches, playing would be even easier
To wrap this up, this electric guitar's overall quality and value for money are top-notch. This Telecaster offers you a thin, slim neck that's comfortable to jam with despite having some rough points.
This is a great choice for beginner players who want a sweet-sounding, easy-playing guitar at an affordable price.
If in search of a budget/beginner electric guitar, this post will help you out a lot: 5 Best Electric Guitars Under $200 – Owned & Tested
Check Price on:
---
Best 3/4 Sized – Squier Mini Strat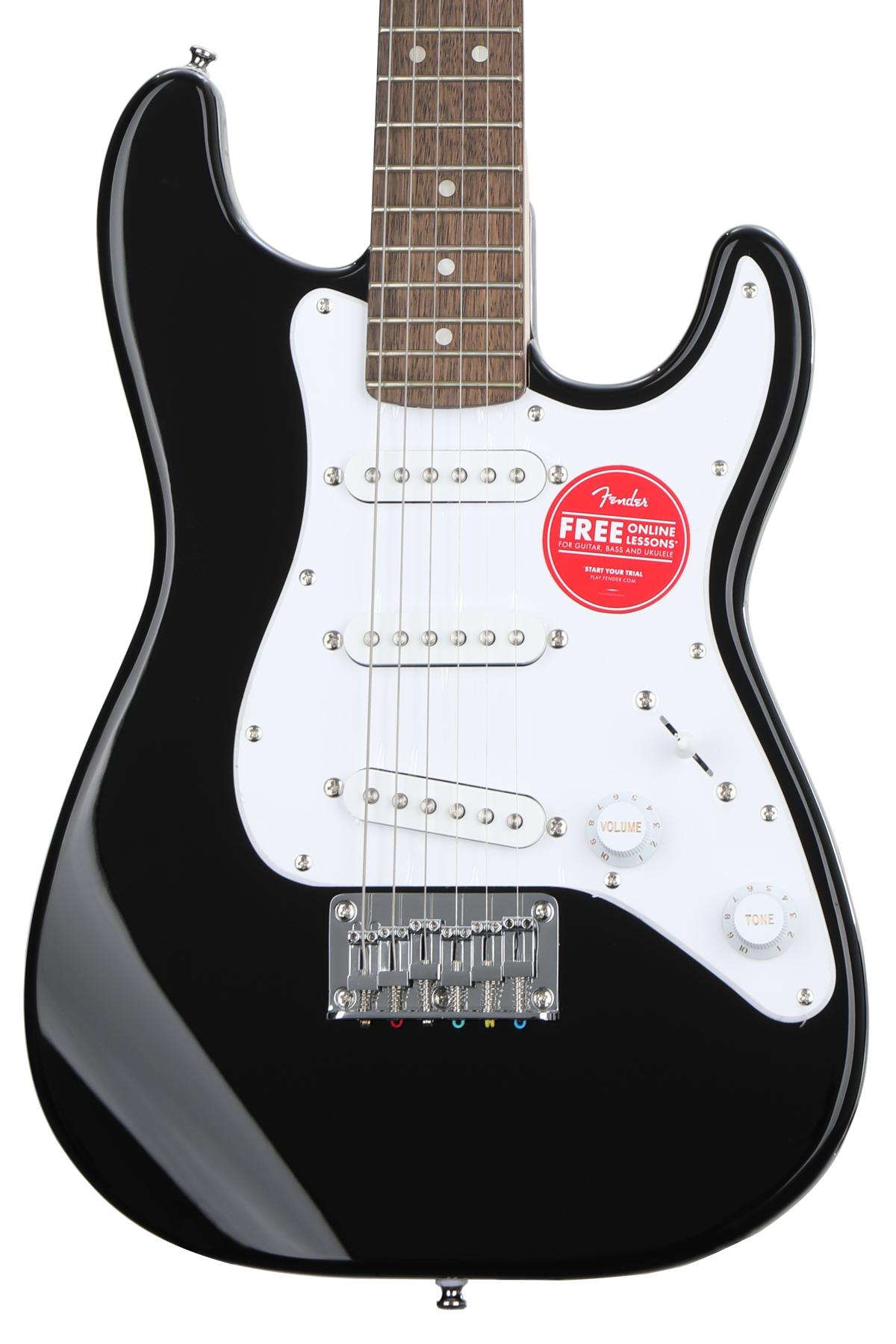 My childhood friend owned this guitar back in the day, and I spent a lot of time with this cute axe back then.
First, why is this a good option for a person with short and fat fingers?
The nut width is only 1.6" (40,6m), so the neck really is ultra-narrow. It's thin throughout, following a slim C-shaped neck profile that makes this axe really easy to play. Even with the stubbiest fingers, you should easily be able to reach all the frets on the fretboard. Plus, the short scale length of 22.75" makes things even easier.
Because of this, strings have way less tension than a full-size Strat and are therefore a lot easier to press down. This smoothens the overall playability. Rocking out on this Mini is easy-peasy in any position.
The fretboard radius, at 9.5-inches, is standard for most Squier/Fender guitars, so you're probably not going to face any issues with it.
Overall, this axe is really easy to play, but if you've got really thick fingers, the narrow fret spacing and super slim neck can cause some problems for you because your fingers are more likely to touch strings they shouldn't.
This electric comes with 3 Standard Single-Coil Strat pickups (just like the Original Stratocasters(ofc these are cheaper versions of those pickups)), which provide you with bright and sparkling tones.
Clean tones are clear and dirty ones have plenty of attack, so you can make this axe sound fairly aggressive if you want. But still, if you play really heavy stuff, the voice of this Strat probably won't handle it well. Things can get fuzzy fast when going too hard on this Mini.
It's definitely not a guitar built with metalheads in mind, but it handles rock, jazz, and blues really well.
Also, this Mini Strat has a 5-way switch that enables you to control which pickup is on or off, so you have good control over your tone.
Hear how this guitar sounds:
I have almost always been satisfied with the quality of Squier guitars, and this is no exception. For the price, you get darn good value for the money.
Of course, the overall finish is not as detailed as the more expensive models, but I still think it's an attractive electric. Nothing too bad sticks out to me in its looks, tones, or playability. And it actually stays in tune pretty well and its electronics should function for years to come.
Summary
Pros
Bright Stratocaster tones
Comfortable and easy to play
The neck is narrow and thin (easy to reach every corner of the fretboard)
Quality is great for the price
Stays in tune well
Cons
Becomes a bit fuzzy with high gain and distortion
May have minor flaws in construction and finish (nothing serious though)
This is (in my opinion), the best option out there if you're looking for a 3/4-sized guitar.
With the Squier Mini Stratocaster, you get a comfortable and easy-to-play guitar that provides a great variety of tones. It's great for rock, blues, and jazz, and handles other genres well too.
If these things sound good to you, this axe is worth the money as a great small-sized electric option.
Check Price on:
---
Best Acoustic Guitars for Short Fat Fingers
Here's a little graph that highlights how acoustic guitar tonewoods affect the tunes: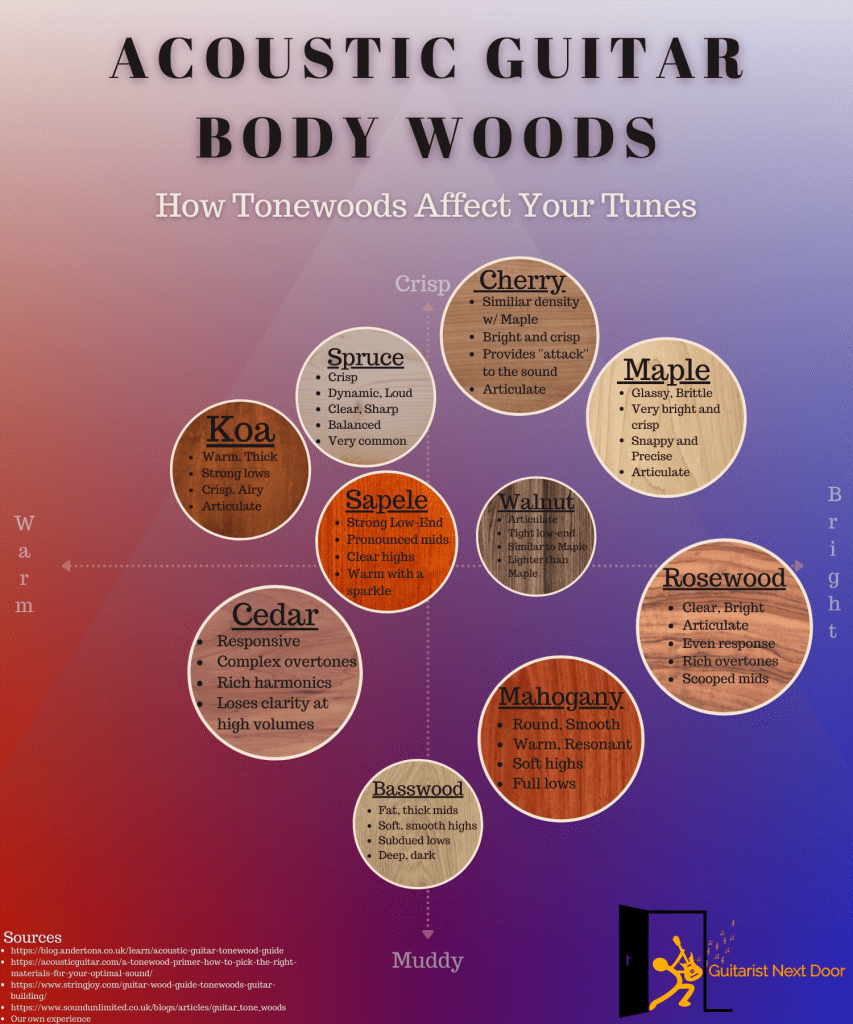 Best Overall/Comfortable and Sounds Great – Yamaha FG-TA Transacoustic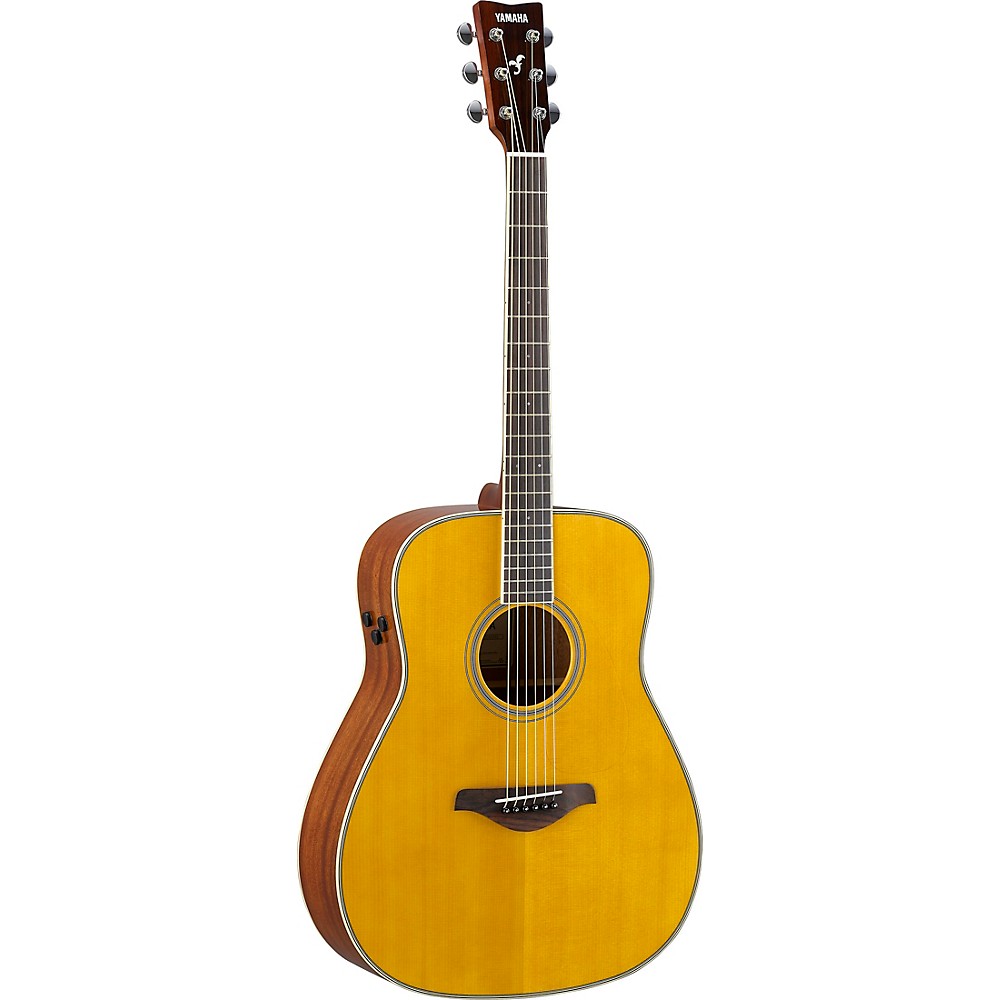 This acoustic-electric, in addition to its overall great build quality, gives you unplugged effects. Using a specially designed actuator to vibrate your guitar's top, you're able to play with
a lush chorus
and resonant reverb
without bothering to run through an amp.
With the Transacoustic, you really can simply turn a knob or two on the guitar to imbue your sound with some really sweet sonic alterations.
But how good is this axe really? Let's find out:
To everyone but the most particular acoustic connoisseurs, the Yamaha FG-TA Transacoustic will sound sublime. Unplugged, it might sound a bit basic. Spruce and mahogany are an altogether common tonewood combo that sounds about as you'd expect any acoustic to.
However, it's loud thanks to its dreadnought shape and scalloped X-bracing. Don't get me wrong, this axe sounds great without any effects, but still, these sounds are somewhat basic for a guitar at this price range.
It's when you activate that sweet TA system that the Transacoustic really shines.
With no digital processing, the reverb and chorus it produces are authentic and truly heavenly to hear.
They're effects produced in the truest way—simply vibrations caused by your own playing, responding to each nuance of your style in pure form. And, while the chorus is adjustable by presence, the reverb actually has two settings, both a room and a hall effect.
Find great acoustic guitars for blues here.
Hear how this guitar sounds:
What about the playability?
If you can get down with the playing feel of a dreadnought acoustic, this guitar will be a fine match for you. It's got a traditional western style body and a straightforward C-shaped neck that feels a lot like most other dreadnoughts.
However, the neck is tapered for additional comfort, and a flat 15.75" radius fretboard lets stubby fingers easily reach all frets.
With more regular nut width I would always choose a flat freeboard over a round one. Add the rosewood fretboard to this and you've ensured a silky smooth playing surface that's soft and responsive beneath your fingertips.
But the FG-TA has one big advantage when compared to other similar-sized acoustic guitars…it still has a slightly narrower nut width (1.69″ (43 mm).
This improves overall playability, and if you have small hands or short fingers, this is definitely great news for you, because frets are pretty easy to access with a narrow neck. The overall neck profile is pretty thin, and action is usually OK out of the box. If it's not on par with your liking, you can always use the truss rod to dial in your ideal string height.
Of course, the truss rod is mainly meant for adjusting the neck relief, but you can use it for small action adjustements too.
On the surface, the Yamaha FG-TA is a pretty standard mid-range guitar.
It's made with the basic components of most acoustics around the $500 range, although it's put together with solid, dependable construction.
Summary
Pros
Solid spruce + mahogany combo provides classic six-string tones
Specially designed actuator gives you effects with no extra equipment
Slim tapered neck and flat fretboard make playing easy for short, fat fingers
SRT zero impact passive pickup faithfully transfers the guitar's natural tone
Narrow neck improves overall playability
Cons
Requires an external preamp module for recording
Full dreadnought size might not be good for tiny hands
No onboard EQ means level adjustments must be done on amp
If you've been playing a while but are bored of plain old six-string tones, the Yamaha FG-TA can add spice to your sound wherever you go.
For pros, this is a great travel instrument that can keep your private jams interesting, but it's not limited to bedroom noodling. With a proper preamp, you can use the FG-TA for all your professional playing needs. And this works Yamaha works really well for intermediate acoustic players as well.
Check Price on:
---
High Value for Money – Yamaha APX-600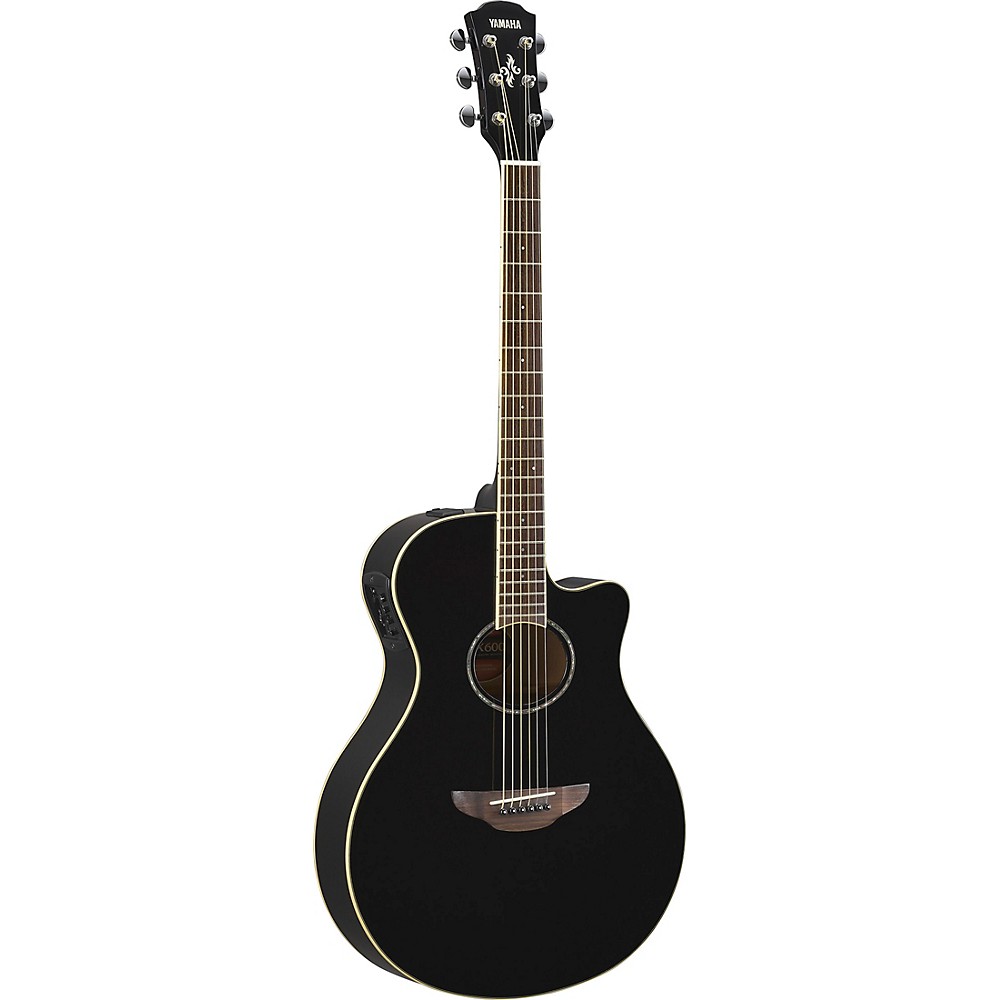 I played the Yamaha APX-500 for the first time in the summer of 2018. And I had an instant crush(maybe even some love). It was so easy to play due to the thin body and neck.
The sound was good despite its shallow soundbox and low price.
This APX-600 is an upgraded version of the already great APX-500.
The main upgrades of APX-600 are a less boxy tone, increased low end, and stronger mid-range sounds. This one also has a slightly shorter scale than the 500, and its string spacing is narrower.
This slimmed-down neck with lower string tension makes it a great choice for people with stubby fingers.
But if you have really thick fingers, this narrow string spacing might not be ideal for you. You can find guitars with wider string spacing here.
APSX-600's nut width is 1.69 inches (43 mm). With this narrow width, short-fingered players can easily reach their hand around the fretboard. If your fingers are on the fat, wide side as well as being short, all it takes is proper thumb placement to let you easily reach the frets.
The body is thin too, and this makes overall playability better since you can pull it in close.
But this is not a perfect guitar… The factory-set action of the APX-600 is a little bit too high for me. As you can probably tell, I like my action to be pretty low.
Of course, this depends on your personal preference—some people might think that the action is really good.
For instance, if you play with a slide for blues or folk, high action is important to have.
You can, no doubt, lower the action.
But it's not as easy a job as with electric guitars because it's not as simple as adjusting the truss rod. To get the perfect action, you might also have to file down your saddle. If you do this, be careful because when you lower it, you can't make the action higher again without replacing this piece.
I would probably lower the action myself. But if you're a beginner, I recommend that you let a professional handle this more-involved kind of action setup.
Also, out-of-the-box strings aren't the best. Pretty hard for your fingers in general.
You can totally play with these, but if you buy a set of lighter strings, playing will be easier.
I would recommend you first try the original strings out before replacing them. But if they're too heavier (or old, as can sometimes be the case), switch them out for lighter gauges.
Lighter strings can make playing with short fingers a lot more fun.
A built-in tuner is a nice bonus, and the Stage-Focused pickup system provides a powerful acoustic tone. It's powered by 2 AA batteries, is really easy to use, and works great.
If you are looking for an great acoustic guitar amp, check these articles out:

–Best Acoustic Guitar Amps Under $100

–Best Acoustic Guitar Amps Under $200
Sound-wise the APX-600 is clear and full thanks to its spruce top. The tone is a bit boxed, but for the price and size, I'm really satisfied with the sound of APX-600.
Hear how Yamaha APX-600 sounds:
Summary
My ratings for this axe:
Pros:
Sounds great
Thin neck; easy to play
The body is shallow; helps with the overall playability
Built-in tuner and solid electronics
Value for money is excellent
Cons:
Action is sometimes pretty high
Out-of-the-box strings are not the best
Laminate top(solid top ages better)
This is a great guitar for small-handed people in general and it works well with short, fat fingers too. It's probably the next acoustic guitar I'll buy.
The APX-600 is affordable, sounds great, and makes playing fun and easy…what else could you ask for?
You can find more small hand-friendly acoustic guitars here.
Check Price on:
---
Really Narrow Neck – Ibanez PF Series PF15ECE – Electric Acoustic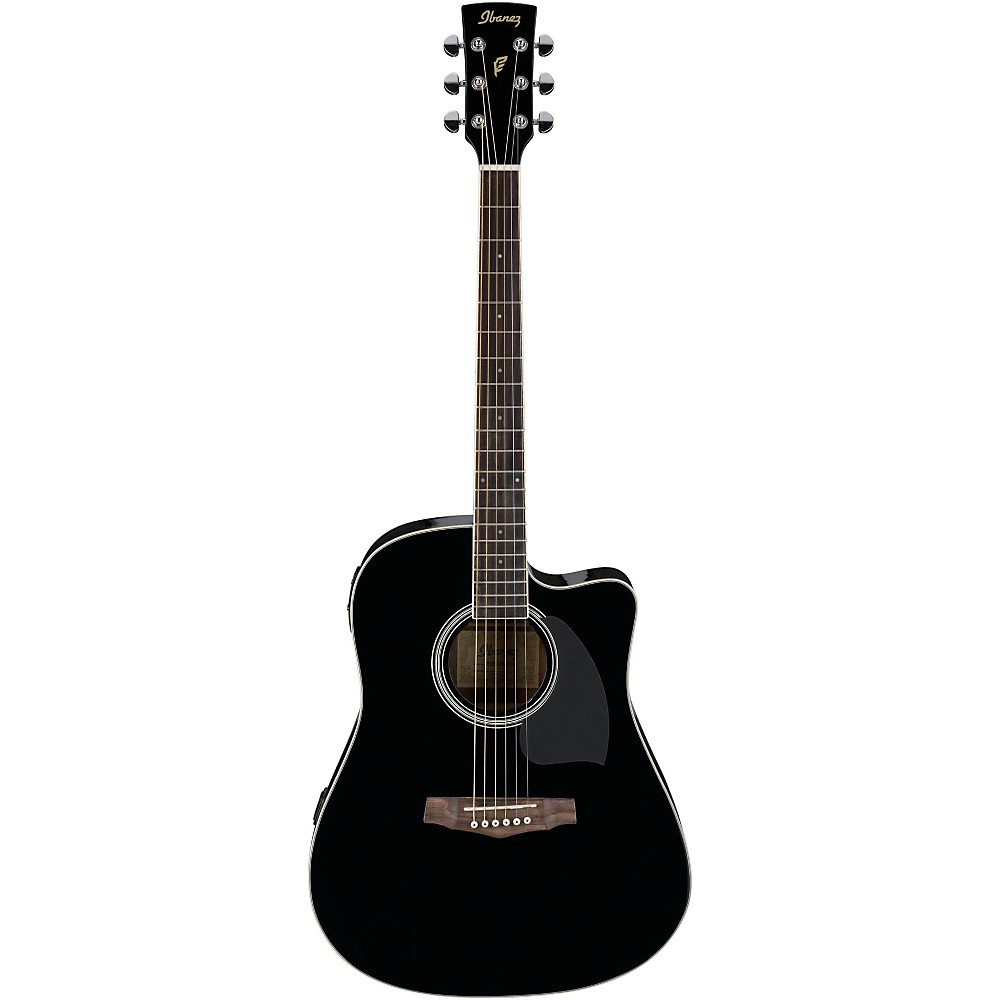 You know what? Good acoustic guitars with nut widths as small as 42mm (1.65-inches) are not that easy to find.
But I found this one, and it might be a great option for you. Let me tell you why…
Of course, the first plus is the narrow and thin neck. It's about as narrow as it gets with a good regular-sized acoustic guitar. And this is the main reason why this axe might be a great option for you if you've got stubby fingers or small hands.
A cool bonus I like about this Ibanez is the smooth cutaway. It's really easy to play riffs or chords in the upper frets.
The action is almost low enough for me, but I'd still take it down a notch personally. Either way, I think you'll love the smoothness of its rosewood fretboard. If you're used to playing the electric guitar, you can hardly tell a difference in the neck between an electric and this PF15ECE.
Ibanez is, after all, known for their fast-playing necks. This one definitely has comfortable and easy playability.
The PF15ECE sets itself apart with its Ibanez under-saddle pickups. Ibanez tries to ensure as natural a sound as possible with their specially-designed piezos. It's not the greatest pickup you can find in an electro-acoustic, but it's good enough for playing small shows. And this guitar sounds good, with amp and without. No question about it.
But, in my opinion, there's not much real difference between this guitar's electronics and those of similar acoustics.
Check our picks for the best acoustic guitars under $1000 and the best acoustic guitars under $500.
Hear how Ibanez PF15ECE sounds:
This guitar has a built-in tuner, which is a nice plus.
Summary
Pros:
Slim, comfortable, fast-playing neck
Easy to play
Action is usually OK
Sounds are solid both amped and unplugged
Built-in tuner
Cons:
Action can be high and adjustments might be needed
Mid-range electronics are simply acceptable; nothing great
The narrow, comfortable neck makes this acoustic axe feel almost like an electric. Its action is actually pretty decent from the factory, but sometimes some adjustments might be needed.
Still, Ibanez's PF15ECE is a great option, especially for players who are looking for a narrow, more-shreddable neck.
You can find more acoustic guitars with thin necks here.
Check Price on:
---
Best Classical Guitar for Short Fat Fingers
Best Budget/Narrow Neck – Cordoba Dolce 7/8 Classical Guitar
When I was doing research for this post it became clear to me…
Cordoba's Dolce 7/8 is absolutely one of the easiest, if not the easiest to play nylon-string classical guitar in this price range! It's ⅞-size, so it's slightly smaller than regular classical guitars. Because of the smaller scale length, the strings are really easy to press down and it's a great classical guitar for small hands.
The Dolce's nut width is 50mm (1.97 inches), so the neck is slightly more narrow than the usual 2" width of classical guitars. This is great news for people with small hands and short fat fingers. Playing is comfortable and shifting between chords is as easy as it gets with classical guitar.
Its out-of-the-box setup is usually spot-on with no need for adjustments.
Of course, this sometimes depends on your own playstyle…And here, Cordoba's signature truss rod is nice to have since you can adjust the neck to your preference easily.
But one of the strongest aspects is this classical's sweet sound.
Even though this is a smaller guitar, the sound is still great. Bright, rich, and full. Its lower-end sounds are only very slightly cut, so everything is nicely balanced.
Let's hear how this one sounds:
Another small flaw is this:
some users have been facing issues with the tuner knobs (in either the plastic part or the button). In some cases, these have been quite fragile. You can sometimes get new ones for free from the manufacturer, or you can buy new ones.
Fortunately, this issue seems to be rare.
Summary
My ratings for this axe:
Pros:
Really easy and comfortable to play; great for small hands and short fat fingers
Sound is better than in most regular-sized classical guitars
Setup is spot-on
Great quality for the price
Cons:
Low-end range is cut slightly
Tuner knobs (plastic part or the button) have been fragile in some cases
If I didn't already own a Yamaha C40 Classical guitar, I would probably buy this Cordoba Dolce 7/8. In my opinion, it's the best classical guitar for small hands and for any player with short and fat fingers in this low-cost price range.
In every way, a great choice in my opinion.
Find more budget friendly classical guitars here.
Check Lates Price on:
---
Best Overall Classical/Narrow Neck and High-Quality – Cordoba C9 Crossover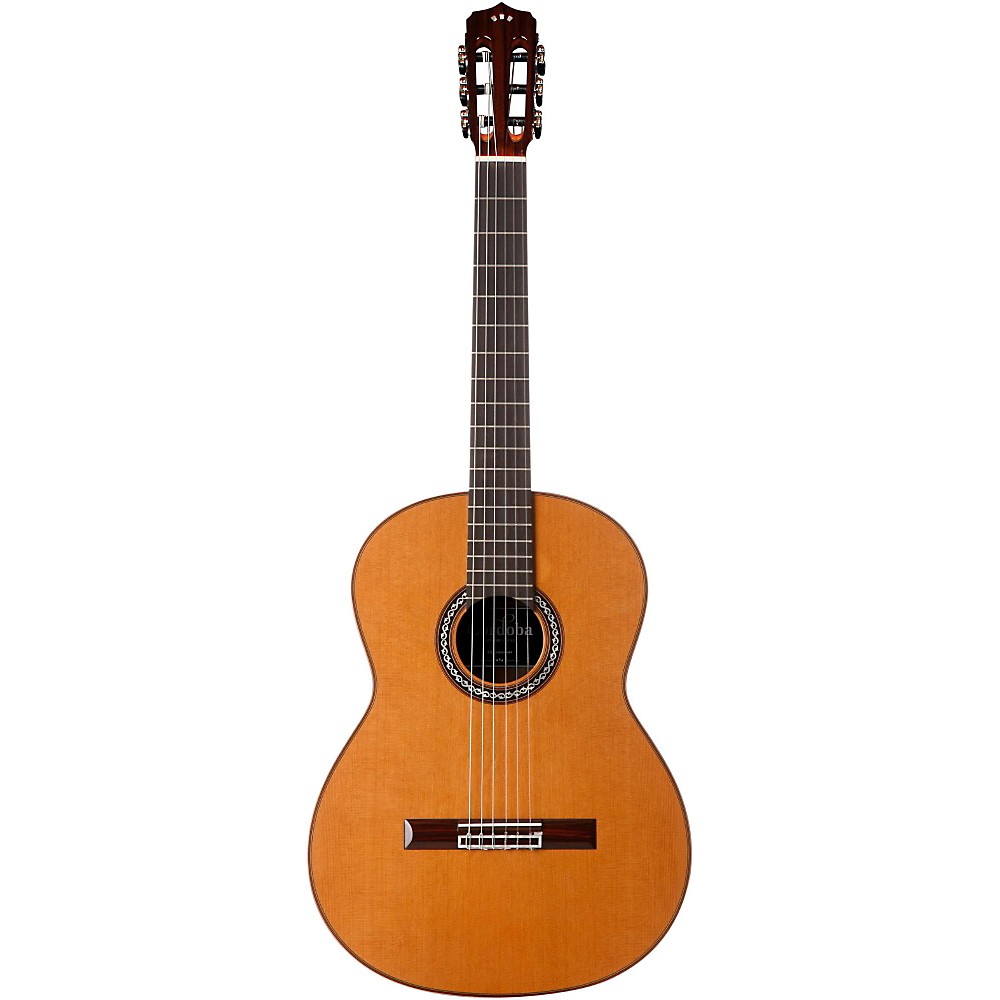 This guitar is for those who have a slightly bigger budget and want a superior playing experience.
I'm not a huge Cordoba expert, but when I read, play, or hear about Cordoba, this brand's spot-on factory setup shines as star quality. And the Cordoba C9 Crossover is no exception. Only some small adjustments might be needed.
Again, the truss rod is great to have here. It's rare to have these in classical guitars, and it makes it no trouble at all to set the action how you like.
But what makes the C9 so great for stubby fingers is the crossover neck. It's closer to the neck of a steel-string acoustic with a nut width of only 48mm (1.78"). This neck shape is also much thinner and more narrow than your typical classical guitar.
These features make this a great choice for players who have a looser budget and are looking for an easy-to-play regular-sized classical guitar.
The sound of this guitar is really beautiful.
It's available in both a solid cedar top and a solid spruce top, so you can opt for brighter or warmer tones. Of course, you would expect a great sound for this price.
But Cordoba does classicals extraordinarily well, outcompeting most other brands in every way. Although it's a rather expensive guitar, its value for money ratio is really high. You're unlikely to be disappointed in choosing this high-quality guitar.
If you want to hear and see how this plays, check this quick video:
Summary
Pros:
Classical guitar with a neck like a steel-string; very thin, narrow, and fast-playing
Comfortable and easy to play
Sounds are really solid; available in cedar or spruce top
Amazing value for the money
Setup is usually spot on
Truss rod makes adjusting the action easy
Cons:
Sometimes small adjustments to the action are needed (depends on your playing style)
Pricier than many other guitars in this post
The sound could be just a little bit warmer in my opinion
The Cordoba C9 Crossover is one of the best classical guitars I know of. If you can afford it, it's a great choice. It will offer you easy playability and great tones for years to come.
Find more small-hand-friendly classical guitars here.
Check Price on:
---
Buyer's Guide
What You Should Look For?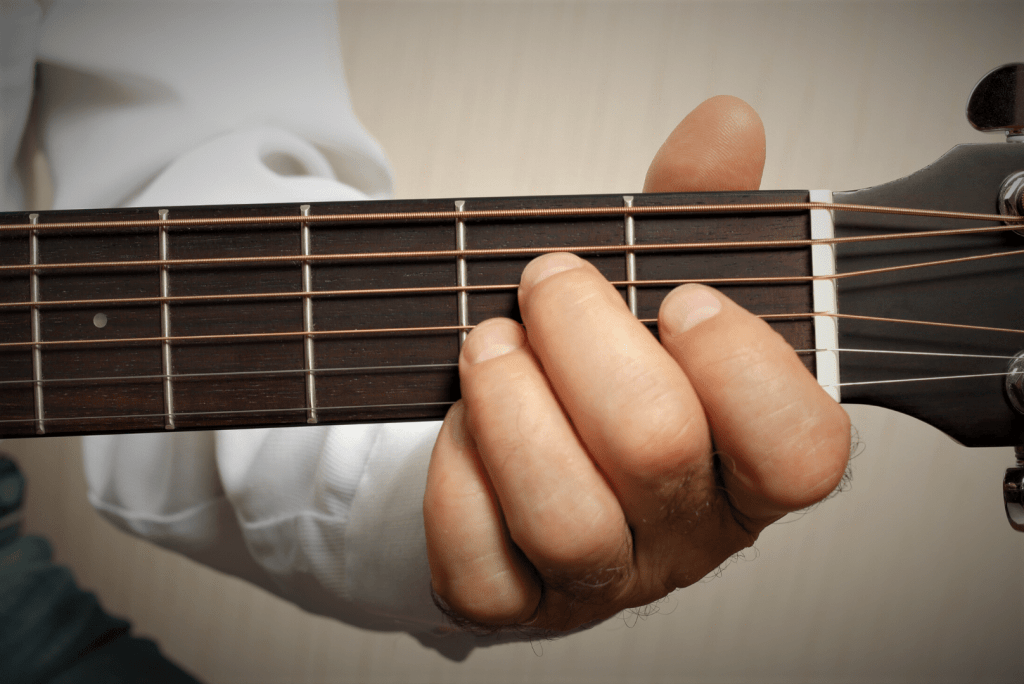 It's impossible to pick the one best guitar for short fat fingers, which is why I've given you 9 different options to choose from.
When picking the right guitar for your small hands, keep these things in mind:
Fretboard radius
This tells you how curved the fretboard is.
In classical guitars, there is usually no curve on the fretboard at all.
On the other end of the spectrum are some Telecasters with a 7.25"-radius and a distinct, big curve.
A typical fretboard radius for electric guitar is around 12 inches.
You might want to look for a radius of 9.5 inches or more, because when the radius is small and the fretboard has a big curve, doing bends and hitting the right strings can be harder.
A 12-inch radius is really solid for stubby fingers.
Nut width
This means the width of the guitar's neck, and this is one of the most important factors when choosing the right guitar for you.
Nut width has a huge effect on playability. For short, fat fingers, the narrower the neck, the better (generally speaking). but of course, if you have really thick fingers, you should aim for wide neck guitar instead. The typical nut width of
the Fender Vintage Stratocaster is 42mm (1.65-inches),
while Modern Stratocasters have 43mm (1.695") nut widths.
Les Pauls usually have a nut width of 43mm (1.695").
I would aim for 42mm (1.65-inches) when choosing an electric guitar, although 43mm(1.695-inches) is not too bad either.
Acoustic guitars usually have slightly wider necks, but not always. If you are buying an acoustic for yourself, I would shoot for a nut width of 1.65"-1.72" (42-45mm).
Classical guitars have the widest necks by far, usually measuring 2-inches. Fortunately, especially Cordoba manufactures classicals with narrower necks and that's why I included their 2 great narrow-nut classical guitars to choose from.
String action
This means the distance between the strings and the neck.
The closer the strings are to the frets, the easier it is to play (because there's less force needed to fret a note). This is an important factor, but this is a matter of setup, and you can one way or the other lower the action of any guitar. Usually, action adjustments are quite easy.
Note that if you make the strings too low, some notes might sound bad and buzz, so be careful.
Scale length
Guitars scale length is the distance from the nut to the middle of the 12th fret multiplied by 2.
Scale length affects the tension of the strings and how wide is the string spacing. The shorter the scale length is, the less tension there will be.
Lighter tension makes the guitar a little bit easier to play because pressing strings down to the frets require less strength from your fingers. But a shorter scale usually means a little bit more narrow string spacing too.
So if you have really thick fingers, full-scale guitar with wide strings spacing might be the best fit for you.
The shape of the neck
The C-shaped neck is the most popular and fits a hand of a human being really well.
The C-shaped neck is generally one of the best options for players with short and fat fingers due to its natural curve. C necks feel comfortable to play and work well for most playing styles.
Modern-C is a flatter version of the regular C-shape. It's a great option too, especially if you have small palms.
Thin U– and slim D-shaped necks are great options too.
These are usually slightly bigger in size than C-shape, but easier for comfortable thumb placement because the back of the neck is flatter.
I have also heard some people saying that a V-shaped, narrow neck is a great option if your palm is big but your fingers are really short. But personally, I would still prefer C- or slim D-shapes.
As always, you should test different styles to find what suits you best.
What's The Easiest to Play Guitar Type For Short and Fat Fingers
Yep, it's the electric guitar. That's the easiest to play. Always.
The main factors are the smaller size of the neck and the body and lower string action (space between strings and fretboard). The strings of an electric guitar are also softer than in steel-string acoustic guitars.
These things make electric guitars easy to play. And that's why the electric guitar is the best option for short fat fingers in general.
But always remember this: You should buy a guitar according to the music you want to play.
I included both regular- and ¾-sized guitars. Because, while 3/4 guitars are usually easier to play, the sound is typically much stronger, fuller, and overall better in full-size guitars.
The Cordoba Dolce is ⅞-size, so it's really close to full size; just a tad smaller. So even though it's easier to play, it still sounds solid. Personally, I wouldn't buy a ¾-sized guitar for regular use, even though I have small hands.
But they can still be a good option for some folks, especially if you're an all-around smaller person.
How to Make Playing Easier Instantly (without new guitar) – Correct Technique
Owning an easy-to-play guitar is important, but having the correct technique matters more.
If your technique is off, you're making things way harder for yourself than they need to be. No matter how easy your guitar is to play, you might still struggle. But now, it's time to make things right!
I have a real golden nugget from YouTube from you. This video teaches you how to use your thumb correctly.
And that's THE KEY when having small hands, short fingers, or short, fat, stubby fingers.
So, if you hold your thumb at the right place, you force your hand to have a bigger and better reach all over the fretboard.
This can really make playing a lot easier for you. Of course, you have to practice to get used to this, but it's worth it.
When I began fixing my technique by positioning my thumb correctly, playing started to be so much more fun and efficient.It affected both the reach over the fretboard and the speed with which I was able to play.
Also note this: if you're a beginner, the reason why guitar playing can feel hard is that you're just getting started.
Developing real skill takes time. So keep practicing. Every day.
This is the #1 way to make playing easier in the long run.
Now you have a good idea about the right technique and the fact that you need to practice a lot. All you need now is the motivation to keep practicing and honing your skills. Personally, the fact that I can actually learn to play my favorite songs is what motivates me. That has kept me playing for over 10 years.
That's why I play my guitars every day. I love jamming out to my favorite music!
So, grab a comfortable guitar, use the correct technique, and learn your favorite songs!
All these things make learning, easier, faster, and more fun for you.
---
Conclusion on Best Guitars for Short and Fat Fingers
That's it! I hope that this post helped you to choose the best guitar for short and fat fingers.
If I had to pick one, I would probably pick the Yamaha FG-TA Transacoustic… or the Fender Mustang 90 (it's hard to pick just one).
These 2 just offer so good playability, quality, and tones. Plus, value for money is excellent too. But all these guitars are great choices one way or another.
Remember to choose the instrument which allows you to play the music you love!
If you have any questions, think that I missed something, or are mad because your favorite easy-to-play guitar wasn't on this list, leave a comment!
Also, feel free to share this post. I wish you all the best, and keep rocking!
Teemu "Short Finger" Suomala
You might also like:
We are sorry that this post was not useful for you!
Let us improve this post!
Tell us how we can improve this post?