Last Updated on December 1, 2023 by Justin Thomas
Best Overall – Schecter Banshee GT-6 FRS
Sound
Playability
Overall Quality
Value for Money
Versatility
Summary
To put it simply, this is THE GUITAR you want for thrash metal in my opinion.
Just because it's so versatile, easy to play, and sounds HEAVY.

Pros
-Great build quality makes the guitar durable and premium feeling
-Flat 14″ radius and thin C- type neck are a match made in heaven for easy playability
-Great unique design, it's hot!
-Comes with a Sustainiac pickup(hold one note as long as the battery(or your hand) lasts
-Awesome tone, great for trash metal
-Versatile, cleans sound good too

Cons
-It's a bit expensive, although worth the price
-Compound radius would improve playability

With its qualities, this guitar is worth every penny, making it a long-lasting investment for every metal player. The best thrash metal guitar.
Sound demo coming soon…
Check Today's Price on
*Consider all links in this post to be affiliate links. If you purchase, at no additional cost to you, we may earn a small commission. It helps us to keep the lights on, thanks! 🙂
---
The Next Best:
Runner-Up –ESP LTD EC-1000
Check Today's Price on
---
---
Summary
EMG 81 and 60 combo comes as the "standard" pair for high-gain tones nowadays.
And again…
These pickups chug a BIG TIME!
Also…
Extra-jumbo frets,
short scale-lenght
and easier acces to upper frets than with single-cuts usually
This EC is a mean riffing machine that can also handle shredding from tapping to super-fast arpeggios.
Best Budget – Jackson JS32 Dinky
Check Today's Price on
---
---
Summary
JS32 Dinky offers
Combounding radius for easy riffing and comfortable shredding
It's build for comfort(contours and speed-neck shape)
Floyd-rose bridge to pull off crazy dive-bombs
Stable tuners
Pickups that chug
Of course, pickups are not the most versatile…but for metal, pretty nice!
Best for Soloing- Jackson X Series Rhoads RRX24M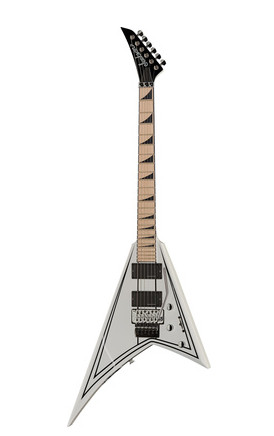 Check Today's Price on
---
---
Summary
With
24 Jumbo frets
a compound fretboard radius,
amazing upper-frets access
heavy but detailed tones(great for shredding)
this makes for one amazing shred machine.
One of the fastest necks I know of!
When it comes to heavy shredding at this price range, I can't find any complaints really.
Mean Looks and Premium Potential: ESP LTD EX-200
Check Today's Price on
---
---
Summary
What's amazing:
Great build quality
Easy playability for both riffs and shredding
Especially riffs are really smooth
High value for money
Pickups of this axe are not the most versatile, but still great for metal…
and if you change these pups for the better, you got an amazing guitar in your hands!
Compare Key Specs:
---
If you want to play fast and heavy stuff like thrash metal, there's got to be a good guitar involved. And when I say "good," this means that it has to have certain traits… such as easy playability as well as to be able to pull off high-gain heavy tones.
Don't worry, as we've done some research on our own and have brought you the list of the top 5 electric guitars for thrash metal that money can buy.
Let's first look at these axes, and at the end of the post, you can find the FAQ section that helps you to make the best choice possible.
Remember to check the "Runner-ups that just missed the top 5"-section too.
Who crafted this post: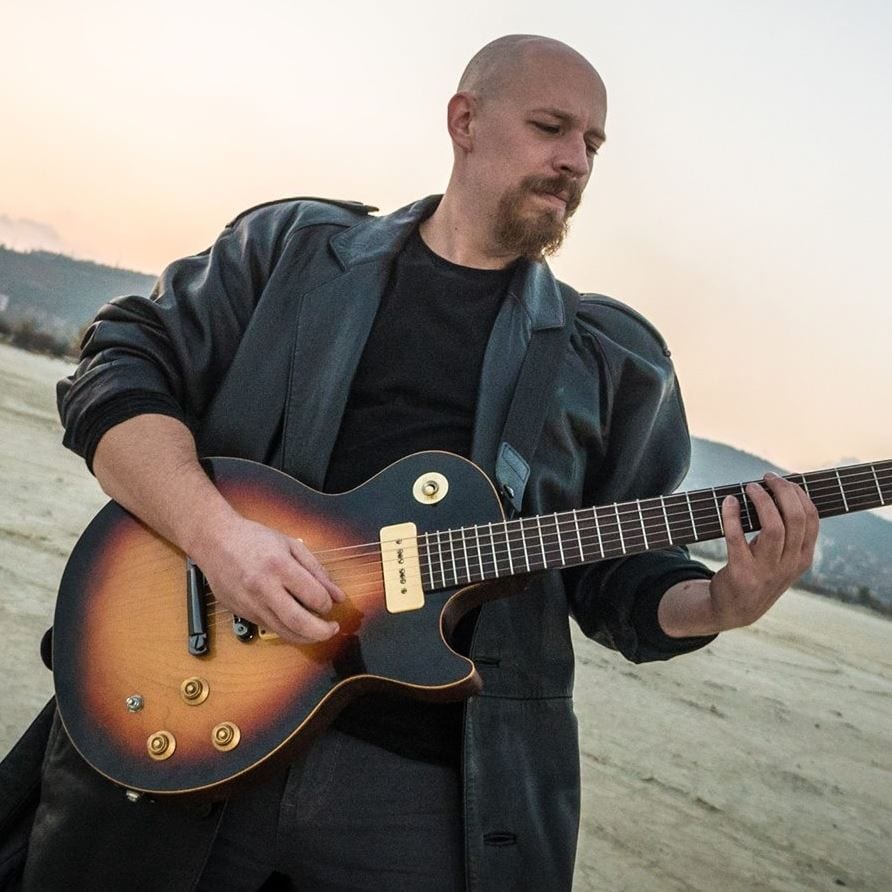 Author: David Slavkovic
David has been playing guitar since 1998, his main focus back then was hard rock and metal. With years, his music tastes evolved and he eventually started appreciating all musical styles. Although officially an agricultural engineer, David began writing for Ultimate Guitar in 2017 where he's currently working as a senior editor.
Hide The Rambling▲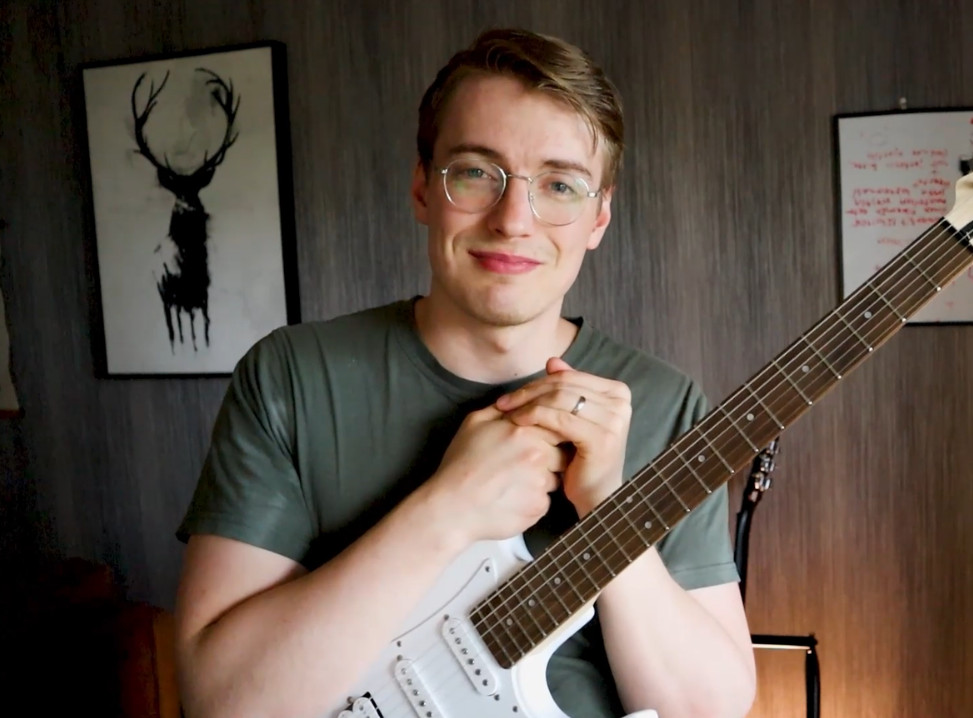 Editing & Research: Teemu Suomala
I first grabbed the guitar in 2009. I started this website in January 2020 because I couldn't do window installation anymore due to my health problems. I love guitars and have played dozens and dozens of different guitars through different amps and pedals over the years, and also, building a website interested me, so I decided to just go for it! I got lucky and managed to get awesome people to help me with my website.
I also got lucky because I have you visiting my website right now. Thank you. I do all this for you guys. If you have any recommendations, tips, or feedback, just leave a comment, I would love to chat with you. I have also been fortunate to produce content for several large guitar websites, such as Songsterr, Musicnotes, GuitarGuitar, and Ultimate Guitar.
I spend my spare time exercising and hanging out with my wife and crazy dog (I guess that went the right way…).
Hide The Rambling▲
Every one of these guitars is here based on extensive research and decades of combined guitar experience of author and editor.
---
Our Favorite Music Store in The World!
Why?
– Excellent Customer Service (4.7/5 Trustpilot Score)
– Fast & Free Shipping
– Gear is Inspected, Tested, & Ready to Play When it Arrives to You (We love this)
– Fair Prices
Visit Sweetwater:
Our reviews of the top 5
Best Overall: Schecter Banshee GT-6 FRS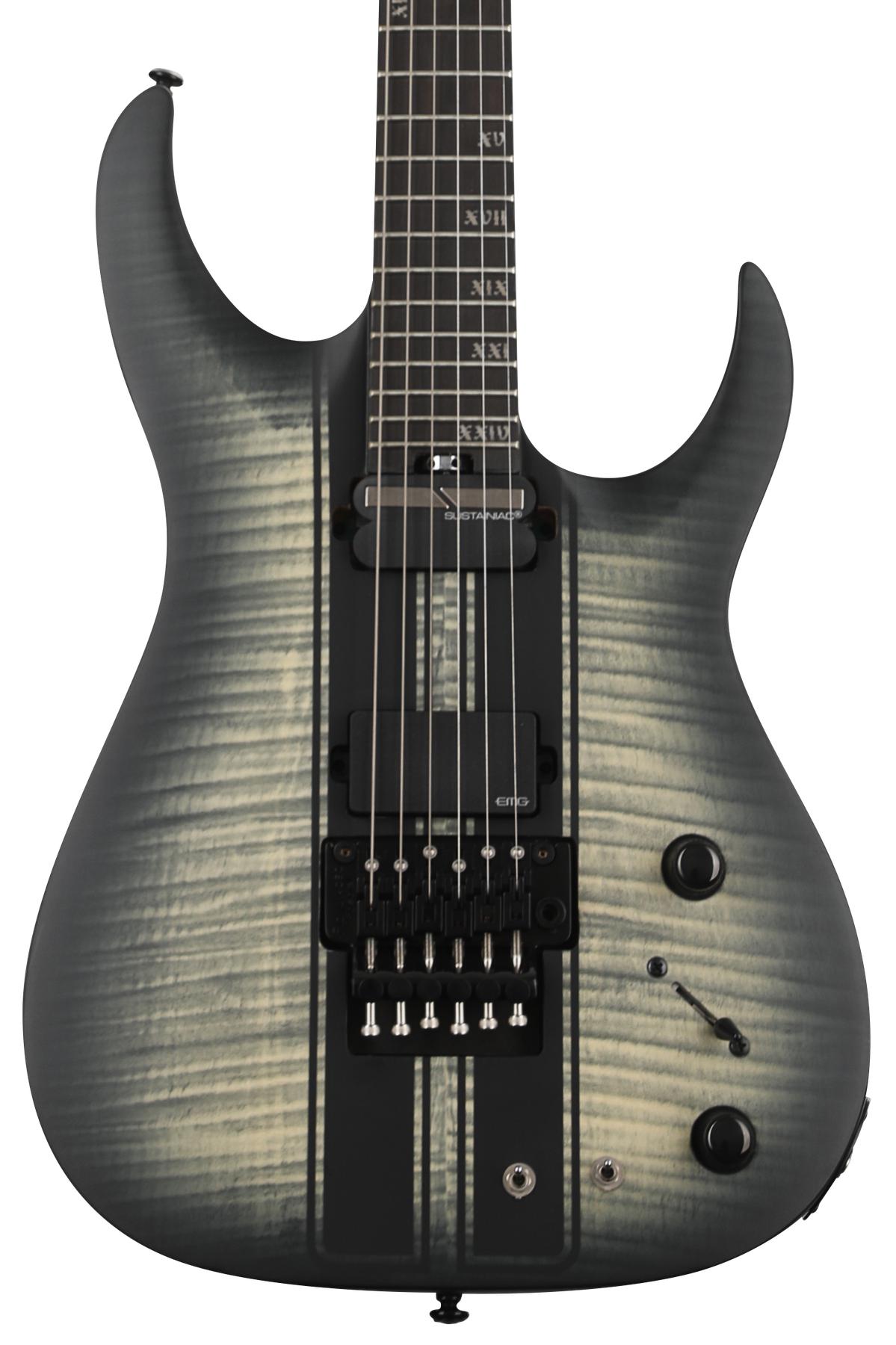 To be fair, Schecter is one of the most underrated guitar companies out there. We're taking a look at their Banshee GT-6 FR…and to put it simply, this is the guitar that you want for thrash metal in my opinion.
Just because it's so versatile, easy to play, and sounds HEAVY.
Of course, let's also not forget about its awesome Super-Strat kind of design.
The guitar's body is made out of mahogany and comes with a flame maple top.
These tonewoods are:
Durable
Beautiful
And if you believe tonewoods affect the tones of electric guitar, these are safe bets for thrash metal
The body comes with a smooth satin finish. Also, there's a slight contour on the body that makes things more comfortable for you picking hand.
The backside is designed specially to provide the maximum possible comfort for playing. There's one large indent that covers both cutaways, as well as the heel, which enables very easy access to higher frets.
Its neck is a set-through construction made out of maple, forming a neck-through construction with the body. This should improve tones, durability, and sustain.
On top of it, we can find an ebony fretboard that has a 14″ through its 24 frets.
I really liked the Banshee Elite 6 model(discontinued) too. It was featured in this post previously, it had a compound radius, and I wish that Schecter would have included it in this new model too.
The neck profile is "ultra thin". To me, this is a bit similar to the popular "C" we all are used to, but only a lot thinner. When you pair this with 24 Jumbo frets that are easy to hit (pressing frets doesn't require much effort), you have a really thin, fast, and smooth neck in your hands.
All of this is accompanied by amazing details, like the "roman number" fret inlays and
As for the bridge, the instrument comes with a Floyd Rose 1500 Series one, although there are also hard-tail options available.
The bridge pickup is EMG 81 Humbucker, this pup is been trusted by guitarists like Zack Wylde (Black Label Society), Wol Hoffman (Accept), Adam Dutkiewicz (Killswitch Engage), and Jim Root (Slipknot). So it can handle thrash metal like a breeze.
But the neck pickup is even better…it features The Sustainiac Infinite Sustain System with its special controls. This can allow you to hold one note "infinitely" and add other effects to your playing. Well, as long as the battery lasts.
1 downside is…
Schecter Banshee GT-6 FR S doesn't come cheap.
But considering its qualities, it's worth every penny, making it a long-lasting investment for every metal player. The guitar comes in handy for both rhythm and solo purposes, but we'd say that this is overall the best option that money can buy at this point.
Pros
Great build quality makes the guitar durable and premium feeling
Flat 14″ radius and thin C- type neck are a match made in heaven for easy playability
Great unique design, it's hot!
Comes with a Sustainiac pickup(hold one note as long as the battery(or your hand) lasts
Awesome tone, great for trash metal
Versatile, cleans sound good too
Cons
It's a bit expensive, although worth the price
Compound radius would improve playability
---
Runner-Up: ESP LTD EC-1000
You can check the full review of LTD EC-1000 here.
ESP's subsidiary LTD is well-known for their quality guitars within more reasonable price limits, and here the EC-1000 comes one of the best examples of how great this company is for metal-oriented guitars.
Here we have a single-cutaway guitar, mostly resembling the classic Les Paul shape. However, there are a few important aesthetic as well as ergonomic differences…
First off, the cutaway is noticeably sharper and digs a bit deeper, which also allows easier access to higher frets.
This makes fast playing suitable for thrash metal a lot easier with this axe.
Also, while we have the standard arched top on the body as well as the type of binding that resembles stuff that we see on Gibson Les Paul Custom guitars, the fretboard features ESP LTD's famous "flag" inlays.
This is also accompanied by a headstock design that fits nicely with these "flags." These are only cosmetic things, but the overall feel and looks of this axe really scream "METAL"! And as we usually listen through our eyes too, these features ar a plus.
A lot of the features do resemble classic Les Pauls, including a mahogany body, a mahogany neck, set-neck joint, a 24.75-inch scale length, as well as a tune-o-matic bridge with a stopbar tailpiece.
I have always loved 24.75-inch scale length axes when it comes to heavy riffing, it just feels smooth and my hand is somehow instantly relaxed and ready for some riff-action when I lay my hands on a guitar like this.
However, things get very interesting when we look at the backside of the body.
The indent on the cutaway, as well as the specially designed heel where the body meets the neck, make it really comfortable to play in these higher-fret areas.
There's also an additional indent on the bass side of the back of the body, making the instrument more comfortable.
All of this is accompanied by a pair of EMG's powerful active pickups. At this point, EMG 81 and 60 combo comes as the "standard" pair among metal musicians.
These pickups chug a BIG TIME!
With these pickups and the guitar's other features, it makes for a mean riffing machine, although the easier access to higher frets is another high point here, making it also a good option for lead players too.
Hear how this guitar sounds:
Pros
Great build quality, no rough edges
Great ergonomic features, easy to play, and upper fret access is surprisingly good
A very interesting twist to a single-cutaway design(single-cut made even cooler!)
EMG pickups are heavy, chug like anything else
Playing is effortless because of shorter scale and extra-jumbo frets
You can get LTD EC-1000's with tons of different extra features from piezo pickups to Floyd rose
Cons
Fixed bridge might be a bit limiting (no dive bombs with this one)
Upper-fret access is still worse than with modern Stratocaster metal axes
Check Price on:
---
Best Budget Choice: Jackson JS32 Dinky
At this point, it's no secret that playing guitar is not exactly the cheapest sport. If you want great performance qualities and a great tone, you have to pay a lot for it(be ready for a second mortgage), right?
Well, that's not completely true, at least not for some metal players…
Enter: Jackson Dinky series.
These budget metal machines are known for surprising qualities and surprisingly low prices. The model that we're looking into here is the JS32 Dinky.
Despite its somewhat cute name, this guitar is a pure beast(remember the cute Puss in Boots from Shrek? Dinky JS's are just like that).
And these beast-like-things goes for both its performance and aesthetics.
First off, the body bears the standard "Super Strat" kind of shape and comes with some very nice additions to improve comfortability. For instance, there are indents on the front side of the body right at the bottom of the cutaways.
This is also accompanied by a larger cutaway on the backside, which gives a lot of room and allows for a lot of movement in this area.
Playing even at the highest frets is almost as if you're playing anywhere else on the neck.
But that's not all there is to ergonomic and performance qualities.
The guitar comes with 24 frets and a compound fretboard radius. And getting a compound radius at this price is just AMAZING! It's like getting a workable auto-pilot with the most affordable Toyota-models!
Frets are all jumbo-sized, which can make the performance even more effective with the instrument's low action.
Playing is effortless and smooth, and not a lot of finger-strength is required.
Now, you don't see such a cheap guitar with a compound radius and additional ergonomic features. But that's not all as the instrument even comes with a Jackson-made licensed Floyd Rose tremolo bridge, locking nut, and even an arched top.
When we combine all of these, it's still baffling how this instrument managed to keep its price so low.
Sure, the neck is a bolt-on one, which may not be the most comfortable option, but you can't expect to have everything at this price. But on the other hand, the other ergonomic features make this axe still easy to play.
As far as materials go, we have the classic combo of a mahogany body and a maple neck. The pickups are two stock Jackson high-output humbuckers that can get the job done nicely.
Of, course the clean and crunch are not the most amazing with these pickups(pretty average for this price), but for metal, pretty nice!
If you feel like playing around with it, you can even put a new set of pickups and get a premium-quality guitar at a ridiculously low price.
Find great beginner metal guitars here and our favorite metal guitars under $500 here.
Hear how this guitar sounds:
If you want an even more affordable thrash metal guitar, check out this Jackson JS22 Dinky review!
Pros
Surprisingly cheap for the qualities that you get, Floyd-rose, stable tuners, effortless playability
With great ergonomic features, comfortable access to higher frets, this axe is made for playing fast
Licensed Floyd Rose bridge works really well
Nice hardware overall, tuners especially
Cons
Pickups could be better but you can't complain much at this price level
Check Price on:
---
Best for Soloing: Jackson X Series Rhoads RRX24M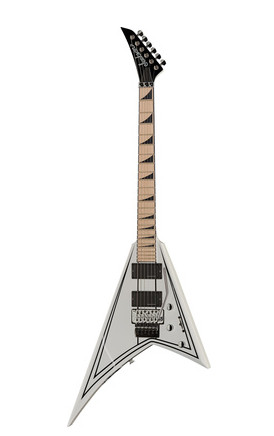 Of course, fast lead sections are an important part of almost every thrash metal song. If you're looking for something to get you covered in these areas, we'd once again go with a Jackson guitar and their awesome X Series Randy Rhoads signature model RRX24M.
Being one of the most influential metal players, Rhoads was all about virtuosity. And this is what the guitar is aiming at. Based on the two old prototypes that Randy had back in the day, the RRX24 comes with a modified asymmetric "Flying V" body shape.
We have basswood as the main material, while the neck is a maple one, also bearing a classic maple fretboard. There are also some other variants with other fretboard materials.
Although these woods are really "basic", these are durable, and won't affect the feel and the tones of the guitar negatively in my opinion.
With 24 frets and a compound fretboard radius, it makes for one shred machine. But things are even made easier with its specialized Flying V body shape and a set-neck formation.
With such a design, it's really easy to access its higher frets. It's almost like shredding at any other part of the neck!
The fretboard is made more attractive with "shark-fin" inlays and additional binding on the side. It goes perfectly with the body and the reverse 6-in-line headstock design. So when it comes to the aesthetic aspect, it will get you covered.
But what makes the guitar really good for thrash metal is the combination of these qualities with the choice of pickups and hardware…
The classic double-locking Floyd Rose bridge is accompanied by a Floyd Rose locking nut. Additionally, RRX24M is equipped with a set of Seymour Duncan's AHB-1 active humbuckers, along with a 3-way pickup selector switch, two tone controls, and one volume knob.
Putting all of these elements together, we have a pretty potent guitar for thrash metal.
Nonetheless, this instrument is actually pretty versatile. So it's not "just a lead guitar".
But above all, we would put it as one of the best choices for those who mostly play lead sections in metal music.
But it's more than just a great tool for virtuosic playing as its appearance will make you stand out, which is, in our opinion, another important factor for great thrash metal guitars.
This guitar really looks like a metal guitar.
Hear how this guitar sounds:
Pros
Great ergonomic qualities, compounding radius makes both riffing and soloing smooth
Amazing upper fret access (you can 5 string sweep from 19th fret)
Active pickups with a great ad unique tone(heavy but detailed for soloing)
The price is fairly reasonable for the qualities that you get
Amazing looks
Cons
Nothing at this price level
Check Price on:
---
Mean Looks and Premium Potential: ESP LTD EX-200
While we're at it, if you want a great-looking guitar for thrash metal, while still keeping the price within very reasonable limits, then we'd recommend another ESP LTD model, the EX-200.
Now, the company has a lot of models and this got somewhat overlooked by most of their metal-loving followers. But despite that, EX-200 is one very cool instrument, bearing a modified classic Explorer body shape, with rougher edges and a very – dare we say – mean appearance.
The guitar's main features are somewhat basic, although the overall build quality is kept at high standards.
We have a mahogany body and a 3-piece maple neck. Of course, it's a set-neck formation, and the neck is also equipped with a roasted jatoba fingerboard carrying 22 extra-jumbo frets(effortless playability because of this).
Despite the instrument's overall "sharp" appearance, the edges are smoothened out and contoured, which makes it pretty comfortable to play.
The comfort is also felt with this guitar's neck, which bears a "Thin U" profile.
I especially like this neck shape for mean riffs. It just feels so steady and firm.
Even though this guitar looks like shredding, and it can handle that for sure, I still think that heavy riffs are the best fit with this axe when it comes to playability.
Other than that, we have a standard tune-o-matic bridge with a stop bar tailpiece, quality of these is nice and especially comfortable for palm muting.
This is also accompanied by LTD's stock humbuckers, the LH-150N and LH-150B pair. It's a standard basic configuration, but it gets the job done. Hot and heavy.
For distortion, the tones are great, but this guitar lacks some clarity with the cleans for sure…
…also the crunch tones are only OK.
But considering its price combined with all the visual and practical qualities, the guitar is a steal.
Find our picks for the best metal guitar under $1000 here.
If you want a performance boost, you can always add a new pair of pickups to it, which can instantly turn it into a pro-level instrument. So this guitar has the potential to sound like a premium thrash metal axe.
Sound demo:
Pros
Very unique design, explorer with heavy twist
Reasonable price(high value for money)
Playability fits both riffing and soloing
Espcially heavy riffs closer to the nut are super smooth
Cons
Pickups could be a bit better, more articulate and provide more meaty distortion
Check Price on:
---
Verdict
Of course, the instruments that we mentioned above aren't the only good choices for thrash metal on the market.
But on the other hand, there's hardly any chance that you'll be able to find a better combination of price and qualities that they offer.
For instance, the Schecter Banshee Elite-6 is an all-around fully functional instrument that can serve you well even for other musical styles.
If that one's too expensive, or if you just want some of those classic old-school vibes in there, then the ESP LTD have their EC-1000. Overall, LTD is a go-to brand for any metal player as they have so much great stuff to offer.
And if you're operating on a budget, don't worry – with an instrument like Jackson's JS32 Dinky, you won't have to settle for just the average basic features. In fact, we're not sure how it's even possible for such an instrument to be so cheap.
Sure, you won't be having a guitar that's as good as the Banshee Elite-6, but this is still more than a great deal for the price.
---
Runner-Ups That Just Missed The Top 5
---
Buyer's Guide – What Makes a Great Thrash Metal Guitar
Let's see what traits make a guitar a great choice for thrash metal.
First, there's no "universal" guitar out there that can cover all genres perfectly(in my opinion), no matter how good and expensive it is.
What's more, some cheap guitars will work better for a particular genre compared to an expensive one that's intended for some other musical styles.
In this brief guide, we'll be looking through some important traits that make one guitar great for thrash metal.
Types of Pickups
Pickups will do most of the work for your tone, and that's pretty much your primary goal here.
In almost all cases, humbuckers are more favored over single-coil pickups when it comes to thrash metal.
With that said, you should still look to have a bit of a sharper-sounding or "crispier" humbucker in the bridge position. Because usually you want that kind of tones out of your thrash metal leads.
Additionally, "hotter" higher-output pickups are favored over those with lower output.
On the other hand, that doesn't mean that you can't use a low-output pickup, just make sure that it has some "bite" to it and that it pronounces enough mids to create a heavy tone.
Otherwise your heavy riffs might sound too dull.
Active vs. Passive
Active pickups are pretty popular among most metal guitar players.
However, there's no "better" or "worse" option here as the active vs. passive discussion comes down to your personal preferences.
Active ones may bring more punch, although passive pickups can help you maintain more control, especially with a tube-driven amp. Passive ones can also be more useful for slightly milder old-school kind of tones.
Also, active pickups can sound a little bit too compressed for some players.
Neck Profile and Neck Design
Being a subgenre of metal that includes some technically demanding riffs and solos, thrash metal guitars should have relatively thin necks.
However, it's not the thickness of the neck profile, but also the shape. Standard variations to "C"-shaped profiles and so-called "Thin-U" profiles are usually the best way to go. With these, moving your hand around the neck and fretboard is easy as it gets.
Fretboard Radius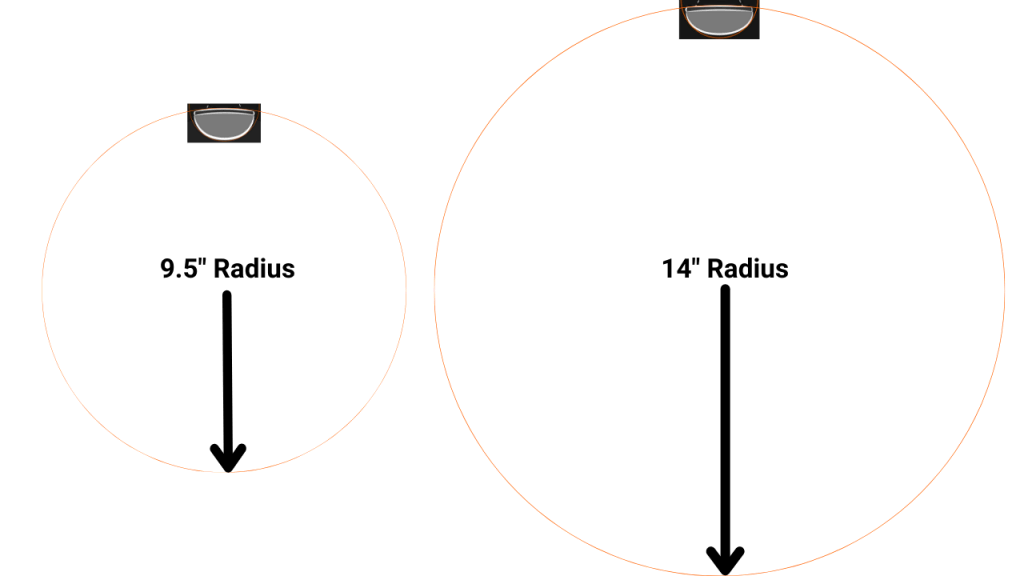 Along with the neck shape comes an appropriate fretboard radius. Once again, we're looking for traits that would make your performance faster and more effective. This requires flatter fretboard radiuses, usually 12 inches and above.
Flatter fretboard makes fast playing smoother, and especially quickly shifting from string to another is easier.
Some more advanced and expensive guitars may have really flat radiuses, about 17 inches, and even composite variants that include a rounder design at the nut and flatter as you go up.
String Action
In almost any metal subgenre, lower string action is favored over higher string action. Yeah, this is something that you can set up yourself, but a guitar should be made to support lower string actions without causing unwanted fret buzz.
On the other hand, higher action might make it great for some heavy riffing, although most thrash metal players still prefer to keep it lower.
Access to Higher Frets
A guitar that's intended for thrash metal should come with better access to higher frets. This is why we wouldn't recommend a Les Paul or any single-cutaway guitar unless there are some additional ergonomic features and design traits included.
Bridge and Other Hardware
For this particular group of guitars, we would favor two types of bridges – two-way tremolo bridges like Floyd Rose and Schaller stuff, and standard hard-tail bridges.
You could also go with a tune-o-matic one with a tailpiece, although this is somewhat of a vintage approach.
On the other hand, a great option would be a tune-o-matic bridge with strings going directly through the body after it.
Overall Design
Like it or not, aesthetics are an important factor as well.
After all, you can play thrash metal with a fine-looking Telecaster in a vintage "TV" yellow finish. But the audience and you expect metal and you should bring metal in every way possible.
Weight
We'd also point out that a lighter guitar is always favorable. Luckily, almost all of the virtuoso-oriented metal guitars are like this, so this is usually not something to be worried about.
Extended Range: Yes or No?
Extended range guitars have almost entirely taken over modern metal music.
But do you really need an 8-string for thrash metal? While you're always free to experiment and create music the way you want to, going so deep would be out of the style's typical boundaries. If you really want to go low, we'd rather recommend a 7-string, which can work fine in some cases.
But usually 6-strings is all that you need for Thrash metal magic.
Conclusion
These days, it's not that hard to find a good guitar for metal music, even all of the specific subgenres, like thrash metal. But while it might seem weird to some, thrash metal does have its special demands when it comes to guitar design and features.
Sure, you'll also need to look into suitable metal amps, pedals, and other gear, but it all starts with your guitar. That's where all the magic begins. All of the heavy riffing and soaring lead parts start there, and you'll need a good instrument to get you started.
Along with thousands of hours of practice.
You might also like:
We are sorry that this post was not useful for you!
Let us improve this post!
Tell us how we can improve this post?