Big hands can be a blessing and a curse. You have a great reach, but some necks just are…you know, way too small for man's hands. Try Ibanez with Wizard III neck and you know exactly what I mean. But gladly there are a couple of things that can help you and your basketball players hands out…
The correct technique. ( Hold your thumb at the back of the neck, use your fingertips to press the frets etc.)
Practice (you can learn to play almost with any kind of hands and guitar if you put in the work)
Easy to play guitar with wide neck, comfortable neck shape, and wide string-spacing
And in this guide, we'll look closer at how to choose the right neck shape for your large hands.
Let's get started!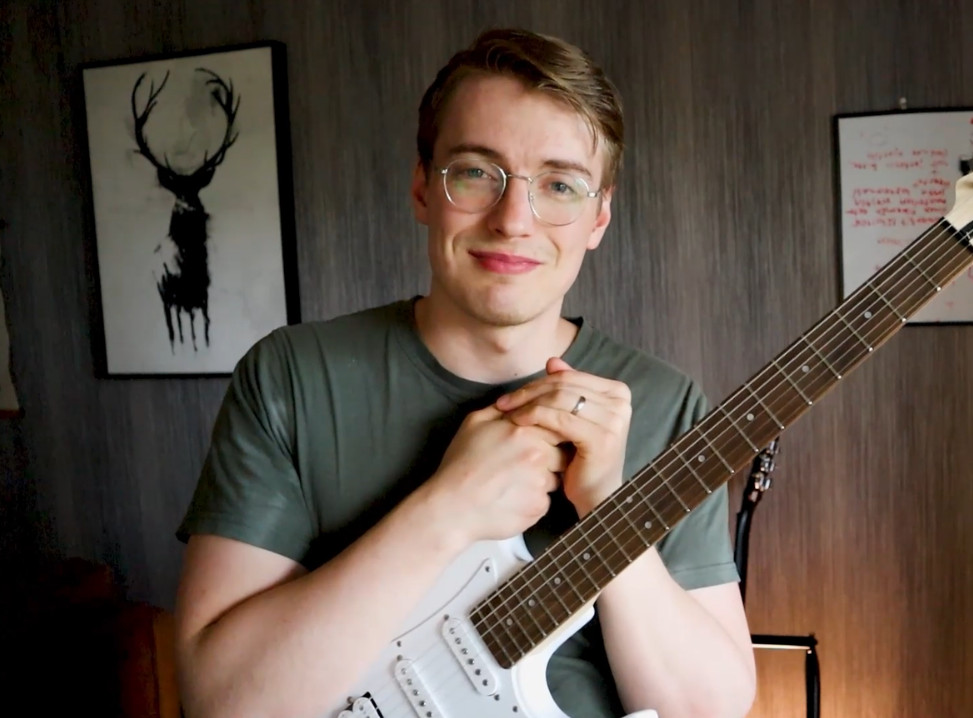 Author: Teemu Suomala
I first grabbed the guitar in 2009. I started this website in January 2020 because I couldn't do window installation anymore due to my health problems. I also noticed that most guitar websites don't do a really good job, so I decided to just go for it! I got lucky and managed to get awesome people to help me with my website. I also got lucky because I have you visiting my website right now. Thank you. I do all this for you guys. If you have any recommendations, tips, or feedback, just leave a comment, I would love to chat with you. I have been fortunate to produce content for several large guitar websites, such as Songsterr, Musicnotes, GuitarGuitar, and Ultimate Guitar. I spend my spare time exercising and hanging out with my wife and crazy dog(I guess that went the right way…).
If you want to learn more about neck shapes in general, check this guide: Guitar Neck Shape Guide – Shapes Explained
---
4 Best Guitar Neck Shapes for Big Hands
The Most Versatile – U
Chunky and less round than D and C shapes. Also, shoulders are larger and the straight sides of the neck are longer. This shape is really great for correct thumb placement(at the back of the neck) and moving up and down the neck is really smooth. U also gives a firm grip and I especially enjoy playing riffs with this shape.
Pros
Firm grip
Helps with correct thumb placement
One of the most versatile neck shapes, great for riffs, chords, and soloing
Surprisingly fast playing
Cons
Large shoulders are not for everyone
Some prefer more round D shape
Not that popular nowadays
Guitars With U Neck Shape:
*Consider all links in this post to be affiliate links. If you purchase, at no additional cost to you, we may earn a small commission. It helps us to keep the lights on, thanks! 🙂
---
Meatiest – D
The chunkiest neck to me. More round than the U shape, but has larger shoulders than the C shape. The back of the neck is comfortable for your thumb placement, but U shapes are more fast playing to me. Many Les Pauls use this shape and it's also frequently called "the 1950's" shape.
Pros
Really chunky
Really popular, you can easily find a guitar with this shape
Rounder shape than U. Ensures great access to frets and allows you to move your thumb freely
Firm grip
Cons
Sometimes it's hard to find "the right spot" for your thumb with roundest variations of this shape
Some variations can be too chunky for medium-large sized hands
Guitars With D Neck Shape:
---
Our Favorite Music Store in The World!
Why?
– Excellent Customer Service (4.7/5 Trustpilot Score)
– Fast & Free Shipping
– Gear is Inspected, Tested, & Ready to Play When it Arrives to You (We love this)
– Fair Prices
Visit Sweetwater:
Wide-thin and Wide-fat (PRS guitars)
In simple terms, a wide-thin neck shape is a stretched version of Modern C. It's wider and meatier in that sense, but it's really thin. Also, that familiar roundness of the C-shape is present. This shape can work great for large hands and fat fingers.
A wide-fat shape is, as the name suggests, both wide and thick. One of the meatiest shapes out there.
Pros
Firm grip
Versatile neck shape
The round shape makes hitting frets easy
Gives a wide playing feel
Cons
Can only be found from PRS guitars
Wide-fat shape can be too chunky, even for large hands
Guitars With Wide-thin and Wide-fat Neck Shape:
---
Worth Trying – Soft and Hard V
Hard V is the "edgiest" neck shape with sharp corners. Also, quite thick, and this is why it works for some players with big hands. Great if you like to throw your thumb into the mix when jamming.
Soft V is noticeably rounder than Hard V shape. Great for funk-style riffs and also enables you to hold your thumb at the side of the neck and maybe even hit some notes with it. To me, Soft V is a fun shape to play, and especially funk and rock riffs are easy to play with this shape.
Some players don't like V shapes at all, some swear by the name of it.
Pros
Both make use of your thumb easy
Thick feel
Firm feel because of the edgy shape
Great for funk and rock riffs
Cons
Too "edgy" for some players
Might require some time to get used to
Not very common nowadays
Guitars With Soft and Hard V Neck Shape:
---
3 Guitar Neck Shapes That Are Not Good for Big Hands
Modern C
Slim version of the classic C. Really round and slim feel and is usually too slim for big hands. A really common shape that can be found from many Strat- and Telecaster models.
---
Wizard
One of the slimmest and thinnest neck shapes out there.
Surely gives a fast and slim feel, but is most of the time too tiny for large hands.
---
Extra Thin U
Especially some ESP models use this shape. U is overall a really good shape for large hands, but this Extra Thin variation is just too thin most of the time. It's really fast and smooth playing though.
---
FAQ – Pay Attention to These Too
What Guitar Is Best For Big Hands?
I would choose a guitar with
Wide neck
Meaty neck shape
Comfortable radius
Wider-string spacing
All these add up and make one flipping great guitar for big hands!
Does Guitar Neck Shap Matter for Big Hands?
It does. Neck shape has a huge impact on how the neck feels overall and shape also affects how chunky the feel of the neck is. Plus, some shapes are wider than others when measured from the center line. But there are other aspects that affect the playability too, let's look at those next.
Best Fretboard Radius for Big Hands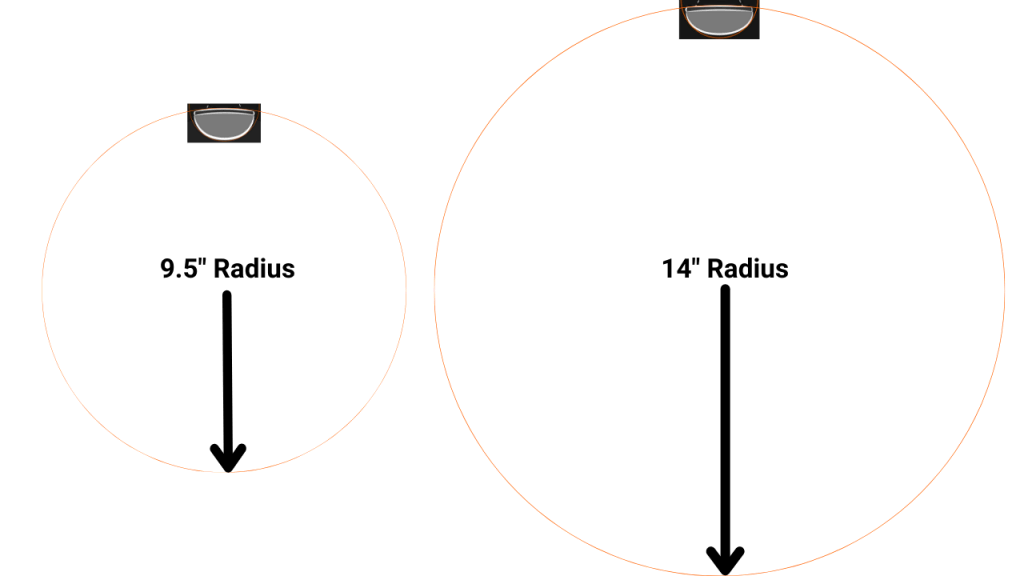 Fretboard radius determines how much curve the fretboard has. Larger the radius, the less curve the fretboard has. It's not the most important factor, but I want to mention a couple of things you can keep in your mind when choosing a guitar…
To me, fretboard radius is a bit different than the other aspects of the guitar's neck…because it's not like small-handed players should choose a 15" radius and fellows with big hands a 7.25" radius. I would just choose the one that is easy to play overall.
I would aim for a 9.5"- 15" radius. Those offer a "slight curve" to an "almost flat" feel. My personal radius sweet spot is 12". This is really easy playing radius for every hand size. But I recommend testing guitars with different radiuses and neck shapes out.
Best Nut Width for Big Hands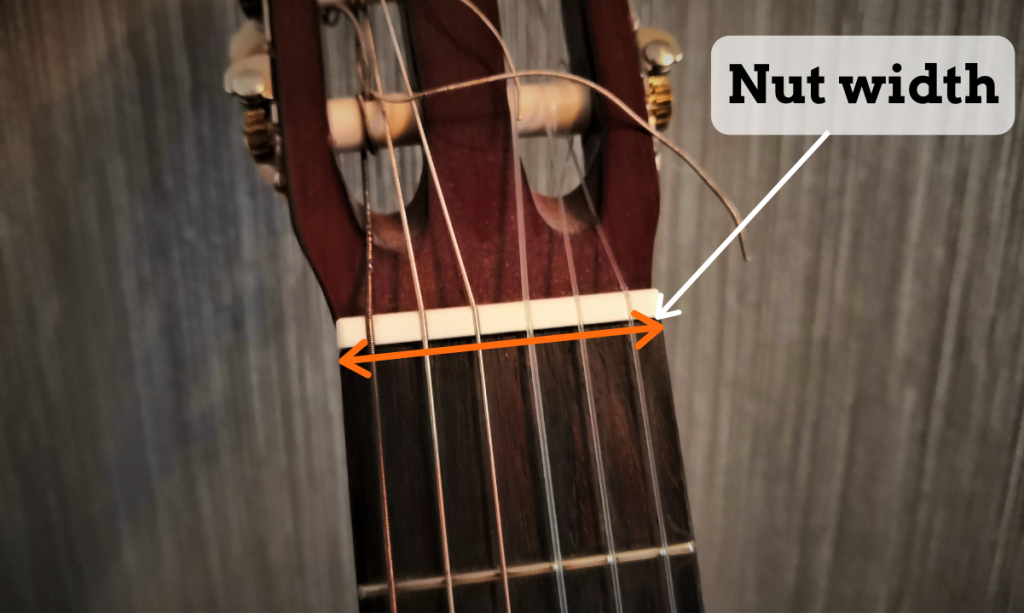 Nut width is the width of the neck measured from the nut. It determines how narrow or wide the neck is. In general, the wider, the better it is for big hands.
The typical nut width of an electric guitar is from 1.65" (42mm) to 1.688" (42.8).
The typical nut width of an acoustic guitar is from 1.68″ (42.67mm) to 1.7″ (43.2mm)
When searching for a guitar for large hands, I would aim closer to the 1.69" (43mm) nut width with electrics and to 1.7″ (42.67mm) and up with acoustic guitars. But of course, some players with big hands might prefer thin necks too. I recommend testing different widths out.
I recommend that you also check these articles out:
Here are a couple of guitars that have wide necks:
Wide String-Spacing
This determines how much room is between the strings. String spacing has a huge impact on playability. With wider strings spacing, your fingers or not that likely to touch the wrong strings and fingerpicking is easier.
It's a bummer that most manufacturers don't reveal the string spacing's of their guitars on their websites, and pretty much none of the music stores mentions anything about string spacing either. But no worries, I have done the work for you! I dig deep and also emailed several manufacturers and were able to get string-spacing measurements of several guitars. All this is presented here: 28 Guitars with Wider String Spacing (Acoustic and Electric).
---
Conclusion
I love geeking out with neck shapes and to me, they have a huge impact on playability. And it's true that all neck shapes are not very comfortable for large hands. I have found the ones featured on this post to be meaty and possess a wide and chunky feel.
Hopefully this article helped you out, if you have any questions just leave a comment.
I wish you all the best and keep rocking!
Teemu
---
Here's Our Favorite Gear Right Now!
Our Favorite Guitars:
Consider all links in this post to be affiliate links. If you purchase, at no additional cost to you, we may earn a small commission. It helps us to keep the lights on, thanks! 🙂
Electric guitars:
For beginners and tight-budget guitarists, Ibanez GRX70QA was the winner after hours of testing. If you are a metalhead, Jackson JS22 Dinky is our favorite.
If you have more room on your budget, Yamaha Pacifica 112V gives you a great bang for your buck, and Fender Player Telecaster HH will serve intermediate Players well.
Our favorite Electric guitar of 2021 was the PRS SE Custom 24-08. It gives so much versatility, comfort, and good tones that it's impossible to ignore.
Acoustic guitars:
For beginners, Yamaha FG800 is our go-to guitar. It offers more than any other guitar in the same price range.
For intermediate and beginners with bigger wallets, Gretsch G5024E Rancher offers so clear and detailed tones, plus easy playability that I had to include it here.
Seagull S6 Original is the best acoustic around the $500 mark. It has the construction, sound, and feel that many more expensive guitars don't achieve.
Our Favorite Amps:
For beginners, Fender Mustang LT25 offers the most. It's versatile, sounds good, and is simple to use.
For most home players, Boss Katana 50MKii is the amp that serves you in any situation. From country to metal.
If you are searching for a tube amp for home use, Blackstar HT-5R MKii is my go-to option because it sounds so good, and you can adjust the wattage(power).
When it comes to acoustic guitar amps, Fender Acoustasonic 40 will serve most people really well. But our favorite is Fishman Loudbox Mini BT. It offers a professional level tone and volume with a price most people can afford.