Last Updated on April 29, 2023 by Teemu Suomala
Best Ceramic Slide – Dunlop 243 Moonshine
Tone
Playability
Quality
Value For Money
Summary
This Slide strikes a beautiful balance between brash steel and smooth glass slides.

It produces a tone that is warm and sweet, chiming in the high end and silky in the lows.

This offers a smooth playing feel and a natural tone. But it's a bit heavier than glass slides for example.

Pros
-Handmade from high-quality ceramic
-Inner surface absorbs finger sweat to reduce slippage
-Thick walls for long sustain and warm, smooth tones

Cons
-Longer than many fingerboards

The best acoustic guitar slide!
Check Today's Price on
*Consider all links in this post to be affiliate links. If you purchase, at no additional cost to you, we may earn a small commission. It helps us to keep the lights on, thanks! 🙂
---
The Next Best:
Compare Key Specs: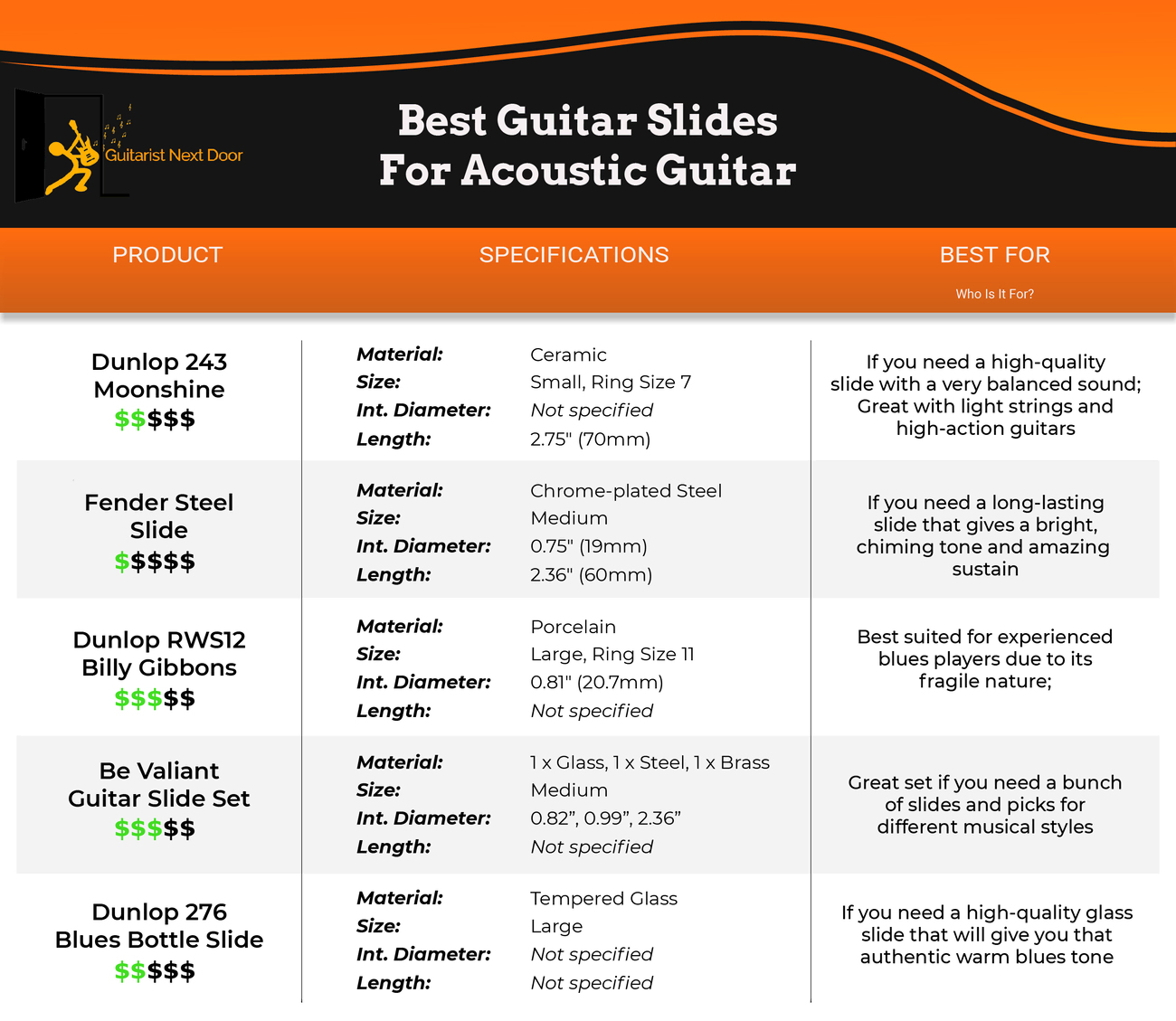 ---
Adding a slide to your arsenal of guitar accessories can open you up to a whole new universe of musical opportunities.
But with so many types to choose from, how do you know what kind of slide you should get?
I'm about to reveal my favorite guitar slides for acoustic guitar in a range of materials. We've also explained how to choose the right slide for whatever style you want to play, so you can get to slinging out those soulful solos in no time. This slides work well with cheap acoustic guitars to Taylors and Martins.
Let's first look at these fine slides, and at the end of the post, you can find the FAQ section that helps you to make the best choice possible.
Who crafted this post:
Author: Tommy Tompkins
Playing guitar since 2004. Primarily an acoustic guitarist who plays and writes traditional American folk music, with a background in melodic metal and a solid foundation as a bassist.
Hide The Rambling▲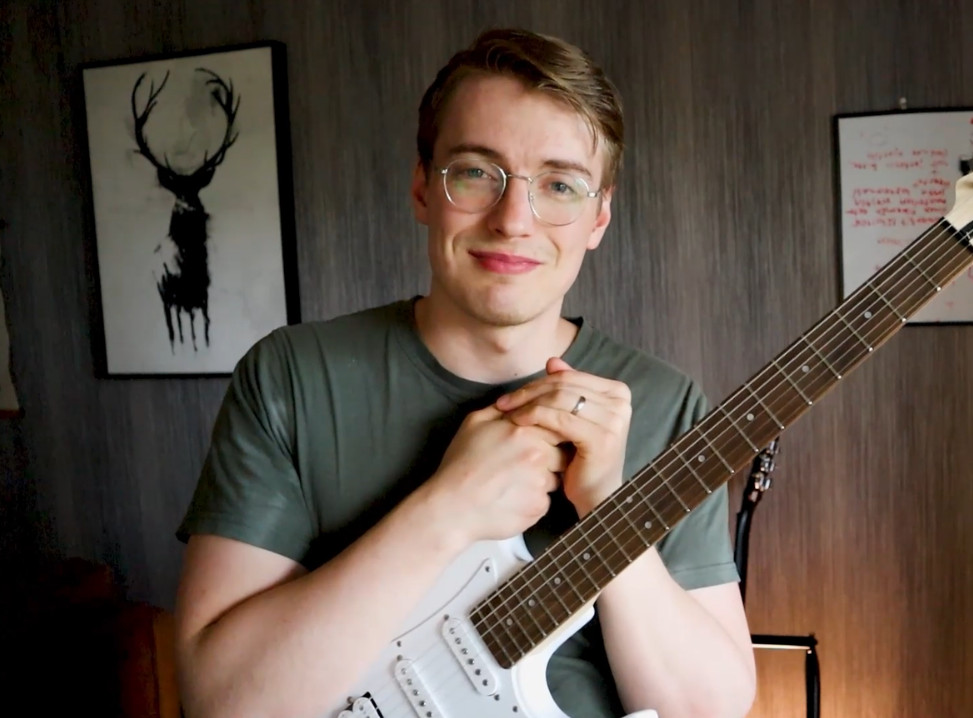 Editing & Research: Teemu Suomala
I first grabbed the guitar in 2009. I started this website in January 2020 because I couldn't do window installation anymore due to my health problems. I love guitars and have played dozens and dozens of different guitars through different amps and pedals over the years, and also, building a website interested me, so I decided to just go for it! I got lucky and managed to get awesome people to help me with my website.
I also got lucky because I have you visiting my website right now. Thank you. I do all this for you guys. If you have any recommendations, tips, or feedback, just leave a comment, I would love to chat with you. I have also been fortunate to produce content for several large guitar websites, such as Songsterr, Musicnotes, GuitarGuitar, and Ultimate Guitar.
I spend my spare time exercising and hanging out with my wife and crazy dog (I guess that went the right way…).
Hide The Rambling▲
Every one of these guitar slides is here based on extensive research and decades of combined guitar experience of me (Tommy) and Teemu.
---
Our Favorite Music Store in The World!
Why?
– Excellent Customer Service (4.7/5 Trustpilot Score)
– Fast & Free Shipping
– Gear is Inspected, Tested, & Ready to Play When it Arrives to You (We love this)
– Fair Prices
Visit Sweetwater:
Best Guitar Slides for Acoustic
Best Ceramic Slide – Dunlop 243 Moonshine Ceramic Guitar Slide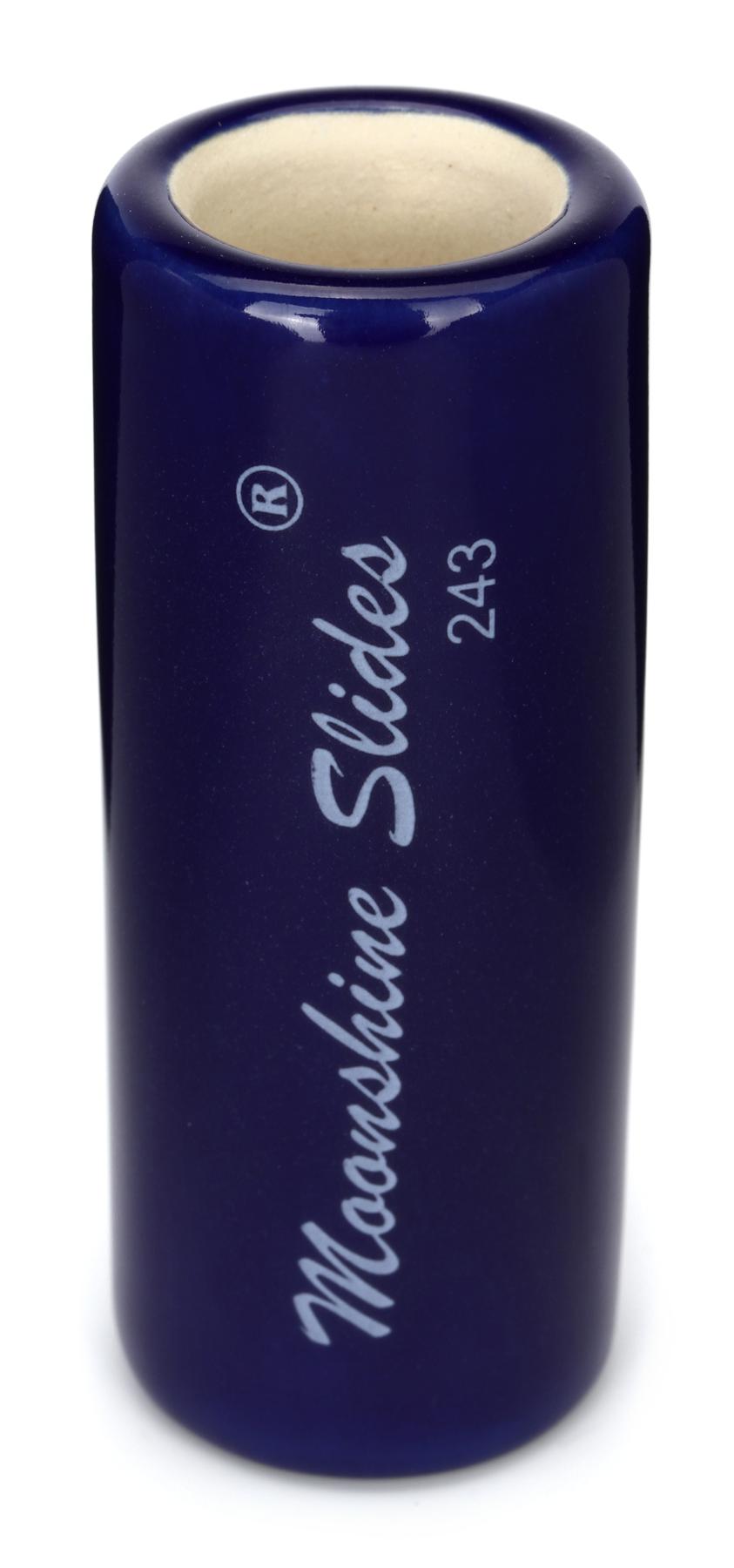 Dunlop's 243 Moonshine Ceramic Guitar Slide strikes a beautiful balance between brash steel and smooth glass slides.
It produces a tone that is warm and sweet, chiming in the high end and silky in the lows.
Thick ceramic walls make this a heavy slide, well suited to guitars with light strings and high action.
You might find that it extends past the edges of your fingerboard which can make playing a little awkward. But once you get the hang of it, you'll love the sultry tones and long sustain of this ceramic slide.
Though the 243 is more than twice the price of a standard glass slide, I'd say its smooth playing feel and natural tone make it well worth the price.
Pros
Handmade from high-quality ceramic
Inner surface absorbs finger sweat to reduce slippage
Thick walls for long sustain and warm, smooth tones
Cons
Longer than many fingerboards
Check Price on:
---
Best Steel Slide – Fender Steel Slide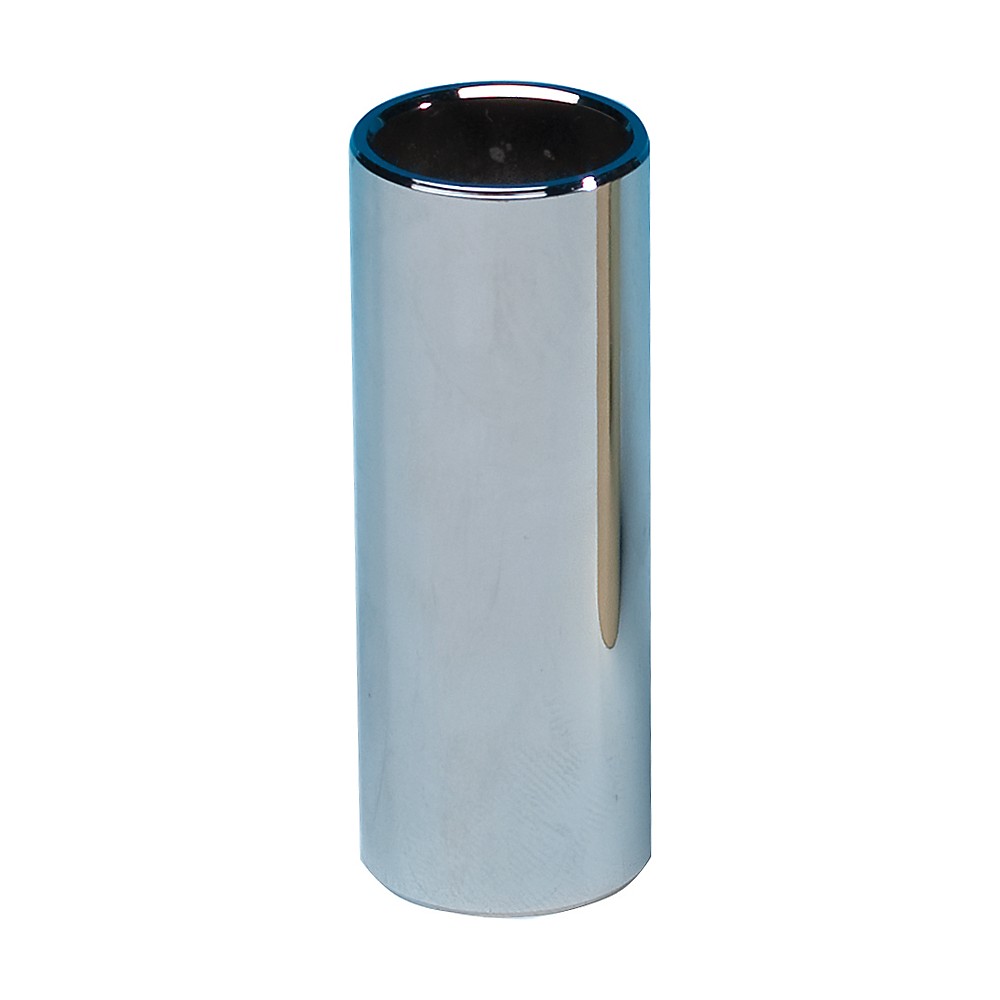 The Fender Steel Slide is nothing fancy, and that can be a great thing when it comes to guitar slides.
Hundreds, if not thousands of musicians have created amazing slide tunes with nothing more than a glass bottle or a knife-edge. So crafting great tone and technique with this precision-made Fender slide is a piece of cake.
Made from chrome stainless steel, the Fender Steel Slide sends out an extremely bright, glassy tone that sings with prominence.
With 3.5mm walls, your sustain seems to last for days when playing with this slide.
Yes, it's definitely on the heavy side, so you'll need to play with care when you're starting out, but its high-quality construction means you have a lifetime to practice with it.
Costing less than $10, this is a slide everyone could have on hand.
Pros
Provides huge amounts of sustain
Bright, chiming tone with a powerful voice
Stainless chrome steel can last a lifetime
Cons
Thick walls make it a heavy acoustic slide
Check Price on:
---
Best Porcelain Slide – Dunlop RWS12 Billy Gibbons Mojo Guitar Slide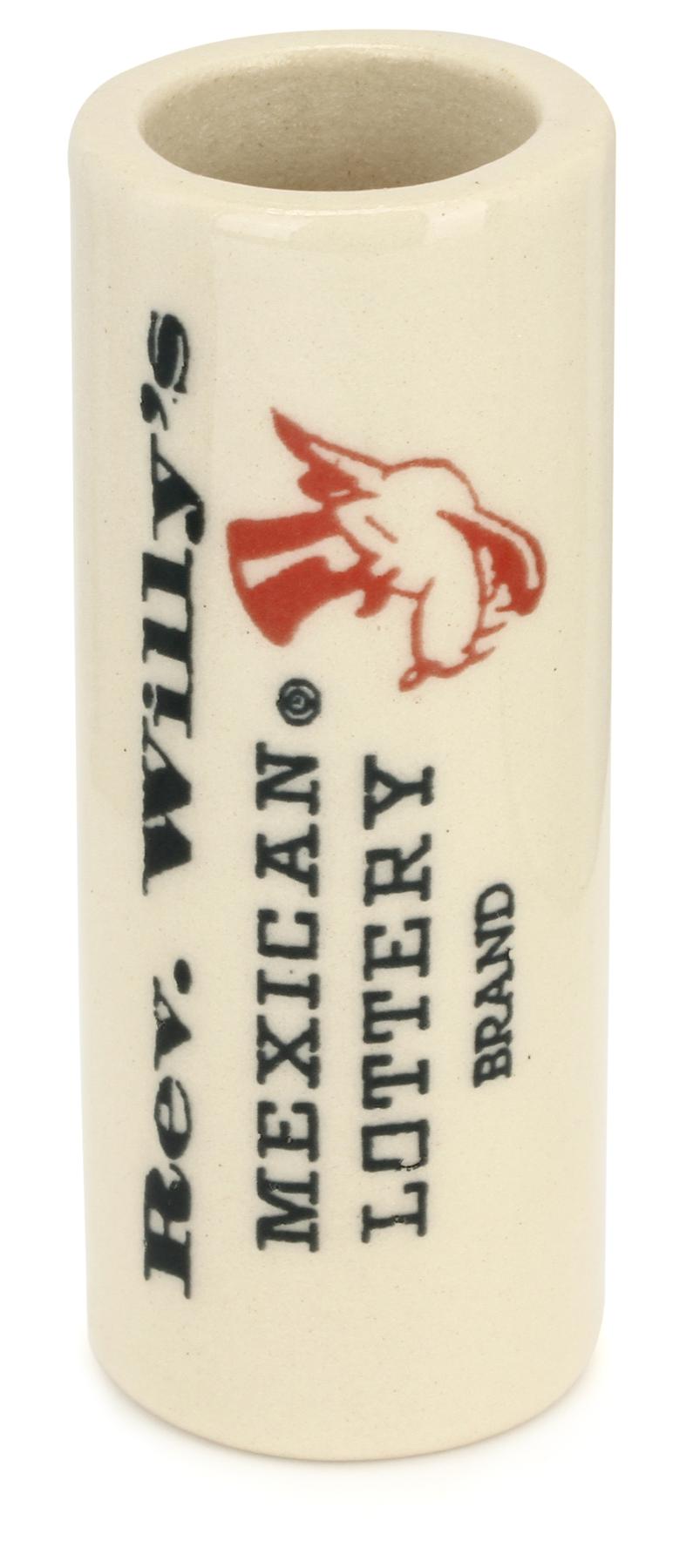 This Dunlop RWS12 shares many of the same sound traits as the 243 Moonshine Ceramic slide.
The tone with this is warm and smooth, but it rings a little more in the high-end and gives you a little more definition in each note.
With thinner walls than its ceramic cousin, this porcelain slide still plays with a great amount of sustain while being a little easier to manipulate around the fretboard.
Like the 243, it features a moisture-absorbing interior to wick away your sweat and aid in staying anchored to your finger.
As the most expensive slide—as well as one of the most fragile—on this list, I'd recommend this more to players who know what they're doing than to beginners looking to get in on this bluesy goodness.
Check our favorite blues licks and riffs here.
Pros
Precise, clear tone that isn't harsh
Moisture-absorbing interior prevents slipping
Thin walls and thick glaze give smooth playing feel
Cons
High cost
Extra large size is too small for extra large hands
Check Price on:
---
Best Multi-pack – Guitar Slide Set
This Guitar Slide Set is a great offer of 3 different slides as well as 4 fingerpicks and 6 medium-weight guitar picks.
If you're not sure which material you want to go with, this could be the perfect kit for you since you get both metal and glass options in one package.
Great for acoustic slide beginners!
The steel slide is stainless and will give you the super-bright, piercing tone that steel slides are known for.
Its brass option cools things down just a little bit, mellowing out the brightness of the steel slide but keeping the same long sustain.
The glass slide—careful! It's fragile!—will be the warmest of all three, singing sweeter than any other, but it lacks the sustain of the other two.
The finger picks and guitar picks are your standard celluloid type, somewhere around medium heaviness.
My only issue with this set is that there are no size options, which means these slides won't work for all players.
The inner diameter of the slides is .82 inches, which is on the smaller end of Large size slides. They'll definitely be too big for players with small hands unless padded and have no chance of fitting extra-large handed players.
If you're one of the lucky bunch that these slides will fit, this is a really great value set that will let you explore a range of sounds and techniques.
Pros
Contains multiple slides plus an assortment of picks
Comes in a convenient carrying case
3 slide materials: glass, steel, and brass
Cons
No size options – medium only
May ship with missing parts
---
Best Glass Slide – Dunlop 276 Blues Bottle Slide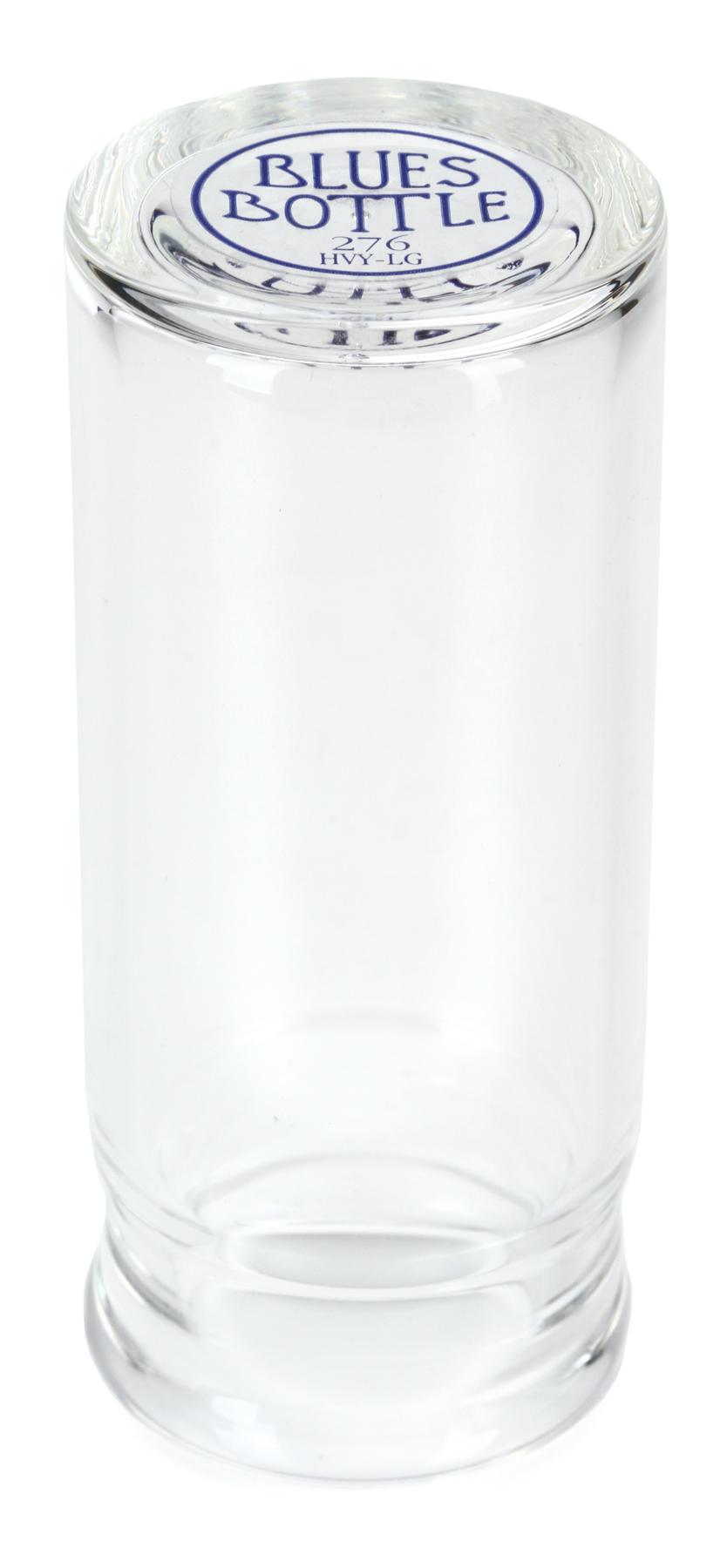 If you want a high-quality glass slide, the Dunlop 276 Blues Bottle is for you.
You can get this slide in many different sizes.
Following traditional medicine bottle form, the Dunlop Blues Bottle is a classic-looking piece pulled straight out of 1920.
It's hand-blown from high-quality, durable Pyrex glass. You still should try not to drop it, but chances are it'll take a knock better than the average bottleneck.
With thick walls, the tone produced by the 276 is clear and soft. It's ideal for unmodified acoustics, with a weight that's easily moved up and down the neck.
You don't get as much sustain from the Blues Bottle as you would a steel slide, but there's plenty enough to keep your licks singing.
Although there are less expensive glass slides out there, the Dunlop Blues Bottle is the cream of the crop and gives you authentic playability and tone.
Pros
Made of thick-walled, hand-blown Pyrex glass
Gives a fat, warm tone
Very soft, smooth glass for fast, easy playing feel
Cons
Lacks an extra-large size
Check Price on:
---
Verdict
It's really hard to say which slide is the best among these because they're each very different.
Truthfully, there's no best slide here, but I would like the Dunlop 243 Moonshine myself, just because I prefer ceramic slide tone.
However, if you're more a fan of steel or glass slides, the Fender Steel and the Dunlop 276 are both great options.
I'd stay away from the Guitar Slide Set unless you're confident it will be a good fit for your fingers, but if it fits it's also a great choice.
---
Buyer's Guide – How to Choose The Best Acoustic Guitar Slide For You?
Different Types of Guitar Slides
Guitar slides come in all different shapes and sizes, but the most common type used on acoustic is a simple cylinder.
This differs from a lap steel slide, which is a solid bar you hold in your hand.
The first slides were usually nothing more than a broken glass bottleneck, but players have learned to use a variety of items over the last century.
Today, slides are typically made of glass or steel, but you can find them made from
ceramic,
porcelain,
bronze,
and even carbon fiber.
Slides for acoustic usually slip over your whole pinky finger, but newer kinds are hitting the market that change up the whole concept.
Products like the JetSlide and the Shubb AX Axyx Reversible Slide let you easily switch from slide to no-slide with a simple twist or push.
Then there are ring-style slides like the Kaish Knuckle Slide that are meant for use on a limited number of strings rather than your whole fretboard at once.
Despite these new hybrid editions, the most popular slides remain the simple glass and metal tubes of old.
What is the Best Material for a Guitar Slide?
When it comes to music, dealing in absolutes is a no-go for me. There's no such thing as the best slide material.
Each has its benefits and drawbacks, so knowing the different tonal and playability characteristics of all the most common materials can help you choose the perfect slide.
Glass
Glass is the traditional slide material and is a great choice for acoustic guitar.
Compared to steel, it's lightweight and low-density, making it a comfortable slide type that doesn't weigh your finger down too much.
Its sound is warm, gliding smoothly over the strings with no hitches or hesitation, but it lacks the sustain of steel slides.
Steel
Ironically, steel slides have a "glassier" sound than glass slides. They sound very bright and provide a lot of sustain.
But steel slides can be heavy and harder to play with than their glass counterparts, and their overall tone is on the harsher side.
Brass
Brass slides are very similar to steel, but their playing feel is a bit smoother. Being a softer metal, brass produces a warmer, darker sound than steel slides but is still brasher than glass.
Ceramic and Porcelain
These are clay-composite materials that land somewhere in hardness between glass and steel.
Both materials sound brighter than glass, warmer than steel, and have decent amounts of sustain.
Porcelain is the denser of the two materials, so it will lean closer to the sound and feel of steel slides, while ceramic is just a little more similar to glass.
How to Pick the Right Slide for You
Once you have an idea of the slide material you want to use, there are just a few more things to consider before making your decision.
To choose the best slide, you obviously need one that fits.
Slides are meant to fit snug on your small or ring fretting fingers—tight enough to stay on when you turn you hang your hand down but not so tight as to be uncomfortable.
If you know your ring size, picking the right slide is easy. Sweetwater actually has a guide you can print and use to measure your ring size to make slide buying simple.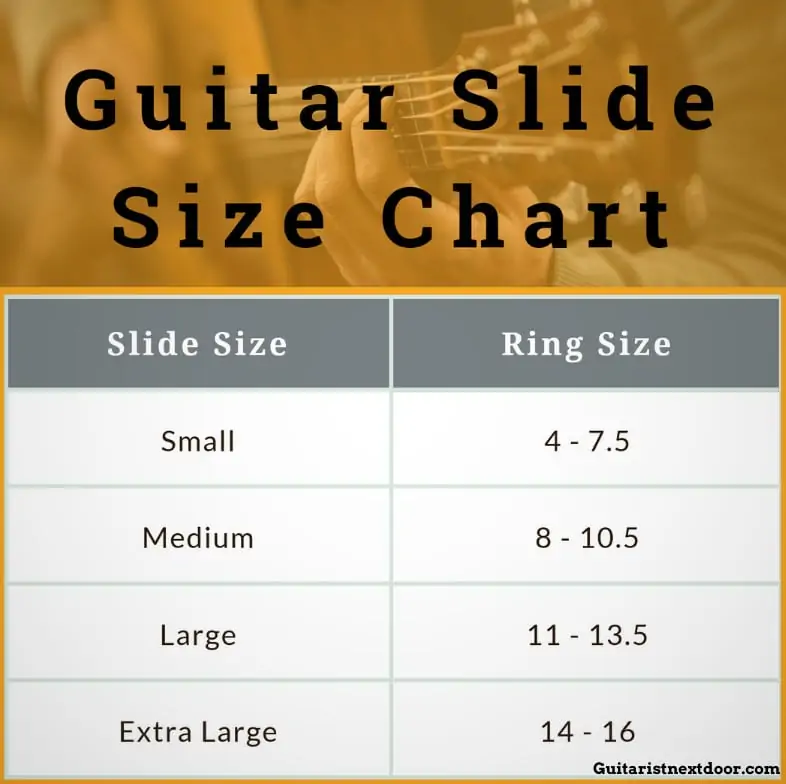 If you have a hard time finding a slide to fit you, lining the inside with leather or cotton can help secure the fit.
The next thing to consider is the weight. If you have a guitar with high action, a heavy slide is a good way to go, but heavy slides might not work so well on guitars with lower action. This is because a heavy slide can actually press the strings down against the frets, causing unwanted noise and possible damage.
A great acoustic slide is heavy enough for good sustain and articulate notes while being light enough for easy playing and maneuvering. Most of the time, this will be glass or ceramic if you're playing on a standard dreadnought.
Weight is somewhat dependent on the next factor, which is wall thickness.
Choosing a thicker slide will give you more sustain but is harder to play with, while thinner-walled slides give you a more intimate playing feel but less full of a tone.
Finally, you have a choice between shorter or longer slides.
Short slides are easier to move out of the way when you want to play some non-slide riffs, but they might limit your ability to play all 6 strings at once.
Long slides, as you can guess, have the opposite issue. They're heavier and harder to pull out of the way for quick riffs, but they provide easy access to all the strings together.
Personally, I like medium-weight ceramic slides, but that's just me. Just because a heavy steel slide might not be recommended for acoustic doesn't mean you can't use it.
Listen to different slides in action to see which material sounds best to you, then make sure to get the right size and you're good to go!
---
Buyer's Guide – FAQ
Can You Use Slide on an Acoustic Guitar?
Of course you can! Slide guitar has been a primary acoustic technique since the late 1800s and remains a key skill to this day.
You can hear slide being used on acoustic as early as 1923, in the first instrumental country blues song ever recorded, "Guitar Blues" by Sylvester Weaver.
Fun Fact: Weaver used a knife for a slide!
You might want to (perhaps need to) raise the action on your guitar in order to play with the slide above your frets.
This isn't exactly a simple thing to do, but there are lots of great guides to walk you through the process.
Can Slide Damage a Guitar?
A slide will only damage your guitar if you use it incorrectly.
When used properly, the slide only ever touches your strings. It should have no contact with the guitar, but accidents do happen.
So, if you do accidentally knock your slide into the neck or fretboard, it can cause some dents and dings. It's a hard piece of metal or glass, after all.
In your beginner days of this "bottleneck" technique, you'll want to be cautious in your playing approach. Take time to familiarize yourself with basic slide techniques before you jump in.
Chances that you'll harm your guitar are low in the first place.
But if you learn the right way to use it from the start, you'll have next to no chance of causing any damage.
---
Conclusion on Best Guitar Slides For Acoustic Guitar
Whether you want to start learning the island slack-key tunes of Hawaii or the soul-striking country blues of old, there's a slide here that will give you the tone and playing feel you're after.
These are the best guitar slides for acoustic made from each of the most popular materials. They're all great options so the choice comes down to how you want to sound.
So, take a listen to those acoustic slide guitar classics, tune-up, and get to jamming!
You might also like:
We are sorry that this post was not useful for you!
Let us improve this post!
Tell us how we can improve this post?