Last Updated on December 6, 2023 by Justin Thomas
Note!

This article you are reading lists best guitar slides overall. For more guitar specific info about slides, these 2 articles below will help:

–5 Best Guitar Slides for Electric Guitar

–5 Best Guitar Slides for Acoustic Guitars

I recommend checking this overall guide first and then reading the separate electric or acoustic guitar slide article if necessary.
Best Overall – Shubb AXYS Reversible Guitar Slide
Tone
Playability
Quality
Value For Money
Summary
Pros:
-Very versatile because of the ability to rotate it out of the way when not in use
-Lighter weight means better performance on guitars with lower action
-Tone is bright and cutting
-Very comfortable to wear and use

Cons:
-Priced a bit high for budget-minded players
-Different materials could be offered for those who dislike metal slides
Check Today's Price on
*Consider all links in this post to be affiliate links. If you purchase, at no additional cost to you, we may earn a small commission. It helps us to keep the lights on, thanks! 🙂
---
Compare Key Specs:
---
If you want to achieve your dream-slide tones, you are in the right place. We've broken it all down for you here at Guitaristnextdoor.com to help you choose the best slide for your guitar.
Whether you're an experienced slide player or an aspiring newbie, let's get going!
Author: DL Shepherd
Darren has been playing guitar for over 23 years. He fronted the metal band Suddenly Silence in the early 2000's, and also achieved recognition as an award-winning bluegrass guitarist.
A native of southwestern Virginia, and has shared the stage with many big-name acts from various genres. When he is not playing one of his many guitars, he can be found riding his Harley through the mountains of Virginia.
Hide The Rambling▲
Author: Tommy Tompkins
Playing guitar since 2004. Primarily an acoustic guitarist who plays and writes traditional American folk music, with a background in melodic metal and a solid foundation as a bassist.
Hide The Rambling▲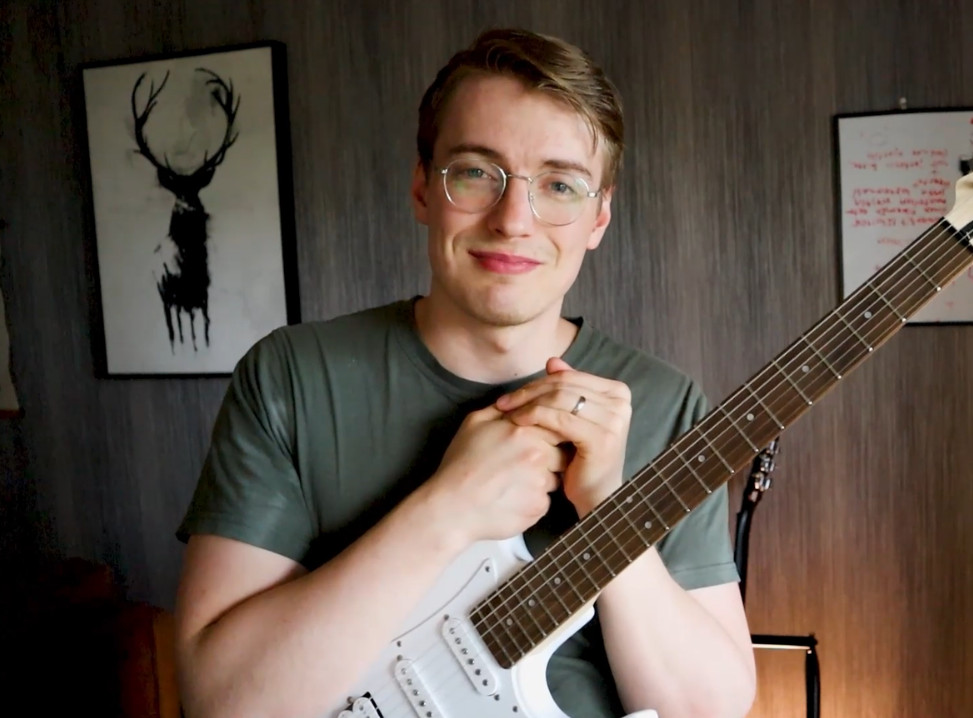 Editing: Teemu Suomala
I first grabbed guitar in 2009. I started this website in January 2020 because I couldn't do window installation anymore due to my health problems. I also noticed that most guitar websites don't do a really good job, so I decided to just go for it! I got lucky and managed to get awesome people to help me with my website. I also got lucky because I have you visiting my website right now. Thank you. I do all this for you guys. If you have any recommendations, tips, or feedback, just leave a comment, I would love to chat with you. I have been fortunate to produce content for several large guitar websites, such as Songsterr, Musicnotes, GuitarGuitar, and Ultimate Guitar. I spend my spare time exercising and hanging out with my wife and crazy dog(I guess that went the right way…).
---
How To Choose The Right Guitar Slide – Buyer's Guide
Different Types of Guitar Slides
Guitar slides come in all different shapes and sizes, but the most common type used is a simple cylinder.
This differs from a lap steel slide, which is a solid bar you hold in your hand.
The first slides were usually nothing more than a broken glass bottleneck, but players have learned to use a variety of items over the last century.
Today, slides are typically made of glass or steel, but you can find them made from
ceramic,
porcelain,
bronze,
and even carbon fiber.
Slides for acoustic usually slip over your whole pinky finger, but newer kinds are hitting the market that change up the whole concept.
Products like the JetSlide and the Shubb AX Axyx Reversible Slide let you easily switch from slide to no-slide with a simple twist or push.
Then there are ring-style slides like the Kaish Knuckle Slide that are meant for use on a limited number of strings rather than your whole fretboard at once.
Despite these new hybrid editions, the most popular slides remain the simple glass and metal tubes of old.
What is the Best Material for a Guitar Slide?
When it comes to music, dealing in absolutes is a no-go for me. There's no such thing as the best slide material.
Each has its benefits and drawbacks, so knowing the different tonal and playability characteristics of all the most common materials can help you choose the perfect slide.
1. Glass
Glass is the traditional slide material and is a great choice for both acoustic and electric guitars.
Compared to steel, it's lightweight and low-density, making it a comfortable slide type that doesn't weigh your finger down too much.
Its sound is warm, gliding smoothly over the strings with no hitches or hesitation, but it lacks the sustain of steel slides.
2. Steel
Ironically, steel slides have a "glassier" sound than glass slides. They sound very bright and provide a lot of sustain.
But steel slides can be heavy and harder to play with than their glass counterparts, and their overall tone is on the harsher side.
3. Ceramic and Porcelain
These are clay-composite materials that land somewhere in hardness between glass and steel.
Both materials sound brighter than glass, warmer than steel, and have decent amounts of sustain.
Porcelain is the denser of the two materials, so it will lean closer to the sound and feel of steel slides, while ceramic is just a little more similar to glass.
4. Brass
Brass slides are very similar to steel, but their playing feel is a bit smoother. Being a softer metal, brass produces a warmer, darker sound than steel slides but is still brasher than glass.
How to Pick the Right Slide for You
This video can be extremely helpful when choosing the right slide:
Once you have an idea of the slide material you want to use, there are just a few more things to consider before making your decision.
To choose the best slide, you obviously need one that fits.
Slides are meant to fit snug on your small or ring fretting fingers—tight enough to stay on when you turn you hang your hand down but not so tight as to be uncomfortable.
If you know your ring size, picking the right slide is easy. Sweetwater actually has a guide you can print and use to measure your ring size to make slide buying simple.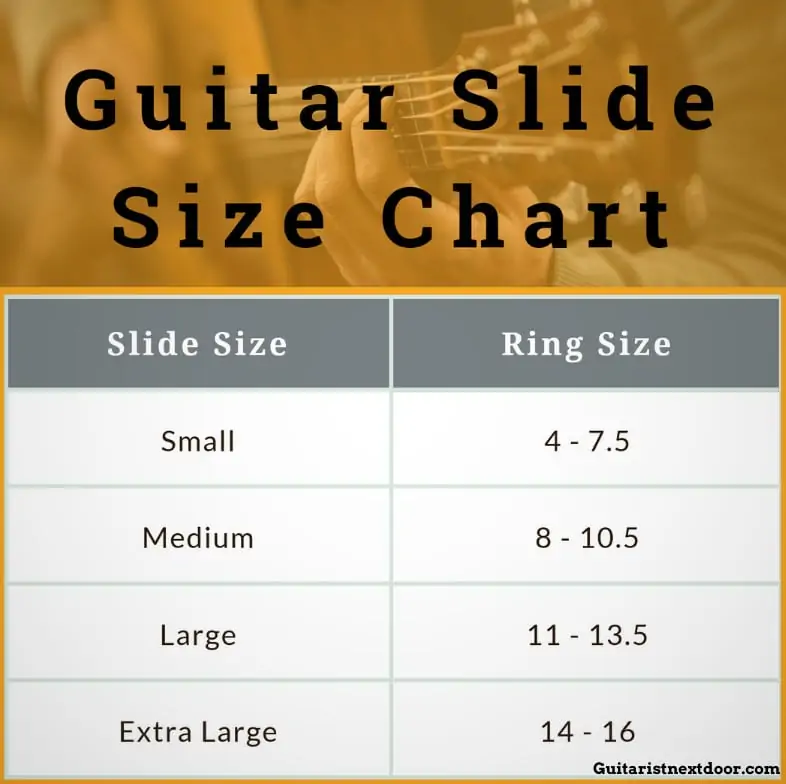 If you have a hard time finding a slide to fit you, lining the inside with leather or cotton can help secure the fit.
The next thing to consider is the weight. If you have a guitar with high action, a heavy slide is a good way to go, but heavy slides might not work so well on guitars with lower action. This is because a heavy slide can actually press the strings down against the frets, causing unwanted noise, notes going sharp, and possible damage.
A great acoustic slide is heavy enough for good sustain and articulate notes while being light enough for easy playing and maneuvering. Most of the time, this will be glass or ceramic if you're playing on a standard dreadnought.
Weight is somewhat dependent on the next factor, which is wall thickness.
Choosing a thicker slide will give you more sustain but is harder to play with, while thinner-walled slides give you a more intimate playing feel but less full of a tone.
Finally, you have a choice between shorter or longer slides.
Short slides are easier to move out of the way when you want to play some non-slide riffs, but they might limit your ability to play all 6 strings at once.
Long slides, as you can guess, have the opposite issue. They're heavier and harder to pull out of the way for quick riffs, but they provide easy access to all the strings together.
Personally, I like medium-weight ceramic slides, but that's just me. Just because a heavy steel slide might not be recommended for acoustic doesn't mean you can't use it.

Tommy Tompkins
Listen to different slides in action to see which material sounds best to you, then make sure to get the right size and you're good to go!
What's The Best Guitar Slide for Beginners?
The best guitar slide for a beginner should usually be a budget-friendly slide. This is to ensure that you are going to like it and stick with it without dumping a lot of money into a massive slide collection right away.
There are multiple choices out on the market that make good "first" slides, but you still need to keep in mind what kind of tone you want to go for. This will allow you to hit the ground running with a tone that you feel comfortable with. You can also learn what you don't like and what you would want to look for in your next slide.
---
Conclusion
Choosing a slide can seem like a daunting task, but, as always, we have you covered here at guitaristnextdoor.com. So, look over our list, pick one of our choices, and have fun discovering a completely different side to your playing.
I hope that this guide helped you out. If you have any questions, just leave a comment, we are here for you.
Keep rocking!
You might also like:
We are sorry that this post was not useful for you!
Let us improve this post!
Tell us how we can improve this post?