Last Updated on April 29, 2023 by Teemu Suomala
Best Overall – Fender Deluxe Hanging Guitar Stand
Stability
Portability
Quality
Value For Money
Summary
The Fender Deluxe Hanging Guitar Stand is a basic tripod with an uncomplicated design that just works!

While surprisingly cheap to buy, the overall quality of this stand is fantastic. It's well put together, super reliable, and won't damage your nitro-finished guitars either.

Almost any bass will be stable, safe, and happy when hanging on this!

The best guitar stand for bass and the price is spot-on too.
Check Today's Price on
*Consider all links in this post to be affiliate links. If you purchase, at no additional cost to you, we may earn a small commission. It helps us to keep the lights on, thanks! 🙂
---
The Next Best:
---
With the big, dense body of electric bass, finding a stand you can trust to protect your instrument can be a daunting task.
So that you can focus more on the music, we've put together this list of the top five best guitar stands for bass. These stands are strong, stable, and reliable pieces of gear that won't let you down no matter where you put them to use.
Let's first look at these fine stands, and at the end of the post, you can find the FAQ section that helps you to make the best choice possible.
Who crafted this post:
Author: Tommy Tompkins
Playing guitar since 2004. Primarily an acoustic guitarist who plays and writes traditional American folk music, with a background in melodic metal and a solid foundation as a bassist.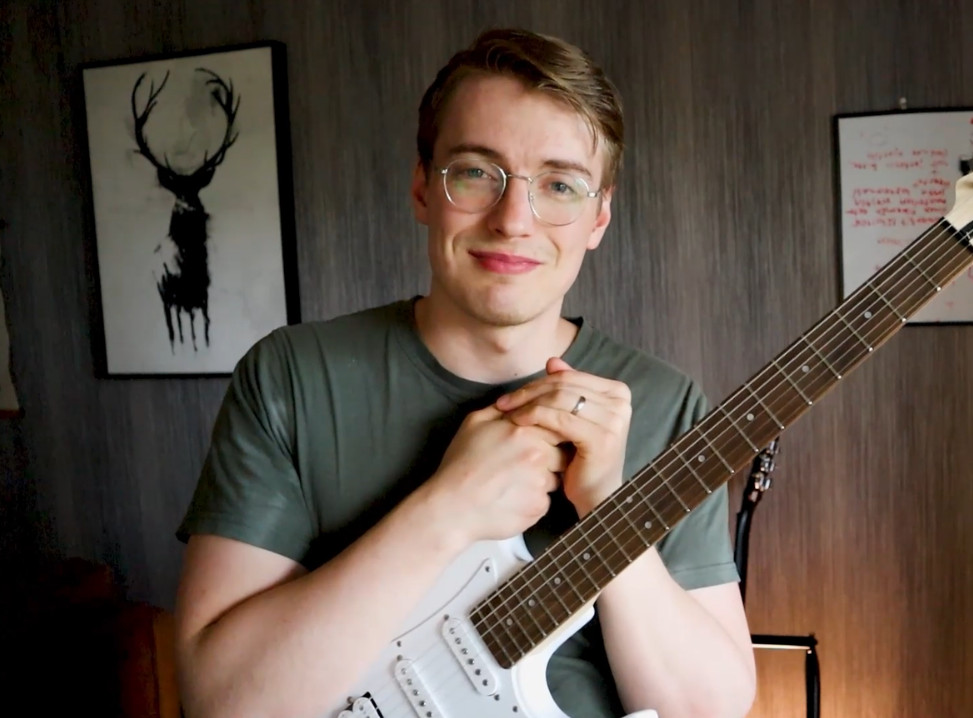 Editing & Research: Teemu Suomala
Playing guitar since 2009. Mainly focused on electric guitars, although jamming with acoustics too. Has played dozens and dozens of different guitars through different amps and pedals over the years. That's why he started this blog in January 2020 and started sharing his experience. Has produced content for several large guitar websites, such as Songsterr, Musicnotes, GuitarGuitar, and Ultimate Guitar.
Every one of these stands is here based on extensive research and decades of combined guitar experience of our team.
---
Our Favorite Music Store in The World!
Why?
– Excellent Customer Service (4.7/5 Trustpilot Score)
– Fast & Free Shipping
– Gear is Inspected, Tested, & Ready to Play When it Arrives to You (We love this)
– Fair Prices
Visit Sweetwater:
Best Guitar Stands for Bass
Best Overall – Fender Deluxe Hanging Guitar Stand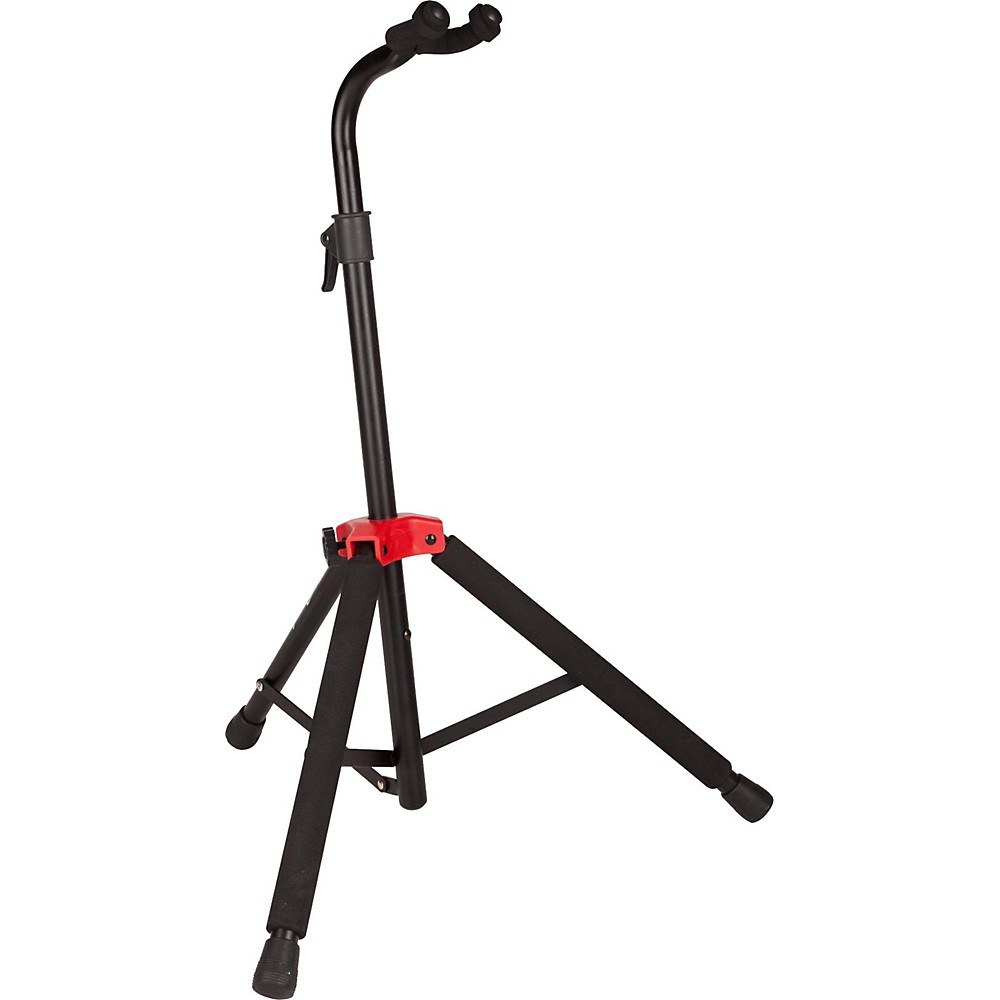 Stability
The Fender Deluxe Hanging Guitar Stand is the definition of functional simplicity.
With a balanced tripod base capped with gripping rubber feet, this stand starts off great. These legs join at a stout plastic anchor, where you can hand-tighten them with the locking knob. This hand-tightening gives me peace of mind, knowing I don't have to trust the stability of the base to any kind of auto-lock system.
Moving up, you'll see a strong steel vertical bar that ends in the neck yoke. It lays back at a slight angle so your bass' weight is balanced among the three legs.
The yoke itself is thick and firm, more than able to hold up your bass for as long as you need.
Like any stand, a good shove will of course tip it over. But, barring that, the Deluxe Hanging Guitar Stand is sure to stay put.
Quality
You'll notice that both of the front legs and the neck yoke are covered with thick padding. Well, on a basic stand, this serves the simple purpose of preventing dents and dings in your bass.
On the Fender Deluxe stand, this foam doubles as a nitro-safe covering to further lessen the risk to your bass' finish.
The whole thing is put together really well. There are no loose parts to lose, and it's really simple to get started with. Thanks to its adjustable height, you can hang basically any bass with no trouble whatsoever.
Summary
Pros
Holds all bass body types
Nitro-safe foam on all parts that touch the instrument
Hassle-free and easy to use
Cons
The cost of Fender's Deluxe Hanging Guitar Stand is low enough to be suspicious, but there's really no fine print or hidden flaws to discover here.
It's simply a great stand that does what it's supposed to do without any extra gimmick or glam.
This is and has been before my top recommended stand for hanging all sorts of guitars. A great stand.
Check Price on:
---
Runner-up – HERCULES GS414B PLUS

Stability
Though there's no definitive scale of stability, I'd bet that if there were, Hercules' stands would routinely be the top-rated.
They're built strong throughout their major pieces, like the legs, the vertical height bar, and the yoke.
In the Hercules Acoustic Guitar Stand GS414B PLUS, you get this reputable construction in a stand that works with tons of different stringed instruments, securing them in place with the safe Auto Grip System (AGS) that closes over their nuts.
In both balance and build, this is the most stable hanging stand for bass you can find today.
Quality
So you're probably asking "Well, if this stand is so stable, why isn't your top recommendation?"
I mean, yeah—it's nitro-safe, it's strong, it's safe and secure—what's not to love?
I wish I could rank this stand as number one, but Hercules has a few things they need to work on before that happens.
Namely, their rubber. No one seems to know what causes it and Hercules, as far as I know, has never addressed it, but the rubber on the AGS system degrades after a while.
It might take years, but at some point, the rubber on this stand turns sticky and starts falling apart. And since these are the features that lock the stand in place, once they break you're left with an unusable heap of metal.
It's tragic, but it's a fact.
Now, until this becomes a problem, you do have one of the best stands on the market at your disposal, so if you're willing to replace it every couple to few years, you probably won't be too upset about this.
Summary
Pros
Hercules' AGS system prevents instrument slippage
Height adjusts with the push of a button
High-quality nitro-safe padding protects your bass' finish
Cons
Automatic systems, like the AGS and the height button, can fail
At just a little over the cost of the Fender Deluxe Hanging Guitar Stand, you have a tough decision to make here.
If you choose the Hercules, keep in mind it has somewhat of an unknown expiration date. Once the rubber starts to go, it's really best to toss it and get a new one.
Though not the most sustainable stand choice, the Hercules GS414B PLUS will make you proud while it lasts.
Check Price on:
---
Best Budget Stand – Universal Guitar Stand by Hola! Music
Stability
When you look at the Hola! Music Universal Hanging Guitar Stand, you'll see that it doubles up on the support of a typical hanging stand by including a bottom bout support as well.
Its body yoke swivels to accommodate a wide range of guitar and bass body shapes.
This all seems great, and it is for the most part, but there is one problem with this stand.
Rather than a slight backward lean like is more common, the Universal Guitar Stand by Hola! Music leans a little forward. Actually, a little too far forward.
What happens is that if you don't take care to balance your instrument correctly, the stand can come off-kilter and actually fall over!
Obviously, this is the last thing you want a stand to do when it's holding your beloved bass, so if you choose this stand, you need to make absolutely sure to find the center of gravity each time you place your bass in its cradles.
Quality
Aside from its balance problem, this is an overall well-built stand. Like most others, it's got soft padding everywhere it touches your axe. With this, you don't have to worry about scratches or scrapes caused by the stand.
It has a simple lock on the vertical support bar so you can set its height to match your instrument.
Its yoke is nicely sized, but it does have a tendency to fold unexpectedly.
While this is good for folding portability, it can be annoying when you're trying to set it up.
Summary
Pros
Dependable support at a low price
Swiveling bottom yoke holds offset bass bodies
Comes with the offer free music lessons for two months
Cons
Rests at an uneasy forward angle
This is definitely the best hanging stand for players on a tight budget. But, it's got a couple of issues I would personally prefer to not deal with, so you might be better off saving up a little more for a better model.
However, you need an electric bass guitar stand right away and the Universal Guitar Stand by Hola! Music is appealing to you, I don't think its problems are anything that will make you regret your purchase.
---
Best for Travel – AmazonBasics Guitar Folding A-Frame Stand
Stability
It's safe to say that the strong suit of the AmazonBasics Guitar Folding A-Frame Stand is not stability.
While it's not going to topple in a light breeze, this compact A-frame bass stand offers only the minimum of safety.
That's due to the fact that the top of the "A" shape has but a couple of centimeters of gripping foam. It does an okay job of holding your bass, but the moment you accidentally knock into it, your bass is going down.
Now, that's not to say it's worthless. Rather, this is a stand you need to use in safe places and with your wits about you. If you're going to use this in a relatively calm environment (as in, NOT at a hardcore punk show) then you should have very few problems with it in general.
Quality
What this stand lacks in stability, it makes up for in travel-friendliness.
Folding up to a fraction of the size of the other stands, the AmazonBasics Folding Guitar Folding A-Frame Stand can be compact enough to fit in your bass gig bag or to easily lash to your case.
It's great if you're on the go a lot, heading from home to practice to a show and back home again.
And though it's lightweight, it's actually built pretty strong from durable metal and dependable foam and rubber.
Summary
Pros
Small A-frame design folds compactly for easy travel
Width is adjustable to fit different body shapes
Lightweight but strong
Cons
Doesn't offer a very secure hold
This is actually the lowest-cost bass guitar stand on this list, but I personally don't think it's your best low-cost option.
If you're concerned about money, really wait until you have five extra dollars and get the Hola! Music stand.
This AmazonBasics Guitar Folding A-Frame Stand is, however, the best choice for portability and travel. If getting a small, sturdy stand to hold your bass for a few minutes at a time is your goal, this is going to be one of the best choices you can make.
---
Best for Multiple Guitars – Hercules GS523B Three-Instrument Guitar Rack
Stability
So, remember how I said the Hercules GS414B PLUS is the most stable hanging stand for bass guitar?
The Hercules GS523B Three-Instrument guitar rack is quite possibly the most stable stand in the world!
I really do love this model. It's built so rugged you could probably toss it from a plane and it'd still hold up.
But, you don't need to drop it from 30,000 feet to know that it's a bass stand that won't let you down.
Unlike most other stands, the Hercules GS523B is made in a rack shape, where your guitars and basses lean in sideways and are supported at both the bottom and the neck.
Since it's got four feet on the ground, it's really not going anywhere unless you practically crash into it full-force.
Quality
As with all Hercules stands, the GS523B Three-Instrument Guitar Rack sports nitrocellulose safe foam at all contact points, which gives protection to all the instruments you'll trust it with.
It's no surprise that it is a bit bigger than the average stand, considering this bad boy will hold three guitars. Though larger, it does this is a graceful design that doesn't take up an unwieldy amount of floor space.
And, you can actually add additional yokes to the Hercules GS523B. It comes with three, which are spaced in a way that it can hold three dreadnought acoustic guitars. As you know, these are deep bodies that need a lot of room each.
If you buy these additional yokes, you can in reality hold up to SIX electric bass guitars on this stand, knowing that each of them is held in what may be the most stable stand known to mankind.
Summary
Pros
Great stand for bands or multi-instrumentalists
Easily folds for simple portability
Relatively small footprint
Cons
Impractical for single-instrument owners
I've raved a bit about the GS523B, so why isn't it my top-rated?
Well, I know very few musicians who personally need a three-guitar stand. Those that do own more than three guitars typically follow the sage advice to keep them in their cases when they're not being played. So this stand, in my opinion, is not quite practical for the average bassist.
But! It is really an amazing choice for bands or studios! If you've got a regular rehearsal or recording space where multiple musicians play at the same time, this stand can hold an arsenal.
It's a bit costly, but spread among your bandmates you'll be paying about as much as you would for the Fender Deluxe.
Check Price on:
---
Verdict
It's common that I'll rank the AmazonBasics Guitar Folding A-Frame Stand as my lowest choice.
Though in and of itself it's by no means a bad stand, compared to the others on this list it unquestionably offers the least stability. But, if portability is your main concern, this is definitely the most compact and easiest to carry.
For those of you who know that your bass' safety is a big priority, I recommend the Fender Deluxe Hanging Guitar Stand. It blends perfectly safety, stability, quality, and value.
In strength, it squares up solidly with any Hercules model while keeping features simple and cost-effective, making it my favorite guitar stand for electric bass.
---
Buyer's Guide – FAQ
What Makes a Great Stand for Bass?
The bass, just like the guitar, is an instrument with a lot of variability.
There are, of course, the premier Fender P-style basses. There's the axe-shaped bass made famous by Gene Simmons, and the star-shaped Space Bass of Bootsy Collins.
There are acoustic basses, short-scale basses, 4-, 5-, 6-, and even 24-string basses.
So how do you know which stand is the best for bass?
It really depends on the type of bass you're looking to hold, but there are a few key characteristics that every great bass guitar stand shares.
Arguably the most important is stability. Before you walk away from your bass in its stand, you need to be 100% sure that it's not going to gradually come unbalanced. Awesome stands are stable, safe, and steady, so you can rest your instrument in its cradles with confidence that you'll return to find your axe in one piece.
If a stand's not stable, it's not worth anything.
So let's say you've found a stable stand that does a fine job of supporting your bass. The next thing you need to consider is its overall quality. A steady stand is great while it lasts, but if it only holds up for a few weeks, you've practically thrown your money away.
Look for stands that are made for longevity. These will be constructed with frames of strong, durable metal and covered with dense protecting foam that won't degrade too soon.
You'll want to give your stand a good inspection before calling it a qualified piece of gear. Are there loose parts that should be tight? Can they be tightened appropriately, or are they broken?
The feet should be covered in rubber so that the stand doesn't slide around. Not only can this slipping around damage your floor, but it's one of the leading causes of guitars and basses falling from the yokes. This is obviously the last thing you want to happen, so it's important you find a stand that stays put!
Check to ensure that the stand isn't bent or warped or otherwise misshapen. With so many great choices, you really don't have to settle for an unsafe, below-par stand to hold your bass.
Lastly, consider the ratio of the stand's cost and quality. There are plenty of great stands for electric bass you can find at fairly affordable prices. More expensive does not always mean better quality, so really compare the value to the price when shopping for a stand.
At the same time, you shouldn't always shoot for the lowest-cost option available. Try to find a good middle ground that meets your bass' needs without putting you in the red. It's not that hard to do, and we've done our best to make the choice as easy as can be.
How to Choose the Best Bass Stand for You?
The best bass stand for you really depends on the type of bass you're trying to hold. I'd say that for the most part, a stand that depends on a neck yoke is your best bet.
Hanging/Floating
These stands grip your bass just below its headstock to hang it vertically. Usually, they have a tripod base for stability.
With this style of stand, you can place nearly any instrument body shape in its cradle for a dependable hold. The height of a neck yoke stand adjusts to hang electric guitars, acoustic guitars, electric basses, and even instruments like ukuleles, banjos, mandolins, and cellos. They're really versatile!
This type of stand is great for basses with offset or unusual body shapes (I'm looking at you, Fender Jaguar).
Because floating guitar stands have the ability to adjust to different heights, you can use them with nearly any stringed instrument with no regard for body style.
However, you might find yourself in trouble with a neck yoke stand if you've got a bass with an extra-wide nut. These extreme nut widths are typically found on 5- and 6-string basses. While there are some hanging guitar stands that will work with this type of bass, there are also many that won't.
If going with a neck yoke hanging stand, double-check that the neck cradle is wide enough to fit your bass.
A-frame design or a body yoke dependence
Rather than hanging your bass by the headstock like a floating guitar stand, the body yoke choices simply provide a cushioned platform for your bass' body to rest on.
These stands are generally easy to transport as they're built small and compact, so they're a great choice for bassists who have to travel frequently.
Compared to hanging bass stands, an A-frame might be a bit less stable. There are typically only a few solid points of contact between the stand and your bass, so a decent bump has the potential to dislodge your axe. With this in mind, just be careful in your use of a body yoke stand and you should have few issues.
Many times, A-frames and similar stands will have stepped body yokes that can fit a range of stringed instruments. A single stand can be capable of handling acoustics, semi-hollows, electrics, acoustic basses, and beyond.
Their main drawbacks are, as mentioned already, their subpar stability and their inability to hold most unconventional body shapes. They're fairly accommodating, but you certainly wouldn't want to trust your Space Bass to a body yoke stand.
Finally, there's a third, less common option, which is the rack style
These, like the Hercules GS523B, are made to hold multiple basses and guitars. They combine the neck yoke and body cradle into one easy-to-use piece that holds your instrument at a soft and safe sideways angle.
These stands are some of the best in terms of quality and stability, but they are often the most expensive and are much larger than floating stands and A-frames. They might not be the first choice for a beginner with only one bass that needs to be held, but rack-style stands are perfect for people with an axe collection or for bands.
To sum it up, match your stand needs to your bass or basses.
I'd recommend a hanging guitar stand as the prime choice in most situations. If your bass will fit in a neck cradle, choosing a well-built floating stand is a great way to go.
But, not every stand fits every bass, so if your bass' neck is too wide, an A-frame guitar stand or body yoke stand will give you a fine amount of support when used correctly and carefully.
Now, if you're the proud owner of a family of stringed instruments, or if you're looking for a stand your whole band can use, rack stands for bass are a top-of-the-line choice.
Overall, you just want to choose the stand type that gives your bass the best protection in the most practical way.
Are Guitar Stands Bad for Your Bass?
Unless your bass has a nitro finish, a stand will generally be harmless.
We've covered this topic in detail here, but I'll knock out the key points briefly.
First and foremost, the best place to keep your bass when you're not playing it is in a hardshell case. This type of storage offers the utmost protection from all manners of instrument danger.
When you want to put your bass down during practice or performance, stands are totally fine. If your bass does have a nitrocellulose finish, just make sure that your stand is nitro-safe or otherwise wrap the contact points in cotton.
This will prevent the rubber in the stand from ruining the finish of your bass.
Nitro finish basses will be safe on a stand for short amounts of time, but extended use might blemish the lacquer, even if the stand is nitro safe. Again, your best option is case storage whenever you're not playing.
But aside from nitro burn, guitar stands are in no way inherently bad for your bass. They're for sure safer than resting against a wall, so if your choice is between that and a stand, please choose the bass stand.
---
Conclusion on Best Guitar Stands for Bass
A great stand is one of the safest ways to store your bass any time you have to put it down.
From the simple AmazonBasics Guitar Folding A-Frame Stand to the rugged multi-axe design of the Hercules GS523B Three-Instrument Guitar Rack, you have a great selection of dependable bass stands to choose from.
Forget about the headache of buying and returning duds by choosing one of our expert-vetted recommendations. These stress-free best guitar stands for bass will give you more time to practice, perform, and perfect your thumpin', pluckin', poppin', slappin', and all other forms of groovalicious bass mastery.
I wish you all the best and keep rocking!
You might also like:
We are sorry that this post was not useful for you!
Let us improve this post!
Tell us how we can improve this post?